This simple and delicious Pumpkin Spice Bread is the quintessential quick bread to kick off the arrival of fall and take us straight through the holidays.  Don't worry,  you don't have to think about those holidays just yet. But, when you do, this recipe can easily be doubled or tripled (sure, why not quadruple it) and baked in smaller loaf or muffin pans making a lovely gift for family and friends.
For some extra wow factor, we love the idea of serving or gifting this pumpkin bread after baking with one of these specialty pumpkin bake pans.  Simply glaze or dust with powdered sugar and you have a real harvest treat!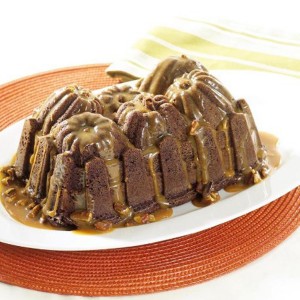 So let's get baking !
Ingredients:
1 2/3 cups flour (for a healthier bread substitute 1/2 whole, white wheat or almond flour)
1/2 teaspoon baking powder
1 teaspoon baking soda
1/4 teaspoon salt
2 teaspoons cinnamon
1/2 teaspoon nutmeg
1/4 teaspoon cloves (optional)
1/3 cup butter (Brought to room temp. You may substitute coconut oil or applesauce for even lower fat)
1/2 cup white sugar
1/2 cup brown sugar
1 teaspoon vanilla extract
2 large eggs
1 cup canned pumpkin
1/3 cup milk  (Non-dairy milk such as almond or coconut is fine or water)
1/2 cup chopped nuts of choice (pecans or walnuts works best)
Directions:
1 _ Preheat oven to 350 degrees.
2 _ Grease a loaf, muffin or mini bundt pan of your choice.
3 _ Sift all dry ingredients and set aside.
4 _  In another bowl, cream (blend) room temperature butter, sugar, and vanilla extract.
5 _ Continue by adding eggs one at a time, beating well after each addition.
6 _ Add canned pumpkin and mix well.
7 _  Then add dry sifted ingredients continuing to mix while alternating with milk.
8 _ Mix until smooth and then gently fold in chopped nuts.
9 _ Pour the batter into prepared pan.
10 _  Bake for approximately 45 minutes or until a toothpick comes out clean. Baking times will vary with ovens or elevation and may take up to 60 minutes.
11_ Slice when cool.
12 _ Enjoy!