Better Living uses affiliate links. If you make a purchase through them, we may receive a small commission (for which we are deeply grateful) at no cost to you.
You probably don't think dessert when you hear the word nachos. You probably also don't think healthy. But that's about to change with this recipe for Sweet & Salty FitJoy Apple Pretzel Nachos. Fresh apple slices are drizzled with dark chocolate, sugar-free peanut butter sauce, and topped with crispy Grain-Free FitJoy Pretzels, a crumbled FitJoy Chocolate Peanut Butter Protein Bar, toasted coconut flakes, and crushed peanuts for the win. This easy dish combines the best of eating dessert with the fun of digging into a plate of nachos. If you're craving something sweet, salty and satisfying but don't want any grains or added sugars, whip up these apple pretzel nachos and you won't be sorry. Oh, and did I mention they're completely grain-free, gluten-free, and a great source of protein? They sure are.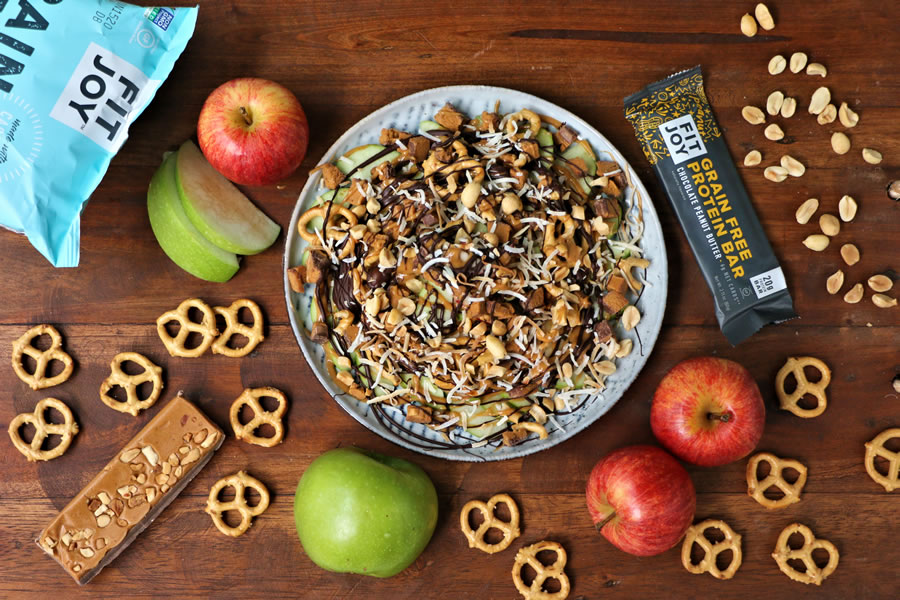 I know most recipes on the internet say they're easy to make and then the next thing you know your kitchen looks like a disaster, you've got batter in your hair and you're thinking what have I gotten myself into. If you can you slice, melt, crumble and drizzle you're going to be in grain-free, protein-packed apple pretzel nacho heaven in less than 10 minutes.
To make these super easy and healthy dessert-style nachos, begin by preparing your sauces and toppings. I started by melting dark chocolate in a small microwaveable bowl and cooking at 30-second increments, stirring in between. Chocolate melts fairly quickly so be careful not to burn it.  I used dark chocolate because dark chocolate is my favorite and has less sugar than milk, but you can use whichever variety you prefer. For dairy-free lifestyles, be sure to use a chocolate that is dairy-free. The peanut butter "sauce" for this recipe is simply peanut butter (I like palm oil and sugar-free) that I thinned with avocado oil until it had the same consistency as the chocolate. If you don't want the added fat, add a tablespoon of hot water or milk (dairy-free is fine), at a time until you have a peanut butter "sauce" that drizzles easily off the spoon.
Nachos need texture and crunch, right? That's one of the reasons why we love them. For that element, we turn to FitJoy's Grain-Free Pretzels! This first-ever made grain-free pretzel twists are made with cassava flour, chickpea flour and a little sprinkle of pink Himalayan sea salt. They're super crunchy and have a nutty bite that pairs perfectly with the dark chocolate and peanut butter flavors. A crumbled FitJoy Chocolate Peanut Butter Protein Bar adds a chewy bite to these nachos and an additional 20 grams of protein. Grain-free as well, both have absolutely no artificial flavors or preservatives!
Why Eat Grain-Free?: Some people feel lighter and overall better eating fewer grains. Some people report it can help to reduce digestive issues, inflammation, bloating and boost energy.
I suggest cutting your apples as close to serving as possible in ⅛-¼ inch slices and then arranging on a plate in a spiral shape. I chose both red and green for the variation in taste and contrasting colors. If you're expecting company and you want to prep the apples ahead of time here's a few tips to keep the slices from browning: 
1 -Keep the apple slices soaked in seltzer water until ready to use. Pat dry before plating.
OR
2 – Sprinkle lemon juice on the apple slices. Rinse and pat dry before plating to remove the lemon juice which may add an unwelcome acidity to this recipe.
Foodie Note: Browning on apple slices is caused by oxidation or exposure to air. They're still safe to eat but may not make for the freshest looking presentation. Some apple varieties brown faster than others.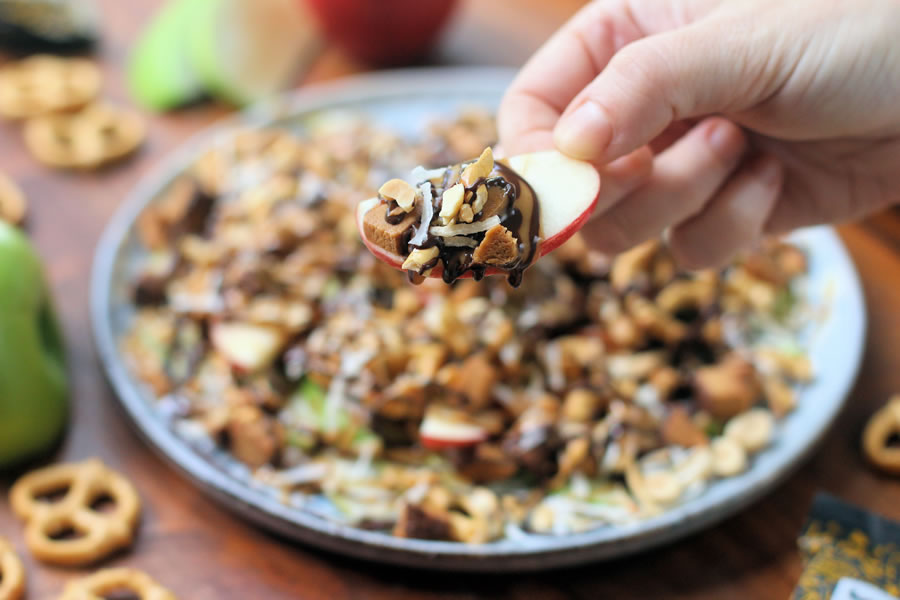 To finish off the Sweet & Salty FitJoy Apple Pretzel Nachos we sprinkle them with some crunchy chopped peanuts and a little toasted coconut. One bite and you'll realize a decadent dessert doesn't have to be something bad for you.
GET THE RECIPE!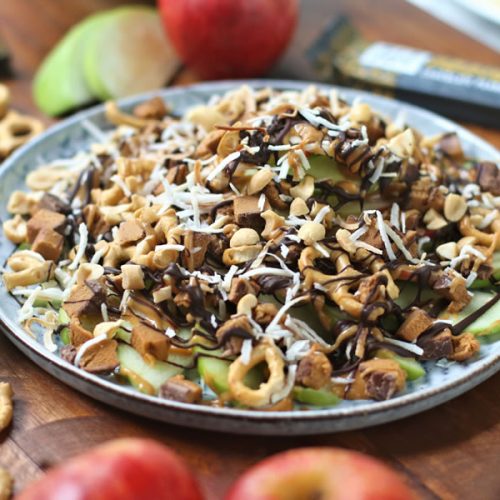 Sweet & Salty FitJoy Apple Pretzel Nachos (Grain-Free, Gluten-Free, Dairy-Free)
Fresh apple slices are drizzled with dark chocolate, peanut butter sauce, and topped with crispy salty Grain-Free FitJoy Pretzels, crumbled FitJoy Chocolate Peanut Butter Protein Bar, toasted coconut flakes, and crushed peanuts for a healthy and satisfying dessert.
Ingredients
2

large

apples, thinly sliced

1/4

cup

all-natural peanut butter

1-2

tbsp

avocado oil (sub your favorite healthy neutral oil)

2

ounces

dark chocolate, melted

1

FitJoy Chocolate Peanut Butter Protein Bar, crumbled

Cookie Dough or Cookies & Cream flavors are great too!

10

FitJoy Grain-Free Pretzels

2

tbsp

shredded coconut

2

tbsp

roasted peanuts, chopped
DIRECTIONS
For the perfect peanut butter drizzle (without sugar), add peanut butter to a bowl with avocado oil whisking in 1 tablespoon at a time until the peanut butter drips uniformly off the spoon and has the consistency of a thick syrup. Set aside.

Working from the outside edge of a large plate, arrange the apple slices in circular spiral pattern until you have covered the plate with apple slices and have worked your way into the center of the dish.

Drizzle the apple slices with the peanut butter sauce, melted chocolate and then top with the pretzels and the crumbled protein bar. Drizzle a little more melted chocolate and peanut butter and then finish with the toasted shredded coconut and chopped peanuts.

Serve your healthy apple dessert nachos and enjoy!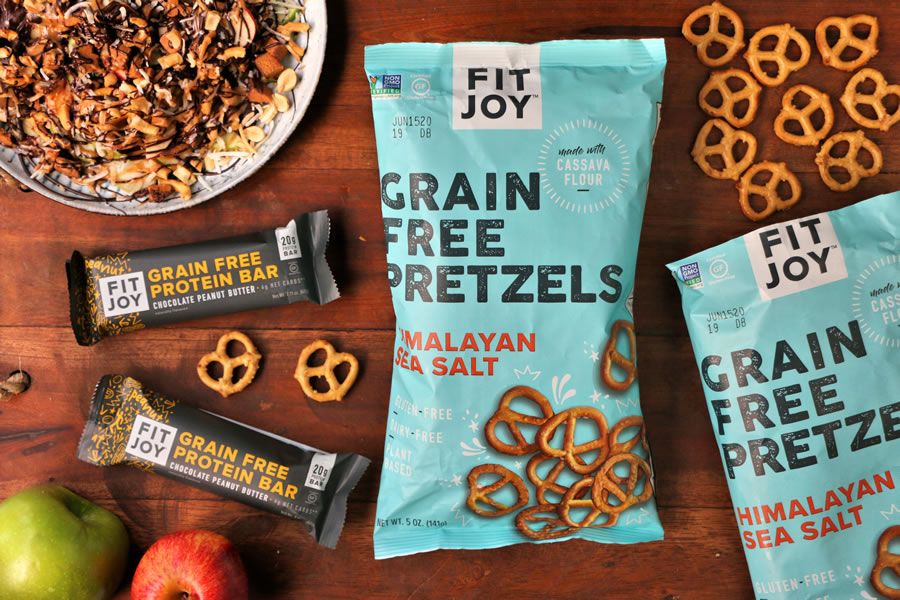 GRAIN-FREE Pretzels in Your Life?
Check out FitJoy's new all-natural grain-free Pretzels With Himalayan Salt. These crunchy twists are perfect for dipping or eating on their own
Grain-Free With 20 Grams Protein: FitJoy Bars Come in 4 Yummy Flavors
All FitJoy bars come in full ($29.99 for 12) and fun-sized portions ($19.99 for 16). 
Flavors include:
COUPON CODE:
Enter
NACHOS15
for
15% OFF
your order at checkout!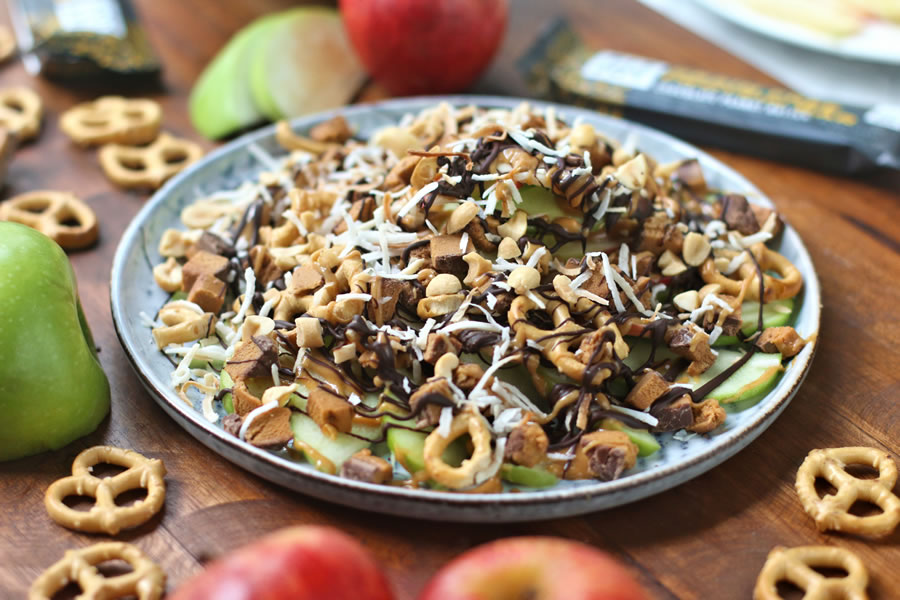 Created by OnBetterLiving.com