Better Living uses affiliate links. If you make a purchase through them, we may receive a small commission (for which we are deeply grateful) at no cost to you.
* This post is sponsored by Holland House Cooking Wines. Holland House Cooking Wines are a great way to take your dishes to the next level. The information and content presented here is all ours.
The New Year is always the perfect time to start eating healthier. But eating healthier doesn't have to mean steamed broccoli every day. Eating healthy can also mean enjoying tacos!
How To Make Crock-Pot Green Chile Chicken Tacos
For this Green Chile Chicken Taco recipe we take a seemingly boring protein like chicken breast, pop it in the pressure cooker with sautéed onions and garlic, canned green chiles, jarred salsa verde (green salsa), lime juice and Holland House White Cooking Wine and turn it into something incredibly delicious. The chicken then gets shredded in its own juices, spooned into warm tortillas, and topped with your favorite taco fixings.  Not only are these tacos healthy, but they're also perfect for a weeknight family dinner and can be ready in under 30 minutes.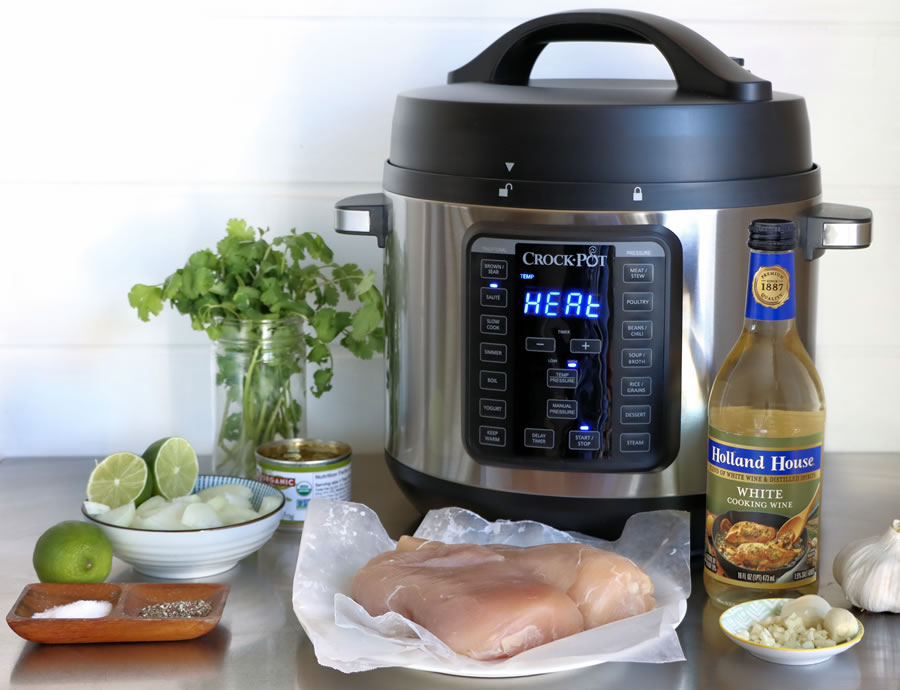 For this recipe, we used our Crock-Pot 8-Quart Express Crock XL Pressure Cooker. You may have to adjust cooking times if using another pressure cooker. 
Tip: This recipe will work in your slow cooker too! Just cook on low for 6-8 hours or high for 3-4 hours
How To Make The Green Chile Chicken For The Tacos
Step 1: Brown The Chicken – Start by setting the Crock-Pot Express Crock XL pressure cooker to saute (you can also use the Brown/Sear option). We then season our chicken breasts with salt and pepper, add a little oil to the pot of the pressure cooker and very lightly brown the chicken on each side. This will get some of those brown bits cooking that adds a punch of rich chicken flavor to any dish. 
Step 2: Add The Onions & Garlic – Give them a quick saute for 2-3 minutes. Add the garlic, give a stir and then pop the chicken back in the pot.
Step 3: Add the rest of the ingredients – This includes the jarred salsa verde/green salsa, lime juice and white cooking wine. You're basically done! Lock the pressure cooker lid in place, turn the steam valve to seal. Set the pressure cooker to 20 minutes on HIGH. 
Final Step: Get Shredding – When the chicken has finished cooking, turn the pressure release valve from the Sealed position to the Vent position to release the steam. When done, remove the lid carefully. The chicken should be fork tender if finished. Shred the chicken by using two forks pulling the meat in opposite directions. You can do this on a plate or within the pressure cooker pot itself. Toss it back in the pot and give it a stir. You're now ready to build your tacos! 
Time-Saving Tip! Short on time? Skip the browning of the chicken and just dump all the ingredients into the pressure cooker pot. Set to cook while you prep your toppings.
Ingredients To Make Green Chile Chicken 
Here's what you'll need:
Chicken Breast

– 

This recipe calls for 2 pounds of chicken breast. You can also use boneless chicken thighs instead. If the thighs have skin you can brown them skin on, but remove it before pressure cooking. Dark meat can lend a lot of flavor, but not everyone is a fan.
Prepared or Jarred Green Salsa/Salsa Verde

–

A major timesaver in this recipe. Just use your favorite variety from the store. You'll need 1 1/2 cups, so a 16-ounce jar will do while giving you an extra ½ cup leftover. If your salsa is on the salty side just season the chicken with very light salt until everything is finished cooking and you can taste and season again if necessary.
Holland House White Cooking Wine

– A splash of this balances the flavors of the salsa and imparts an entirely new layer of flavor. Crisp and delicious.

A Can of Diced Chiles

– Cans of chiles usually come in 4 or 4.5 ounces. Use your favorite and either will do. Check the label and if you like spicy go with at least a medium heat level.
Lime Juice –

Look for limes that have smooth skin that gently gives when pressed. These limes tend to have more juice.
Sliced Onions & Garlic

– We quarter and thinly slice one onion for this recipe.  A small white or medium/large yellow will do. If you really like onion, double up. Garlic should be minced and again if you love it add 3 to 4 cloves. Two works for me. Your salsa also may have garlic in it also so give it a taste before you decide.
 💡 Tip: It's super easy to double this recipe. Freeze the leftovers for future dinners or lunches on the fly.
Don't Leave Out The Holland House White Cooking Wine!
You may be tempted to leave this out, but don't! The Holland House White Cooking Wine has a crisp white-wine aroma and flavor that's perfect for balancing spicy dishes and adding flavor to poultry dishes. So adding a few splashes to our Green Chile Chicken mixture really makes a delicious difference! It adds a totally unique layer of flavor to this recipe you won't want to miss. 
Here are some other ways you can use Holland House White Cooking Wine in your kitchen:
Add a splash to soups 
A splash can lighten cream sauces while adding more flavor
Perfect for any sauces or dishes with poultry or seafood
Use to balance spicy recipes
Replace with 1/3  of the water when cooking rice
Besides White Cooking Wine, Holland House Cooking Wines are also available in White with Lemon,  Red, Sherry, and Marsala, and to add a splash of flavor to all your favorite recipes.
Assembling the Tacos – Tortillas and Toppings
We love serving this Green Chile Chicken with corn tortillas, but they're great with flour as well. If you're sticking to a low carb diet, low carb flour tortillas are readily available in most grocery stores.
If you're serving a family set up a taco toppings, salsa, and hot sauce bar so everyone can build their own tacos for easy serving. 
Some of our favorite toppings for these tacos include:
Queso fresco – This slightly salty and crumbly Mexican style cheese is most similar to feta which can be substituted if you can't find it in your grocery store. Monterrey or Pepper Jack would go great with these as well
shredded cabbage
fresh chopped cilantro
sliced jalapenos (pickled or fresh)
diced tomatoes or pico de gallo
sliced avocado
sliced radishes
What Can You Do With The Leftovers
This Green Chile Chicken freezes beautifully.. And aside from making some pretty yummy tacos, you can also use it to stuff burritos, make taco bowls, roll up some taquitos, grill up some quesadillas or eat with eggs or breakfast chilaquiles. Fold the leftovers with a little cream cheese and shredded cheese and bake them inside jalapenos, or mushroom caps for an easy appetizer. They're super versatile!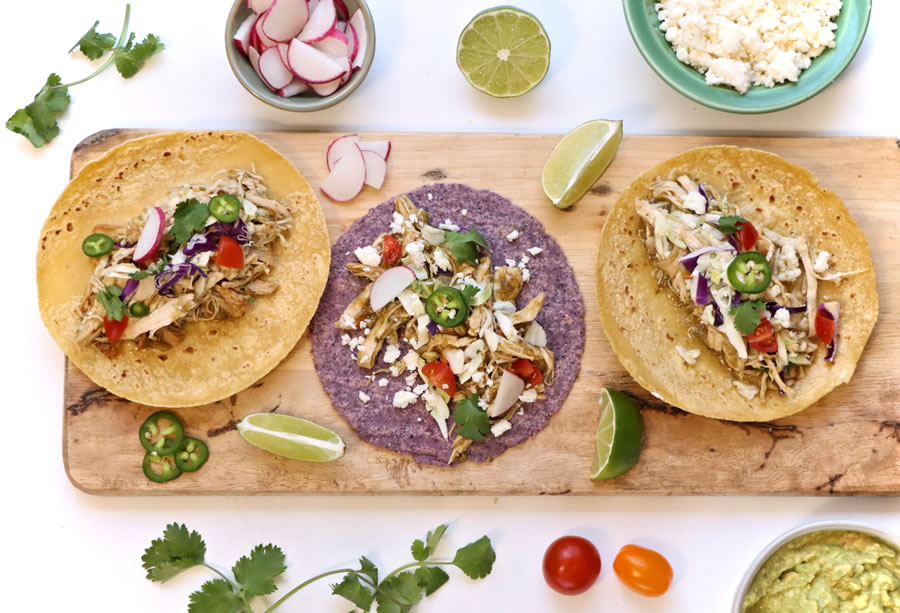 GET THE RECIPE!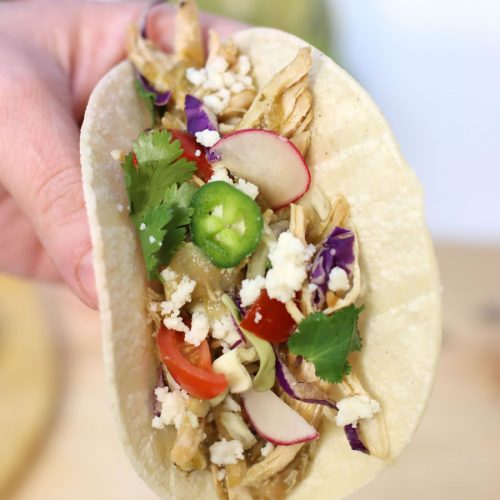 Crock-Pot Green Chile Chicken Tacos
This easy yet super delicious chicken taco recipe can be made in your pressure cooker for a speedy weeknight dinner. Awesome for leftovers all you need is some chicken, your favorite prepared green salsa and few other pantry staples. A few splashes of white cooking white give these tacos whole other layer of flavor.
Ingredients
2

lbs

chicken breast, trimmed of fat

1

teaspoon

salt & pepper

1

TBS

olive or avocado oil

1

onion

quartered and sliced

1/2

cup

prepared salsa verde

green salsa

1/4

cup

Holland House White Cooking Wine

1 4.5

ounce

can diced green chiles

med or mild

2

limes

juice of

2-3

cloves

garlic
TACO TOPPINGS (Suggested)
finely shredded cabbage

shredded Cheese like a Queso Fresco, a mild Feta or Monterrey Jack

avocado slices or guacamole

diced tomatoes or pico de gallo

sliced radishes

sliced jalapenos

cilantro
DIRECTIONS
PREPARING THE CHICKEN
Season the chicken breasts with pepper and salt. Set aside. Press the Brown/Sear button on your Crock-Pot Express Pressure Cooker and set it to 10 minutes.

Drizzle the oil on the bottom of the pot and add the chicken. Sear on both sides until lightly browned (about 3 minutes per side) and then remove from pot and set aside on a plate. Add the sliced onions and saute for 2 minutes.

Add the chicken back to the pot along with the rest of the ingredients. Switch settings to Manual Pressure and cook on HIGH for 20 minutes.

When time is up, shred the chicken using two forks gently pulling the meat in opposite directions. You can do this right in the pot or on a plate. Once all the chicken is shredded give it a stir to evenly coat it in the green chile sauce.

Tip: If your chicken is not fork-tender or isn't shredding easily it may need a few more minutes under pressure. Another 3 to 5 minutes should do the trick. Chicken breasts that are similar size will cook more evenly.
SERVING THE TACOS
Place the chicken in a warmed corn or flour tortilla and then top with your favorite taco fixings. We love shredded cabbage or greens, queso fresco, diced tomato, and cilantro. Top with your favorite hot sauce and a squeeze of fresh lime to finish. Enjoy!
Notes
Using If you like dark meat chicken, substitute 1 pound of boneless skinless chicken thighs in place of breast meat and cook as directed. It will add another layer of rich flavor.
This recipe can easily be doubled or tripled and makes a great freezer meal.
Besides tacos the Green Chile Chicken leftovers makes a delicious filling for burritos, taco bowls, quesadillas or a protein filled topping for nachos. 
Short on time? Skip the browning step of the chicken and just pop all the ingredients into the pressure cooker pot. Set to 25 minutes on HIGH.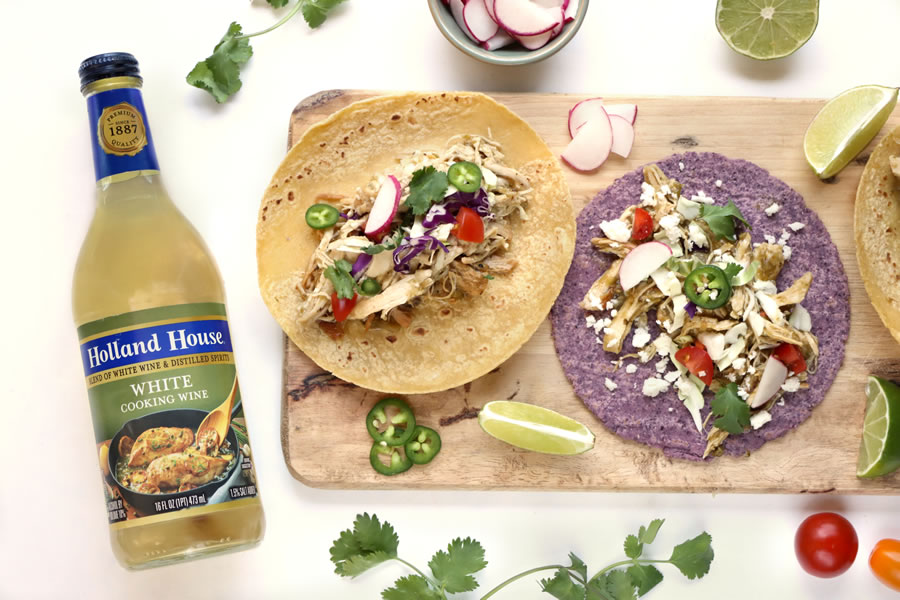 Stock up your pantry with Holland House Cooking Wines!
They're a great way to boost the flavor of all your favorite healthy dishes like chili, soups, sauces, and even desserts! 
VISIT: the Holland House website to download a $ money-saving coupon for your next trip to the grocery store.