Better Living uses affiliate links. If you make a purchase through them, we may receive a small commission (for which we are deeply grateful) at no cost to you.
Crisp fall weather is in the air and I am loving life. That's right, love it or leave it, now is the time for fall flavors, pumpkin spice for days, squash, a little more squash and plenty of apples. That also means I'm whipping up (or stirring actually) a big batch of one of my all-time favorites – Hot Spiced Mulled Apple Cider. If you've never had Hot Spiced Mulled Apple Cider then, oh my gosh, you're missing out on some great stuff. Don't worry though, we're here to get you all set up. And if you're like, duh it's amazing of course I've had it, but you're just looking for a great recipe then you've come to the right place too, my friend.
Mulling Apple Cider is VERY easy to make with no finesse required at all. It's just apple cider gently warmed in a pot with whole and cold weather-loving spices, a couple of other ingredients and boom – you're drinking the very definition of fall.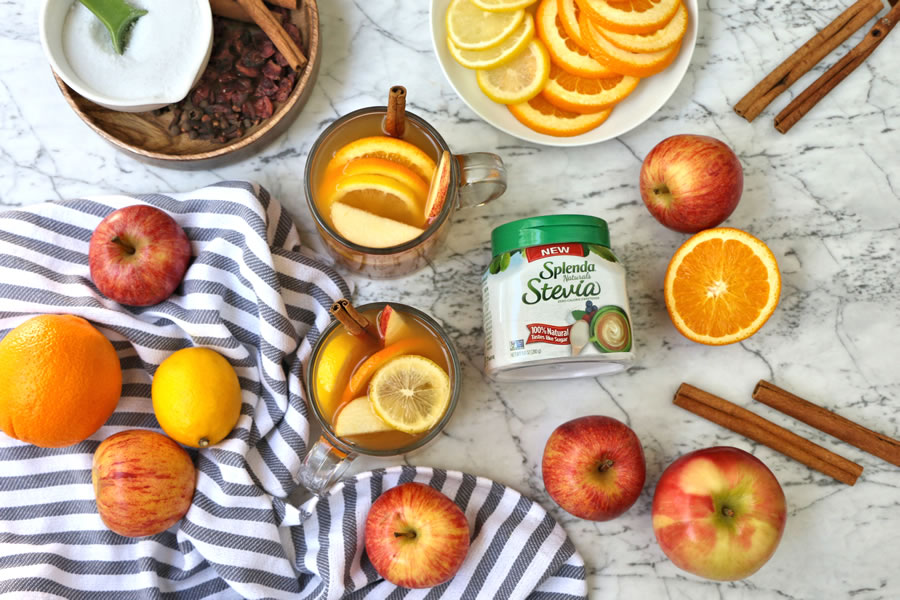 For this recipe start by combining no sugar added store-bought apple cider in a large pot with freshly squeezed lemon juice, dried cranberries, cinnamon sticks, whole allspice berries, and cloves. Most apple cider recipes call for extra sugar (yikes!). To avoid the extra calories and other effects of regular processed sugar we're adding Splenda Naturals Stevia Zero Calorie Sweetener instead. It's totally my favorite natural sugar substitute. Why? Not only is it a 100% natural sweetener derived from the Stevia plant, but mark my words when I say you will not notice a difference when using this in place of sugar! Unlike other stevia that I've tried where there's bitterness or a strange aftertaste, this one is made from the stevia leaf extract Reb D (the best one) that tastes just like real sugar. Plus there's no artificial flavors, colors or icky preservatives. And it's also non-GMO thank you very much. If you're living that healthy lifestyle, cutting down on sugar or looking for great tasting sugar substitutes this is your stuff.
Splenda Naturals Stevia Zero Calorie Sweetener is awesome for baking, coffee, tea or replacing sugar in other hot beverages you might be making this season. Hello Hot Toddy! It comes in large bags of granulated perfect for baking like we're using in this recipe, small spoonable containers or boxes of packets perfect for your coffee station. I always keep a bunch of packets in my bag for when I'm out and about and need that hit of sweetness without the sugar. You can click here for Splenda Naturals Stevia. This recipe calls for ½ cup granulated, but if you're sensitive to sweetness start with ¼ and add more to taste as it warms.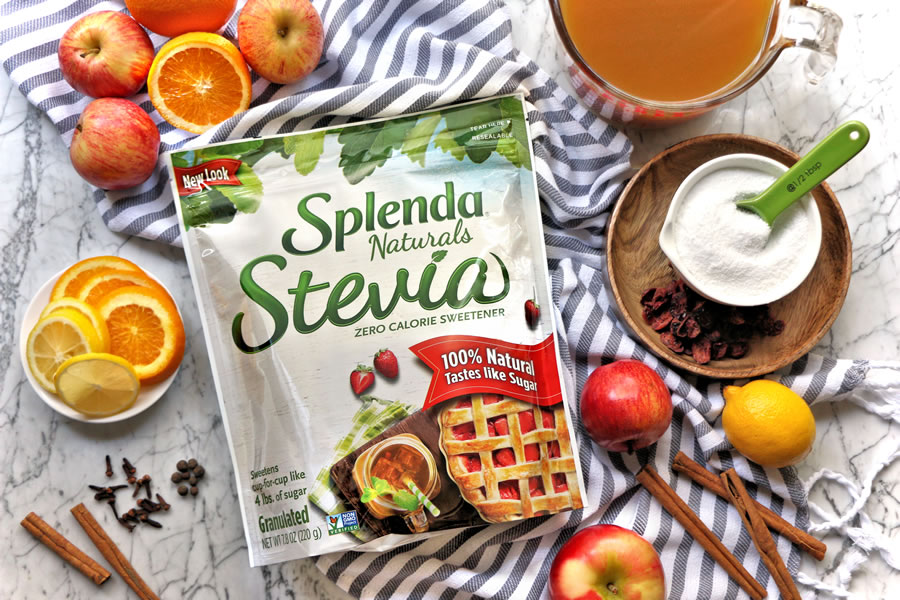 Once you have your ingredients ready in the pot, gently warm on low/medium-lowish for 30 to 60 minutes. The longer you let it warm the more spice infusion you'll get. Just don't let it boil.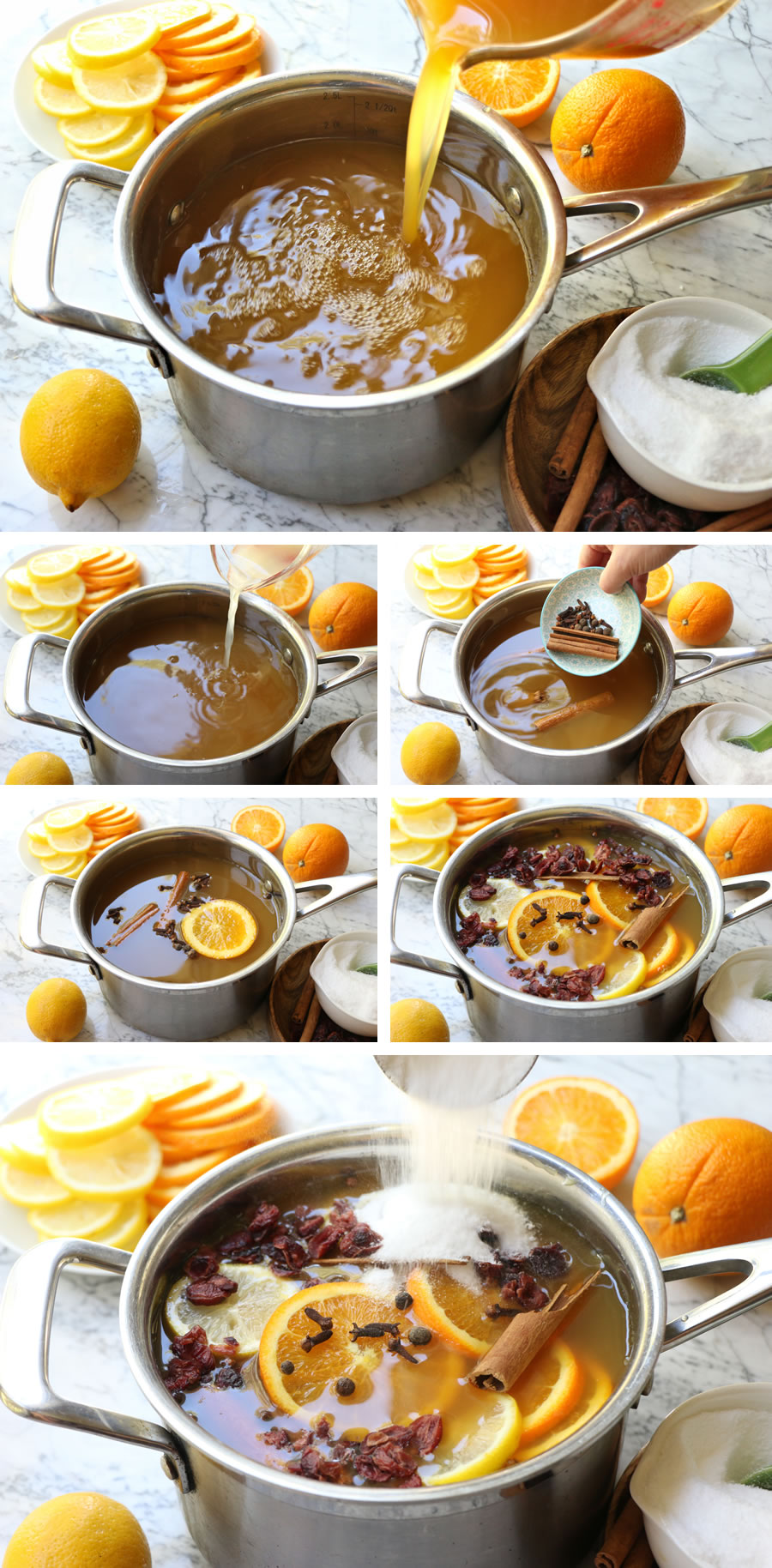 I like to add the fresh orange and lemon slices about 10 minutes before serving so they infuse their flavor into the cider as well. If you notice you've lost a little liquid volume by the time you're ready to serve you can add a little more apple cider back to the pot.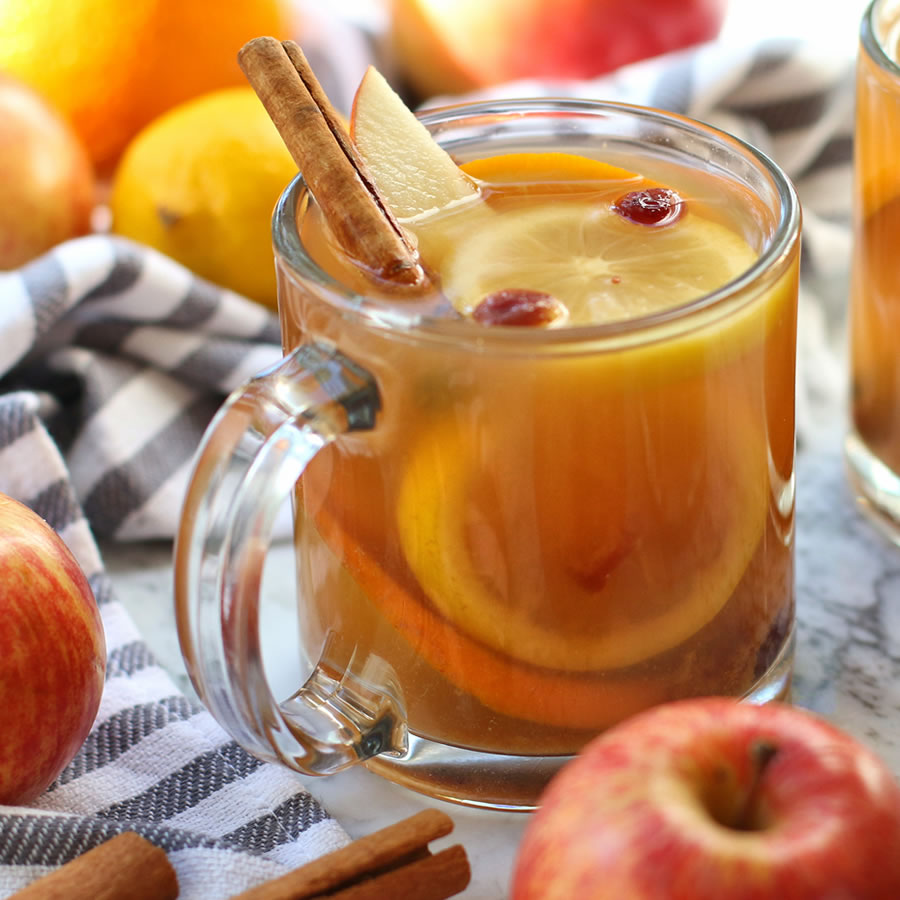 If you're entertaining and want to make this Hot Spiced Mulled Apple Cider recipe, throwing all the ingredients in your slow cooker on low will keep the apple cider at the perfect temperature for serving without having to watch it. Whether you make it on the stove-top or in the slow cooker the spices will make your house smell simply amazing. 
GET THE RECIPE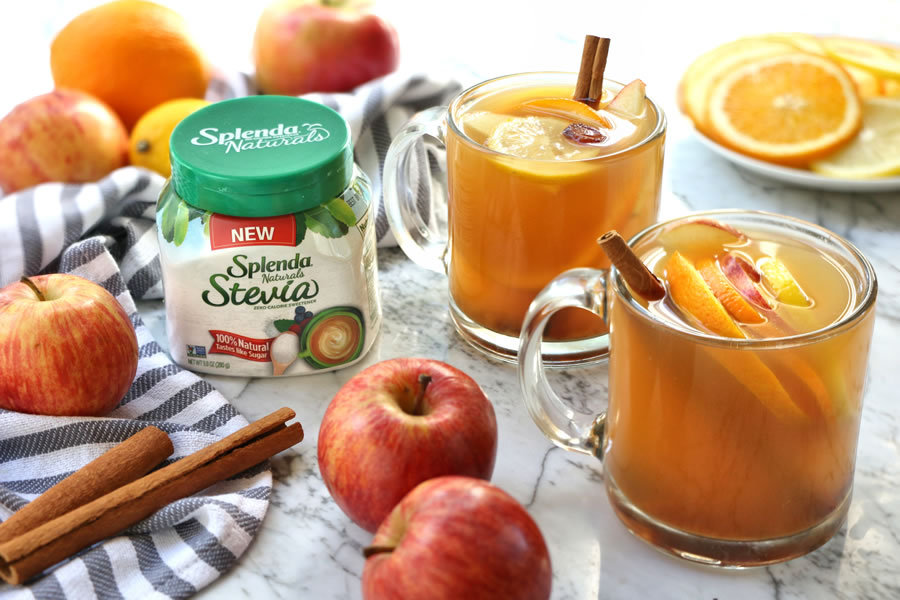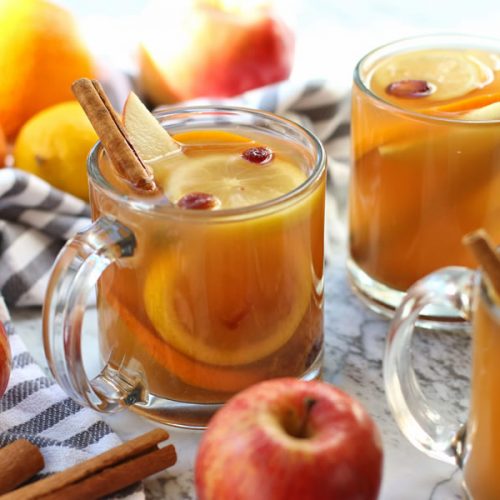 Hot Spiced Mulled Apple Cider (With Slow Cooker Directions)
Nothing will get you in the mood for fall like this hot spiced mulled apple cider! Gently warmed with fragrant spices like cinnamon, allspice, and clove we cut the sugar of traditional hot cider recipes by using Splenda Naturals Stevia instead. It's all the sweetness and flavor without any of the calories!
Ingredients
8

cups

No Sugar Added Apple Cider

1/2

cup

SPLENDA® Stevia Sweetener, Granulated

1/3

cup

fresh lemon juice

1/2

cup

dried cranberries

16

whole cloves

6

6 whole allspice berries

5

3-inch cinnamon sticks

8

thin orange slices

8

thin lemon slices

8

fresh apple slices (optional)
DIRECTIONS
Stove Top Method
In a large pot add the apple cider, lemon juice, granulated Splenda Naturals Stevia, dried cranberries, cinnamon sticks, allspice, and cloves. Slowly warm over low heat for 30 to 60 minutes. It should never boil! Add the fruit slices to the pot 5-8 minutes before serving. If you like you can cut the slices in halves or quarters for easier serving.

Add the fresh fruit slices to the pot with the mulled apple 5-8 minutes before serving. If you like you can cut the slices in halves or quarters to make it easier to serve in smaller glasses.

To serve, ladle the hot mulled apple cider into a mug with a little bit of the fruit. Take your presentation to the next level by adding a cinnamon swizzle stick. Enjoy!
Slow Cooker Method
Follow directions above but place the ingredients in your slow cooker instead. Add the cover and cook on low for 2 hours or until heated through. Add the orange and lemon slices to the slower cooker cider about 30 minutes before serving.
Nutrition
Want sugar-like sweetness without actual sugar?
➡  Learn More About Splenda Stevia Naturals and Buy Splenda Stevia Naturals Here