Better Living uses affiliate links. If you make a purchase through them, we may receive a small commission (for which we are deeply grateful) at no cost to you.
St. Patrick's Day is a celebration of all things Irish. This is the holiday where the color green takes center stage. So this St. Patrick's Day forget those ambiguous green beers and instead try one of these delicious, Irish inspired green cocktail recipes instead!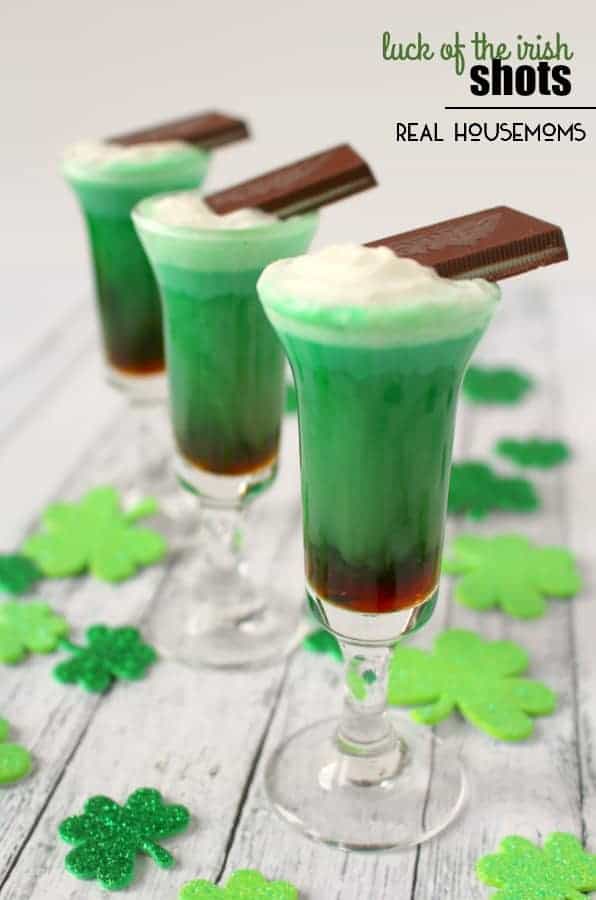 via realhousemoms.com
Minty, creamy and chocolatey, these gloriously green Luck of the Irish shots will have you feeling pretty darn lucky with just one sip. Made with three different liqueurs including crème de menthe, crème de cocoa, and Irish cream, this multi-layered green cocktail can be made as a shot or over ice in a rocks glass. 
GET THE RECIPE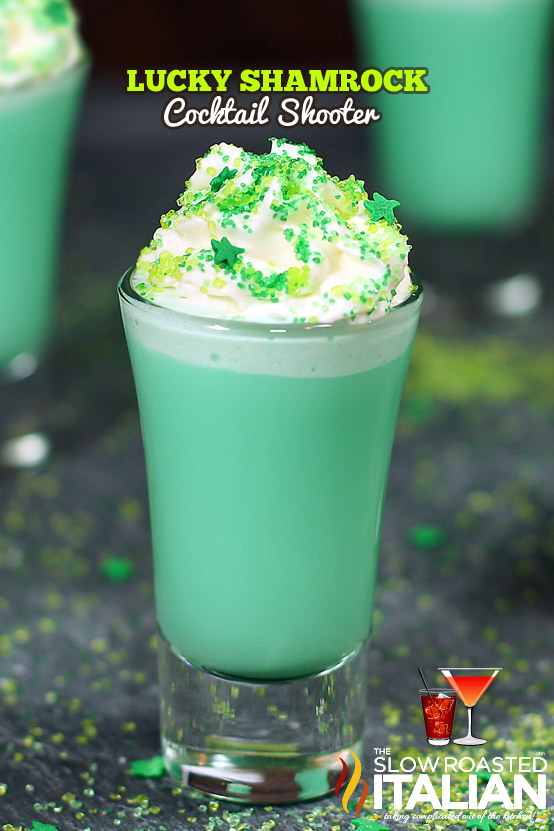 via theslowroasteditalian.com
Love the flavors of creamy white chocolate and mint? Then be sure to whip up this little cocktail shooter from the Slow Roasted Italian this St.Patty's Day! With Creme de Menthe and white chocolate liqueur, this shooter is the perfect combination of cool mint and cream. 
GET THE RECIPE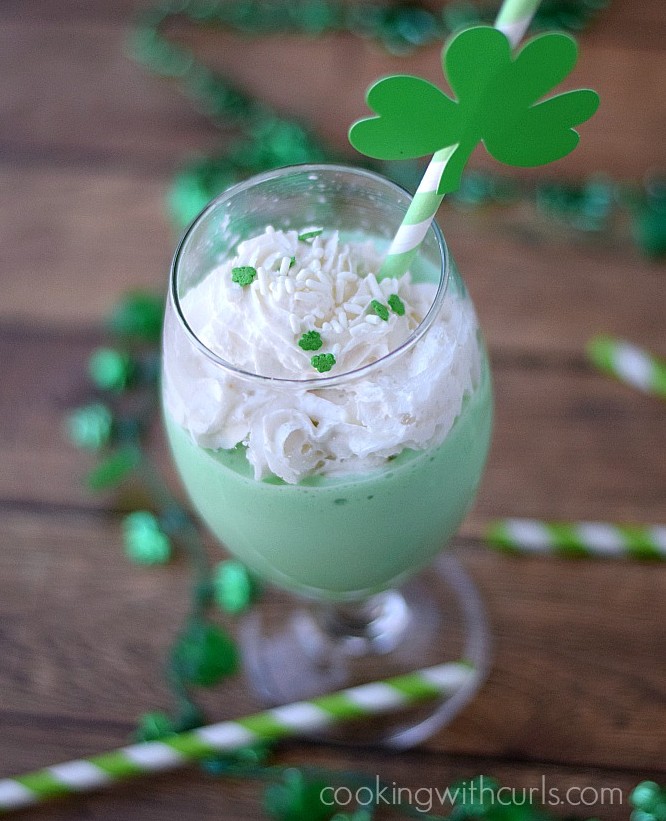 via cookingwithcurls.com
Pass over the McDonalds drive-thru this St. Patty's day and whip up this yummy and addicting adult version at home. It's super easy and oh so delicious.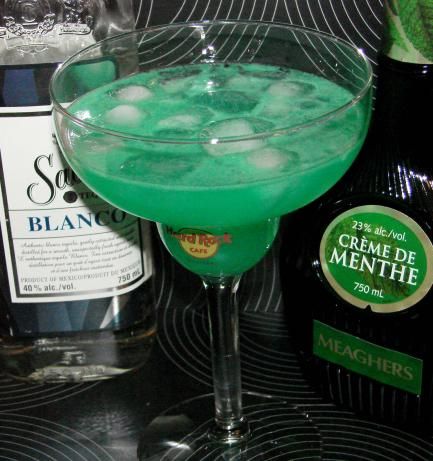 via Genius Kitchen
Taking inspiration from the traditional Mexican style margarita, this Irish Margarita is a refreshing twist on the original with color as gorgeous the Emerald Isles. This Irish Margarita is made with the usual margarita suspects like tequila and lime but adds a splash of crème de menthe for a minty flavor and of course…. the green color. Be sure to serve this one at your next St. Patty's day get together! 
GET THE RECIPE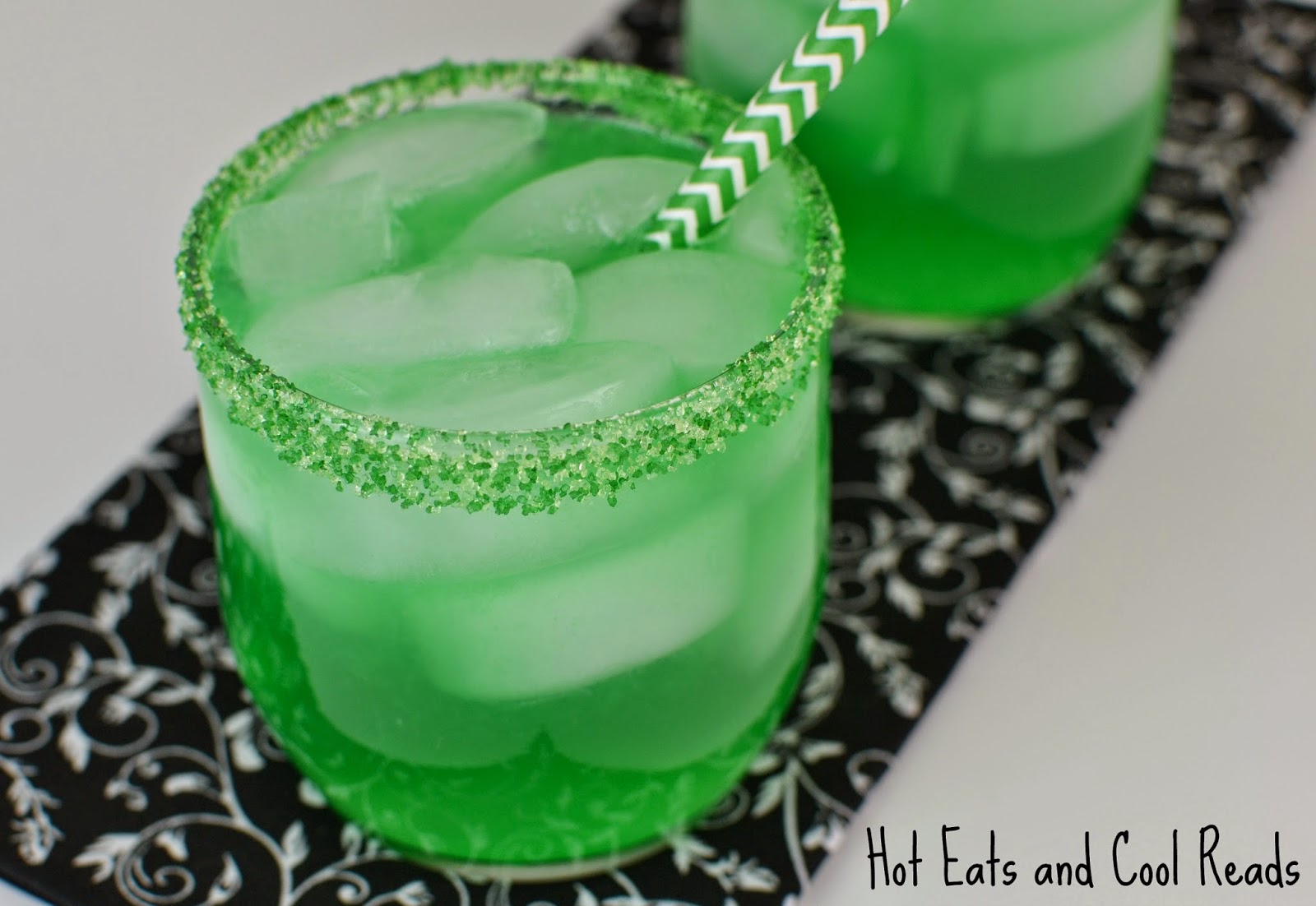 via hoteatsandcoolreads.com
I'm not sure I want to be kissed by a Leprechaun (I've seen the movies), but there's no way you won't feel refreshed from this Leprechaun's Kiss cocktail! And if you love sour this one is for you. Combining sour apple liqueur with vodka and sparkling water, this cocktail might just have you puckering up all night! 
GET THE RECIPE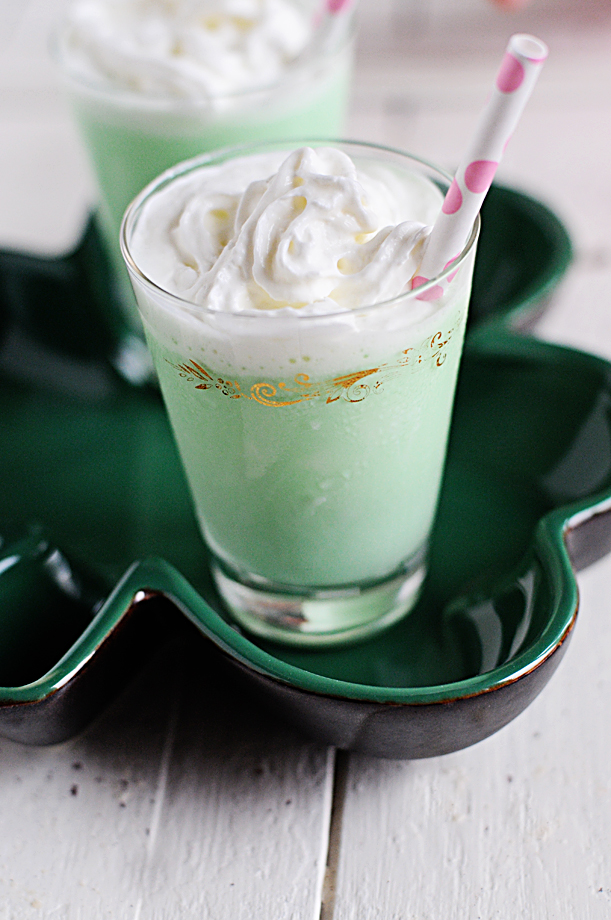 via dineanddish.net
Ice-cream can make just about anything taste better. And richer. And creamier. For this adult beverage, Irish whiskey and creme liquors are blended for a cool and creamy dessert cocktail that's as indulgent as it is delicious. And guess what? It's also green. 
GET THE RECIPE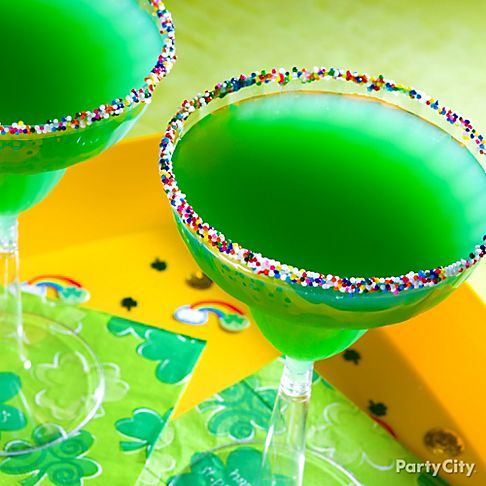 via partycity.com
Feeling lucky yet? If not, this Lucky Charm cocktail should do the trick. Cointreau, Blue Curacao, and orange juice are shaken up for a green refreshing St.Patrick's day cocktail with a color that is as green as a fresh shamrock meadow.
GET THE RECIPE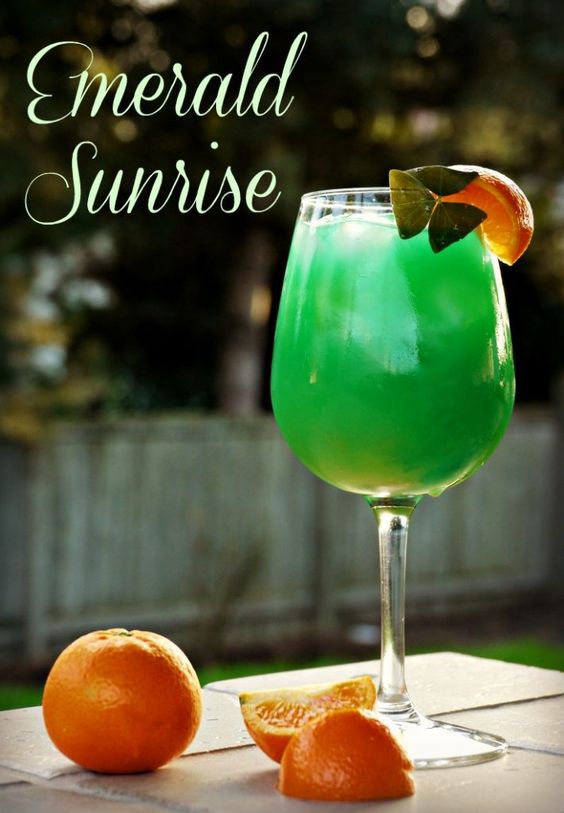 via The Good Hearted Woman
If you love a classic Tequila Sunrise, made with tequila, orange juice and a splash of grenadine, then you'll love this emerald green twist from The Good Hearted Woman. Made with blue curaçao instead of grenadine to get that stunning green color, one sip and you'll wish St. Patrick's Day was more than just once a year.
GET THE RECIPE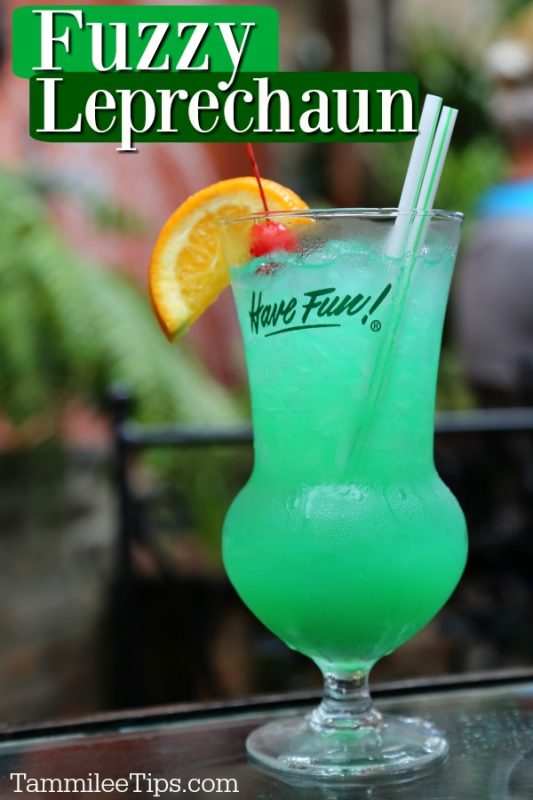 via Tammilee Tips
This fun St. Patrick's Day cocktail is an original recipe from the famous Pat O'Brien's in New Orleans. A vodka based cocktail with fruity additions like peach schnapps, orange juice and pineapple juice, this one would make a great cocktail at parties.
GET THE RECIPE
10. Luck of the Irish Cocktail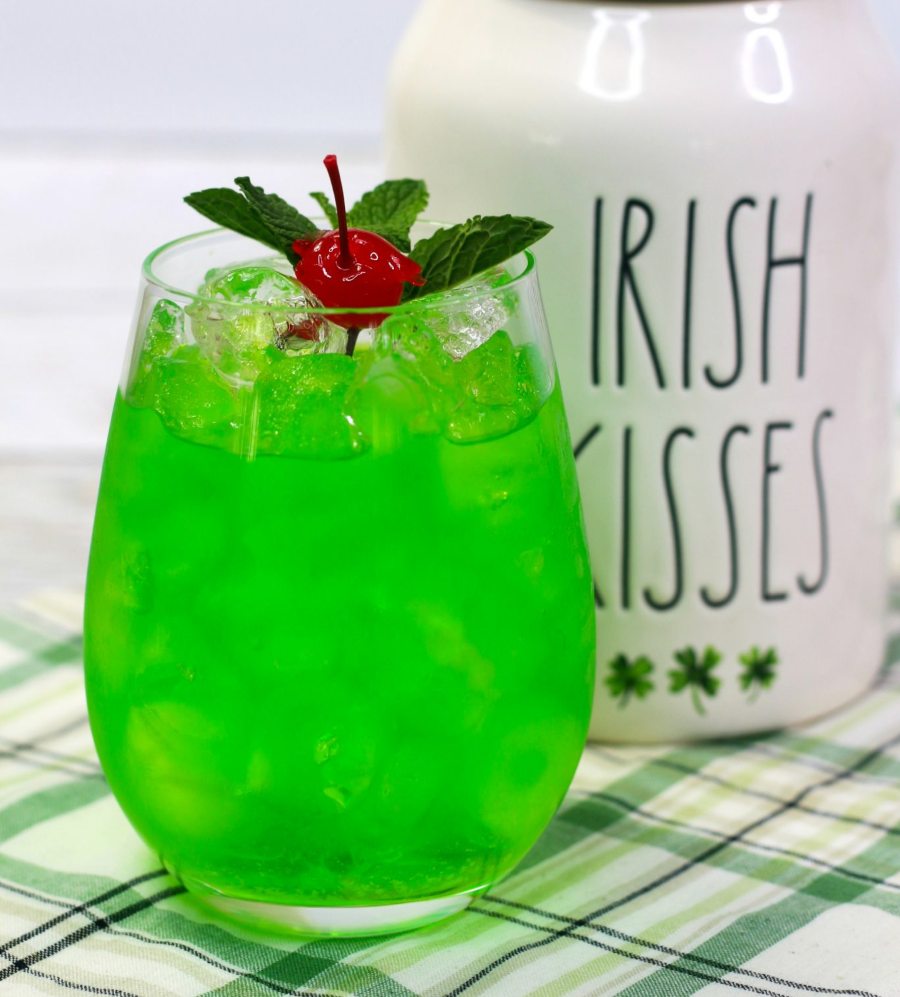 via Sweet Pea's Kitchen
If you prefer a whiskey cocktail this St. Patrick's Day, Sweet Pea's Kitchen has you covered.  Sparkling, tangy and made with Jameson's Irish whiskey, this original cocktail recipe is the green you'll want in your glass this St. Patrick's day!
GET THE RECIPE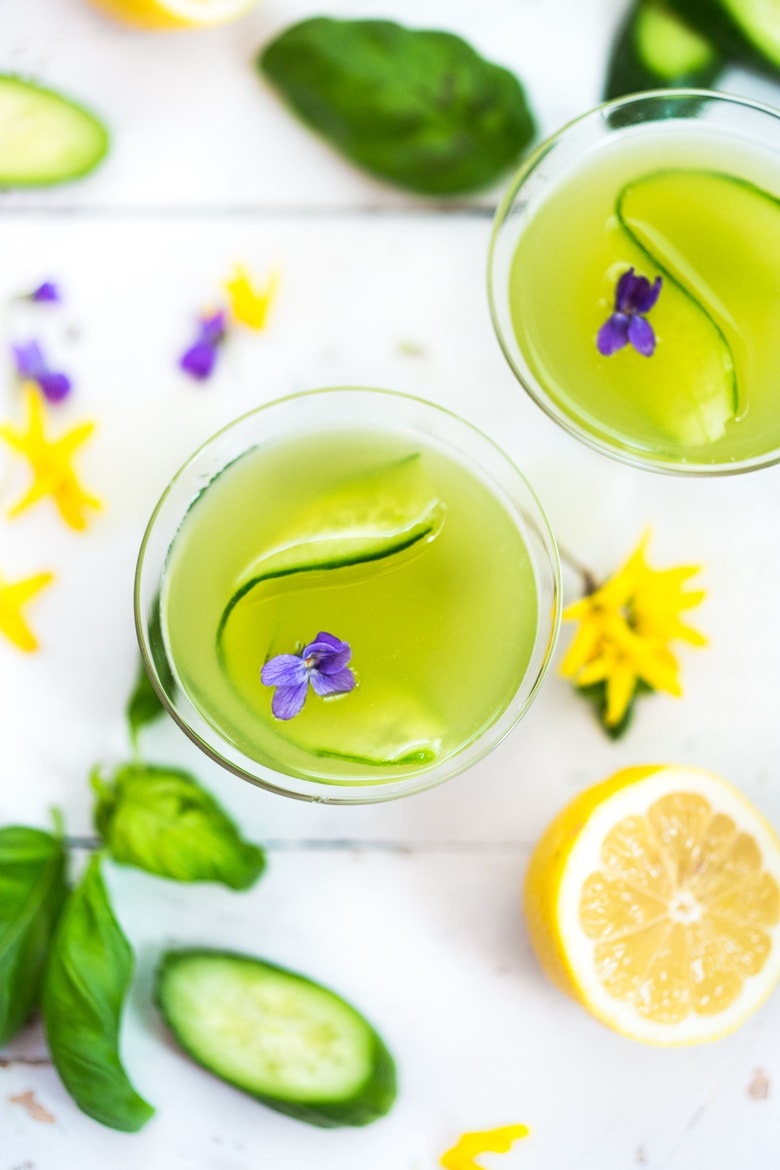 via Feasting at Home
Herbal and citrusy with grassy notes, this sophisticated vodka cocktail made green with the help of Chartreuse (the only naturally green liquor in the world),  will remind you of the green hills of Ireland with just one sip. The very essence of spring in a glass, this refreshingly tart cocktail is perfect for those who aren't into anything too sweet.
GET THE RECIPE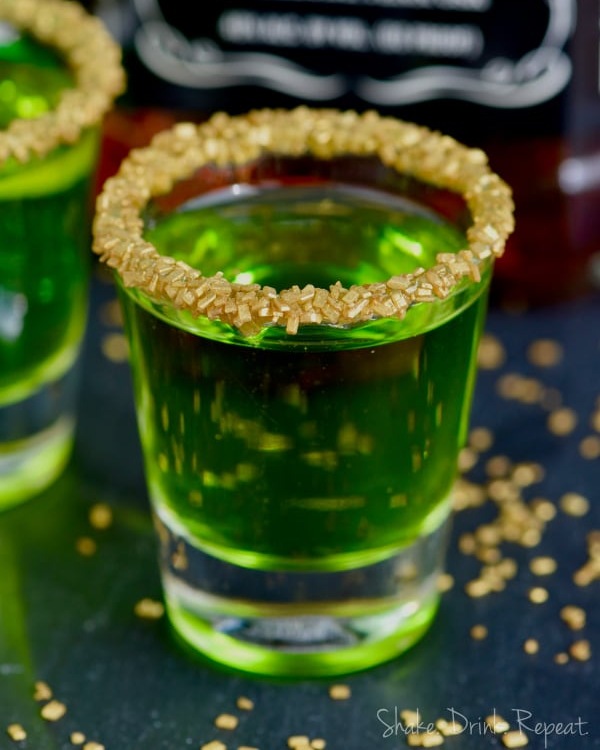 via Shake.Drink.Repeat
Bright green and rimmed with gold colored sugar,  you won't be able to resist these easy to make these delicious apple flavored shots made with whiskey. Give them a try and they might just be your new favorite! 
GET THE RECIPE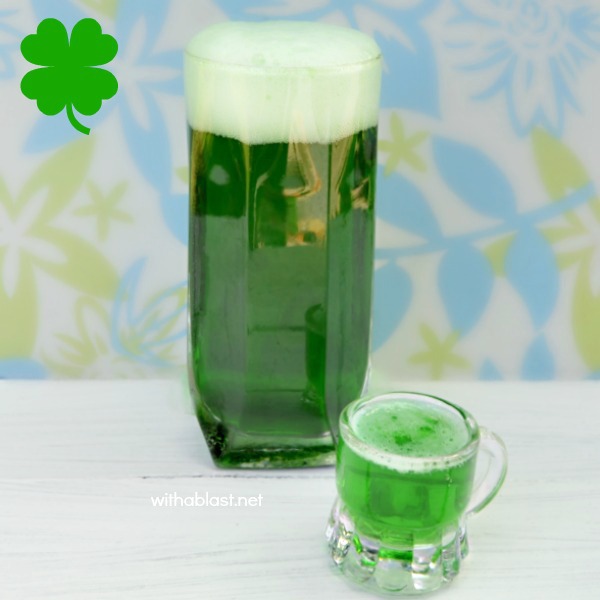 via With a Blast
If you've ever been to a St. Patrick's Day celebration, then you know green beer is kind of a tradition at many bars and pubs across the U.S. This year learn how stupid easy it is to make your own while celebrating St, Patrick's Day at home. 
GET THE RECIPE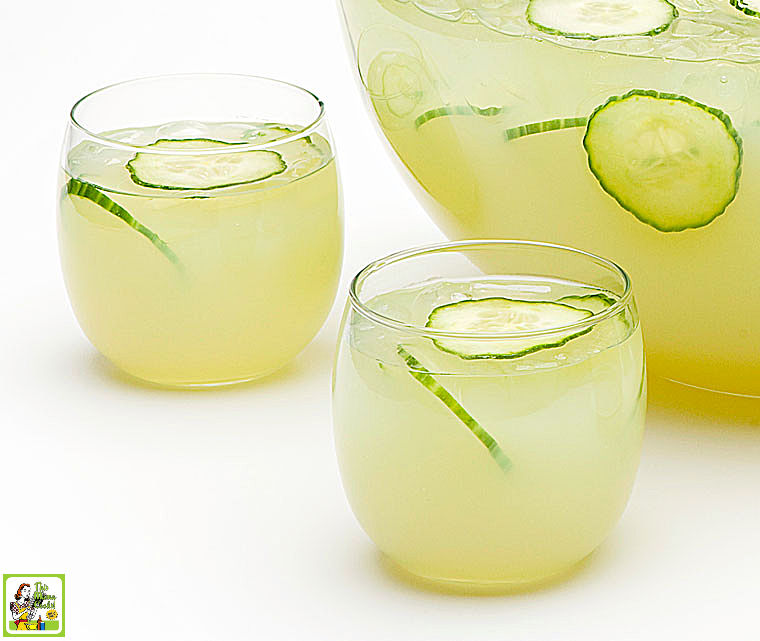 via This Mama Cooks
For a lighter take on traditional sangria, try this Sparkling Green Sangria by This Mama Cooks. Made with Moscato wine which has it's own natural sweetness and a little fizz, as well as fruits and veggies like green grapes and cucumbers, this recipe can be made as a single glass or for a crowd. 
GET THE RECIPE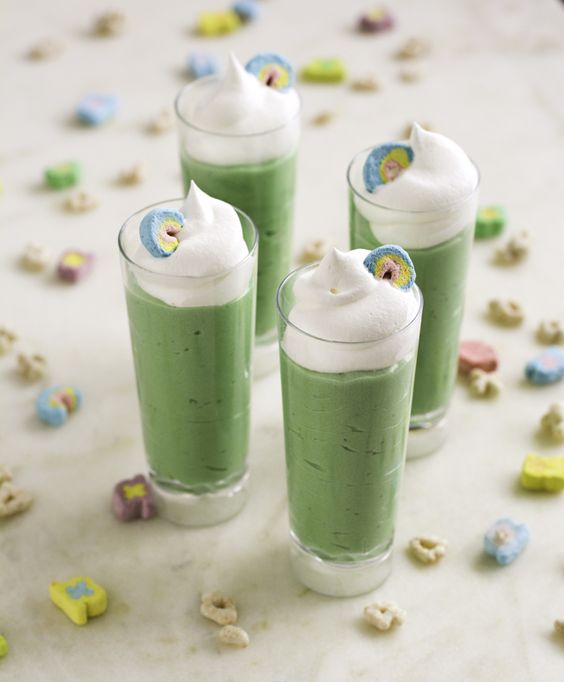 via Culinary Cool
Pudding, Lucky Charms and shots? What could be better? Made with Irish Cream liqueur and white chocolate pudding, these shots will be a special delight to your eyes and your taste buds this St. Patrick's Day. Not only super delicious, these green pudding shots are also super fun to make!
GET THE RECIPE
17. Pot O' Gold Jello Shots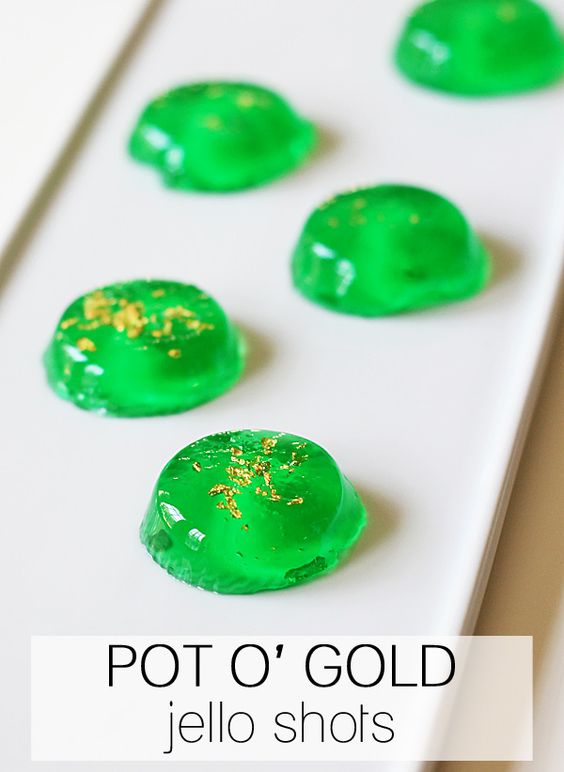 via The Shabby Creek Cottage
We'd love our very own pot of gold, but for now we'll settle for one of these adorable Pot O' Gold Jello Shots by The Shabby Creek Cottage. Made with Goldschlager, a slightly sweet and spicy cinnamon flavored German liqueur that comes with actual flakes of gold in the bottle, these Jello shots will be sure to bring the bling to your St. Patty's day celebration.
GET THE RECIPE