Better Living uses affiliate links. If you make a purchase through them, we may receive a small commission (for which we are deeply grateful) at no cost to you.
Totally instagrammable and a feast for the eyes, smoothie bowls are more than just a pretty package. For a smoothie bowl that will leave your skin hydrated and glowing from the inside out, try this anti-aging Super Berry Beauty Collagen Smoothie Bowl recipe loaded with antioxidant-rich berries and a scoop of protein-rich skin-plumping and wrinkle-reducing collagen. Touted by women and beauty gurus as a major anti-aging tool to have in your arsenal, if you haven't jumped on the collagen bandwagon keep reading to see why you might want to start.
Can Collagen Really Turn The Clock Back On Your Skin?
An important structural protein found in just about every tissue, collagen is the glue that quite literally keeps our bodies together. Remember what happened to Wyatt's older brother Chet in the movie 'Weird Science'? That's us without collagen. A pile of mushy goo. Collagen is what gives skin its firm, bouncy and youthful appearance. Our bodies are great at producing strong, healthy collagen when we're young, but after age 25 that ability starts to decline. That is when we start to see signs of aging like wrinkles, sagging skin, poor hair and nail quality along with stiff painful joints. Simply applying collagen to your skin in creams or moisturizers won't necessarily do the trick. While they may be able to help a little, some experts believe that the molecules are too large making them difficult to absorb. This is where adding a collagen hydrolysate peptide supplement into your diet can help. 
And there's more clout to collagen than anecdotal reports from beauty experts and YouTubers that it can help turn back the clock on your skin. While the science of collagen is still in its early stages there is promising evidence to support that collagen is really effective for reducing the signs of aging skin. A 2014 German study with women ages 35 to 55 found that those who took 2.5 or 5 grams of collagen hydrolysate peptides daily for 8 weeks showed great improvement in skin hydration and elasticity. Another study found that after 12 weeks of taking 1 gram per day of a collagen supplement, women had better blood flow in the skin, 76% less skin dryness, 12% fewer visible wrinkles, and a 6% increase in collagen overall. And can we really ignore all the glowing reviews and stories from women across the globe that swear by it? I don't think so. 
Collagen is definitely a beauty-boosting superfood that is here to stay.  Stick with a collagen regimen and in time you may even start to notice faster-growing hair, nails and an overall more glowing radiant you. Unlike gelatin (a similar product), collagen hydrolysate peptides easily dissolve in warm and cold liquids so it's easy to add to your daily routine. If you're looking for a good collagen product we recommend this one.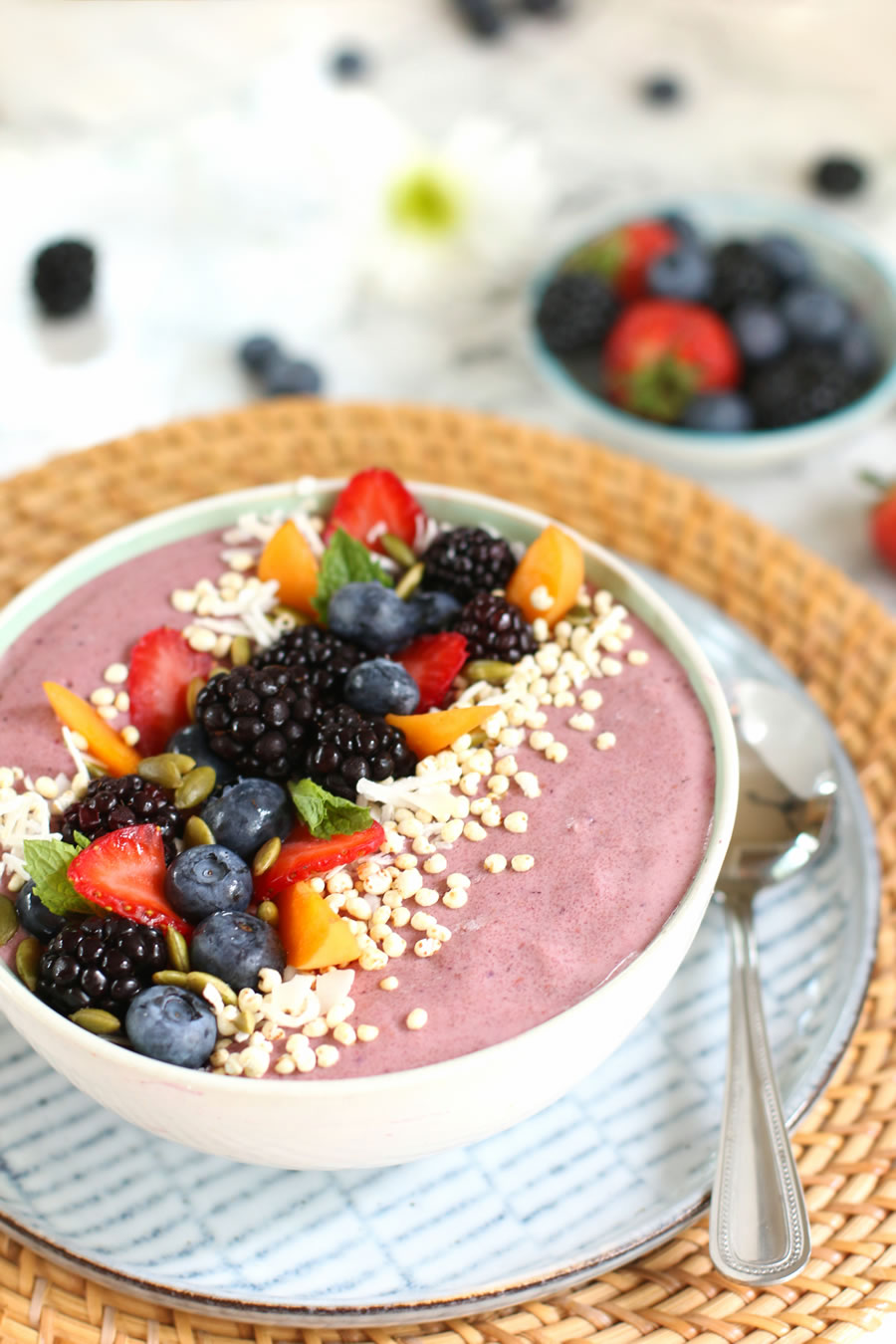 How To Make This Anti-Aging Smoothie Bowl
To make this skin-nourishing smoothie bowl is super simple. In a blender, combine frozen berries with a frozen banana, almond milk (or your choice of milk), almond butter and skin glowifying collagen. Blend it all until smooth and you can sweeten it lightly with honey if you like and then serve it up in your favorite breakfast bowl. 
If you're looking to limit your sugar intake or are avoiding bananas you can replace them with a cup of zucchini, yellow squash, or cauliflower. These veggies are low in sugar and low in calories, but will still give your smoothie bowl body and help to thicken it. They're all mild in flavor, but will provide vitamins, minerals, and fiber to your smoothie bowl! To make your smoothie bowl almost too pretty to eat, top it with your favorite garnishes. We used fresh berries, sliced apricots. pumpkin seeds, shredded coconut, and puffed millet. 
GET THE RECIPE!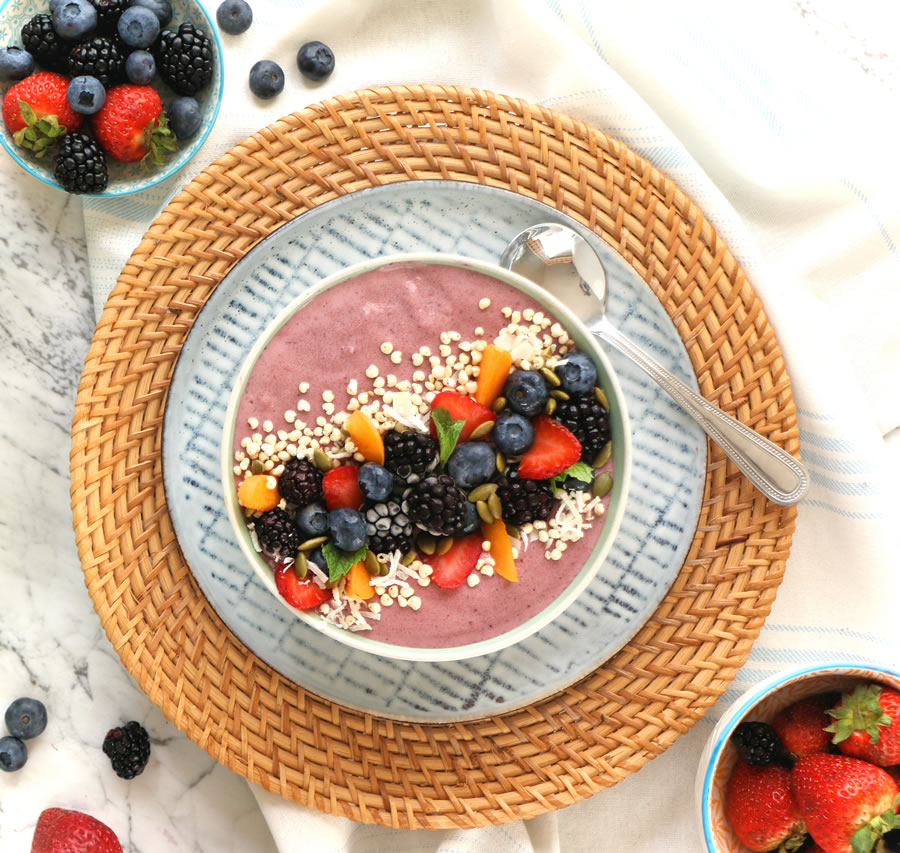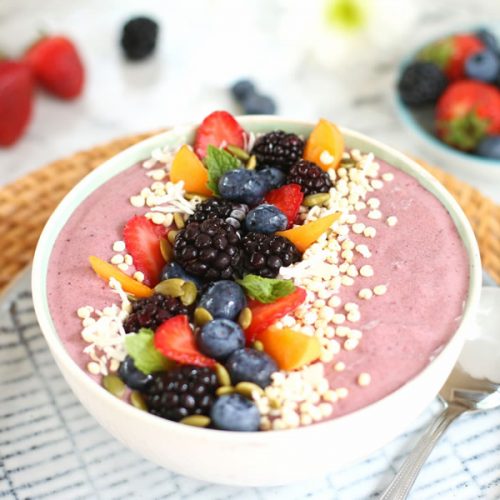 Super Berry Beauty Smoothie Bowl
Made with a superfood blend of antioxidant and nutrient-dense berries and skin-plumping collagen peptides, this smoothie bowl will have you glowing from the inside out.
Ingredients
1

cup

frozen mixed Berries

1

banana, frozen

cup

spinach

3/4

cup

almond milk

1

scoop

collagen powder

1

tbsp

almond butter

honey, stevia or other sweetener to taste
Optional Smoothie Bowl Garnishes
sliced strawberries

blackberries

blueberries

puffed millet

pumpkin seeds

sliced almonds

shredded coconut
DIRECTIONS
Place all the ingredients in the blender and process until smooth. Add less almond milk for a thicker bowl. Sweeten to taste if desired and pour into a small bowl. Top with your favorite garnishes like more fresh berries, nuts, seeds, and/or shredded coconut. Enjoy!