Better Living uses affiliate links. If you make a purchase through them, we may receive a small commission (for which we are deeply grateful) at no cost to you.
If you're a clean beauty enthusiast, this delicious, exfoliating DIY face scrub recipe with 100% edible ingredients is the perfect, weekly pick-me-up. It will take your dull skin to glowing and hydrated in just a few minutes!
If you want a glowing complexion and you're not working exfoliation into your skincare routine, you're missing out on its benefits. The best part is you don't need fancy or expensive skincare products. 
Instead, try this easy and rejuvenating Mānuka Honey + Vanilla Face Scrub that smells and tastes as irresistible as it feels. 
Made with only 4 skin-friendly ingredients: Mānuka honey from Flora, sugar, vanilla, and MCT oil from Flora. This exfoliating face scrub recipe is what every clean beauty recipe should be: made of 100% pure and edible ingredients.
Stir it up, massage it into your skin, and then take your complexion from dull to radiant in under five minutes. Then use the leftovers on your hands.
Even after only one use of this Mānuka Honey + Vanilla Face Scrub, my skin looked and felt smoother, softer, and more radiant. 
If you have sensitive skin, you can easily adjust this recipe for your skin type (see instructions below). 
WHY IS EXFOLIATION IMPORTANT?
The purpose of exfoliation is to break up and remove the older, outer layers of the skin to reveal the fresh layer just below the surface. 
The older we get, the harder it is for our body to do this on its own.
Exfoliating your skin is important because it can:
Remove surface build-up (dead skin cells, dirt, bacteria, etc.), which can cause dull-looking skin and breakouts.
Promote the turnover of fresh skin cells. 
Smooth and brighten skin.
Help the ingredients in skincare products absorb deeper so you see better results.
Improve the way makeup applies and settles on your skin.
Exfoliation can be done with either chemical or mechanical skincare ingredients.
Chemical exfoliation uses ingredients like fruit acids or enzymes that will naturally break down and remove dead skin cells from the surface of the skin.
Mechanical (physical) exfoliators use granules like fine mineral powders, ground nut shells, or fruit seeds that you manually rub over the skin. Some mechanical exfoliators, even though natural, can be extremely harsh and damaging to the skin's surface.
This face scrub recipe uses both methods and, while super effective, is gentle enough for most skin types.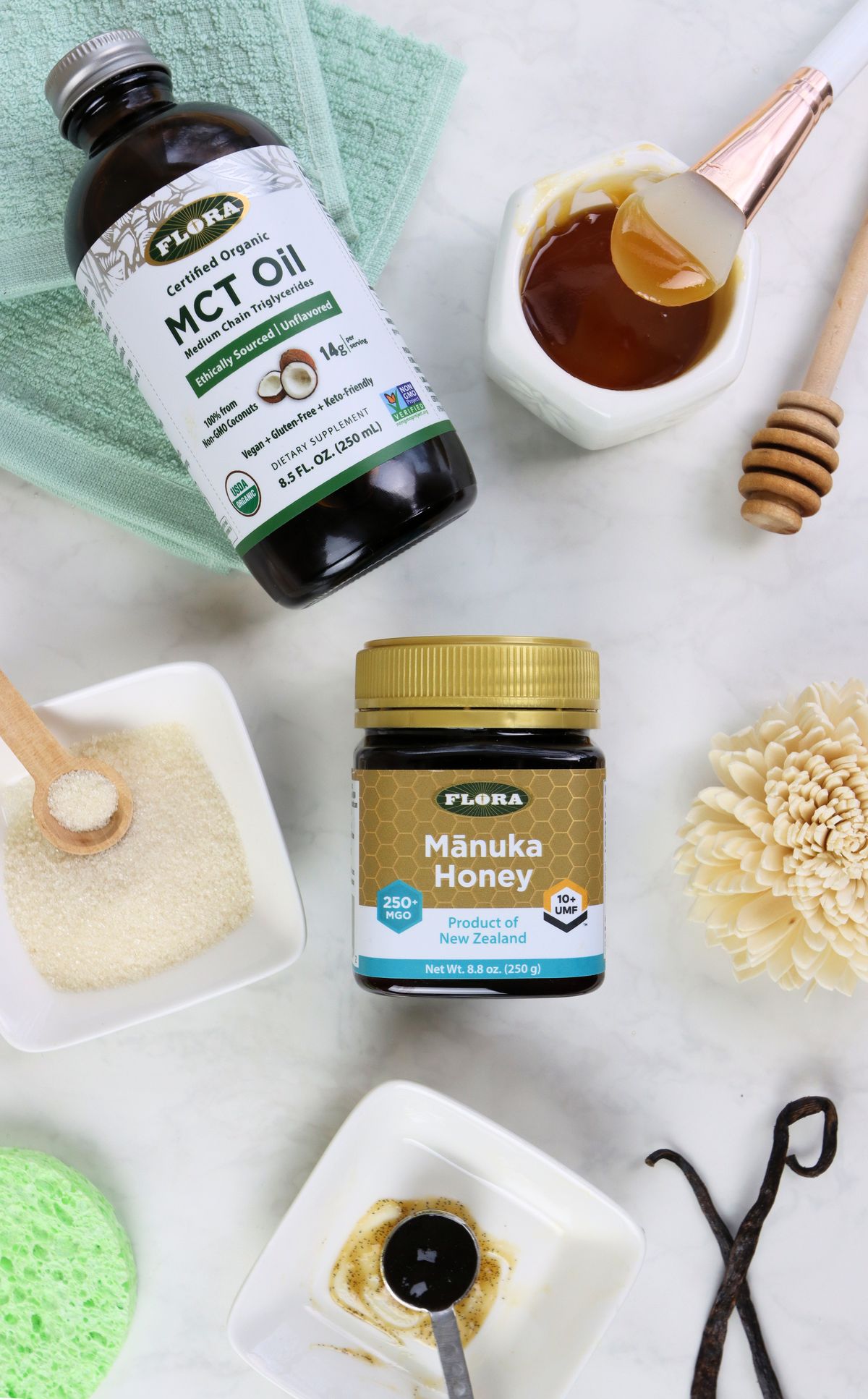 THE 4 INGREDIENTS IN THIS FACE SCRUB (+ THEIR SKIN BENEFITS)
The sugar and the honey in this DIY scrub recipe are gentle natural exfoliators, while the MCT oil helps to cleanse and moisturize. Vanilla has beneficial skin properties and adds a delicious aroma.
INGREDIENT #1: Mānuka Honey 
Mānuka honey is a rare honey made by bees that pollinate the flowering Mānuka tree (Leptospermum scoparium). It blooms six weeks per year in a remote part of northern New Zealand.
Mānuka Honey Benefits for Skin: 
Absolutely wonderful for a glowing complexion and healthy skin, honey is a natural mild exfoliant and can even support your skin's own healing processes. (1)
But what makes Mānuka honey a superfood wonder for skin is that it contains a rare compound called methylglyoxal (MGO). (2)
This gives it powerful properties that soothe and treat troubled skin above and beyond your average honey. (3)
A gentle exfoliant and cleanser, mānuka honey can:
Remove dead skin cells, dirt, bacteria, and surface build-up, which can cause dull-looking skin and breakouts.

Promote skin cell regeneration and help repair cell damage (

4

)

Soften hydrate, and plump skin to minimize fine lines.

Soothe irritated skin.

Help balance our skin's pH (important for healthy skin) (

5

)
Mānuka honey is also antioxidant-rich and can help neutralize free radicals. These unstable atoms can molecularly damage skin cells, causing premature aging and wrinkles.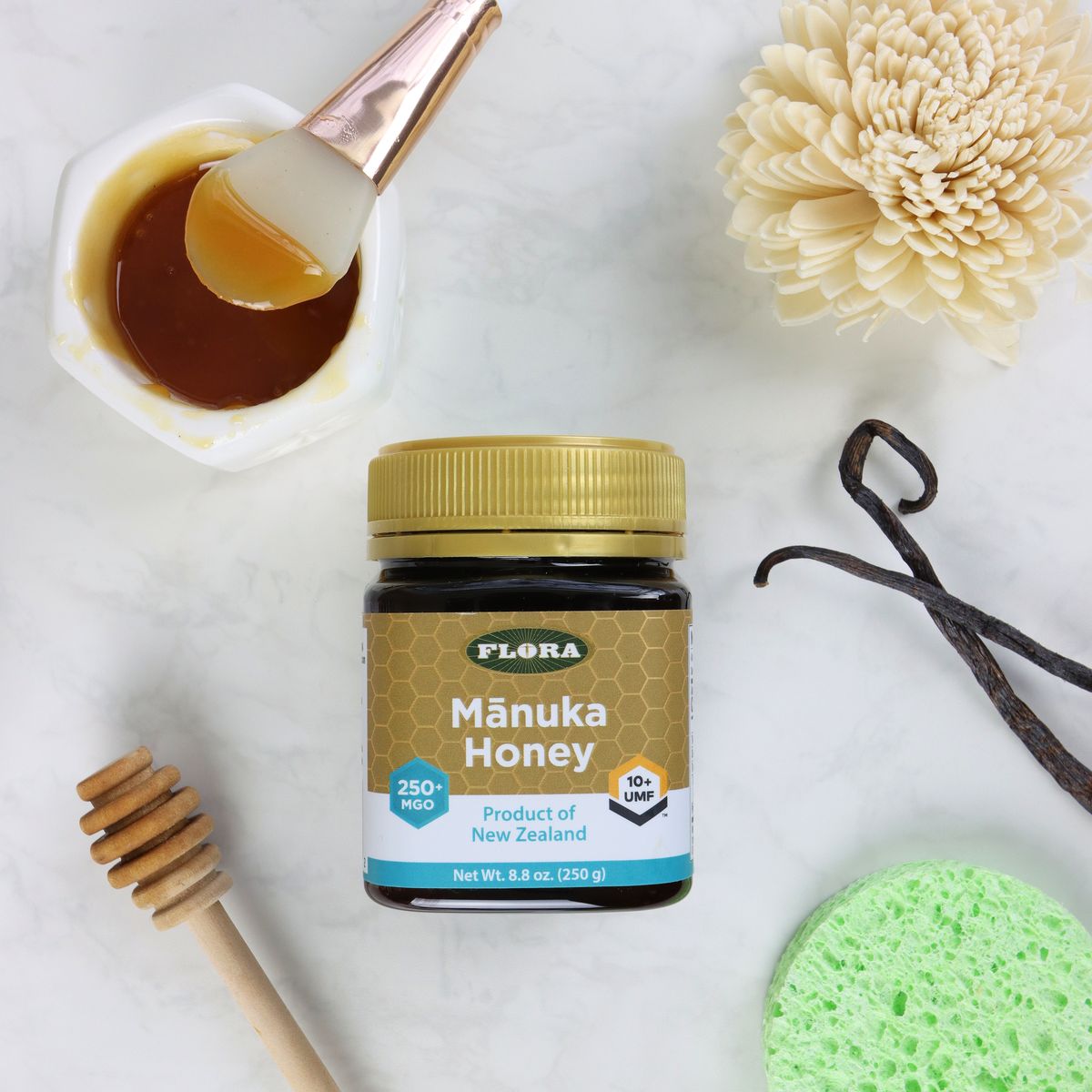 Which Mānuka Honey Is Best To Use?
The strength of real mānuka honey is determined by how much MGO it contains, which gives it that magical superfood status. It's measured by a rating system called the Unique Mānuka Factor (UMF). It also tracks other unique mānuka honey compounds, including DHA, a precursor to MGO, and leptosperin.
Use a minimum of at least MGO 250+/10+ UMF-graded mānuka honey when using it for therapeutic skin benefits. This means it has at least 250 mg of methylglyoxal per kilogram of honey.
The higher the MGO/UMF™ number (the official rating system for mānuka honey), the more potent the honey and the more benefits your skin will receive. 
It's also more expensive, so if you're spending the money you'll want to make sure what you're getting is real. Make sure it says 'Made in New Zealand' on the label.
 ➡ Our Pick: Flora Mānuka Honey MGO 250+/10+ UMF 
It's estimated only about 17% of Mānuka honey is real.
Flora guarantees their eco-friendly and sustainably sourced mānuka honey is pure and potent. They also include both a UMF™ (Unique Mānuka Factor) rating and an MGO (methylglyoxal) rating to denote their honey's potency. 
They're also licensed by the Unique Mānuka Factor Honey Association™, the third-party organization in New Zealand that tests and monitors the authenticity and potency of all real mānuka honey.
Each jar is also 100% traceable and comes with an NFC code you can scan with your smartphone to access the honey's source, purity, and lab test results. 
INGREDIENT #2: SUGAR
Sugar isn't great for your waistline, but it's a great exfoliant for your skin.
Sugar Benefits for Skin:  
A humectant that draws moisture to the skin, sugar's texture also makes it a wonderful physical exfoliant. (6)
It's also a natural source of glycolic acid – a type of alpha hydroxy acid (AHA) and a natural chemical exfoliator that can brighten skin, even skin tone, and reduce the appearance of fine lines. (7)
Glycolic acid also hydrates skin and can boost the production of collagen, which gives skin its firmness and elasticity. (8)
Which Sugar is Best to Use?
Opt for organic sugar if possible. Whether you use brown or white is your choice. 
If using a larger-grained sugar like Turbinado, pulse it in your food processor to make it finer, which will be gentler for your skin.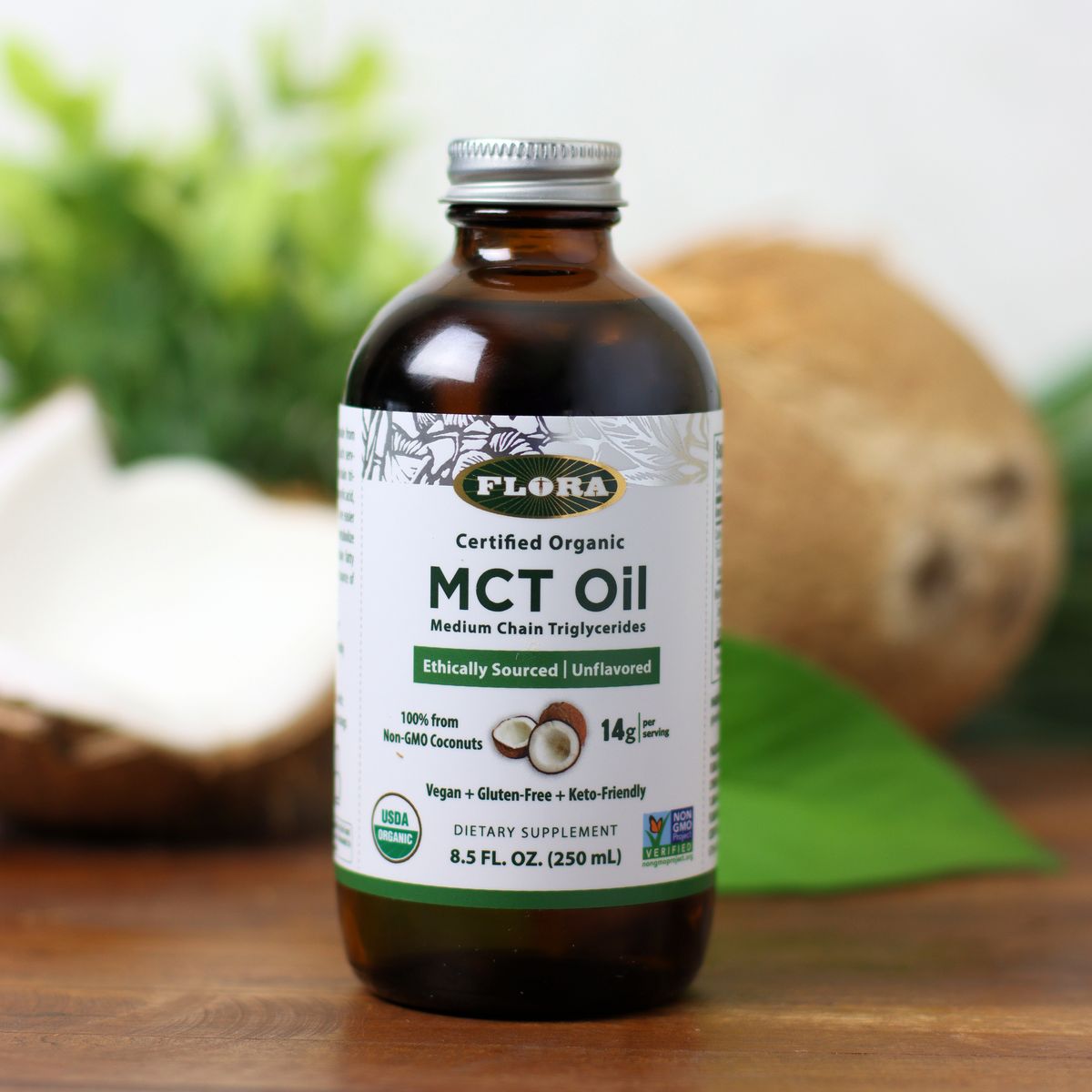 INGREDIENT #3: MCT Oil
Coconut oil contains fats that are both long-chain fatty acids and about 15% are medium fatty chain acids. MCT (medium-chain triglycerides) oil is a product purified from coconut oil but contains only medium-chain fatty acids. Unlike coconut oil, MCT oil remains liquid at room temperature.
It's a favorite of keto dieters, as it provides a pure energy source for the body without triggering fat storage. It's also great for the skin!
In this recipe, the MCT oil is used to thin out the mānuka honey, which is naturally much thicker than typical honey. 
MCT Oil Benefits for Skin:
Suitable for most skin types, MCT oil is:
A natural makeup remover and skin cleanser.

A skin softener (emollient).

Moisturizing, non-greasy, and lightweight.
If coconut oil has broken your skin out in the past, MCT oil can be a great alternative, since MCT Oil has a lower comedogenic score than coconut oil.  
Which MCT Oil is Best to Use?
Look for a high-quality MCT oil that's made from coconuts, with no additional other ingredients, flavorings, or fillers. 
How it's made is important too. 
A process called fractionation produces MCT oil. To achieve this, some companies use industrial chemical solvents.
Instead, look for an MCT oil that is made using cold fractionation, which requires no chemicals and is skin-safe.
 ➡ Our Pick: Flora Organic MCT Oil
High-quality and skin-safe, Organic MCT Oil from Flora is:
Certified organic.

Made from

sustainably sourced coconuts.

Hexane-free and filler free.
It's also vegan-friendly, gluten-free, and non-GMO.
INGREDIENT #4: VANILLA 
Vanilla makes this scrub smell heavenly, but it's also nourishing for the skin. 
Vanilla Benefits for Skin: Vanillin, the compound that gives vanilla beans their intoxicating aroma, is soothing to the skin but also has antioxidant properties that can fight premature skin aging and encourage skin repair. (9, 10)
Vanilla extract also contains trace amounts of B vitamins and minerals like zinc and magnesium that can help nourish the skin.
Which Vanilla is Best to Use?
 Find a good quality vanilla extract. If you have dry skin, opt for an alcohol-free vanilla extract or an organic vanilla paste, which is what we prefer to use in this recipe.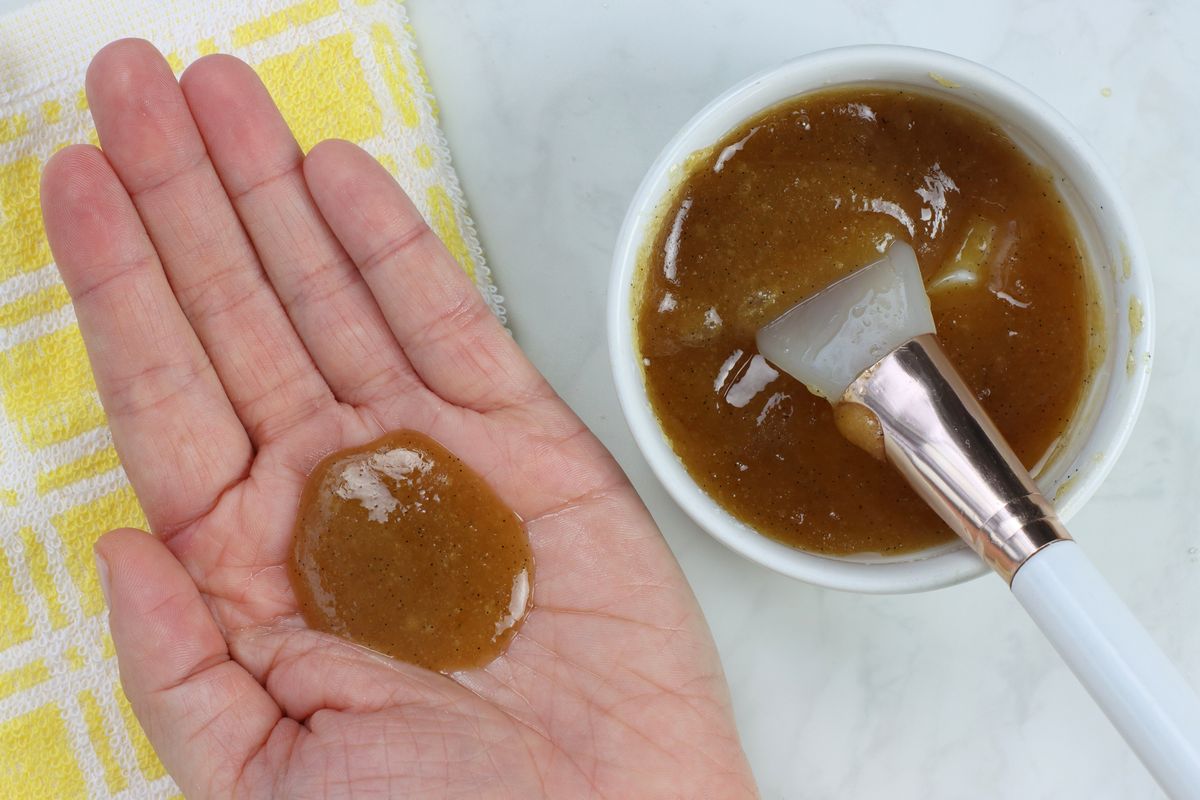 THE METHOD: HOW TO APPLY THIS SCRUB
Don't be aggressive! Gently, massage the face scrub into your skin in circular motions. Then rinse with warm (not hot) water. Blot your face dry with a towel and follow up with your favorite moisturizer.
HOW OFTEN SHOULD YOU USE THIS (OR ANY) FACIAL SCRUB?
The key to getting that glow with exfoliation is not to overdo it. Otherwise, you can strip the skin of its natural oils, which can lead to redness and irritation.
Exfoliating 1 to 2 times per week is plenty. 
If you have sensitive skin, don't exfoliate more than once per week.
 💡 TIPS
Do a spot test with the MCT oil and honey on the inside of your wrist before using to make sure these ingredients agree with your skin.
There is always a chance for allergies and sensitivities to occur even when using completely natural and food-based ingredients.
Avoid this skincare recipe if you're allergic to any of its ingredients.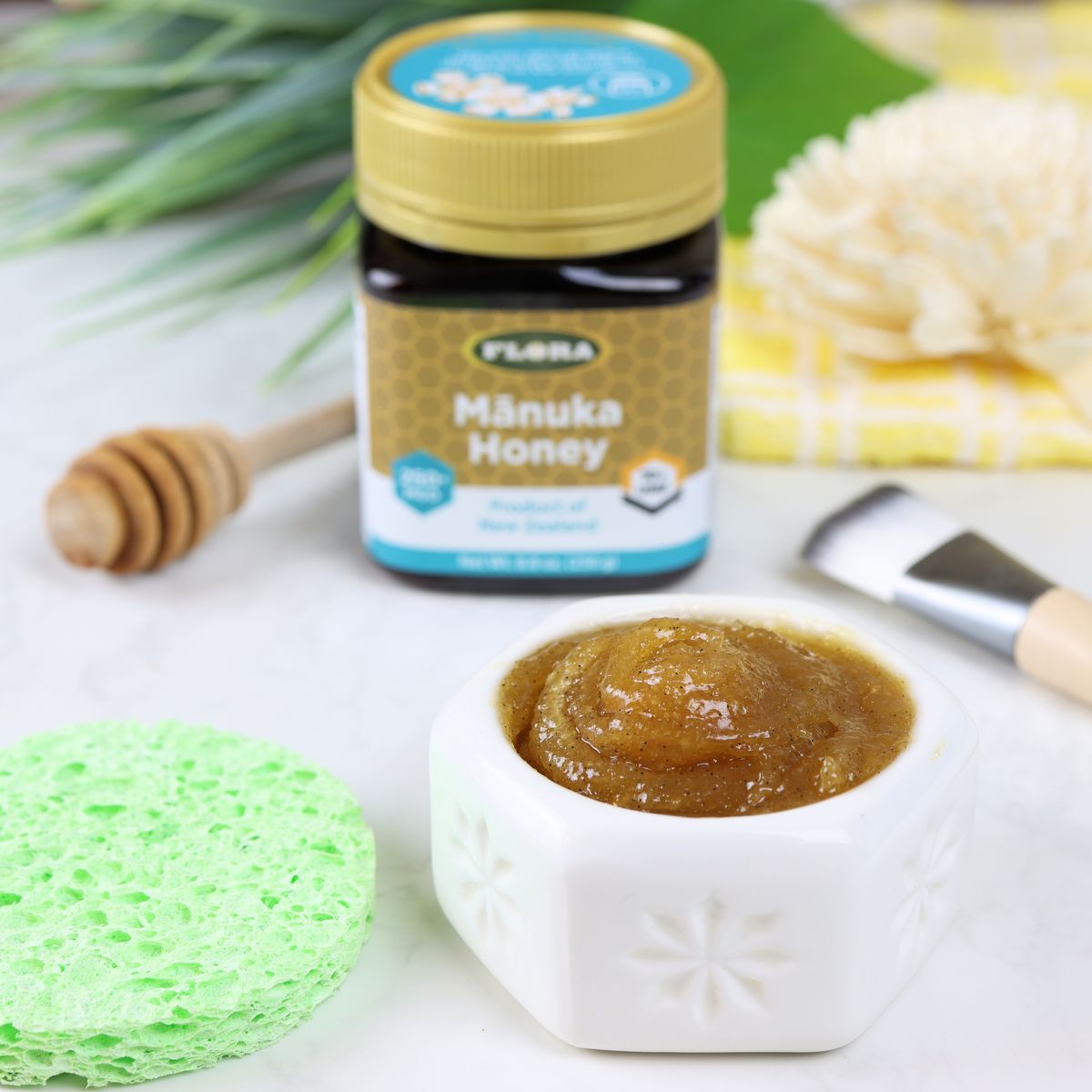 DIY MĀNUKA HONEY + VANILLA EXFOLIATING FACE SCRUB
This gentle and hydrating natural face scrub recipe harnesses the power of mānuka honey and sugar to exfoliate and soften your skin to reveal a brighter, smoother, and more radiant complexion. MCT oil moisturizes while vanilla adds a heavenly scent and anti-aging antioxidants. Use any leftovers as an exfoliating treatment for your hands.
For Sensitive Skin Types: Use all ingredients except the sugar as it may irritate your skin type.
For best results, use a Mānuka honey graded MGO 250+/10+ UMF or higher. 
——————————————————————
Number of Applications: 1
FACE SCRUB INGREDIENTS
DIRECTIONS
In a small bowl, mix all the ingredients. If the consistency of the scrub is too thick, add a little more MCT oil.

Dampen your face with warm water and then apply the scrub to your face. Massage upward and outward in small circular motions. Stay clear of your eyes.
Tip: After scrubbing the honey mixture into your skin, leave the excess on your face to sit as a mask for 5 to 10 minutes longer to let the honey continue doing its work. 
Wash with warm water and blot your face dry with a towel.

If there are any leftovers, you can use it to exfoliate your hands.

Apply a moisturizer to keep your skin hydrated. Save leftovers for another application.

Enjoy your fresh complexion!
>> Note: Don't exfoliate if you have any irritation, open cuts, or sunburn on your face. Allow the skin to fully heal before continuing with any exfoliating treatment.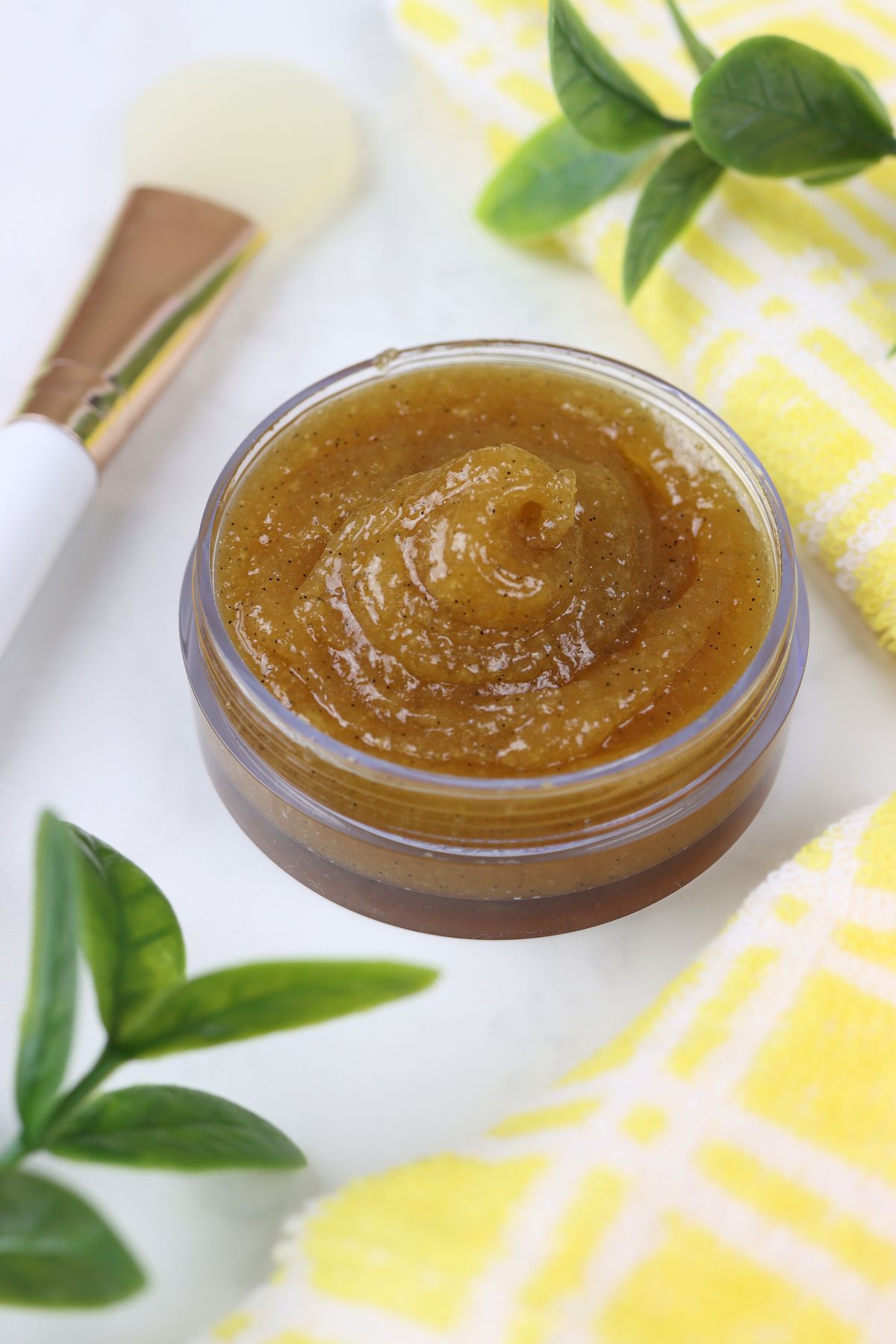 * These statements have not been evaluated by the Food and Drug Administration. These products are not intended to diagnose, treat, cure, or prevent any disease.
More Healthy Recipes Made With Flora Mānuka Honey
 ➡ 6 DIY Mānuka Honey Face Masks For Every Skin Type
 ➡ Healthy Chai Bubble (Boba) Tea
➡ Beet Pineapple Granita with Mānuka Honey
➡ Immune Boosting Beet-Turmeric Refresher
➡ Mānuka Honey Lavender Lemonade
➡ Cinnamon Baked Pears with Elderberry Whipped Cream and Mānuka Honey