Better Living uses affiliate links. If you make a purchase through them, we may receive a small commission (for which we are deeply grateful) at no cost to you.
* Thank you to Flora Health for sponsoring this post! They're an amazing source for super high-quality natural health-promoting foods and our favorite trusted source for authentic, potent, and sustainable mānuka honey. The content, opinions, and information presented here are our own.
No matter what our age or our skin type, sometimes our skin can use a little help. Things like stress, too much sun and lack of sleep can make our skin look less than red carpet ready. What better way than a face mask to beautify your way to glowing skin? There's no need to resort to products filled with artificial preservatives and unpronounceable ingredients. Mānuka honey, a rising natural beauty superstar and "super" honey with enhanced healing and beneficial compounds is the perfect thing to use to soften, soothe and beautify skin. Pair it with other deliciously edible and skin-boosting ingredients like chocolate, matcha, cinnamon, and turmeric, and you're on your way to beautiful glowing skin naturally.
There's something magical about the therapeutic properties of raw honey for the skin. It's been used for centuries in cultures across the globe for a variety of different healing purposes including aiding in wound healing. Naturally antibacterial and humectant, meaning it naturally draws moisture to the skin, honey is a perfect match for soothing and repairing tired or damaged skin. Use it as a mask or even a daily cleanser and the result is a dewy, youthful complexion. 
There's a reason why mānuka honey, in particular, has become a must-have in the arsenal of beauty bloggers, celebrities and natural health experts. Mānuka honey has additional beneficial compounds and enzymes that aren't found in other types of honey. A powerful superfood and perfect for using as a skin glowifying mask or even daily cleanser, mānuka is the rare honey we all need in our beauty and superfood arsenal.
Why Is Mānuka Honey So Special?
Mānuka honey is made when bees drink the nectar of the flowering mānuka tree (Leptospermum scoparium). Native to New Zealand and a relative of the Australian tea tree, mānuka honey is packed with beneficial nutrients, enzymes, and compounds that can seriously nourish the skin and body. 
One of mānuka honey's most special and unique qualities is its super-rich concentration of a compound called methylglyoxal (MGO). The result of a combination of the naturally occurring compounds in the mānuka flower nectar and the chemical reactions that occur when the bees make the honey, MGO is what "super" enhances mānuka honey's antimicrobial and healing properties. This rich concentration of methylglyoxal is also what gives mānuka honey its enhanced ability to soothe and nurture troubled skin. 
Mānuka honey can benefit skin by :
Sending Acne Packing: Naturally antimicrobial, mānuka honey can help kill bacteria on the surface of your skin that causes acne. With regular use, it can also help prevent future breakouts.
Helping To Repair: Clinical testing has shown that the hydrogen peroxide and methylglyoxal content of mānuka honey can promote skin cell regeneration and help repair cell damage. This is good news for anyone who has concerns about facial scarring and dark spots.
Naturally Hydrating: If you suffer from dry skin but break out from oil-containing moisturizers, mānuka honey is just what you need. When applied to your skin, mānuka will attract and absorb moisture giving you a glowing complexion.
Minimizing Signs Of Aging Skin And Wrinkles: Because of mānuka honey's ability to hydrate and moisturize, it can help naturally plump the skin, minimizing the appearance of fine lines and wrinkles. Mānuka is also naturally high in antioxidants that can help fight premature aging.
Naturally Brightening: When your skin is looking a little dull, mānuka honey can help! Honey is mild natural exfoliant that can help to gently remove dead cells to reveal fresh, bright skin underneath and a glowing complexion.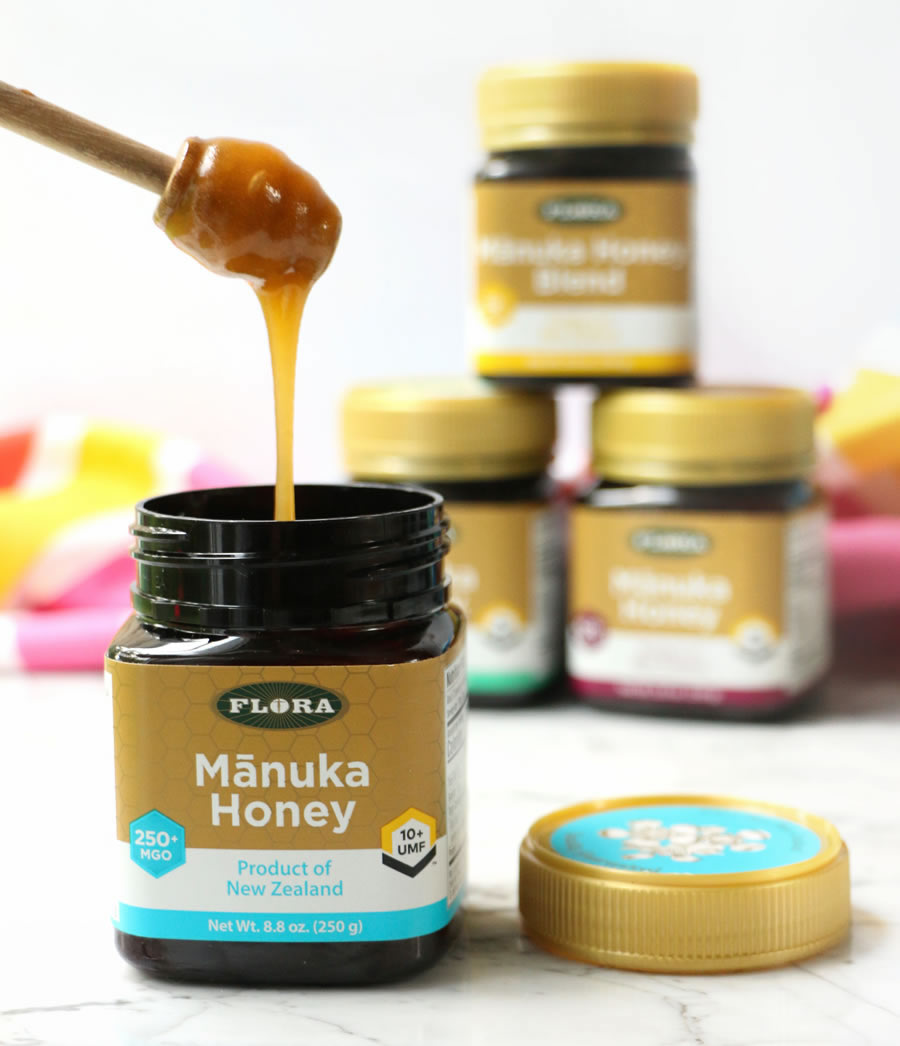 How To Know You're Getting Real Deal Mānuka Honey?
Mānuka honey is a rare natural product. The flowers of the mānuka tree only bloom four to six weeks out of the year in a remote part of northern New Zealand which means the bees only have a short time to work their magic and make this super special honey. This also means there's plenty of fake mānuka honey out on the market. It's been estimated that only 17 percent of the mānuka honey sold is real. To know you're getting the real stuff with all the beneficial enzymes, compounds and antioxidants intact, be sure to buy your mānuka from a company that gives you plenty of information about the mānuka honey's strength and origin (it needs to be from New Zealand to be authentic) on the label. 
One company leading the pack in the transparency of their mānuka honey potency and source is Flora Health. Each jar includes both a UMF™ (Unique Mānuka Factor) rating and an MGO (methylglyoxal) content which both denote the honey's potency. UMF™ is a third-party rating system that identifies the quality and purity of mānuka honey by measuring three signature compounds: Leptosperin, DHA (Dihydroxyacetone) and Methylglyoxal (MGO). Each jar of Flora Mānuka Honey is 100% traceable and comes with an NFC code on the left side of the jar. Just scan the code with your smartphone to access the honey's source, purity and lab test results. Flora always guarantees the purity and quality of their honey. 
Flora Mānuka Honey is also:
Sourced from a sustainable, 100% Māori-owned beekeeping operation (winner of several prestigious farming and eco-friendly awards). The Māori are the indigenous people of New Zealand.

Bottled in 100% recyclable, food-grade BPA-free PET jars

Non-GMO + unpasteurized

Offered in UMF™ grades of 5+, 10+, 12+, 15+, and a blend.
Mānuka honey is more expensive compared to the typical honey, so it's very important to know and trust that what you're buying is truly authentic. 
Skin Tip: For skin and beauty therapies, be sure to use a minimum of MGO 250+/10+ UMF concentrated mānuka honey for therapeutic skin benefits. The higher the rating, the more benefits your skin will receive.
For Radiant Glowing Skin Try These DIY Mānuka Honey Face Masks 
If you want to get in on the skin-boosting magic that is mānuka honey, be sure to try one of these six super easy DIY mānuka honey face mask recipes for a radiant and dewy complexion. Each of these masks can help to soften and balance your skin while relieving symptoms of aging, acne, redness, and dryness. With continued use, you should see more benefits in time.
For all of these potent face masks, we include suggested ingredient measurements, but you could just as easily eye-ball the amounts, adding more or less depending on whether you want a thicker or thinner mask. To increase coverage, you may also want to use more than what is suggested. Experiment and try mixing ingredients and formulas to create your own mask recipes for your unique skin needs.
Beauty Note: Be sure to do spot test of these masks on the inside of your arm before applying to your face. There is always a chance for allergies and sensitivities to occur even when using completely natural and food-based ingredients.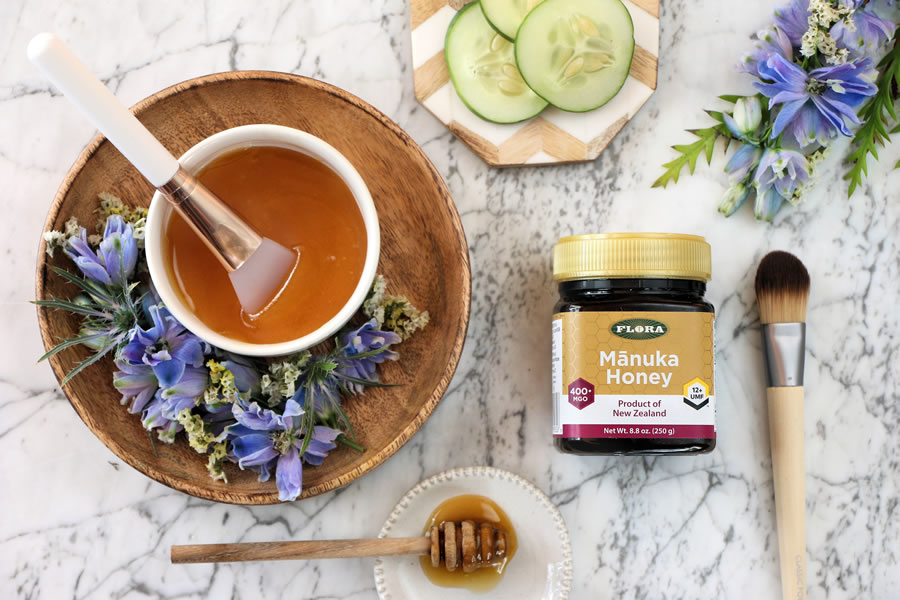 FACE MASK # 1: MĀNUKA HONEY MASK
(All Skin Types)
For this simple yet effective antibacterial, anti-inflammatory and moisturizing face mask, simply take 1 teaspoon (or more if needed) of MGO 250+/10+ UMF or higher mānuka honey and spread it thinly over lightly moistened skin. The honey only provides benefit when it is on your skin, so the longer you let the mask sit the better. After 15 to 30 minutes, wash off the mask, then gently pat dry with a clean towel. Repeat daily if desired.
FACE MASK #2: MĀNUKA HONEY + CINNAMON + TURMERIC MASK
(Acne-Prone Skin, Dull Skin And/Or Dark Spots)
Ingredients
1 tablespoon Flora Mānuka Honey (MGO 250+/10+ UMF or higher)
1/2 teaspoon turmeric
1/2 teaspoon cinnamon
⅛ teaspoon grapeseed or jojoba oil
With mānuka honey as the base, this mask is enhanced with the powerful antioxidant-rich and skin brightening properties of turmeric with the acne and dark spot fighting power of cinnamon. This mask is also perfect for rejuvenating dull-looking skin for a brighter complexion. Be aware that turmeric can temporarily stain your skin. If you have fairer skin add a couple of drops of jojoba or grapeseed oil and double the amount of cinnamon to reduce the chances of staining. Combine all the ingredients and leave on for 10 to 30 minutes, then rinse.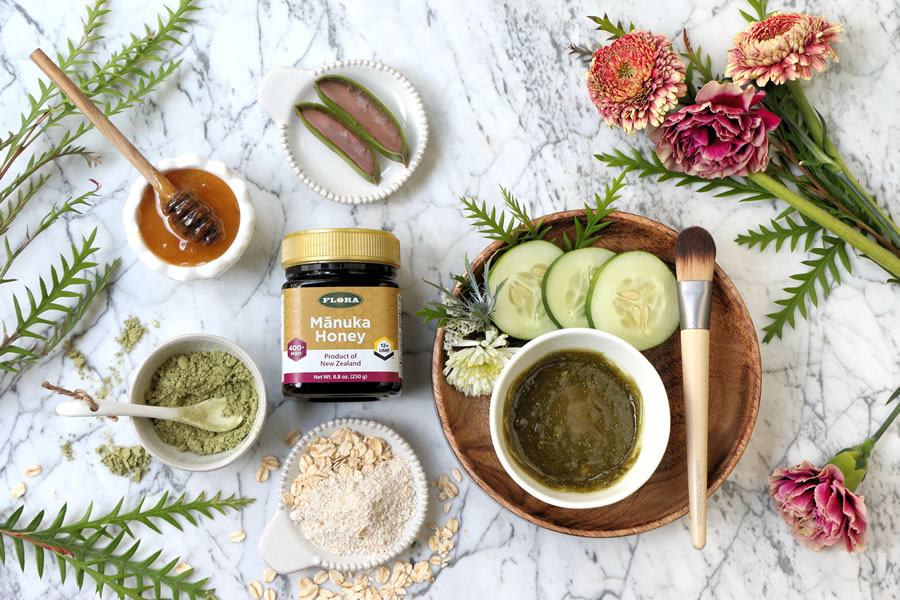 ……….
FACE MASK #3: MĀNUKA HONEY + MATCHA + ALOE+ OATMEAL MASK
(Sensitive or Aging Skin)
Ingredients
1 tablespoon Flora Mānuka Honey MGO 250+/10+ UMF or higher
1 teaspoon matcha powder
1 teaspoon oats
¼ inch sliver of fresh aloe, scraped and mashed (sub ½ teaspoon aloe vera gel) – optional
In this mask recipe, mānuka honey is paired with the free-radical-fighting and antioxidant-rich matcha tea powder, the calming and cleansing qualities of oatmeal and the soothing power of aloe for a combination that can refresh and revitalize aging and/or dry skin. In a blender, grind oats into a fine powder. Combine the mānuka honey, matcha, fine ground oatmeal and aloe in a small dish, and stir to make a thick paste. Add a bit more matcha or ground oatmeal if the mixture is too wet. If it is too dry, add a little more mānuka honey. Apply the mask to the skin with your fingers or a mask applicator. Allow the mask to sit for at least 15-30 minutes. Rinse well and repeat 2 to 3 times per week.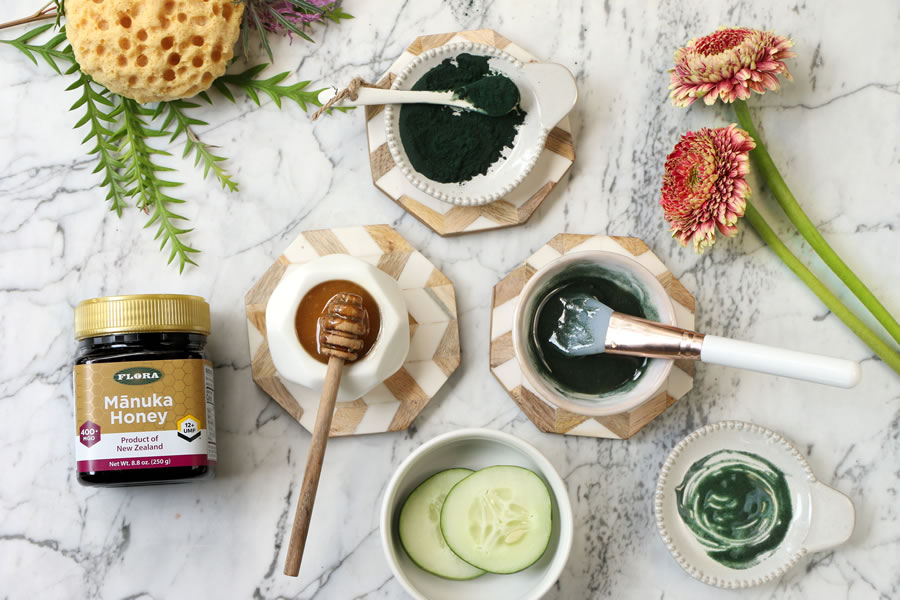 FACE MASK #4: MĀNUKA HONEY + SPIRULINA MASK
(All Skin Types)
Ingredients
1 tablespoon Flora Mānuka Honey MGO 250+/10+ UMF or higher
1 teaspoon spirulina
Love to glow? Then try this mask perfect for all skin types. Nutrient, fatty acid, and chlorophyll-rich spirulina is perfect for brightening, detoxifying and nourishing dull, tired skin. Spirulina also encourages quick skin cell turnover while mānuka honey moisturizes and provides powerful anti-microbial action. The result is a brighter more radiant complexion with only two ingredients. Mix the honey and spirulina together and apply to skin lightly dampened with warm water. Let the mask sit for 15 to 30 minutes before rinsing. This mask is gentle enough to apply daily and the deep green, slightly iridescent color is kind of intoxicating.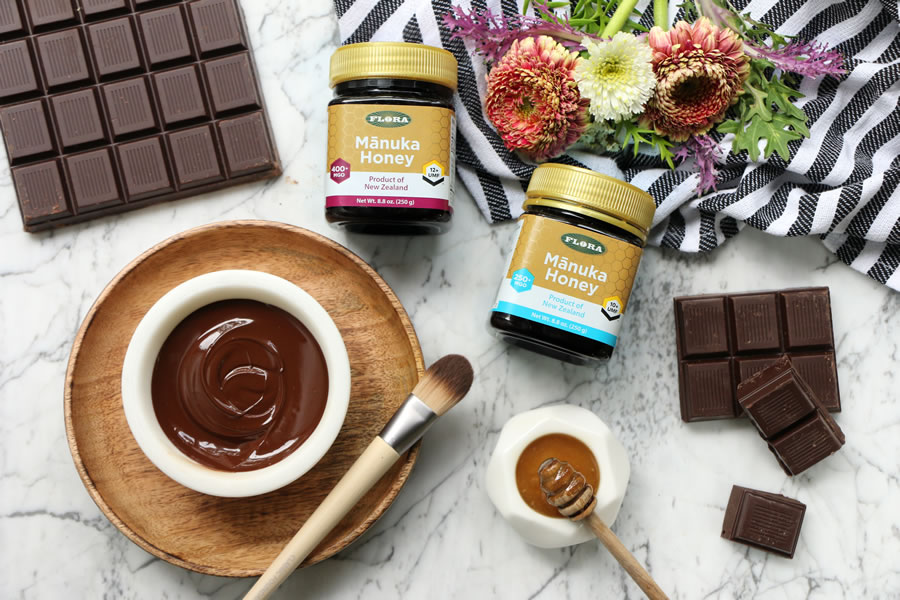 FACE MASK #5: MĀNUKA HONEY + DARK CHOCOLATE MASK 
(Dry or Aging Skin)
Ingredients
1 tablespoon Flora Mānuka Honey MGO 250+/10+ UMF or higher
1 ounce of dark chocolate, melted
Or
1 tablespoon cocoa powder
Is there anything more intoxicating than the smell of melted chocolate? While it tastes divine, chocolate's rich antioxidant and nutrient content is amazing for skin showing the effects of aging or UV damage. The mānuka honey will draw moisture into your skin while leaving it supple, radiant and more elastic. Mix the honey and chocolate together. Then, with a brush or mask applicator, have fun painting the mānuka + chocolate mask onto your skin. Let the mask sit for 20-30 minutes before rinsing with warm water. Another benefit of this mask is aromatherapeutic and stress-relieving effects as you relax while inhaling the scent of melted chocolate. 
FACE MASK #5: MĀNUKA HONEY + CHARCOAL MASK
(Oily Skin and Clogged Pores )
Ingredients
1 tablespoon Flora Mānuka Honey MGO 250+/10+ UMF or higher
1 capsule of food-grade activated charcoal powder
For skin that is oily or prone to clogged pores, activated charcoal is an inexpensive wonder ingredient that can absorb oils, dirt, and impurities. The mānuka honey will draw moisture into your skin while fighting unwanted microbes for a dreamier complexion. 
Mix the honey and charcoal together and apply to lightly dampened skin with a mask applicator, brush, or your fingers. For gentle exfoliation, massage the mask into your skin with your fingertips for a minute or two. Let the mask sit for 10-20 minutes before rinsing gently with warm water. Repeat 1- 2 times per week for best results.
Want your skin to GLOW with mānuka honey? 
Visit FloraHealth.com to buy authentic mānuka honey you can source back to the hive!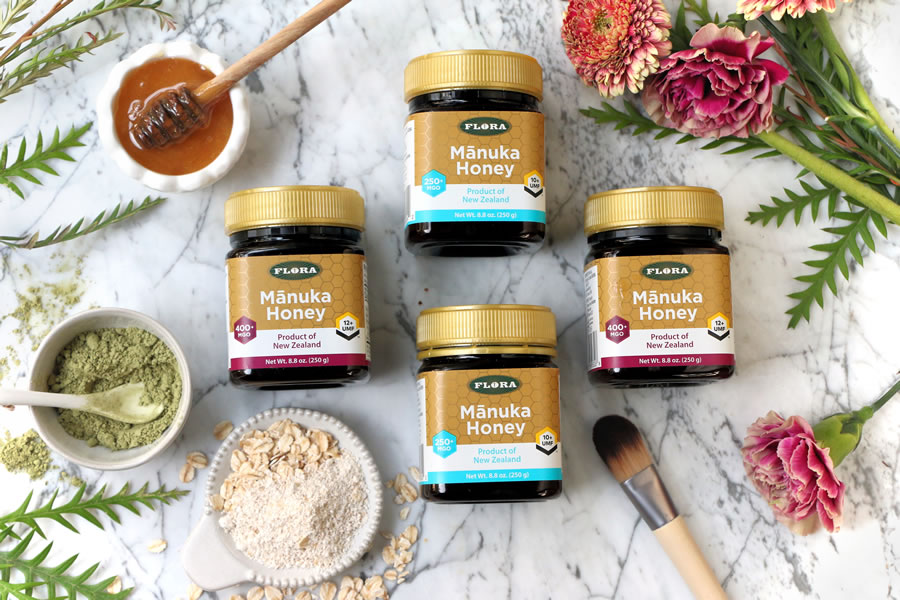 The information in this article is the opinion of the author and/or individuals quoted and in no way reflects the policies or positions of Flora Health. This is not intended to be a substitute for professional medical or nutrition advice.