Better Living uses affiliate links. If you make a purchase through them, we may receive a small commission (for which we are deeply grateful) at no cost to you.
* Thank you to Flora Health for sponsoring this post! They're an amazing source for super high-quality and natural health promoting foods and supplements. The content and information presented here is all ours.
When the summer heat has got you down, there's nothing like a freezing cold ice pop to keep you cool. And the secret is out: making popsicles in your own kitchen is easier and tastier than ever. To kick off the summer right, we set out to make these fresh and tangy mint & lime flavored ice pops, lightly sweetened with the awesome health benefits of mānuka honey packed inside. Read on to see why using Flora Mānuka Honey in these popsicles takes them from typical tasty treat to superfood stars. Be sure to scroll down for the recipe!
What Is Mānuka Honey ?
Pronounced 'muh-NOO-kuh', mānuka honey is a special type of honey made by bees that collect nectar from the mānuka tree that grows wild in New Zealand. Mānuka honey is coveted for its unique health promoting properties that aren't seen in other types of honeys.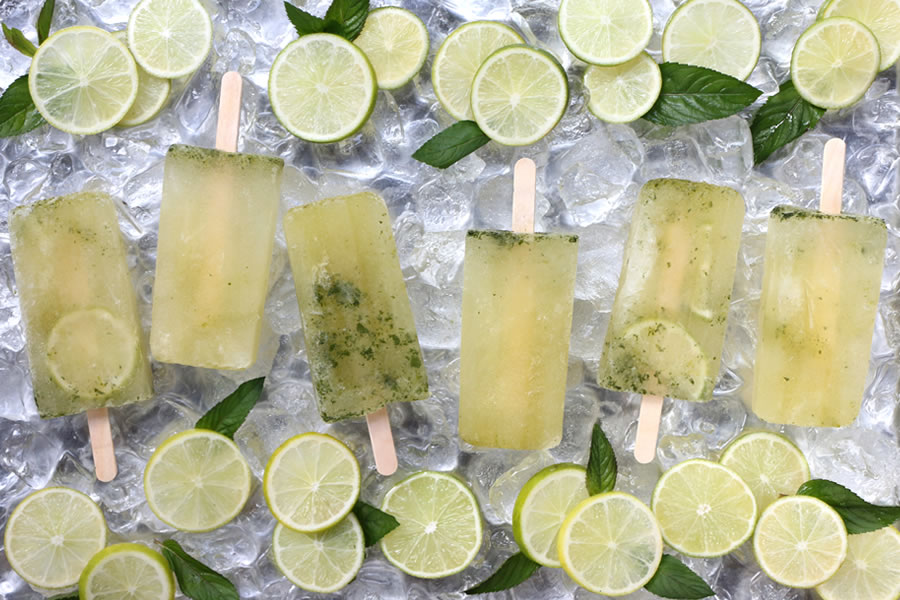 Why Is Mānuka Honey So Special?
While honey has been used therapeutically for centuries, it was only in the early 1980s that Mānuka honey was discovered as having the qualities of a major superfood above and beyond other types of honey. It's the hydrogen peroxide content in honey that gives most honey its antimicrobial action. Not all honey is equally potent and mānuka stands out from the crowd.
Why?
Because Mānuka is also considered a non-peroxide honey. This means, when the hydrogen peroxide activity in mānuka is blocked chemically in the lab, it still displays powerful antimicrobial effects. (1) This is because mānuka also contains a compound called methylglyoxal (MGO), found only in trace amounts in other types of honey. The more methylglyoxal measured in mānuka honey, the higher the concentration of signature antioxidant compounds and chemical enzymes that are also present in the honey. In other words, it's more potent.
And, Mānuka honey isn't just good for you on the inside. More recently, it has been on the rise as a beauty superstar because of its acne-fighting powers and moisturizing, skin beautifying effects. Who doesn't love to glow?
Mānuka honey is worth adding to your health regimen and having around the house for a variety of uses other than just being darn tasty.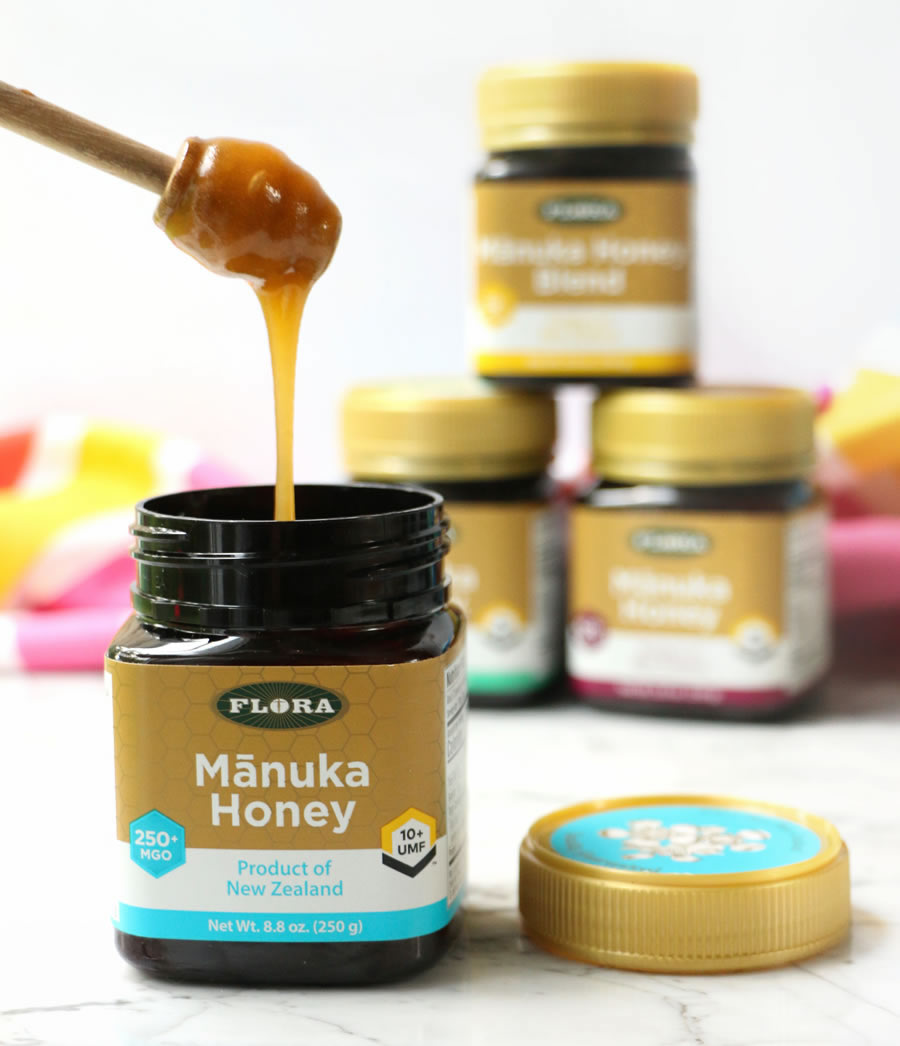 How Do You Know If You're Getting The Real Thing?
Since Mānuka honey is such a specialized and limited product, it's important to buy it from a trusted source. Many unreputable companies have flooded the market with fake mānuka honey. So how can you be sure you're getting the real thing?
Real-deal Mānuka honey will have a UMF™ (Unique Mānuka Factor) certification rating on its label. This grading system determines the concentrations in the honey at the time it is packaged. Established by the Unique Mānuka Factor Honey Association™ in New Zealand, this internationally recognized, third-party verification system ensures the identity, potency and quality of mānuka honey. If it doesn't have UMF™  on the label, it's not the stuff you want. The higher the UMF™ number on the honey, the more powerful the mānuka honey.
For 100% genuine mānuka honey head to FloraHealth.com. All Flora Mānuka Honey is UMF™-certified and tested for three signature compounds that are all needed to ensure their mānuka honey is the true honey.
Every single jar of Flora Mānuka Honey is 100% traceable back to the source. With your phone, you just scan the NFC code located on the side of the jar to learn exactly where your honey was made, its lab test results, and its MGO (methylglyoxal) content. Plus, Flora always guarantees the purity and quality of their honey. Pretty cool, right?
Flora Mānuka Honey is also:
Sourced from a sustainable, 100% M

ā

ori-owned beekeeping operation (winner of several prestigious farming and eco-friendly awards). The M

ā

ori are the indigenous people of New Zealand.

Bottled in 100% recyclable, food grade BPA-free PET jars.
Non-GMO + unpasteurized

Offered in UMF™ grades of 5+, 10+, 12+, 15+, and a blend.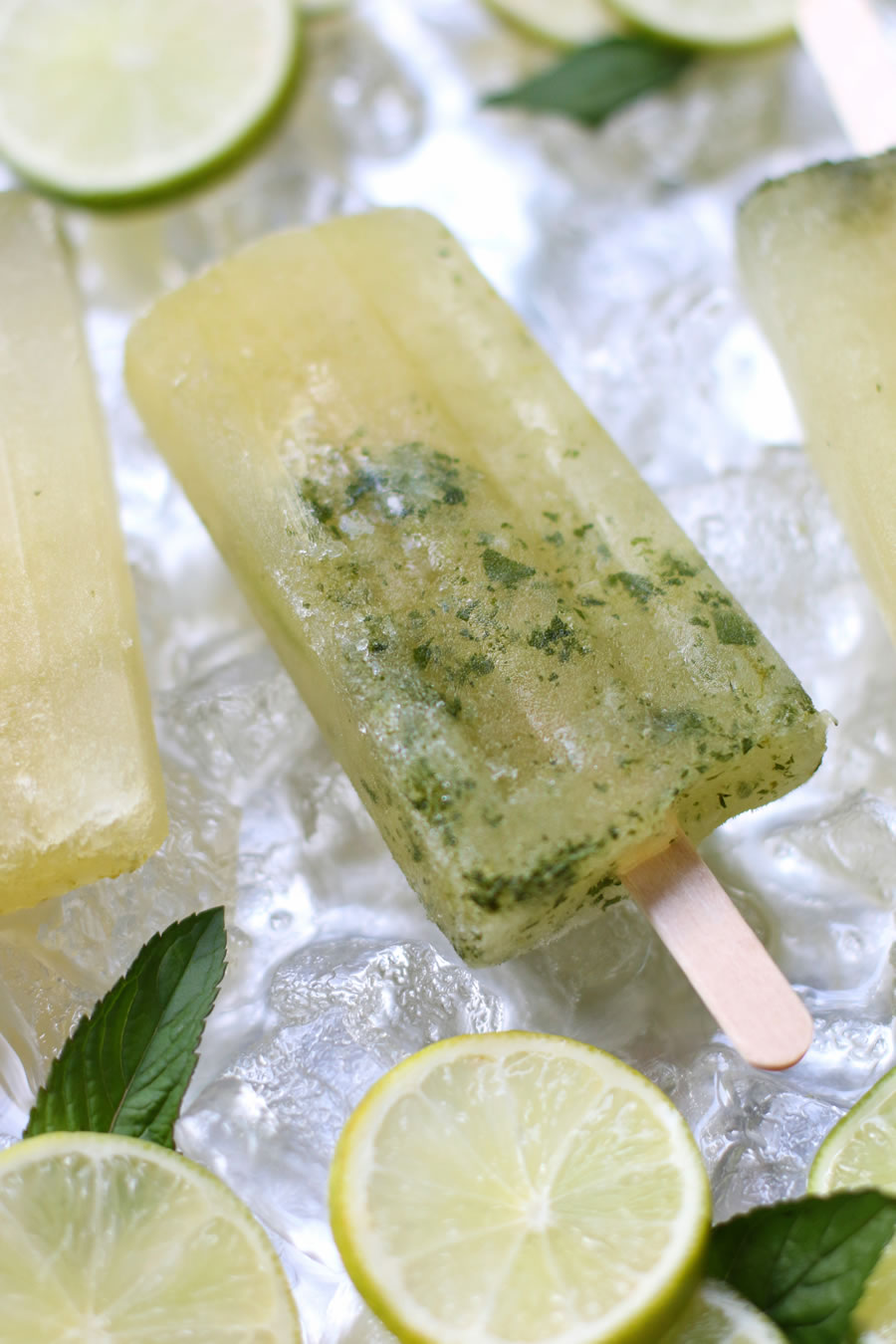 To get the real stuff for making these healthy treats, purchase your own mānuka honey at FloraHealth.com.
What Does Mānuka Honey Taste Like And What Can You Use It For?
Did I mention mānuka honey is pretty delicious? It's medium sweet, mineralistic, and thicker than traditional honey. While it tastes great in tea, adding it to a super hot cup can destroy the beneficial enzymatic and antioxidant activity in the honey. It's best to add it to beverages or foods that are gently warmed or cold to retain its healing qualities. Think drizzled over toast, fruit or cheese, added to yogurt or blended into your morning smoothie. It's also great to take a teaspoon on its own for a healthy treat.
We think Flora Mānuka Honey makes the perfect healthy, natural sweetener in our Mint And Lime Ice Pops recipe. It also works great in homemade natural beauty recipes.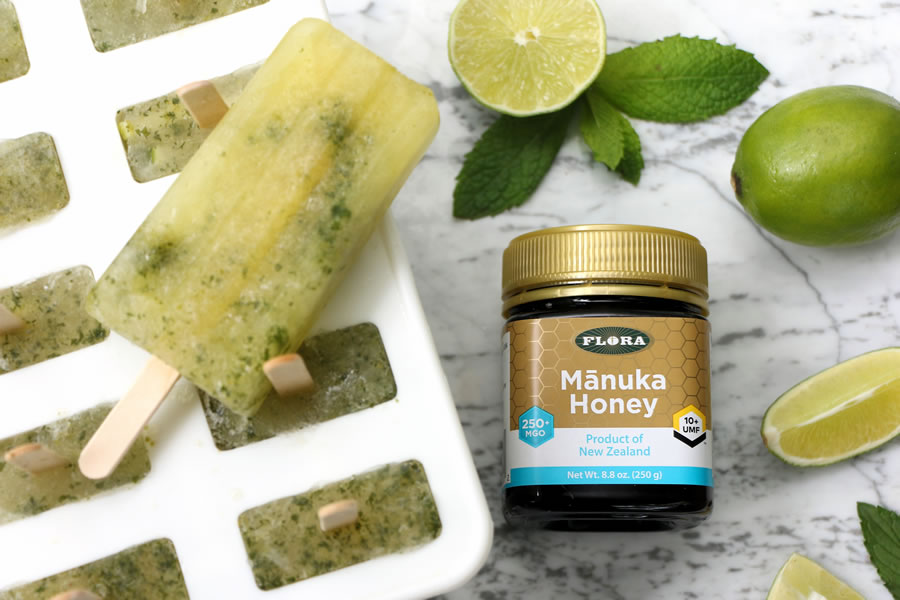 How To Make These Mānuka Honey, Mint And Lime Ice Pops/Popsicles
Making popsicles is crazy easy. This recipe uses just a few ingredients: Flora Mānuka Honey, fresh lime juice, mint leaves, and water. They're then blended together and poured into a popsicle mold. If you don't have a mold, we recommend this one linked here. It's a BPA-free silicone ice-pop mold that's super easy to use and wash. Plus the popsicles just "pop" right out of the silicone mold which can be harder to do with plastic or metal molds. But those work too. You can also cut the recipe in half and pour this delicious mānuka honey- mint – lime blend into ice cube trays and use later to give your water a healthy flavor boost.
With only 42 calories per ice pop, these lightly sweetened icy treats will keep you refreshed all summer long without any of the guilt. In fact, with all the great  benefits that mānuka honey provides, you can be confident you're doing something great for your body.
Be sure to visit FloraHealth.com to get your own genuine mānuka honey to make these healthy treats!
GET THE RECIPE!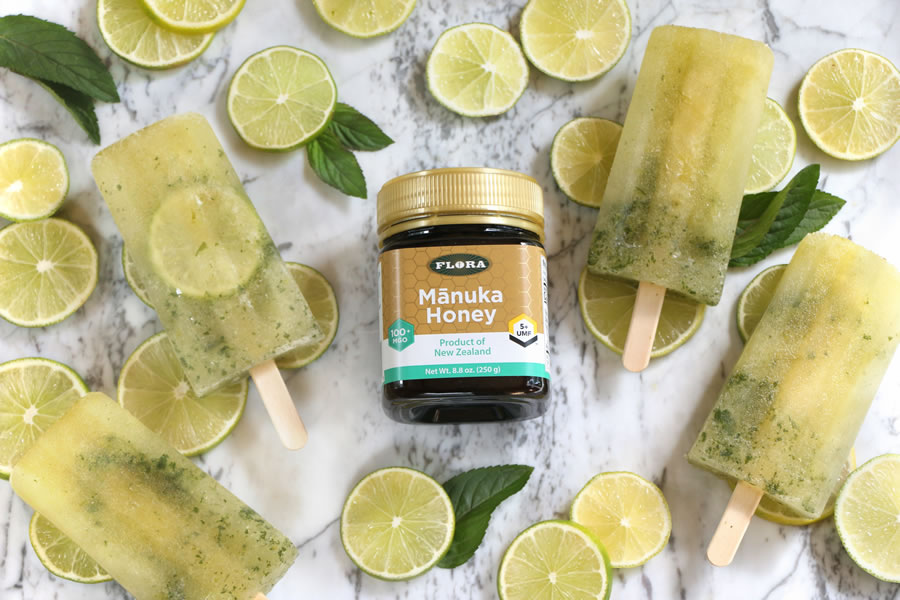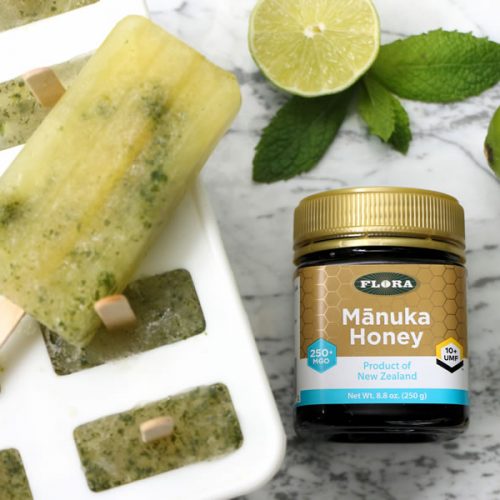 Manuka Honey + Mint + Lime Ice-Pops
For a super healthy, refreshing and easier than ever treat this summer, make up a batch of these tart and tangy popsicles. Gently sweetened with superfood manuka honey, these 4 INGREDIENT icy-treats are like a cool shower for your insides. Just mix, stir and freeze!
Equipment
Whisk

Measuring Cup

Pitcher

Popsicle Molds

Popsicle Sticks
Ingredients
6

tablespoons

Flora Health Manuka Honey

1/2

cup

lime juice, freshly squeezed

(about 5 limes)

3 1/4

cups

filtered water (room temperature)

10

fresh mint leaves

thin lime slices (optional)
DIRECTIONS
Blender Method
Place all ingredients in a blender and mix until smooth. Pour into your popsicle mold. insert popsicle sticks and place in the freezer for 5 hours or until frozen through.

To release the ice-pops firmly push up on the bottom to release (if using . You c
Hand Mixing Method
Take 1/4 cup of the filtered water, and warm in the microwave in a small bowl for 30 seconds. It should not be hot, just gently warmed. Add the Manuka honey, and whisk the honey into the water until completely dissolved. Add the honey-water mixture to a large bowl or pitcher with the lime juice, chopped mint and the remaining 3 cups of the water.

Add the honey-water mixture to a large bowl or pitcher with the lime juice, remaining 3 cups of the water and minced mint leaves. Mix well and then pour into the popsicle mold. Insert the popsicle sticks and then freeze for 5 hours or until set.
Notes
Note: If you would like a slice of lime showing through your ice pops there's a trick to getting the slices to stay in the middle of your popsicles. First, fill the popsicle molds about 1/3 of the way full and place in the freezer without the sticks. Allow to freeze for about 1 hour. You want a slushy texture the lime can suspend in within the mold. You might have to break up the ice a little with a knife to achieve this. Now you can insert the lime slice, fill the molds to the top with the remaining mixture. Insert your sticks and place back in the freezer for 5 hours or until completely frozen. 
Nutrition
Want to get the benefits of real mānuka honey?
Visit FloraHealth.com today to buy genuine mānuka honey you can trust!
*The information in this article is the opinion of the author and/or individuals quoted and in no way reflects the policies or positions of Flora Health. This is not intended to be a substitute for professional medical or nutrition advice.