Better Living uses affiliate links. If you make a purchase through them, we may receive a small commission (for which we are deeply grateful) at no cost to you.
* Thank you to Flora Health for sponsoring this post! They're an amazing source for super high-quality and natural health promoting foods and supplements, including authentic, potent, and sustainable Manuka Honey. The content and information presented here is all our own.
Lemonade is timeless. It's sweet, citrusy and there's nothing that refreshes quite like it when the heat sets in. That being said, there's nothing wrong with modifying the classic traditional lemonade recipe—made with lemons, sugar and water—into something a little more sophisticated. And, while we're at it, healthier.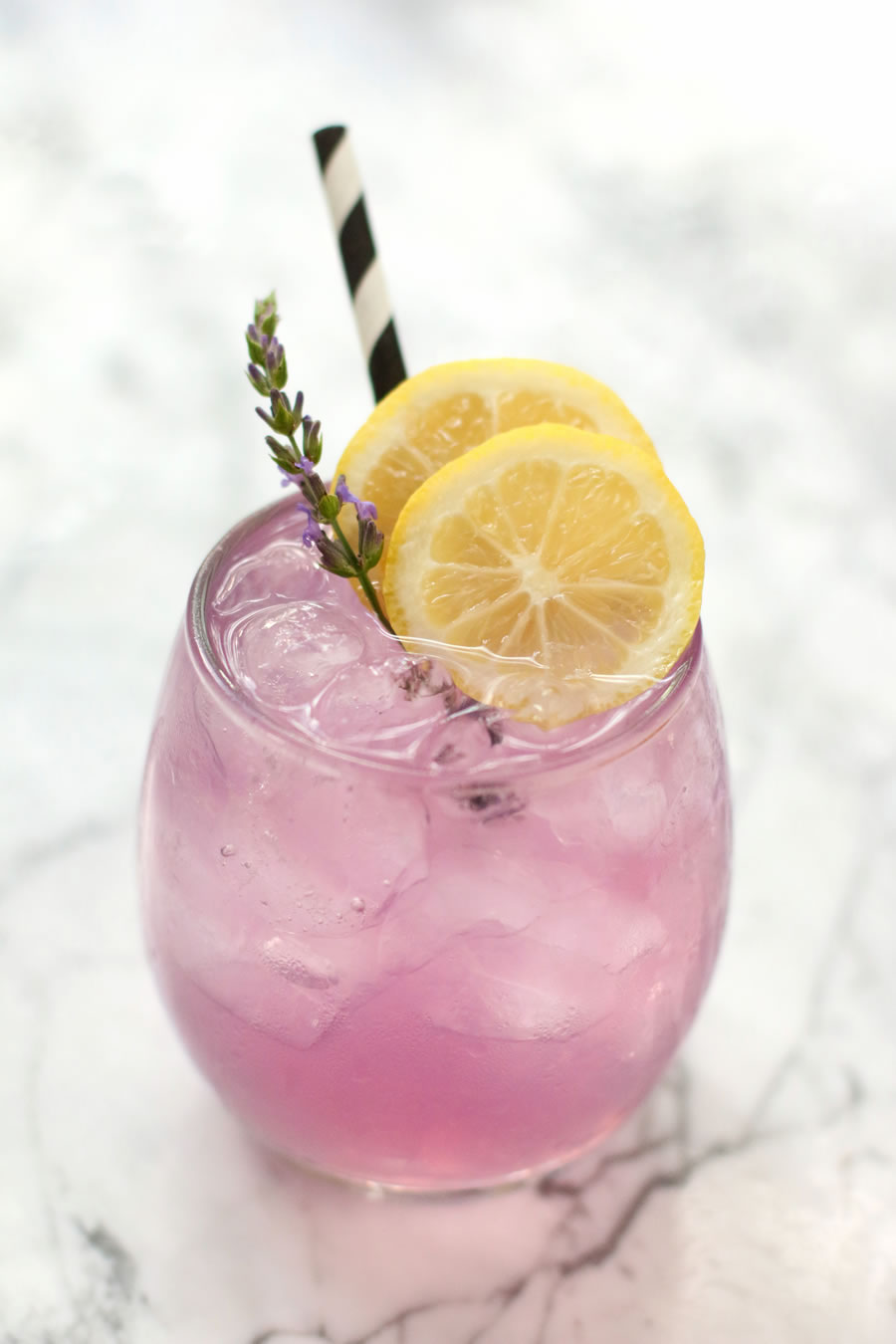 How Do We Make Mānuka Lavender Lemonade?
To start, give this Mānuka Lavender Lemonade the essence of lavender by making a lavender 'tea.' To do this, steep dried organic lavender buds in hot water and let it sit. If you're lucky enough to have fresh lavender growing in your garden, you can harvest some and use that instead (use approximately 2-3 times the amount of dried).
If purchasing dried lavender to use in this recipe, make sure to look for organic culinary lavender. This is food grade lavender that you can be confident hasn't been treated with pesticides and is safe to ingest. Just be aware that there are many types of lavender and their fragrance intensity, flavor, and color can vary. After the lavender tea has cooled down, finish making your lemonade by adding fresh lemon juice, cool water, and mānuka honey to gently sweeten. Set it in the refrigerator to chill, then serve over ice with a garnish of lemon and a sprig of fresh lavender if you're feeling fancy. Pure heaven!
What Is Mānuka Honey?
If you've already heard the buzz about mānuka honey, you know it's no ordinary honey. A mono-floral (one flower) honey, this sweet stuff is made by bees that pollinate the nectar from the mānuka tree (Leptospermum scoparium) that grows wild in New Zealand and blooms only 2-6 weeks per year. A powerful superfood with potent antioxidants and enzymes, mānuka honey has serious antimicrobial action that isn't present in other types of honey. 
What Makes Mānuka Honey So Super?
While most honey has some antimicrobial properties due to their hydrogen peroxide content (some more than others), mānuka honey contains enzymes and compounds that still continue to act powerfully even when the hydrogen peroxide content is removed. It's the action and content of three signature compounds—Methylglyoxal (MGO), Leptosperin, and Dihydroxyacetone (DHA)—that make mānuka honey so unique and beneficial. 
Mānuka Honey Tip: Rated in numbers like 5+, 10+, and 12+, the higher the UMF™ rating, the more potent the mānuka honey, the greater concentration of beneficial compounds contained inside.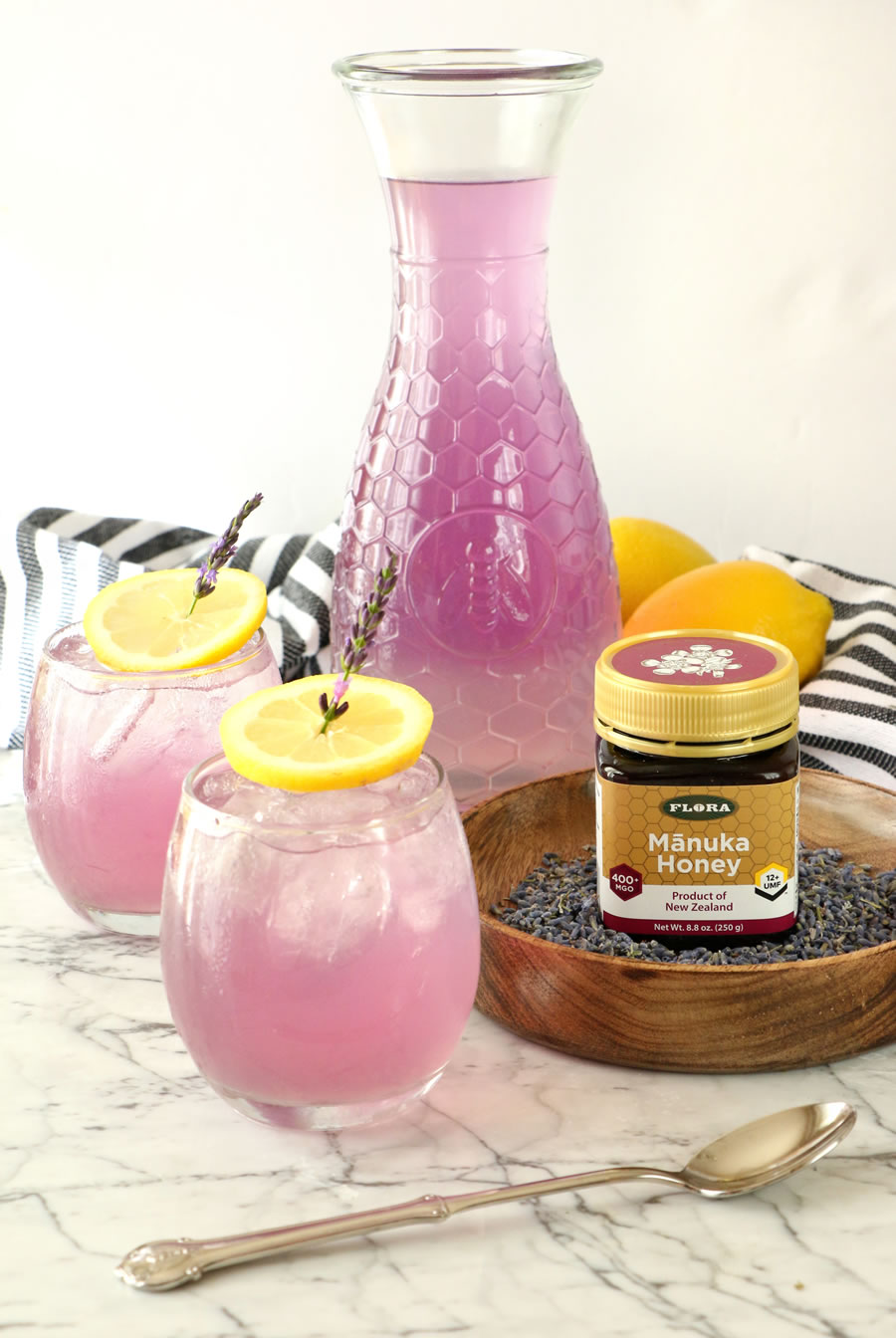 How Do You Know You're Getting Real Mānuka Honey?
Since mānuka honey is such a specialized and limited product you want to make sure you're getting the real thing. And let's be honest here: it's not cheap. So to make sure you're getting the real stuff, you need to buy from a reputable company that sources and tests its mānuka "honey" for quality and purity and is also transparent about those processes. In other words, it's all on the label.
So Who's Selling Real Mānuka Honey? 
We recommend Flora Health. All their mānuka honey is tested and graded at the time of packaging using the Unique Mānuka Factor (UMF™) grading system. They're also licensed by the Unique Mānuka Factor Honey Association™ in New Zealand, who created this strict measuring system developed to control the authenticity, purity, and quality of mānuka honey being sold. It does so by measuring those unique and beneficial compounds in mānuka honey we mentioned earlier: Methylglyoxal (MGO),  Leptosperin, and Dihydroxyacetone (DHA).  
Mānuka Honey Tip: If you come across mānuka honey and it doesn't have a UMF™ rating on the label like +10 or +15, take a pass. There's no way to verify if it's real. It should also say it's a product of New Zealand.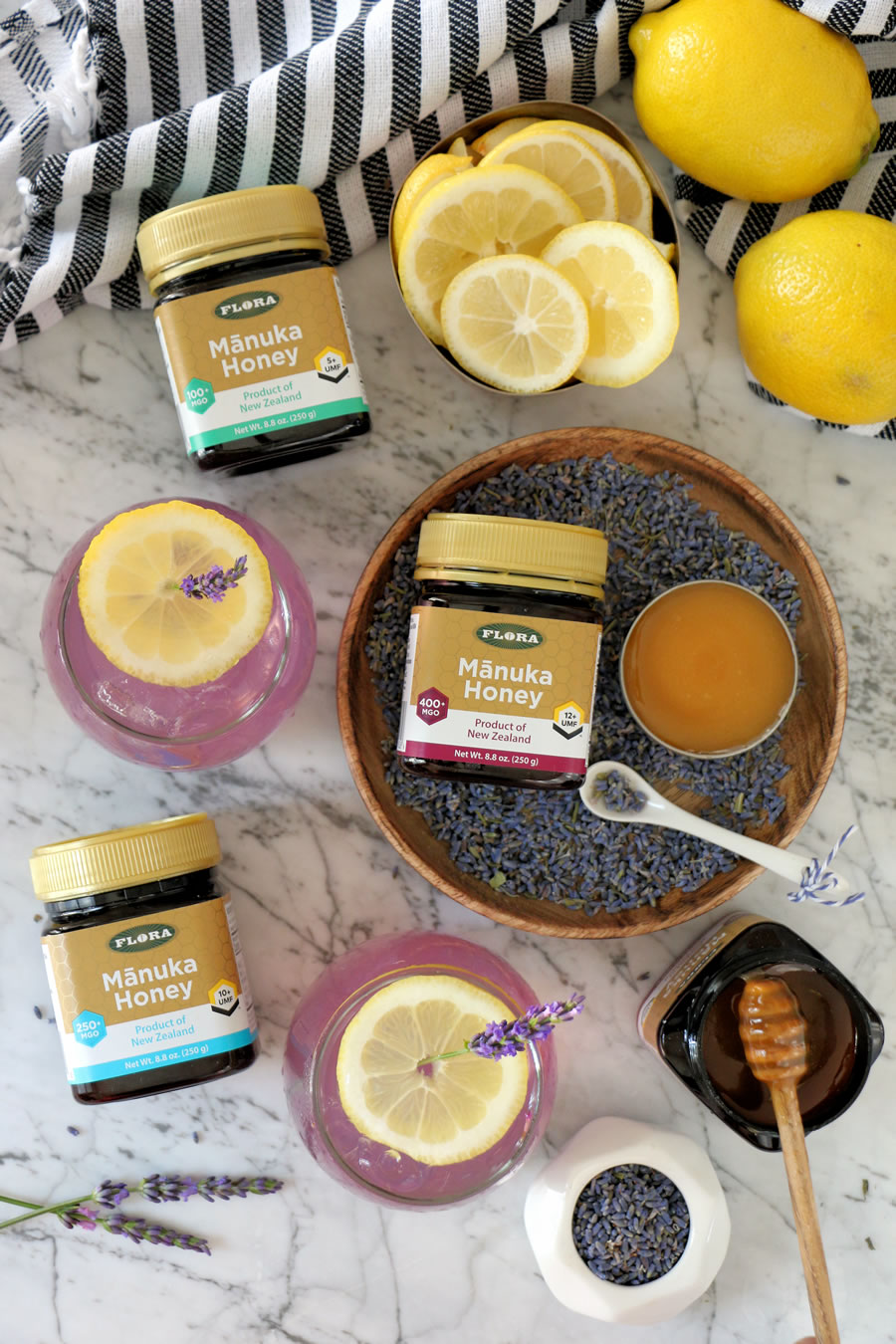 What's even more reassuring is that every jar of Flora Mānuka Honey is 100% traceable, all the way back to the hive where it was sourced. With your phone, you can scan the NFC code located on the label to learn exactly where your honey was made, and get the results of its lab tests. On the label you'll also find the quantity of MGO (methylglyoxal) content (that's the good stuff inside you want).
Flora Health Mānuka Honey is also:
Sourced from a sustainable, 100% Māori-owned beekeeping operation

which has received

several prestigious farming and eco-friendly awards. The Māori are the indigenous people of New Zealand.

Bottled in 100% recyclable, food grade BPA-free PET jars

Non-GMO + unpasteurized

Offered in UMF™ grades of 5+, 10+, 12+, 15+, and a blend.
 Flora always guarantees the purity and quality of their honey. We absolutely love it!
To get truly potent mānuka honey for this lemonade recipe, be sure to order yours from FloraHealth.com.
What Does Mānuka Honey Taste Like? 
Mānuka honey is intensely sweet and earthy with a mineralistic finish. It's absolutely delicious mixed into beverages (lemonade anyone?) and smoothies, but it's also great drizzled over yogurt, cereal, fruit, cheese, or spread over toast. A deep amber color, mānuka honey is much thicker and denser than the honey products most of us are accustomed to.
How Sweet Is Mānuka Honey?
Mānuka honey is sweeter than regular sugar which means you can use less of it while still getting the same amount of sweetness. Plus, you get all it's healthy benefits. That's why we thought it would make the perfect natural sweetener in this Mānuka Honey + Lavender Lemonade recipe. The earthy sweetness of mānuka balances perfectly with the fragrant herbal lavender.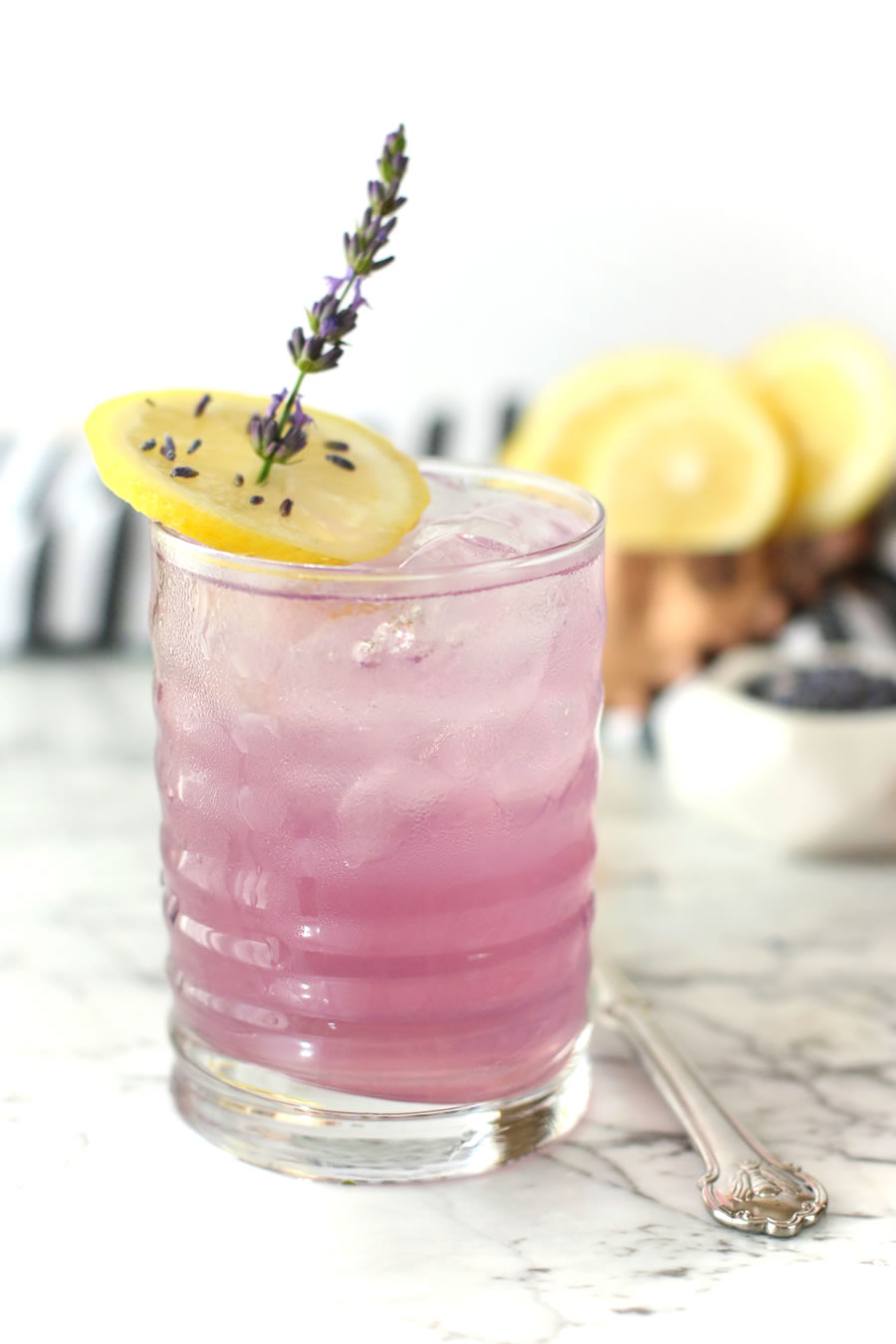 How Do You Give Your Lemonade A Vibrant Natural Purple Hue?
While this Mānuka + Lavender Lemonade tastes delicious, here's a little secret: real lavender tea isn't quite purple. Dried or even fresh lavender when steeped can take on a dark pinkish, sometimes mauvey hue in water. It's definitely not as purple as we would hope for. And for this recipe we wanted the color of beautiful lavender reflected in the glass without resorting to artificial food dyes. 
The answer: dried butterfly pea flowers. Place 5 or 6 butterfly pea flowers in a small cup of hot water and allow them to steep for 5-10 minutes. We got ours here. You'll first notice the pea flower 'tea' is a true vibrant aqua blue. But when butterfly pea flower 'tea' is added to something acidic like lemon juice, it does something magical; it turns purple! If you're only interested in the lavender flavor of this lemonade recipe and are ambivalent about the color, simply omit this step. If you're thinking of serving this to guests, then giving your lemonade a touch of natural purple color will definitely impress. Plus, it's absolutely gorgeous!
GET THE RECIPE!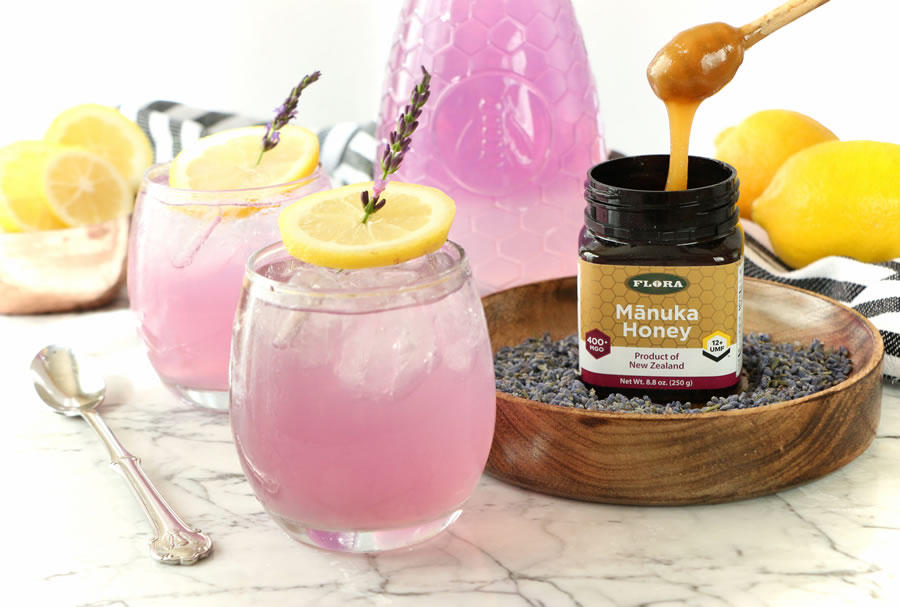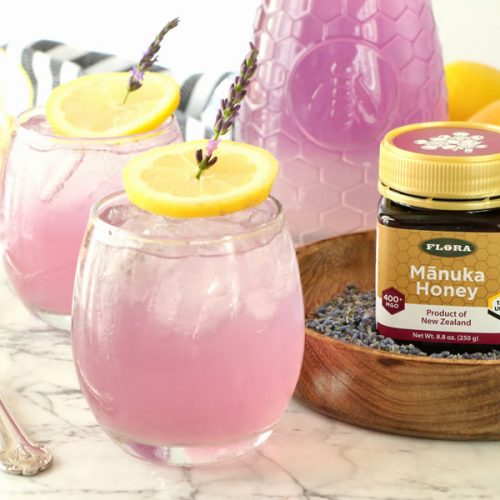 MĀNUKA HONEY + LAVENDER + LEMONADE
Relax and unwind with lavender infused lemonade that is gently sweetened with delicious and healthy mānuka honey.
Ingredients
1

cup

fresh lemon juice

1/4

cup

Flora Mānuka Honey (or more to taste)

2

tablespoons

dried culinary lavender, (preferably organic)

1

cup

boiled water for steeping

2

cups

cold water water (or more to taste)

5-6

dried pea flowers, for color (optional)

ice
DIRECTIONS
Add the dried lavender flowers to a jar or large glass. Then bring 2 cups of water to a boil. Pour the hot water over the dried lavender and steep for 5-10 minutes; 5 minutes or more will give your lemonade a stronger lavender flavor.

Strain the dried lavender buds with a fine mesh strainer or cheesecloth into a pitcher, large jar, or container of your choice.

When the 'lavender tea' has cooled and is slightly warm to the touch (not hot), add the mānuka honey and stir with a wooden spoon or whisk until completely dissolved.
Tip: Adding the mānuka honey to cool water makes it difficult to dissolve. Stirring it into water that is gently warmed makes it easy to stir in without destroying the teas beneficial compounds that are vulnerable to high heat.

Add the lemon juice and remaining water, stir, and chill. Taste and adjust for more lemon, mānuka honey or additional cold water if necessary. If adding the butterfly pea water for color, hold off on adding more water as it will further dilute the lemonade. Serve over ice. Relax and enjoy!


OPTIONAL STEP FOR VIBRANT COLOR
Place the dried butterfly pea flowers in 1/2 cup of boiling water and allow to steep for 5 minutes or more. These add no flavor and only give your lemonade a beautiful natural purple color (Dried lavender, although purple is more of a dark pinkish brown when steeped in water). 

When cooled, add the purple pea flower water to the lemonade little by little, until you get the shade of purple you like.
Want potent UMF™ rated mānuka honey that can be traced from the hive all the way to your home?
Visit Florahealth.com to buy mānuka honey you can trust!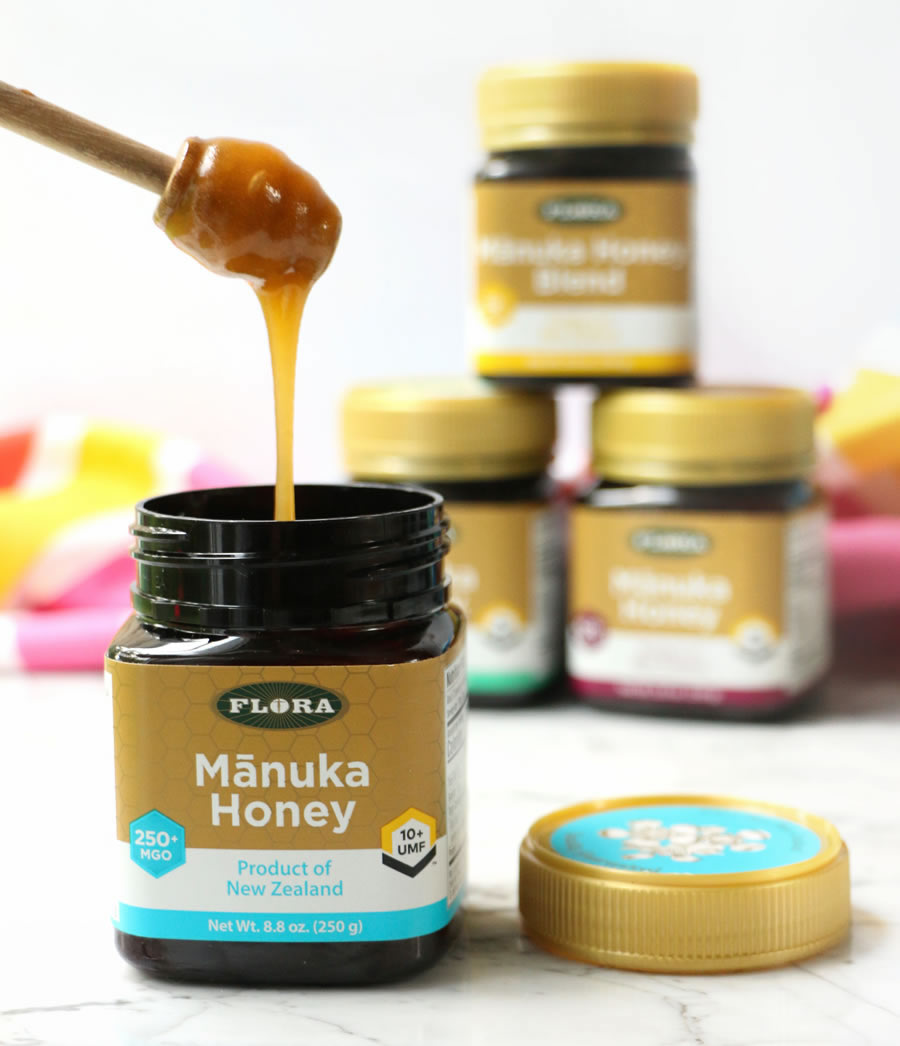 * The information in this article is the opinion of the author and/or individuals quoted and in no way reflects the policies or positions of Flora Health. This is not intended to be a substitute for professional medical or nutrition advice.