Better Living uses affiliate links. If you make a purchase through them, we may receive a small commission (for which we are deeply grateful) at no cost to you.
*This post is sponsored by Flora Health. None of the information presented is intended to cure, treat, or prevent any disease. For more information, please visit florahealth.com.
For centuries, elderberry has been used in folk medicine to treat colds, flu, fever, and more. Grown on the Elder or Sambucus Tree, this special little berry has been making a serious comeback recently for its medicinal properties. With nutrient-rich juice high in antioxidants that has been linked in studies to health benefits like improved immunity, and helping to shorten the duration of the flu and common cold, it's really no wonder that the demand for elderberry is growing like crazy. And while elderberry is beneficial to our immune health, it also happens to be quite delicious too!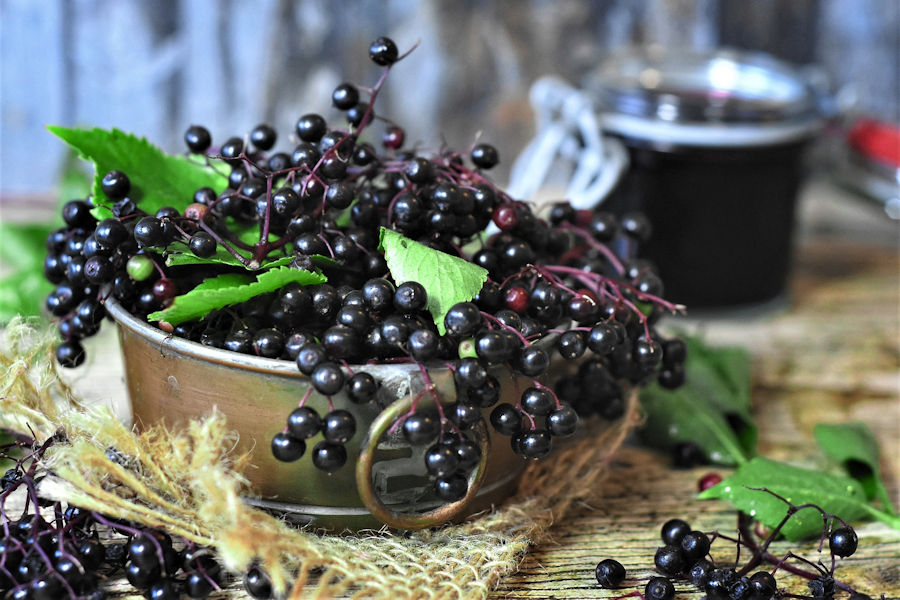 With a tangy, sweet with a honey-like berry flavor and unmistakable deep purple color, elderberry pairs beautifully with the flavor of pears in this healthy-ish dessert recipe for Cinnamon Baked Pears with Elderberry Whipped Cream and Manuka Honey. 
Pears, a juicy and delicious low-glycemic fruit that are high in fiber and antioxidants, are sprinkled with anti-inflammatory and blood-sugar balancing cinnamon and then stuffed with a heart-healthy walnut-oatmeal crumble before baking. Just before serving we drizzle the baked pears with a touch of Manuka Honey (for extra antimicrobial fighting power) and Elderberry Whipped Cream to finish.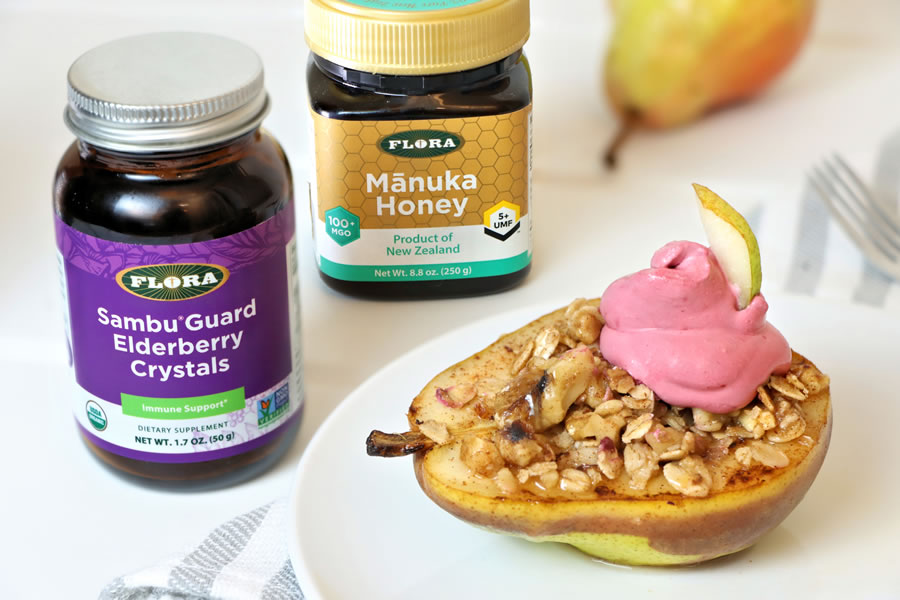 Delicious and elegant, this dessert is just what you need when you want to satisfy your sweet tooth with some plant-based goodness. You'll be surprised at how easy it is to prepare. One bite and there's no doubt these roasted pears will become a regular on your healthy dessert menu! 
What Type of Pears Should You Use
When shopping for pears, choose ones that are just ripe and still firm to the touch. We recommend either D'Anjou, Bosc or Bartlett pears, but any you have on hand will do. These pears are best prepared and baked just before serving. Just be aware that if using pears that are green or yellow, the skin of the pears will darken and turn brown while baking. Peeling the pears before baking is always an option.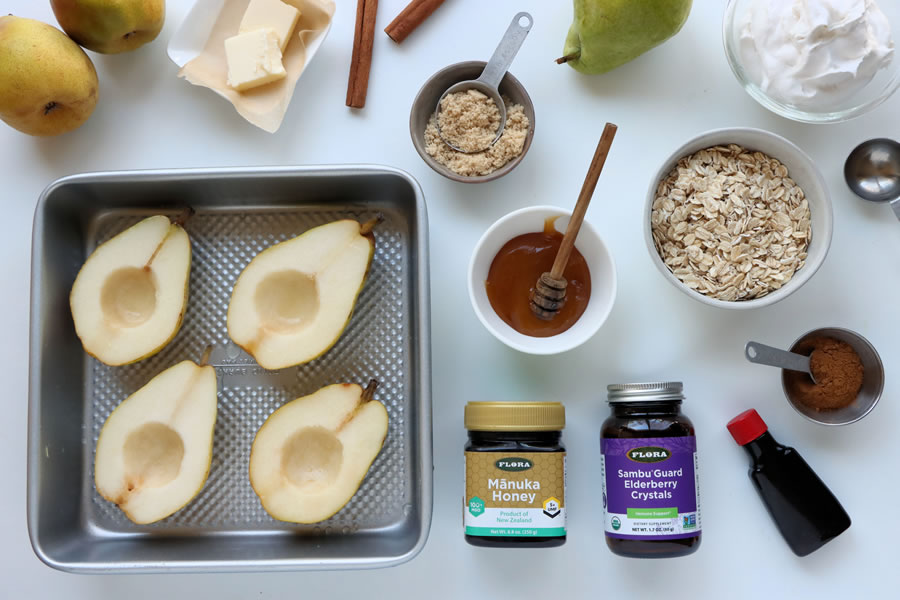 How to Prepare the Pears
To begin preparation, start by slicing the pears in half longways. Next, use a spoon or melon baller to scoop out the middle of the pear to remove the seeds. This will create a little well for the walnut and oat crumble to sit. Lay the pear halves on a baking sheet, sliced side up. If they don't lay flat, slice off a little bit of the rounded part of the pear to create a flat platform for the pear to sit. Baste each of the tops of the pears with a little bit of melted butter (or coconut oil for a dairy-free version), and sprinkle with cinnamon.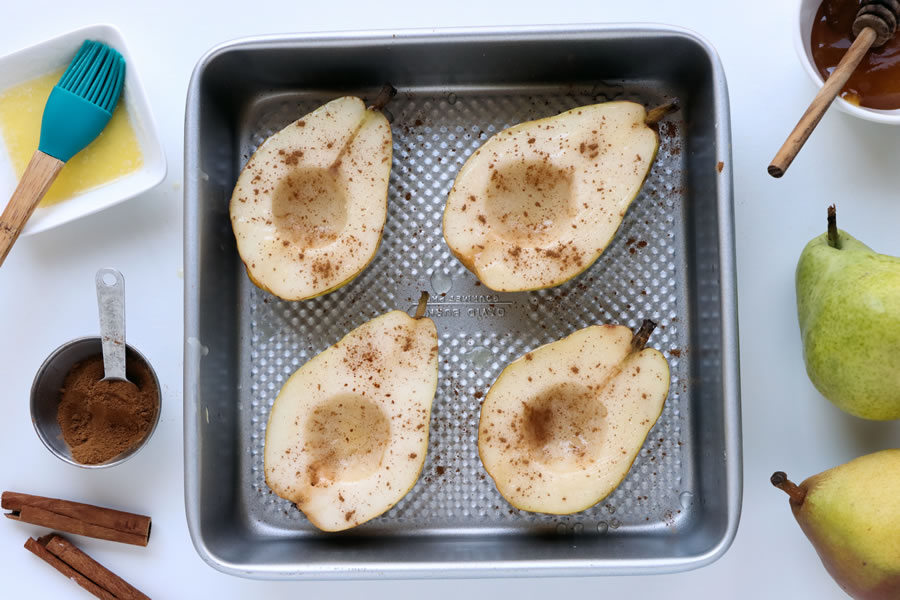 Making the Pear Filling
The walnut oat crumble in this recipe adds a nice crunchy texture that is gently sweetened. Simply mix rolled oats, brown sugar, with melted butter and a pinch of salt. Give it a stir and then fill the pears with about 2 tablespoons of the oat and walnut crumble. Bake in a 400 ℉ (200 ℃) oven. Bake for about 30 minutes or until pears are fork-tender and the crumble is nicely browned.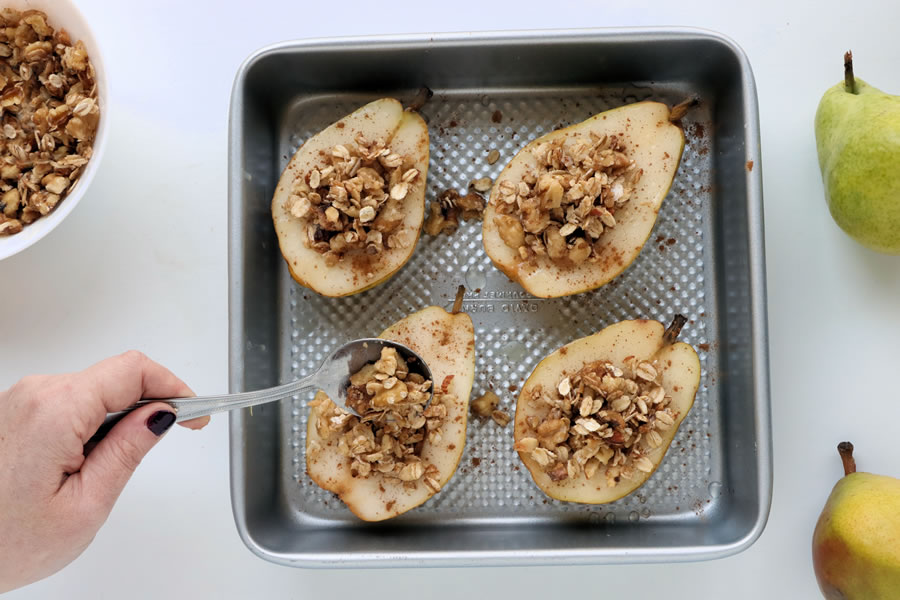 Making the crumble for this recipe is absolutely delicious, but totally optional. If omitting, there's no need to scoop out the pears. Simply remove the visible seeds from the pears, brush with butter or coconut oil, sprinkle with cinnamon, and continue the recipe as instructed.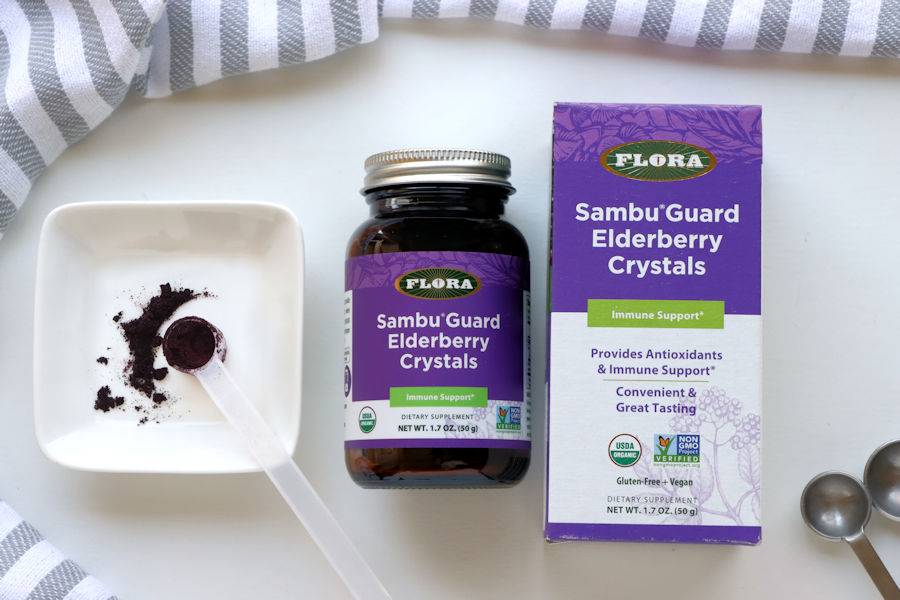 How to Make the Elderberry Whipped Cream
This recipe works with both dairy and non-dairy whipped creams. Simply place well-chilled heavy cream with a little honey or powdered sugar in a chilled bowl of your electric mixer and beat until thick, rich and creamy. You can also use electric beaters or elbow grease with a whisk instead. Just make sure the cream, the bowl and beaters are well chilled. 
Non-Dairy Tip: If looking for a non-dairy whipped cream, prepare your own replacing the heavy cream in this recipe with full fat, canned coconut milk that has been chilled in the refrigerator overnight.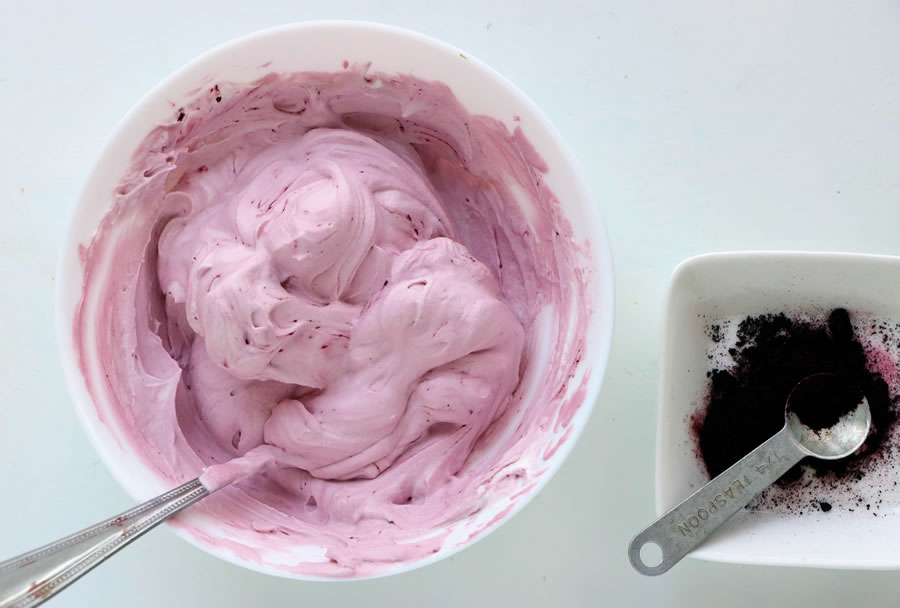 For an infusion of elderberry to our whipped cream we add 2-3 scoops of Flora Health's Sambu®Guard Elderberry Crystals to each cup of whipped cream and stir well. The color of your Elderberry Whipped Cream will become more intense as it sits. Chill in the refrigerator until ready to use. 
How to Serve the Pears
To serve your dessert, place one or two halves of the baked pears on a dish and then drizzle the pears with a little honey. We love Flora's Mānuka Honey, which is sustainably sourced in New Zealand, 100% traceable and known for its potent antimicrobial action.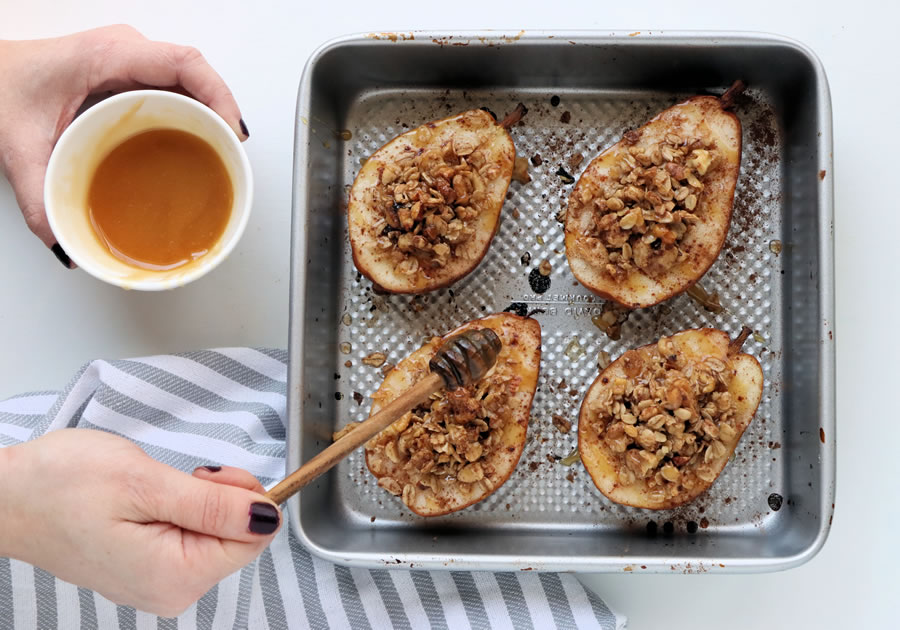 If your Mānuka honey is too thick to drizzle, simply thin one or two tablespoons in a small dish with a little warm water until it is the right consistency. If you don't have Mānuka Honey use whatever honey you have on hand. 
To finish your pears, spoon a dollop of the elderberry whipped cream on top of each pear just before serving.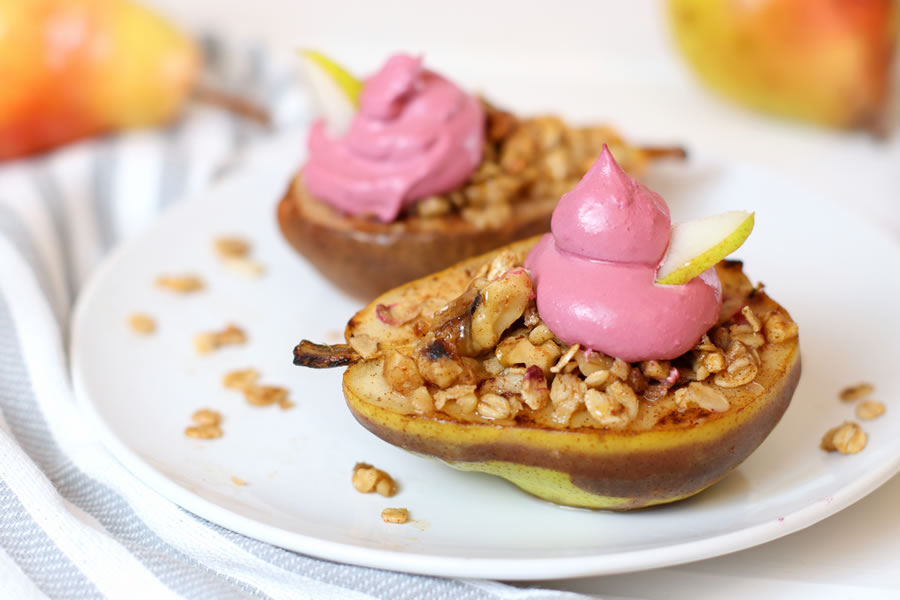 GET THE RECIPE!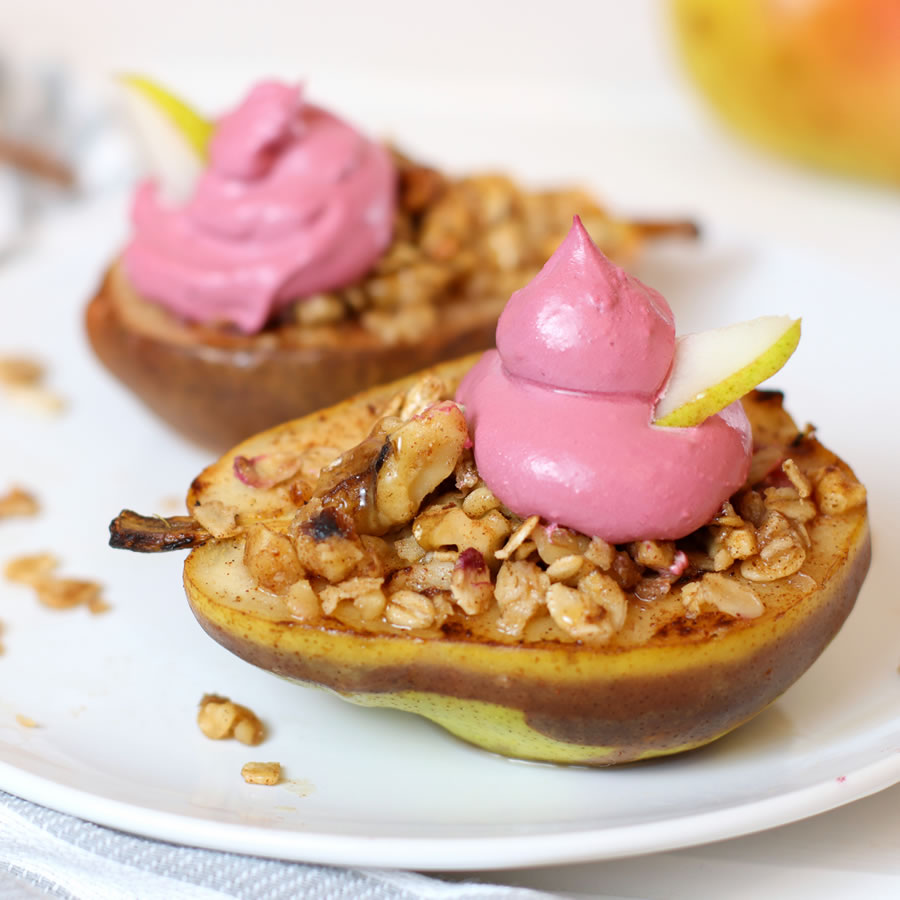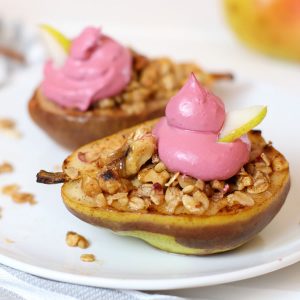 Cinnamon Baked Pears with Elderberry Whipped Cream and Mānuka Honey
A delicious and elegant plant-based dessert infused with the goodness of organic, antioxidant rich elderberries and pears, this healthy dessert recipe will have you surprised at how easy it is to prepare. Delicious Mānuka Honey adds a boost of antimicrobial action while lending a hint of sweetness.
Ingredients
Ingredients for the Pears
4

pears

just ripe

3

tbsp.

brown sugar

2/3

c.

old-fashioned rolled oats

1/2

c.

chopped walnuts

pinch

of salt

1

tsp.

ground cinnamon

4

tablespoons

melted butter or coconut oil

2

tablespoons

honey

preferably Flora Mānuka Honey, for drizzling
Ingredients for the Elderberry Whipped Cream
1

cup

heavy cream or full-fat coconut milk

1

tbsp

honey or powdered sugar

or more to taste

1

tsp

vanilla

2-3

Scoops Flora Sambu®Guard Elderberry Crystals
DIRECTIONS
DIRECTIONS

Preheat the oven to 400º F.

In a small bowl mix the oats, walnuts, salt and brown sugar. Set aside.

Halve pears and using a small spoon (a teaspoon works), scoop out a well in the center of each pair. Set on a baking sheet. Line with parchment paper for easy clean up.

Brush insides of pears with a little melted butter (or coconut oil) and then sprinkle with cinnamon.

Add the leftover melted butter to the oatmeal-walnut mixture and mix. Spoon into pear halves.

Bake until pears are soft, about 25 to 30 minutes.

While the pears are baking, prepare the elderberry whipped cream. Using a mixer or electric beaters, place all the whipped cream ingredients in a chilled bowl and beat until thick and creamy (about 2-3 minutes). Add elderberry crystals 1 scoop at a time until desired flavor and color is achieved. Chill until ready to serve.

To serve: Place a baked pear half on a plate. Drizzle with Mānuka honey and top with a dollop of elderberry whipped cream and serve warm.

Note: If you're using Mānuka honey it may be too thick to drizzle. Simply thin it with a few teaspoons of warm water until desired thickness is achieved.

Enjoy!
Keep scrolling to learn about the health benefits of elderberries and more ideas on how to use Elderberry Crystals in your kitchen!  ↓  ↓  ↓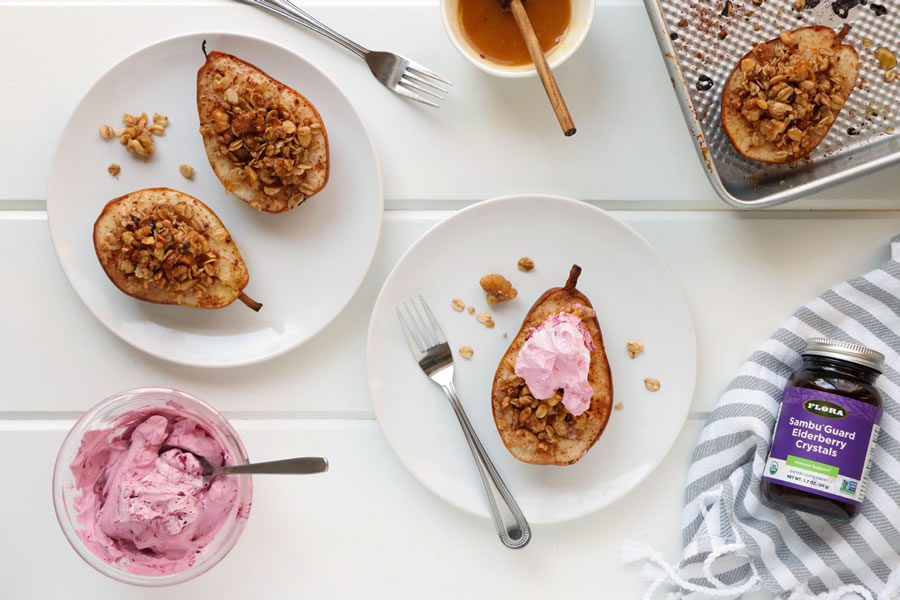 What are the Benefits of Elderberry Crystals?
A rich source of radical-scouring antioxidants, elderberries are bursting with nutrients that have anti-inflammatory and immune system benefits! Elderberries are especially rich in vitamin C (they provide 87% RDA) as well as high amounts of vitamin A, potassium, iron, vitamin B6, fiber, and beta-carotene. The dark blue-purple pigments in the skin of elderberries, called anthocyanins have been linked with health benefits as well. A type of flavonoid, anthocyanins act as antioxidants in the body and have been shown in studies to have antibacterial, antiviral, and anti-inflammatory effects. 
In one Norwegian study, patients experiencing flu-like symptoms of less than 48 hours who were given elderberry syrup reported their symptoms subsided four days before those given the placebo. (1) In a recent review of 33 immune supplements, the authors regarded elderberry, which has been shown to have a positive effect on upper respiratory tract health, one of the best-proven remedies they studied. (2)
Our favorite way to keep the benefits of elderberry year-round is with Flora Health's Sambu®Guard Elderberry Crystals. Whether you're looking to help support your immune system or simply infuse the flavor of elderberry into some of your favorite drinks and recipes, this is the way to go.  Sambu®Guard Elderberry Crystals are made from organic, freshly picked, ripe elderberries that are juiced, then vacuum-dehydrated to preserve their healthy nutrients and powerful antioxidants.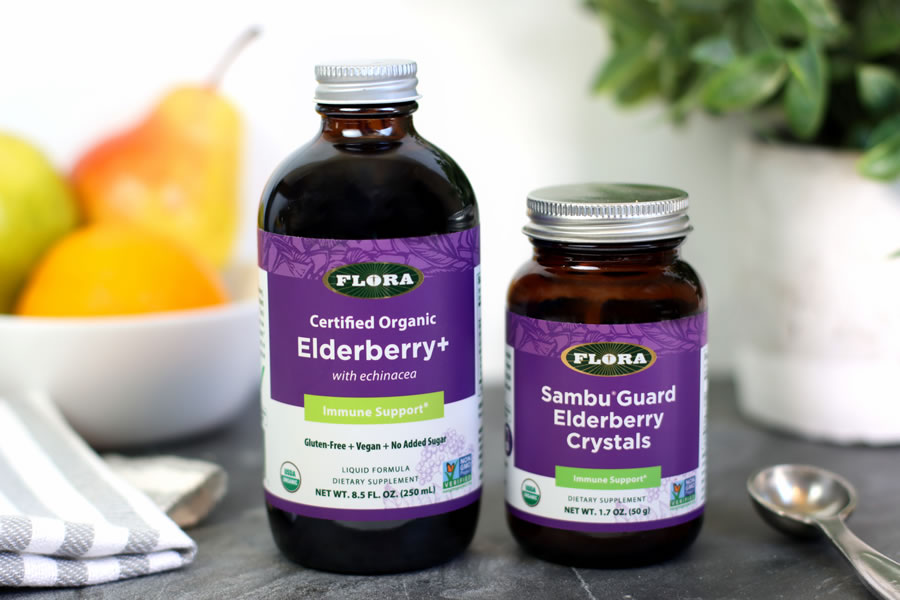 Other Ways To Use Flora's Sambu®Guard Elderberry Crystals 
Elderberry Crystals can easily be sprinkled or stirred into water, smoothies, herbal teas, and iced teas, or any of your favorite recipes for a boost of yummy elderberry flavor. They're absolutely delicious added to lemon or limeade and can even be used in breakfast bowls, yogurt, dressings and more. Sambu®Guard Elderberry Crystals are also a healthy, natural way to add a deep fuchsia color to foods, like our whipped cream without the use of artificial food coloring.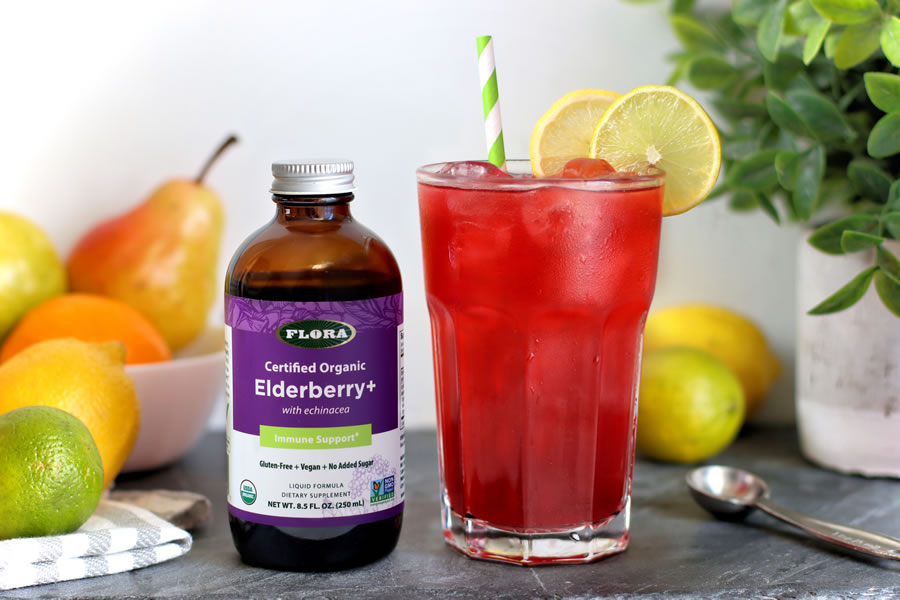 Check out Flora's Elderberry+ with Echinacea Too!
Flora also offers Elderberry+ Liquid that combines elderberry with the immune-boosting herbs, echinacea and licorice. Take a tablespoon on its own or add it to water, smoothies, or beverages. It's great to use in recipes too.
Both formulas are vegan-friendly and completely all-natural with no added sugar. They can be taken daily to maintain a healthy immune system or at the onset of symptoms for an immune-boosting punch.
Want the Tasty Health Benefits of Elderberry and Mānuka Honey?
Visit FloraHealth.com for more elderberry recipes and to purchase Sambu®Guard Elderberry Crystals , Elderberry+ , and Mānuka Honey