Better Living uses affiliate links. If you make a purchase through them, we may receive a small commission (for which we are deeply grateful) at no cost to you.
Looking for delicious and creative ways to get more veggies in your diet? Then try this Asian-flavor-inspired recipe for Rainbow Spring Rolls with Peanut Sauce. Ready in under 30 minutes, this recipe will quickly become your new favorite. 
These veggie-packed rolls are super healthy, flavorful, and easy to assemble. All you have to do is mix up your sauce, slice some veggies, roll them in spring roll rice paper, and you're ready to dip.
But whatever you do, don't skip the tangy peanut dipping sauce made with creamy natural peanut butter and a few other healthy ingredients. If you can't eat peanuts, don't worry because we have some suggestions for substitutes that will be just as delicious.

We Love This Rainbow Spring Roll Recipe Because… 
It's Versatile: These beautiful Rainbow Spring Rolls make a great party appetizer, lunch, or light dinner. Fill them with any combination of veggies, protein, and herbs. To make them vegan-friendly, stick with all veggies or add a plant-based protein like tempeh or marinated tofu. Even though they're light, they're pleasantly satisfying.
It's Healthy: These colorful rolls are tasty and beautiful! But they're also packed with nutrients like vitamin C, vitamin A, fiber, and antioxidants. 
Prep is Quick and Simple: Most prep with this recipe is chopping your veggies.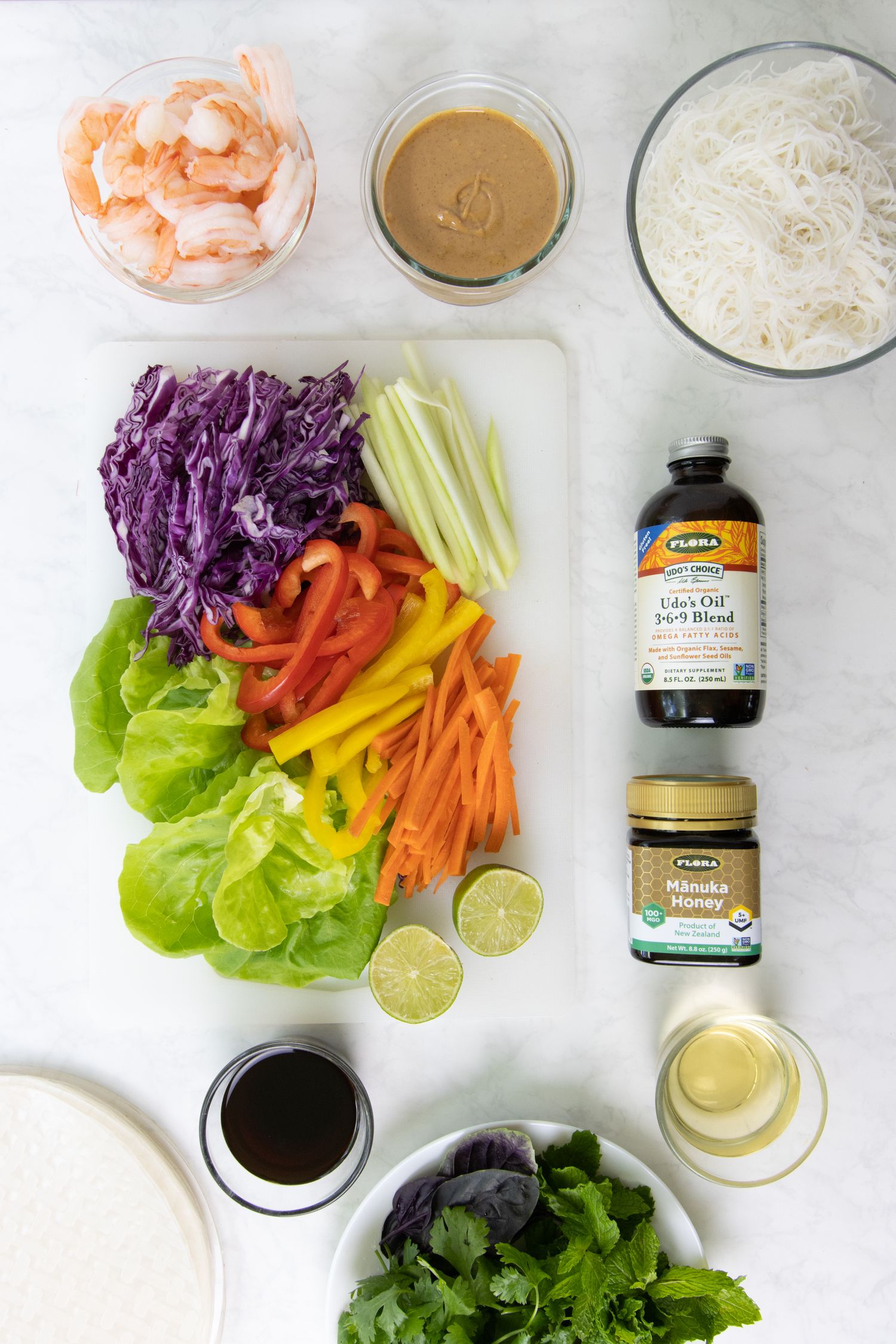 Ingredients You'll Need For The Rainbow Spring Rolls 
Rice Paper Wrappers:

You can find these in most grocery stores and Asian markets. They come in various sizes and shapes, but the round 8.5-inch wrappers work well. 
Rice Noodles:

We used Vietnamese-style vermicelli (angel hair) rice noodles for this recipe. Use zoodles (zucchini noodles) or kelp noodles for a low-carb version.
Your Choice of Veggies:

Bell Pepper (red, yellow, green, orange), carrot, cucumber, lettuce greens (we like Boston lettuce), red cabbage, avocado, and radish all work well in these rolls.
Your Choice of Protein:

Try steamed shrimp, tofu, or tempeh. Thin slices of chicken cooked with an Asian marinade would also work well. There's no reason you can't stick with only veggies.
Mixed Herbs:

Mint, basil, and/or cilantro are all delicious and add a fresh contrast of flavor.

Ingredients You'll Need For the Peanut Sauce
Peanut Butter:

It's best to use natural, unsweetened peanut butter that is free of added sugar like high-fructose corn syrup and unhealthy hydrogenated vegetable oils. 
Peanuts and salt should be the only ingredients on the label. If you can't eat peanuts or peanut butter, almond or cashew butter would make a great substitution. If your peanut butter is salt-free, you may need to add more soy sauce to taste.
Garlic:

One clove adds the perfect amount of garlicky flavor. But add 2 cloves or more if you want a more potent garlic punch.
Rice Wine Vinegar and Lime Juice:

These ingredients add a tangy freshness to the dipping sauce. 
Soy Sauce:

You can substitute tamari or low sodium.
Udo's Oil 3·6·9 Blend

: This rich, nutty, and buttery-tasting plant-based blend of organic flax, sesame, and sunflower seed oils is certified organic, cold-pressed, and unrefined smooths out this dressing nicely. A great source of plant-based omega-3 fatty acids, it's delicious in this sauce.
Udo's Oil provides the ideal 2:1 ratio of omega-3 to omega-6 essential fatty acids. Research shows that 90% of us are deficient in omega-3 fatty acids. This Udo's Oil in this dressing is a great way to get your daily boost (1). Buy Udo's Oil 3·6·9 Blend here.
Mānuka Honey:

Mānuka honey

(pronounced 'muh-NOO-kuh') is a rare and delicious, super thick, medium sweet, and earthy honey native to New Zealand.
Mānuka, unlike other honey, is a superfood that contains a potent antimicrobial compound with antioxidant properties called methylglyoxal (MGO). It's also rich in antioxidants and trace nutrients like B vitamins, calcium, copper, iron, magnesium, potassium, sodium, and zinc. 
You can buy Mānuka honey with different strengths of MGO measured by its UMF™ (Unique Mānuka Factor). For culinary use, UMF Grades under 100 (the least expensive) are perfect for this recipe.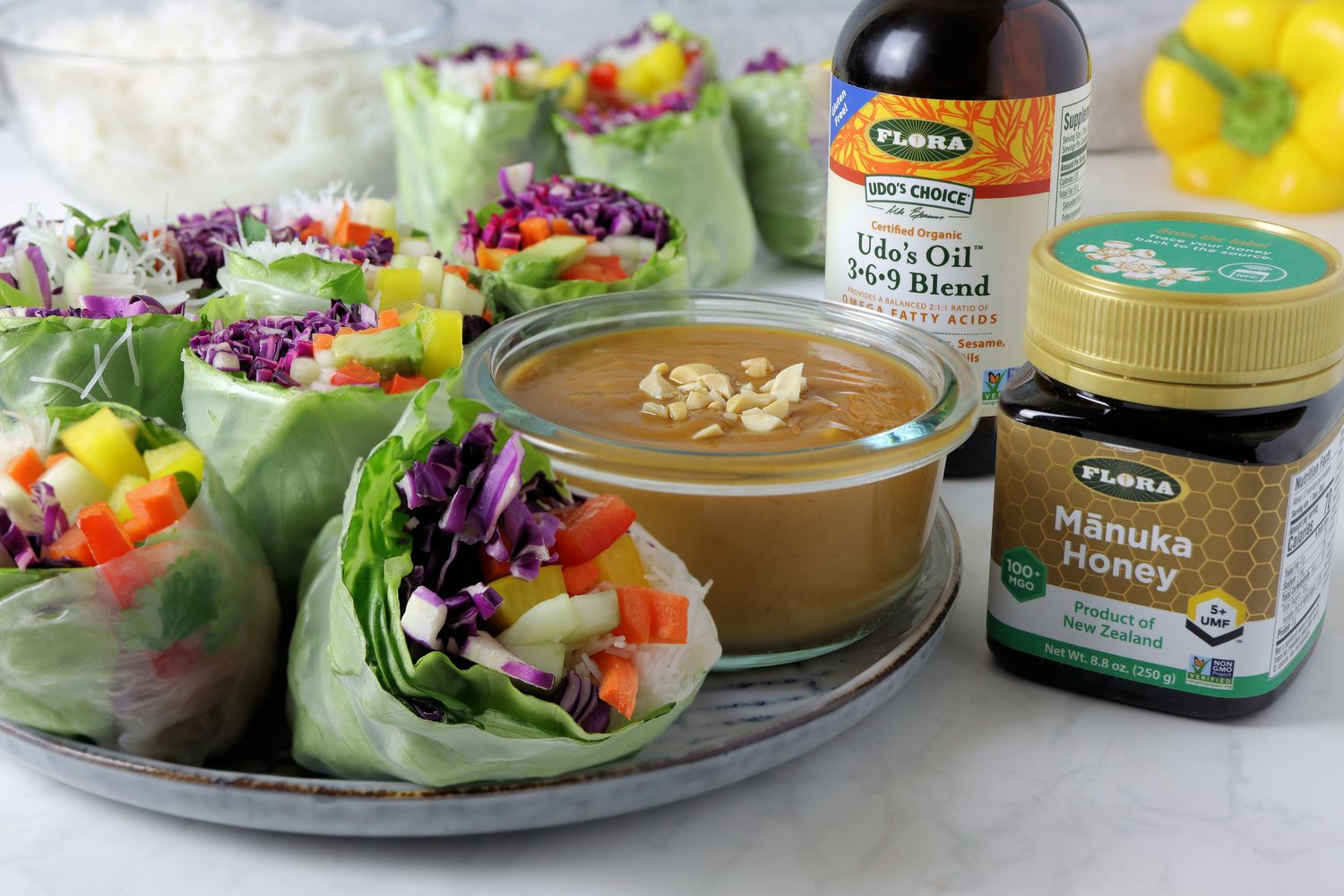 How to Buy Mānuka Honey
If you're buying Mānuka Honey, you want to ensure it's authentic. We love the award-winning Mānuka Honey from Flora because it's:
UMF™- Certified: Authentic Mānuka honey will have a UMF™ (Unique Mānuka Factor) certification rating on its label. If it doesn't have it, don't get it. This internationally recognized, third-party verification system tests for three signature compounds to ensure the Mānuka honey is genuine.
MGO (Methylglyoxal):

The antibacterial compound. 

DHA (Dihydroxyacetone):

This chemical determines the age of the honey.

Leptosperin:

The pollen in Mānuka honey contains Leptosperin, which cannot be artificially added.
It's Traceable to the Hive:

An authentic Mānuka Honey will share lab testing results and be upfront about their source. Scan the Flora Manuka Honey NFC code on the label for its lab test results.
It's Sustainably Sourced:

Flora sources its Mānuka honey sustainably from a beekeeping operation owned by the Māori, the indigenous people of New Zealand. 
➡ You can buy Flora Mānuka Honey here.

How To Make The Rainbow Spring Rolls and Peanut Sauce
Cook Noodles + Protein (if adding):

Follow the directions on the rice noodles package for cooking. Vermicelli noodles typically only need to be soaked in hot water for 3 minutes. For an easy protein, steam up a pound of shrimp and allow it to cool before rolling.
Make the Peanut Sauce:

Add all ingredients to a small bowl and whisk until smooth. Add ⅛ cup or more of water to thin if needed. How much water you need will depend on the consistency of your peanut butter. 
Prep the Veggies:

Cut veggies like cucumbers, carrots, and bell peppers into thin slivers (julienne). Serve herbs and smaller lettuce leaves whole on the side, but remove any woody or thick fibrous stems to make rolling the rice paper easier. Cut avocado into ¼ inch slivers and drizzle with lime juice to maintain color.
Roll The Rainbow Spring Rolls:

Work quickly because rice paper gets sticky once wet. Pour ¼ cup of warm water on a dish. Place a spring roll wrapper in the water for about 5 to 10 seconds, wetting both sides (the water will continue to soften the wraps as you work). 
Then, transfer it to another plate or damp surface. Add veggies and fillings at the lower ⅓ of the wrap. Starting with lettuce provides an excellent base. 
To close, fold the bottom of the spring roll over the fillings first, then press gently, gathering the sides in as you roll the spring roll to seal.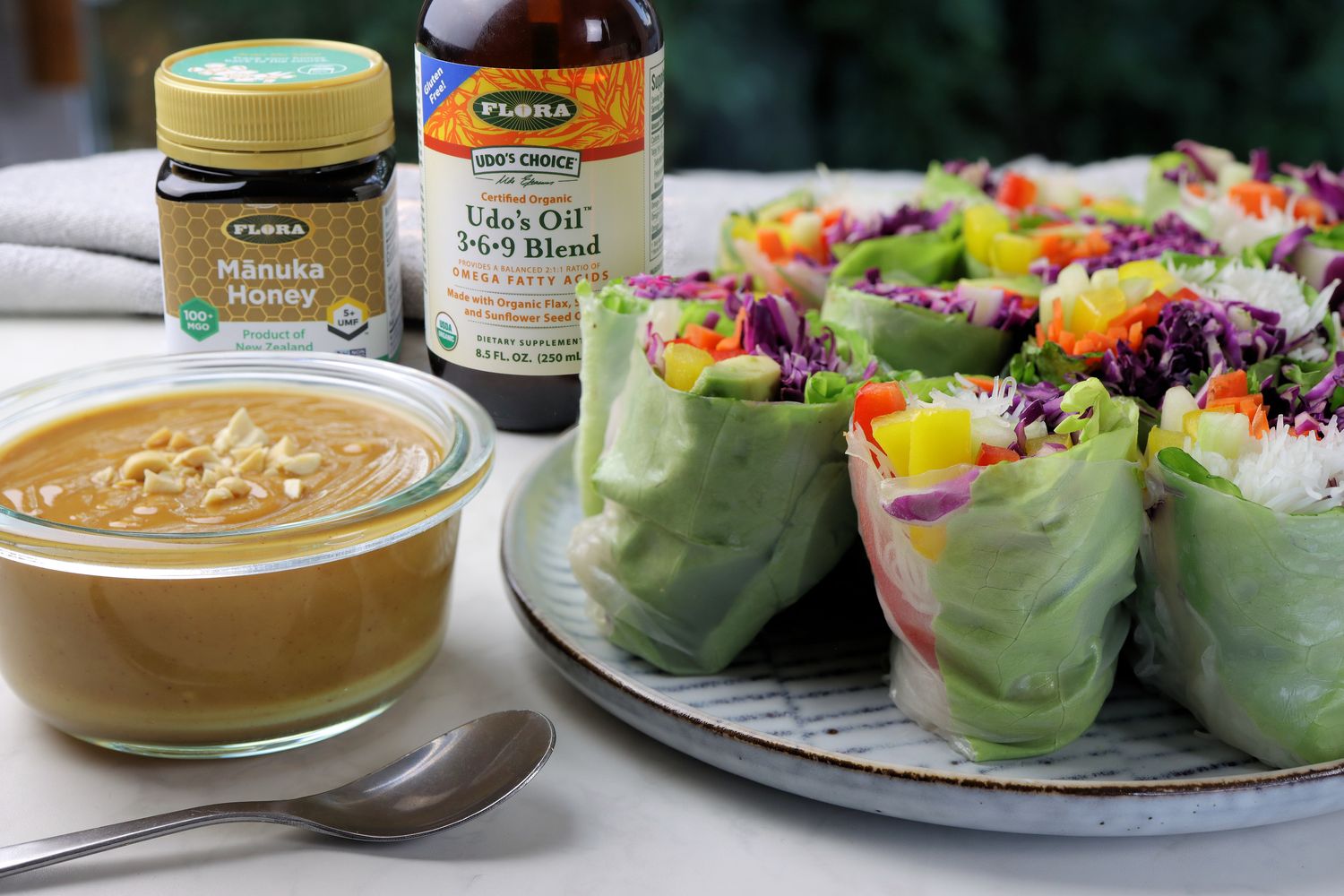 Rainbow Roll Serving + Storing Suggestions
To Serve: Once you've rolled all your spring rolls, cut them in half and place them cut-side up on a large serving dish. Serve with the peanut dipping sauce on the side.
Make it an Experience: Place all the ingredients on the table and let guests roll their own.
Tips + Tricks
The key to working with spring roll rice wrappers is to not over-soak them. They may not seem ready, but the water will continue to soften the rice paper wraps as you fill them. 
If you're making the Rainbow Spring Rolls ahead of time, cover them with plastic wrap or a damp paper towel to keep them from drying out. 
Store any leftover Rainbow Spring Rolls covered in the fridge for up to 3 days in an air-tight container. If the spring roll paper has dried out, dip the outside of the wrapper in a bit of water before placing it in the container. Then, weave a wet paper towel between the rolls to keep them moist and prevent them from sticking together.

GET THE RECIPE!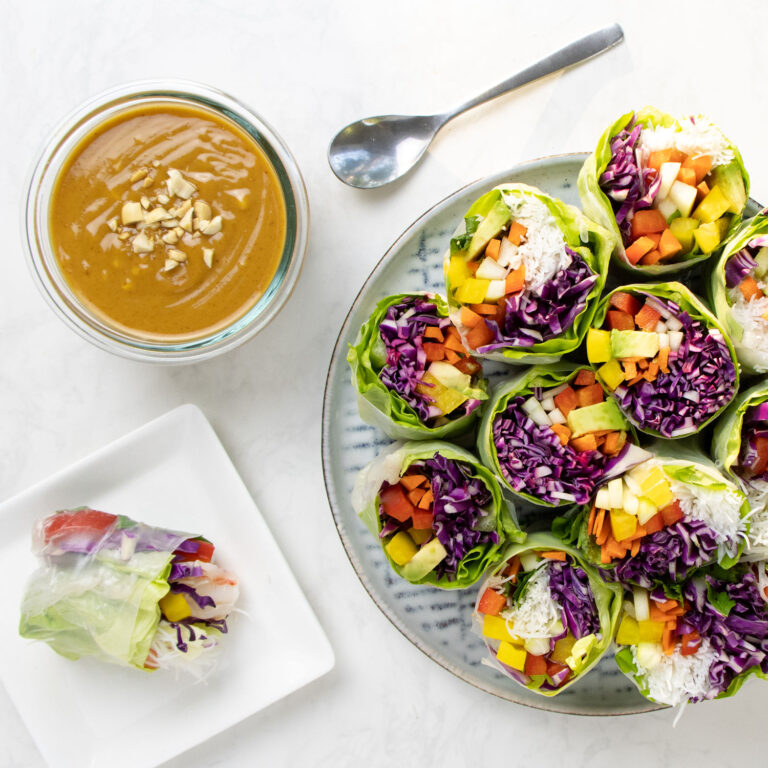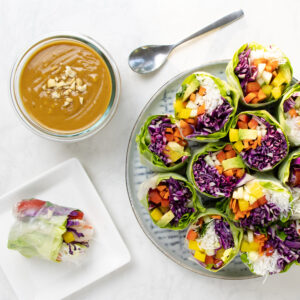 Rainbow Spring Rolls with Peanut Sauce
Packed with veggies and Asian-inspired flavor, this healthy recipe will become your new favorite. It's perfect for a light dinner and makes a fun appetizer for entertaining. (dairy-free, gluten-free, plant based)
Ingredients
FOR THE SPRING ROLLS

6

ounces

rice vermicelli noodles

cooked

12

sheets 8.5-inch spring roll rice paper wrappers

bánh tráng

1

lb

shrimp

steamed and cooled (optional)

2

cups

shredded lettuce or greens

2

cups

shredded red cabbage

about ¼ small red cabbage

2

cups

bell pepper

thinly sliced (red and yellow)

3

medium carrots

peeled and cut into sticks

1

medium cucumber

peeled, deseeded, cut into matchsticks

1

bunch of fresh assorted herbs

basil, cilantro + mint

1

avocado

thinly sliced

FOR THE DIPPING SAUCE

1/2

cup

peanut butter - unsweetened

1/4

cup

Udo's Oil 3·6·9 Blend

1/4

cup

soy sauce

2-3

tablespoons

of Flora Mānuka Honey

2

tablespoons

rice vinegar

2

tablespoons

lime juice

about one lime

1

clove

garlic minced

1

tablespoon

of crushed peanuts

optional
DIRECTIONS
MAKING THE DIPPING SAUCE

In a small bowl, whisk together all the dipping sauce ingredients.

Add one tablespoon of warm water at a time to thin (only if needed). The amount of water required will depend on the consistency of your peanut butter.

Top with chopped peanuts and set aside.

PREPARE THE SPRING ROLLS

Rolling one at a time. Lay a rice paper wrapper sheet in a shallow dish of hot water for 5-10 seconds.

Working quickly, pick the spring roll rice paper up and out of the water and place it on a dampened plate or cutting board.

Fill with a handful of your favorite ingredients, lining them along the lower 1/3 of the wrapper. Leave about 1.5 inches of space to the left and right sides of the ingredients. Start with larger greens like lettuce leaves, then cabbage, shrimp (optional), and noodles, followed by veggies. Finish with a few herbs.

To seal, fold in the left and right sides of the rice paper. Then, gather the outside edges inward, rolling the spring roll forward to seal it closed.

Then, cut the Rainbow Spring Rolls with a sharp knife and place the cut side facing up on a serving dish. Continue rolling all your spring rolls until you run out of ingredients. Cover your finished spring rolls with a damp paper towel to prevent them from drying out.

Serve with Peanut Dipping Sauce, and enjoy!
Notes
Cashew or almond butter may be substituted for peanut butter.
Store any leftover Rainbow Spring Rolls covered in the fridge for up to 3 days in an air-tight container.
If the spring roll paper has dried out, dip the outside of the wrapper in a little water before placing it in the container. Then weave a wet paper towel between the rolls to keep them moist and prevent them from sticking together.
Nutrition
Calories:
312
kcal
Carbohydrates:
35
g
Protein:
14
g
Fat:
14
g
Saturated Fat:
2
g
Polyunsaturated Fat:
5
g
Monounsaturated Fat:
6
g
Trans Fat:
0.002
g
Cholesterol:
63
mg
Sodium:
470
mg
Potassium:
471
mg
Fiber:
4
g
Sugar:
7
g
Vitamin A:
3599
IU
Vitamin C:
45
mg
Calcium:
65
mg
Iron:
2
mg
 💡 Visit FloraHealth.com for Udo's Oil 3·6·9 Blend and traceable Mānuka Honey!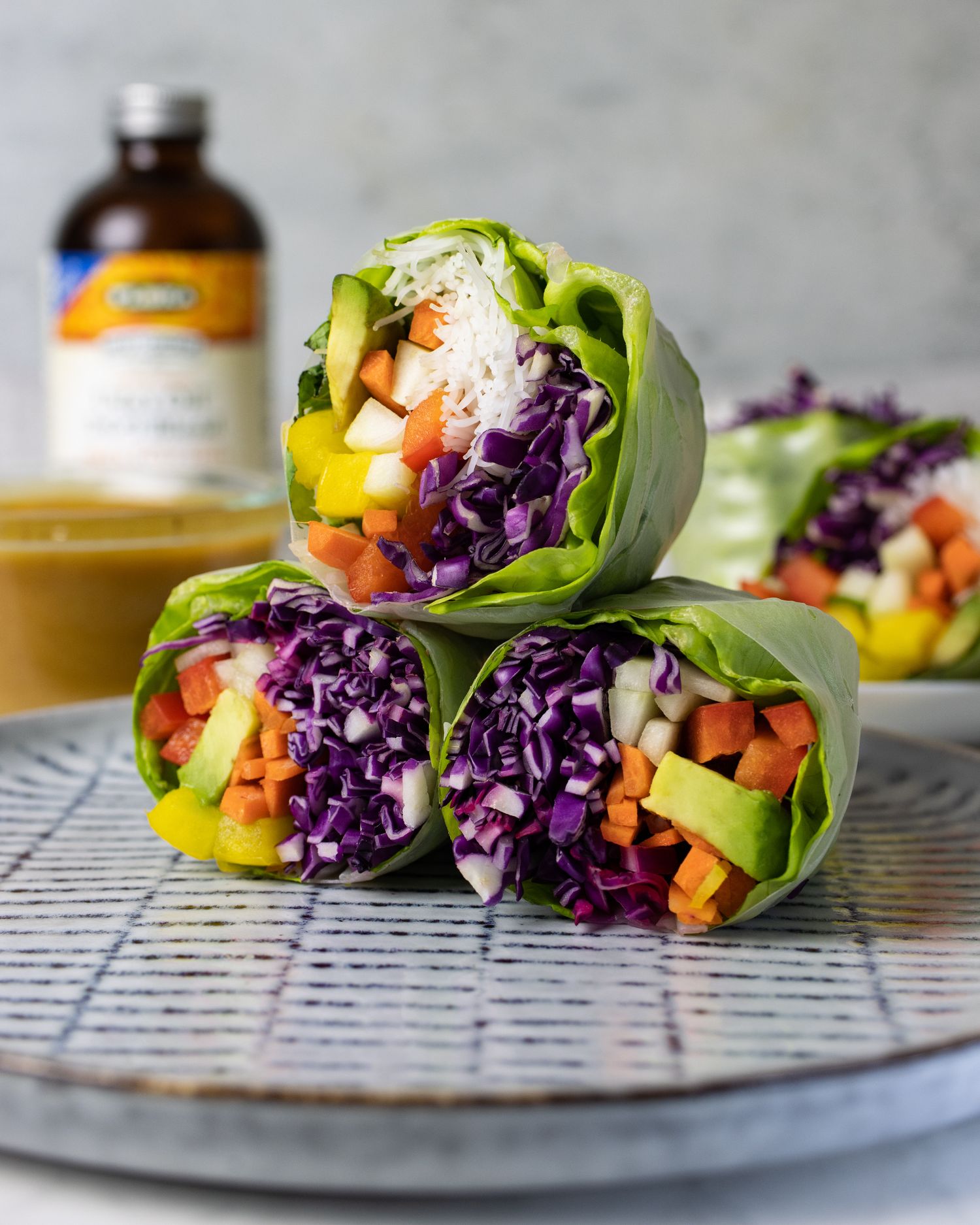 *These statements have not been evaluated by the Food and Drug Administration. This product is not intended to diagnose, treat, cure, or prevent any disease.