Better Living uses affiliate links. If you make a purchase through them, we may receive a small commission (for which we are deeply grateful) at no cost to you.
Just because it's hot outside, doesn't mean our immune-systems can't use a little extra love. So why not do it with a refreshing mocktail in hand? To help you stay cool while nourishing your body, try this healthy drink recipe for an Immune Boosting Beet-Turmeric Refresher made with green tea, turmeric, ginger, lemon and beet crystals. This healthy mocktail is not only hydrating, but it's kind of like having a sunset (or sunrise) in your glass. Great for your immune system, it's also nutrient and antioxidant-rich, super-refreshing and easy to make. You may even have most of the ingredients in your pantry right now. 
Here are some of the immune-boosting health benefits of what's in this drink:
Green Tea
Providing the liquid base for this recipe, green tea contains a rich concentration of plant compounds called polyphenols that act as antioxidants in the body. They have also been proven in studies to have a number of health benefits including boosting our metabolism, protecting our cells from the effects of aging and disease. (1) The polyphenols in green tea called catechins (ECGC is one type) are especially beneficial and have shown evidence to be anti-microbial, anti-fungal, antiviral, and also have the ability to strengthen immune cells, according to recent research. (2)
Lemon
Shown to have both antibacterial and antiviral effects, tart and tangy lemons are also an excellent natural source of vitamin C, an antioxidant, and an essential vitamin that can help to protect and stimulate the production of white blood cells while protecting them. Like green tea, lemons also contain polyphenols. Not only can these natural antioxidants help to boost your immune system, but they also act as a prebiotic, which can help promote the growth of the good bacteria which keeps your gut healthy where 70% of your immune system cells reside. ( 3)
Two tablespoons of lemon juice is all you'll need for this recipe.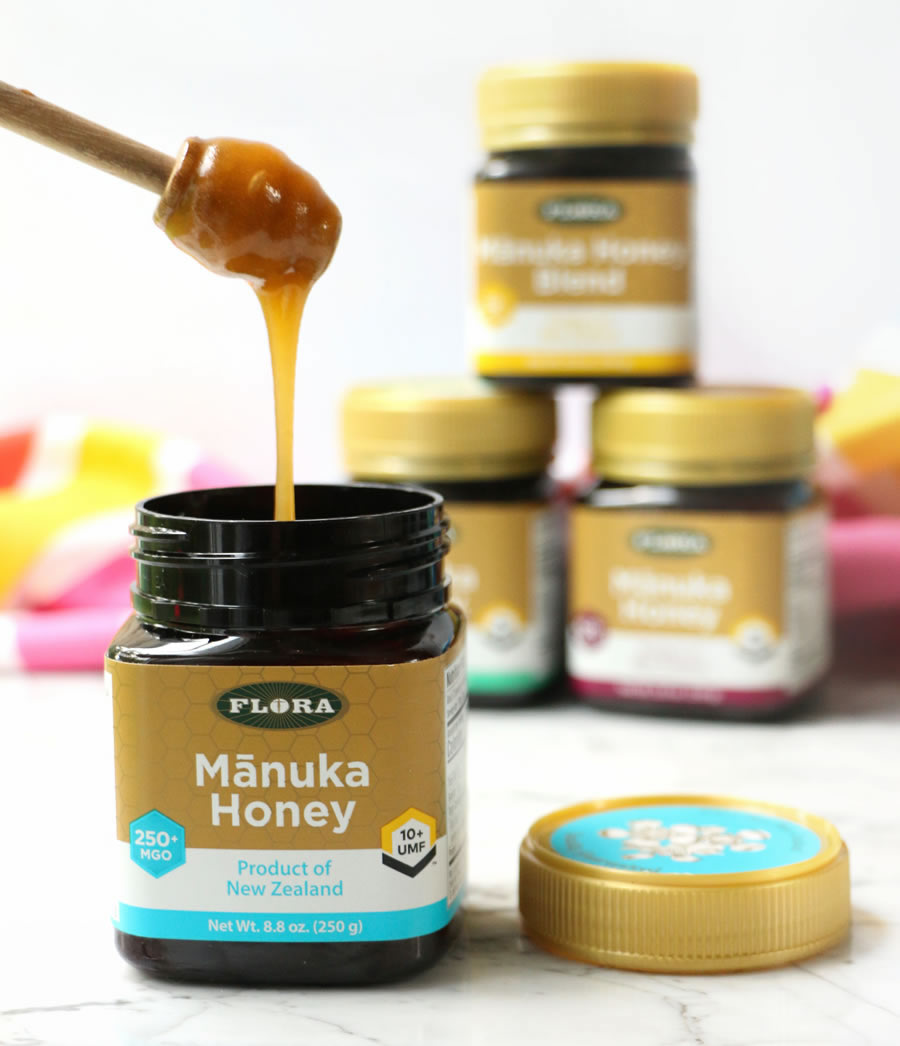 Mānuka Honey
Raw honey is a nourishing food that has antioxidant, antimicrobial, antibacterial and antifungal properties. (4) It's also great as a sore throat remedy! But mānuka honey (made by bees that pollinate the wild mānuka tree in New Zealand) in particular has health boosting qualities not found in other types of honey. In general, the antimicrobial properties in all honey is due to its hydrogen peroxide content. But mānuka honey contains enzymes and compounds that still continue to act powerfully even when the hydrogen peroxide content is removed. It's the action and content of three signature compounds—Methylglyoxal (MGO), Leptosperin, and Dihydroxyacetone (DHA)—that make mānuka honey so unique and beneficial. (5)
Since mānuka honey is such a specialized and limited product you want to make sure you're getting the real thing. We recommend getting your mānuka honey from Flora Health. All their mānuka honey is tested and graded at the time of packaging for authenticity, purity, and quality. 
If you don't have mānuka honey for this recipe, whatever you have in your pantry will do. If you'd like to try Manuka honey for an extra boost, you can get the authentic stuff here.
Ginger
Used in traditional medicine in China and India for over 2000 years, ginger is well-known for its spicy flavor and ability to soothe an upset stomach. Rich in antioxidants like gingerol, ginger also has properties that can help relieve pain, inflammation, and protect your body from the damage caused by infection. Initial studies indicate that ginger may also help boost your immune response. (6). One test-tube study in particular found that fresh ginger helped boost immune response and antiviral effects against HRSV, a virus which causes respiratory infections. (7)
For this recipe you'll simply need to finely grate some fresh ginger and steep it with your tea.
Turmeric

 
A member of the ginger family, the turmeric root is a superfood that's been used medicinally in India for 4000 years. Its potent immune-boosting properties lie within its vibrant gold pigment called curcumin. The major active compound in turmeric, curcumin is not only an antioxidant with the ability to help cleanse the liver, but studies have also shown it to be anti-inflammatory with antibacterial, antiviral and antiparasitic properties that can help boost the activity of our immune cells. (8)
Turmeric has a similar flavor to ginger, but without the same spicy bite. For this recipe you can use the dried turmeric you can find in the spice section of your grocery store. Raw turmeric root can also be used, but it can be hard to find and messy, as it can easily stain your fingers, the counter and anything else it touches. To get the most out of using raw turmeric root you'll also need a juicer or a blender. Go with the dried spice, if you're looking to keep things neat and simple.
Beets
There's no denying beets are super healthy. Not only are beets a good source of trace minerals like zinc, iron, potassium, magnesium, and manganese, but beets also provide a healthy dose of immune-boosting vitamin C. Known as a natural source of nitrates which are great for our cardiovascular system, beets also have one of the highest vegetable contents of the B vitamin folate (vitamin B9). This natural form of folic acid is important in helping to prevent birth defects, while protecting our cells against cancer and cardiovascular disease and helping strengthen the immune system. ( 9 )
Beets are also one of the few veggies high in betalain, a powerful anti-inflammatory antioxidant and phytonutrient that gives beets their red vibrant color. It's especially beneficial for the liver, where it can help support our natural detoxification pathways and where we also store the largest concentrations of immune cells known as phagocytes, a type of white blood cell that detects and neutralizes foreign invaders by engulfing them.(10)
For even more immune-boosting potential, beets also contain glutathione. Known as "the body's super hero," "the mother of all antioxidants" and the "master antioxidant", glutathione works by promoting detoxification pathways in the body and aiding and protecting our immune cells. It even helps recycle other antioxidants like vitamin C, vitamin E, Alpha Lipoic Acid and CoQ10. This nutrient is so important that if our levels of glutathione drop, so does our body's ability to fight off infection and recover from illnesses.(11) And eating your beets is a great way to keep your levels up.
The Goodness of Beets Without the Mess
For this recipe we're using Organic Red Beet Crystals from Flora Health which are the best way to get all that healthy beet goodness without all the prep and mess. Crystals made with organic beets and instantly soluble in water or tea, Organic Red Beet Crystals from Flora provide an easy and delicious way to get the health benefits of beets as often as you like.
Naturally sweet, a little tangy and with no sugar added, Flora's Organic Red Beet Crystals are:
Certified organic and 100 percent natural

Gluten-free

Vegan

Non-GMO Project Verified

Made using a unique extraction process that does not use heat or solvents
They're also super versatile, and are great for taking with your smoothies.
You can also add them to:
Water, tea, juices and shakes 

Salad dressings and soups

Yogurt and dips

Oatmeal, pancakes and muffins

Sprinkled onto veggies, chips or soft cheeses
Organic Red Beet Crystals from Flora Health also make an awesome natural alternative to red food coloring in your baking. They easily dissolve and will work perfectly in any of your frostings, icings and creamy desserts for when you want to avoid the artificial stuff.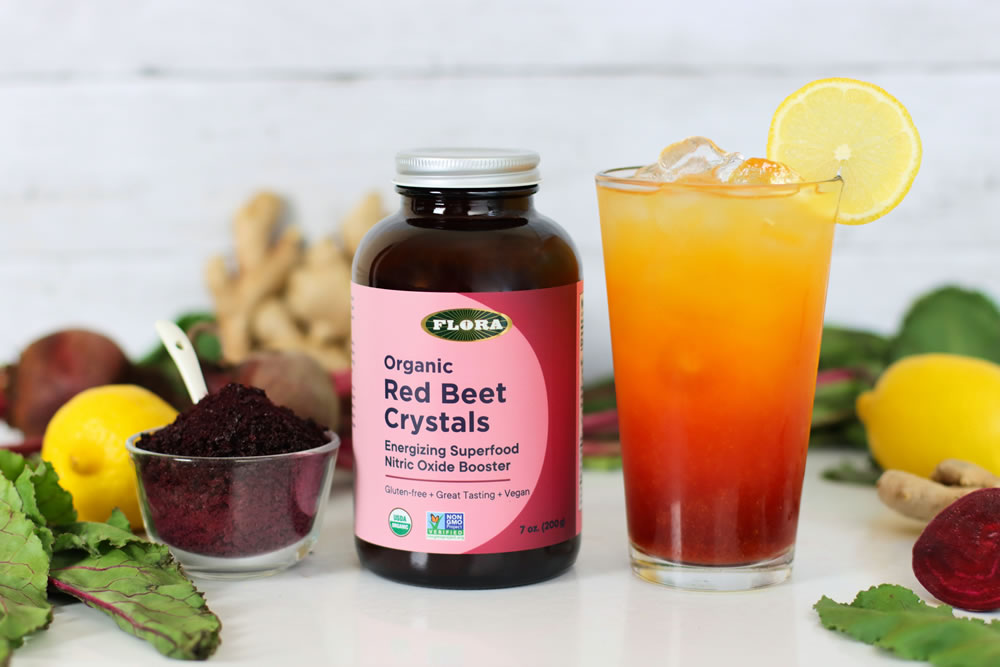 Tips for Making the Beet-Turmeric Refresher
This immune-boosting drink recipe can easily be made ahead of time. Just make your green tea and add your ginger and turmeric to let it steep. The heat from the green tea can help release some of the beneficial compounds in the turmeric, but it's best to add the mānuka honey when the tea has cooled a bit to preserve its active compounds which are heat sensitive.
You can serve this tea immediately or refrigerate the tea until ready to use. Just stir in the lemon and the beet crystals just before serving to get that gorgeous sunset effect in your glass. 
Enjoy!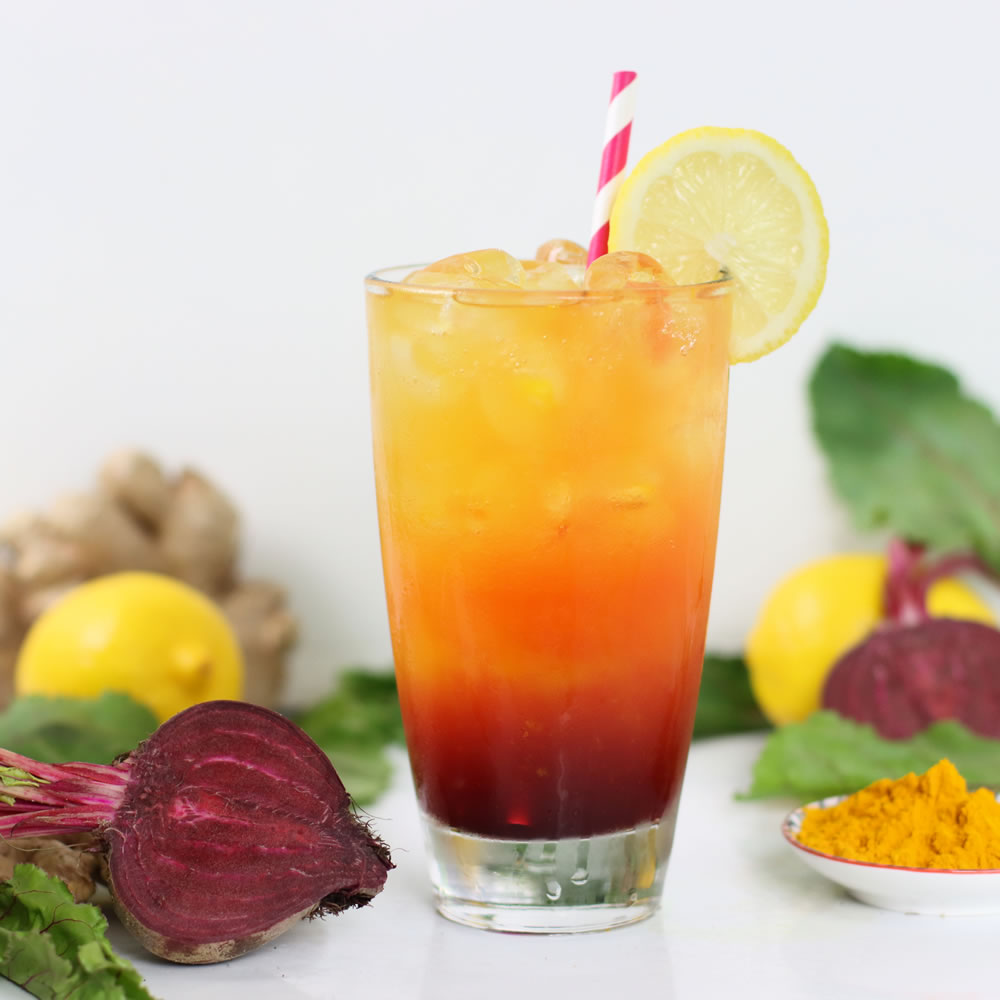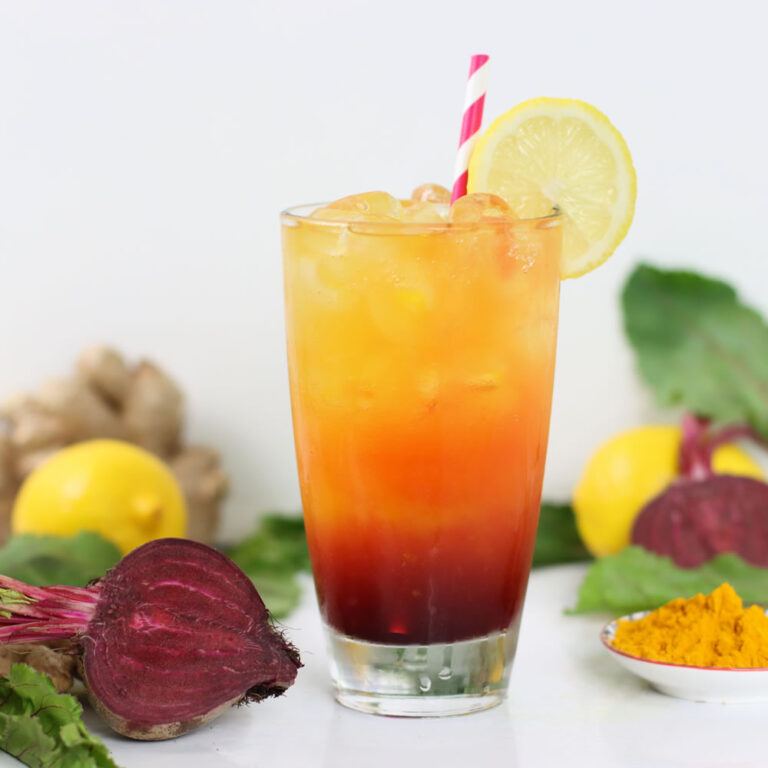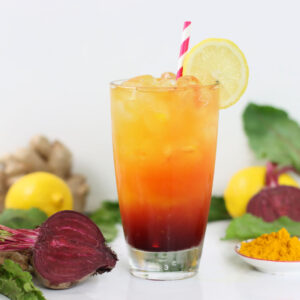 Immune Boosting Beet-Turmeric Refresher
To help you stay cool while nourishing your body, try this healthy drink recipe for an Immune Boosting Beet-Turmeric Refresher made with green tea, turmeric, ginger, lemon and beet crystals. This healthy mocktail is not only hydrating, but it's kind of like having a sunset (or sunrise) in your glass. Great for your immune system, it's also nutrient and antioxidant-rich, super-refreshing and easy to make. You may even have most of the ingredients in your pantry right now.
Ingredients
1

green tea bag

finely grate 1 inch ginger

1/8

tsp

turmeric dried

or finely grated 1 inch knob of fresh turmeric

2-3

teaspoons

Flora Health Organic Red Beet Crystals

2

tablespoons

of lemon juice

1

tsp

Flora Health Manuka Honey

or more to taste

top with sparkling water
DIRECTIONS
Heat ½ cup (4 oz) water to just below boiling. Remove from heat and add your green tea bag, ginger and turmeric. After 5 minutes stir in the honey and lemon juice. Allow to steep for 10 minutes or until completely cool. Place in the refrigerator until ready to serve.

To Serve: Add ice to a tall glass. Strain and pour green tea mixture over ice. Top with sparkling water. To get a sunset effect, dissolve the beet crystals with a tablespoon of water and then pour gently against the back of the glass. Enjoy!
Notes
Note: If you don't have Manuka honey you may substitute it for the honey of your choice. Use stevia for a sugar-free alternative.
Preparation Note: Turmeric (raw or dried) may stain linens and dishware, although not permanently. If it does stain, simply set it out in the sun and the yellowing should fade away. You can also use two-parts hot water to one-part vinegar and allow to soak.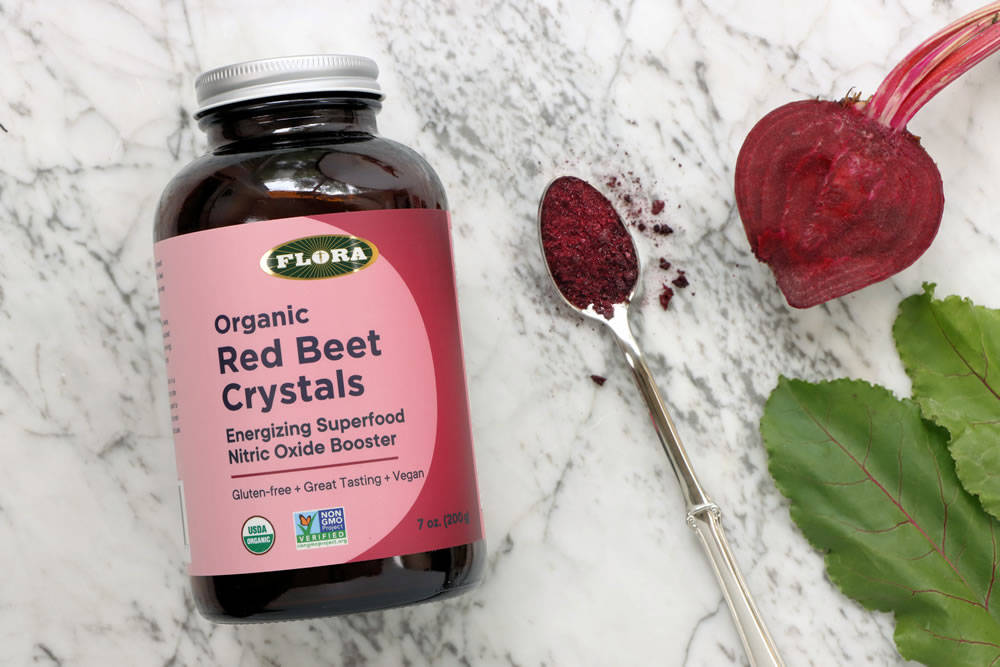 Try Organic Red Beet Crystals for the easiest way to get the health benefits of beets! Visit florahealth.com to order or to learn more.