Better Living uses affiliate links. If you make a purchase through them, we may receive a small commission (for which we are deeply grateful) at no cost to you.
If you're looking for a delicious, keto-friendly, and low-carb treat to get you through the fall and winter, then you need to try these Keto Pecan Pumpkin Muffins drizzled with MCT Cream Cheese Glaze. 
Also gluten-free and made from whole foods like pumpkin puree and almond flour, these muffins are packed with healthy fats, vitamins and minerals that will keep you feeling satiated and your body energized.
Plus this keto-friendly cream cheese glaze (which is delicious by the way) has MCT oil added to help provide a healthy dose of fats and ketone boosting medium-chain triglycerides.
Absolutely perfect with your morning coffee or for a satiating breakfast on the go, these muffins make for a great, late afternoon pick-me-up and are only 4 net carbs per serving.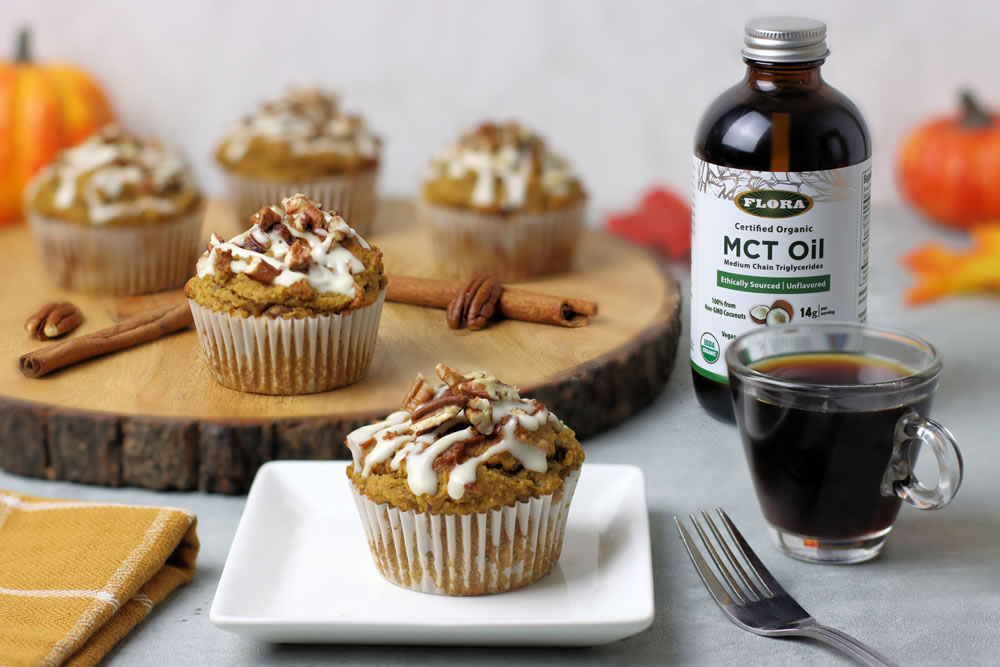 Here are some health benefits of the ingredients in these muffins:
Pumpkin [1]
Pumpkin is a type of winter squash that is antioxidant rich and packed with vitamins and minerals. A nutrient dense and low-calorie food, pumpkin is low in carbs with a good amount of fiber.

Pumpkin is high in beta-carotene, a precursor to vitamin A

Pumpkin is high in

vitamin C

which is needed for development and repair of cells and is beneficial for immunity 

Pumpkin is a good source of vitamin E, as well as folate (B9) and iron which are needed for the healthy red blood cells and healthy immunity. 

Pumpkin is also one of the best sources of

lutein and zeaxanthin

, plant pigments called

carotenoids found in the human eye and are believed to help protect eye tissues from sunlight damage. [

2

]
Pecans
Low in carbs, pecans have over 19 vitamins including B1 (thiamine), folic acid (B9), Vitamin A and vitamin E.

Pecans are a good source of important minerals like calcium, potassium, phosphorus, and zinc.

They're also an excellent source of manganese and copper, which are important for metabolism.

Pecans are antioxidant powerhouses with twice the amount of flavonoids than any other nut. Diets high in flavonoids have been connected with a lower risk of inflammatory diseases and better weight maintenance over time. [

3

]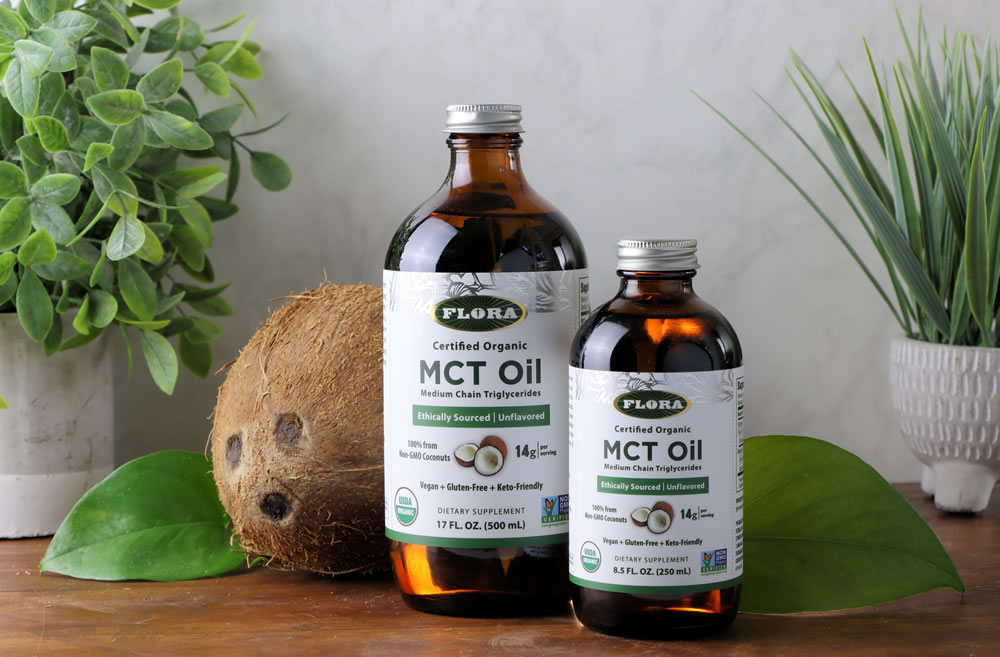 MCT Oil
MCTs, which stand for 'medium-chain triglycerides', are the most efficient type of fats for the body to use. Found in the highest concentrations in coconut oil, MCTs are easily and quickly absorbed and are an amazing energy source for the body. Not digested like other fats, MCTs get sent straight to the liver to be converted to ketones, the body's alternate source of energy that keto dieters rely on to burn fat. 
A heart healthy source of dietary fat and quick energy that can help the body get into ketosis faster, MCT oil offers up some great benefits:
It can help boost ketone production in the body [

6

]

It's a source of quick energy and doesn't get stored as body fat

It can help provide a boost of energy and satiation while fasting without going out of ketosis.

A great source of energy for the brain, some MCT fans report it helps them with focus and mental clarity
 ➡ New to the keto diet or confused about MCT oil? Check out: The Benefits of MCT Oil and How to Use It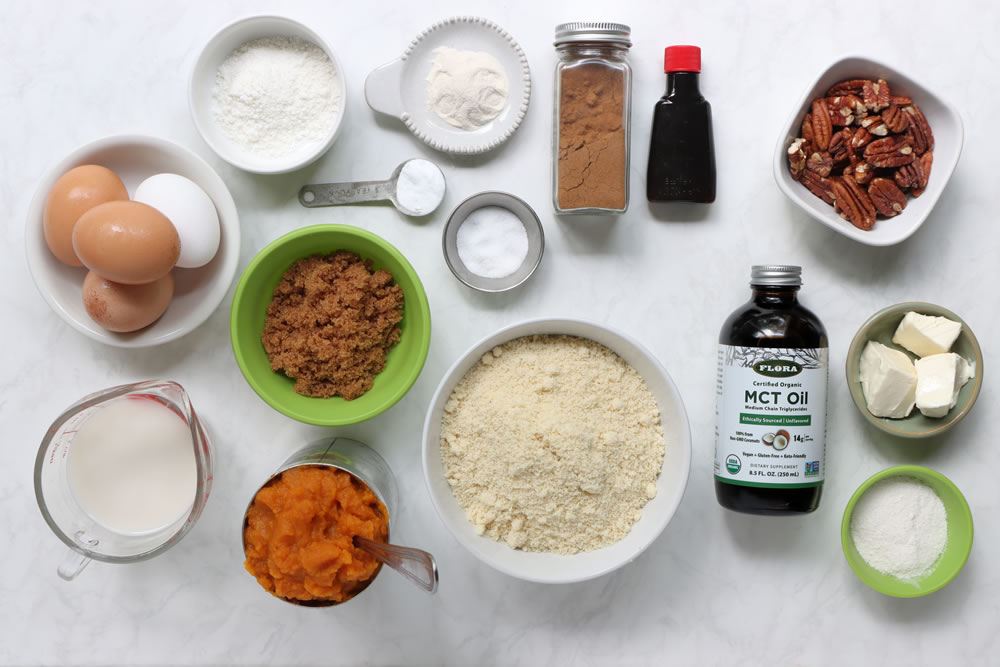 Ingredients You'll Need for the MCT Cream Cheese Glaze
MCT Oil:  While MCT Oil is made from coconut oil, it's not the same thing and its benefits are different. When using MCT Oil, high-quality C8, C10 MCT oil is the only way to go. Also be wary of any companies that sell MCT oil with added fillers, flavors or preservatives that cancel out its benefits.
For a super high-quality MCT oil that's chemical free and filler free, we suggest using Flora Health Organic MCT Oil.
An amazing source of ketone boosting, beneficial C8 and C10 MCTs, each tablespoon serving provides: 
14 g total of medium-chain triglycerides

7.5 g of caprylic acid 

4.8 g of capric acid 
It's also:
Made from 100% sustainably sourced non-GMO coconuts. Palm oil versions encourage deforestation and threaten wildlife.

Certified organic

Made without any chemicals or solvents like hexane

Gluten-free ­+ keto-friendly + vegan-friendly
MCT Oil Cooking Tip : Where coconut oil has a smoke point of 350 degrees, the smoke point of MCT oil is even lower at 320 degrees. So cooking with it at temperatures above 320 can cause the oil to start to degrade and lose its beneficial properties.
 ➡  Buy your Flora Health Organic MCT Oil —> here.
Cream Cheese: Use your favorite brand, but be sure to soften it.
Almond Milk: This helps thin the glaze and brings the MCT oil and cream cheese together. You may substitute heavy cream if you like.
Sweetener: We used powdered erythritol for this recipe. If you don't have powdered, simply pop some in the blender and process it until fine.
Vanilla Extract: Vanilla puts this glaze over the top.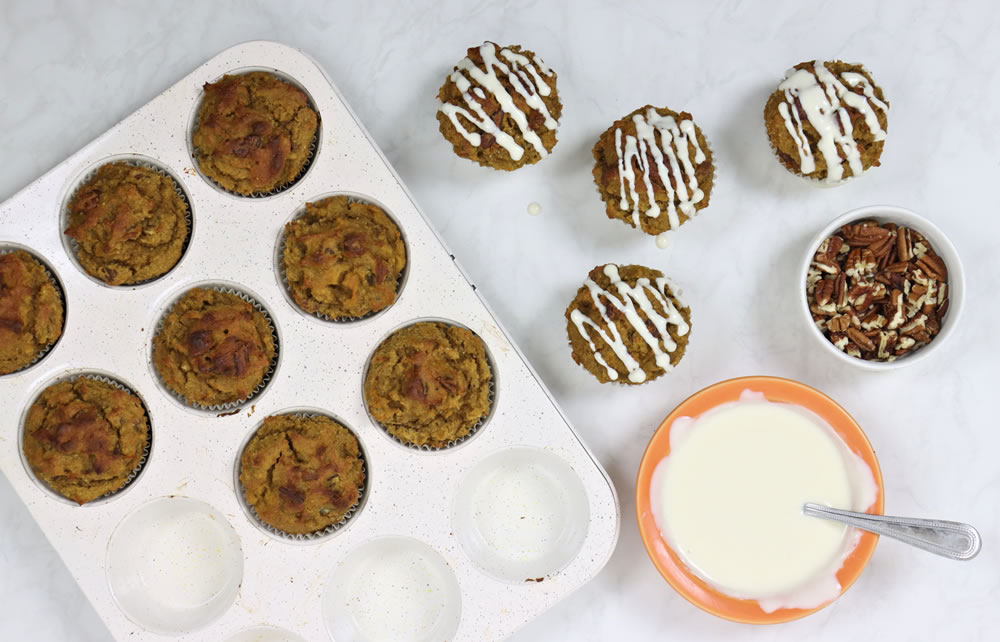 Ingredients You'll need for the Keto Pecan Pumpkin Muffins 
Almond Flour: Low in carbs, almond flour is a delicious keto friendly flour. Be sure to use almond flour and not almond meal. Fine ground and blanched is best.
Coconut Flour: Coconut flour helps with the texture of this recipe. 
Eggs: Make sure they're brought to room temp.
Pumpkin Puree: Don't use the presweetened stuff or pumpkin pie filling. You want pure pumpkin puree.
Melted Butter: You can sub coconut or avocado oil as well.
Sweetener: We used the brown Swerve, but white will do the trick too. Also any granulated, keto-friendly sweetener should work. 
Vanilla extract: Pure vanilla extract is best. This is added to both the glaze and the muffin batter.
Pumpkin Pie Spice: If you don't have pumpkin pie spice, you can just double the cinnamon in this recipe or mix up the spices below to make your own. 
  Quick Pumpkin Pie Spice
4 teaspoons ground cinnamon

2 teaspoons ground ginger

1 teaspoon ground cloves

½ teaspoon allspice

½ teaspoon ground nutmeg
Xanthan gum: This helps improve the texture of gluten-free baked goods. It's relatively inexpensive and great to keep on hand if you're doing a lot of keto, paleo or gluten-free baking recipes. If you don't have it, just omit it.
Baking soda and baking powder: The leaveners in this recipe. Try to use fresh for best results.
Apple Cider Vinegar: This will activate the baking soda. Not to worry, the flavor doesn't come through. If you don't have apple cider vinegar use white instead.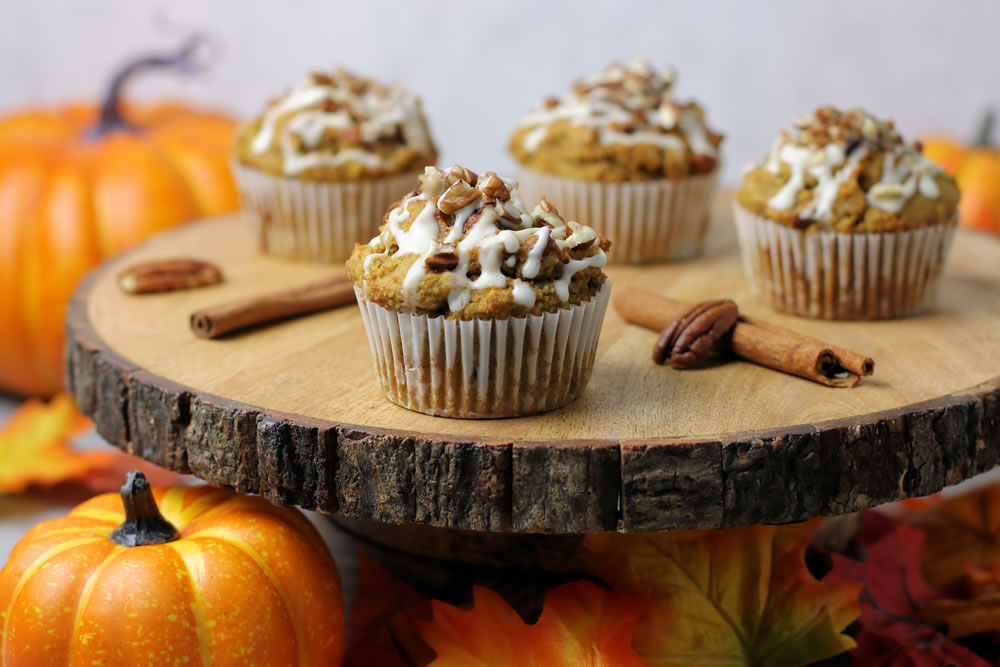 Tips and Tricks For This Recipe
Double the Batch and Freeze: This recipe makes 12 regular sized muffins. It may seem like a lot, but they freeze super well and believe me, they won't last long. If you don't think you'll be able to eat them all within a few days, just freeze what you want for up to 3 months.
Measuring Your Flour: Because of the addition of coconut flour, the batter for these muffins will be pretty thick. Don't worry, that's normal! When measuring your dry ingredients, just be sure to scoop them into the measuring cups and then level. 
Whip the Glaze Smooth: The MCT glaze on these muffins is really delicious and will harden as it dries. But when you're mixing it up you may notice the texture will be clumpy when the MCT oil hits the cream cheese. With the addition of the almond milk (you may need more to thin) it will be super smooth, creamy and come together beautifully. You may want to adjust the glaze for sweetness depending on your preference. Allow the muffins to cool completely before glazing.
Nut Free Version: If you're nut free, skip the pecans and try chocolate chips instead. These are great as plain pumpkin spice muffins as well! Eliminating the nuts will change the macros slightly of course.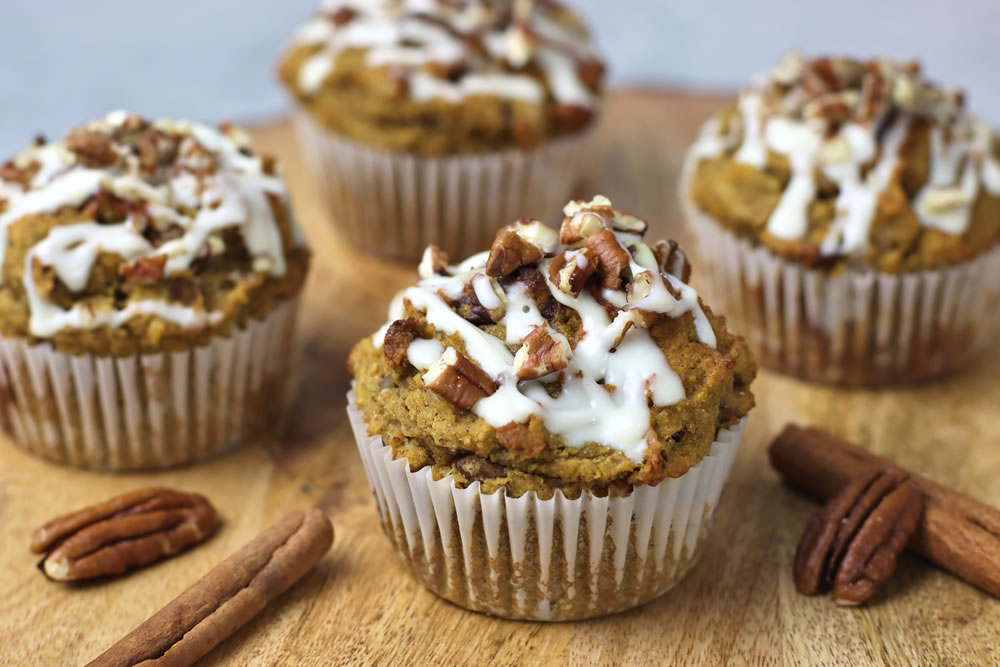 GET THE RECIPE!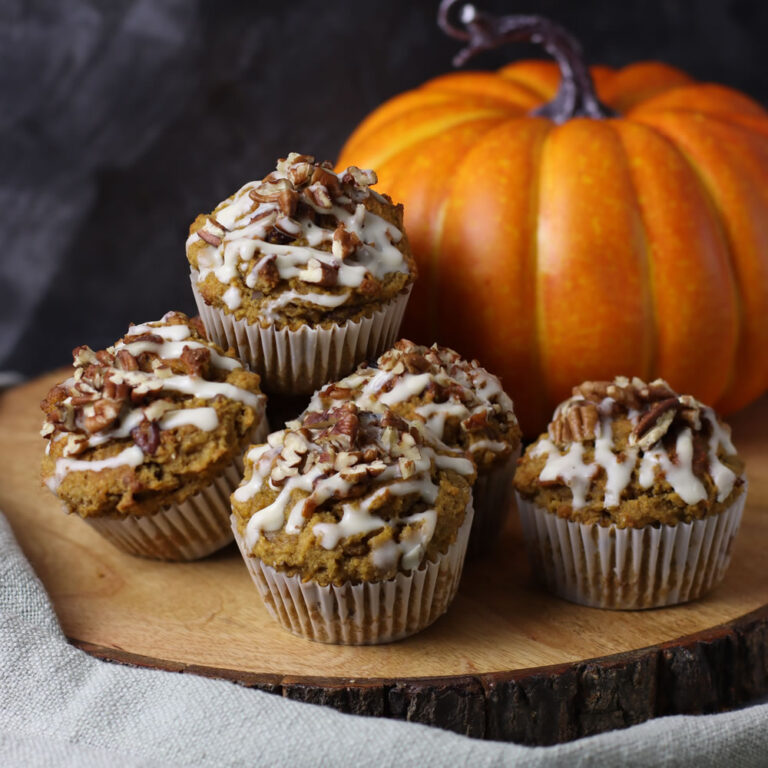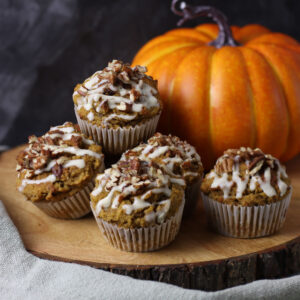 Keto Pumpkin Pecan Muffins With MCT Cream Cheese Glaze
If you're looking for a delicious, keto-friendly and low-carb pumpkin spiced flavor treat to get you through the fall and winter, then try these Keto Pecan Pumpkin Muffins With MCT Cream Cheese Glaze! The MCT oil in the glaze will help give you a healthy boost of energy and keep you satiated between meals. Only 4 net carbs per serving!
Ingredients
MUFFIN BATTER WET INGREDIENTS

1 ½

cups

super fine almond flour

4

eggs

½

cup

butter melted

¾

cup

pumpkin puree

1 ½

tsp

vanilla extract

1

teaspoon

apple cider vinegar

MUFFIN BATTER DRY INGREDIENTS

¼

cup

+ 2 tbsps coconut flour

2/3

cup

erythritol

we used Brown Swerve, may sub white or sweetener of choice

3

teaspoons

baking powder

2

teaspoons

pumpkin spice

if omitting double cinnamon

1

teaspoon

cinnamon

1 ½

teaspoon

xanthan gum

optional

½

tsp

baking soda

1/4

teaspoon

salt

2/3

cup

pecans

chopped plus more for sprinkling on top

MCT GLAZE INGREDIENTS

3

ounces

of cream cheese

softened

2

tablespoons

Flora Health Organic MCT Oil

2

tablespoons

powdered erythritol

1-2

tablespoons

almond milk

may sub cream

1

teaspoon

vanilla extract
DIRECTIONS
Preheat the oven to 350° F. Fill a muffin pan with 12 paper or foil muffin liners. If you don't have liners, simply grease the muffin pan well.

Whisk dry in ingredients in a medium bowl and set aside

Whisk together wet ingredients in another bowl. Allow the batter to rest for 2-3 minutes to thicken.

Scoop or spoon the mixture into the muffin liners. Fill each cup to the top.

Bake the muffins for about 22-25 minutes or until a toothpick placed in the center comes out clean. While the muffins are baking, prepare the glaze.

Remove the muffins from the oven and let them cool completely. Drizzle each muffin with glaze and a little crushed pecans before serving.

Making the glaze: Whip the cream cheese and then add the other ingredients to combine. The cream cheese may get clumpy when it makes contact with the MCT oil but the almond milk will smooth it out. If it's too thick, add more almond milk a teaspoon at a time until you reach a consistency you like. Adjust sweetness to taste.
Notes
MCT Cream Cheese Glaze Nutrition Facts

*  
Serving Size: 2 tsp   Calories: 59 Total Fat: 6.8g (9%)  Saturated Fat: 5.6g (28%) Cholesterol: 10mg (3%) Sodium: 28mg (1%)
Total Carbohydrates: 0.3g (0%) Dietary Fiber: 0g  Total Sugars: 0.1g Protein: 0.7g  Calcium: 8mg (1%)
Keto Pumpkin Pecan Muffin Nutrition Facts *  
Serving Size: 1 muffin  Calories: 242  Total Fat: 21.7g (28%)
Saturated Fat: 6.7g (33%)  Cholesterol: 75mg (25%)  Sodium: 134mg 6%  Total Carbohydrate: 8.2g (3%)  Dietary Fiber: 4.2g (15%) Total Sugars: 1.5g  Protein: 6.6g
*NOTE: Nutrition facts are estimations and for informational purposes only.
---
Recipe Tips and Tricks
These substitutions shouldn't have too much of an effect on your end result, but switching out ingredients may alter the final macros.
Temperature: Make sure your eggs and other ingredients are at room temperature for best results
To Store: Once completely cool, store these muffins in a sealed container in the fridge for up to 5 days. Remove them from the fridge an hour before you plan on eating them.
To Freeze: These muffins are great to keep for up to 3 months in the freezer. Either thaw completely at room temperature or heat frozen muffins in the microwave on a napkin or microwave-safe dish. About 30-60 seconds should do the trick.
Dairy-Free:  Sub melted coconut oil, avocado oil, or melted ghee in place of butter. For the glaze use whipped full fat coconut cream from the can in place of cream cheese.
Pecan Allergy: Substitute walnuts or add 1/2 cup sugar-free chocolate chips instead.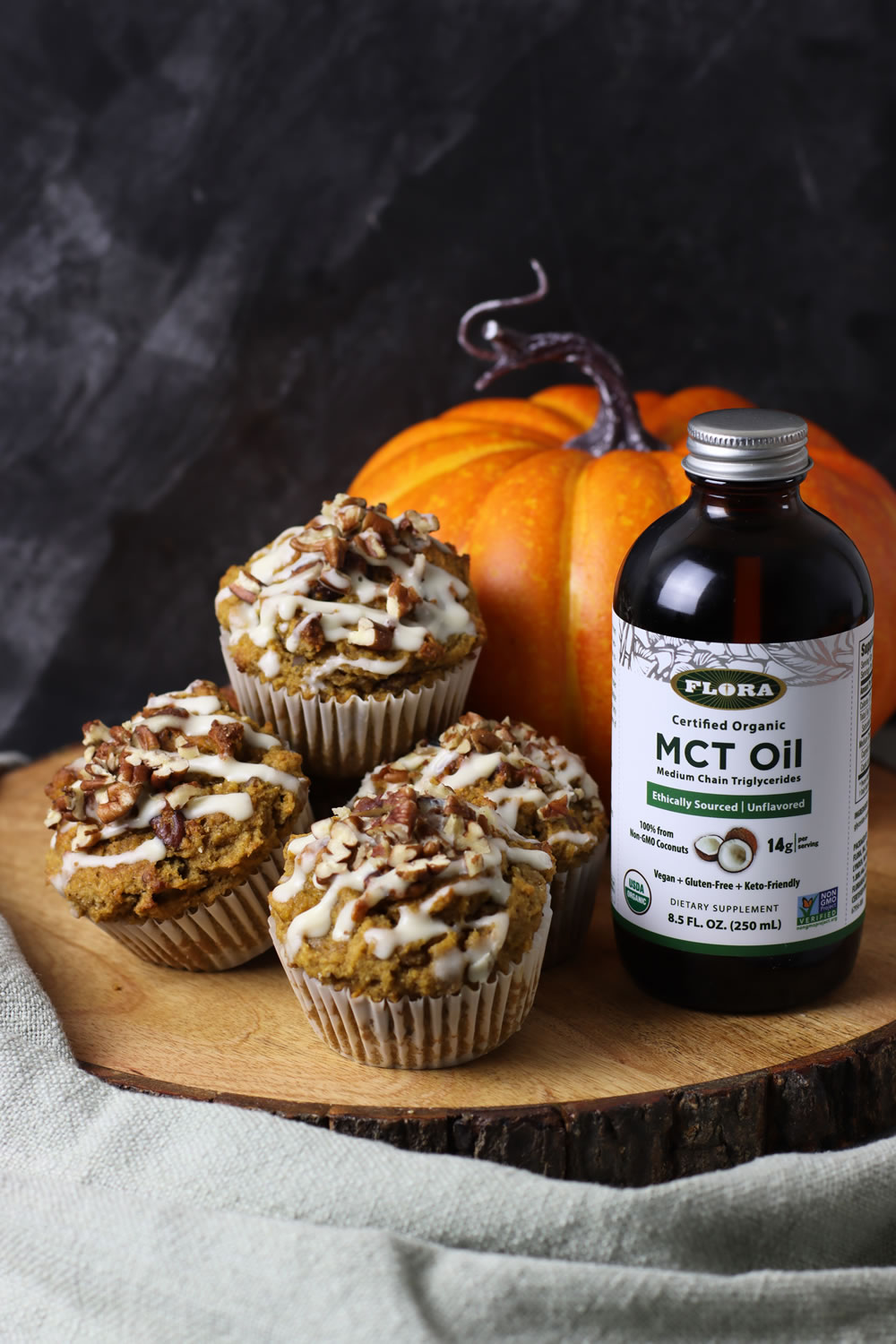 ➡ Immune Boosting Beet-Turmeric Refresher
➡ Ginger Turmeric Immune Shots
➡ Healthy Banana Cream Protein Shake