Better Living uses affiliate links. If you make a purchase through them, we may receive a small commission (for which we are deeply grateful) at no cost to you.
A healthy spin on the flavors of a creamy and delicious banana cream pie, this probiotic rich protein rich shake is free of refined sugar and also has a boost of plant-based omega-3s from Udo's Oil 3·6·9 Blend! 
If you love banana cream pie but don't feel good about all the sugar, fat, and calories that come with it, then you'll love this recipe for our Healthy Nutty Banana Cream Protein Shake. It's bursting with banana flavor!
Besides fresh banana, this shake also includes ingredients like Greek yogurt, protein powder, unsweetened vanilla almond milk, walnuts, vanilla extract, and Udo's Oil 3·6·9 Blend from Flora for a boost of healthy plant-based fats. 
This shake is just as delicious as the classic dessert, but healthy enough to enjoy every day! Use it as a satiating breakfast, pre or post-workout shake, or even a healthy afternoon snack. 
Plus, it takes only about 5 minutes to make and does well with ingredient substitutions if you need to make a swap.
Here Are The Ingredients You'll Need For This Recipe
A Frozen Banana

Unsweetened Vanilla Almond Milk (or oat, soy, coconut or cashew)

Greek Yogurt

Vanilla Protein Powder 

Udo's Oil 3·6·9 Blend

Oats

Walnuts

Vanilla Extract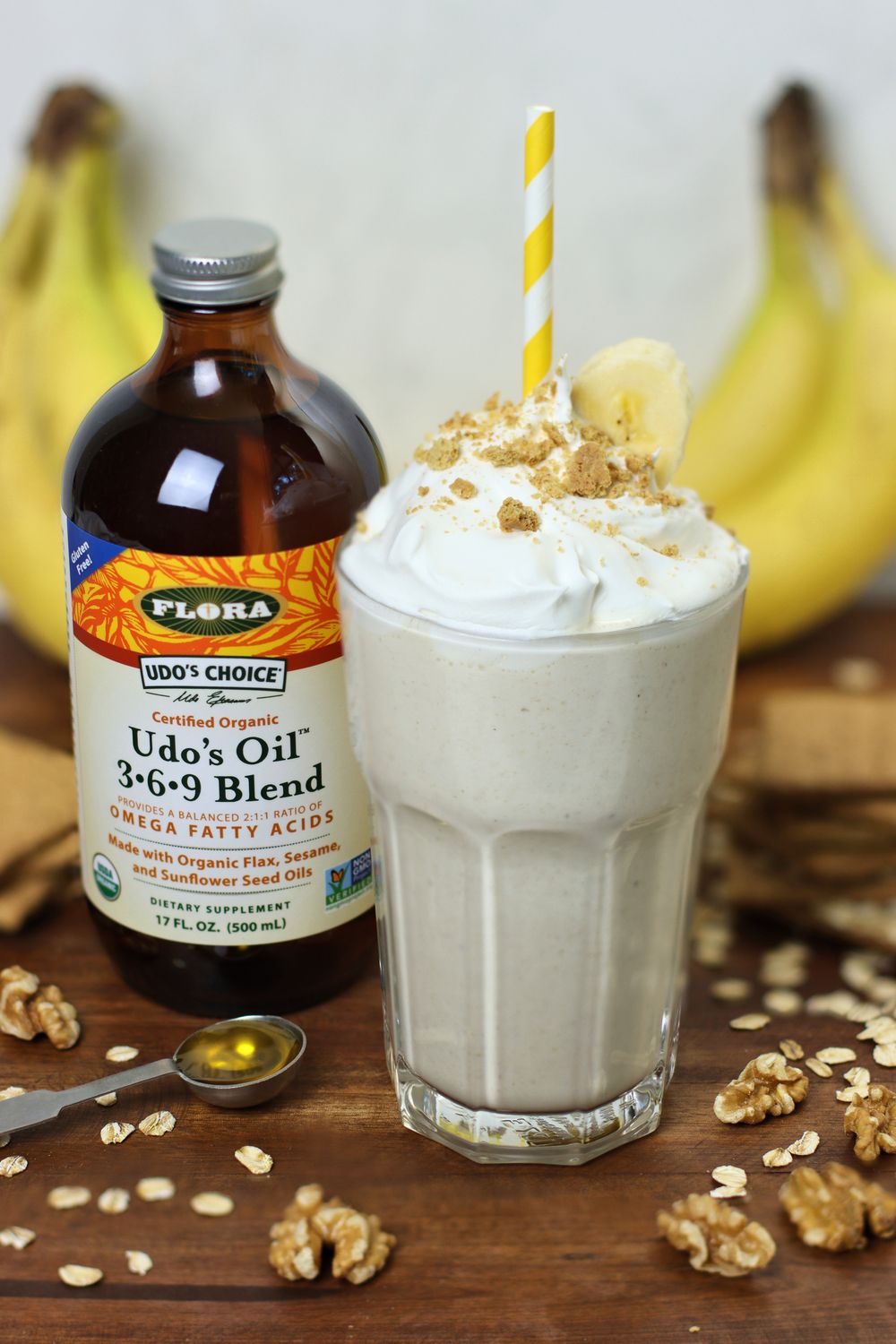 The Health Benefits Of This Banana Cream Protein Shake
This Nutty Banana Cream Protein Shake‌ tastes amazing. But since we're using only whole ingredients, this shake is bursting with protein, vitamins, minerals, antioxidants and healthy fats. It will power you through your day while doing your body right!
This Healthy Nutty Banana Cream Protein Shake has:
Protein
Highly satiating, protein from the Greek yogurt and protein powder can help you feel fuller longer so you don't feel the urge to snack on junk food later in the day. [1] 
That's not all though! Protein is great for building muscle and exercise recovery, while helping you burn more fat and promoting a healthy metabolism.* [2] It's also important for maintaining healthy hair, nails, and skin.*
Vitamins and Minerals
*Daily Value = DV
Banana in this shake is a good source of vitamin C (17% DV) and will supply vitamin B6 (22% DV) as well as manganese (16% DV) and potassium (12% DV). [3]
Greek Yogurt (7 oz.) has nutrients like vitamin A (20% of the DV), B12 (43% of the DV), B2 (riboflavin, 35% of the DV), phosphorus (22% of the DV), calcium (18% of the DV) and selenium (45% of the DV). [4]
Oats (½ cup) are rich in vitamins B1 (15.5% of the DV) and B5 (pantothenic acid 9% of the DV) and a variety of minerals, including manganese (63% DV), copper (17.6% DV), magnesium (13.3% DV), zinc (13% DV) and iron (10% DV). [5]
Antioxidants
The oats, walnuts and bananas in this shake are rich in cell protecting antioxidants.* Walnuts contain twice as many antioxidants as other favored nuts and they can be up to 15 times as potent as vitamin E. [6, 7]
Fiber
Bananas and oats contain a type of soluble fiber called resistant starch that helps keep you feeling full for longer. Resistant starch also promotes healthy cholesterol levels and feeds the healthy bacteria in our gut.* [8]
Probiotics
A naturally fermented food, Greek yogurt is a natural source of live probiotics, a friendly type of bacteria that lives in our digestive systems. Besides promoting gut health and healthy immunity, they also help produce certain vitamins.* [9]
Essential Fatty Acids
The typical Western diet can supply way more omega-6s than omega-3 fatty acids. [10]
Heart-healthy omega-3 fatty acids are required for healthy cell membranes and energy production.* They also promote balanced hormones while improving our skin, hair, nails, and mood.* Omega-3 fatty acids may also be important for eye health.* [11]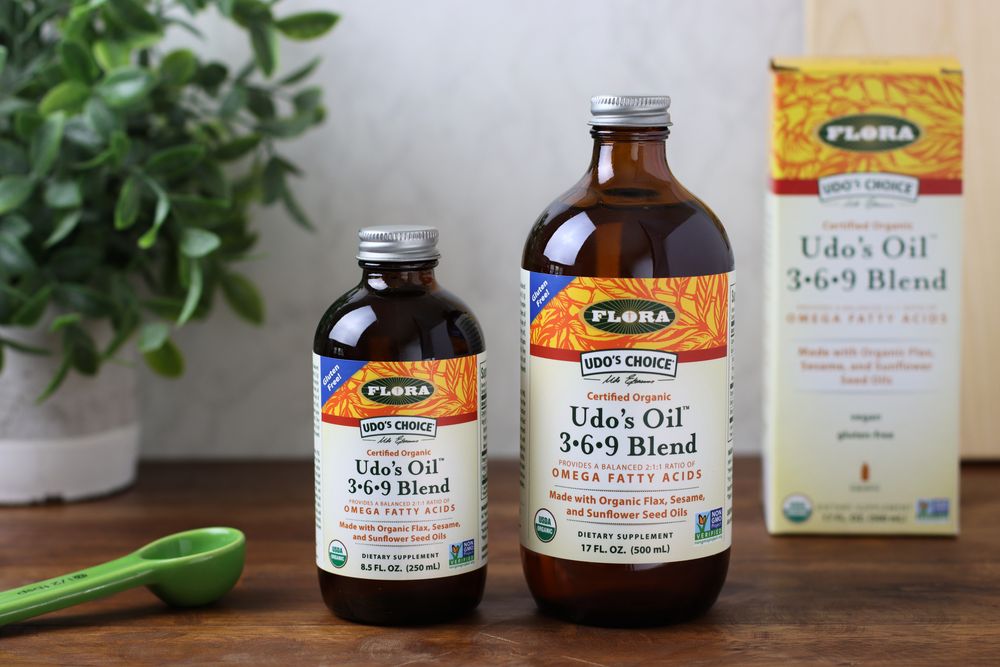 Udo's Oil 3·6·9 Blend
A plant-based formula,  Udo's Oil 3·6·9 Blend from Flora provides essential fatty acids (fats we must get through diet) in the perfect ratio of 2:1, which means we'll get a much-needed boost of the omega-3 fatty acids our body needs. 
Udo's Oil is a 100% plant-based, healthy blend of oils including organic flax, sesame, and sunflower seed. It has a rich, nutty, and buttery taste that is the perfect omega-3 fatty acid alternative for those who don't or can't eat fish. It's also a wonderful addition to a variety of recipes.
Udo's Oil 3·6·9 Blend provides 6 grams of omega-3 fatty acids per serving and is:
Certified organic 

Non-GMO

Dairy and gluten-free

Kosher

Sustainably sourced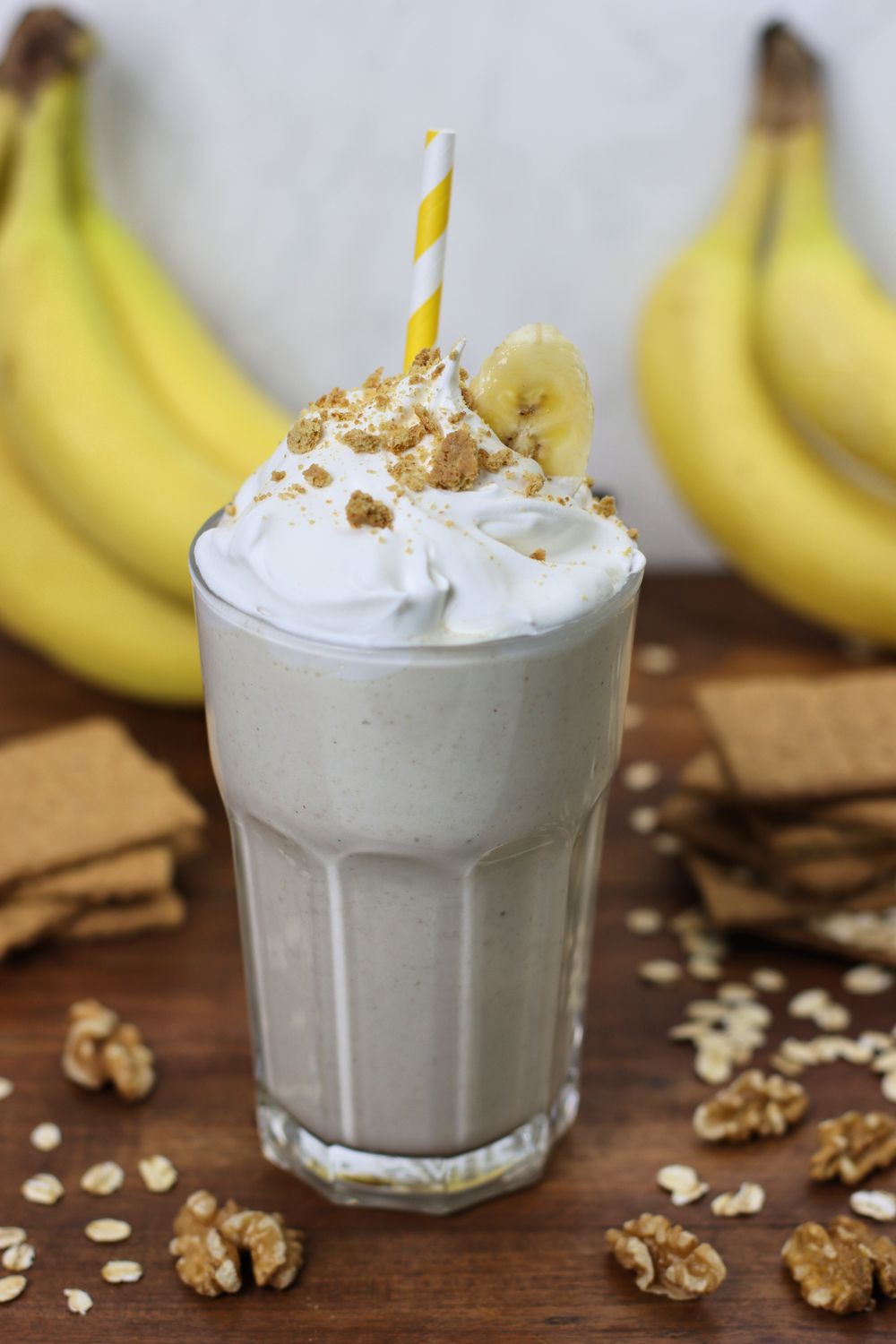 How To Make This Healthy Nutty Banana Cream Protein Shake
Making this shake is so easy! 
Simply pop everything in the blender and process until smooth.
You don't have to top this shake with whipped cream but it will make it more decadent. To keep it healthy, you can use a sugar-free version or a coconut-based whipped cream for a plant-based option.
A few graham cracker crumbs on top will have you feeling like you're eating the real thing – as in banana cream pie that is.
TIPS
For best results, be sure to use a ripe banana. 
This shake is a great way to use up those browning bananas. Just throw them in the freezer and then grab one anytime you're ready for a shake!
Vanilla Greek or vanilla plant-based yogurt can be used instead of plain Greek yogurt. This will increase the sweetness and the final sugar content of the shake though.
You can freeze any leftovers. Leave them in the refrigerator the night before to thaw.
To get more greens in your diet, add a handful of spinach to boost the nutrient content of this shake. This will change the color of the final shake, but won't affect the flavor. 
GET THE RECIPE!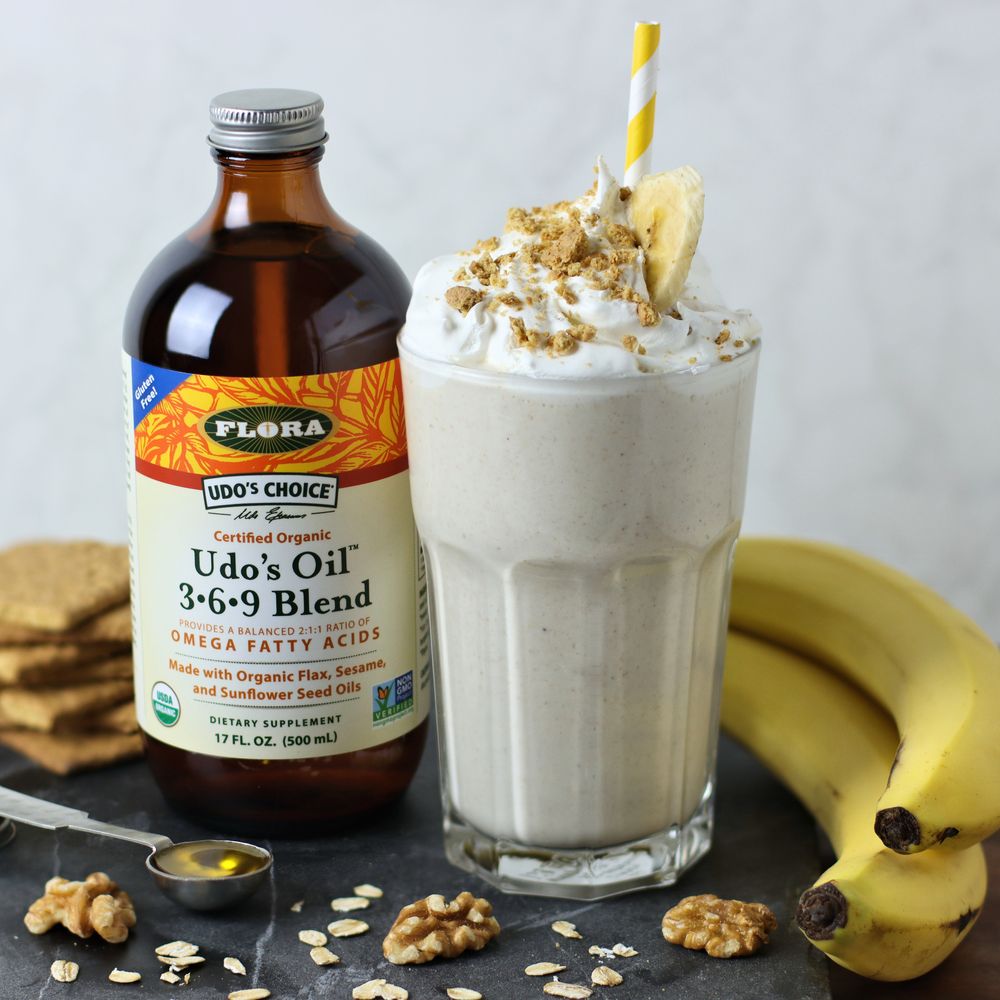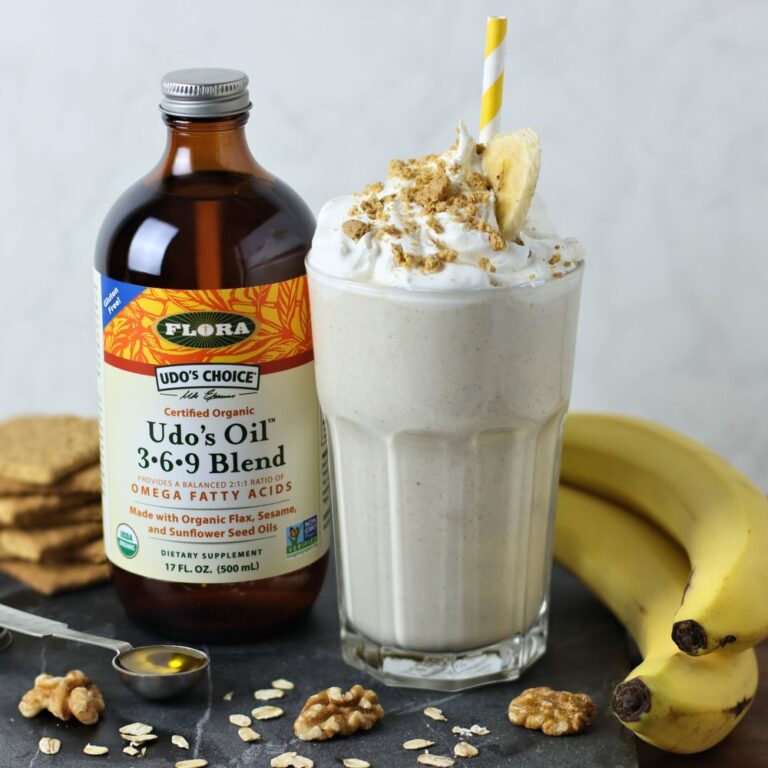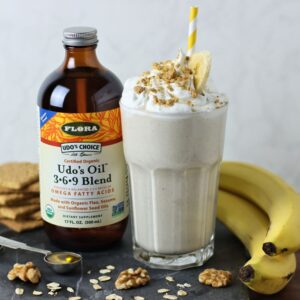 Healthy Banana Cream Protein Shake
This protein and omega-3 fatty acid rich shake is a super healthy spin on the flavors of the creamy and classic banana cream pie. Enjoy it as a satiating breakfast, pre or post workout shake, or a healthy afternoon snack. This Healthy Banana Cream Protein Shake contains around 20 grams of protein, but may vary depending on the protein powder and Greek yogurt you use. To make this recipe vegan-friendly, use plant-based yogurt and protein powder.
Ingredients
4

oz.

unsweetened vanilla almond milk

1

medium frozen banana

1/2

cup

Greek yogurt

sub with coconut yogurt for dairy-free

1/4

cup

oats

1/2-1

scoop of vanilla protein powder

1 1/2

teaspoons

of Udo's Oil 3·6·9 Blend

1

tablespoon

of walnuts

½

teaspoon

vanilla extract

GARNISH

coconut whipped cream

optional

1

graham cracker

crushed (optional)
DIRECTIONS
Place all ingredients in the blender and blend until completely smooth and combined.

Pour into a glass and then top with whipped coconut cream and graham cracker/vanilla wafer cookie crumbs if desired.

Serve and enjoy your Healthy Nutty Banana Cream Pie Protein Shake!
Notes
You may sub in any unsweetened non-dairy milk you like coconut, cashew, soy, or oat.
If making any substitutions, you may need to adjust ingredients for sweetness.
The riper the banana, the sweeter and bolder the flavor of the banana will be.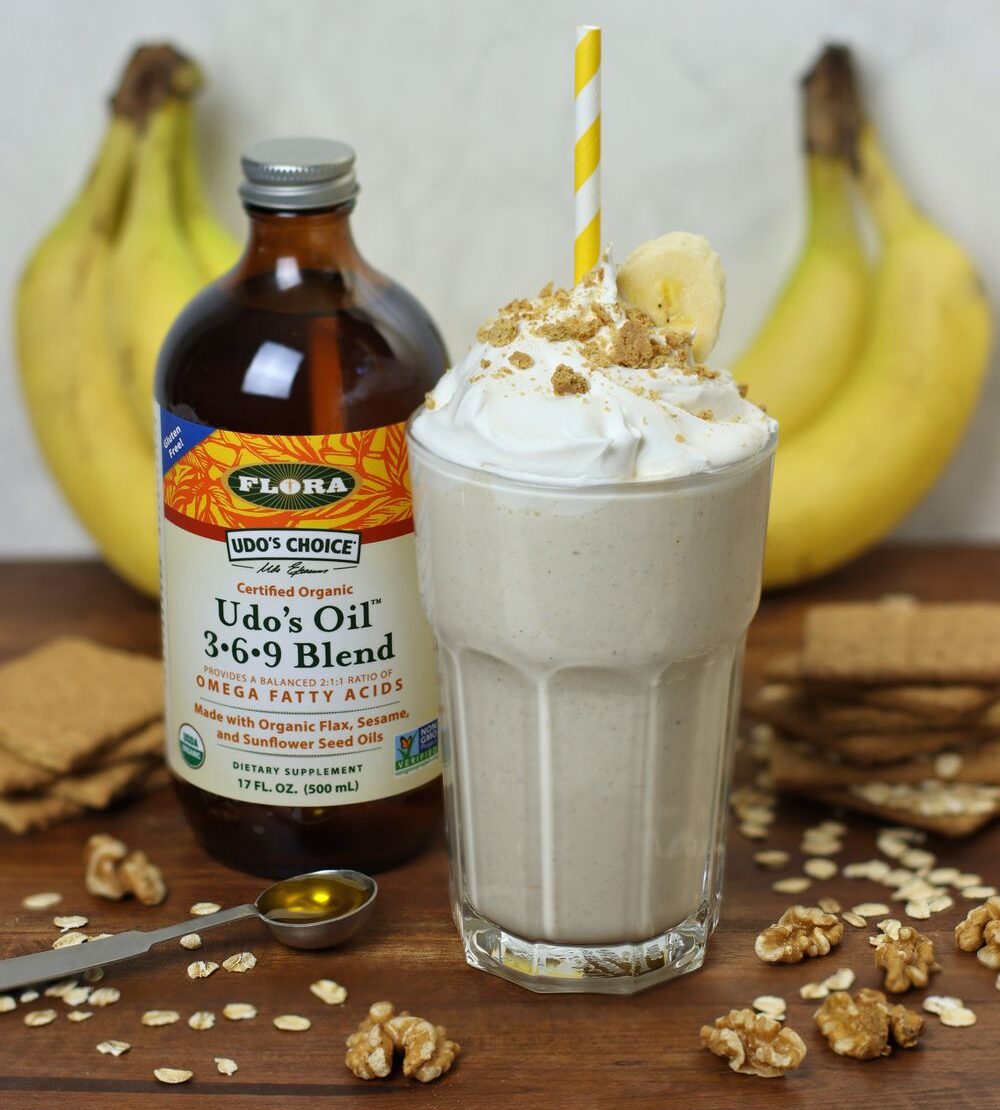 * These statements have not been evaluated by the Food and Drug Administration. This product is not intended to diagnose, treat, cure, or prevent any disease.