Better Living uses affiliate links. If you make a purchase through them, we may receive a small commission (for which we are deeply grateful) at no cost to you.
There's nothing quite like a hot freshly baked scone straight from the oven. Perfect with afternoon tea or hot morning coffee, these Easy Blueberry Scones come together easily. They're buttery, light and airy and the hint of blueberry is just divine. There's no doubt that after making these scones you'll have wished you'd doubled the recipe because they'll disappear quicker than the blink of an eye. And while you can, of course, use fresh blueberries, frozen berries work just as well. 
If you've tried making scones in the past but haven't had much success there are a few tricks that will have you a scone making whiz in no time. 
Here Are Some Scone Making Tips
Use A Cheese Grater: Instead of chopping the butter into small pieces, I like to use a cheese grater instead. This will give you little ribbons of butter that will easily incorporate into the flour and will give you an ultra-light crumb. On a box grater, use the side with the coarsest teeth (these will be the widest).
Chill Your Butter Really Well:  Place the butter in the freezer for at least 5-10 minutes before making your scones. It should be hard to the touch before you take it out. This makes it easier to grate the butter on the cheese grater and also makes for a flakier scone. 
Leave Berries In The Freezer Until Ready To Use: Frozen or fresh berries work wonderfully in this recipe. And raspberries, cherries or blackberries would also be wonderful. If you're going with frozen, measure them out and then leave them in the freezer until you're ready to mix them into the dough. The reason being that frozen berries will begin to release their juices once they begin to thaw. Leaving them frozen will make it easier to mix them in without staining the dough blue. 
Sift the Flour For Super Airy Scones: For this recipe, we included all-purpose flour in the ingredients because most people already have that in their pantry. But you can also substitute pastry flour for an even lighter scone. Self-rising flour is commonly used in English style scones and produces a scone with a nice height. If you'd like to try using self-rising flour, which already has baking powder and salt included just be sure to eliminate those from the ingredient list. Whichever you decide to use be sure to sift at least once to keep your scones super light.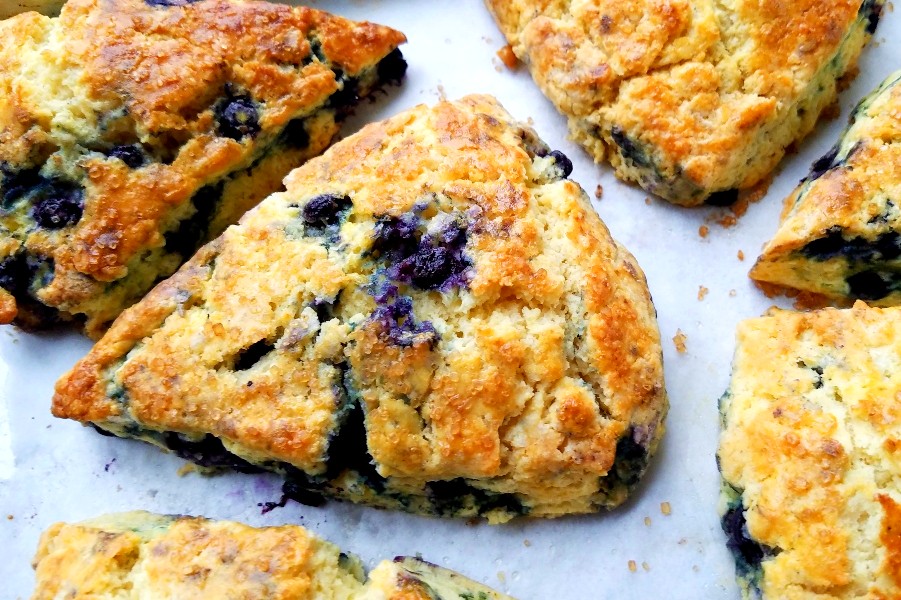 Chill The Scones Before Baking: I know there's a lot of chilling going on but believe me when I say it will give you the best results. Just pop them in the freezer for 10 minutes right before you bake. This will harden up the butter in the dough again and keep them from spreading. You can also make these ahead of time and leave them in the refrigerator overnight to bake up in the morning. 
Scone Freezer Tip: Once you cut your scones into wedges, leave your scones in the freezer and you can bake then up anytime you're in the mood or have unexpected company. 
Don't Overwork The Dough: The key to a great scone is to not overwork the dough and to handle it as little as possible. Even the heat from your hands can soften butter and affect the outcome. If you feel like your butter got a little too warm just pop it back in the freezer for a couple of minutes. Form the dough into a disc once the ingredients just come together and cut.
An awesome tool to use for this is a Danish Dough Whisk. It's a funny-looking whisk that can work wonders and bring any dough together with minimal effort without overworking. Here's a link to the Original Danish Dough Whisk on Amazon.

How To Serve Your Scones
Scones are lovely, served with a little powdered sugar, whipped cream, butter or drizzled with vanilla or lemon glaze. Jams, jellies, and lemon curd are also scrumptious.
Sweet Tip: One of my favorite things to do before baking the scones is to brush the tops with a little egg wash or cream and a sprinkle of raw or coarse sugar. It gives you a sweet little crunch and of bit sparkle. For true coarse bakery style sugar, you can find it linked here.
Traditionally on British afternoon tea tables, scones are also often served with clotted cream, also known as Devonshire Cream or Devon Cream. It's a slightly sweet thick cream that is the consistency of softened cream cheese. Search for recipes to make your own or you can find them in your local grocery store if there is a British foods section.  You can also find it here on Amazon.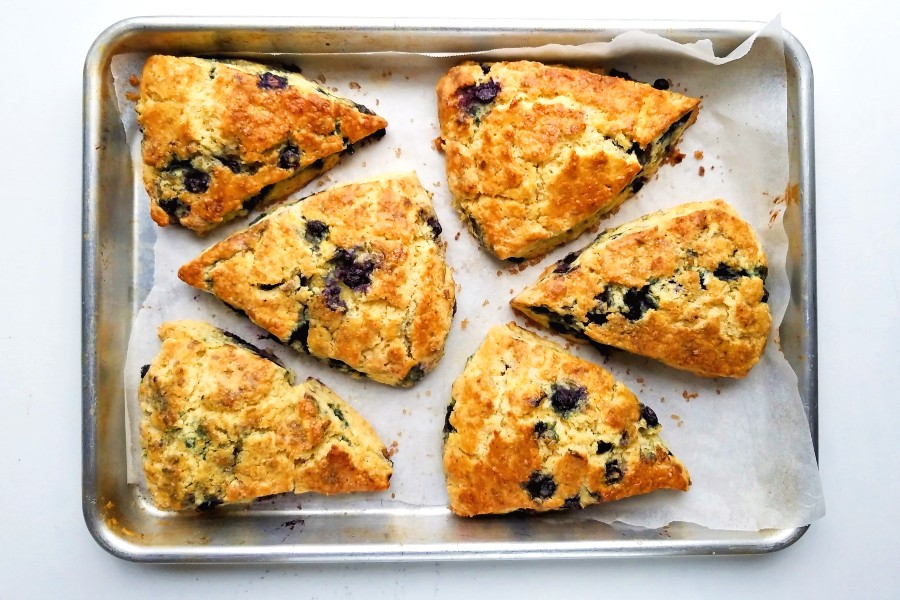 GET THE RECIPE!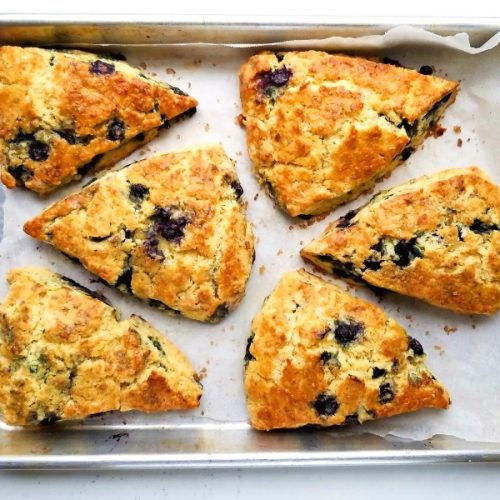 Easy Blueberry Scones (Frozen or Fresh Berries)
These Easy Blueberry Scones can be quickly whipped up for a delicious baked treat that's light and airy. Try substituting blackberries, raspberries or cherries too!
Equipment
Mixing Bowl

Cheese Grater

Fork or Danish Dough Whisk

Knife

Baking Sheet
Ingredients
2

cups

all-purpose flour (may substitute pastry flour for a lighter crumb)

10

tbsp

butter, chilled really well and grated

1/3

cup

sugar

1/2

cup

blueberries (frozen or fresh)

4

tsp

baking powder

1

tsp

salt (cut in half if using salted butter)

½

cup

heavy cream, cold

1

egg

1

tbsp

vanilla
DIRECTIONS
Add dry ingredients to a large mixing bowl. Sift 1 to 2 times.

In a small bowl mix eggs, heavy cream, and vanilla together. Set aside.

Add dry ingredients to a large mixing bowl. Sift 1 to 2 times. Then add the cold grated butter. With a pastry cutter or fork, work the butter into the flour until small crumbs are formed. The flour should have a crumbly consistency.

If Using Fresh Berries: toss them in with the flour mixture. Then make a well in the middle of the butter/flour mixture and pour in the wet mixture. If Using Frozen Berries: First make a well in the middle of the butter/flour mixture and pour in the wet mixture. Begin to mix a fork. Once it looks about halfway mixed, sprinkle the frozen berries over the dough mixture.

With a fork or danish dough whisk, mix gently until all the ingredients are incorporated. Form into a disk about 2 inches tall. and cut into 8 wedges. You can also form into a rectangle, cut in half into two squares and then cut those two squares in half diagonally and then again to give you 8 wedges.

Place the scones on a parchment-lined baking sheet about a 1/2 inch apart. Place in the freezer for at least 10 minutes or chill in the refrigerator for 30 minutes or until the scones are hard to the touch.

Bake in 400° F preheated oven for 15-18 minutes or until lightly brown. Just before baking, brush the scones with a little cream and a sprinkle of raw, turbinado sugar or coarse sugar if you like. It adds sparkle and a sweet little crunch.

You can also drizzle these scones with a glaze. Mix a little lemon juice with some powdered sugar and mix until there are no lumps left. Drizzle over the scones after they have cooled for at least 5 minutes. They can be warm but not hot or the glaze will melt off the scone. Enjoy!