Better Living uses affiliate links. If you make a purchase through them, we may receive a small commission (for which we are deeply grateful) at no cost to you.
Traveling can be a great way to give your mind a break, have new experiences, relieve stress, and find some much needed happiness before having to get back to your daily grind. Whether you're traveling for business or you're finally on that vacay you've been dreaming about for months, one of the hardest things to maintain besides healthy eating habits can be a fitness routine. And that means when you get back home, it can be even harder to get back in the groove. But staying fit while you're away is easier than you think! Here are some easy tips and tricks to stay fit while you're traveling the world.
Have An Exercising And Eating Plan Before You Go
We've all done it. We hit the hotel restaurant way more than we should have and those daily afternoon margaritas at the hotel bar aren't going to drink themselves. It's important to have fun and enjoy yourself while traveling, but having a plan to stay healthy and active can help mitigate some of the indulgences many of us partake in while away on vacation. It can also save us from putting on the pounds.
Before you travel:
Make a plan to exercise! Decide how, when, and what you'll need to exercise before you go. A fitness app like Future can make this super simple with personalized travel workout routines. Read more about that below!

Pack healthy food and snacks (jerky, bananas, protein bars, etc.)

Search the local restaurants and hotel menus online for healthy options. See if any of the menus include calorie counts. 

Check with the hotel concierge or your host about local healthy eats. 

Get a room with a fridge to store ingredients for healthy foods and snacks so you don't have to eat out as often. Yogurt and fresh water are two of my must haves. You can also pop into a local grocery store to stock up. Some hotels may offer this as a service.
Don't Pressure Yourself To Get In Shape While You're Away
If you haven't worked out in ages, starting a new fitness routine while you're away probably isn't the best idea, unless that's your reason for traveling. The best time to get refocused on working out and establishing a routine is at home. This way you'll have a better idea of what you are interested in doing while you're away and you can adapt your routine to where you'll be staying. Getting in shape before you go can also give you more energy to do the activities you're interested in, like hiking that amazing trail you saw on Pinterest. 
If you find it hard to stay motivated like me, the Future app has literally changed my whole fitness lifestyle. As in, I couldn't stay active to save my life before, and now I get anxious if I don't workout for more than a day or two.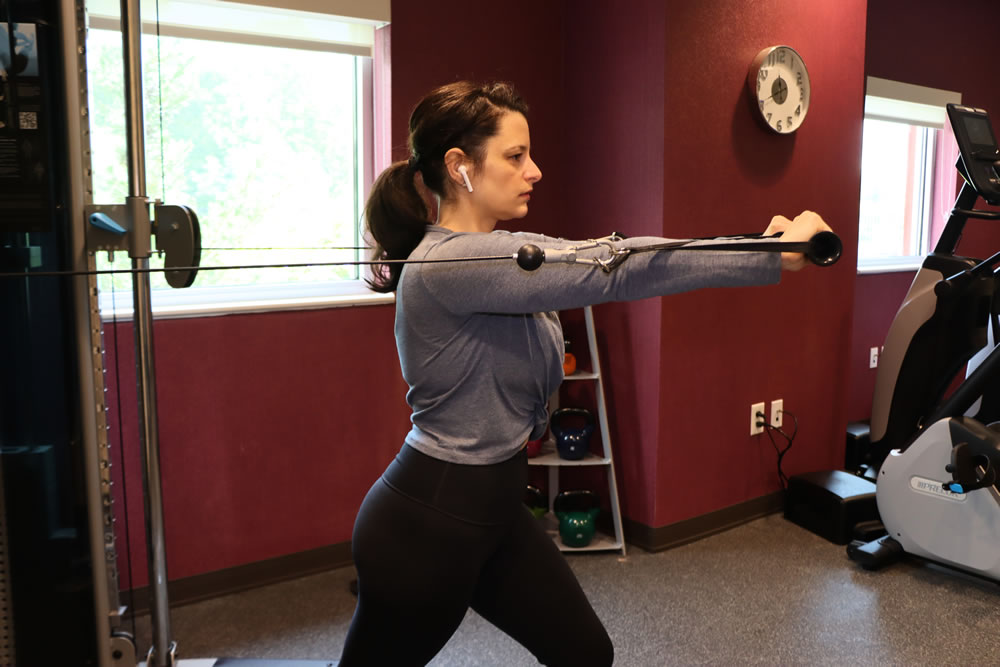 Check Your Hotel's Website To Find Out About Their Fitness Facilities
Unless you're staying at a small inn, bed & breakfast, or a vacation home rental, most modern hotels have at least a small gym onsite. If you know you'll want access to exercise equipment, be sure to have a look on the hotel's website before you book to see what equipment and fitness amenities they offer. Besides a gym, a hotel with a pool (indoor or outdoor) can be a great way to stay active. It can also be a treat, if you don't have one at home.
If your hotel doesn't have an onsite gym, you may not be totally out of luck. 
On a recent trip, I found myself in a beautifully renovated hotel in a big city without a gym. But as a guest I found out that I had full privileges to the YMCA right across the street. If your hotel doesn't have a gym, ask whether they have a relationship with any local fitness clubs. 
Body Weight Training Exercises Are Just As Effective
No gym, no problem! Body weight exercises like plank variations, push-ups, squats, lunges, bicycles, and the hollow-body holds can keep you strong without any fancy equipment. And you can do them anywhere without the need of much space. Pilates and barre are also super effective exercise styles that are based on body weight exercises. Yoga too!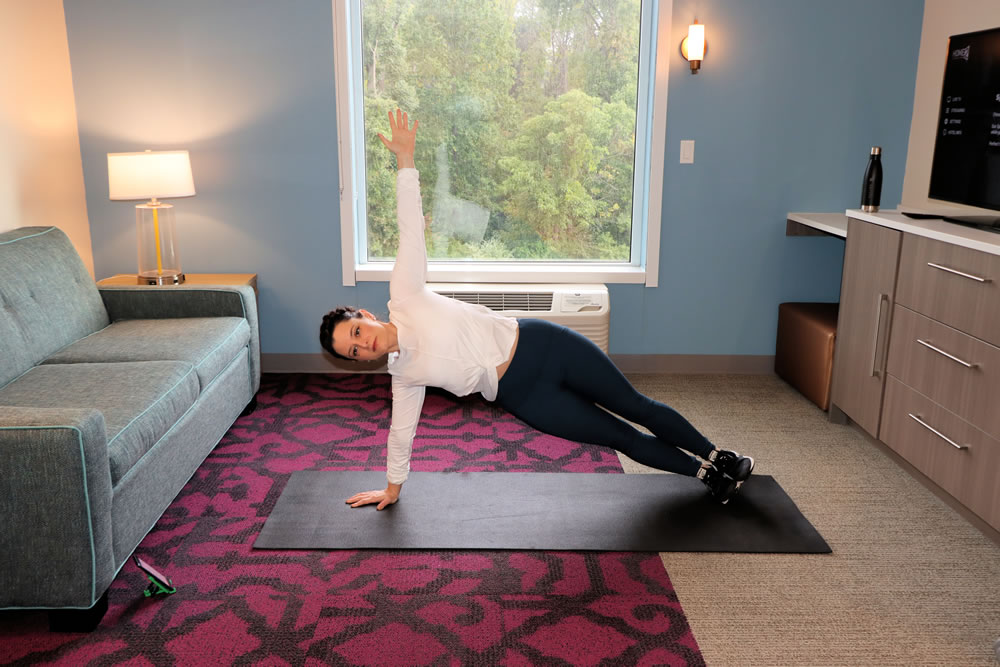 For A Body-Mind Connection Start The Day With Yoga
If you're looking for a way to relieve extra stress while staying active yoga can be a perfect way to do it. Yoga is a mind-body practice that tones and builds strength, while having you pay attention to your breath. Essentially meditation through movement, yoga is an easy-to-do-anywhere exercise that makes the perfect activity while traveling. All you need is your body and a mat, but even a towel will do. 
If you've never tried yoga and think it looks too easy, think again. There are a variety of different types of yoga poses (asanas) and styles. While some styles of yoga focus on the restorative benefits like stretching and releasing stress and tension like yin yoga, others like power yoga are designed to build serious strength. A vinyasa yoga flow combines the benefits of both. And let me tell you, they're not easy. The beauty of yoga is that you don't need to be perfect. Just get on your mat and start moving. Many resorts offer free yoga classes or checkout YouTube for thousands of free videos from beginner to advanced. You can also check out local studios on your trip.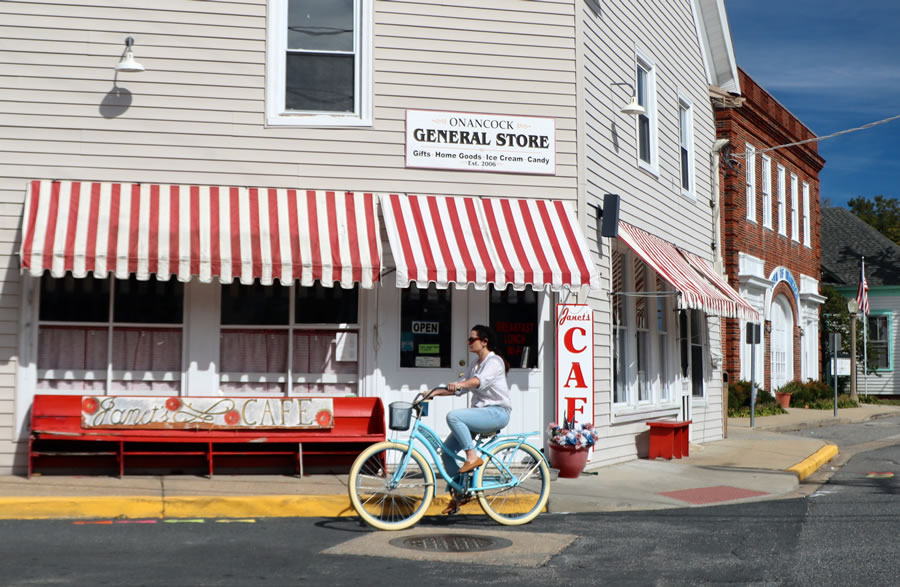 Get Outside And Try Something New
There's so many ways to stay active and moving while you're traveling and it can be super easy to find fun and interesting activities that you wouldn't normally do.
You can:
Check your resort for their onsite fitness class schedule. 

Rent or borrow a bike from your hotel to see the sights

Check out local walking or hiking trails (there's apps for that)

Search out local tours like white water rafting, kayaking, surfing, horseback riding, paddle boarding, wind-surfing, snorkeling, scuba diving, etc.

Go skiing! Skiing is an amazing whole body workout plus it's tons of fun!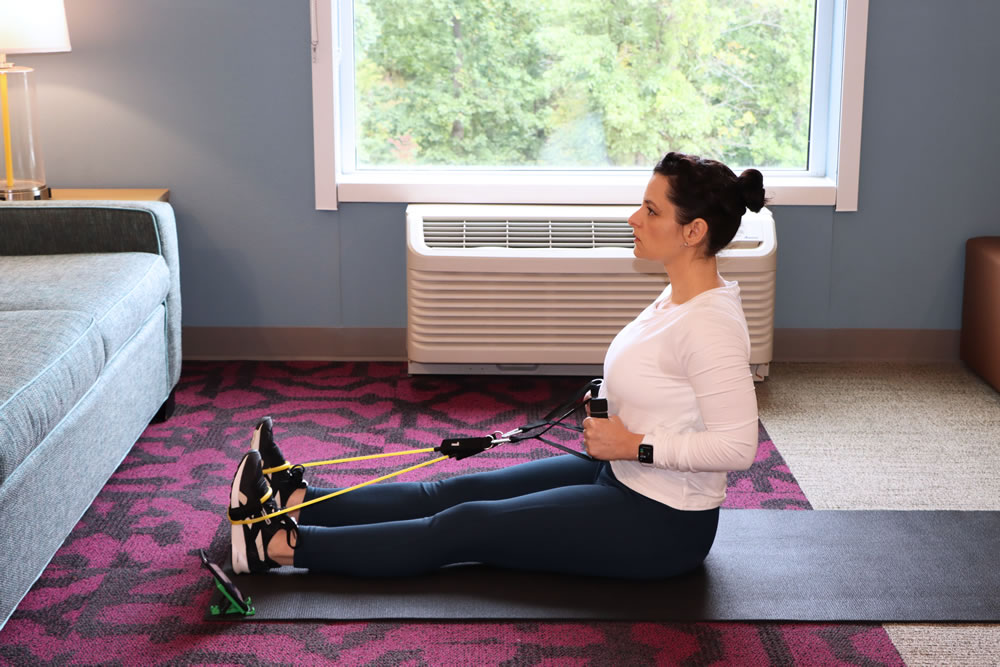 Bring A Travel Mat Or Lightweight Accessories
When you're traveling, space can be tight in your luggage, as well as in your hotel room, so bringing a bunch of fitness equipment with you isn't really an option. But simple resistance bands are something you can pack that will give you a great workout. They're super lightweight and take up very little space in your luggage. Resistance training is great for toning and building muscle, plus you can do a variety of exercises with these to spice up your body weight routine. 
Travel exercise or yoga mats which are lightweight and fold into your luggage are great if you're planning on doing daily yoga or body weight routines. In a pinch, a bath towel can be a great stand in.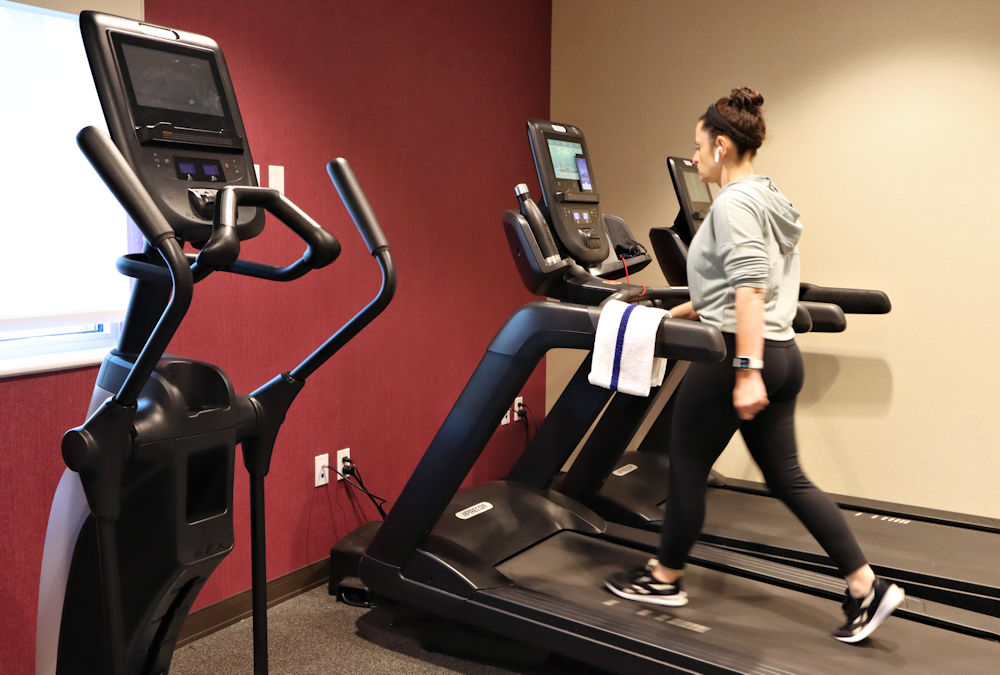 Don't Underestimate The Power Of Walking
If you're in the camp of "walking is a waste of time", think again. Yes, it's a low-impact exercise, but walking is incredibly beneficial for your mind and body. Research has shown that walking can boost your mood, strengthen bones, increase metabolism, improve cardiovascular health, help with weight loss, and burn calories.
The best part about walking is that it's completely free and you can benefit from it whether you're already in shape or if you've been inactive for a while. Plus, seeing the sights on foot while you're traveling can be a fun way to explore a new destination. It's also the best way to discover new things you wouldn't normally see if you were in a car, bus, or train.
While 10,000 steps per day has been the standard step goal to aim for, a recent study suggests that just 7,000 steps can provide significant benefits as well. Strive to walk at least 30 minutes per day and get your heart rate up. You can also do intervals, walking briskly for 1 minute and then a moderate pace for 30 seconds.
You can work walking into your travels by:
Jumping on the hotel treadmill to increase your daily steps

Exploring your travel destination on foot.

Making a point to walk at sunrise to start your day. Also, a sunset walk can make the perfect way to build up an appetite for dinner, or help digestion and burn off the calories from an early one.

Skipping elevators and taking the stairs when possible

Walking back to your hotel instead of taking a short ride (when it's safe)
Indulge in Moderation: Don't Drink All Your Calories
I've been served some amazingly delicious and beautiful cocktails in my travels. Everything from color changing rainbow shots to incredible flambé coffee creations. And who can resist a pina colada or a margarita on a warm breezy beach overlooking turquoise waters?  Definitely not me. While you should of course enjoy yourself on vacation, it's important to indulge in moderation. Here's the reality: one pina colada with rum, can cost you a whopping 650 calories. And that's without eating a morsel! It's important to enjoy yourself, but be aware of how many calories you're taking in. A calorie counting app can help with this. You don't have to go crazy, but it can give you a good idea of how many calories you're taking in.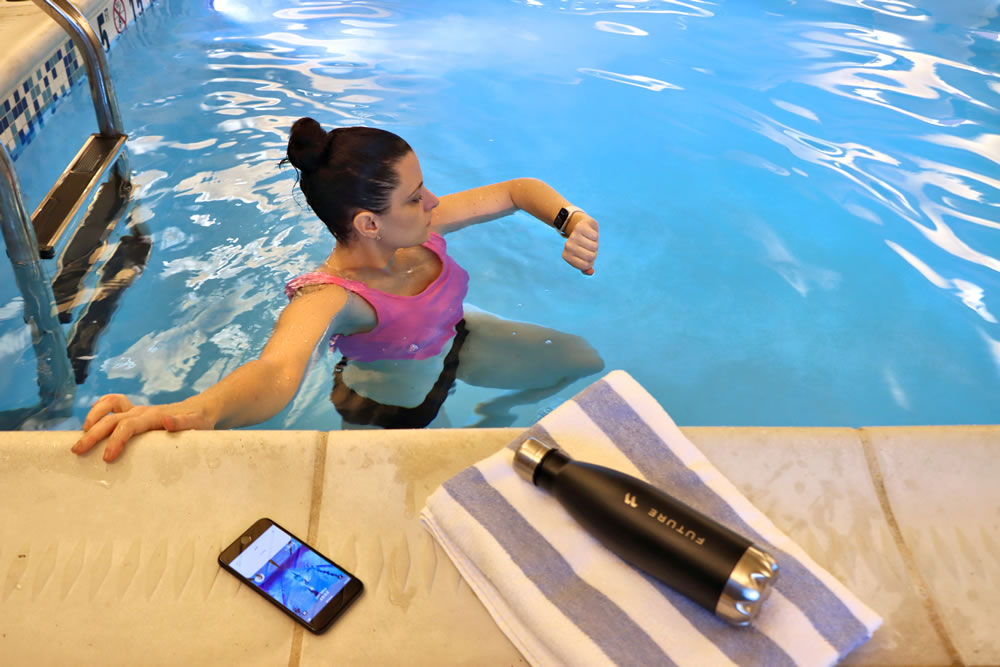 Get In The Water And Swim!
One of my favorite parts of going away is having access to a pool or beach to swim. One of the best forms of exercise, swimming not only works every muscle in your body, but it burns more calories than you would on land. In fact according to swimming.org, exercising in water for 30 minutes is equivalent to 45 minutes of the same activity on land. They also report that you can burn over 200 calories in 30 minutes with a gentle swim, which is double what you would normally burn by walking.
Since the physical nature of water can support up to 90% of your body weight while keeping you buoyant, it's a great way to safely exercise if you're feeling sore or have an injury. Getting in the water is also an effective way to alleviate muscle and joint pain.
Make Sure To Get Your Beauty Rest
There's no doubt traveling can mess with our sleep, especially if we're stuck on long flights or traveling to different time zones. Or maybe you're drinking more caffeine than you should to deal with jet lag? Whatever the case may be, getting proper rest is incredibly important for our health and fitness goals. Sleep is the time when our body repairs itself and rejuvenates to prepare our minds and bodies for the next day. It's also the time when our body builds lean muscle and getting a good sleep is important for hormonal health which can affect our metabolism. 
With more sleep you'll have more energy for your days and better stamina during your workouts.  Plus you'll be in a better mood, which can help you enjoy the trip and surely benefit anyone else you're traveling with as well.
It's recommended to get between 7-10 hours of quality sleep per night. 
To make sure you're getting proper sleep while away:
Bring earplugs and a sleep mask! You never know when you might be dealing with thin walls and a sleep mask can also help when you want to rest during daylight hours.

Make the room cooler and darker for the best sleeping conditions.

Try to get to bed before midnight, as those hours can be the most restorative.

Once you're jet lag has passed try to create a sleep schedule.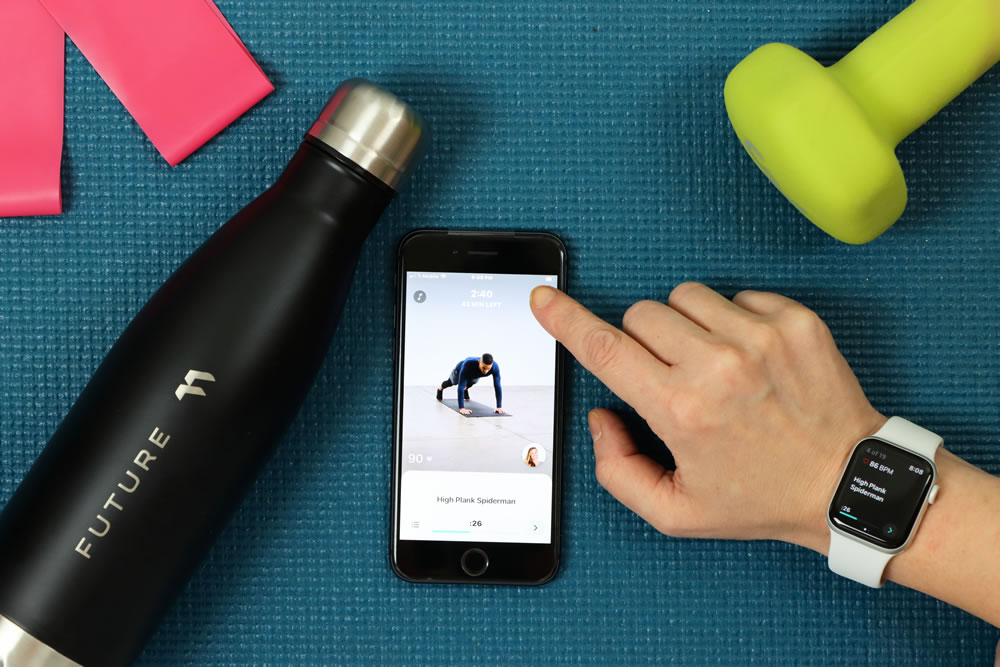 Bring Some Wearable Fitness Tech 
Wearing a fitness tracker that can track your steps, how many calories you've burned, and how many minutes you're active each day can help you achieve your fitness goals while you're away. I've been happy with my experience with the Apple Watch, but there are a variety of different fitness watches and trackers available with price points starting as low as $29.95. Many fitness trackers have built-in workouts, tips, and apps to help set realistic goals for yourself.  
Along with tracking your steps and your activity, they can also help you keep track of calories burned, how many minutes you've spent exercising each day, and even track your heart rate and sleep. And if you're doing a lot of sightseeing on foot, you'll be amazed at how many steps you log while walking around a new city or hiking through a national park.
Studies have found that even just wearing a basic pedometer to track your steps can boost activity levels by 30 percent. 
Stay Hydrated
Staying hydrated throughout your trip will help control your hunger pangs. Pack a reusable water bottle so you always have water with you and can refill it often. Be sure to use only filtered water sources, and inquire when you're not sure. Drinking unfiltered tap water from places you're not used to can make you really ill.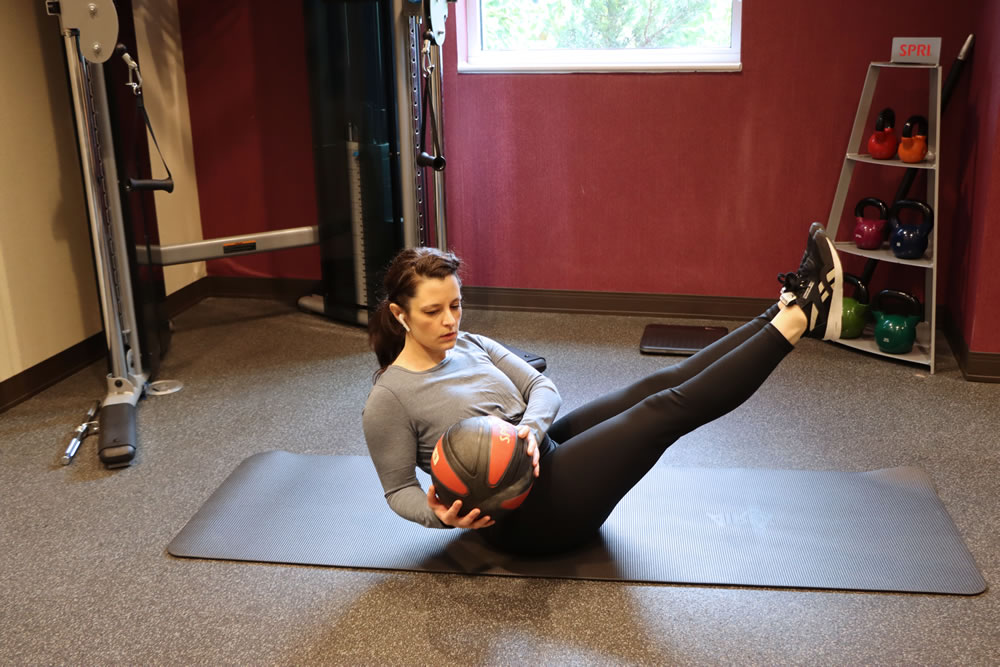 Don't Forget To Pack The Right Shoes And Clothes
If you want to be able to exercise comfortably, be sure to pack enough workout clothes for the length of your stay. That includes comfortable sneakers, socks, and a hat if you're going to be out in the sun. Also, think about any other activities you might be doing outside the gym and pack accordingly for those. That means packing a swimsuit or two if you're going to be in the water or hiking boots if you're going to be covering some rugged terrain. Believe me when I tell you your shoes can make or break a trip.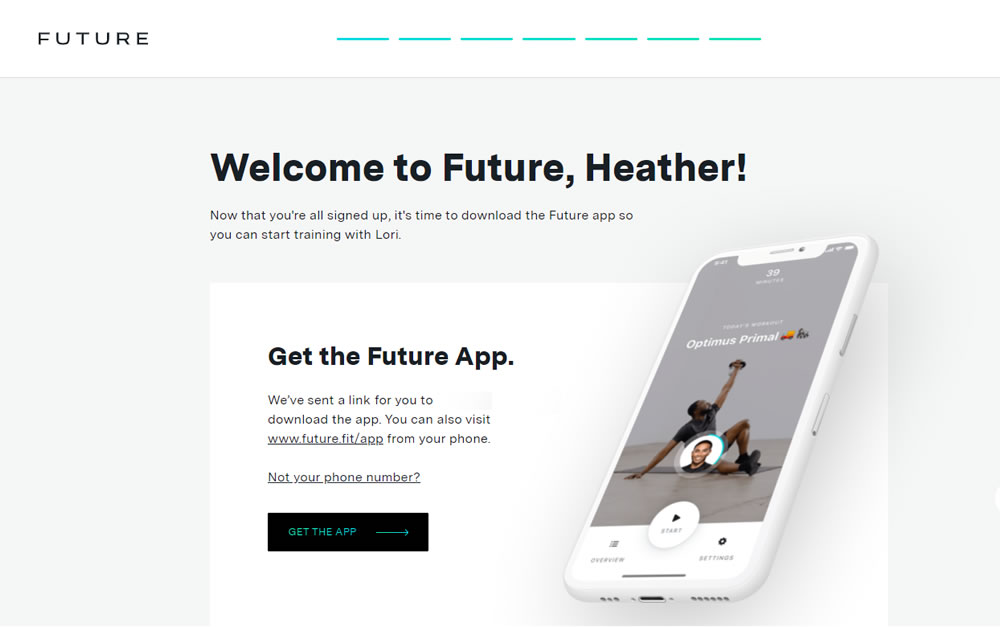 Bring An Elite Fitness Coach With You By Using An App Like Future 
I have to admit, sticking with my fitness routine while I'm traveling or even, in general, hasn't always been easy. A total game-changer for me when it comes to staying active and accountable, whether I'm home or away, has been using a fitness app called Future.
Future is an app designed on the science of what motivates us all to stay on track with our fitness goals. And I'm proof it works.
There are a lot of fitness apps out there, but Future is unique. With Future, you'll get your own professional-level fitness coach who will custom design workouts for you, tracks your progress, and chats with you daily to keep you accountable every single day! It's really been incredibly effective for me.
I found that it's these little messages and check-ins that keep me motivated and stop me from making excuses. And it's my relationship with my coach that keeps me energized to get those workouts done and conquer fitness goals I didn't think I could before. 
Plus, besides weight lifting and bodyweight exercises, your Future coach can create workouts based on just about any activity, including swimming, Pilates, yoga, tennis, golf, hiking, surfing, and just about anything else you can think of.
You don't need a gym or equipment either. Your workouts are based on what you have available.
Other benefits of Future are that:
You can literally take it with you anywhere and access it 24 hours a day.

It works 100% around your schedule, fitness goals, and access to workout equipment.

You don't need a gym membership 

It's perfect whether you've been inactive for a while or you're looking to level up.

Over 80% of Future coaches have trained pro, collegiate, or Olympic athletes and 95%+ have a bachelor's degree in exercise science with a majority having a master's degree too.

It syncs with the Apple watch, which sends stats to your trainer after your workouts so they can see how you're performing.
Here's How Future Works:
After you download the app, Future will ask you a few questions about your fitness goals and activity level.

Future will then match you with some of their elite personal fitness coaches. Choose one and you're on your way!

You'll have a Facetime call with your Future coach so you can talk about your goals and how you like to get active. They'll then get started on making your workout plan.

Your coach will load up your personal workouts each week, which can be customized and changed up at any time. It's perfect if you have an unpredictable schedule when traveling. I love that my workouts are always fresh and interesting, but challenging where I'm seeing serious results I know I wouldn't achieve on my own.

 

Each day, your coach will text you and check-in to see how your workouts are going, answer questions, and keep you motivated! This really has been a major benefit for me.
Personal accountability seems to be the thing that's clicked for me when it comes to staying motivated to exercise, and it might just be for you too.
➡ See our complete review of Future here.
Here's a sample of the travel workout my coach sent me based on what was available at my hotel.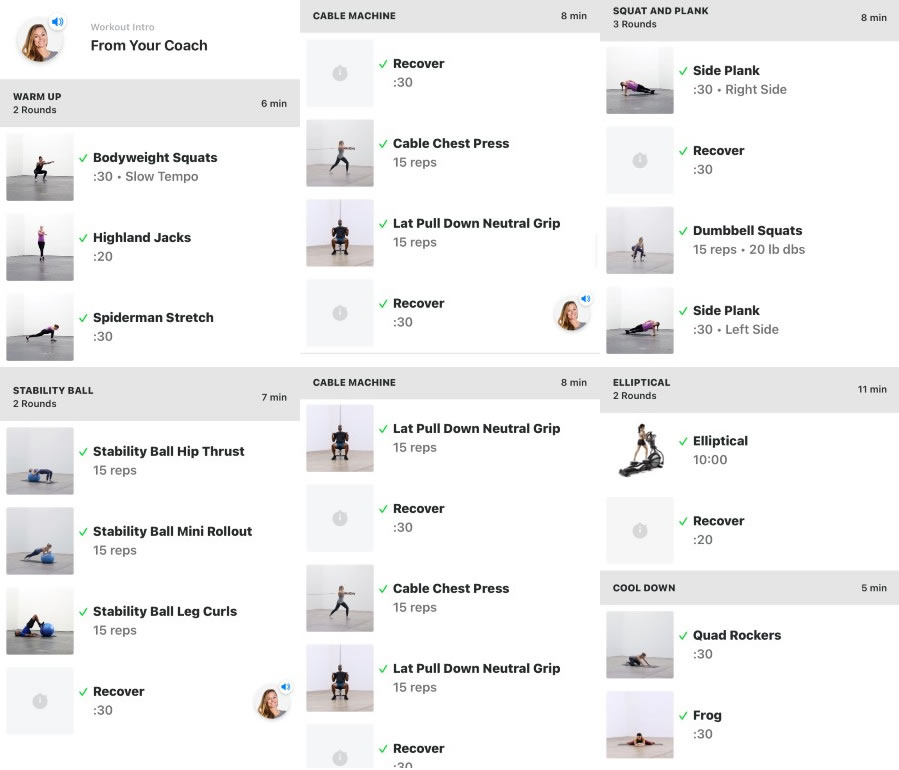 Another reason I love the Future fitness app is that they have a variety of awesome music playlists curated within the app to help keep you pumped through your workouts.  It also works with music apps like Spotify and Pandora. 
One Year Update!
I've completed over 250 workouts with Future and burned more than 54,000 calories! 😀 
Want To Stay Fit And Active While Traveling? 
As a Better Living reader,  join Future today and save with these discount codes:
💡 Limited Time Deal ➡ Try Future for 30 days for just $19!
💡 Limited Time Deal ➡ Get 50% off your first 3 months!
Plus, Future offers a 30-day risk-free trial.
So, go pick your coach to start your fitness journey today!
Related Reading
➡ Learn more about the benefits of online training
➡ See how to stay motivated to exercise
 ➡ See How To Get Fit At Home For Beginners
➡ See how to lose the last 10 pounds fast
➡ See 13 tips to start weight training at home
➡ See how to start exercising again (and stick with it!)
 ➡ See how to lose weight for your wedding