Better Living uses affiliate links. If you make a purchase through them, we may receive a small commission (for which we are deeply grateful) at no cost to you.
Having just jumped off a 45-minute interval session on my treadmill, I'm actually sweating as I'm writing this. Legitimate beads of sweat are running down my face and back. And I can't believe I feel great. For most people, that's not really a big deal, but for me it really is.
Here's why: A few months ago the thought of running anywhere, except out for a pizza, was not a conceivable thought in my mind. In fact, for the last couple of years, I couldn't stick with a fitness routine to save my life. I knew I needed to move, not only to get rid of the pandemic lockdown weight I gained (yes I ate well), but I also didn't want to experience any couch potato-induced health issues simply because I couldn't keep myself motivated to work out. 
It was when I decided to try a personal training app called Future that my fitness mindset completely changed. Plus, there's no doubt I'm stronger, more fit, and more motivated to work out than ever before. Available in the Apple Store, Future works by pairing you up with one of their elite fitness coaches who create a customized workout plan tailored to you and your fitness goals.
It's totally rocked my world and has gotten my butt off the couch for good.
These are the benefits I've found working out with an online coach: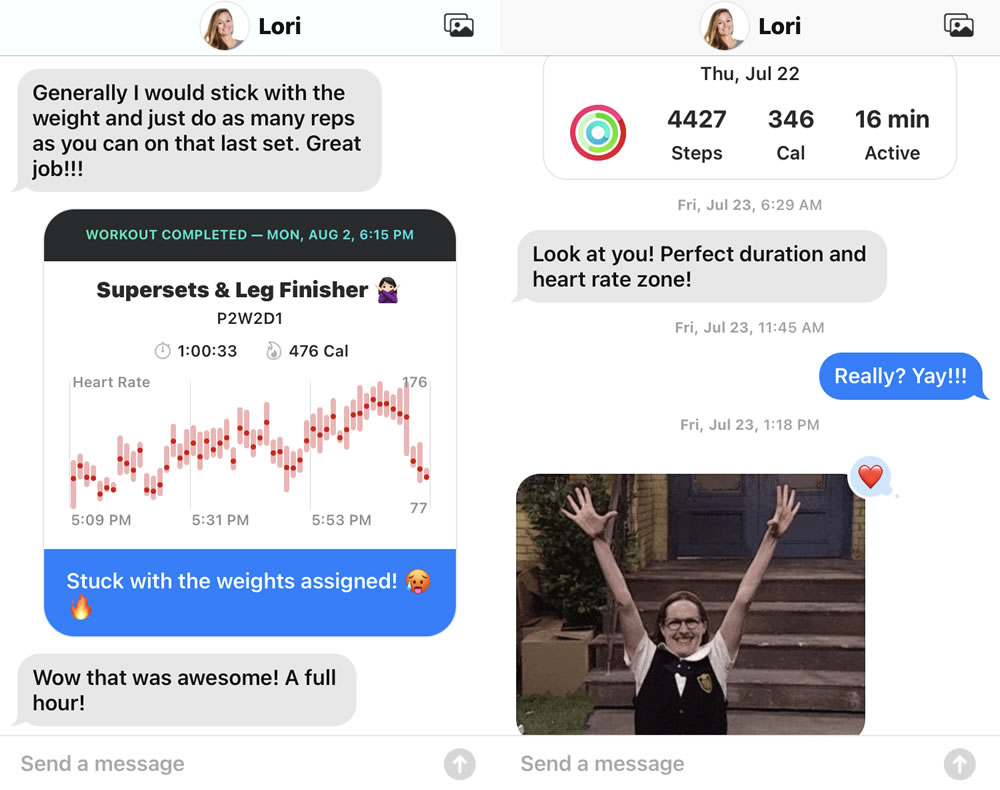 Online Fitness Coaches Are Motivation and Accountability Machines
Scrolling through fitness gurus and models on Instagram will only inspire you so much to get you moving and stay motivated. But having instant access to my online fitness trainer has been huge for me. Not only can I ask her anything and get her response back in minutes, but having her there when I'm not sure if I'm doing something right or if I need to adjust something that's been truly helpful (the app has a record form option which is great for beginners).  I really value what she's been teaching me, but I also like that I can just go with the flow of the workouts she creates for me and know I'm doing the right thing. It totally takes the stress out of working out again, especially if you're starting all over like me. 
Plus, my trainer Lori always sends me a motivating morning message, which always gets me focused and excited for my daily workout.  It's important to form a connection with your online coach, and we have a fun time together.
You'll Stop Making Excuses Not to Workout
It's easy to sink back into your couch with a bag of chips and tell yourself you'll work out tomorrow. Or, that you're too tired. I know it all too well my friend. But having a fitness coach to check up on me daily has helped me kick excuses to the curb. It's easy to make excuses to yourself why you can't work out, but then try spelling them out to another person daily. It actually gets kind of embarrassing. While I don't always feel at my best, one thing I know is that I always feel better doing something than doing nothing. And having my trainer make me accountable has been key to keeping me stay dedicated to my fitness goals.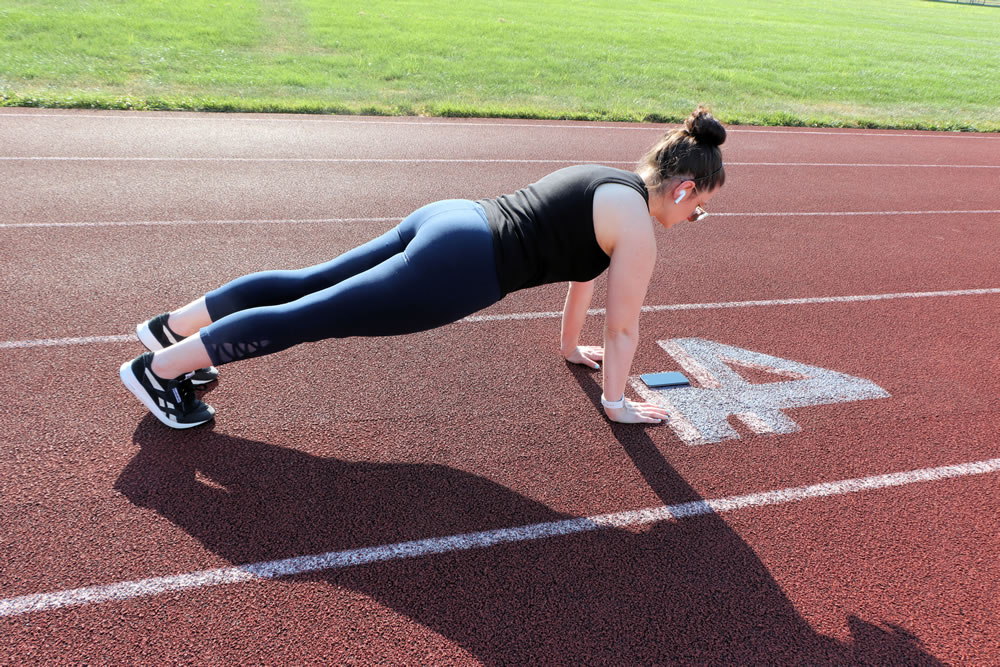 Online Fitness Training Couldn't Be More Convenient
One of the things I love about having an online fitness coach is how unbelievably convenient it is. Unlike traditional personal training which is normally based on a set number of sessions that are scheduled at a specific place on a specific day or time, I'm able to access my coach any time of day (within reason) and workout whenever and wherever I want. With an online coach, you can save time, forget the gym commute, and work out for however long you like, on your schedule. This is especially great if you work long or odd hours or have children to care for.
You Make it Work With Your Crazy Schedule
When I first started working out again, I planned on working out every day, early in the morning. But I found that with my schedule and depending on how I feel, later in the day often works better for me. It also helps me clear my mind from a stressful day of work. Another reason why I love the Future app is that I can pull up my workout for the day and get going anytime I like. I can also literally roll out of bed and get started. There are no set appointments where I have to run and meet a trainer. My workouts and the help from my coach Lori are always there waiting whenever I'm ready.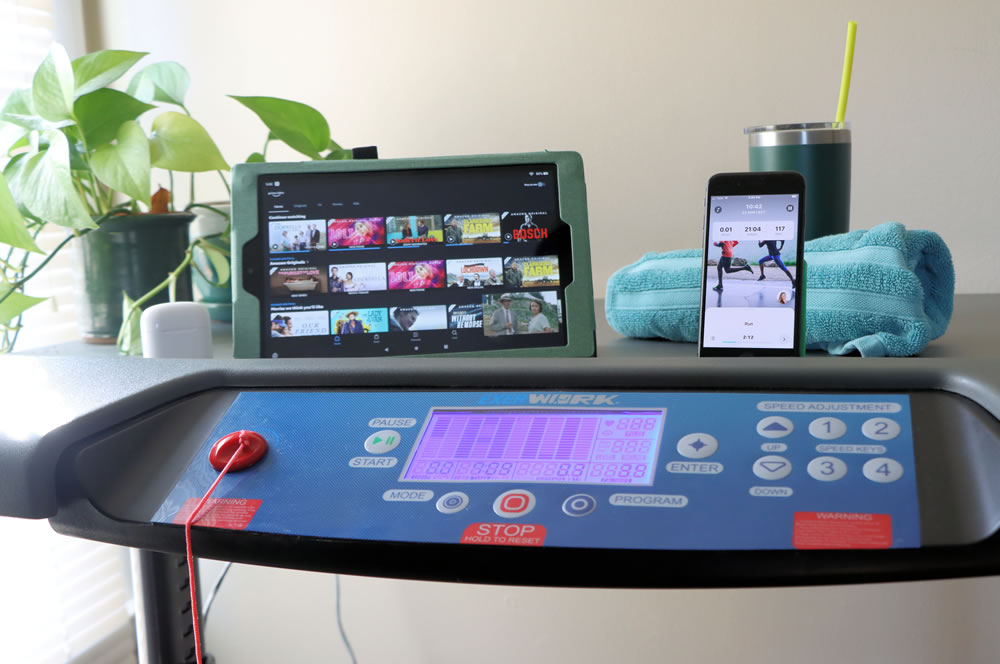 I Love That It's No Commitment and You Don't Need to be a Gym Member
I've never had a great gym experience, so when I knew I needed help getting back into a fitness routine, joining a gym wasn't going to be part of the recipe to get me there. They can run from intimidating (what the heck are those things?) to annoying (slamming weights, googly eyes, strange smells, etc.), and the memberships can be an expensive commitment. With an online fitness trainer, you don't need to be a gym member and you certainly don't need fancy equipment to get you in shape. With Future, you don't even need a home gym or even one set of dumbbells. Your coach will make a workout based completely on what equipment you have access to and nothing more. Plus, I can cancel or pause my subscription anytime. Not gonna happen, but I can if I want to. See our full review of the Future Fitness App! 
Online Trainers Can Totally Work With a Gym Membership Too
While I'm not a fan of the gym, I understand why some people enjoy it. But having a gym membership doesn't mean you can't work with an online coach. In fact, having an online coach will only enhance your gym experience and make sure you're getting the most out of your workouts. They can also open you up to using new equipment you didn't think of doing before, which can help you get even more out of your membership.
It's a Fraction of the Price of Traditional Personal Training
An in-person personal trainer can cost hundreds to thousands of dollars for just a few sessions. Future is only $19 to try for the first month, plus I have access to my trainer all day, every day. I don't think I could even calculate how much that would normally cost. How awesome is that?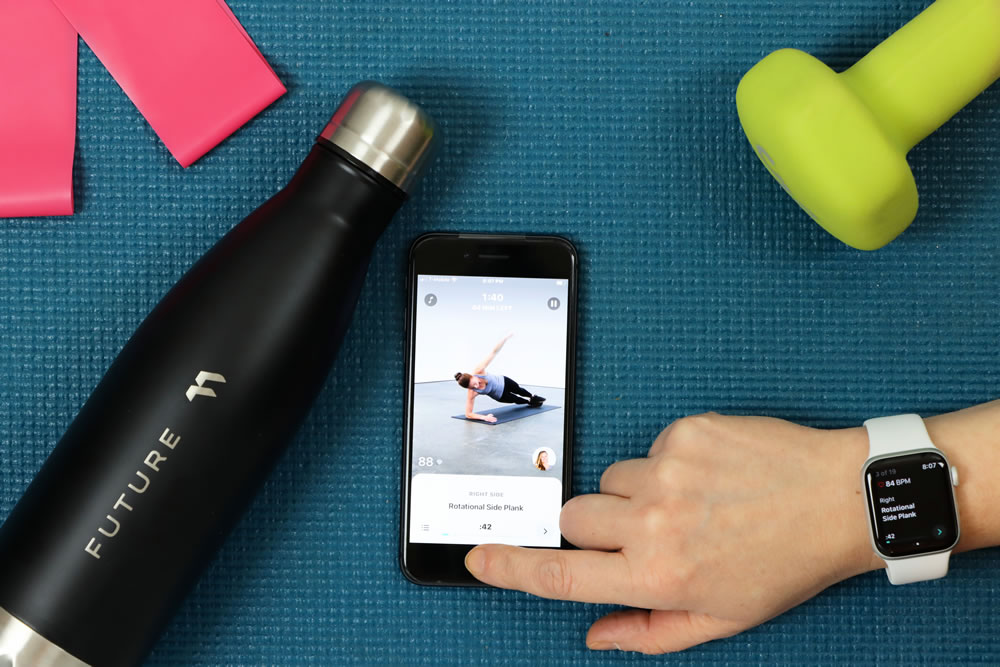 It's an Investment in Your Health and Wellbeing
Getting an online coach is definitely more cost-effective than an in-person fitness trainer. But that doesn't mean it's any less important for your health and well-being. Since I started working out with an online personal trainer, I've dropped a few pounds, gotten noticeably stronger, and have more energy than I did doing the couch potato thing. But what I'm most excited about is that I'm motivated to keep crushing those fitness goals. I'm just upset I didn't start sooner. See how to stay motived to exercise!
It's Great if You Travel and You Can Work Out Anywhere in the World
When you're finally in a groove with your fitness routine, traveling whether for work or pleasure, can make it difficult if not impossible to keep up. Working out with the Future app, I can access my workouts no matter where I am as long as I have my iPhone on hand.  Another benefit of working out with an online coach is that you can bring your workouts and their workout wisdom with you no matter where you are in the world. So whether you're in a city hotel room, on a beach, or at the top of a mountain, you'll be good to go.  
An Online Fitness Coach Can Help You Get Outside Your Comfort Zone and Increase Your Self-Confidence
For the longest time, I thought I hated exercising with weights. But I realize now that was mainly because I never stuck with them long enough to see any real improvement. I also had no idea what I was doing and felt like a self-conscious idiot at the gym. So when I restarted my fitness journey, I decided I would give everything a try at least for a while. I'm happy I did and I realize it just took sticking with something like weights to see the benefits they provide. I'm now more confident using them and actually kind of like them now.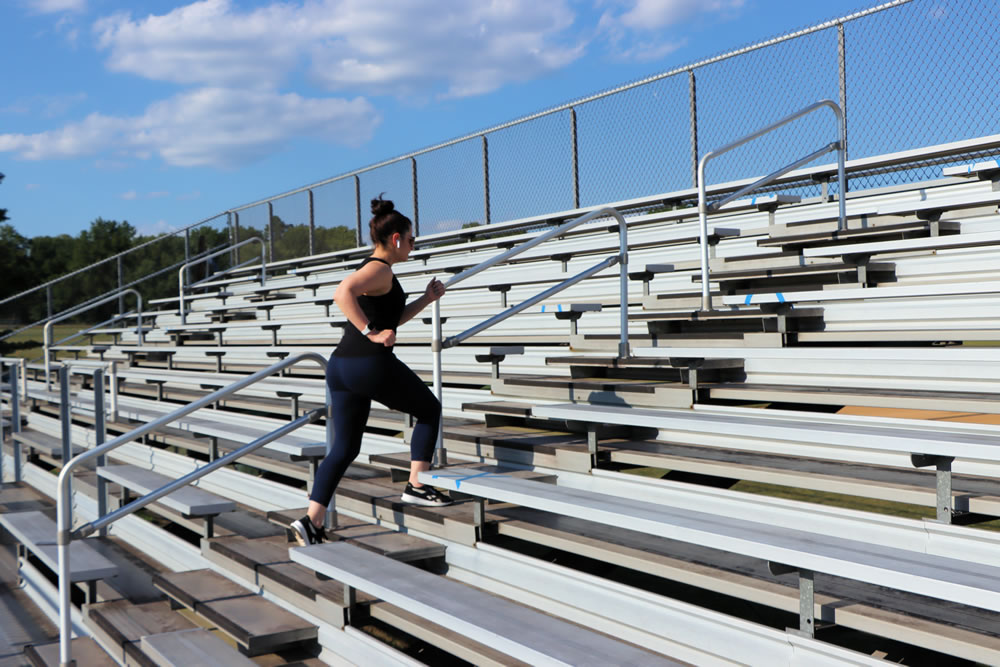 Your Online Personal Trainer Can Also Literally Get You Outside
When you have your workout ready to go on your phone, there's no reason you can't take your workouts outdoors. Since all the workouts on Future are specific to you, your coach can easily make your workouts outdoors friendly. If one of your goals is to spend more time outdoors, this is a great way to give yourself that extra push. Studies have shown spending time outdoors can lower blood pressure, improve immune system function, increase self-esteem, reduce stress and anxiety, and even improve mood.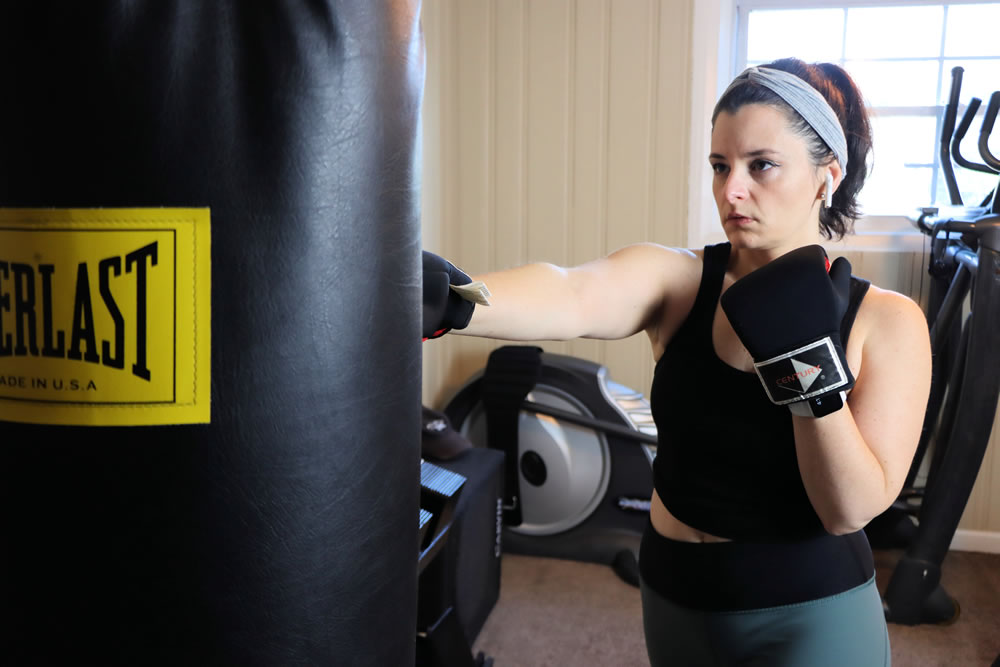 Get Exposed to Exercises You Wouldn't Normally Do and Help You Break Through Plateaus
Even if you exercise regularly it's not hard to find yourself doing the same exercises or routine over and over. But getting an online fitness coach is a great way to help you break through your fitness rut, expose you to new exercises, activities and even motivate you to move in ways you probably wouldn't do on your own. In addition to including weight-lifting to my routine, I've also done a lot more running and a few boxing workouts. I love that my workouts are always fresh, but I also feel myself getting stronger and fitter than I would if I worked out just on my own.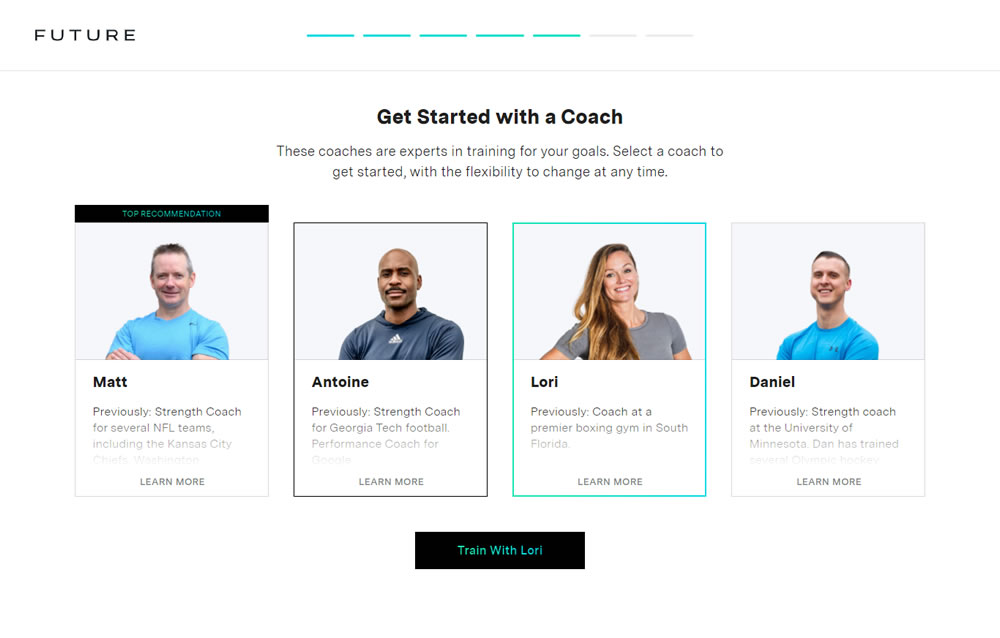 You Can Have Access to Some of the Best Coaches in the Country
It's important to not only find a coach that's right for you, but it's also important that they know what they're doing. Don't be afraid to interview possible coaches and ask about their certifications or expertise. 
I can't speak for other apps or online training programs, but all the coaches at Future have amazing credentials. Like so great, it's crazy you can have the opportunity to be trained by one of them every day. Not only have they trained celebrities, as well as collegiate, Olympic, and professional athletes (MLB, NFL, NCAA, etc), but they also have higher-level education in fitness, with many also having a Master's degree.
Future has one of the biggest training teams, so to help you find a coach that's right for you, they'll ask you to answer a few questions about your fitness likes, dislikes, ability, and goals to provide you with a perfect match. Future will give you their top coaches to choose from, with full bios for you to review. Choose your coach and you're on your way to getting fit! 
Take the Future Fitness quiz to see which of their pro trainers you match with!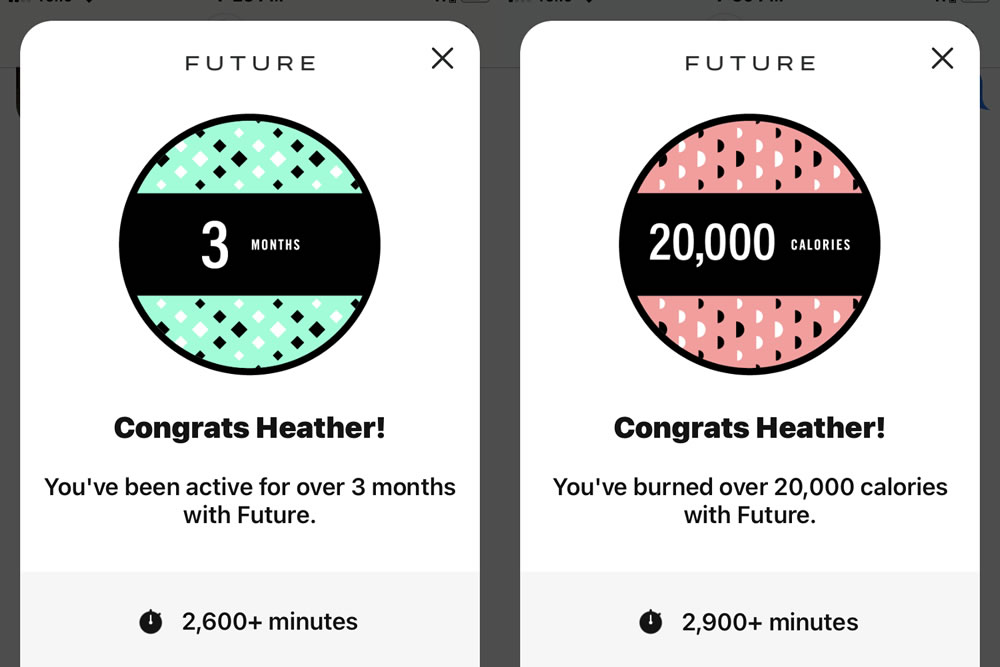 You'll Have a Greater Chance of Reaching Your Fitness Goals Than Going at it Alone
If working out alone hasn't gotten you to where you want to be fitness-wise, it may be time for a change. And an online trainer can help you get there. Besides keeping you accountable, they'll also push you to work harder than you would on your own. Which is what most of us need. It's definitely what I needed.
Another amazing benefit of getting a trainer through the Future app is the feedback they're able to see and keep track of from your workouts. To get the most out of Future they recommend, you pair it with an Apple Watch which shares detailed stats like heart rate, calories burned, how long I worked out for, and how many reps I did for each exercise with my trainer after my workouts.
With your watch, there's no faking a workout on Future. It's just one more way to keep you accountable with your workouts, but it's also a great way to keep track of your daily activity.
Final Thoughts on Online Personal Training 
Getting a fitness coach with Future has been one of the best things I've ever done for myself. And since they've magically cracked the code of getting me motivated and excited to keep working out and staying fit, there's no way I can see my future without them. I just wish I started sooner.
Are you ready to stop making excuses and start crushing your fitness goals instead?
The key is accountability and motivation. And a Future app online coach can help you get there. Try FUTURE now for only $19!
➡ See how to stay motivated to exercise
➡ See our complete review of Future
➡ See how to lose the last 10 pounds fast