Better Living uses affiliate links. If you make a purchase through them, we may receive a small commission (for which we are deeply grateful) at no cost to you.
* This is a sponsored post written by me on behalf of Drinkworks® Home Bar by Keurig® . 
After everything that 2020 has delivered to us, it's pretty safe to say we could all use a little rest and relaxation. Scratch that: we could all use A LOT of rest and relaxation. Last year I was dreaming up something different for the 2020 holidays and celebrating on a beautiful, warm beach somewhere in Mexico with a Margarita in hand. But like many of us this year, my holiday travel plans have been put on hold. And after partnering with Drinkworks Home Bar by Keurig to bring you this post, I think I'm okay with it. Because what if I told you I found a way to have a delicious, cold, and absolutely perfect Margarita any time, with just the press of a simple little button? No plane tickets required, just instant relaxation. It's true. And the Drinkworks Home Bar makes it totally possible.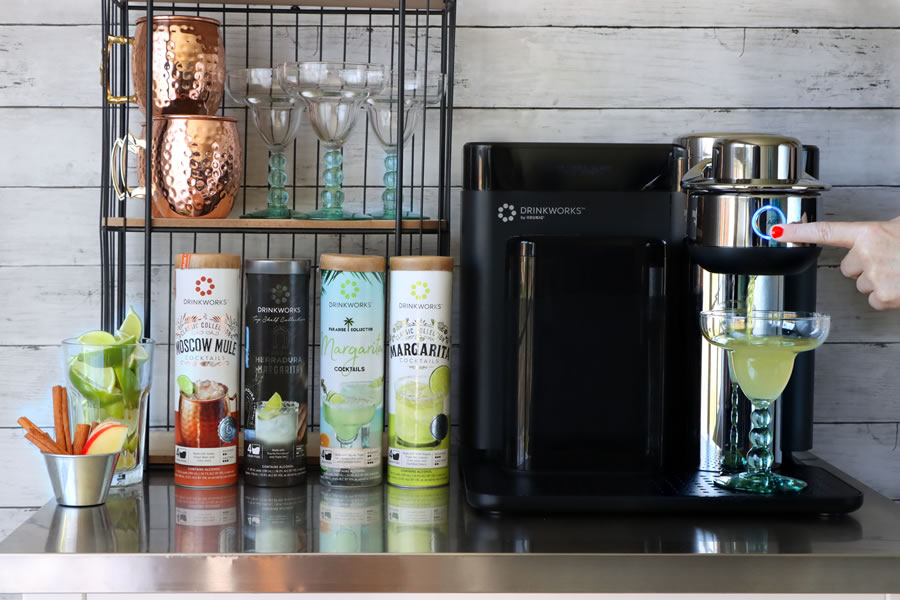 If you haven't heard of Drinkworks yet I'm going to let you in on the coolest new thing for your kitchen or home bar space. Drinkworks is a new home cocktail appliance that uses premium cocktail pods to craft delicious high-quality drinks that you'd find at your favorite bar but made in the comfort of your own home.
Here's how the Drinkworks Home Bar works:
1 – Pick Your Favorite Cocktail Pod – Each Drinkworks pod is filled with real ingredients, premium alcohol, and all-natural flavors. There are over two dozen cocktails to choose from!
2- Pop the Pod in the Basket – Close the lid and place your glass under the spout.
3- Press Play – Your drink is done! Kick back and dream of warm beaches and calming ocean waves with your instant perfect Margarita!
Press. Play. For. Perfect. Margaritas!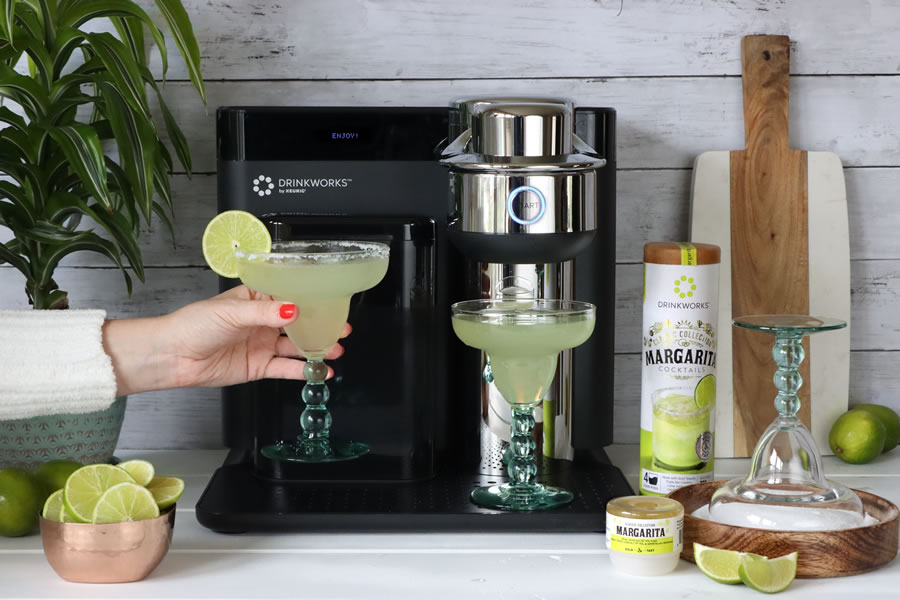 Not only do the Drinkworks drinks come out lightning fast at the touch of a start button, but they're also ice-cold, refreshing, and super delicious. It's also an awesome solution for entertaining and relaxing at home rather than congregating at bars this year.
Here's Why We Love It:
1 – The Drinkworks Home Bar gives you the convenience of a top-shelf bar in your own home without the hassle or mess of having to play bartender. No more frantically making a bunch of different cocktails for your guests from scratch. And if you love to entertain year-round it's a total must-have.
2 – Drinkworks eliminates the need to buy lots of different expensive mixers and bottles of alcohol you may never finish once your guests leave. If you have your guest's favorite drink pod then you instantly have all the right ingredients for their perfect cocktail.
3 – The drinks are unbelievably delicious! Right now I'm 100% obsessed with the Margarita from the Drinkworks Classic Collection (there's currently four different styles, including strawberry). One sip and I was immediately sent straight back to my many days spent in Los Cabos.
4 – Drinkworks is so much fun to use! I've used the Drinkmaker a bunch of times and I'm amazed every time that my drink is perfectly poured in my glass. It's really very cool. There's no doubt your holiday guests will have a blast picking out their favorite cocktail pods and I can guarantee once they use it they'll want one of their own. Choose from favorites like Moscow Mule, Mojito, Sangrias, Old Fashioned, spritzers and more being released all the time. Everyone can have fun sipping their way to finding their favorite drink.
5 – The pods are recyclable! – Drinkworks pods can be easily recycled making for a waste-free cocktail experience. So important!
6– It makes a great gift! – Have someone special who loves to entertain? The Drinkworks Home Bar makes an awesome gift that they will most certainly love.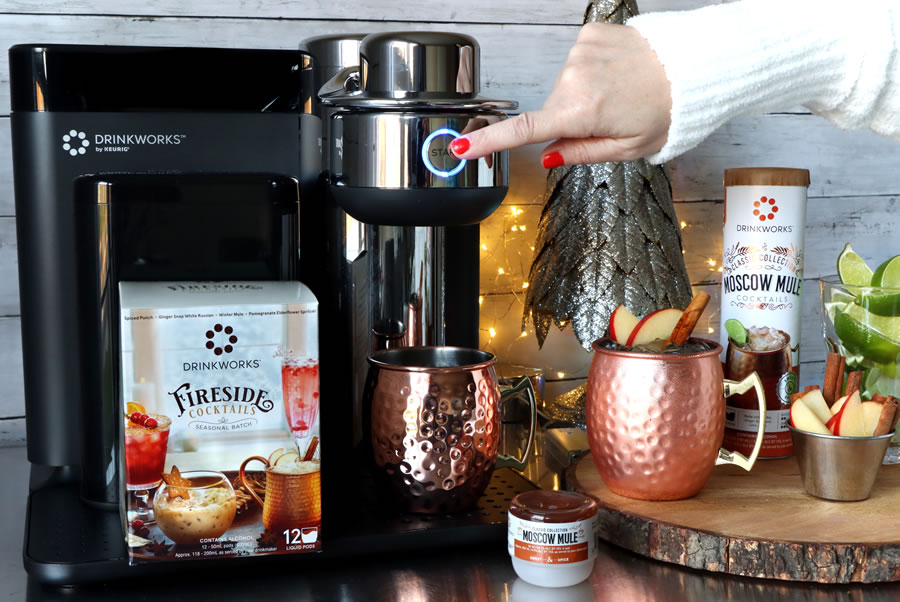 Celebrating With Drinkworks through the Holidays and Beyond
Now that I'm stocked up on Drinkworks Margarita pods, I can't wait to build out my home bar with more cocktail pods to sample, enjoy and share throughout the holidays.  And since it makes such an awesome gift, you can send it to your friends and family that you'll be missing this season to enjoy cocktails together, virtually.
And if you love to sip on some seasonal cocktails to get you in the holiday spirit, Drinkworks is launching a Fireside Collection box of four cocktail pod flavors including a Ginger Snap White Russian, a Pomegranate Elderflower Spritzer, a Spiced Punch, and a Winter Mule that will get you right in the mood.
Be sure to give them all a try but whatever you do, don't skip the Margaritas!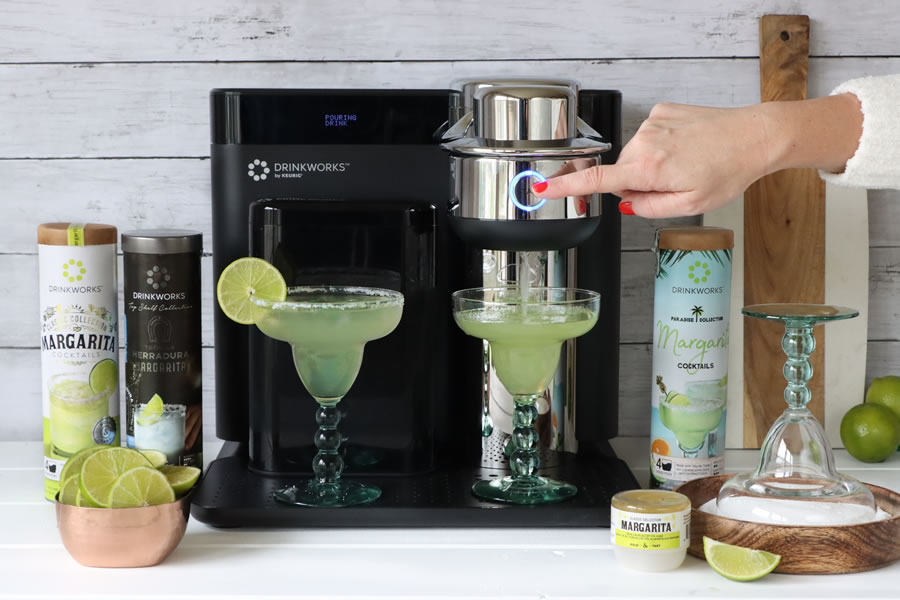 Visit Drinkworks.com to learn more about how the Drinkworks Home Bar by Keurig will fit into your holidays.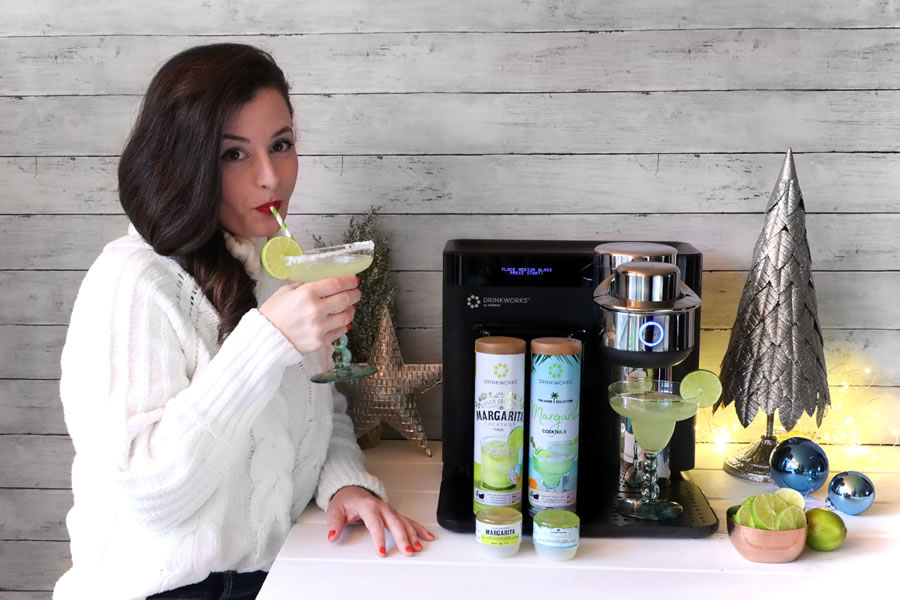 * This is a sponsored post written by me on behalf of Drinkworks Home Bar by Keurig.