Better Living uses affiliate links. If you make a purchase through them, we may receive a small commission (for which we are deeply grateful) at no cost to you.
When a recent trip brought us out to the bay area, we rearranged our travel schedule so we would have at least one full Saturday to the explore the amazing city of San Francisco. The bad part was that we'd only have one full Saturday to explore the amazing city of San Francisco. With so much to do and see, the choices seemed overwhelming. This was my first visit the "City By The Bay" and as much as I hate to admit it, we were in full tourist mode. Here's where we stayed, ate and visited!
Where To Check-In? An Ideal Hotel & Location In San Francisco
In a city with over 200+ hotels, choosing where to stay in San Francisco can prove tricky. Especially when you're short on time. Solution? We decided to choose a hotel in a great location with easy access to the places we planned to visit. We also wanted to be close to great restaurants. And we figured a little luxury wouldn't hurt either…
The Four Seasons San Francisco came out on top as our pick as the perfect hotel for a quick weekend in the city. Not only is it in an ultra convenient location with an easy walk to some of the city's best museums, restaurants, shopping, attractions, and transportation, but the Four Seasons San Francisco is known for providing a level of luxurious amenities and service that isn't easy to come by. We couldn't wait to check-in!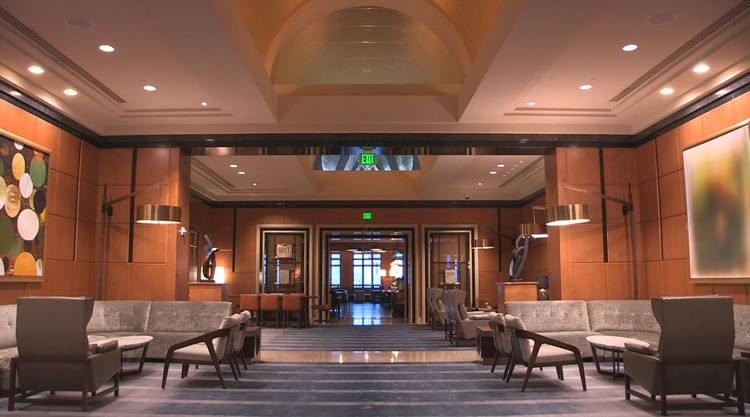 Travel Tip: When you're traveling and short on time, choose a hotel in a location that's convenient to areas you plan to visit and includes the level of amenities and service you're accustomed to (or better).
Experiencing The Hotel
We arrived at the striking Four Seasons San Francisco on a Friday evening. The main entrance to the hotel is on Market Street, but if you're driving in or require valet service Stevenson Street is the place to go. There's also an entrance to a parking garage if you decide to self-park.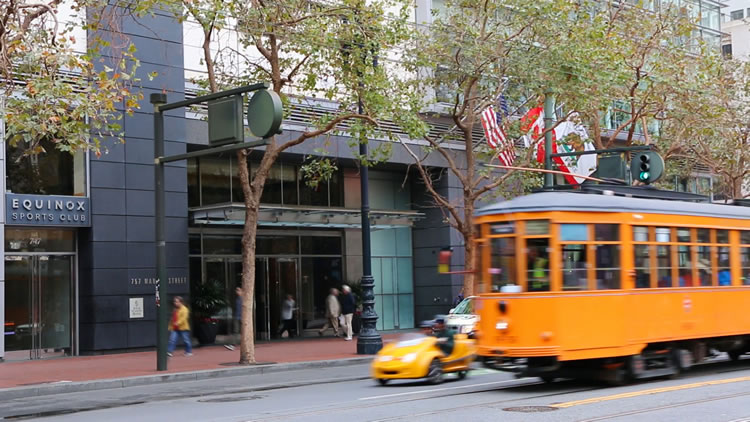 The Four Seasons San Francisco is a modern high-rise style building. Once you get inside you take the elevator to the 5th floor to reach the main lobby of the hotel. This is also the heart of the hotel where you'll find their concierge desk, MKT their restaurant, bar and lounge, and elevators that will take you to the guest rooms. The hotel is sleek and modern with the feel of a luxury apartment building but at night still felt cozy. We found the bar to be a great spot to unwind for a bite to eat and drink. And if weather allows (which it did not while we were there) you can relax out on their expansive veranda that overlooks Yerba Buena Gardens.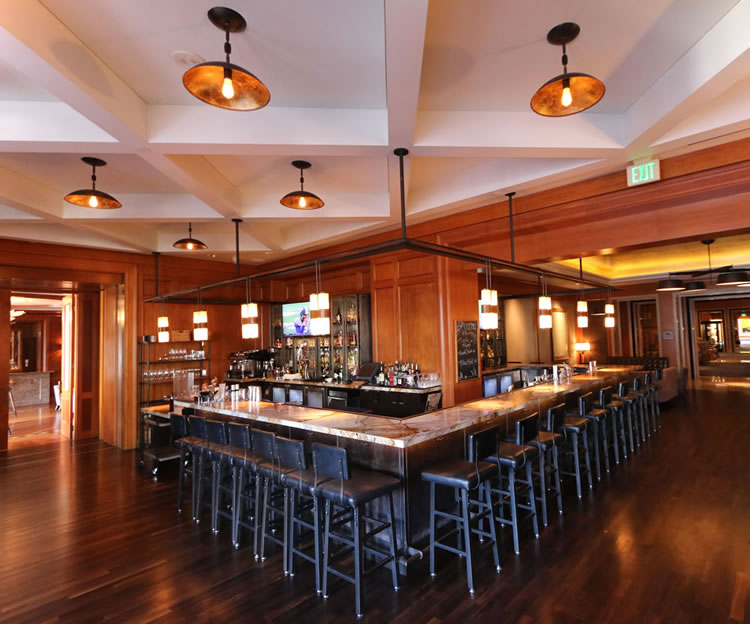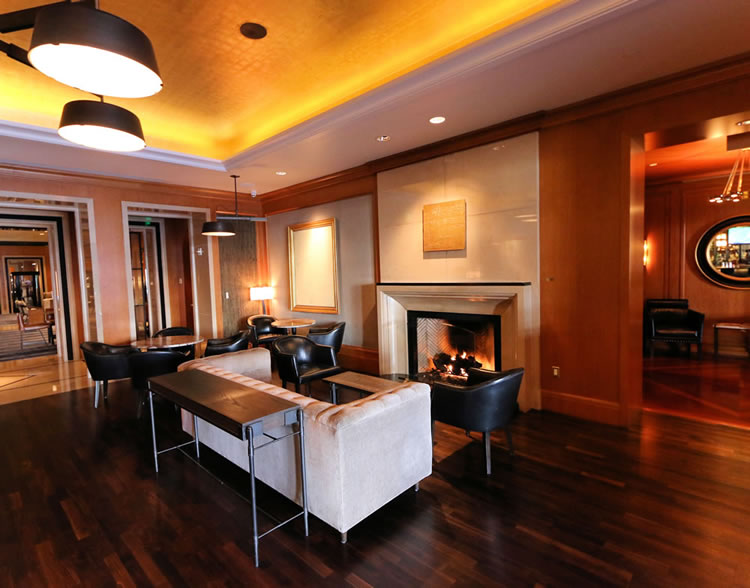 The guest rooms at the Four Seasons San Francisco are spacious, filled with natural light and tranquil. Truly zen chic and a lovely contrast to the bustling city. The rooms also feature floor-to-ceiling windows that look onto the San Francisco skyline. The window seat in our room was a fun touch and I found myself drawn to looking out the window taking in Market Street and the San Francisco city skyline.  Breathtaking!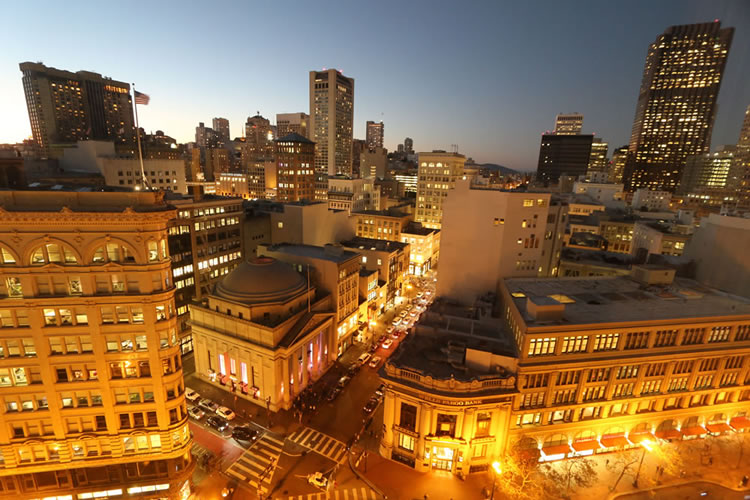 Guestrooms come complete with flat-screens, WiFi access, and iPod docks. They recently completed a $20 million dollar renovation, which includes all 277 guest rooms and suites.
The bedding and linens at the Four Seasons San Francisco are lush, luxurious and the silky soft to the touch. There's nothing better than a comfortable bed and I was debating whether I should go explore one of the world's most exciting and beautiful cities or stay in and indulge in breakfast in bed. I eventually tore myself away.
The bathrooms in the suites at the Four Seasons are just as gorgeous.  Large, marble adorned and complete with a deep soaking tub and glass-enclosed shower. A spa-like retreat in your own room. There's nothing more relaxing than a hot bath after a long day of sightseeing. And if it's tech you're looking for all guestrooms come with flat-screens, WiFi access, and iPod docks.
Four Seasons Hotels, in general, are known for their impeccable service and the Four Seasons San Francisco was no exception. It was not only super friendly and helpful but completely professional. And their concierge? Stellar. Whether you're looking for info about visiting spots around the city or a hot restaurant tip nearby they have your back. If you need a reservation or tickets booked for a show or tour they can arrange that for you as well. And while San Francisco is a completely walkable city with plenty of options to get around, the Four Seasons San Francisco has a house car that will drive or pick up its guests anywhere within a mile of the hotel. A completely complementary service. Oh, and did I mention it's a Tesla?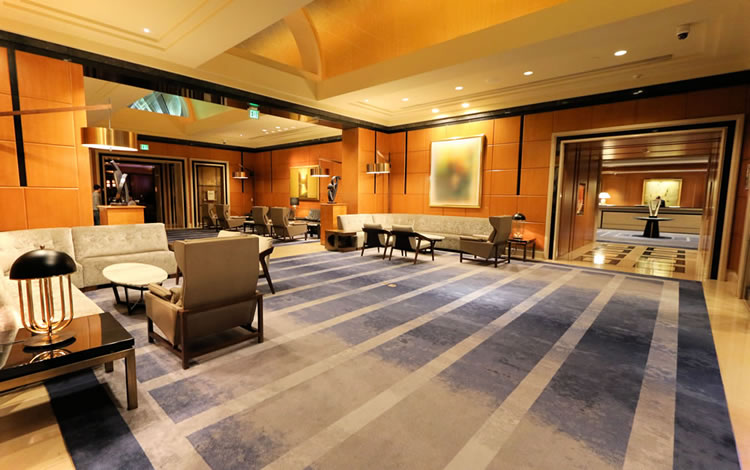 The amenities at the Four Seasons San Francisco are just as elevated as the service. Guests who want to stick to their fitness routine have access to the Equinox Sports Club located in the same building that along with the usual fitness equipment has a state-of-the-art boxing studio, a full-sized indoor basketball court and a 25-yard indoor pool that was being renovated when we visited. This is where their spa is located as well.
If you're an art enthusiast just walk around the lobby and enjoy the Four Season's large and impressive contemporary art collection.
For when you're hungry, their MKT Restaurant + Bar offers a California inspired menu of fresh sustainable seafood and creative craft cocktails. Their 24-hour in-room dining option can be an attractive option if you're exhausted from a day of sightseeing.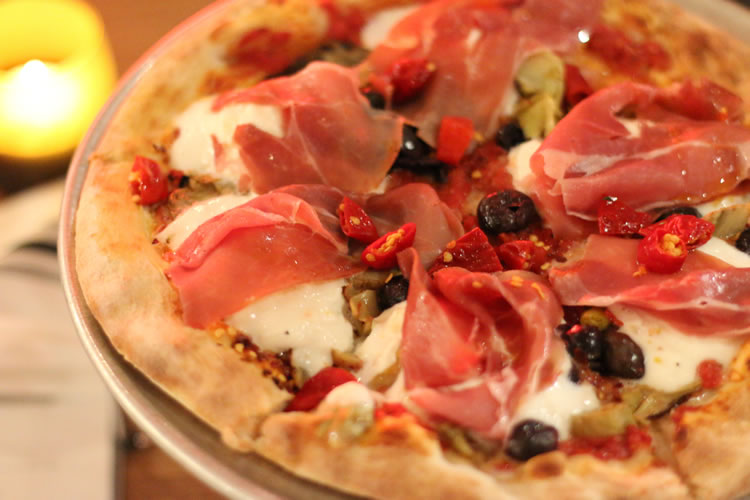 Just outside the hotel on Yerba Buena Lane, you'll also find a number of delicious restaurants ranging from upscale to casual. For dinner one night, we ate at Delarosa a modern Roman-style pizzeria serving pizzas, antipasti and small plates along with creative cocktails, wine, and craft beer. Loved every bite and our favorite meal while in San Francisco.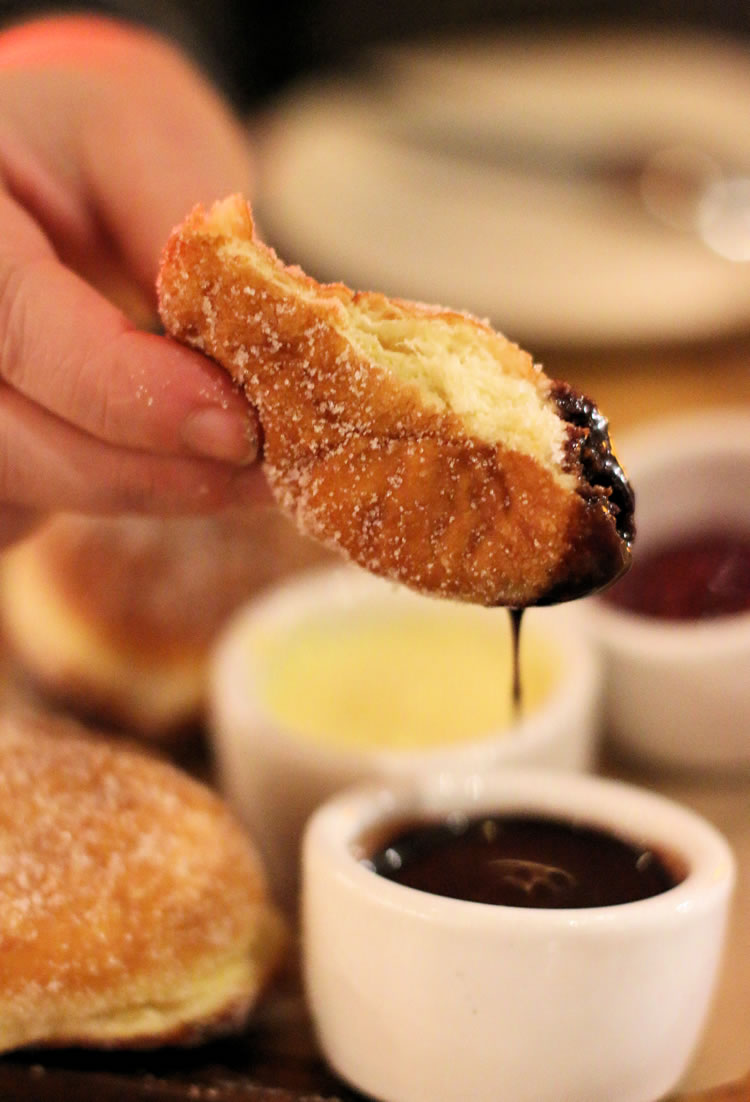 Another night we visited Amber, creative modern Indian dishes served in an ultra chic and moody style interior. Another stellar meal just a short walk from the hotel.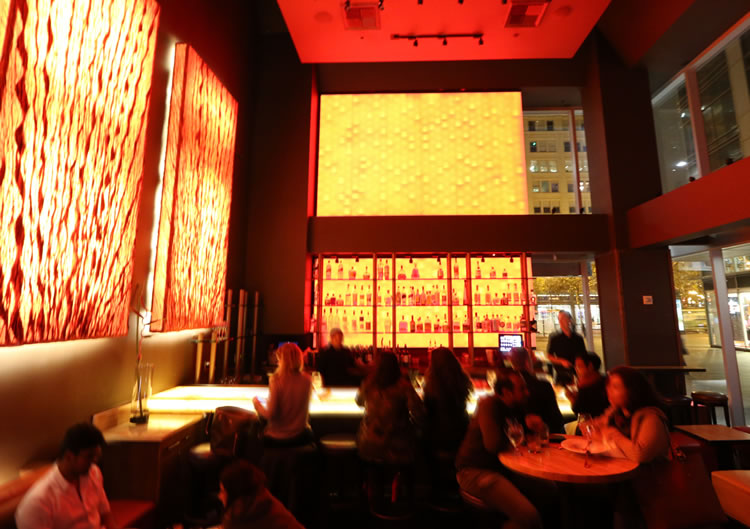 Address: Four Seasons San Francisco
757 Market St, San Francisco, CA 94103
Travel Tip: If you're flying directly into San Francisco to visit the city you really don't need a car at all. Parking in San Francisco is expensive and hard to find. And with so many great options in San Francisco for public and private transportation, including services like Lyft and Uber you never have to wait long. It's so much more convenient and can save you aggravation and money in the long run.
Explore The Hotel's Local Neighborhood: SoMa (South of Market)/Union Square
The Four Seasons San Francisco is located at Market Street and 3rd in what is considered the SOMA (South Of Market) neighborhood. Walk two blocks from the hotel and you're in the center of Union Square San Francisco's shopping mecca and home to stores like Barneys NY, Bloomingdales, Macy's, Neiman Marcus, Nordstrom's, Saks Fifth Avenue and the Westfield SF Centre. This is San Francisco's retail and commercial mecca galore where you'll also find lots of upscale boutiques, restaurants, nightspots, and galleries. If you can think of a retail or fashion brand you love, chances are it's right here. Union Square is a virtual shopper's paradise with a little something for everyone.
Just next to the hotel and right off Market Street is San Francisco's newest street Yerba Buena Lane. A pedestrian-only lane, Yerba Buena is lined with a variety of fantastic restaurants from casual to chic. A 4-minute walk down Yerba Buena Lane and you'll arrive at Yerba Buena Gardens, an area regarded as "the largest concentration of art west of the Hudson River." Here you'll find fantastic art museums like the Museum of Craft and Folk Art, the Jewish Contemporary Museum, the Museum of the African Diaspora, the California Historical Society, the Cartoon Art Museum, and the San Francisco Museum of Modern Art.
A peaceful oasis in the city Yerba Buena Gardens is a great place to leisurely stroll about, experience some unique public art and relax by the public gardens and waterfall. For history buffs, St. Patrick's historic church dating back to 1851, and a striking memorial to Dr. Martin Luther King, Jr can also be found here. And all just a few minutes walk from the hotel.
If you're looking to head to the Ferry Building Marketplace the hotel is only 1.1 miles straight down Market street.
Fun Fact: Yerba Buena or the Spanish 'hierba buena' meaning "good herb" was the original name of San Francisco.
Address: The Four Seasons San Francisco
757 Market St, San Francisco, CA 94103
Ride A Cable Car
Is there nothing more San Francisco than a cable car? Just a block and a half from the Four Seasons Hotel at the intersection of Powell and Market Streets is one of San Francisco's historic manual cable car turnarounds. It is also the beginning of the Powell-Mason and Powell- Hyde cable car lines that will take you down to different areas of Fisherman's Wharf in true San Francisco style.
Cable Car Ride Tip #1: The Powell-Mason line cars are quickest to the Wharf, but Powell-Hyde cars will give you a more thrilling hilly San Francisco ride. Be sure to get a spot on the pole where you can hang off the side of the car and take in those gorgeous San Francisco views.
A popular tourist attraction, crowds begin to form here early to not only catch a ride but to watch a cable car get turned around. Cable cars can't go in reverse and with the help of car operators and a large rotating wooden platform that looks something like giant lazy Susan, must be turned around manually. Today it is still done the way was done 100 years ago when cable cars first arrived in San Francisco.
Checking the signs on the front of the cars will tell you which line you're taking.  Tickets cost $7 per ride, $3 for seniors or you can get a day pass for $22. Multi-day passes will save you even more if you know you'll be in the city for several days. While we recommend taking the cable cars at least once to get that true San Francisco feeling, getting a Lyft or Uber can be quicker, more convenient and less expensive.
Cable Car Ride Tip #2: Since the cable car turnaround is a popular tourist attraction the lines to get onboard can get long. Plus they don't fill the cars to capacity when they leave the station so there is room for passengers at other stops. To skip the lines opt to walk up a few blocks to the next stop or two and then board there.
Spend Time In The U.S.'s Oldest and Largest Chinatown Outside Of Asia
Did you know that San Francisco's own Chinatown is not only the oldest in the United States but is also the largest outside of Asia? Pretty cool, right? After leaving The Four Seasons San Francisco for the day we walked a few blocks to the Chinatown lavish entrance known as "Dragon's Gate." It's located at the intersection of Bush Street and Grant Avenue which is San Francisco's oldest street and also runs the length of Chinatown.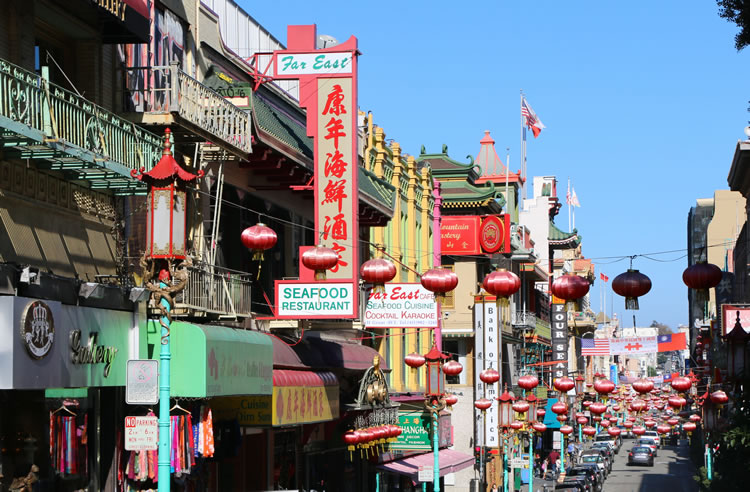 Chinatown is best explored on foot to truly experience all there is to offer. Made up of 24 blocks of restaurants, food markets, bakeries, herbal and souvenir shops and Chinatown is bustling with locals and tourist alike. Everywhere you look is colorful shop window displays, Chinese lamp posts, red lanterns, and buildings with Chinese-style, decorative architecture. You truly feel like you've traveled to the far east.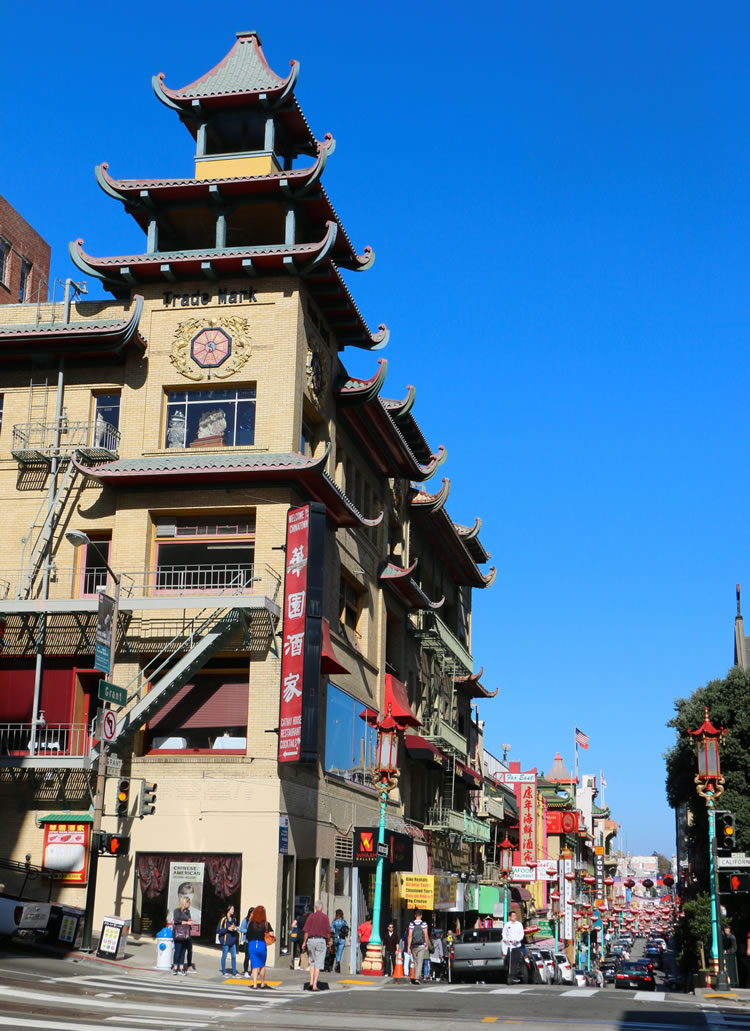 On a visit to Chinatown, you can buy imported souvenirs, luggage, art, jewelry, crystals, traditional Chinese herbal remedies, watch fortune cookies being made The Golden Gate Fortune Cookie Factory, sample tea at a tea bar or visit one of 3 traditional historic Chinese temples. There's also fresh food markets (some unusual) and dozens of restaurants. And if you have the time to sit down and experience Chinatown's favorite culinary experience dim sum, by all means, do it. Dim Sum is a style of Chinese cuisine where you're served small bite-sized portions of small steamed or fried savory dumplings, buns and rolls with various fillings, both sweet and savory. The idea is that you can get a little taste of everything. Served with tea it's a true San Francisco tradition.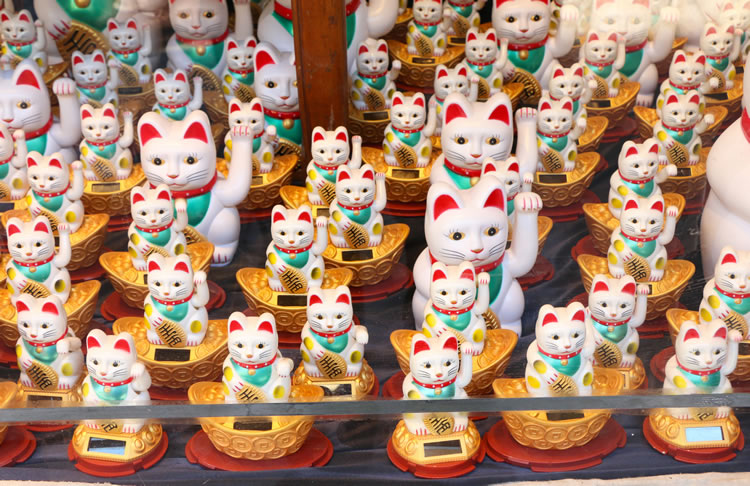 With 24 blocks it would be easy to spend an entire day in Chinatown exploring each street and sampling all the delicious things there are here. But we were determined to see as much as possible in a day. So we waved Chinatown goodbye, hopped on the cable car at California Street and headed down to the Farmer's Market at the Ferry Plaza Building.
Address: Bush St & Grant Ave, San Francisco, CA 94108 (Dragon's Gate Entrance)
Make Your Way Through One Of America's Best Farmer's Markets At The Ferry Plaza Building
One of the concierge's first recommendations from the Four Seasons was to go to the Farmer's Market. It's located at the Ferry Plaza building along San Francisco's Embarcadero at the eastern end of Market Street. You know you're there when you've spotted the clock tower.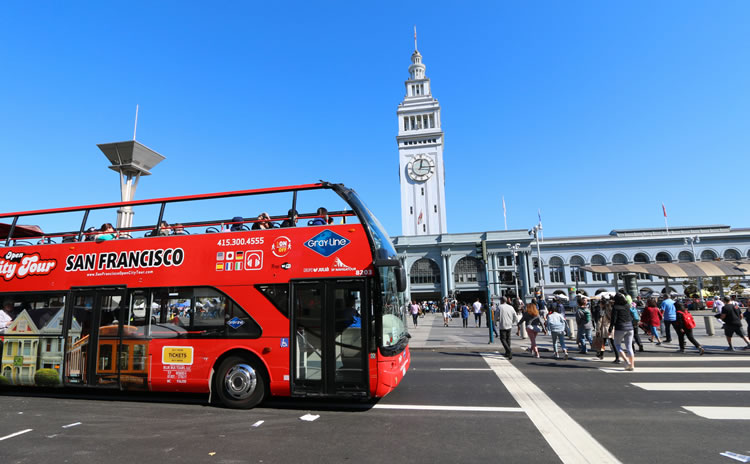 Dating back to 1898, the recently restored Ferry Plaza building itself is worth a visit. Inside you'll find lots of unique shops, food and wine vendors and notable restaurants run by famous local chefs like The Slanted Door that are open daily. One really cool shop we encountered called Far West Fungi offers all things mushrooms. Not only do they sell more types of mushrooms than I knew existed, but they also sell rare truffles and mushroom growing kits if you'd like to cultivate some edible fungi on your own.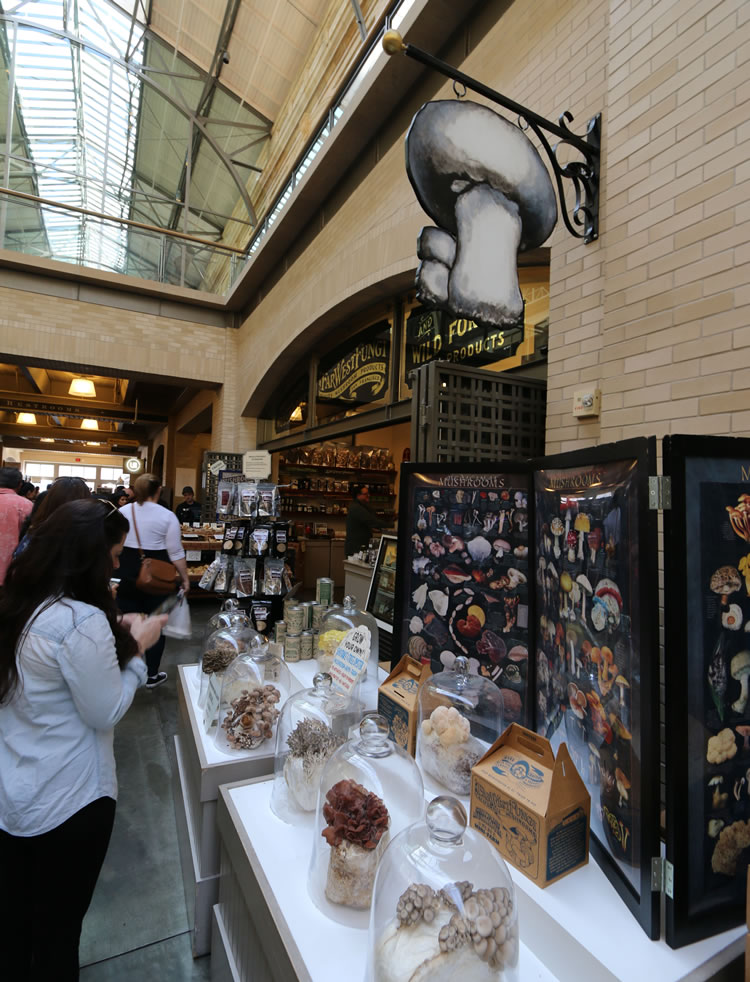 But on Tuesdays, Thursdays, and Saturdays the front and back of the Ferry Building comes alive with the Farmer's Market. On these days farmers and artisans from all over the Bay Area come to sell their fresh local goods like produce, fish, meats, artisan cheeses, organic meats, baked goods, wines, flowers, and chocolates. Lucky to be there on a Saturday I walked through the Farmers Market in awe of all the gorgeous beautiful and fresh food available. If you love good food and appreciate fresh farm ingredients this place is a must stop on your itinerary.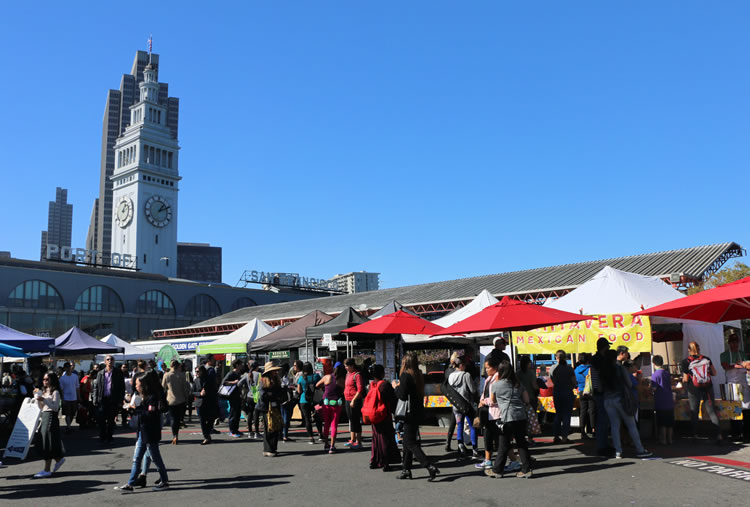 There are also food stands outside cooking up some delicious things if you get hungry while browsing. And how could you not? We saw notable vendors like Namu dishing up Korean tacos, Reem's serving traditional Arab street food and Cap'n Mikes handling a long line of San Franciscans waiting for some of his famous smoked lox on sourdough. I settled on a plate of Baja Style fresh fish tacos from a Mexican food vendor called Primavera. Fresh, crispy and drizzled with a delicious salsa that had me questioning if I was still north of the border, they couldn't have been more perfect.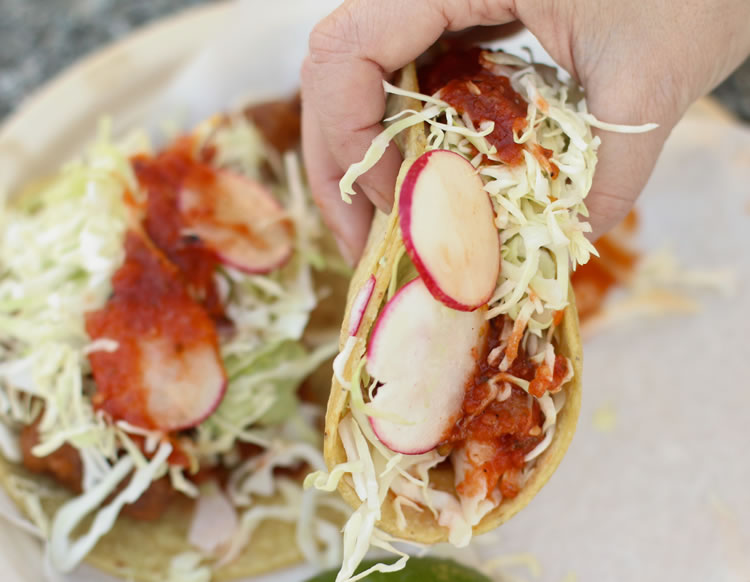 Paired with perfect weather and unbeatable views of the bay bridge I found myself wishing I lived closer to San Francisco. Hard to pull myself away I finished my taco, took a last look around and we hopped on the MUNI F-Line Streetcar ($2.50, exact change) in front of the Ferry Building. This would take us to our next stop: Fisherman's Wharf and Pier 39.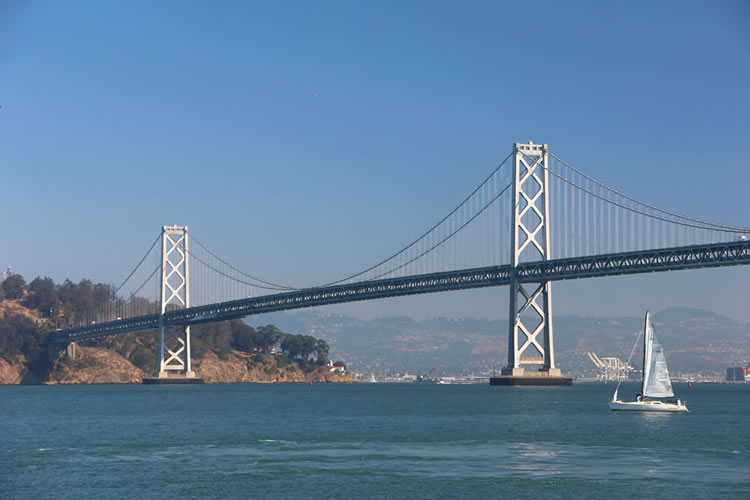 Experience Fisherman's Wharf & Pier 39: A Must See, If Only Once
You know you've reached Fisherman's Wharf when you find yourself surrounded by fishing boats, historic ships, and seafood in every direction. Located on San Francisco's northern waterfront, it's one of the city's most popular, iconic and might I say crowded, spots.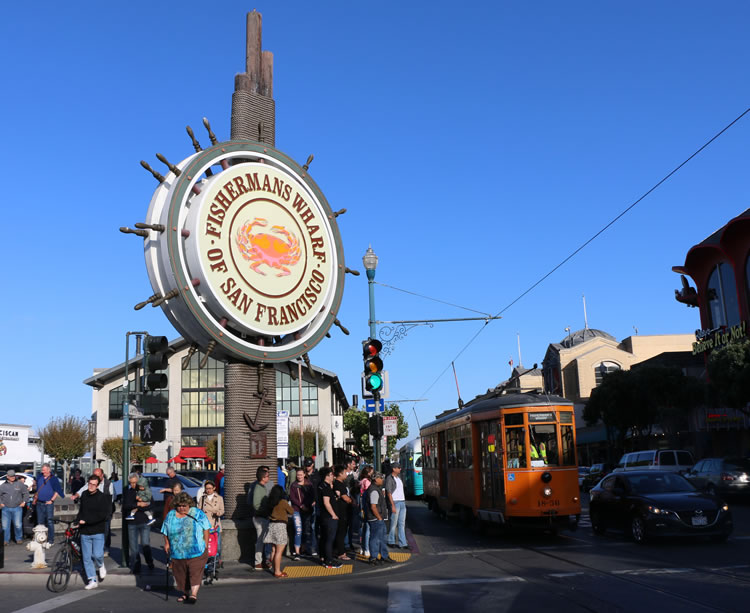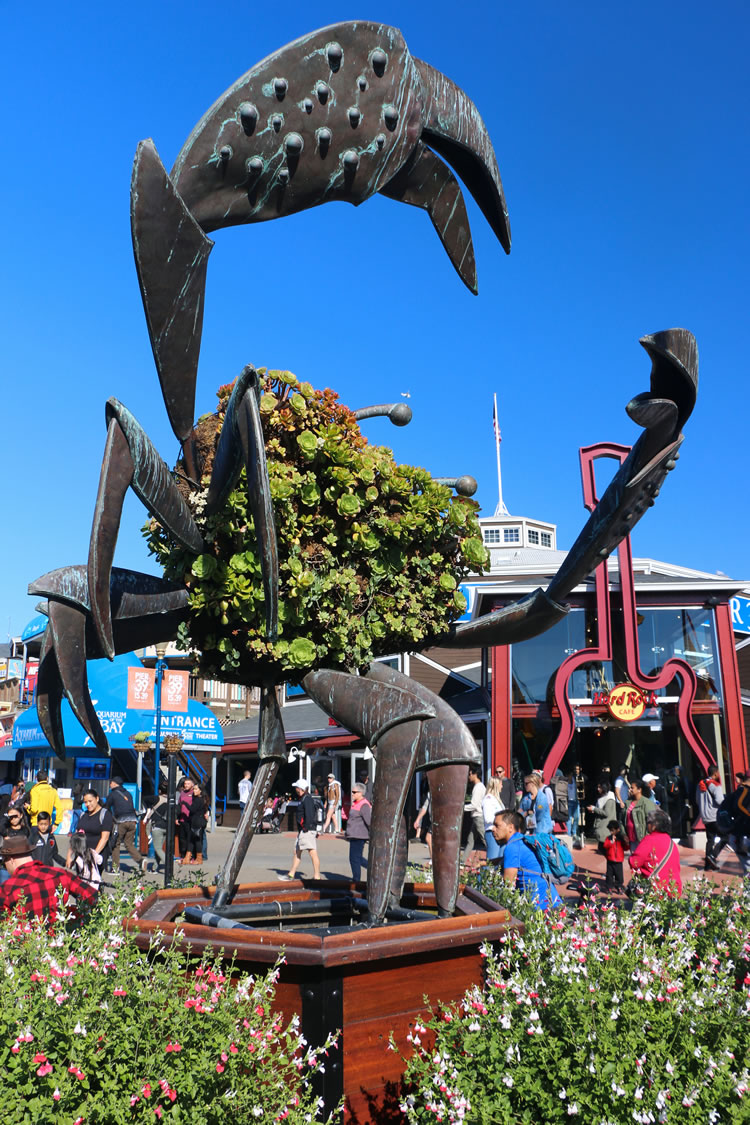 Fisherman's Wharf is touristy and reads something like a city's idea of an east coast boardwalk. While I'm sure most locals avoid it like the plague it's the kind of attraction that demands to be experienced, if only once.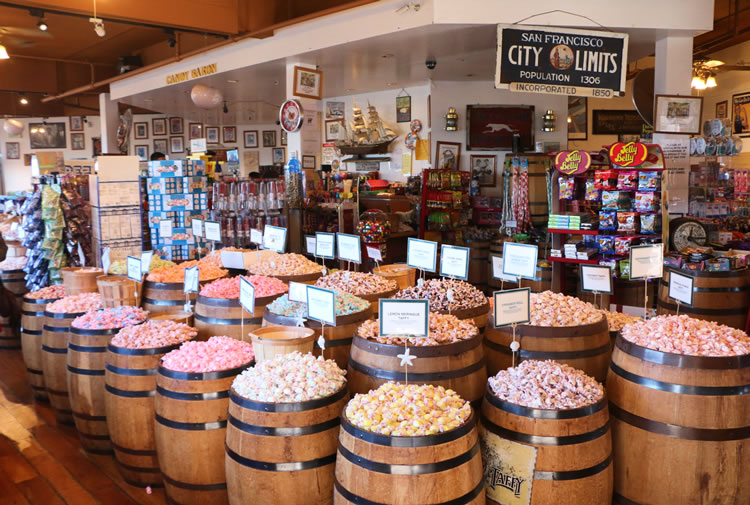 Walking down Pier 39 we passed dozens of restaurants (spanning 2 levels), souvenir shops and even a carousel. But the gem of Fisherman's Wharf is at the end Pier 39 where you can relax for a moment and enjoy the incredible views of the bay, eerie Alcatraz Island not far offshore, and the Golden Gate bridge far off in the distance. For better views of the bridge Fort Mason, an art and cultural center just outside of Fisherman's Wharf area is a much better spot.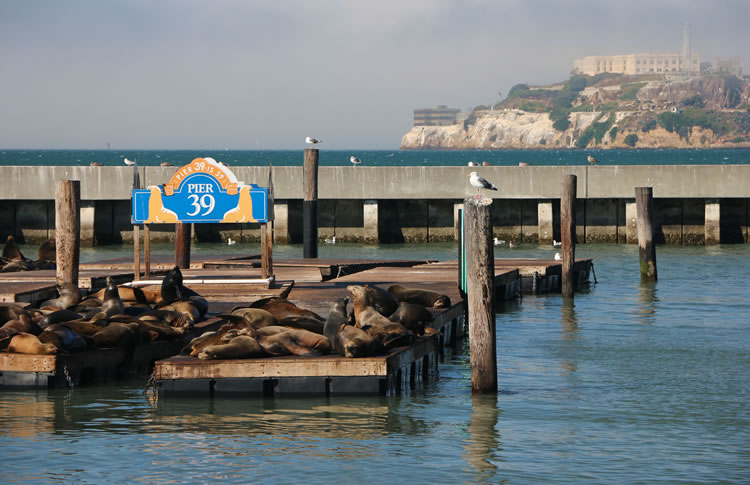 Walking to the outer edge of the pier to K-Dock is where you'll find the famous colony of sea lions that coincidentally began arriving in droves after the Loma Prieta earthquake hit San Francisco in October of 1989. Your ears and nose will guide you right to the large and boisterous group of sea lions that rest, sunbathe, play and bark all day on the floating docks. They made braving the crowds worth it.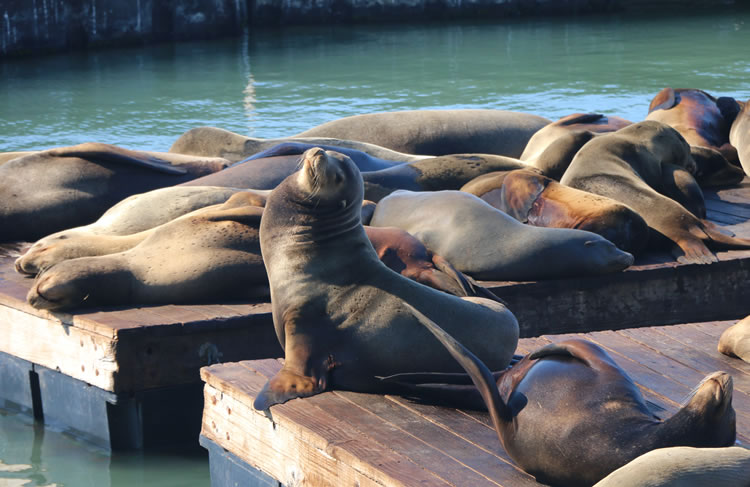 Travel Tip: If you're the kind of traveler that prefers staying off the beaten path then skip Fisherman's Wharf.
Web Address: www.pier39.com
EAT A San Francisco Classic: Chowder In a Sourdough Bread Bowl
It was at this point in our day that the fog that San Francisco is so well known for began to gently roll in. The wind began to pick up and the temperature started to drop. The perfect time to take a break and sit down for a bite to eat. We headed to Boudin Bakery & Cafe, a 150-year-old institution that made sourdough bread synonymous with San Francisco.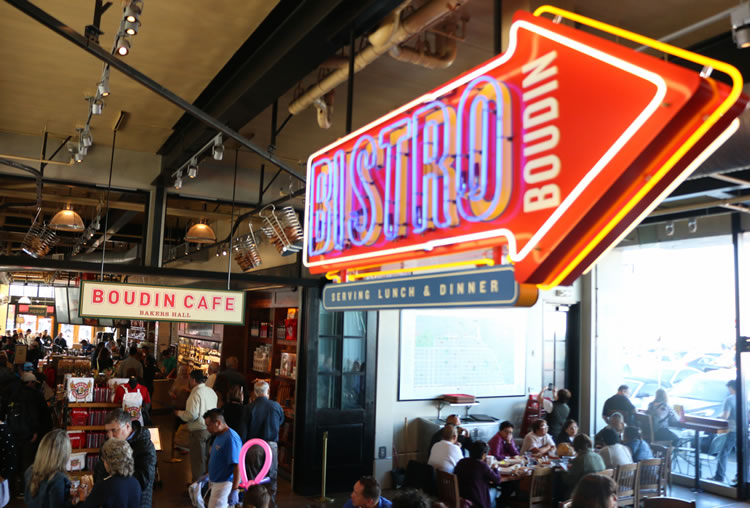 Arriving at Boudin our senses were immediately activated. Not only could we smell the fresh loaves of sourdough baking as we approached the building, but a glass viewing window along the street allowed us to see Boudin's bakers working their magic.
While who has "the best" sourdough in San Francisco may be up for debate, Boudin's is certainly the most historically significant. Each loaf of sourdough at Boudin is made with the same sourdough starter Boudin's bakers have continued to feed and keep happy for over 150 years. A bit of history in every loaf.  And isn't there something magical about a business that has been able to survive and thrive for over 15o years?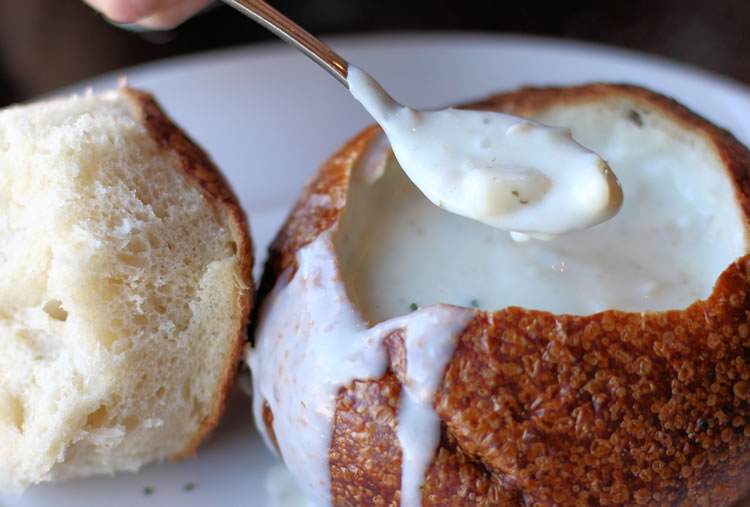 Entering the Jefferson Street location you'll have a few options for dining. If you're looking for a fast casual experience Boudins Cafe is your best bet. You can grab a quick bite and get right back to exploring San Francisco. We decided to opt for Boudin Bistro, a more formal dining space on the upper level complete with a full cocktail bar, oyster bar and dining room with unbeatable views of the bay. We were lucky enough to get a prime table right on the window with views of Alcatraz right outside.
We ordered Boudin's Sourdough Breadbowl served with a traditional creamy white clam chowder ($16.95) and their Sourdough Tortilla Tacos with Dungeness crab, avocado, shredded red and green cabbage, crema fresca, cilantro, pico de gallo and finished with a roasted tomato salsa ($17.95). The tacos were fresh and delicious. The chowder was rich and creamy as chowder should be and I found myself breaking off bites of the sourdough bowl after I said I was full about 17 times.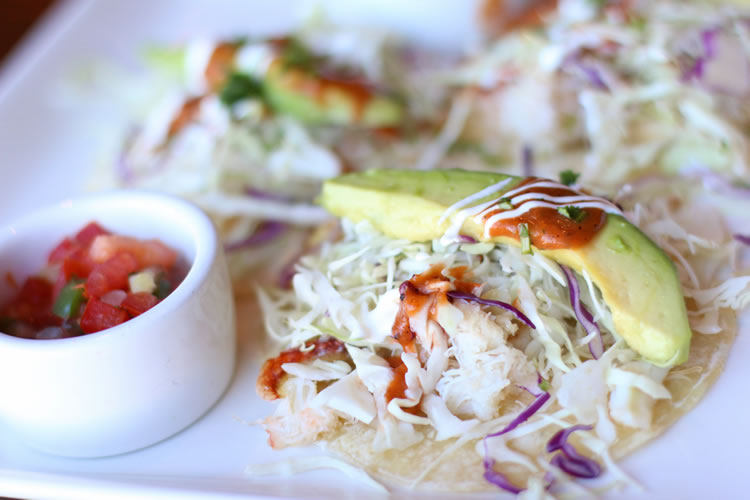 This Boudin location is considered their flagship location. In addition to the cafe and bistro, there is also a 5,000-square-foot demonstration bakery, museum, and gift/souvenir shop that will have any foodie in heaven. Visit their website to schedule a tour ($5).
Address: Boudin Bakery & Cafe
160 Jefferson St, San Francisco, CA 94133 
Order An Irish Coffee At The Cafe That First Put It On The Map (In The U.S.) 
After walking all day, the weather started to turn sometime in the late afternoon. The temperature was dropping, the winds were kicking and that thick fog that San Francisco is famous for began creeping its way in. At this point, something hot to drink was needed. It was also around this time we happen to find ourselves in front of the famous Buena Vista Cafe, the first restaurant to serve and make famous in the United States, the Irish Coffee. In 1952 the Buena Vista perfected the recipe and has been serving it ever since. On a busy day, the bartenders at the Buena Vista can serve up to 2000 Irish coffees. If there's any place to drink an Irish Coffee this is it.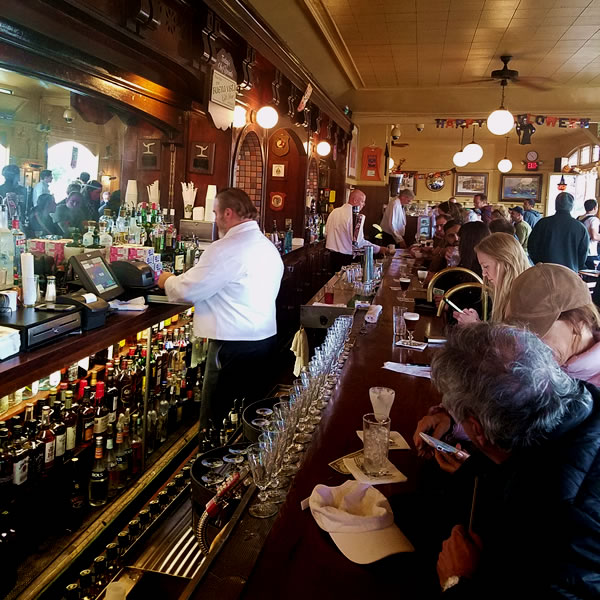 Stepping through the Buena Vista's doors and one look down the antique bar will tell you Irish Coffees are still the favorite drink of the house. A blend of Irish whiskey, coffee, sugar, and cream this is the perfect cocktail to warm your bones on cold San Francisco evening. If you're hungry a menu of American comfort foods like burgers, steaks, and nachos are served alongside San Francisco classics like Dungeness crab cocktail.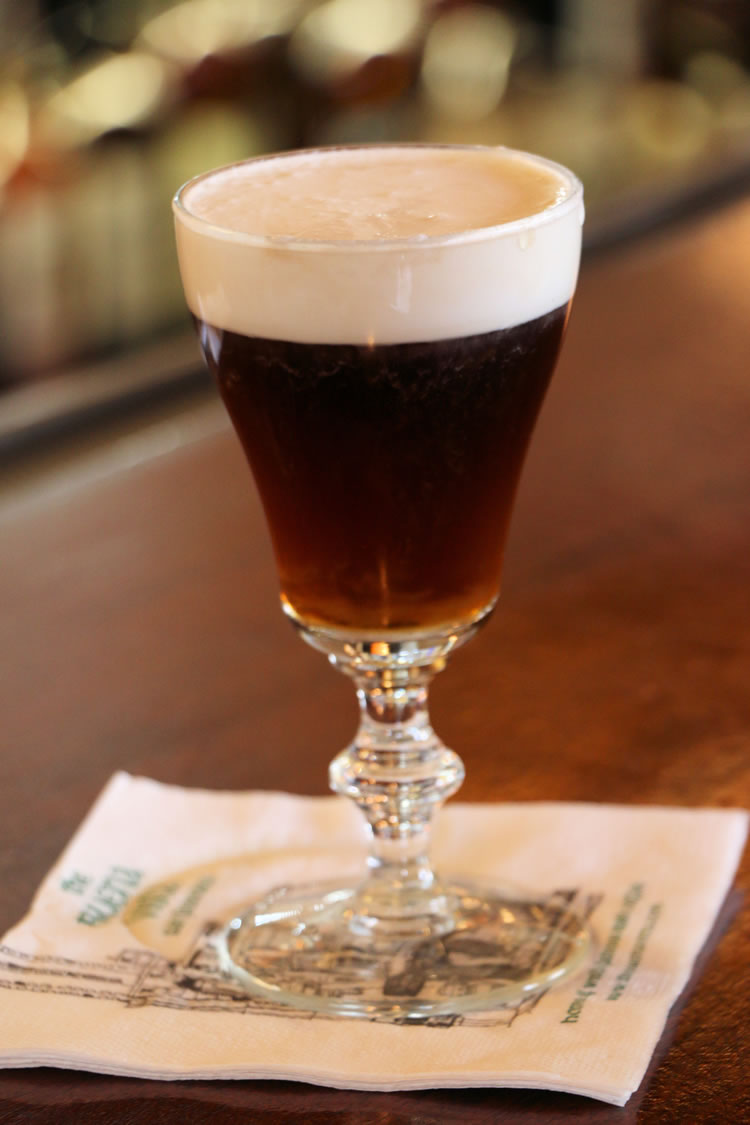 When we visited the bar was packed. No surprise there. But I was excited to learn they do make their signature Irish Coffees to go. With an Irish Coffee to go the hot coffee and cream are served in a coffee cup with a small bottle of their Irish whiskey on the side. To keep it legal you must pour the whiskey in your to-go cup outside of the restaurant.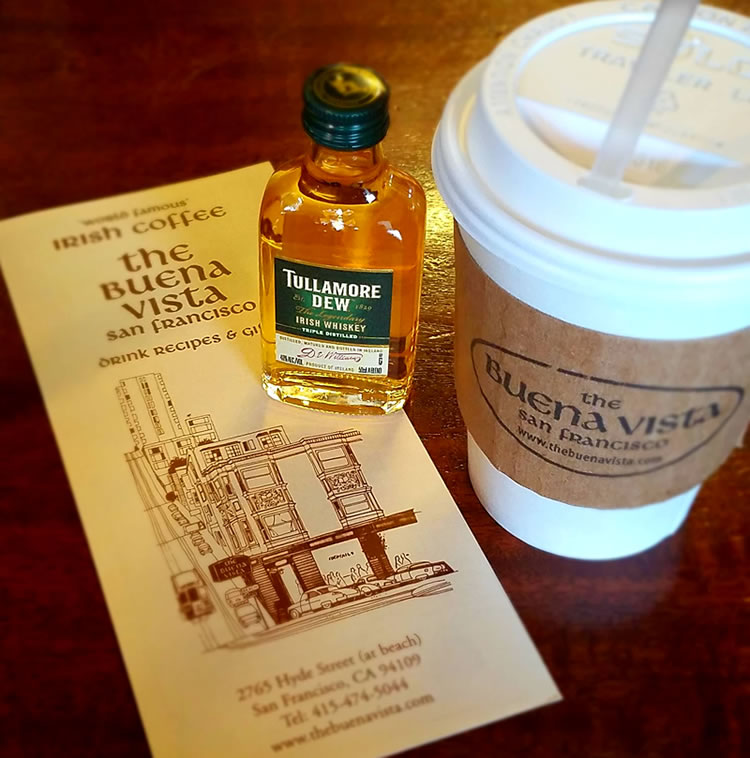 One sip and you know this is the perfect Irish Coffee.
Want Buena Vista's Irish Coffee recipe? We have it here!
Address: The Buena Vista
2765 Hyde St, San Francisco, CA 94109
Stroll Through Historic Ghiradelli Square & Then Enjoy Something Chocolatey At The Original Ghiradelli Ice-Cream & Chocolate Shop
A short walk from Fisherman's Wharf lies the next spot on our San Francisco tour: Ghiradelli Square. All we had to do was look for the iconic white Ghiradelli sign hanging high above the street. At night it lights up beautifully guiding you straight to chocolate like the bat signal.
Dating back to 1895, Ghiradelli Square is the original site of the Ghirardelli Chocolate Factory. Today Ghiradelli Square is a complex of recently renovated historic buildings that are now home to a collection of unique and fun boutiques, souvenir shops, wine tasting rooms and restaurants. Many have gorgeous bay views.
But the main draw to Ghiradelli is the original Ghirardelli Ice Cream & Chocolate Shop. Once inside the shop not only can you order some of their delicious chocolate and ice-cream creations, but towards the back, you can see some of their original working chocolate processing equipment in a museum-like display. With the intoxicating aroma of chocolate in the air, you can even see the original chocolate molds that are proudly hung on the wall. Of course, there's also a gift shop.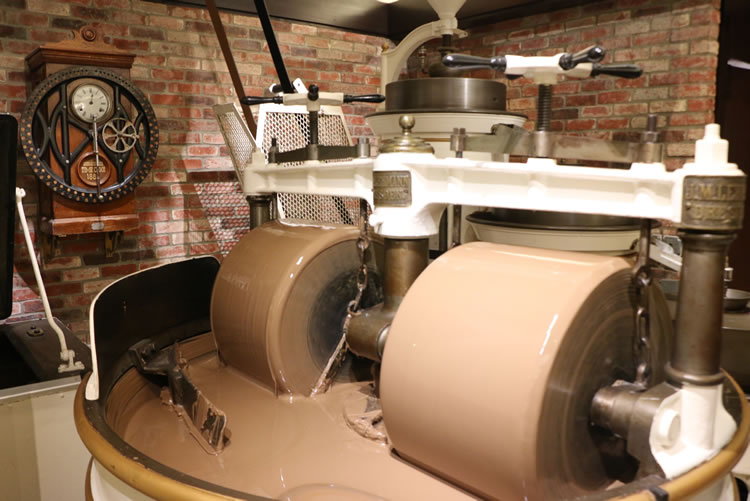 At the Ghirardelli Ice Cream & Chocolate Shop, the line can be out the door. And the free Ghiradelli chocolate square sample on your way in won't calm your nerves for long. But if you have your heart set on their famous and delectable ice-cream and chocolate creations don't worry. There are two other locations in the square for Ghiradelli treats where you can skip the lines. Head over to Ghirardelli Marketplace in the West Plaza or Ghirardelli-On-the-Go down on Beach Street for ice-cream and hot chocolaty treats to go without the wait.
Address: Ghirardelli Square Ice Cream & Chocolate Shop 
900 North Point St. San Francisco, CA 94109
Get a Glimpse Of "Crookedest Street in the World"
On our next stop, we made our way to Lombard Street known as the "Crookedest Street in the World."  It's a few long steep blocks from Ghiradelli Square. Note To Self: Walking up San Francisco's steep hilly streets shortly after an Irish Coffee is probably not the best idea. But I was determined. On the way, I may or may not have taken a few breaks to take in the views or to not pass out. Why didn't we just Uber there? There's no reasonable explanation. After what seemed like a bit of self-inflicted torture we finally made it. Next time I would just hop on the Powell-Hyde cable car that stops at the top of the block on Hyde Street. That darned hindsight is always 20-20.
Lombard Street is one of San Francisco's most popular and iconic landmarks. It's also considered one of the city's most scenic streets. Each day travelers flock there just to experience a walk or drive down its eight steep and sharp zigzag turns called hairpins. Lombard Street was originally designed this way back in the 1920s when a smart and savvy local property owner named Carl suggested the sharp turns would make it safer to travel down its steep hill.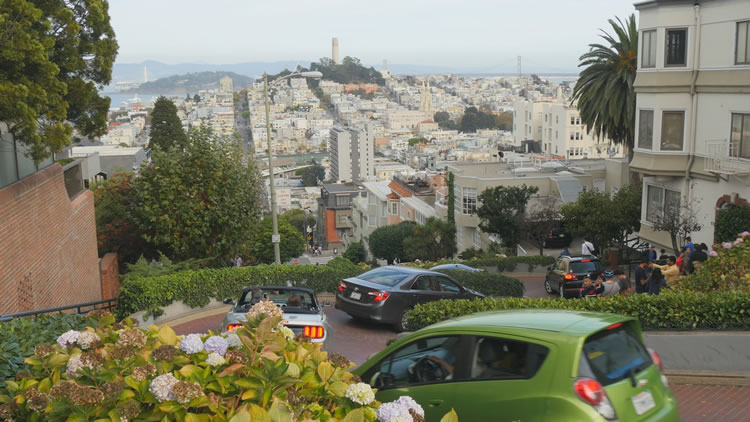 A whimsical street, Lombard is lined by beautiful Russian Hill mansions and surrounded by inspiring views of the San Francisco Bay, the Bay Bridge and Coit Tower. After taking in the views from the top it can be fun to head down to the bottom of the street and look up for an alternate view. A visit to Lombard Street doesn't require too much time. Fifteen minutes is more than enough.
Travel Tip: Love crooked streets? Make your way to Vermont Street between 20th and 22nd streets on Potrero Hill. It's even more crooked than Lombard Street! Although it only has seven turns instead of Lombard's eight, its hill is much steeper.
Address: 1070 Lombard Street (between Jones St. & Hyde St.), San Francisco, California 94109
After a long and wonderful day, we hailed a Lyft back to the hotel. It was cold, foggy, getting dark and we needed to pack for an early flight. San Francisco is a special place and next time I'd love to discover some its unique neighborhoods and hidden gems. If there's one thing I'm sure of, I know where I'm staying.