Better Living uses affiliate links. If you make a purchase through them, we may receive a small commission (for which we are deeply grateful) at no cost to you.
Last year while driving home from a Virginia food & wine themed road trip, we decided to make a last-minute detour to Chatham Vineyards, Virginia's only Eastern Shore vineyard before heading home. We also decided that we'd do a little exploring on the way. Anytime we saw a sign we felt like following, we did. Did it take much longer to get home? Yes. Did we discover some pretty cool places off the beaten path that we probably never would have known about otherwise? Absolutely. That's how we found a little hidden gem called Cape Charles.
Located on the southern end of Virginia's Eastern Shore on the Chesapeake Bay side of the peninsula, Cape Charles is one of America's coziest little beach towns. There are no mysterious wild ponies here like in Chincoteague or any of the flashy or touristy boardwalks you might find in Virginia Beach. But what you will find here is a charming and historic laid back small-town vibe with sweet little shops, great food, kind people and a beautiful (and quiet) public Chesapeake Bay Beach with free parking and calm, clear waters that you can wade out dozens of yards from shore and still be waist-deep. Adjacent to the beach is a fishing pier perfect for bringing in some fresh catch or taking in of Cape Charles's spectacular Chesapeake Bay sunsets. And you definitely can't leave Cape Charles without snapping a few pics or selfies in front of their iconic "LOVE" sign sitting at the entrance of the pier, one of 180 public "LOVE" artworks across Virginia.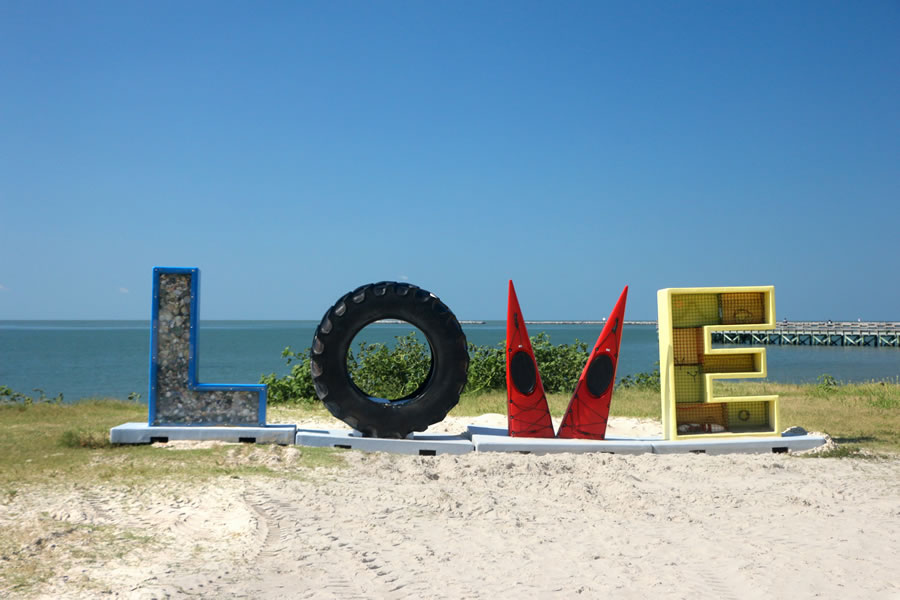 And the word seems to be spreading about this sweet little seaside retreat. Recently voted one of "America's Happiest Seaside Towns," by Coastal Living in 2018, Cape Charles is also unique for having one of the largest concentrations of late-Victorian and turn-of-the-century buildings on the East Coast. It has so many that the town has earned status as a Historic District on the Virginia Landmarks Register as well as on the National Register of Historic Places. Nature lovers will love the nearby Kiptopeke State Park and the Eastern Shore Wildlife Refuge which are perfect for hiking and birding, while golfers have their choice to tee off at either a local Jack Niclaus or Arnold Palmer 18 hole golf courses which are the only two side by side courses designed by these golf icons on the same property in the country. While golf isn't necessarily my thing, driving a golf cart around the streets here is legal and encouraged, and that I can get behind. 
Our first visit to Cape Charles was a short stop at the beach and pier and a walk down the small downtown main street with plans to return this year and we made it happen even with the possibility of a hurricane storm surge on its way. Luckily all the town experienced was some early morning wind and rain.
Here's what where we ate, where we stayed and what we did on our short two-day trip back to Cape Charles.
Where To Stay in Cape Charles, VA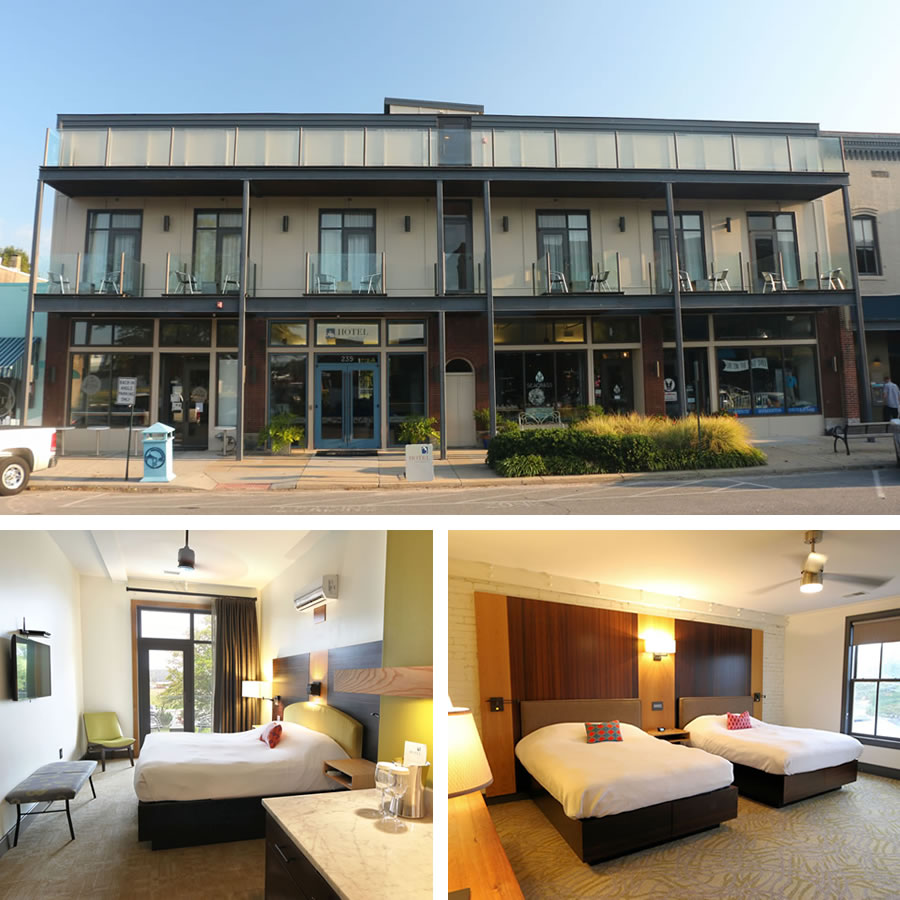 Hotel Cape Charles
235 Mason Ave, Cape Charles, VA 23310
hotelcapecharles.com
(757) 695-3854
There are lots of lovely B&Bs and vacation rentals in Cape Charles. But for the perfect spot in the center of downtown, yet walking distance to the beach, we stayed at the Hotel Cape Charles. One of only two hotels in town, this 101-year-old boutique hotel with an unbeatable location seamlessly blends into the tapestry of Cape Charles' business district and the fabric of this very town. So seamlessly in fact that we drove past it twice. If you like historic buildings but you also like the experience of a modern hotel, Hotel Cape Charles delivers on both.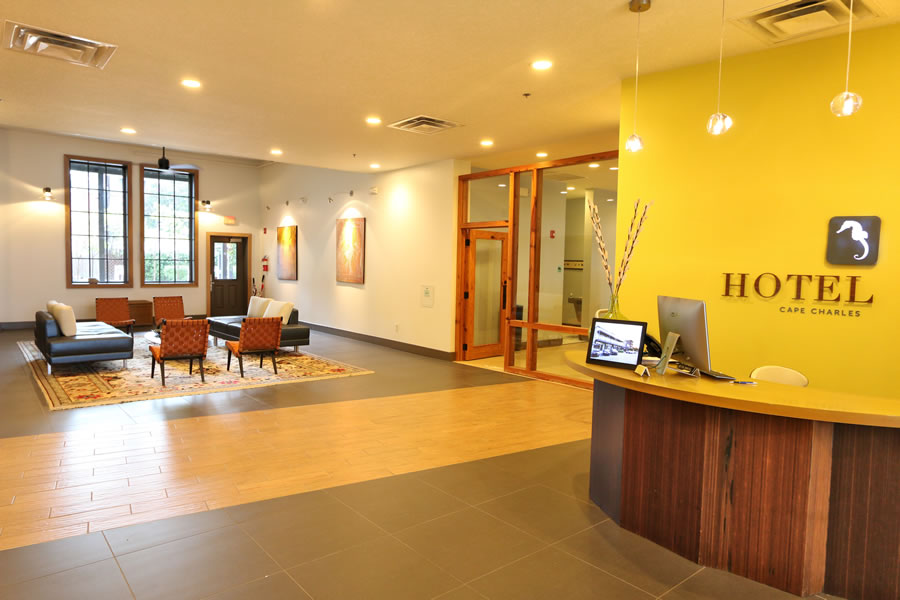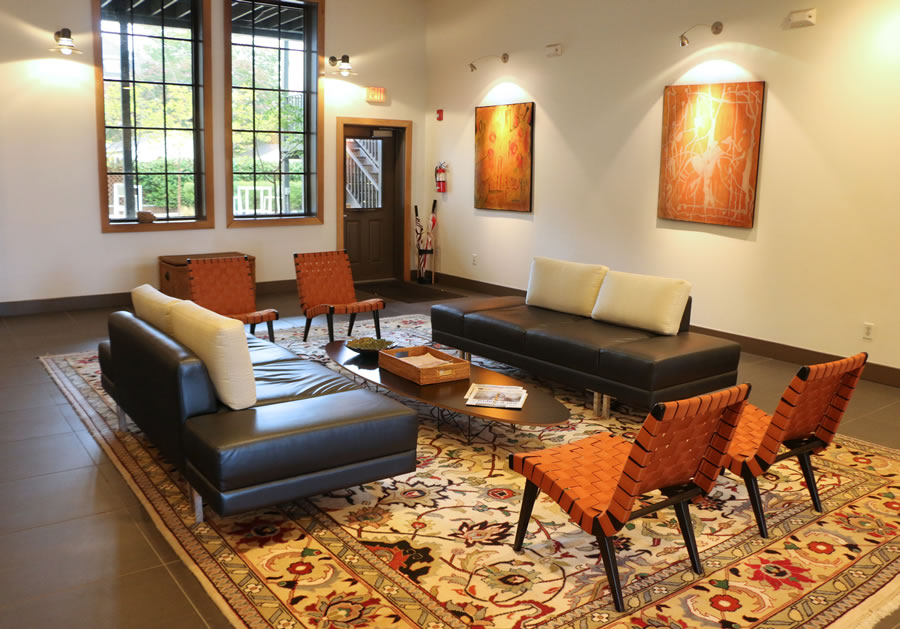 Recently renovated, with no two rooms being exactly alike, the vibe here is peaceful, light, clean, modern and comfortable with vintage accents, exposed brick walls and preserved original architectural details that nod to the building's rich history. The bathrooms are gorgeous too! If you really like spacious accommodations opt for one of their "lofts" with open floor plans, exposed brick, full kitchen, dining areas that literally define the word spacious.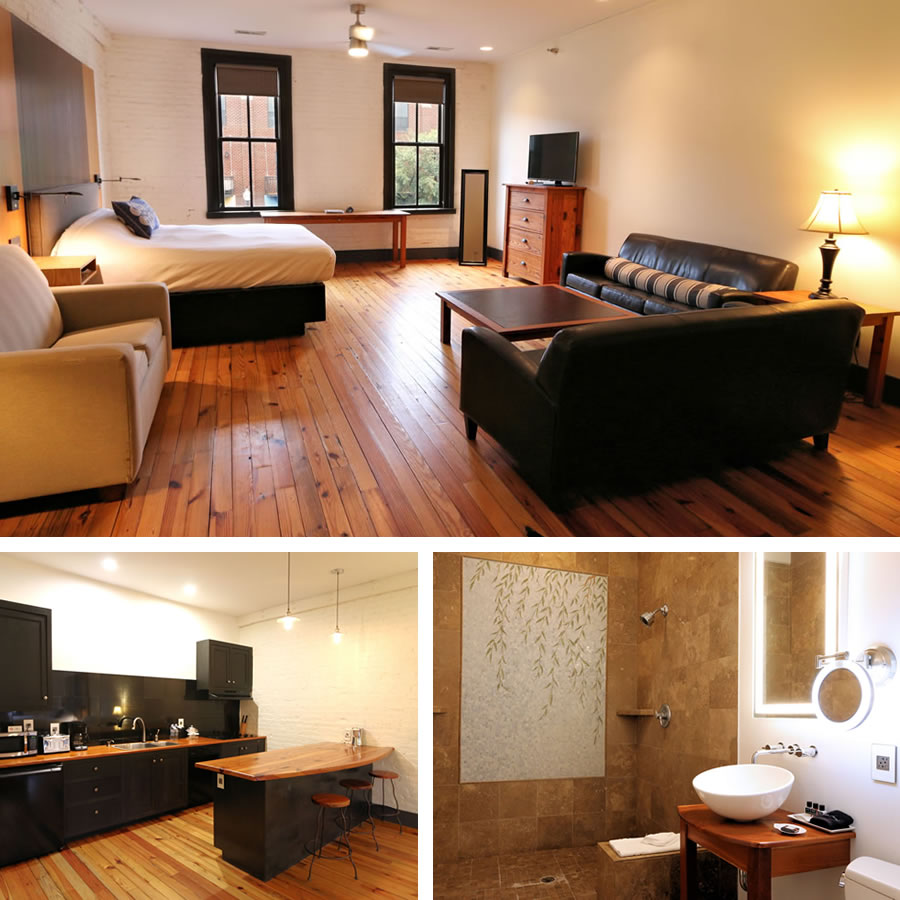 While there are Keurig coffee makers in the rooms, we looked forward to heading down to the lobby each morning for some delicious freshly brewed locally roasted coffee in their Hotel Cafe and Wine Bar. They also offer guests a light complimentary breakfast, featuring organic, homemade granola and some light fare and baked goods for purchase.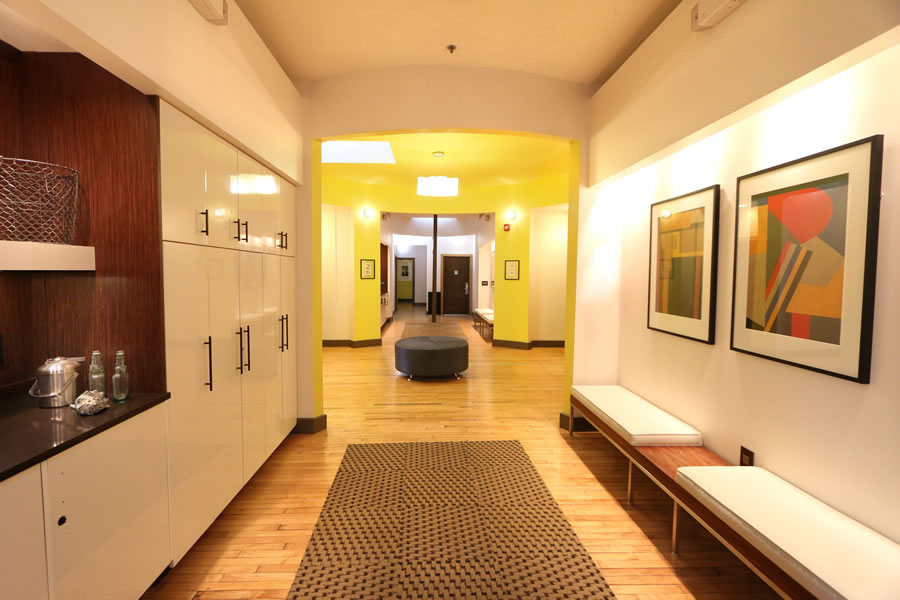 At night we recommend unwinding on the third-floor veranda with gorgeous views of the town with a glass or bottle of wine from the hotel's own list. If you're in town and want to take a swim when the weather is warm, guests may purchase a day pass for the Bay Creek Beach Club only 2 miles from the Hotel which has two outdoor pools and a large fitness center. On a day you just want to explore Cape Charles, a few steps in any direction from the hotel entrance and there are great places to dine, shop and galleries to browse.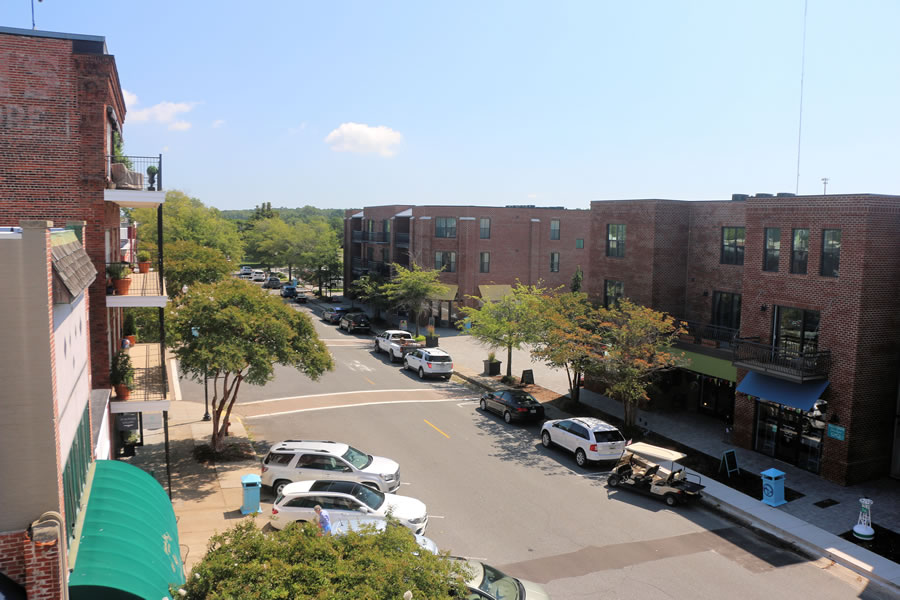 A 5-minute walk will land you at Cape Charles's main attraction – the beach and fishing pier.  For those who love a bike ride, the hotel has six cruisers available for guests on a first come first serve basis. But for something a little extra, the hotel will also secure you a golf cart to get around town. Do you really need to if you have a car? Probably not. But it's THE way to get around Cape Charles. And is it a blast? Totally. While in town I happen to see my cousin and her husband driving by on one coming back from the beach as I was packing up the car to leave. It turned out they were also staying at the Hotel Cape Charles, two doors down from us and we both had no idea. That's the kind of magical little moments that happen at the Hotel Cape Charles.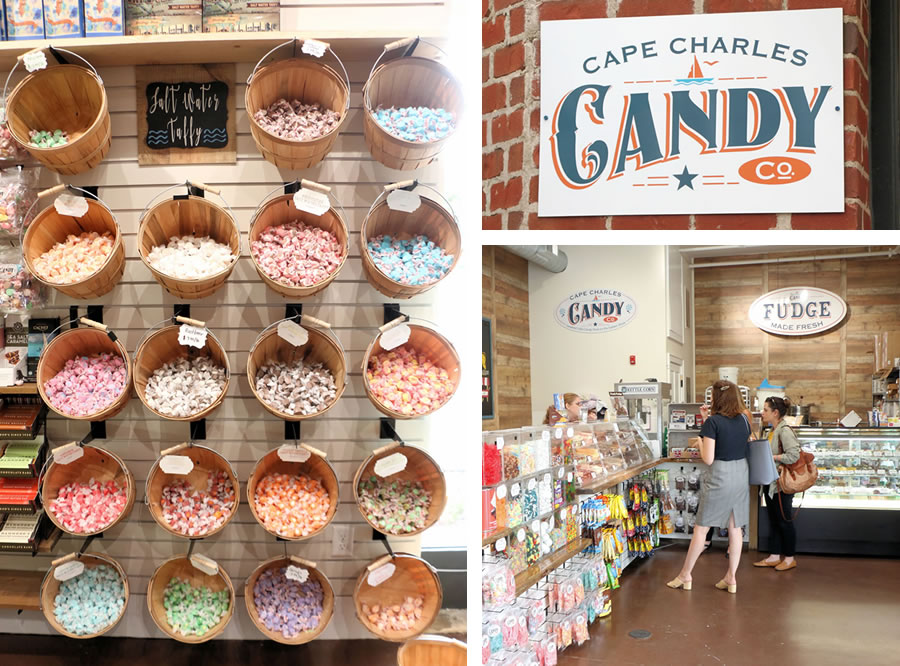 CAPE CHARLES CANDY COMPANY
300 Mason Ave, Cape Charles, VA 23310
capecharlescandy.com
(757) 655-1338
When you're in Cape Charles and your sweet tooth strikes, stroll over to the Cape Charles Candy Company located in one of Cape Charles's new group of shops on Mason Ave.  They have an eye-grabbing variety of classic and modern candy that will please any sugar addict. You'll scoop your way to sugar heaven with their selection of gummies, jawbreakers, and saltwater taffy.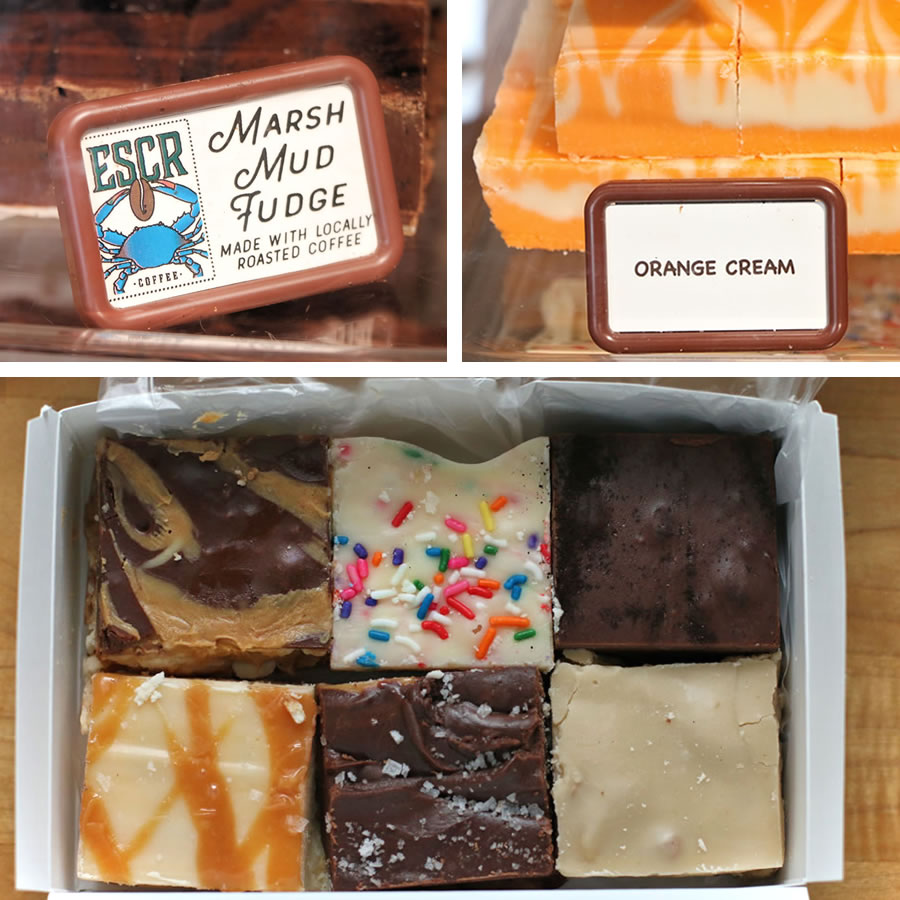 Don't miss their freshly crafted fudge (samples encouraged!) made with real cream and butter that comes in an irresistible selection of flavors like peanut butter chocolate, birthday cake, cookies, bourbon chocolate,  maple walnut, rocky road and cookies, and cream. For some local flavor infusion, their dark chocolate caramel sea salt and salted caramel fudge are made using sea salt harvested from Virginia's Eastern Shore from the Barrier Island's Salt Company.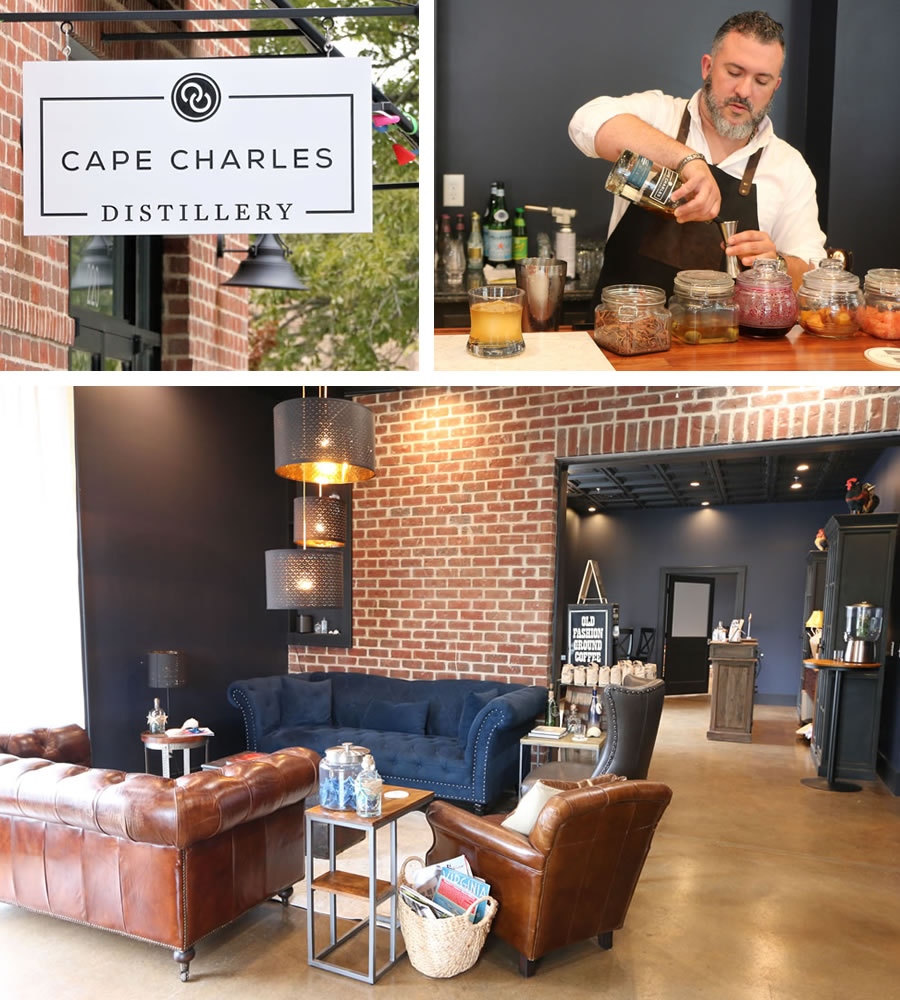 CAPE CHARLES DISTILLERY
222 Mason Ave, Cape Charles, VA 23310
capecharlesdistillery.com
(757) 695-3737
With rich leathers, dark woods and moody colors, Cape Charles Distillery is just the type of place you'd want to cozy up inside while sipping artisan craft spirits. Cape Charles' very own speakeasy with talented mixologists will not only pour and educate you about what you're about to sip but also whip up their own signature cocktails made with unique ingredients, fresh herbs and sometimes a little fire.  Plus, they're located right across from the street from Hotel Cape Charles.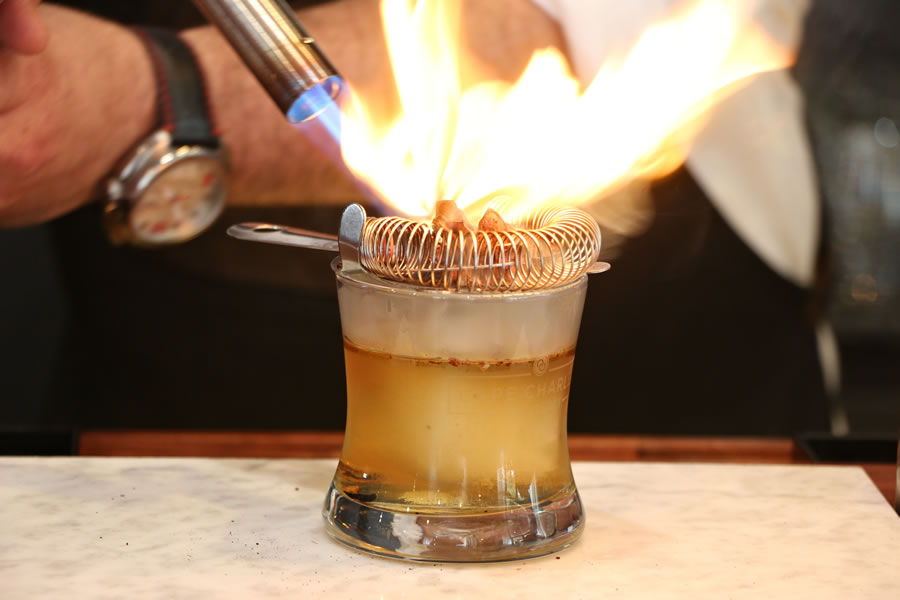 Cape Charles Distillery crafts their own bourbon, whiskeys, moonshine, and vodka with locally grown corn and grains with pristine Virginia mountain spring water. If you try any of their spirits and fall in love, be sure to bring home a bottle or two… or three.
Where to Eat in Cape Charles, VA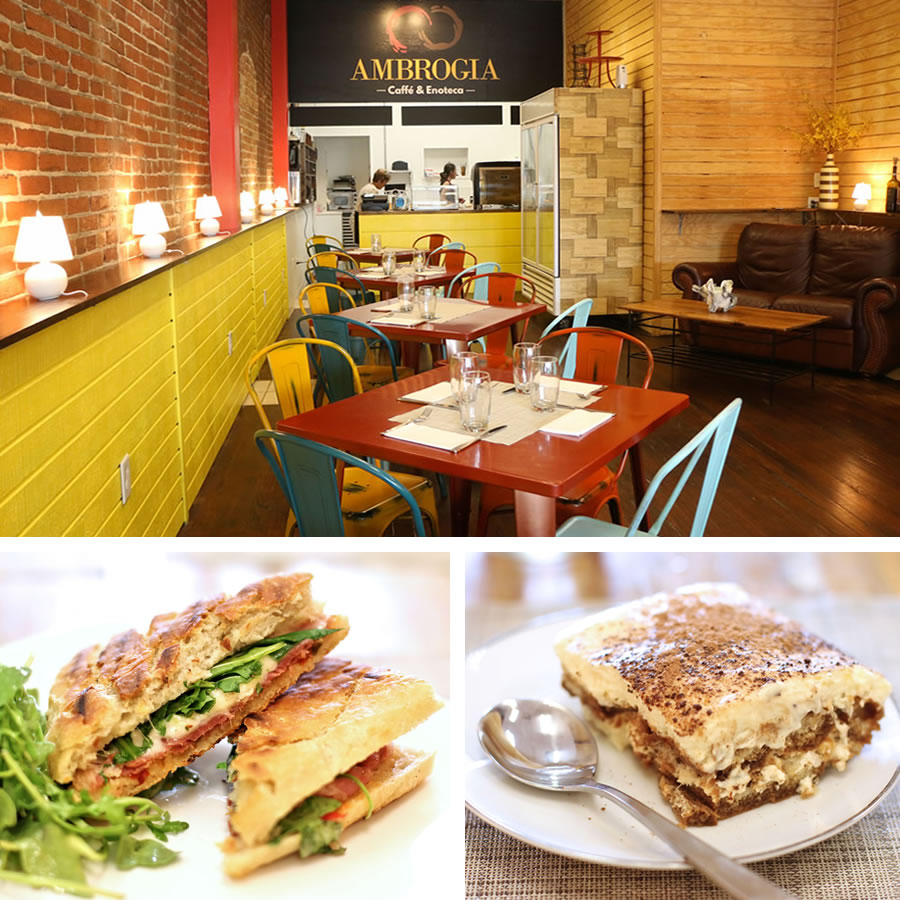 AMBROGIA CAFFÉ & ENOTECA
321 Mason Ave, Cape Charles, VA 23310
ambrogiacc.com
(757) 695-3049
You probably wouldn't expect to find super authentic, hand-crafted, farm to table style Northern Italian in a small beach town on the Eastern Shore of Virginia. But in Cape Charles, you can. At Ambrogia Caffe everything here that can be made from scratch is, and a love and passion for great food is evident in every bite. A new women-owned addition to Cape Charles, business partners Cristina Carollo, an Italian born oceanographer turned chef from Milan and Maria Goerner, a Ukranian with 20 years experience working in the New York restaurant scene, are serving up some of the best food on the shore in their vintage chic space. That includes their own homemade focaccia, ciabatta and piadina breads for the paninis we devoured while visiting for lunch. We tried the mortadella (my favorite) with crescenza cheese and olive tapenade on homemade ciabatta, the roasted eggplant, fontina and tomato tapenade on homemade focaccia bread as well as the piadina flatbread layered with thinly sliced prosciutto, taleggio cheese and a pepper relish for a perfect balance of flavors.
For dessert, we had their simple, yet delicious homemade tart with fig jam and a house-made tiramisu from Cristina's family recipe that was so light and delicious I couldn't get enough. Ambrogia is open for lunch and dinner and also does a coffee and biscotti hour in the morning starting at 10:30 with some of the best espresso, doppio, cappuccino, and macchiato for miles made with a real Italian coffee machine. If you're visiting just note the menu can change on a dime depending on what's fresh, available or depending on what Cristina and Maria feel like whipping up. Just the way they do in Italy.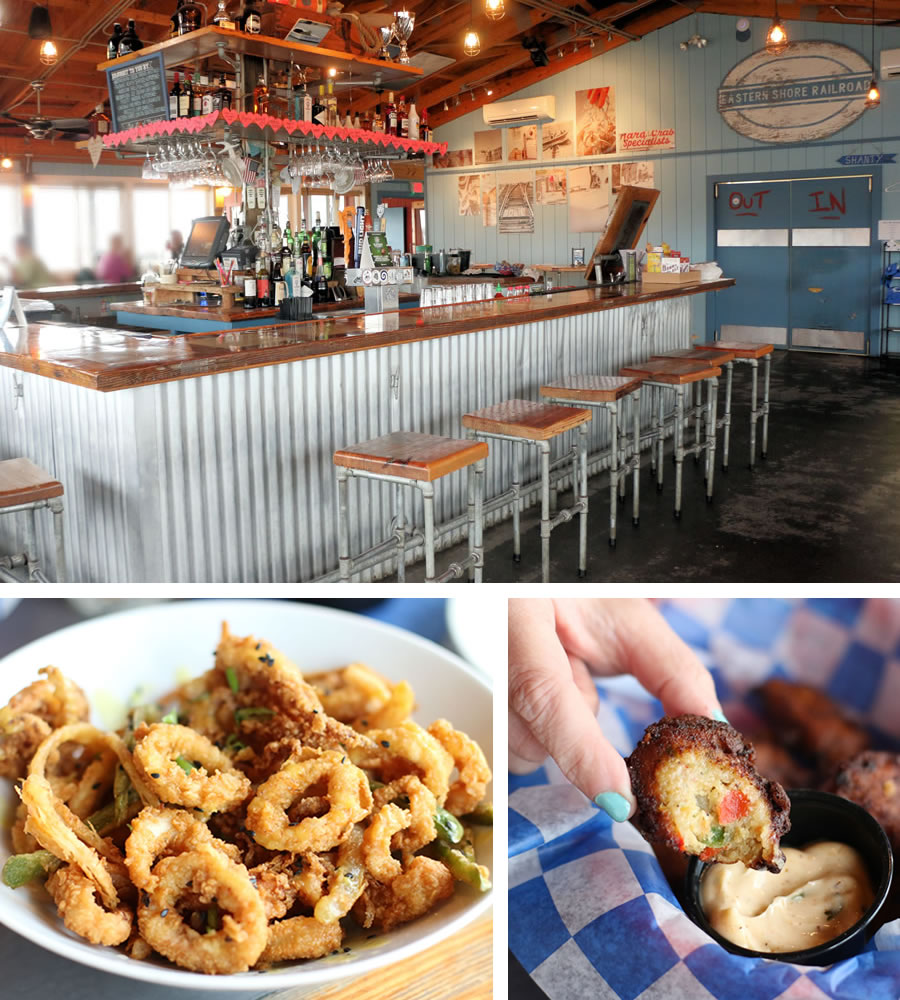 THE SHANTY
33 Marina Rd, Cape Charles, VA 23310
shantyseafood.com
(757) 695-3853
For our second day in Cape Charles, the looming possibility of a hurricane headed our way caused many of the businesses and restaurants to shutter for the day. So when lunch called and we got word at our hotel The Shanty was braving the storm and I didn't have to eat leftover pretzel bits and protein bars out of the bottom of my bag we headed right over. The Shanty in Cape Charles is not actually a shanty but a modern restaurant and bar inspired by all those dockside shacks you've ever eaten at that have unbeatable water views and fresh delicious seafood.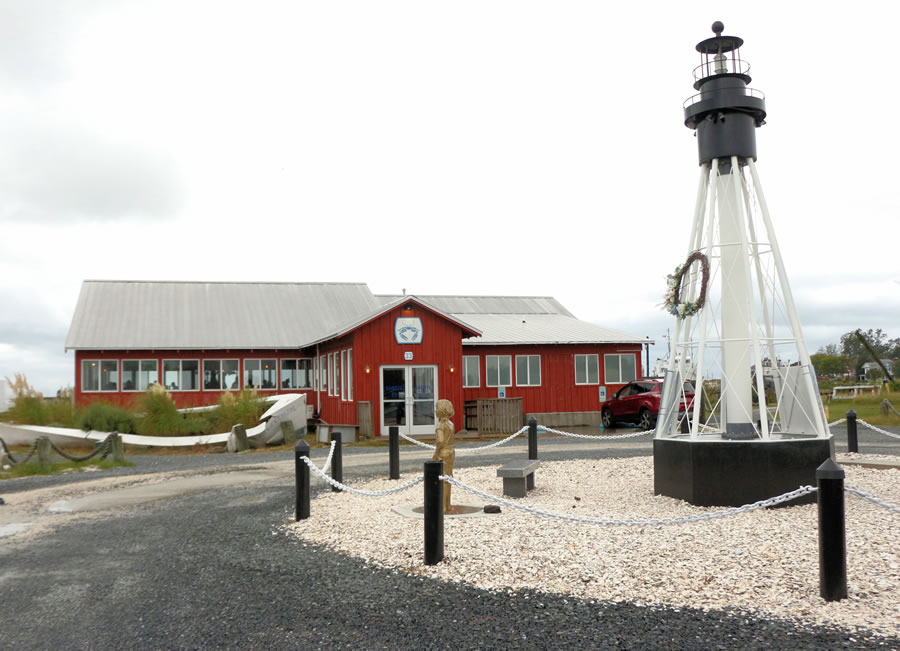 I live for those kinds of places and no I don't care if the floors are crooked and nothing's been changed in ages. But if you're not into hole-in-the-wall type of places like me, don't worry because The Shanty is actually very charming in a modern seaside – built to code kind of way. The menu here is built around sustainable seafood, local ingredients, and familiar dishes with creative twists. We ordered their crispy conch fritters, creamy New England Clam Chowder reminiscent of a cheesy potato soup with fresh clams (scrumptious), and their Yucatan Style Tacos with shrimp. We enjoyed every bite.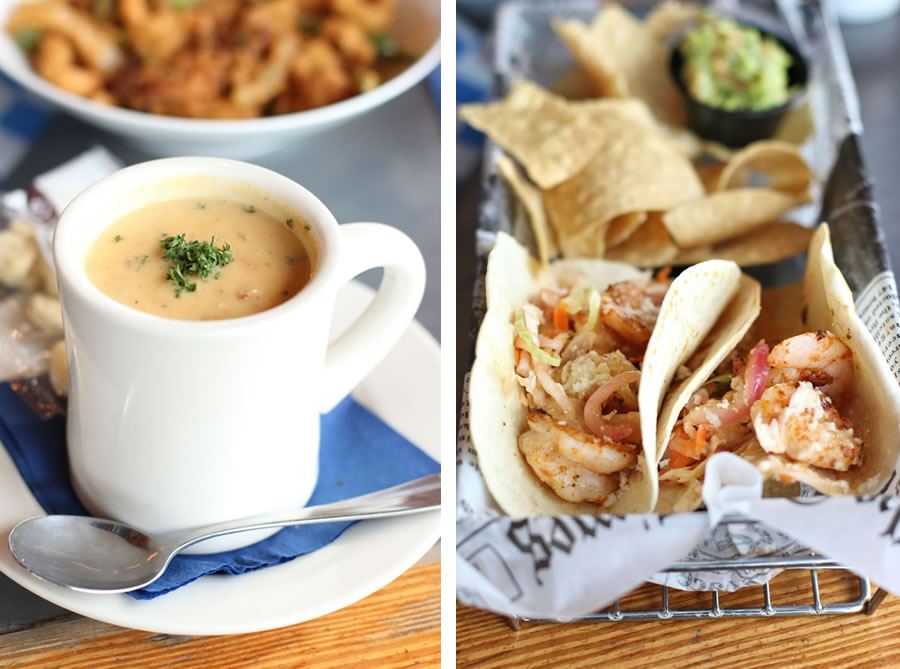 Voted one of the "Top 25 Bars In The U.S." by Men's Journal, The Shanty has a few different types of drink menus with martinis, crushes, margaritas, signature drinks, tropically inspired cocktails as well as a variety of craft beers and wine. The Shanty is located just south of Cape Charles's main business district on the other side of the railroad tracks in the Cape Charles town marina. By foot you can stroll over if you're downtown, I recommend punching it into your GPS if driving which will take you on a different route and can be a bit confusing for a first time out of towner.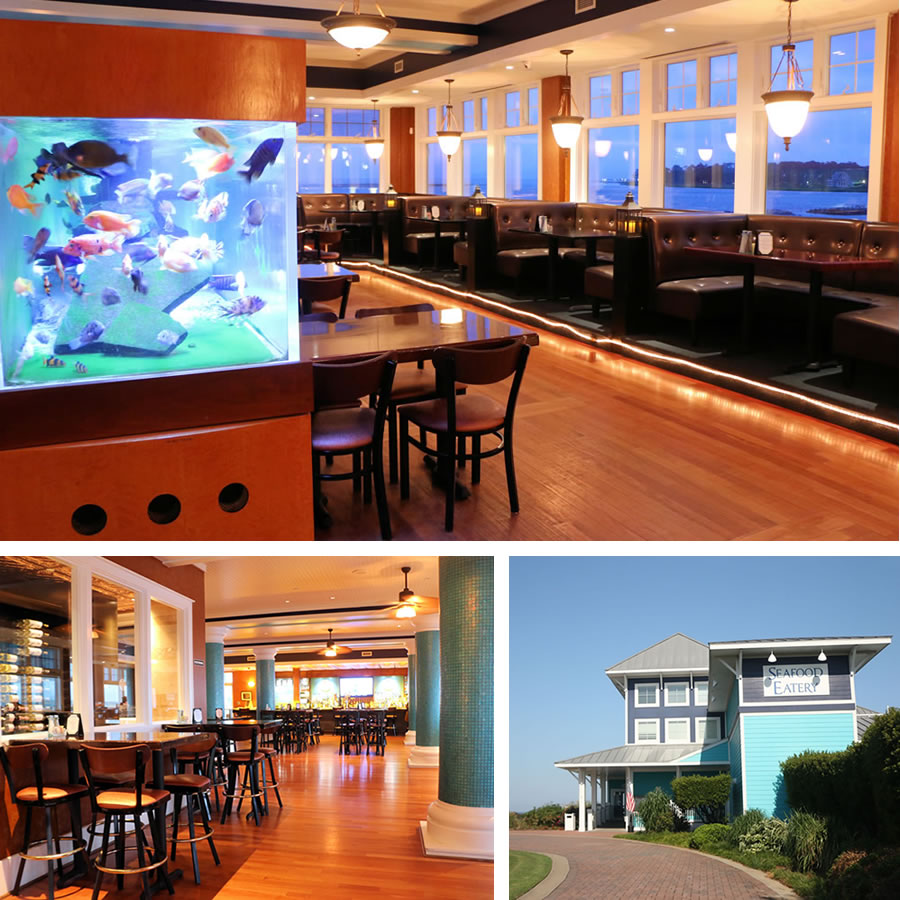 THE OYSTER FARM SEAFOOD EATERY AT KING'S CREEK
500 Marina Village Circle Cape Charles, VA 23310 
theoysterfarmatkingscreek.com
757-331-8660
If the thought of eating fresh oysters, clams, and incredible seafood while overlooking the serene blue water cove where those very oysters have grown sounds pretty amazing, then The Oyster Farm Seafood Eatery at Kings Creek needs to be a must on your Cape Charles to-do list. Located on a stunning 39-acre waterfront property complete with a marina, event center and luxury villas for rent, The Oyster Farm Eatery is a large, airy and is a casually stylish bayside seafood restaurant, raw bar and cocktail lounge decked out with an ornate bar and impressive fish tanks. The chefs here call the food "water to table," and the dress code on their website says it's sandals to ties. Gotta love a shore town.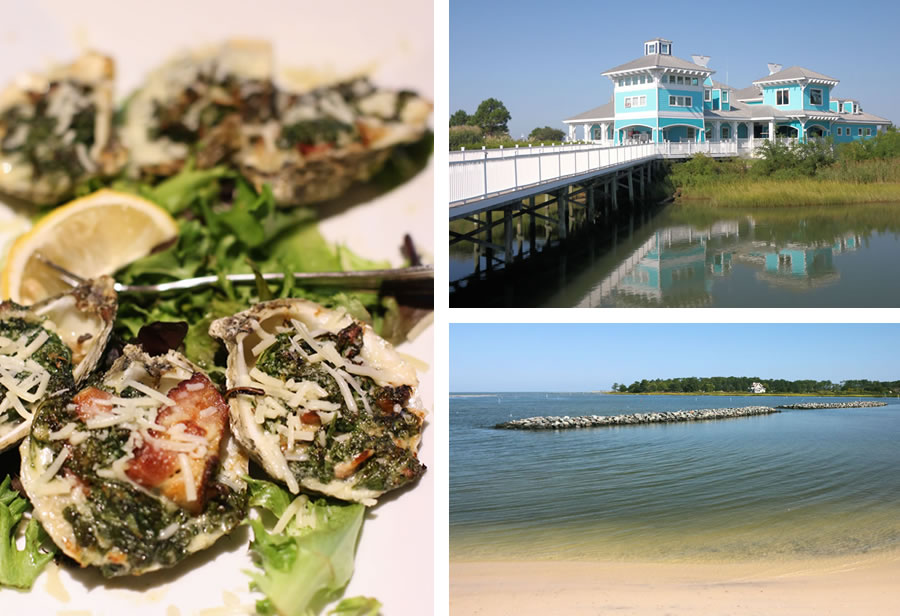 Just a couple minutes drive north of downtown, we headed to The Oyster Farm on our first night in Cape Charles. On an actual oyster farm, you can't leave without trying some oysters. It just wouldn't be right.  With some wonderful suggestions from our super friendly waiter Mike, we settled on the Oysters Rockefeller to start made with a house recipe of crispy bacon, kale instead of the typical spinach, a touch of cream and Parmesan. We were floored at unbelievably juicy and flavorful they tasted. Total score. Mike also suggested we try one of their most popular appetizers, the Thai Shrimp Salad.  An explosion of fresh flavor and texture, fried shrimp are tossed with bell peppers, cabbage, scallions and cilantro in a Thai chili sauce that is salty, sour, sweet all in one. Absolutely amazing. For mains, we moved onto a crisp and creamy Caesar Salad topped with their own crispy fried oysters and perfectly Seared Scallops served over creamy risotto.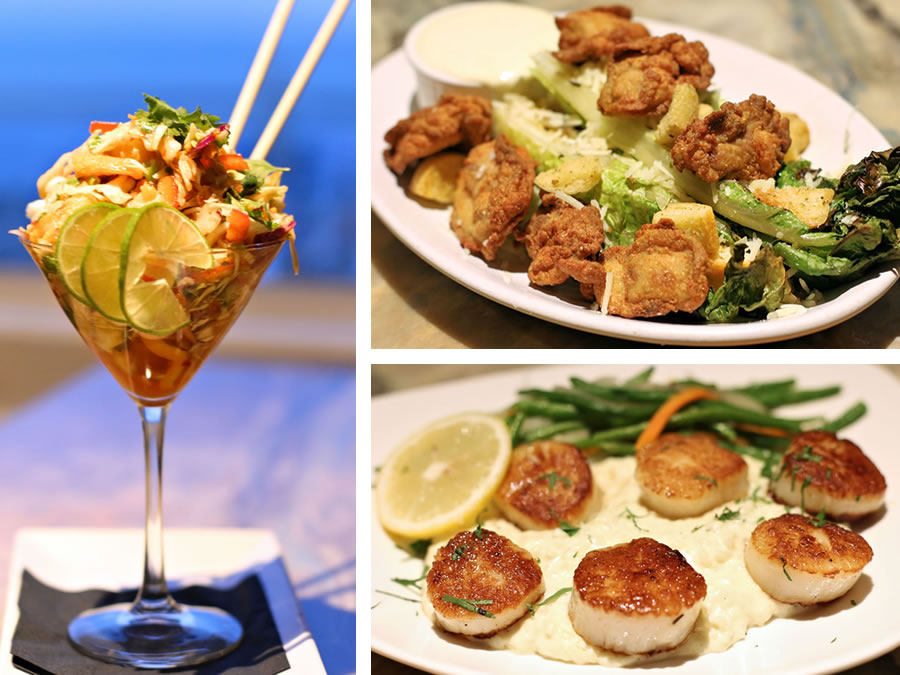 To wash it down we stayed local and paired it with Church Creek Chardonnay from Chatham Vineyards. For dessert, we dug into a delicious creme brulee and then got ready to roll back to the hotel. Everything at the Oyster Farm was deliciously on point and I look forward to returning return. The Oyster Farm Eatery has indoor and outdoor patio seating and if you have the chance, plan your visit ahead so you can catch stunning Chesapeake Bay sunsets. Great views, great food, and great service. What more can you ask for?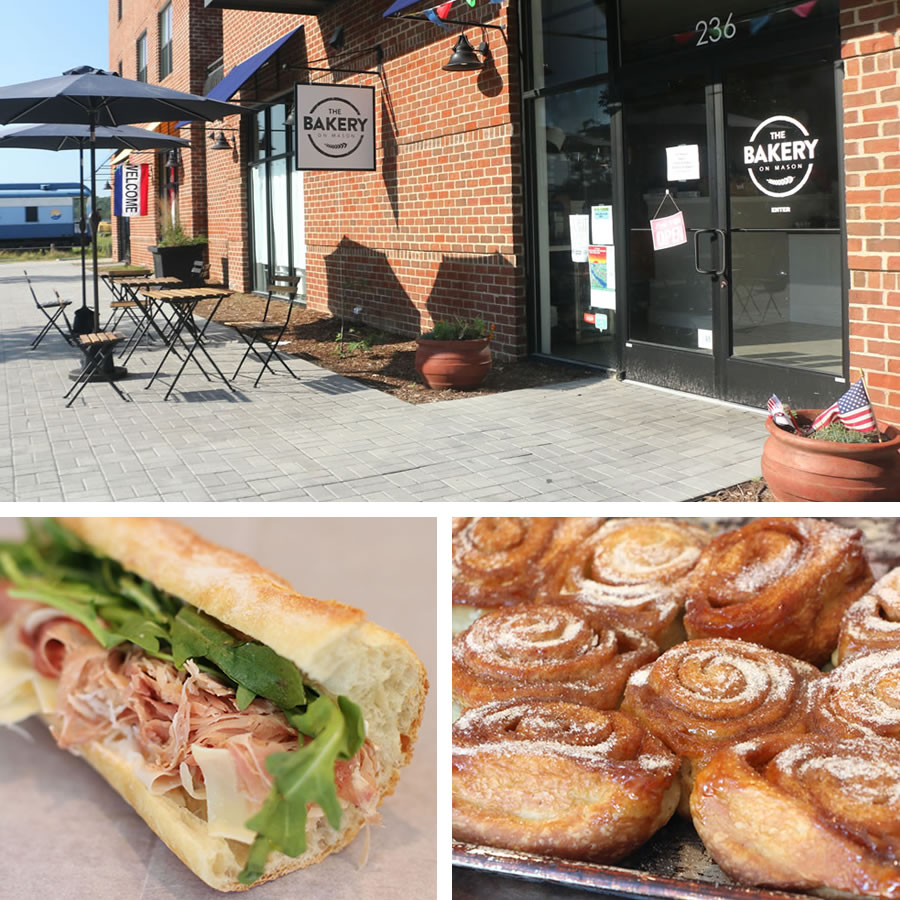 BAKERY ON MASON
236 Mason Ave, Cape Charles, VA 23310
Bakeryonmason.com
(757) 331-4777
While the brick and mortar bakery located in the Strawberry Street Plaza Shops on Mason Avenue is a recent addition to Cape Charles, owner Louise Orlando who runs the shop with her husband Andrew has been perfecting the art of bread making for years. And the love she puts into her bread-making shows. I first tasted Louise's bread while visiting Chatham Vineyards last year where they serve her custom vineyard flavor baked with their own Church Creek Cabernet Franc, cranberries and walnuts which with their cheeseboard. That bread stuck in my mind ever since. Back then Louise was baking out of her home and selling at farmer's markets and local shops. When the bread business began taking over her home that she realized she needed a dedicated space. Fast forward to today and you have the Bakery on Mason. 
Not only is everything at the Bakery On Mason made from 100% scratch with simple ingredients, but every sourdough loaf here is fermented with an Eastern Shore born wild yeast starter that Louise has lovingly cultivated and tended to for nearly 10 years. The result is a lovely crumb with a satisfying bite and chewy crust. If you're looking for something on the sweet side they also have pastries, muffins, scones and croissants which have something of a cult following. Wash it all down with some freshly brewed locally roasted coffee. If you're in the area and need lunch on the go, opt for one of their gourmet sandwiches built on their mini French baguettes. Try the Cape Charles – layered with thinly sliced Edwards country ham, Parmesan-Asiago, fresh and peppery arugula, and finished with their creamy house dressing that has a nice kick.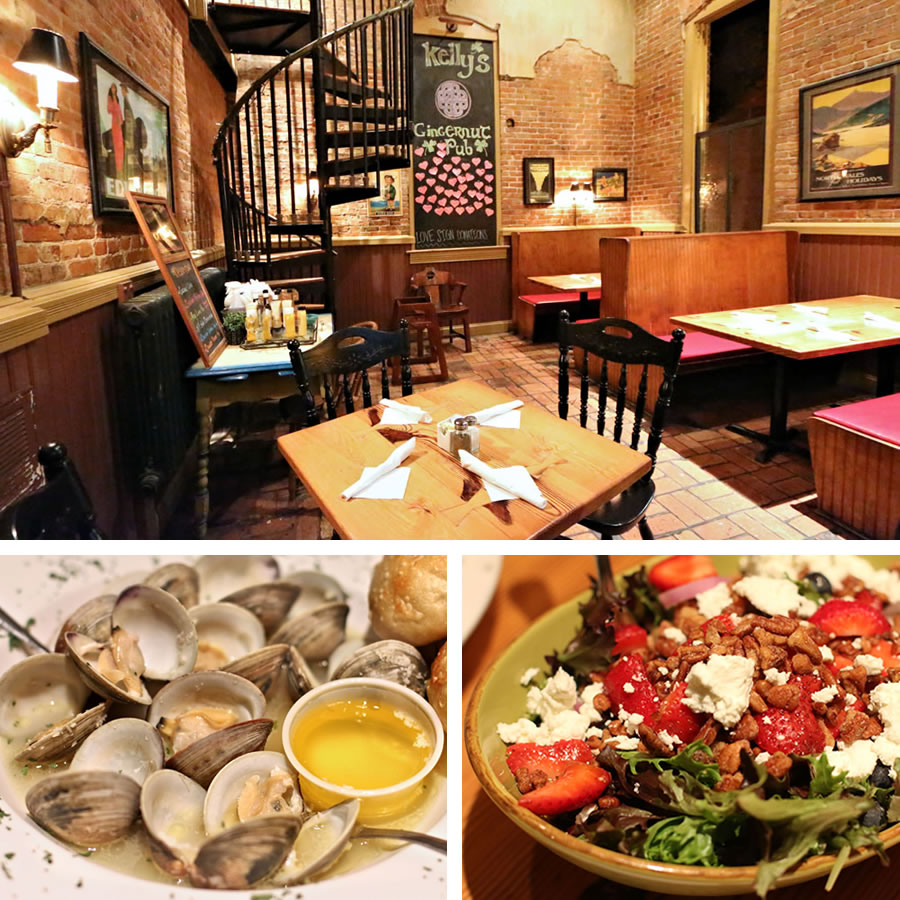 KELLY'S GINGERNUT PUB
133 Mason Ave, Cape Charles, VA 23310
kellysgingernut.com
(757) 695-3737
There's something pretty darn cool about eating in a historic repurposed space. And with 16-foot tin ceilings, a bar crafted from locally sourced 100-year-old yellow pine, and exposed brick walls, Kelly's Gingernut Irish Pub located in a converted circa 1907 bank building doesn't disappoint. Oh, and did I mention you can even eat inside an old bank vault. How cool is that?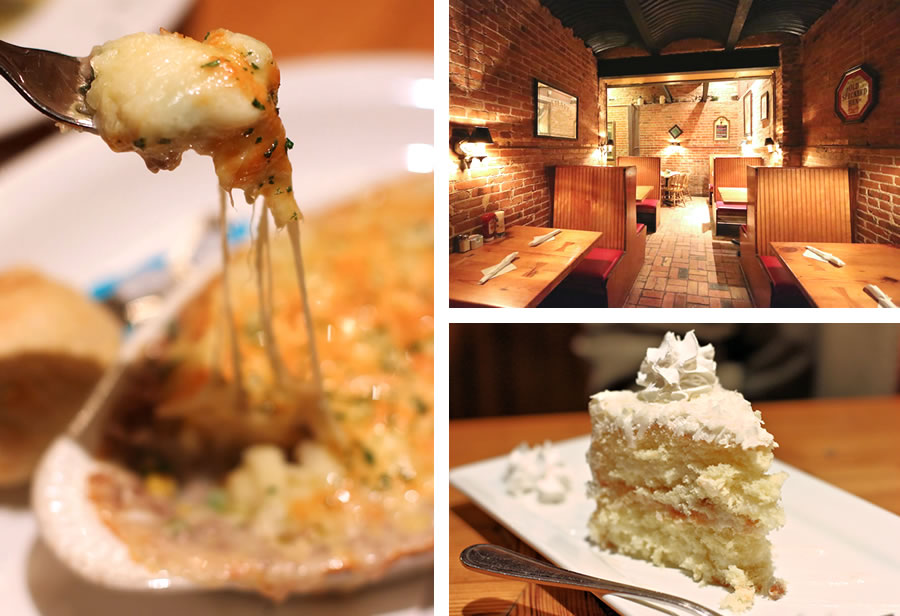 With a focus on what's fresh and local and a menu that changes seasonally, Kelly's Gingernut serves up soul-warming Irish and American pub fare like burgers, steaks, local fresh seafood, salads, an award-winning she-crab soup, along with craft beers and wine. And the food here didn't disappoint when we stopped in for a late dinner by candlelight in the vault. We had their Goat Cheese Salad with mixed greens, candied pecans, blueberries, strawberries, shallots, and crumbled Chevre cheese, local fresh clams steamed in a white wine broth with bread for dipping and for some true Irish pub fare a Shepherd's Pie made with local organic Virginia lamb and Certified Angus Beef in a delicious pan sauce topped with fluffy mashed potatoes and Irish cheddar. We couldn't pass up dessert and ended a lovely meal with their light and airy Coconut Cake. Kelly's Gingernut is open for lunch and dinner year-round and serves a hair of the dog brunch on Sundays. Outdoor seating is available when the weather permits and is dog-friendly!
Things To Do In Cape Charles, VA
Rent a Golf Cart
CC RYDER RENTALS
415 Mason Ave, Cape Charles, VA 23310
capecharlesgolfcarts.com
(757) 678-3239
Anywhere it's perfectly acceptable and actually encouraged to ride around in a golf cart is a place I'm excited to be. And Cape Charles is one of those places. While downtown Cape Charles is easily walkable, driving around in a golf cart is just darn fun and a great way to admire the beautiful homes in the historic district, get around town and have a ride back from the beach without having to get buckets of sand in your car seat. It's also just plain fun! When you're in town pop over to CC Ryder Rentals, a short walk from the beach and downtown area. If you need any tips about the area, check-in with Smitty the owner and he'll steer you in the right direction. The rates are super reasonable and any time on a golf cart is a good time. 
Shops Not To Miss in Cape Charles, VA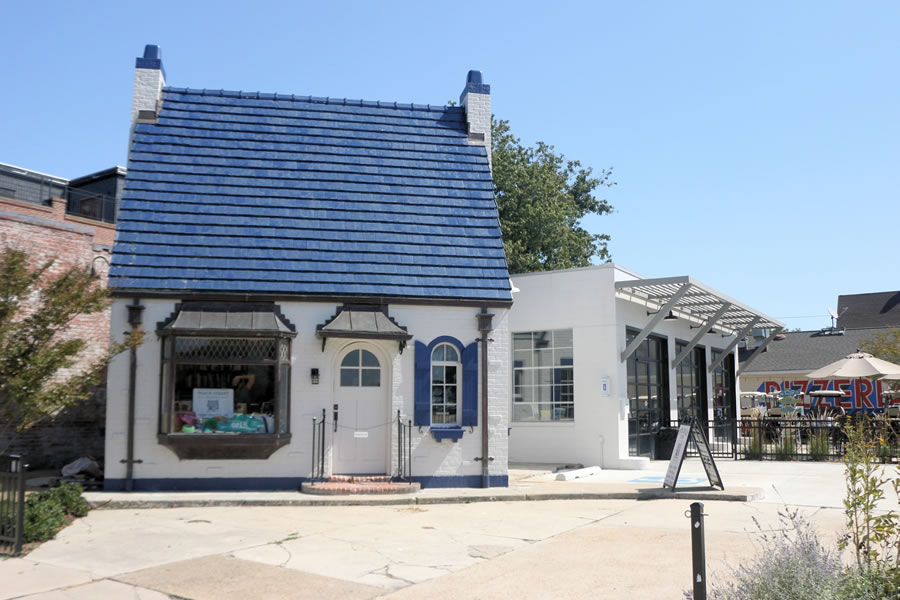 PEACH STREET BOOKS
401 Mason Ave, Cape Charles, VA 23310
facebook.com/Peach.Street.Books
(757) 695-3886
Beaches and great books go together like the sea and the sand. And in Cape Charles, you'll find quite possibly the cutest, if not the most unique book store on the east coast. Located on the corner of Mason and Peach Street, Peach Street Books is one part book store and one part coffee shop. If you're thinking a bookstore with coffee is nothing new you'd be right. But this one's located in a renovated storybook cottage looking 1930's Pure Oil Gas Station with a late 1950's garage that's attached and also restored, but with a modern vibe. Somehow its whimsical architecture works, and with over 500 new titles and over 10,000 gently used books, anyone on the search for their next great read will be in their glory. After you've grabbed all the books you can handle, grab a bagel, some baked goods or snacks, a house-made smoothie or a cup of java made with local Eastern Shore Coastal Roasting Company coffee. Chill outside on their pooch-friendly patio for some R,R & R – rest, relaxation and reads.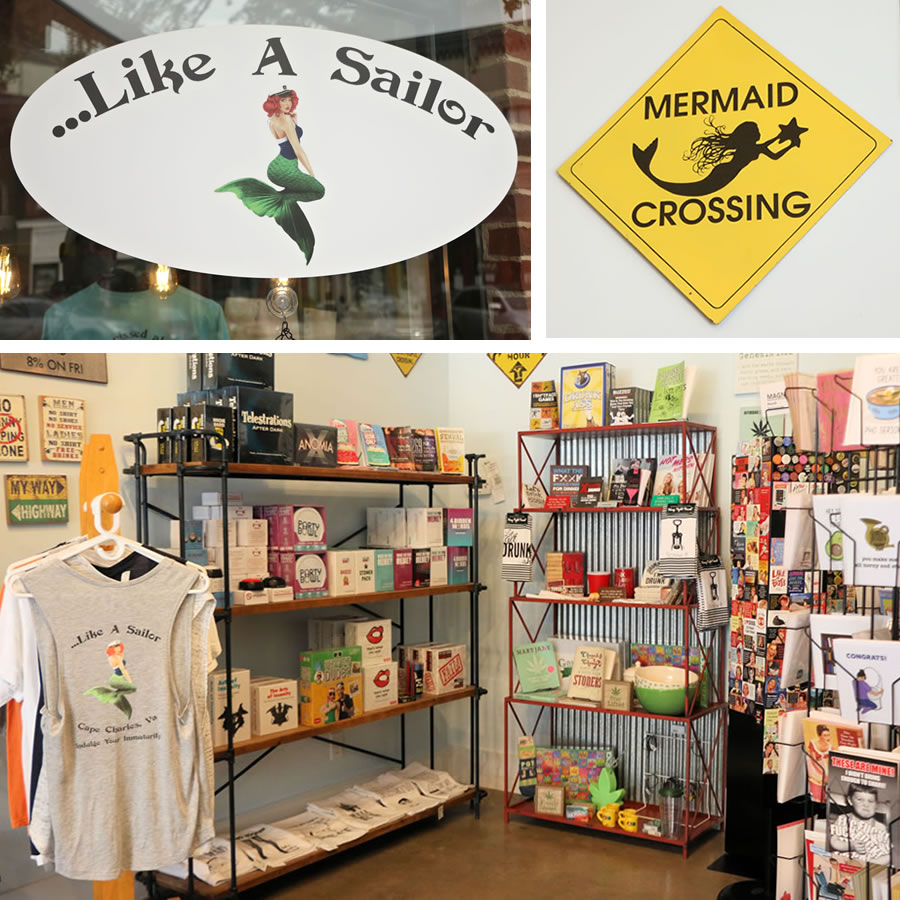 LIKE A SAILOR
219 Mason Ave, Cape Charles, VA 23310
facebook.com/likeasailor
(757) 678-3239
Cape Charles has some great boutiques if you feel more in the mood for retail therapy than dipping your toes in the sand. If you have a sense of humor and love finding unique and quirky gifts rather than the typical types of souvenirs you usually find by the shore, then be sure to pop inside. There are all kinds of fun things inside from card and board games to kitchen linens and candles with witty quotes and lots of unique gifts. If you're easily offended (you know who you are) this may not be the store for you. But if you don't take life too seriously and love quirky witty things that you won't find anywhere else, then breeze on in to Like A Sailor. The giggles are free of charge.
PLANNING YOUR TRIP TO CAPE CHARLES, VA
While the busiest season for any shore town is the warmer months, with events year-round like Christmas In Cape Charles and Oyster Roasts in November there's no reason not to visit throughout the year. If you'd like to visit Cape Charles and would like more information to start planning your travel, here are great resources to plan the perfect trip: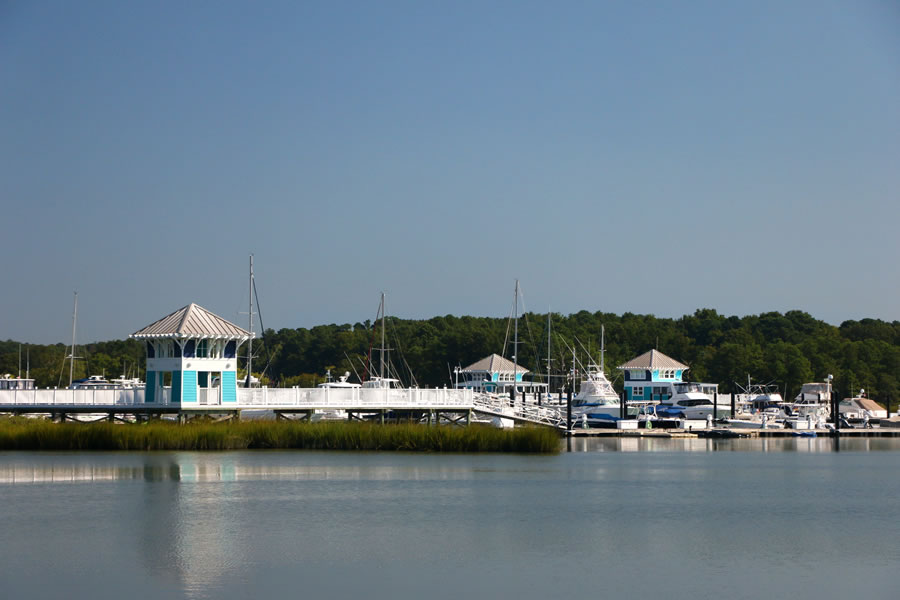 Created by OnBetterliving.com