Better Living uses affiliate links. If you make a purchase through them, we may receive a small commission (for which we are deeply grateful) at no cost to you.
To kick off the warm weather travel season, we thought it was time to take a little road trip.  Nothing that was too much of a long haul, but had beautiful scenery, fun things to do with interesting stops along the way, and plenty of great food, wine, and craft beer. We decided on a drive through Southeastern Pennsylvania with stops in Gettysburg, Lancaster, and Chadds Ford.  Whether you're looking for a fun roadtrip, romantic weekend, or family vacation, there's plenty of awesome things to do in Southeast Pennsylvania! 
Day 1: Gettysburg, PA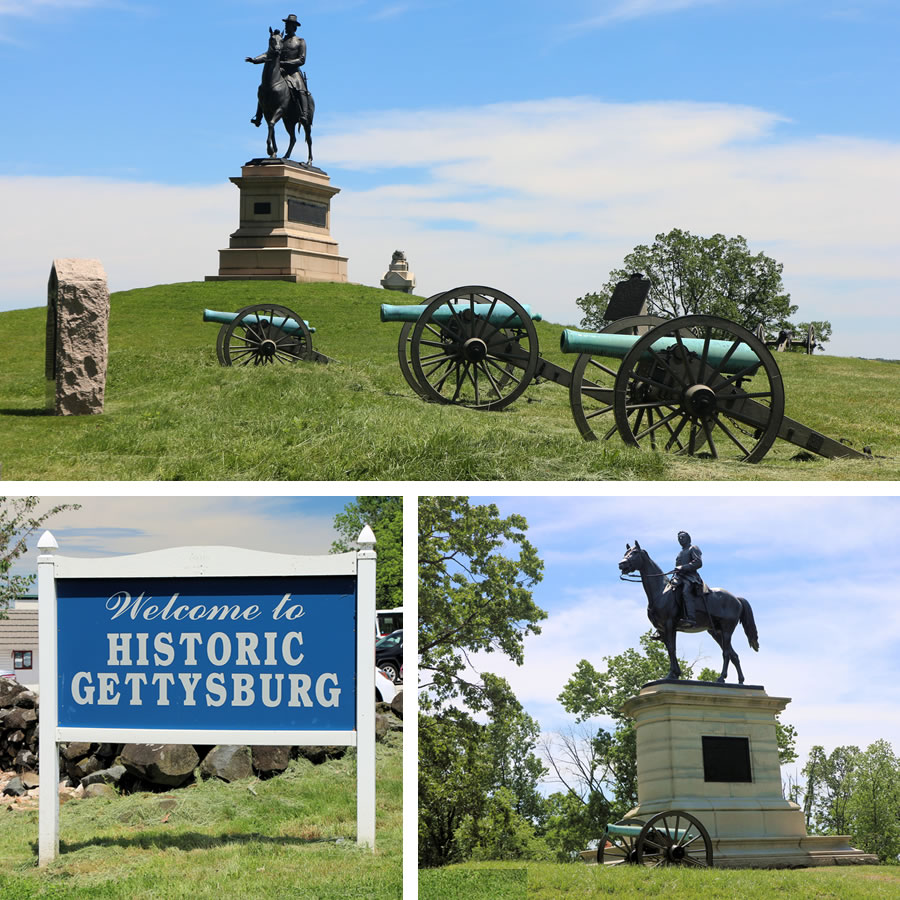 If you aren't up on your American history, you may not realize that Gettysburg is one of the important locations in the United States in terms of our nation's history. It's also not in Virginia, as three different people thought when I told them I was going there. Located in Adams County, Pennsylvania, Gettysburg is most well known as being the location of the Civil War's bloodiest battle, known as the Battle of Gettysburg. It was a positive turning point in the war for the North, leading to the Confederacy's retreat to the South and ultimately the north victory.  Gettysburg is also the famous spot where President Lincoln gave his most moving and famous speech in 1863, the Gettysburg Address.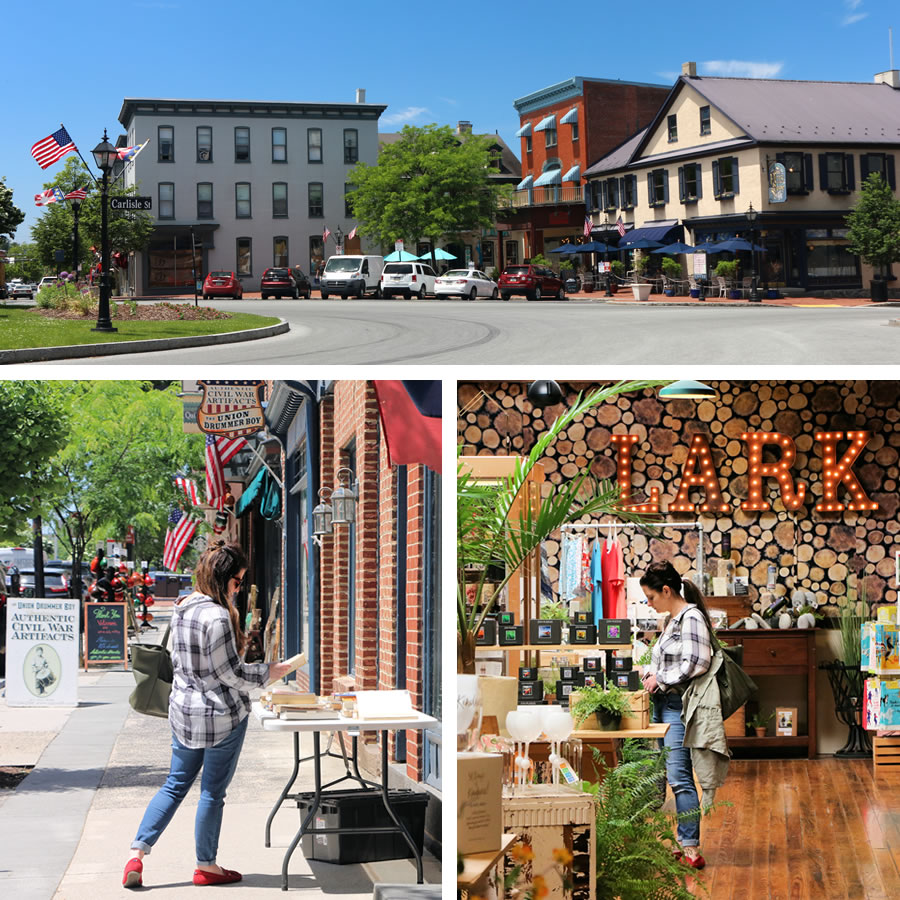 While everyone who gets to Gettysburg should absolutely visit the Gettysburg National Military Park and Gettysburg Museum and Visitor Center, there's also a lot more to see and do here. In this cool little historic town, you'll discover a beautiful scenic countryside, farm stands, and markets, a fantastic food scene, boutiques, art galleries, as well as plenty of craft beer, cider, and local wine to taste and enjoy. Check out where we stopped while in this great little town.
Where To Eat And Drink In Gettysburg, PA

Springhouse Tavern in the Dobbins House
89 Steinwehr Ave, Gettysburg, PA 17325
Dobbinhouse.com
If it's a historic dining experience you're after, the Springhouse Tavern and Dobbins House Tavern at the historic Dobbins house delivers. Built in 1776, listed on the National Register of Historic Places, and Gettysburg's oldest building, the Dobbins House was originally built by an Irish Reverend named Alexander Dobbin who emigrated to America for a better life. It really has it all: a long and interesting history, great food served by candlelight and staff wearing period dress. You can't get any more of an immersive dining experience. We enjoyed a delicious casual Colonial style lunch served in the lower level of the home called the Springhouse Tavern named for the three natural springs located there. Open daily for lunch and dinner, in the Springhouse Tavern, you'll also find dark wood, candlelight, fireplaces, yummy casual tavern fare, and a hot pecan pie to die for. 

Don't miss their French Onion Soup, which is one of the best I've ever had. The secret: it's made with prime rib. If you're looking for a more upscale dining experience, make a reservation to dine in the Dobbin House Tavern, which opens at night for dinner, and is located in the upper floors of the home. Be sure to check out the tiny museum dedicated to a small section of the house that was part of the Underground Railroad. There's also an inn for lodging and a gift shop with a focus on Irish goods. A great experience all around, the Dobbins House is not to be missed in Gettysburg.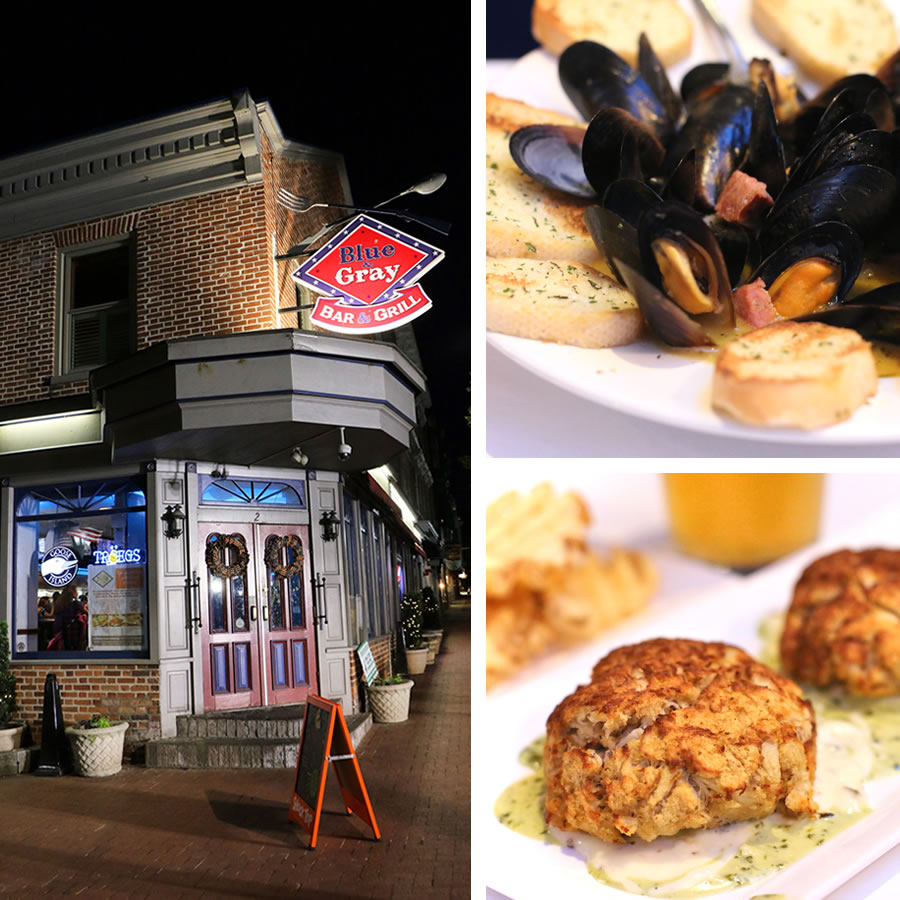 Blue And Gray Bar And Grill
2 Baltimore St, Gettysburg, PA 17325
facebook.com
A hot spot that draws locals, college students, and tourists daily, The Blue And Gray Bar And Grill offers up great bites, craft beer and wine in a fun and relaxed atmosphere. Plus, they're open until 2 am every day when you're in need a late night bite. Located on Lincoln Center in the heart of downtown Gettysburg, the Blue And Gray Bar serves creative pub food, wings, salads, sandwiches and burgers where most everything on the menu has a Civil War-themed name.
If you're really brave (or maybe a little crazy) and up for a challenge, order their Pickett's Charge Burger Challenge. For $25.00 you're tasked with consuming their giant 5.5-pound multi-stack monster burger with multiple patties, grilled cheese sandwiches, and a Philly cheesesteak. If you finish this burger described on their menu as being "as large as the Army Of The Potomac and Army of Northern Virginia combined," in under 20 minutes, you win the challenge and it's free. Although you might pay in other ways later in the day. I had some traveling to do, so this wasn't in the cards for me. Maybe next time.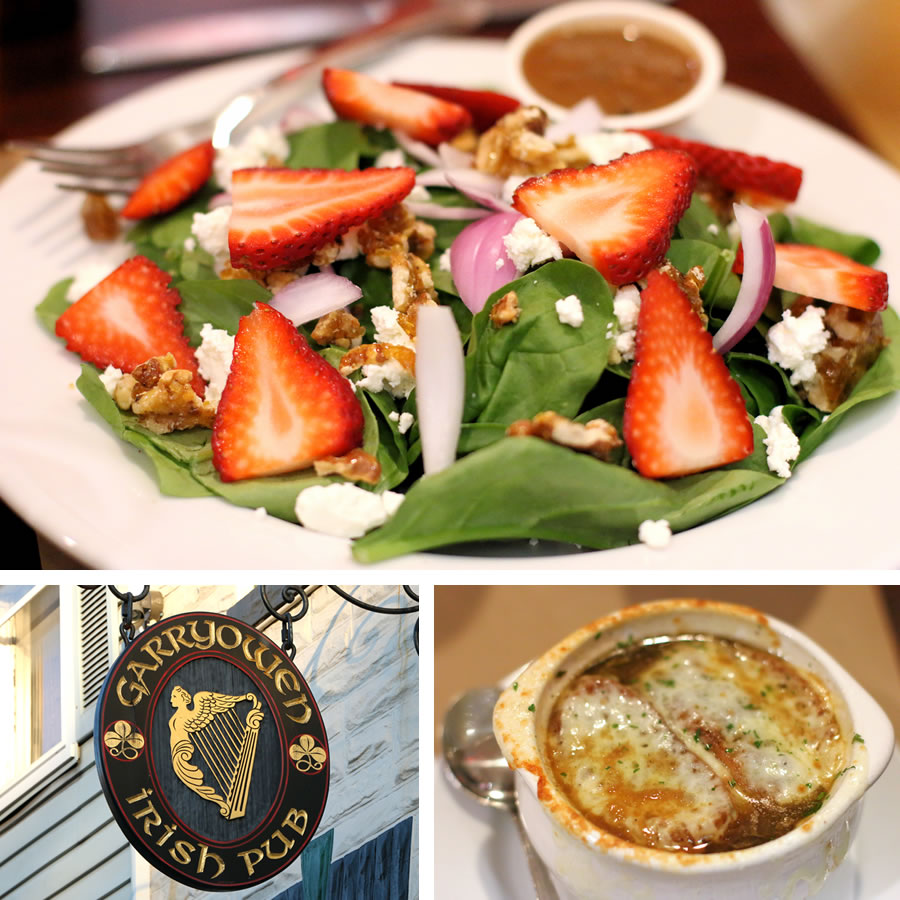 Garryowen Irish Pub
126 Chambersburg St, Gettysburg, PA 17325
garryowenirishpub.net
For fresh, authentic, and just all around tasty Irish style pub food at its finest, Garryowen Irish Pub is the place to go in Gettysburg. Referred to as the "The Go" by locals, Garryowen is Gettysburg's only Irish-owned Irish pub with many of which are the owner's own family recipes. Many of the ingredients used in the dishes are even straight from the Emerald Isle. The food here tastes fresh and authentic and there's love put into the food here. We enjoyed another delicious French Onion Soup (it's hard to find a menu in Gettysburg without one), a fresh Strawberry and Spinach Salad with Goat Cheese with Candied Walnuts and an out of this world homemade Reuben. For a fine Irish drink, Garryowen's has over 100 Irish whiskeys, a great selection of Irish and local craft beers on tap along with an international wine list. If you happen to be here on a Sunday, you might be treated to some Irish music to enjoy with your great Irish fare.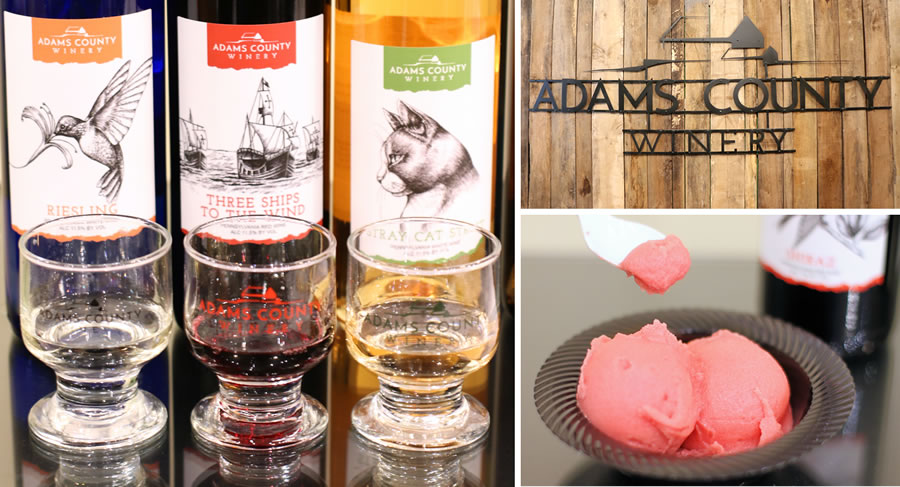 Adams County Winery Gettysburg Wine Shop
25 Chambersburg St, Gettysburg, PA 17325
adamscountywinery.com
When strolling through downtown Gettysburg you don't have to stray too far for a great glass of local wine. Adams County Winery, Gettysburg's oldest winery, has been making its award-winning wines in the area since 1975 and grows its grapes on the South Mountains overlooking Gettysburg. You can opt to visit the winery on site and do a tasting in their post Civil War era barn, or just stop into their wine shop in the downtown area while doing some shopping. Tastings are complementary and they have bottles available for purchase so you don't have to go home empty-handed. Rebel Red is their most popular bottle that is sweet, aromatic, flavorful with lots of Concord Grape flavor. We loved their whites too and ended up with a bottle of their Riesling which was bursting with honeysuckle, citrus and orange blossom. For a cool treat, be sure to stop in and try their frosty and delicious wine sorbet. It's a little cup of wine heaven.
Travel Tip: Adams County where Gettysburg is located is home to Pennsylvania's largest fruit-growing region. Be sure to visit destinationgettysburg.com the get tips on which farms allow you to pick your own fruit like blueberries in the summer and apples in the fall.
Where To Shop For Fresh Farm Goods In Gettysburg, PA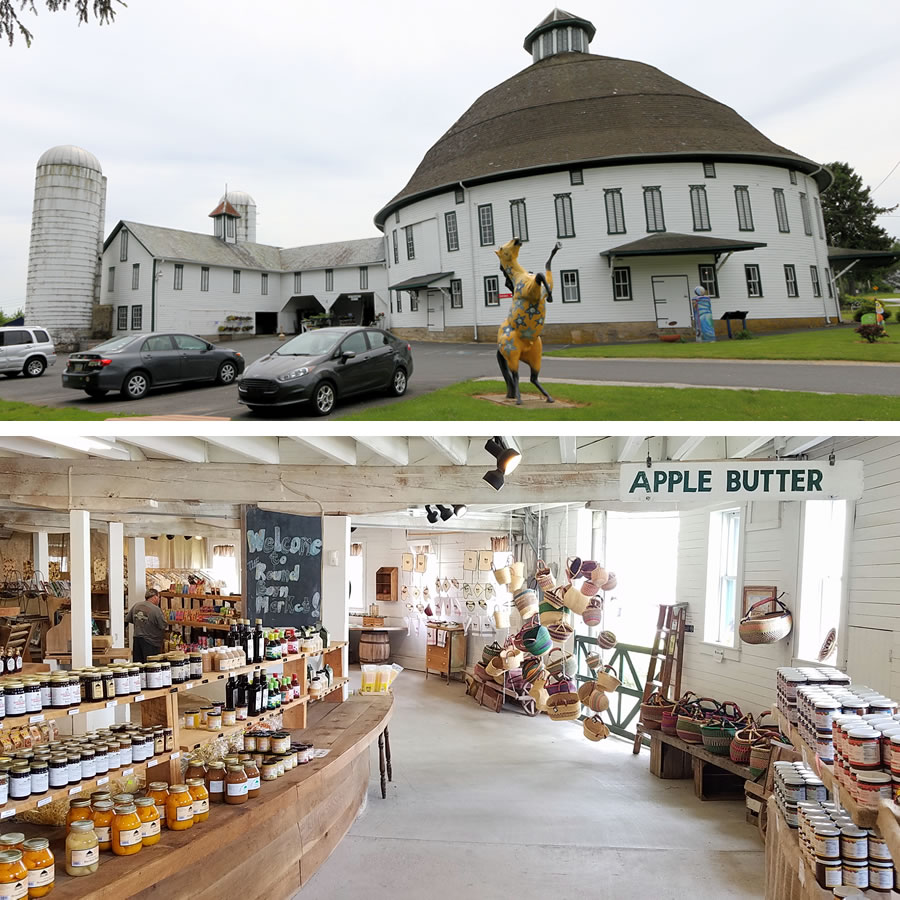 The Historic Round Barn & Farm Market
298 Cashtown Rd, Biglerville, PA 17307
roundbarn.farm
For our last stop in the Gettysburg area, we headed to The Historic Round Barn & Farm Market. Located about 8 miles west of Gettysburg, lies this family-owned beautiful historic farm and market that was built in 1914. The attraction here is seeing the unique round architecture of this beautifully preserved white barn. These round style barns became popular in the 1820's and remained so until about 1920 when they fell out of fashion.
While the market offerings weren't extensive here, they did have a great selection of unique and traditional jams, jellies, sauces, cheeses, snacks, and local produce. They also have a few farm-style antiques here and there. If you're into cookbooks, there's a lot to choose from with a focus on Pennsylvania and country-style recipes. We bought some horseradish mustard, hot sauce, fig preserves, and beef jerky. Everything was delicious and we would love to return in the fall for apple picking season. Before we left, we visited with their sweet and friendly goats and waved goodbye to their mules and horse in the distance.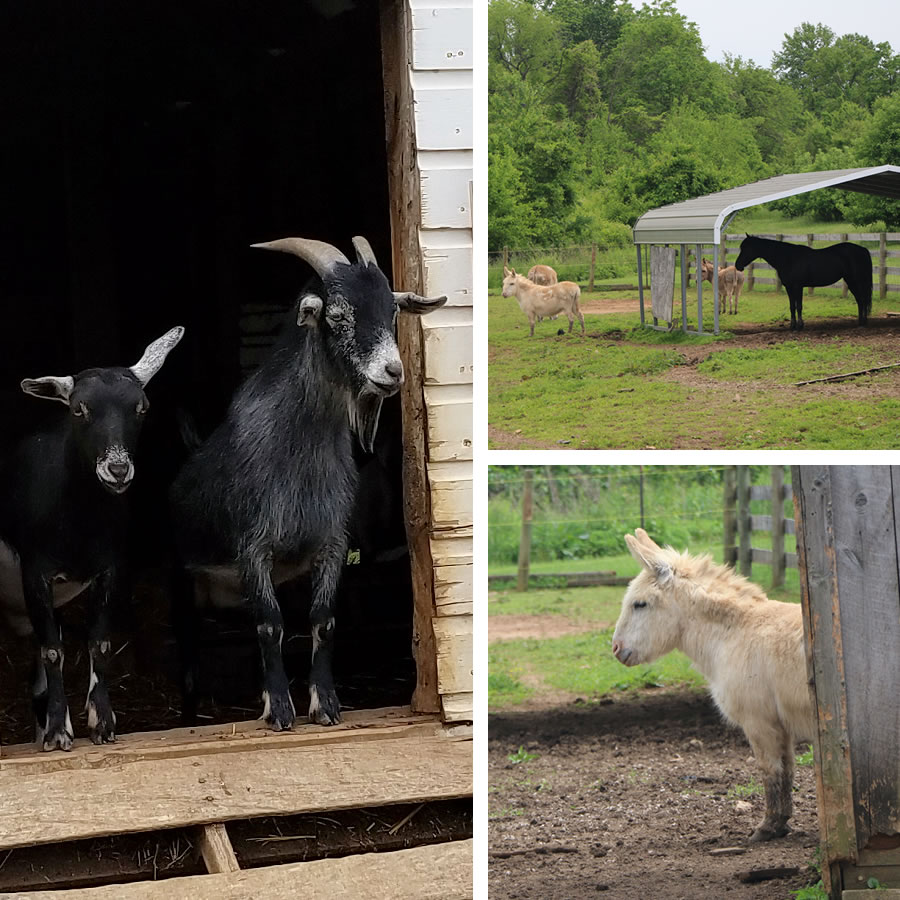 Tip: If you visit the barn, and have time to unwind, head across the street to the Thirsty Farmer Brew Works where you can order a light bite to eat and sample their small-batch handcrafted ales, lagers, and ciders on a small family farm.
Where To Stay In Gettysburg, PA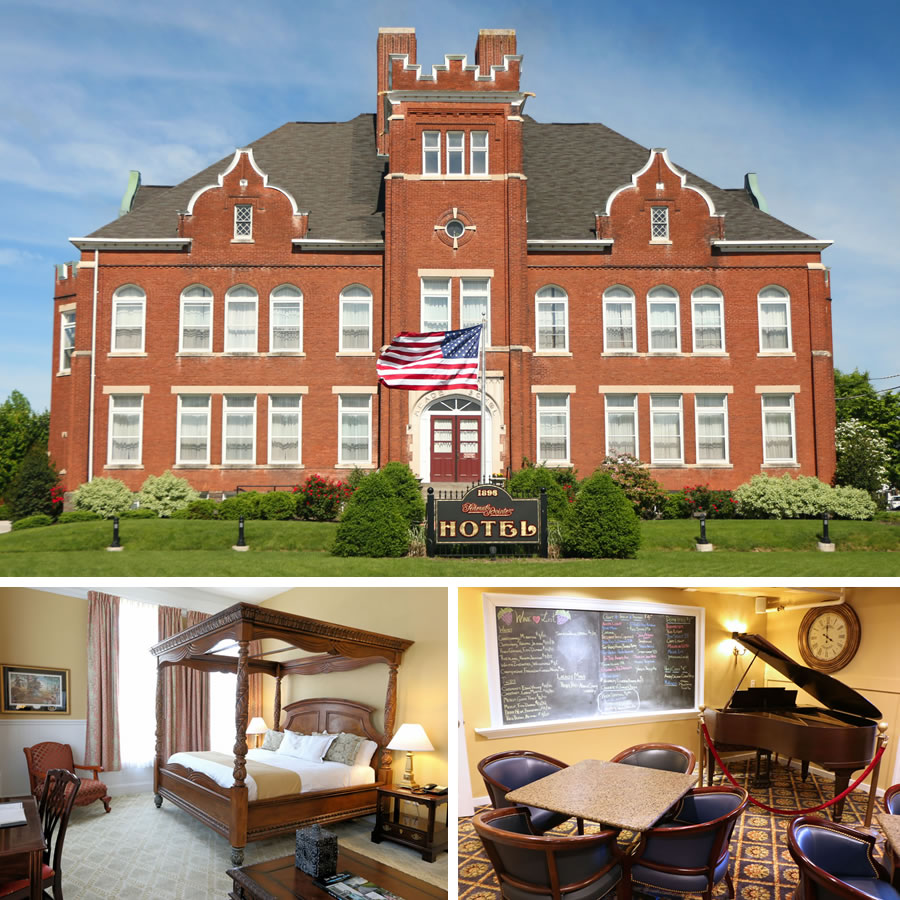 Federal Pointe Inn
75 Springs Ave, Gettysburg, PA 17325
FederalPointeInn.com
While in Gettysburg we stayed at The Federal Pointe Inn, an award-winning boutique Ascend Hotel.  Another Gettysburg historic gem and located just a couple of blocks from Gettysburg's center, The Federal Pointe Inn has its own rich history. Originally built in 1897 as Gettysburg's first high school, it was purchased and renovated in 2012 by Peter and Elizabeth Monahan who transformed it into a luxury inn while preserving the unique architecture of the building. Instead of classrooms, you'll now find 18 super comfortable and incredibly spacious guest rooms and suites. Many have grand four-poster beds, large granite bathrooms with spa tubs and all come with high ceilings fit for a palace. 
Whether you're coming or going, complimentary coffee, tea, and lemon water are served all day in the lobby and freshly baked scones are set out at 4:00 for tea time. If you want a casual bite to eat or a glass of wine or craft beer without stepping off-site, just head to The Pointe Pub located in the bottom level of the hotel open Wednesday through Sunday. 
And if you love antiques, art, and historical photographs then don't be surprised if you find yourself wandering through the delightfully scented hallways of the Federal Pointe Inn, admiring their impressive collection.  A fitness center, free on-site parking, and WIFI throughout the property are true conveniences here and you'll find the staff authentically friendly and helpful whether you need a dinner or activity recommendation.
Day 2-3: Lancaster, PA
Next stop on our road trip was Lancaster, PA. While Lancaster County is known for its Dutch country charm, Amish farms, bakeries, food markets, and overall influence in the area, Lancaster's downtown is not to be missed with great restaurants and shopping. Lancaster is also a town that loves its beer. And baked goods. And cheeses. And farm fresh anything. So that means there's plenty of places to indulge. Here's where we ended up:
Where To Shop In Lancaster, PA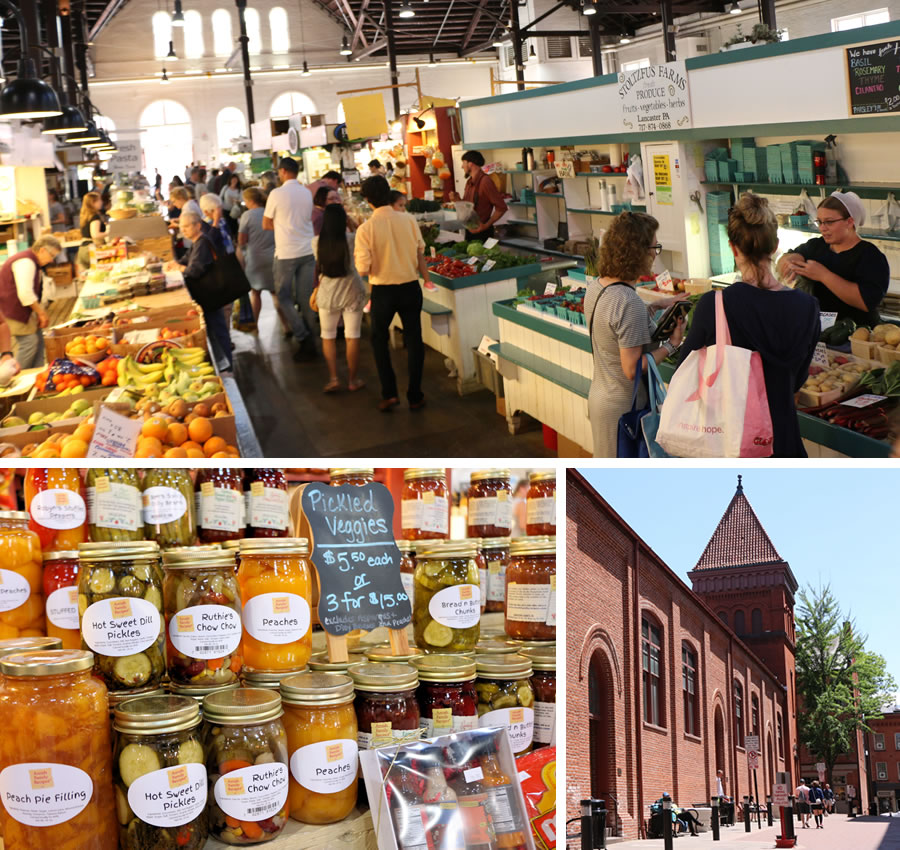 Lancaster Central Market

23 N Market St, Lancaster, PA 17603
Centralmarketlancaster.com
$-$$
Located in the heart of the city at Penn Square, Lancaster Central Market is a foodie's dream come true and must visit if in the area. Considered America's oldest farmers' market building, farmers have been selling their fresh meats, vegetables, fruits, and other products on this very site since the 1730's. Many of the vendor's there today have been selling their goods "on market" since the early 1900's through the generations of their families.
Stepping into Central Market (as the locals call it), you'll find row after row of fresh meats, dairy and produce (mostly organic), right from the local farms where they are grown. It's as fresh as it gets. There's also chocolate and candy vendors along with fresh baked goods to try like breads, pies, whoopie pies, cookies, cakes and scones. Love cheese? There's plenty of farm fresh cheese to sample and take home. Don't miss the Linden Dale Farms stand and get a sample of their rich and creamy goat cheese. 
If you're traveling through the area, Lancaster Central Market is a great place to stop before you make your way home to stock up on some farm fresh foods, a bouquet of fresh farm flowers or country goods.  Plan your visit accordingly because it's only open 6 am-4pm Tuesdays and Fridays, and 6 am-2 pm Saturdays.
Road Trip Money Tip: Many stands at the Lancaster Central Market don't take credit cards, so be sure to have plenty of cash on hand. Even if you forget, there is an ATM on site. Don't you hate those ATM fees though? That's why we love our Needham Checking Account debit card for traveling.  With the NB Checking Card, you're never charged any ATM fees no matter where you withdraw money out of. Even when traveling internationally! It's the perfect travel card. Click here to open an NB Checking account.
Where To Stay In Lancaster, PA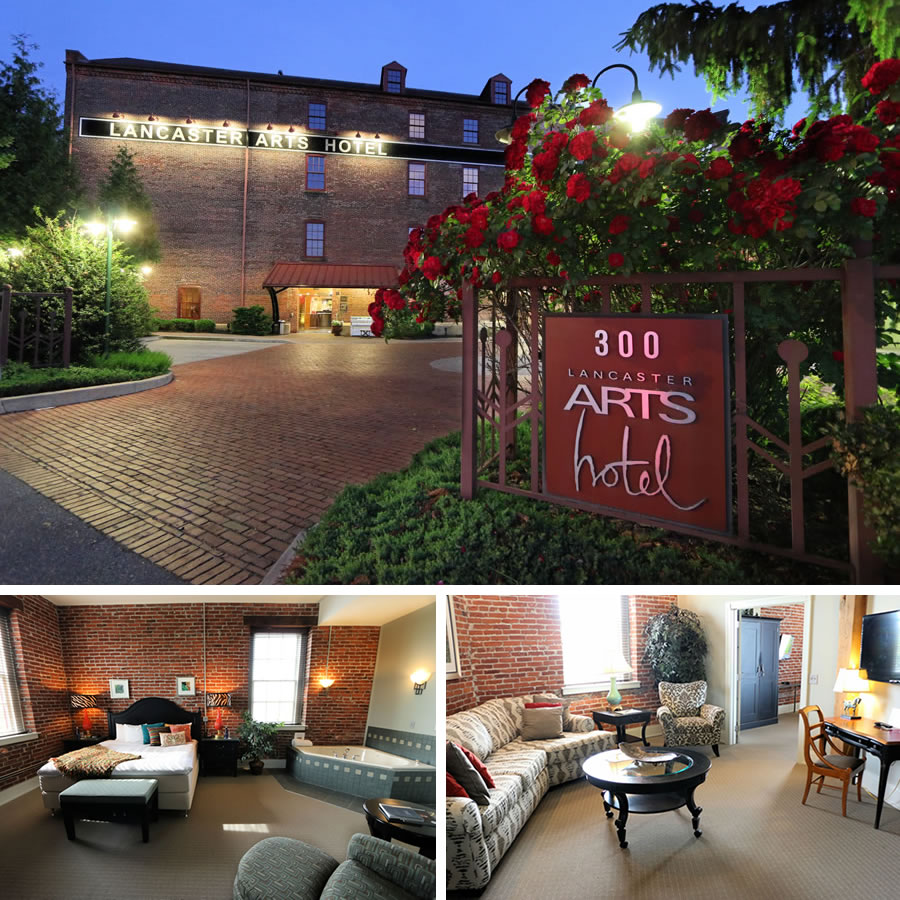 Lancaster Arts Hotel
300 Harrisburg Ave, Lancaster, PA 17603
www.lancasterartshotel.com
$$-$$$
If you need somewhere to stay in the Lancaster area, we recommend the Lancaster Arts Hotel. Located in the northern part of the city, there's a lot to love about this former 1800's tobacco warehouse now turned hip modern hotel with exposed brick walls and reclaimed wood floors. The Lancaster Art Hotel offers supremely comfortable and stylish accommodations with plenty of luxurious amenities. If you want to stay fit on your travels there's a gym in house or you can head over to the YMCA across the street for which access is complimentary with your stay. But, it's the celebration of local art found on display throughout the hotel that gives this hotel it's true charm and personality. They even encourage guests to get creative, by supplying every guest room with a sketchpad and pencil. Leave your own little masterpiece behind with the hotel and it will become one of the many works of art displayed on rotation throughout the hotel. The location at the Lancaster Arts Hotel is really convenient and is within walking distance to a variety of great restaurants and cafes, both casual and upscale including Beilers Donuts and Meduseld Meadery.
Where To Eat And Drink In Lanscaster, PA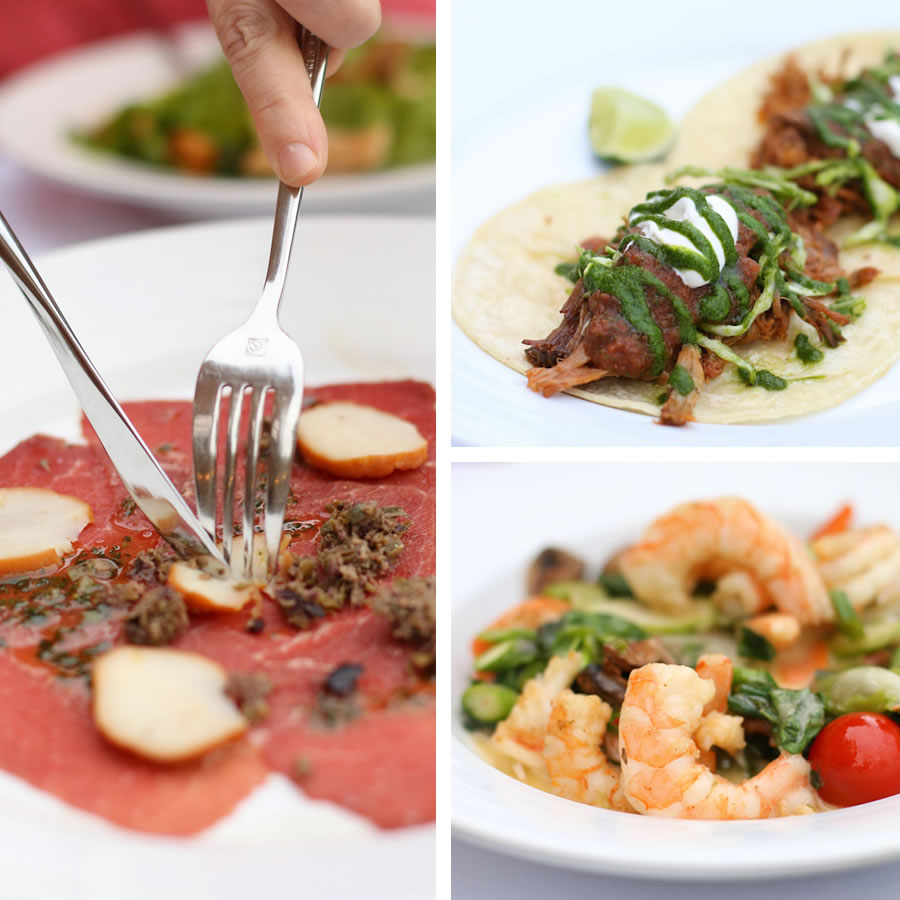 John J. Jeffries




Lancaster Arts Hotel




300 Harrisburg Ave, Lancaster, PA 17603


Johnjjeffries.com


$$$
Whether you're staying at the Lancaster Arts Hotel or not, be sure to visit its onsite restaurant, John J. Jeffries. The food isn't good here. It's great. With a focus on seasonal and sustainable dishes made with local and organic ingredients, the chefs at John J. Jeffries successfully pull off a menu of tempting dishes that are internationally inspired. Plus, what isn't great about supporting local farms? Considered fine-dining, yet totally unpretentious, John J. Jeffries commits to sourcing their ingredients within a 25-mile radius of the hotel. 
Some of the standout dishes we ordered were the Wild Caught Shrimp & Grits with lemon butter, seasonal vegetables, and chorizo sausage and the Lamb Kabob served with basmati rice, cucumber, tomato, and feta salad. We finished our meal with their version of a Tres Leches served with local strawberries and a caramel sauce that was out of this world. If you go, opt to sit outside on the patio like we did, if weather permits. John J. Jeffries serves dinner only and opens at 4 pm.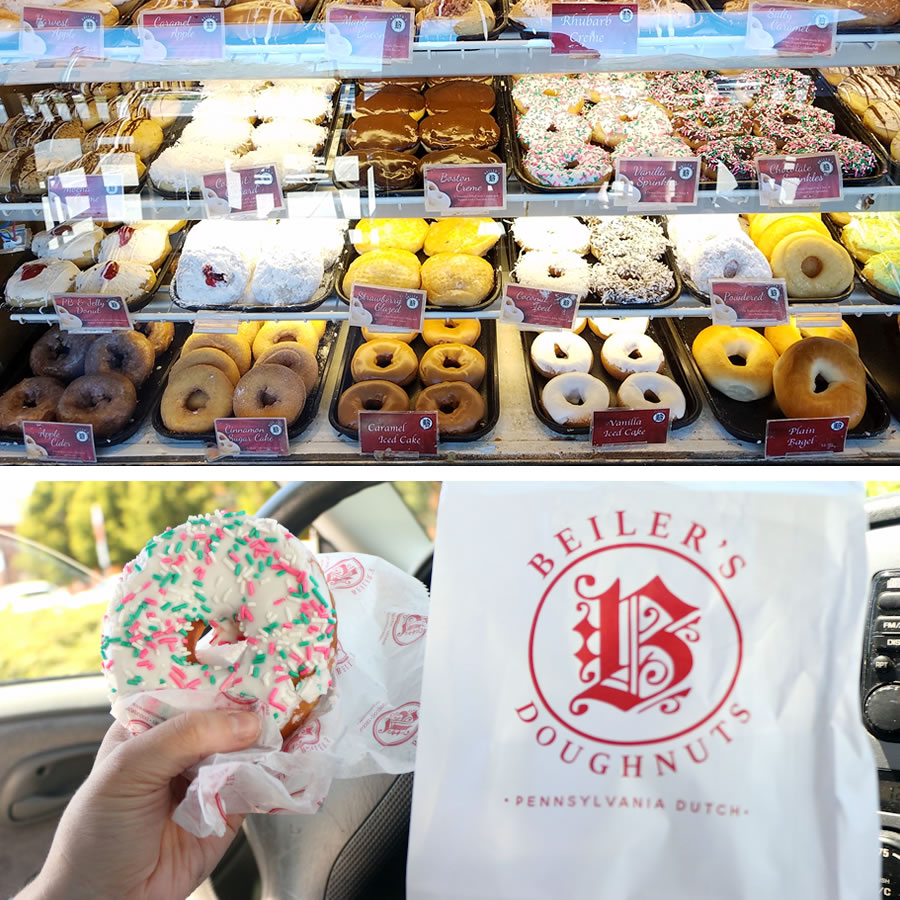 Beiler's Donuts




398 Harrisburg Ave, Lancaster, PA 17603


Beilersdoughnuts.com


$
Located adjacent to the Lancaster Arts Hotel Beiler's Donuts is a renowned donut shop sent from the pastry gods and most well-known for their location in Philadelphia's famous Reading Terminal Market. Using a family recipe that was handed down for generations, Beiler's makes their hand-rolled donuts fresh daily and are decorated, glazed and stuffed making for a variety of outstanding donut creations. To me, these are the perfect donut. Super soft and yeasty, with a slightly crispy edge to the bite. I would die for one of their glazed donuts this minute, but for now, we can drool together over their donut flavor menu linked here.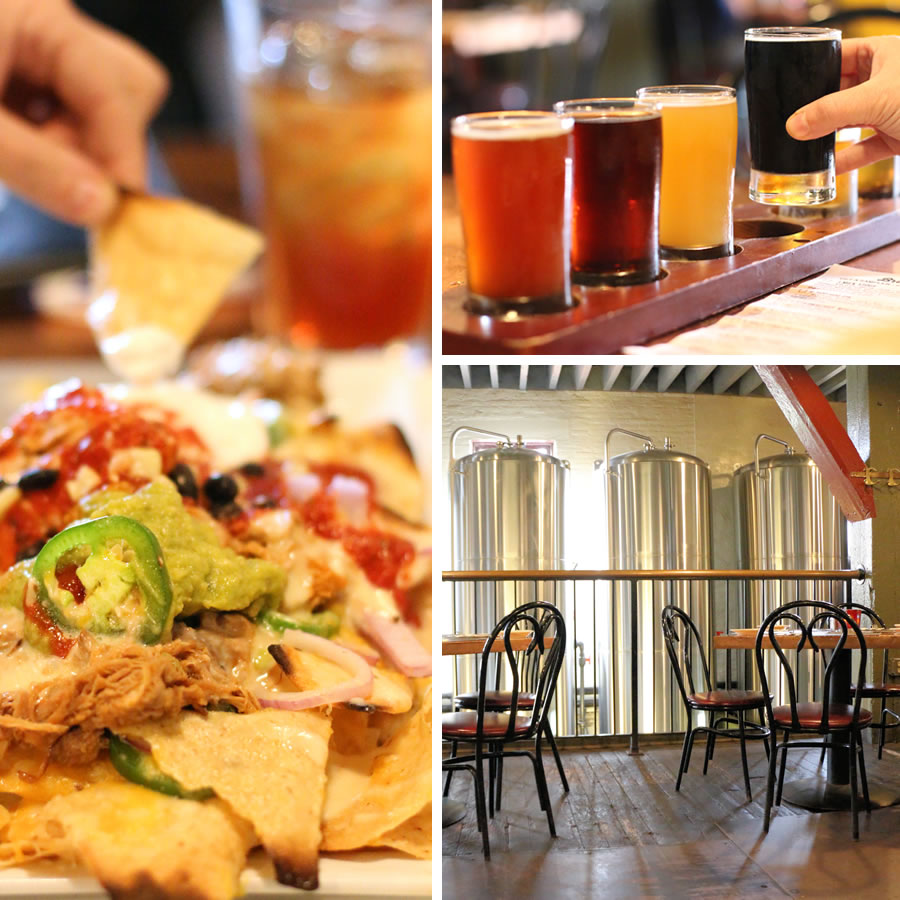 Lancaster Brewing Company



302 N Plum St, Lancaster, PA 17602
Lancasterbrewing.com
$$
For some local craft beer and a bite to eat, we headed to Lancaster Brewing Company. Whenever I go to a brewery for the first time I always order a sampler for a good idea of what they have to offer. Lancaster Brewing offers 6 generous samples for a totally reasonable $12. Standouts for us were their Double Chocolate Milk Stout (intense roasted malts, silky smooth mouthfeel, subtle sweetness, and velvety chocolate) and their Peanut Butter English Ale (rich caramel malts, loads of all natural peanut butter and Fuggles hops). For fun, we thought "what if we combine these two?" Would it taste like a peanut butter cup? It did, and it was delicious. Notes of chocolate and roasted peanuts, not too sweet, but smooth and balanced. Yum and yum. If you build up an appetite beer tasting, which we all know is hard work, Lancaster Brewing Company has a full dining menu with great appetizer options to complement its brews. We ordered their satisfying and delish House Smoked Pork Nachos and they made the beer tasting experience even more enjoyable. Plan ahead before you go and check out their daily happy hour specials to save some cash. If you want an in-depth look at their craft beer making process, call to book a tour. If you taste something you love, all beers are available to purchase for on the go.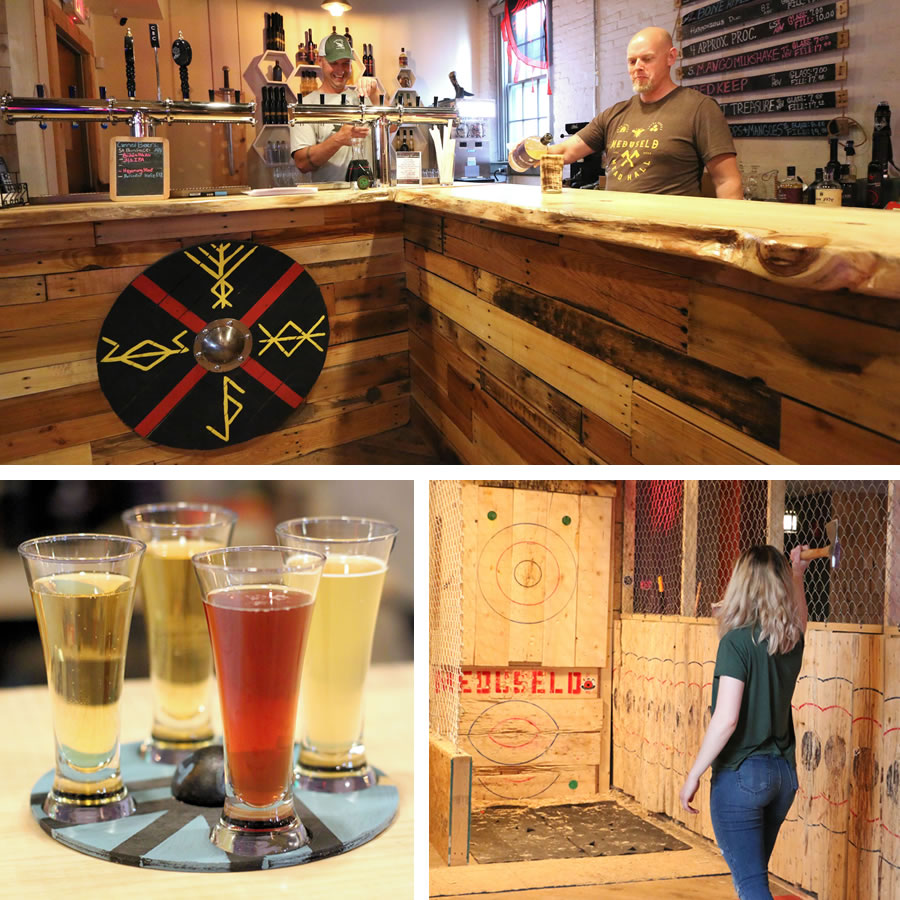 Meduseld Meadery
252 Harrisburg Ave, Lancaster, PA 17603
meduseldmeadery.com
$-$$
After a day of exploring, sometimes you just need to unwind. You know, nothing crazy, just the usual stuff like drinking some mead and throwing a couple of axes. No big deal. Located just across the street from the Lancaster Arts Hotel is Meduseld Meadery. We went in just looking to try some mead and left devout, die-hard fans.  If you've never tried mead before, it's an alcoholic beverage made by fermenting honey with yeast, water and a variety of different ingredients like lemongrass, ginger, tart-cherries, hops and orange peels to create an unlimited number unique flavor combinations. Also referred to as honey wine, mead is the oldest fermented drink known to man. Pretty cool, right?  What's unique about mead, besides the way it has stood the test of time, is that it can be produced in a variety of styles. Some are carbonated, similar to sparkling wine or beer, and some are still and perfect for sipping like a fine whiskey or tequila. Meduseld Meadery expertly produces both styles and also offers mead slushies and mead shakes (think lightly sweet and creamy) for the win. Yes, they are all awesome.
And didn't I mention something about axe throwing? Inside Meduseld is an axe-throwing cage where you can live out your wildest axe throwing fantasies. Sound scary? It's actually tons of fun. They even have a coach there to help you with your axe throwing technique. You know you want to try.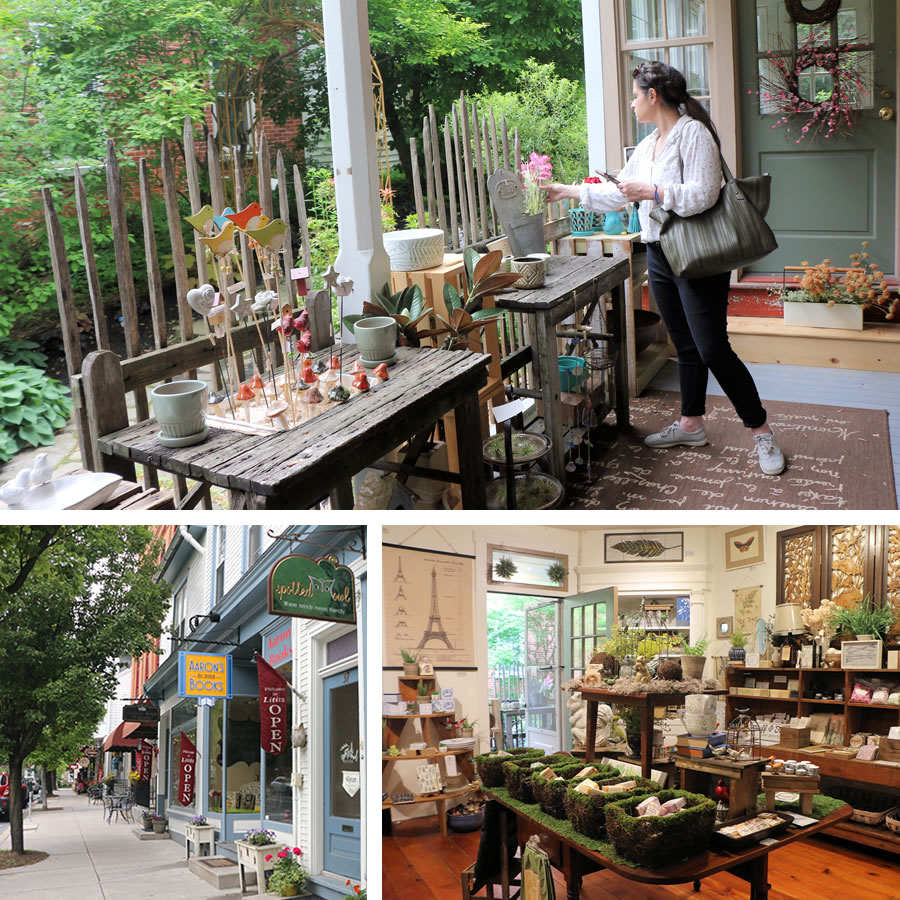 Day 4: Lititz, PA
Lititz is one of those great little towns that will have you wanting to visit time and time again. Voted America's Coolest Small Town by Budget Travel in 2013, and about 8 miles north of Lancaster, a trip to Lititz makes a great place to spend an afternoon or the entire day. The big draw to Lititz, besides its quaint historic downtown, is its vibrant food and craft beer scene. Don't forget to stroll over to the historic Lititz Spring Park to admire the scenery and feed the friendly ducks. No trip to Lititz is complete without a visit to two of their most famous historic food-centric establishments: Wilbur's Chocolate and Julius Sturgis Pretzel Bakery. Both businesses started in the 1800's and are going strong today. You can bet that while we were here, we checked in.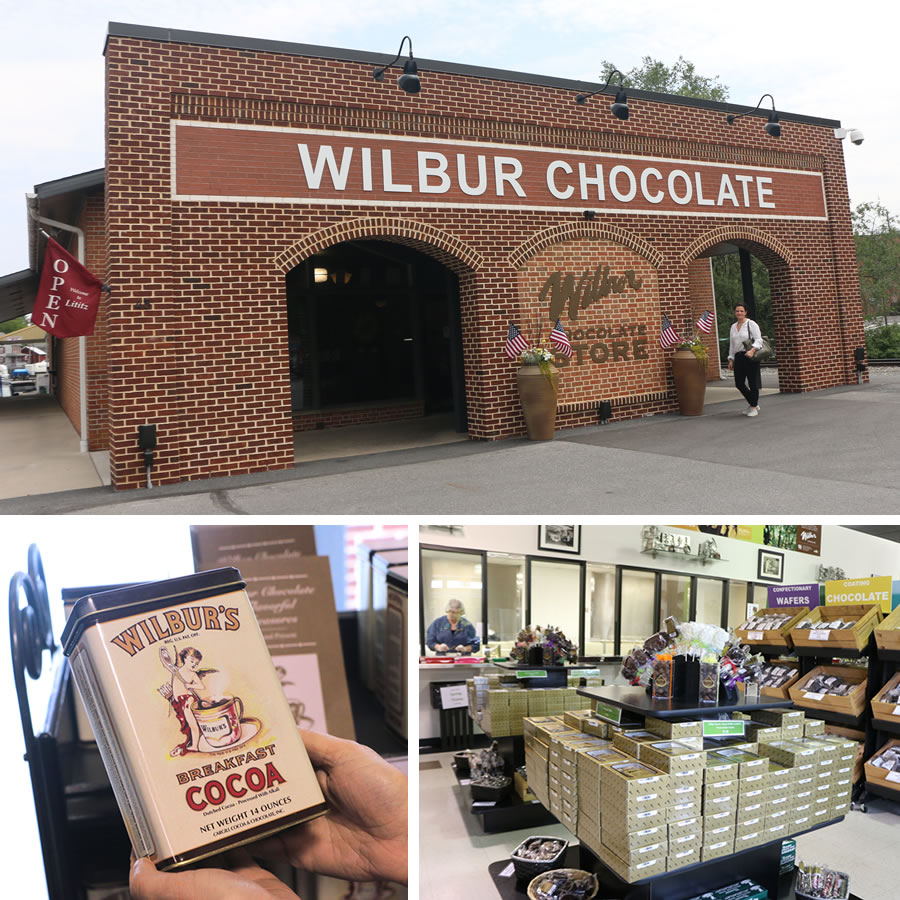 Wilbur Chocolate
45 N S Broad St, Lititz, PA 17543
wilburbuds.com
$-$$
Wilbur Chocolate is the kind of place chocolate dreams are made of. Originally founded in 1865, Wilbur Chocolate is famous for their signature chocolate Wilbur Buds which they debuted back in 1893. Similar in shape to a Hershey's Kiss (which came out later), but rounded on the bottom in a shape that resembles a flower bud, Wilbur's is a Lititz institution. The only disappointment here is that they've moved out of their original historic factory to a retail space across the street. The original factory is now being developed into luxury condos, but you can still catch a glimpse of it from the outside. While shopping around their new space, watch as chocolate treats are handmade before your very eyes. There's a small chocolate museum dedicated to Wilbur's delicious and impressive history and plenty of free chocolate samples to go around. Plan to visit Wilbur's any day except Sunday.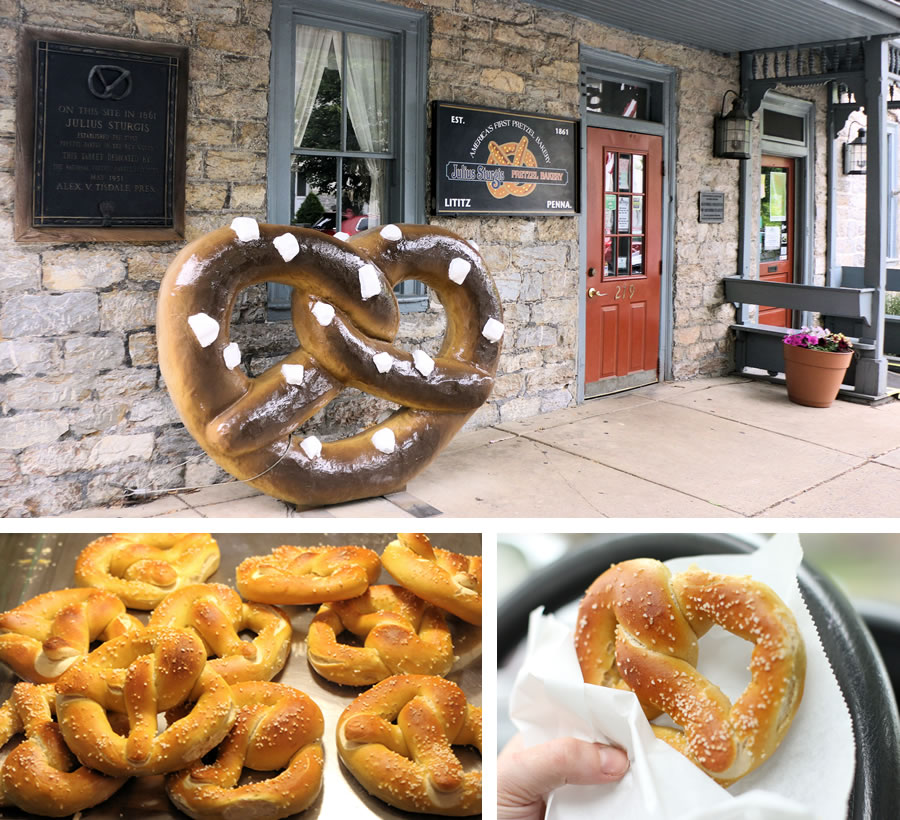 Julius Sturgis Pretzel Bakery
219 E Main St, Lititz, PA 17543
juliussturgis.com
$
It's hard to find someone who doesn't love a pretzel. And on Main Street in Lititz, we paid a visit to America's first commercial pretzel bakery located in the same historic home purchased by Julius Sturgis in 1861. An extension to the house was added to accommodate the Sturgis family pretzel bakery, but the original part of this stone home dates back to 1784. Listed on the National Register of Historic Places, Julius Sturgis Pretzel Bakery. Most of their pretzel varieties are bagged hard pretzels, but there's also fresh soft pretzels for purchase. If you have time to spend here, definitely take their pretzel making tour, where you can tour the original factory, learn the pretzel making process and have a go at twisting your own pretzel. No visit here is complete without bringing home some of their delicious pretzel treats and pretzel swag from their front room bakery. Julius Sturgis Pretzel Bakery is open daily, but check their website for tour times and hours.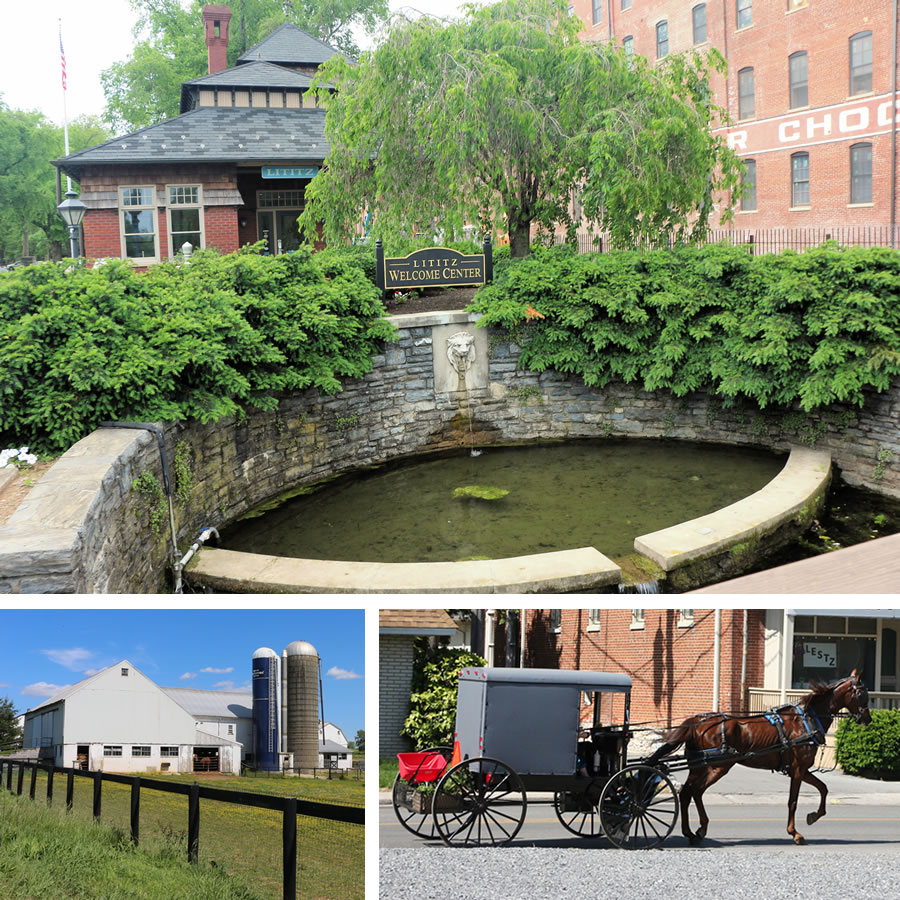 Day 5: Intercourse/Gordonville, PA 
Driving east out of Lancaster is where you'll find many of Lancaster's Dutch country attractions like Dutch Wonderland, The Amish Farm And House as well as several smorgasbord restaurants where Dutch Country and Amish delights are served up as far as the eye can see. Don't be surprised if you see a horse and buggy or two go by, as that is the Amish's primary source of transportation. There are so many great places to see and shop here, it deserves a couple of days of exploration all on its own. This was our last day on the road, but still made time to make a stop in Intercourse, one of Lancaster County's many quaint towns.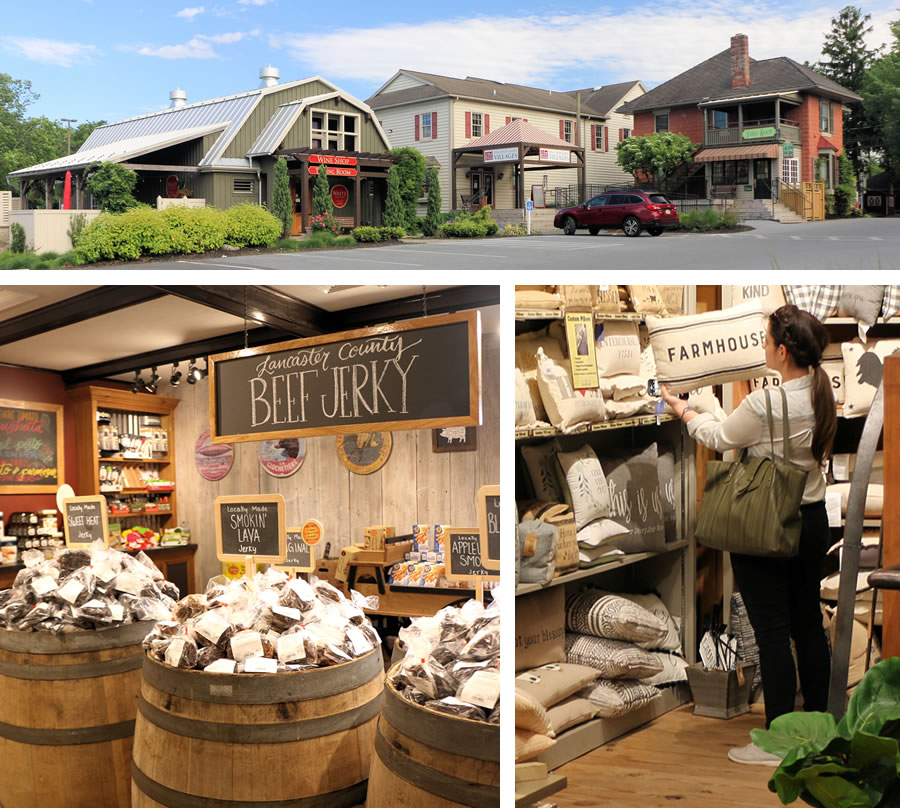 Kitchen Kettle Village
3529 Old Philadelphia Pike, Gordonville, PA 17529
kitchenkettle.com
We decided to stop at Kitchen Kettle Village since it was on our route home. What started as a jam-making business over 60 years ago, is now a small village of over 40 country restaurants and shops selling country goodies like cheeses, jerky jams, jellies, fresh kettle corn, baked goods, handmade pretzels and "Fixer Upper" country home and leather goods in a small "village" overlooking the beautiful Pennsylvania Dutch countryside. You can easily spend the better part of a day here shopping, eating and people watching. Kind of touristy? Yeah. Kind of fun? Definitely. For the full Amish experience, you can even get a ride in a horse-drawn buggy, which is just hanging out in the parking lot waiting to whisk away their next passengers. For an extended stay, there's even an Inn here with rooms located over the shops so you can rest up.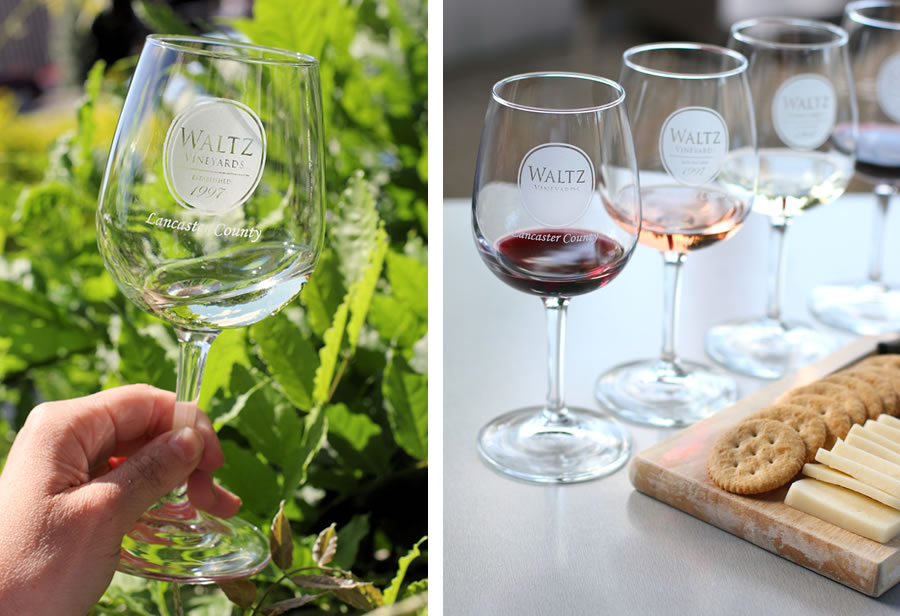 Waltz Vineyards Tasting Room At Kitchen Kettle
3529 Old Philadelphia Pike, Gordonville, PA 17529
waltzvineyards.com
Instead of hopping on a buggy, we ended up at the Waltz Vineyards tasting room located in the Kitchen Kettle Village. The Waltz Vineyards wine is estate grown on a sixth generation farm located between Lancaster and Lebanon, Pennsylvania, where they produce over 100 tons of wine grapes a year. Here at their Kitchen Kettle tasting room, you can do a wine tasting, buy glasses or full bottles, and relax either inside their bar or outside on their patio. If you have time to sit and sip, be sure to order cheese to enjoy with your wine. We had our tasting with Amish Butter Cheese that was unbelievably creamy and delicious. Tastings are $10 for 5 wines or $2 per 1 ounce tasting.  The wines here are on the dryer side, so if that's what you prefer you'll love what Waltz has to offer. I found their whites especially refreshing. We really enjoyed relaxing here for a bit before a final stroll through the village. You can also visit them at their vineyard in Manheim or additional tasting room in Lititz.
Road Trip Tip: When traveling on a road trip, remember to bring a cooler bag or two in case you want to bring home goodies that might need to be refrigerated. They're especially useful if you're traveling in the summer months for keeping food and drinks cold on the road. Opt for freezer bricks or just buy ice-along the way. Either way, you'll be happy you made the effort when you're eating all your favorite travel eats at home.

Day 5: Chadds Ford, PA
For our final stretch of this road trip, we headed to Chadds Ford located in Delaware County, Pennsylvania. What's there to do in Chadds Ford? Chadds Ford is a quaint historic little town that is home to the Brandywine River Museum of Art, the Brandywine Battlefield Park, antique shops and two wineries. When we heard about a "Food Truck Throwdown" at Chadds Ford Winery we know we had to see what that was about.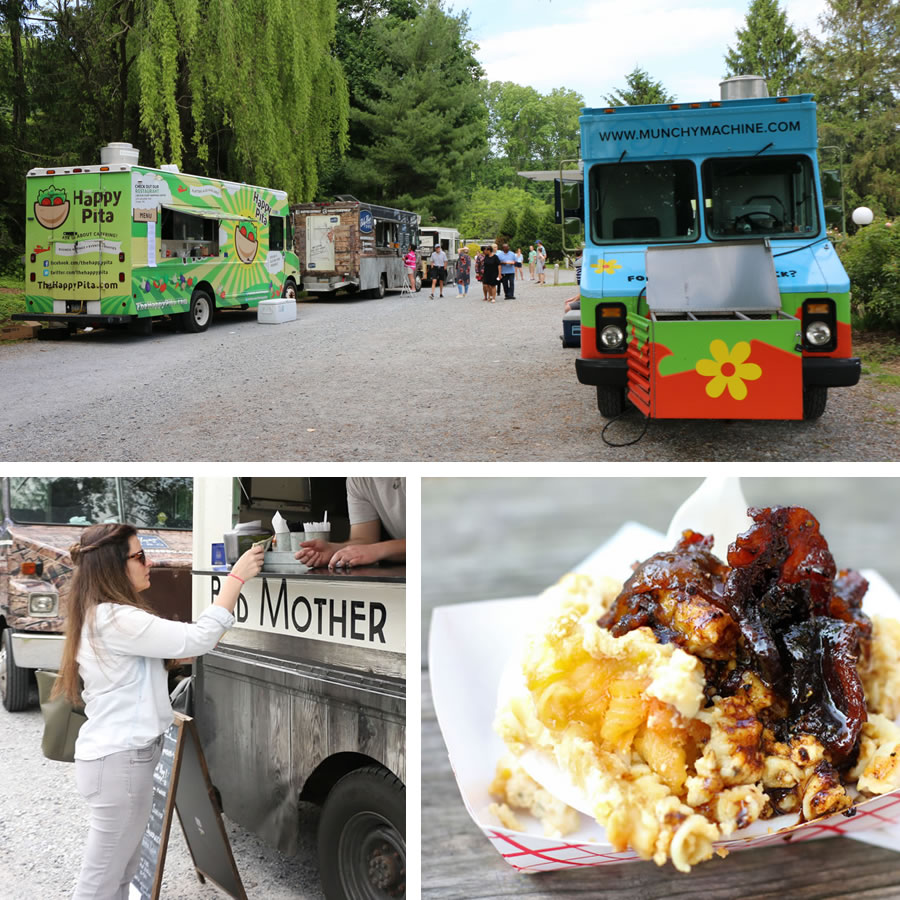 Chadds Ford Winery
632 Baltimore Pike, Chadds Ford, PA 19317
chaddsford.com
Chadds Ford Winery, located in the Brandywine Valley in Chadds Ford is one of Pennsylvania's largest wineries in the state, producing more than 30,000 cases of wine each year. With a variety of both sweet, dry and seasonal selections Chadds Ford Winery is a great place to go if you're in the area and looking to relax enjoy some nice Pennsylvania wine against. They do tastings and tours daily weekends, but the Saturday we visited we were excited to head there for one of their Food Truck festivals. Not only are there wine tastings and bars where you can buy, glasses and bottles of wine, sangria, wine mojitos and wine slushies, all while enjoying a variety of tasty food from a lineup of 10 or so local food trucks try everything from killer BBQ, oyster po'boys, souvlaki, spanakopita, and authentic Polish pierogis. For dessert, there was even a cupcake truck and a gelato truck. It was a great time of food and wine enjoyed with live music against the backdrop of Chadds Ford Winery historic 17th-century dairy barn.
Tip: It's best to bring cash with you to Chadds Ford Winery. It makes for easy tipping and quicker transactions paying at the wine bars, tasting tents or at the food trucks. There's no ATM on site so it's best to come with cash before you arrive.