Better Living uses affiliate links. If you make a purchase through them, we may receive a small commission (for which we are deeply grateful) at no cost to you.
* This post is sponsored by Holland House. The information and contented presented here is all ours.

There's no better way to end a delicious dinner than with something sweet. But when the cold weather has arrived and the holidays are here, our dessert recipes call for something more decadent and rich. Something comforting that will keep you and your guests coming back for more. It's times like these I picture myself swirling and twirling tasty bites like berries and bits of cake in a velvety smooth and rich pot of warm chocolate. That's right – fondue. Is there anything more decadent than a chocolate fondue on a cold winter's night? It's about as close as you can get to heaven. Add some caramel and you'll get a little closer.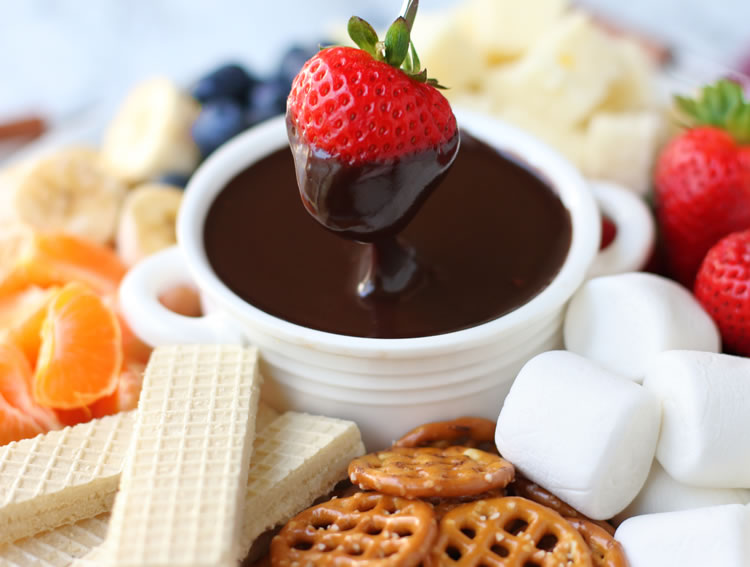 But this time I'm thinking of a fondue that's a little more sophisticated. A little more adult. And what's dreamier than pairing Marsala + Chocolate? Marsala, a fortified wine from Sicily with notes of rich hazelnut deliciousness, is usually added to dishes with nutty and caramelized sauces. To this fondue, we're adding a few splashes of Holland House Marsala Cooking Wine. Trust me; it brings it to a whole other level.
Why use cooking wine? It's great for those times you just know you're not going to be able to finish off a whole bottle, but you still want the flavor of that wine in your recipe. Plus, it's a great pantry staple to use when you want to amp up your favorite dishes including beef, chicken, and pork. But today we're talking about the sweet stuff. Since Marsala Cooking Wine does contain a little salt, the Holland House Marsala Cooking Wine balances the sweetness of the chocolate and caramel in this recipe beautifully, making for a more luxurious fondue blend.
This fondue is so easy to make it's unreal. And it's only four ingredients.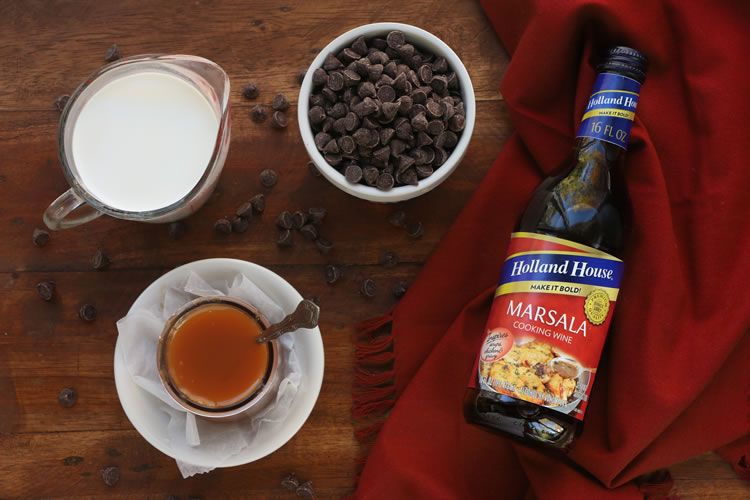 Just combine dark or semi-sweet chocolate (chocolate chips work great) with heavy cream (half & half or milk will work too) in a small saucepan on medium-low heat.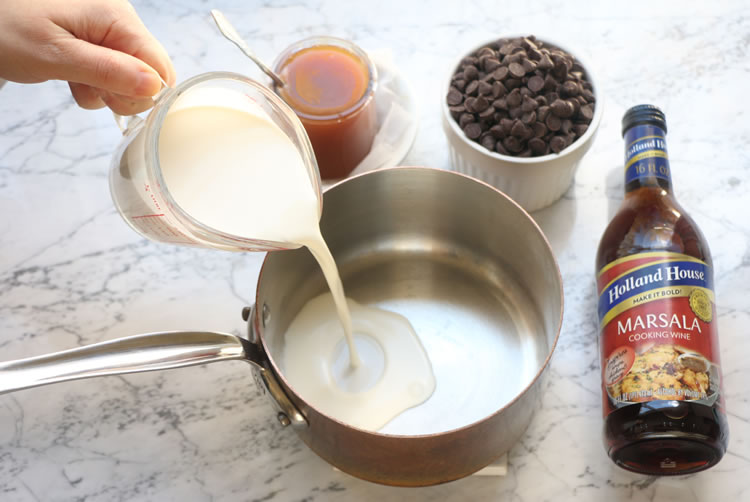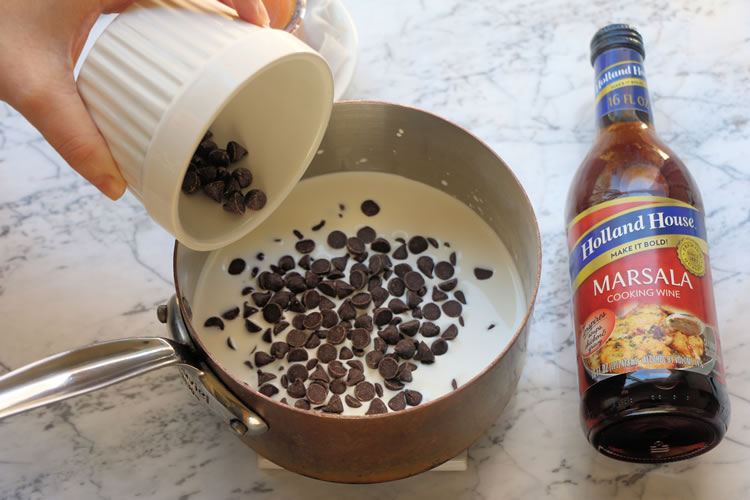 Be sure to stir frequently.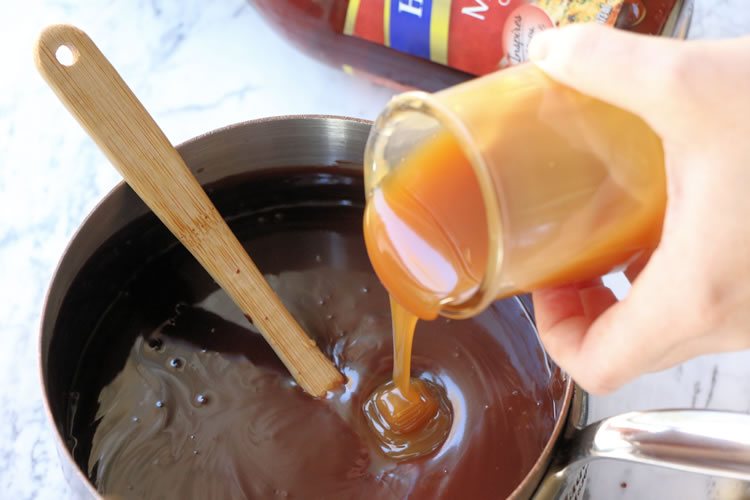 Next, add the caramel and the Holland House Marsala Cooking Wine.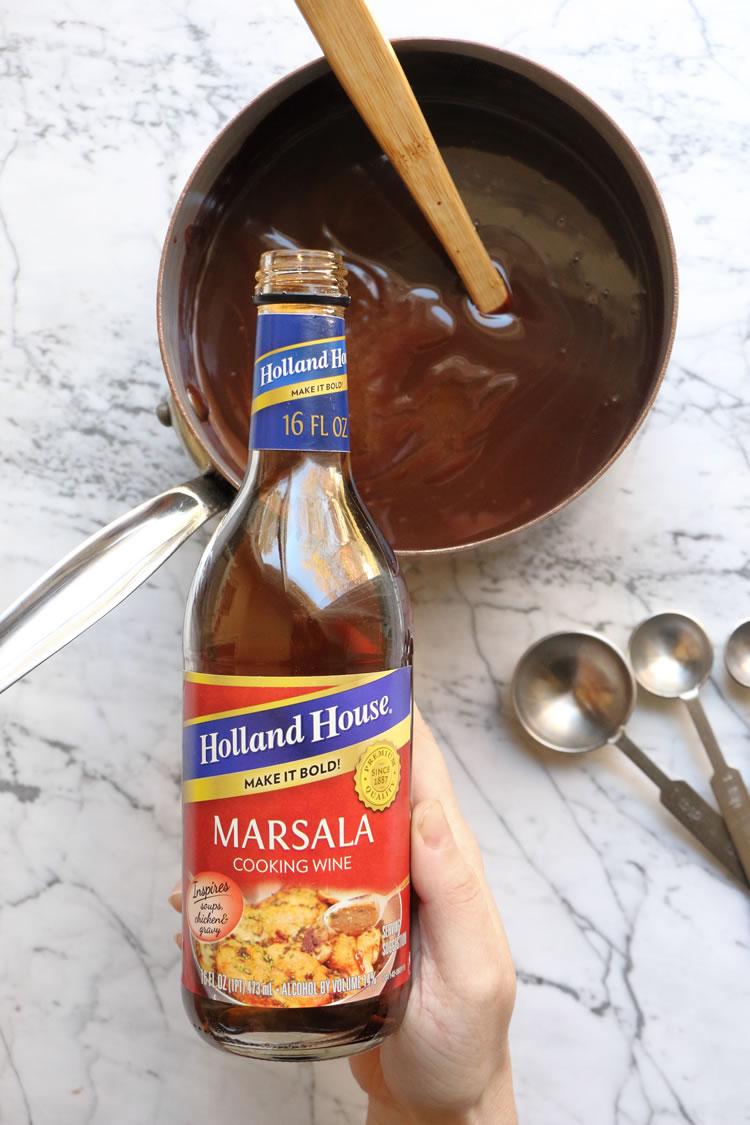 Whisk well again, heating through, and then transfer to a warm fondue pot or mini slow-cooker. If you don't have either of these, place in a warmed bowl. It's that easy.
While you would be perfectly happy enjoying this fondue right off the spoon you really can't miss out on all the yummy morsels to dip. It's fondue rules!
We love to serve this one with berries like strawberries and blueberries, slices of banana, orange segments, pretzels, pound cake bites, and vanilla wafers. Little bites of brownies would also be delicious as would shortbreads, sugar cookies, pineapple bites and grapes.
Happy dipping!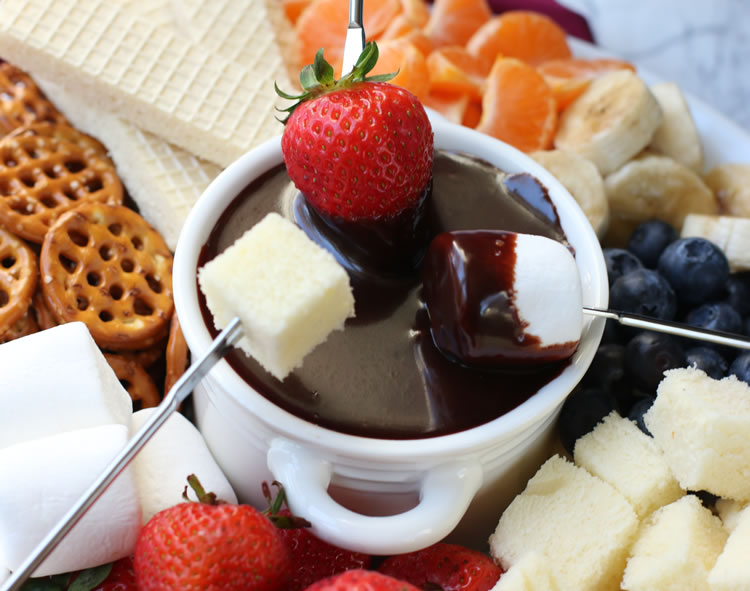 Get the recipe!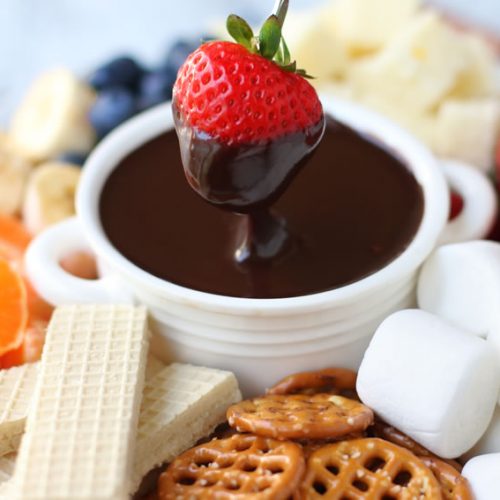 Chocolate Caramel Fondue With Marsala Cooking Wine
This rich and dreamy fondue is the perfect dessert to entertain with! Made with only 4 ingredients we guarantee you and your guests won't be able to put down the fondue fork.
Ingredients
FONDUE INGREDIENTS
12

ounces

dark or semi-sweet chocolate chips

1/2

cup

cream

(1)

12 ounce

jar caramel topping (found near ice-cream toppers)

2

tablespoons

Holland House Marsala Cooking Wine
FONDUE "DIPPERS" (Suggested)
banana slices

assorted berries ( blueberries, strawberries, blackberries)

orange slices

marshmallows

cubed

pound cake or brownies

pretzels

vanilla wafers
DIRECTIONS
STOVE-TOP DIRECTIONS
To a small saucepan add the cream and chocolate. Cook on medium-low heat stirring frequently until the chocolate is completely melted through (about 3-4 minutes).




Gently stir in the caramel topping and the Holland House Marsala Cooking Wine. Continue whisking, allowing the fondue to heat through.

Remove the saucepan from the heat and then transfer the fondue to a fondue pot to keep warm. If you don't have a fondue pot simply pour into a warmed bowl.

Serve on a platter alongside sweet and savory bites to dip! We like strawberries, blueberries, banana slices, pretzels, pound cake, and marshmallows. Use your imagination and enjoy!
MICROWAVE DIRECTIONS
Add the chocolate and cream to a microwavable bowl. Microwave in 30-second intervals, (stirring in between( until all the chocolate is melted. Be careful not to burn the chocolate. Once melted add the caramel topping and marsala cooking wine. Transfer to a fondue pot, mini slow cooker or warmed bowl. Serve as suggested above.
Notes
NOTE: At the grocery store, you may find both caramel sauce and caramel topping. The "topping" is intended for ice-cream and is thicker. This is what you want for this recipe.  If you can only find the caramel sauce your fondue will still taste amazing! Just reduce the amount of cream by 1/2 cup at the beginning of the recipe. Once all the ingredients are added, you can add the rest of the cream a little at a time until the right consistency is reached. It should be nice and thick. not runny.
Holland House Cooking Wines are a great way to boost the flavor of your favorite cold-weather dishes like chilis, soups, sauces, and even desserts! They're available in Marsala, Red, Sherry, White, and White with Lemon to add a splash of flavor to all your favorite recipes.
FOLLOW: Holland House on Facebook and Pinterest for more delicious recipes and tips!
VISIT: the Holland House website to download a $ money saving coupon for your next trip to the grocery store: hollandhouseflavors.com
* This post is sponsored by Holland House. The information and contented presented here is all ours.