Better Living uses affiliate links. If you make a purchase through them, we may receive a small commission (for which we are deeply grateful) at no cost to you.
Whether you're having your own 4th of July celebration this year or heading out to a party, try whipping up one of these delicious, fun and sweet treats for a patriotic statement that will be sure to delight all ages.
1. Red, White & Blue Raspberry Candy Bars
This is the candy bar 4th of July dreams are made of.  Dark Chocolate is wrapped around a Raspberry Nougat and Cookie Center with a stunning patriotic display inside!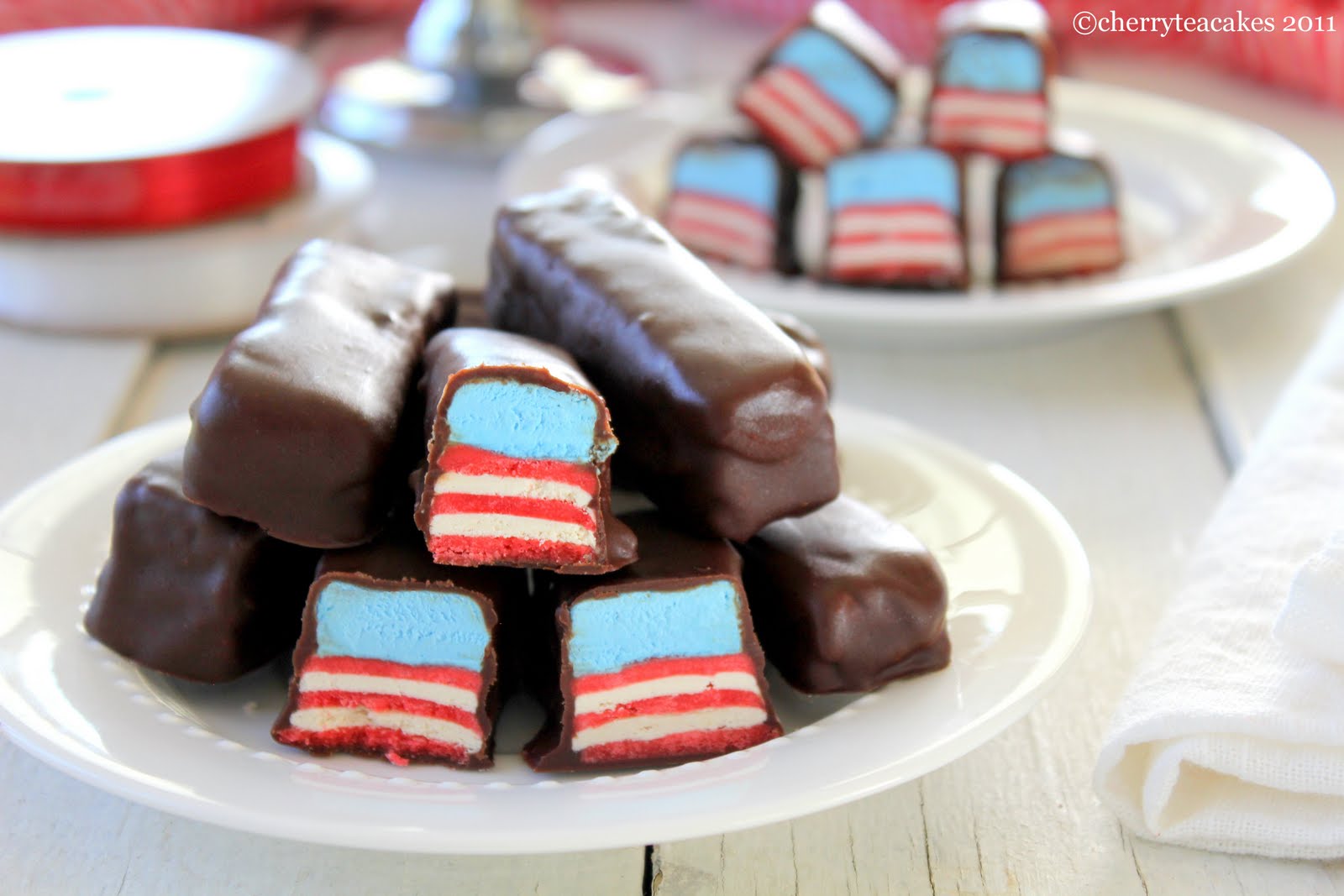 cherryteacakes.com
2. Starry Red, White & Blue Ice-Cream Sandwiches
Using store bought cookie dough and some decoratice red and blue candies, these easy to make ice-cream sandwiches are yummy and perfect for the 4th of July!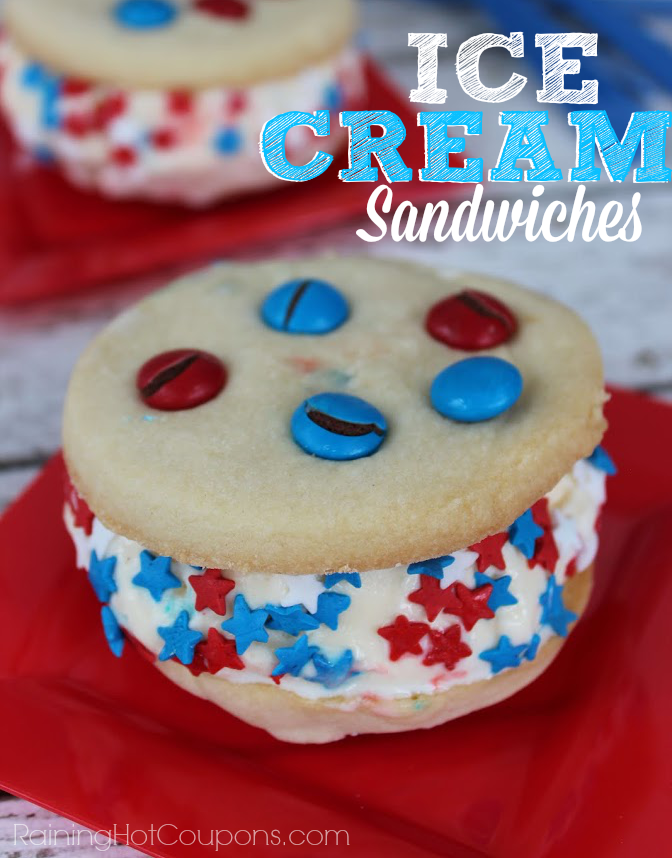 raininghotcoupons.com
3. Glittery 4th of July White Chocolate Popcorn
White chocolate covered popcorn, tossed with red and blue M&M's and adorned with edible gold glittery stars. This is the perfect patriotic 4th of July snack.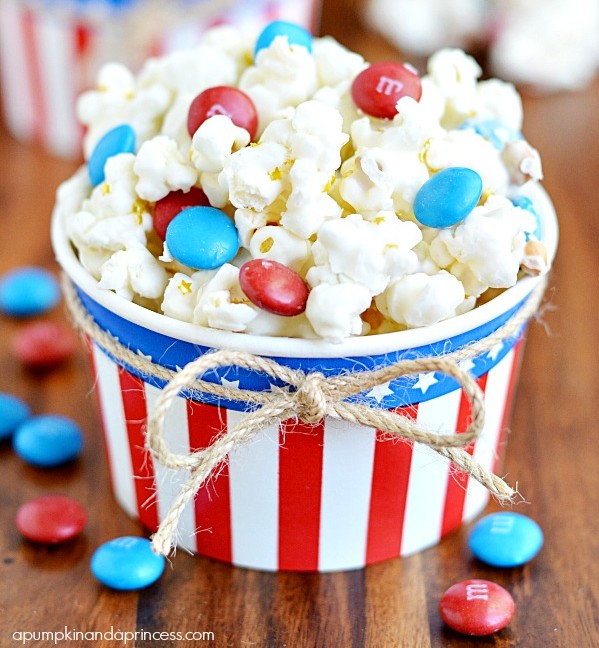 apumpkinandaprincess.com
4. Poppin' Rockin' Marshmallow Pops
This easy to make is a poppin', rockin' way to set off your 4th of July festivities.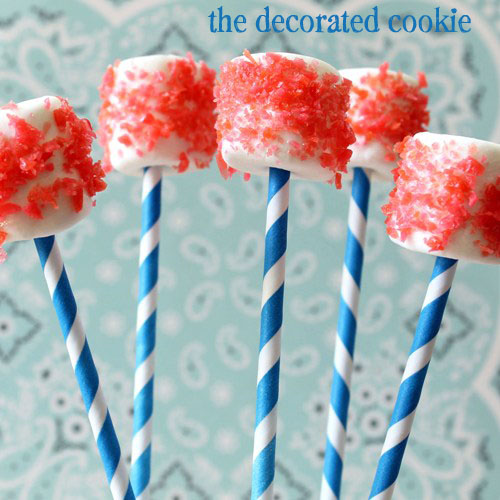 thedecoratedcookie.com
5. American Flag 4th of July Cake
The look of this beautiful cake is easy to achieve and will impress everyone at your BBQ.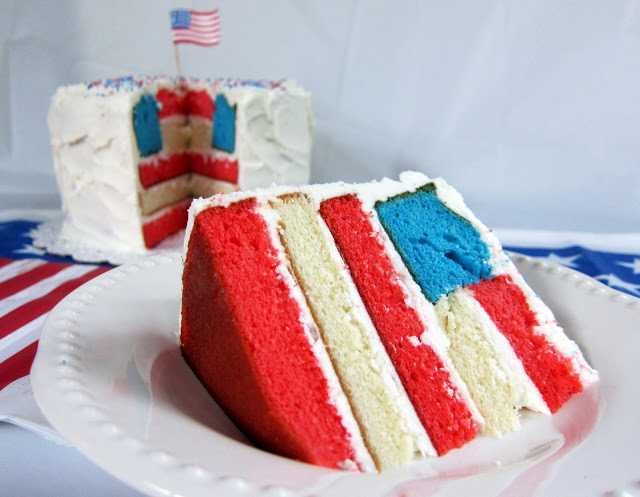 plainchicken.com
6.  Patriotic Stained Glass Jello
Gorgeous pops of Blue Raspberry and Cherry Jello in every bite!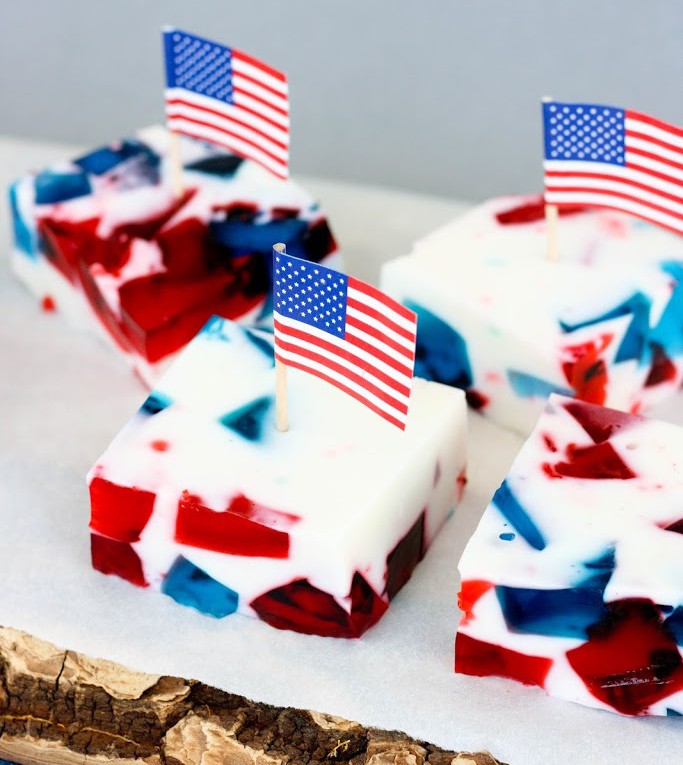 Krissy's-Creations.com
7.  Red, White & Blue Snow Cone Cupcakes
These Red, White & Blue Snow Cone cupcakes aren't your usual icy snow cones, but they're just as much fun and taste amazing too!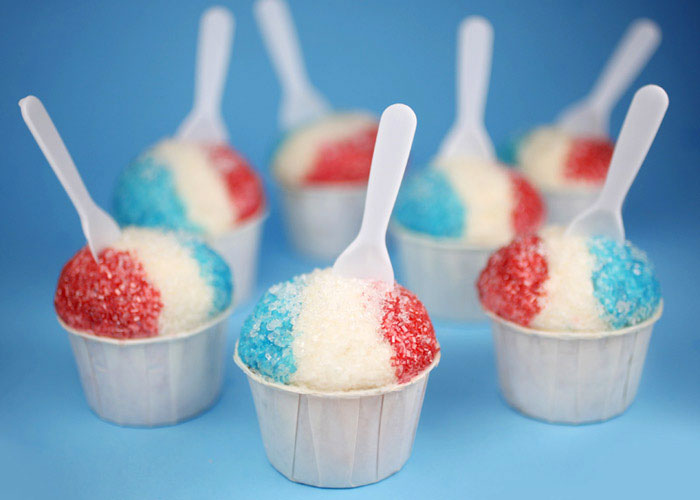 Bakerella.com
8.  Layered 4th of July Jello Bites
These layered Jello Bites pay homage to the colors from our beautiful flag. The stripes make these beautiful to look at and tasty too.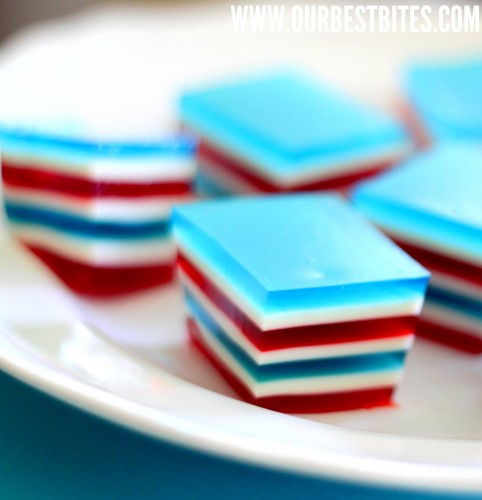 Ourbestbites.com
9. Stained Glass Red, White Blue Star Cookies
The technique to achieve the gorgeous stained glass look on cookies is normally reserved for Christmas baking.  But these stained glass stars couldn't be more perfect for the 4th.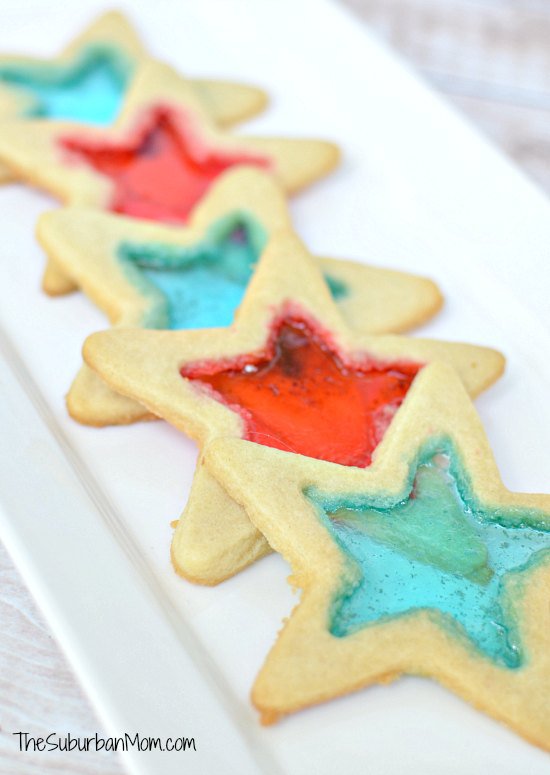 thesuburbanmom.com
These frosted cupcakes are decorated with an edible marshmallow and licorice "firecrackers" for an explosively fun treat!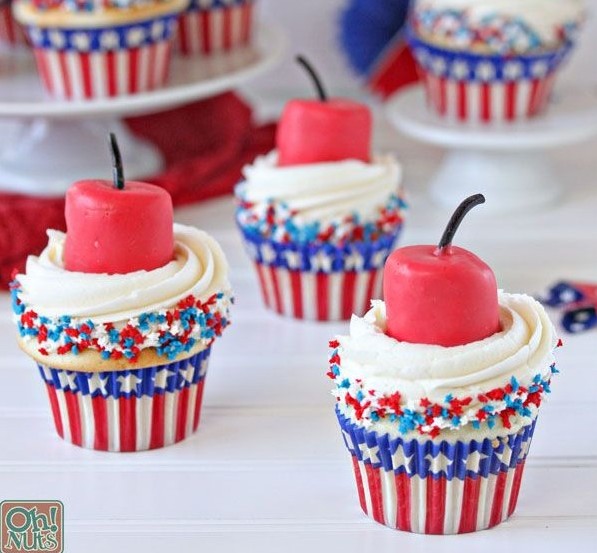 ohnuts.com
11. 4th of July Bark
With gorgeous swirls of red, white and blue, no one will be able to keep their hands off this 4th of July candy bark.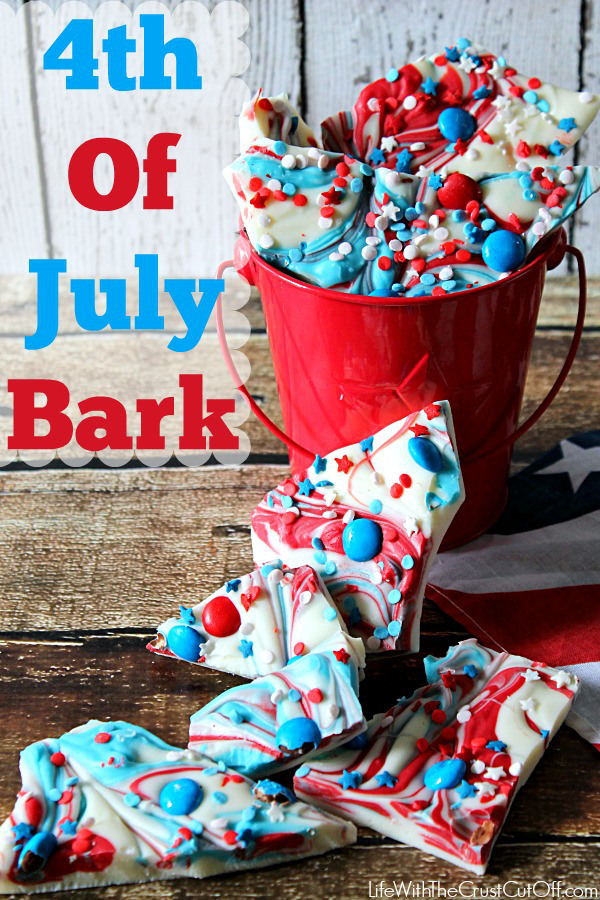 LifeWithTheCrustCutOff.com
How scrumptious does this Patriotic Cookie Cake look? What a fun and fabulous treat to celebrate our freedom!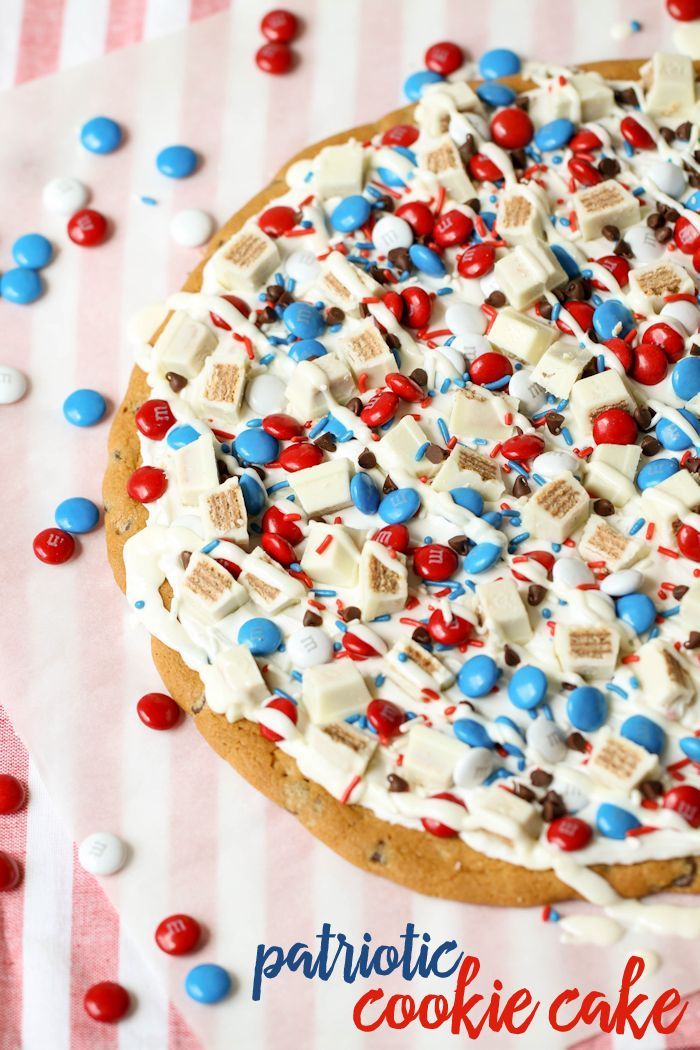 lilluna.com
13.  Red, White & Blue Shortbread Cookies
According to wikipedia, "John Adams and many other Americans considered tea drinking to be unpatriotic following the Boston Tea Party. " So instead serve these little beauties with coffee for a patriotic start or finish to your 4th of July.
SugarWinzy.com
14. Red, White & Blue Yogurt Popsicles
There's nothing like a frozen treat in July and these American flag popsicles will do just the trick this Independence day. The best part is they are all natural and good for you too!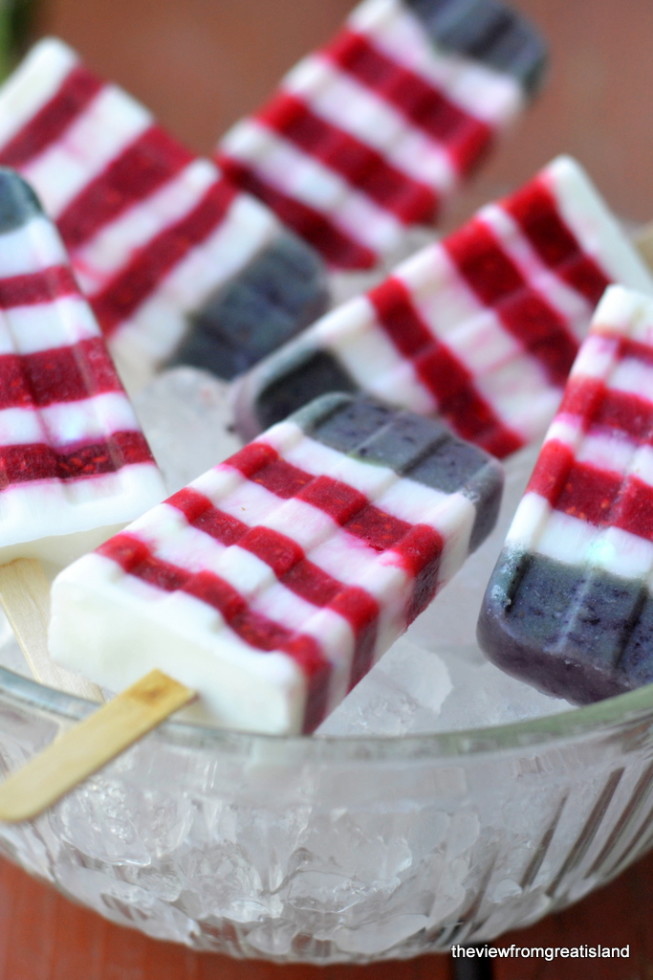 theviewfromgreatisland.com
15. 4th of July Rice Krispie Treats
Who doesn't love a Rice Krispie treat? And these guys are not hard to make, but will make a big impact at any 4th of July party.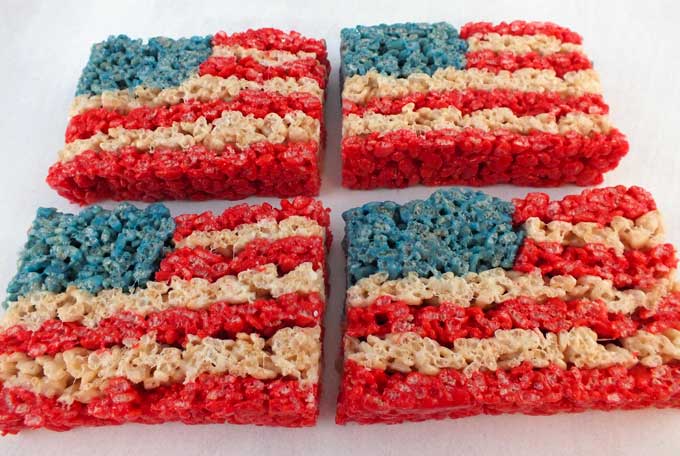 twosisterscrafting.com