Better Living uses affiliate links. If you make a purchase through them, we may receive a small commission (for which we are deeply grateful) at no cost to you.
* This is a sponsored post written by me on behalf of Johnsonville.
If you're looking for the perfect party or holiday appetizer that's packed with flavor, these easy 3 Cheese Sausage Stuffed Jalapeños are just what you've been looking for. Meaty, creamy, and deliciously spicy, we take large fresh jalapeños and stuff them with 3 types of cheese, flavor packed Johnsonville Ground Italian Sausage, and bake these spicy guys up until bubbly. They're so good, there's no doubt they'll become a family favorite. Plus they're super easy to throw together. Easy and delicious? What can be better?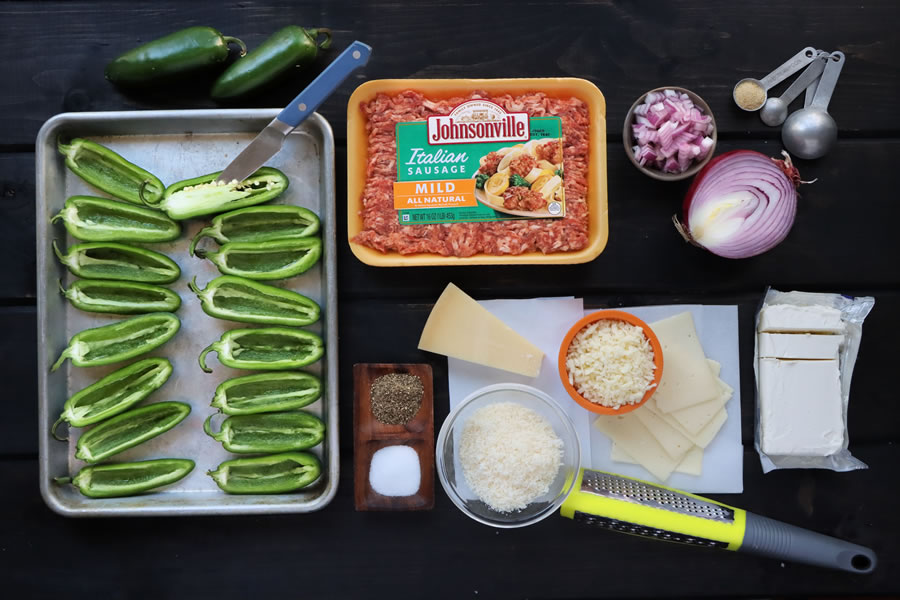 The Ingredients You'll Need 
Jalapeños – Look for Jalapenos that are around 3 ½ to 4 inches long. They may look large at first glance, but they will give you enough room in their inner cavity to provide a nice portion of yummy sausagey filling.
Johnsonville All Natural Ground Italian Sausage (Mild) – For this recipe we used Johnsonville All Natural Ground Italian Sausage in the mild flavor since the jalapenos in our recipe already have some zip. There's a Johnsonville Sweet Ground Italian Sausage variety as well, and if your family likes when you bring the heat use the Johnsonville Hot Ground Italian Sausage instead. Pre-spiced and super tasty, whichever you choose there will be plenty of flavor! It also makes a great protein swap that can kick up the flavor in your favorite dishes.
Cream Cheese –  One package will do here, which is 8 oz. The cream cheese should be softened enough that you can easily fold it with the sausage and other ingredients.
Asiago – Nutty and creamy, asiago is absolutely delicious in this recipe. Look for young asiago which is soft and good for melting (you may see words like fresco or pressato on the package) in lieu of aged asiago (9 months or more) which is dryer and can be grated like Parmesan. Fontina, provolone or mozzarella are great substitutions.
Parmesan cheese – If you don't have Parmesan cheese, Pecorino Romano works perfectly. A blend wouldn't hurt these jalapeños one bit.
Red Onions + Scallion –  I sautéed red onion with the sausage just before making the filling.  Finely sliced scallions/green onions are a lovely garnish that complements the sausage filling with a little fresh onion flavor. If you don't have red onion, toss the filling mix with the same amount of sliced green onions and bake as instructed.
Garlic Powder – There's not much a little garlic can't make taste better. Garlic powder adds a nice muted garlic flavor that isn't overpowering. If you prefer, use a clove or two of minced fresh garlic instead of the powder.
Salt + Pepper – I recommend you add the salt to taste after you mix your filling. Depending on the saltiness of your Parmesan and cream cheese you may not need any at all.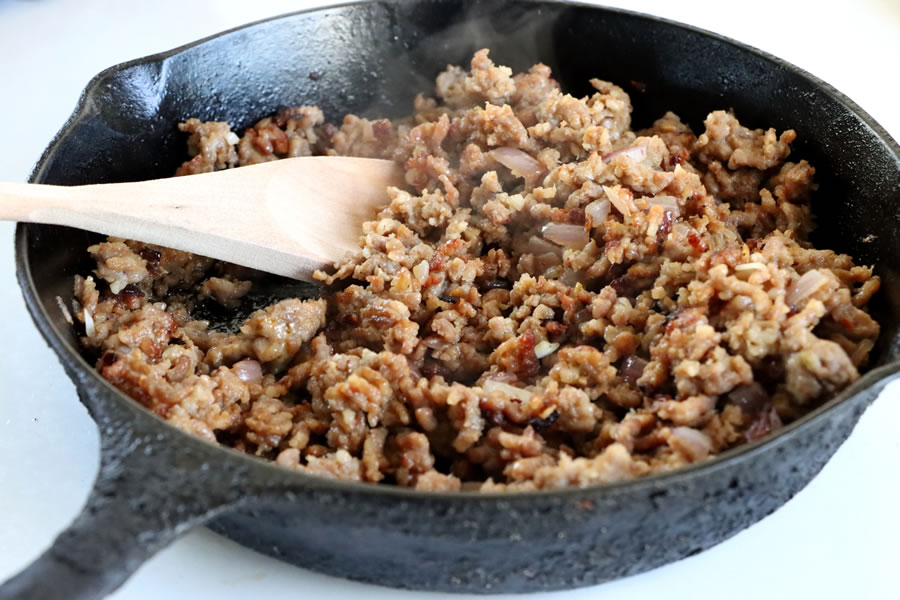 Browning the Sausage
To brown the ground sausage, place it in a heavy bottomed pan or skillet over medium heat. As the sausage is cooking break up with a spatula to encourage finer pieces and even browning. When the sausage is nearly browned add in the onion and cook to sauté for two more minutes. Allow to cool completely before making the filling.
Making the Sausage-Cheese Filling
The filling is so easy to make! Simply fold all the ingredients including the browned Johnsonville Ground Mild Italian Sausage, with the cream cheese, Asiago, Parmesan, garlic powder, salt and pepper. Mix thoroughly and you're ready to stuff. This can be prepared the night before and refrigerated until you're ready to use. If you have any filling leftover, it's delicious mixed into scrambled eggs, spread on warmed garlic bread or even spooned over tortilla chips with some extra cheese for nachos.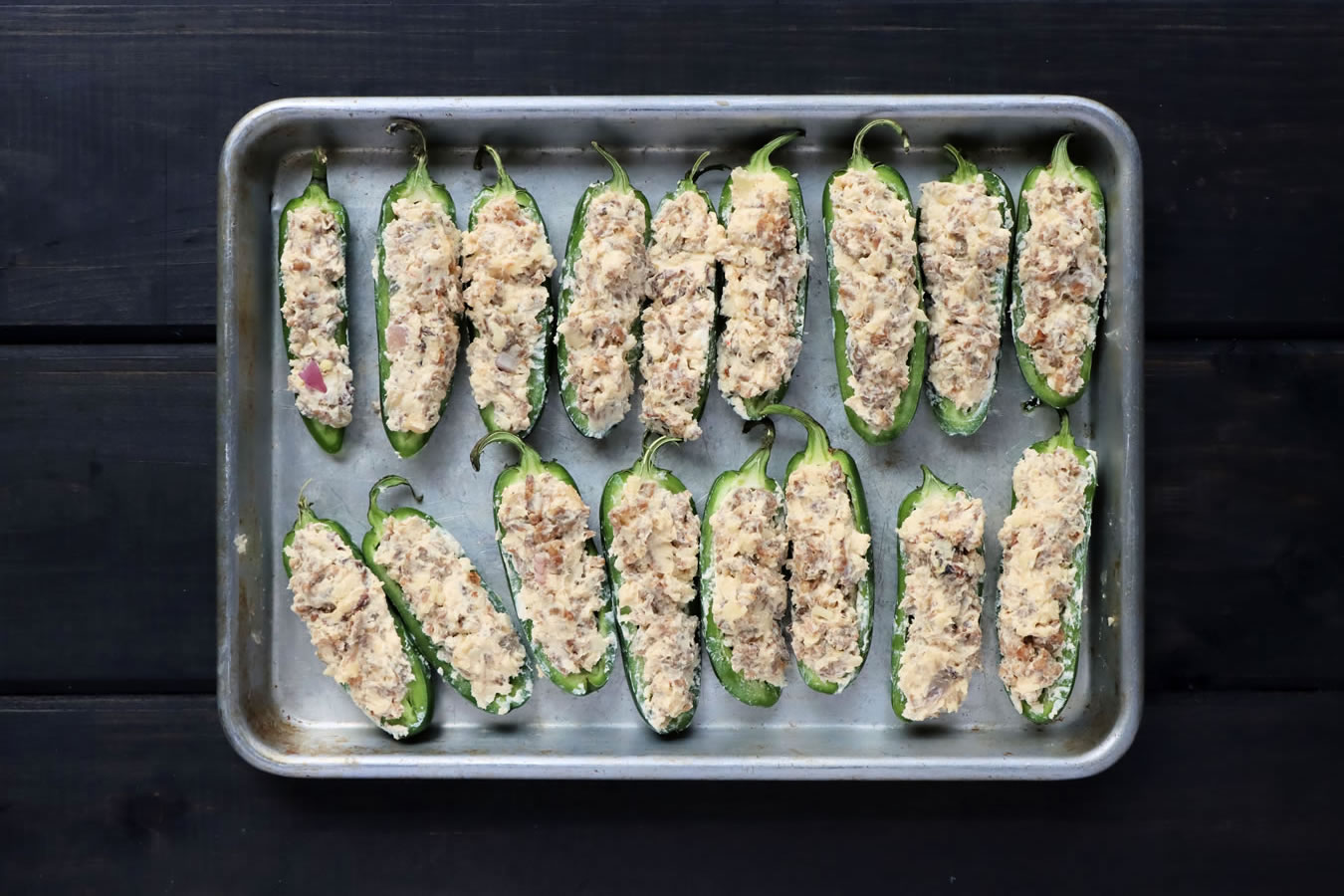 Preparing and Stuffing The Jalapeños
Wearing gloves, use a sharp knife to slice the jalapeños in half lengthwise. Remove the seeds and the white fibrous parts to give you more room for stuffing. You may remove the stem, but I love the way it looks for presentation. Fill each of the jalapenos with a couple of tablespoons of filling and then place the filled jalapeños on a baking sheet.
Note on Handling the Jalapeños: Capsaicin, the compound in jalapeños that makes them spicy can cause a burning sensation on your skin and can be found in the inner lining of the jalapeno as well as the seeds. If you do accidentally get some on your skin simply wash them in warm soapy water and apply some olive or coconut oil. This may sound strange, but putting dairy on it can also soothe the area. With a little time the sensation will go away on its own.
Baking and Serving the Sausage Stuffed Jalapeños
Bake these 3 Cheese Sausage Stuffed Jalapeños at 400℉ (200 ℃) for 20 to 22 minutes or until brown and bubbly. For an on point presentation, transfer them to a serving dish and sprinkle with finely diced red bell pepper, green onion and more Parmesan cheese. While I love these  jalapeños as is, you may serve them with a sour cream or Greek yogurt seasoned with a little salt for guests to dollop on. One thing is for certain: there definitely won't be any leftovers.
Tip: These 3 Cheese Sausage Stuffed Jalapeños can be prepared and stuffed the day before. Just refrigerate and bake when you're ready.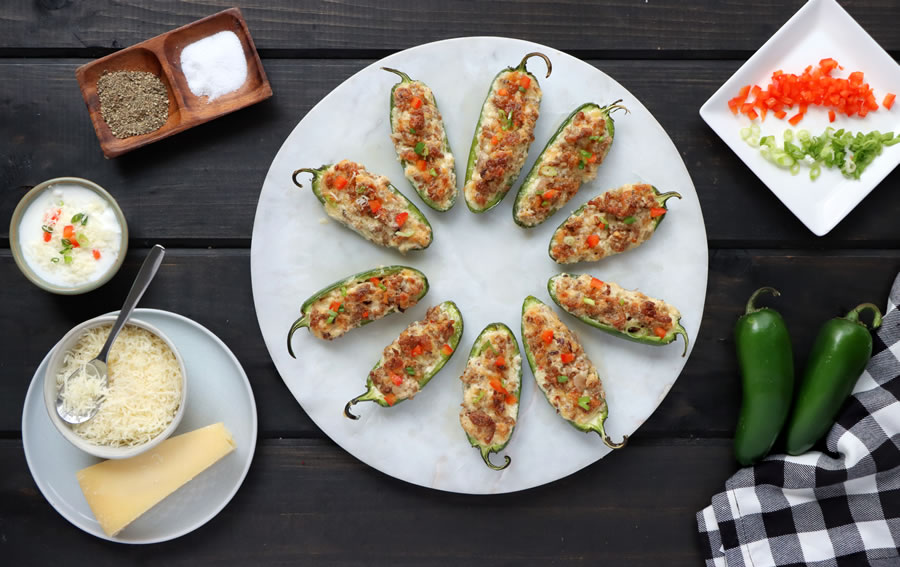 GET THE RECIPE!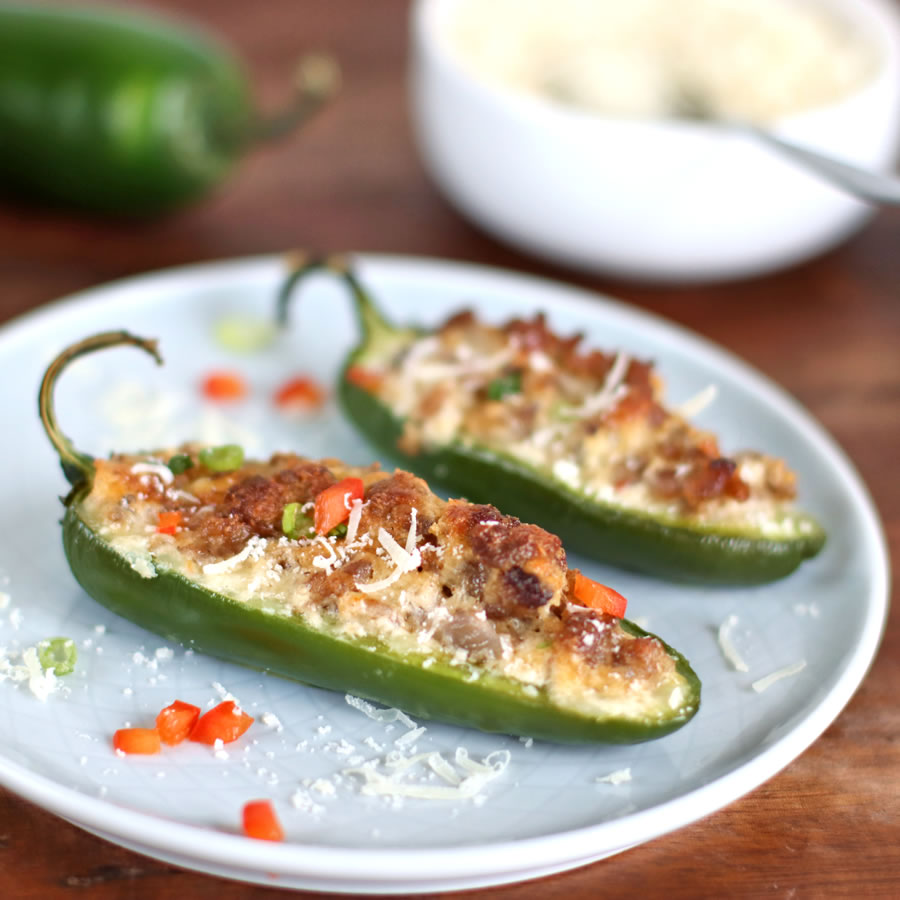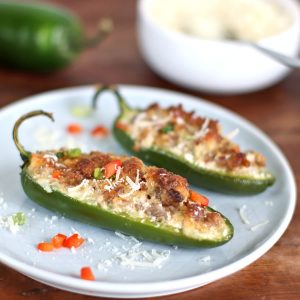 3 Cheese Baked Italian Sausage Stuffed Jalapeños
Ingredients
1 pound ground Italian sausage
8-ounce package cream cheese, softened
1/2 cup shredded asiago cheese
1/2 cup Parmesan cheese
roasted red pepper or red bell pepper
1 pound jalapenos halved lengthwise and seeded
1 green onion
DIRECTIONS
In a bowl, mix the sausage, cream cheese, cheddar cheese, and green onion. Spoon about 1 tablespoon sausage mixture into each jalapeno half. Arrange stuffed halves in a baking dish. Bake 20 minutes in the preheated oven, until bubbly and lightly browned.

Tips on seeding the jalapenos. 1) Wear gloves throughout the entire process, then remove right after so you don't transfer to sink faucet, cabinet handles, etc. 2) I love my little lemon zester tool for seeding but a small melon baller works great too. 3) As you half and seed the jalapenos and put into a bowl of continuous running water. This helps soften to bake better and removes some heat.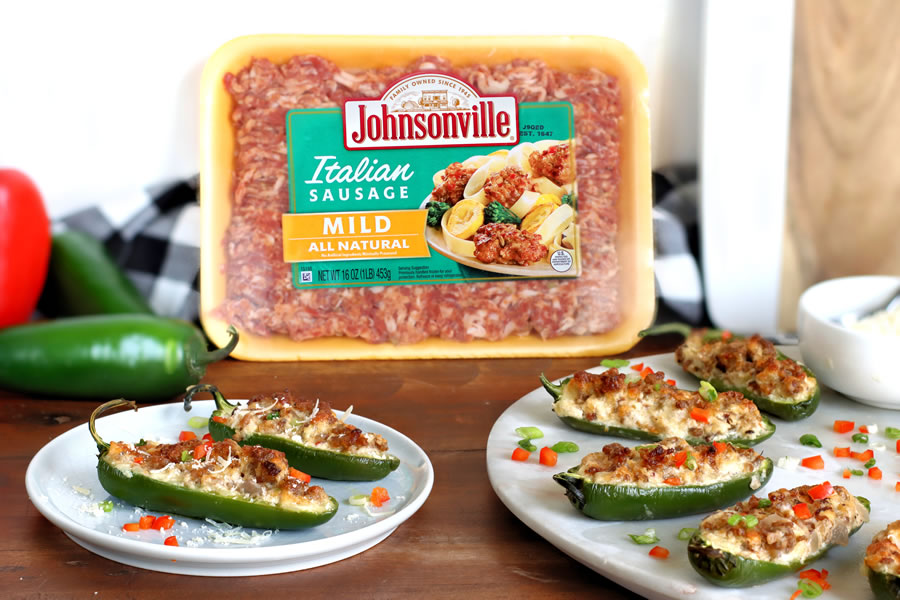 Looking to impress family and friends with some fresh and flavorful dishes this holiday season?  Visit Johnsonville.com for info on more recipes, tips and tricks to see how to use Johnsonville Italian Sausage!