Better Living uses affiliate links. If you make a purchase through them, we may receive a small commission (for which we are deeply grateful) at no cost to you.
*We partnered with DailyVita.com to bring you this recipe. All the information and opinions presented here are our own. DailyVita.com is the ultimate online shopping experience for nutritional supplements, natural foods and beauty products, essential oils, and gifts!
Spring and summer eating is all about fresh herbs, fresh flavors, and light dishes. It's also the perfect time to start experimenting with bringing healthier ingredients into your everyday meals.
For an easy and delicious protein-packed pasta dish with fresh basil and pesto flavors, try our recipe for Gluten-Free Chicken Pesto Pasta. Perfect for lunch, dinner or brunch dish, we toss gluten-free pasta with fresh pesto, red grape tomatoes, spring asparagus, toasted pine nuts, and grated cheese. Before serving we top it with sliced rotisserie or home roasted chicken for a satisfyingly delicious and healthy anytime meal.
If you've never made pesto before be sure to give it a try. It's incredibly easy, healthy and adds a lovely herbaceous flavor to not only pasta dishes but also to salad dressings, sandwiches or spooned over grilled fish and meats. We've added links throughout the post to help you find the ingredients you'll need for this recipe. They're all available at Daily Vita, an online health and wellness source for all your healthy pantry needs.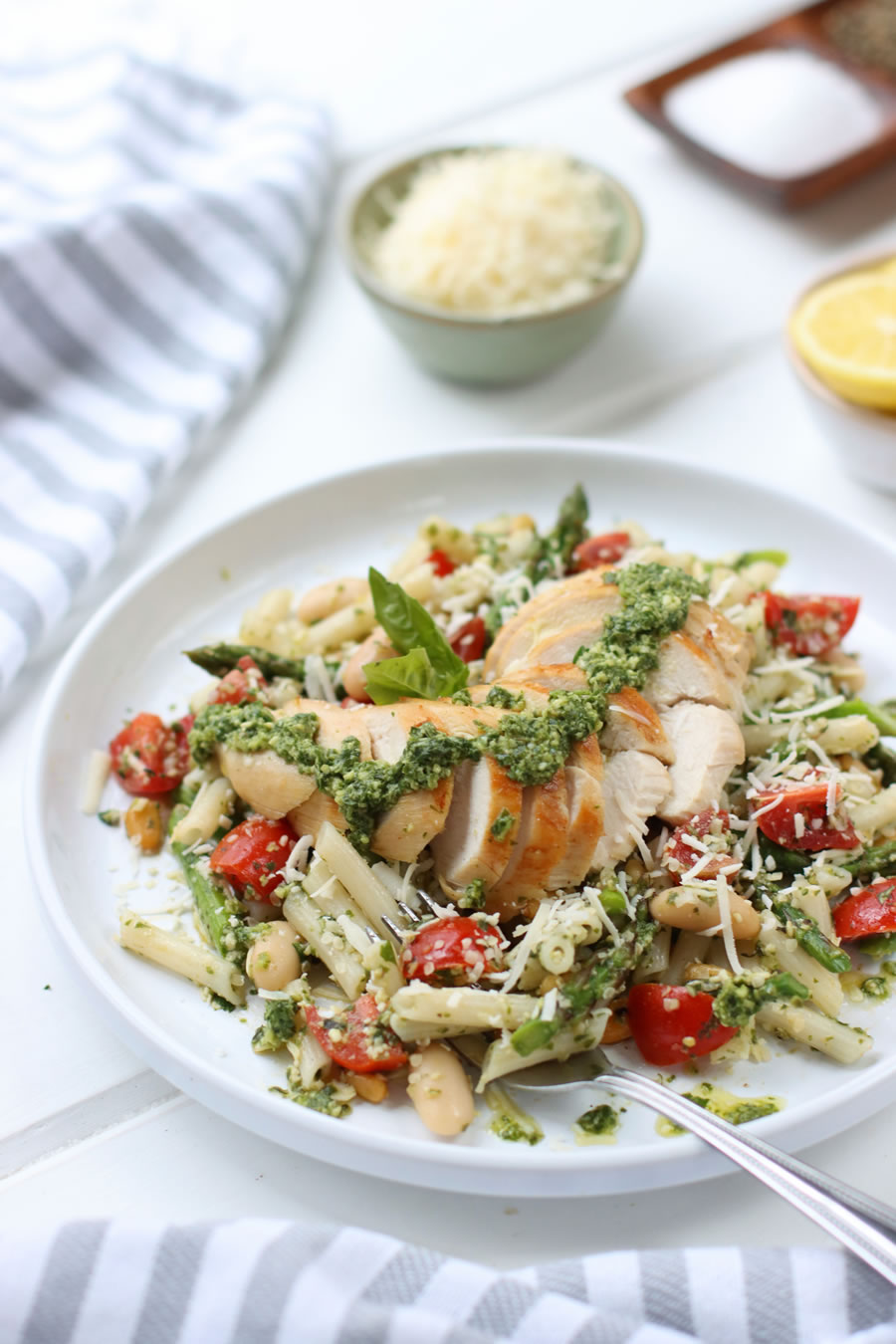 WHAT'S IN PESTO?
Pesto, a healthy, fresh and herbal salsa-like sauce from Genoa, Italy is the major flavor component of our pasta dish.  Along with fresh basil it also traditionally consists of garlic, pine nuts (also called piñón, pinoli, or pignoli), a hard cheese, such as Parmigiano-Reggiano all smoothly blended together with olive oil. I find adding a pinch of salt and a dash of lemon juice adds a tangy brightness and a yummy savory finish. 
Here are the ingredients and some of the nutritional benefits of the fresh basil pesto: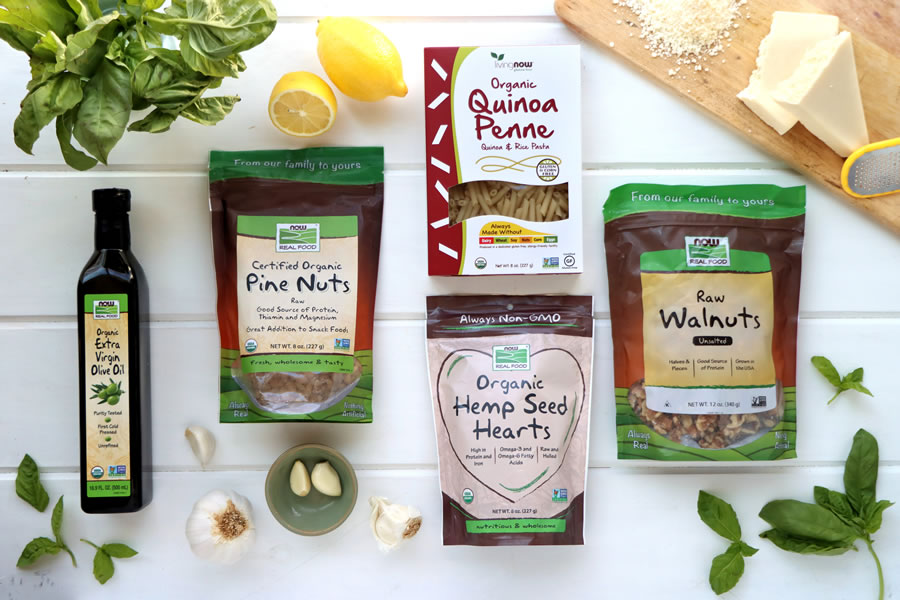 BASIL – A green leafy herb from the mint family, basil provides a rich source of vitamin K, vitamin A and minerals like zinc, calcium, magnesium, and potassium. It contains very little calories. You'll need about 2 cups of packed fresh basil for this recipe and you can find it in the produce section of your grocery store.
OLIVE OIL – This anti-inflammatory powerhouse and a key ingredient in the Mediterranean diet provides a rich source of heart-healthy monounsaturated fats and age-fighting antioxidants. Olive oil is what gives pesto its smooth consistency. Try the Now Foods Organic Extra Virgin Olive Oil available at Daily Vita.
Recommended Product: Now Foods Organic Extra Virgin Olive Oil 
PINE NUTS – These delicious edible nuts that come from the cones of pine trees are considered a hardened fruit rather than an actual nut. They're high in vitamin K, phosphorus, magnesium and zinc and are a good source of iron, thiamine E, niacin and healthy fat. Pine nuts also provide a good amount of the antioxidant lutein which is beneficial for eye health. 
Pine nuts are traditional to pesto and I suggest lightly toasting them before adding them to the pesto.  You'll need ½ cup of lightly toasted pine nuts for this pesto recipe and an additional ½ cup toasted for the final pasta dish. We love the certified organic pine nuts from Now Foods which I find taste incredibly fresh and are an addicting and satisfying crunchy snack straight from the package.
If you're allergic to pine nuts you can substitute almonds or walnuts instead. If you're completely nut-free, try substituting hemp seed, which has a mild nutty flavor and is also high in protein, iron, phosphorus, and magnesium. It's great for adding into your favorite dishes like salads, soups, and pasta for a tasty boost of nutrients.
Recommended Products:
NOW Real Food® Raw Organic Pine Nuts
NOW Real Food® Organic Hemp Seed Hearts
NOW Real Food® Raw Almonds
NOW Real Food® Walnuts
GARLIC – Antimicrobial in nature, garlic provides a rich source of potassium, iron, calcium, magnesium, manganese, zinc, and selenium. It's also high in antioxidants and is often associated with the compound allicin which has been shown in studies to improve heart health and have antibacterial, antiviral, and antifungal activities. We like 2 cloves of garlic in our pesto recipe, but feel free to add more if you can't get enough of the stuff.
PARMESAN CHEESE – This low-lactose cheese is a good source of calcium which is believed to be beneficial for optimal bone health. For this recipe, you'll need about ½ cup grated for the pesto and an additional ½ cup tossed into the pasta. Romano cheese may be substituted or try a combination of half Parmesan and half Romano.
LEMON JUICE – High in vitamin C, lemons and healthy plant compounds, lemons can improve heart health, digestion as well as aid in increasing immunity. They also offer vitamin B6, thiamin (B1), iron, copper and calcium. Lemon juice adds a nice flavor to this pesto and can be added to taste.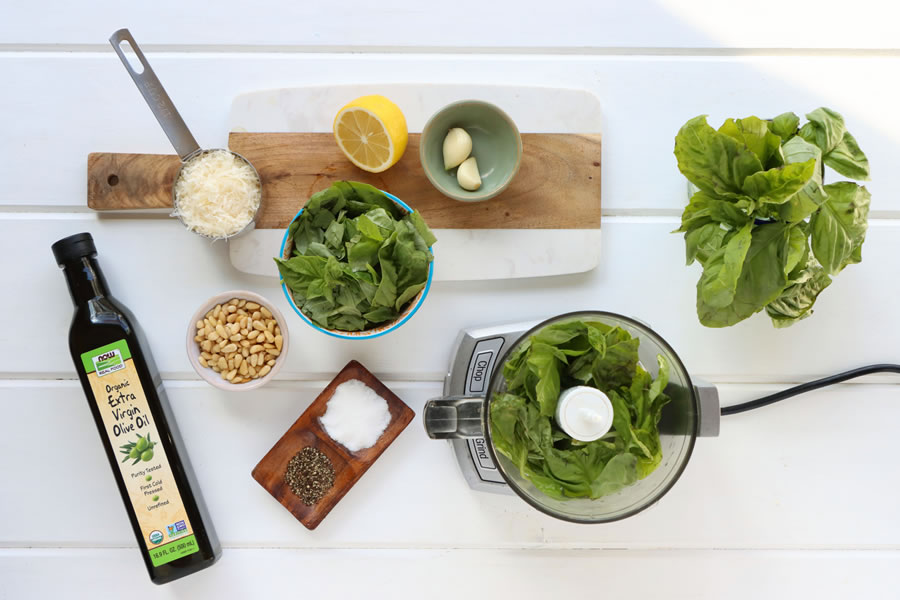 HOW TO MAKE THE FRESH BASIL PESTO
Back in the day before kitchen appliances were a thing, pesto was ground into a paste by hand using a mortar and pestle. While you are welcome to use that lovely, yet slightly laborious technique, a food processor, mini chopper or blender will certainly do the trick with less effort on your part. Just pack all the ingredients in the food processor and then stream the oil in while blending. Depending on your preferences you may opt for a super smooth pesto or one that has a little more texture by blending more or less.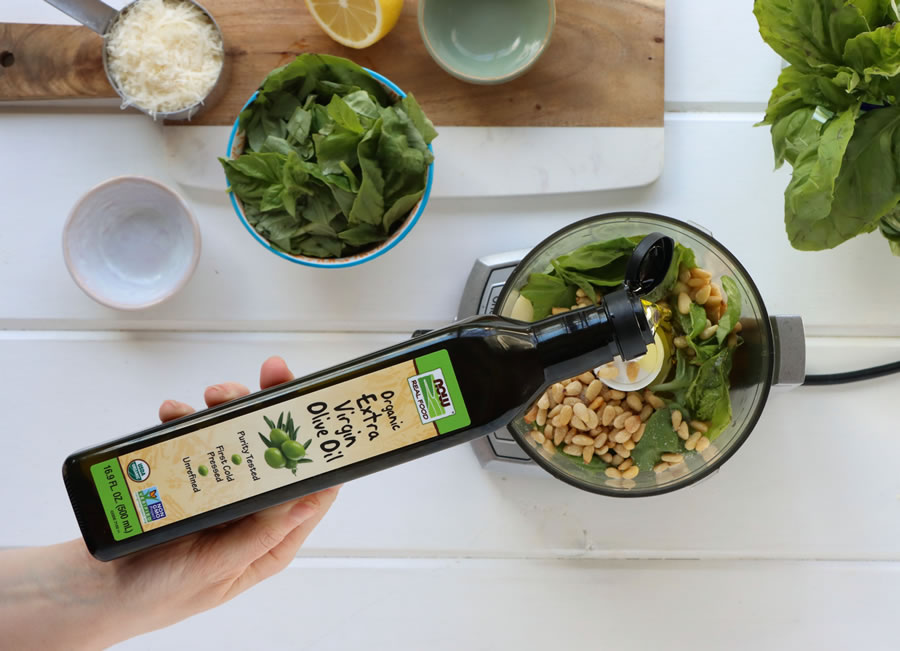 STORING THE PESTO
This recipe makes about 1 ¼ cups of pesto, but you'll only need about 1/2 to 2/3 cup for the pasta dish. Store the leftover pesto in an airtight container or jar. 
Pesto Storage Tip: Adding an extra layer of olive oil over the top of the pesto while storing will help to preserve the freshness and color of the pesto.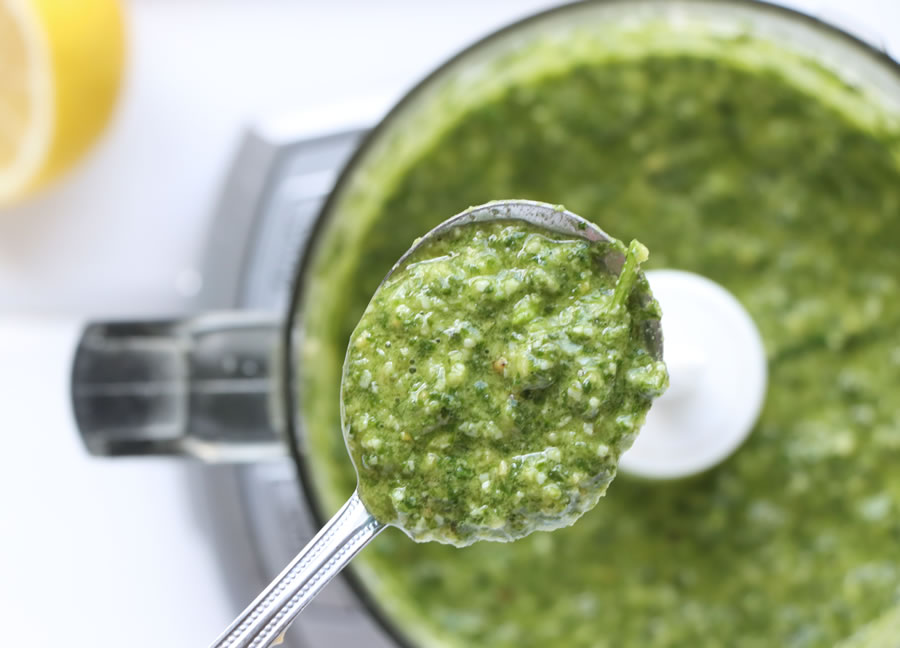 MAKING THE PASTA
Growing up in an Italian family, loving pasta is in my blood. But what I don't love is that heavy bloated and tired feeling I get right after eating it. And it's been more than a handful of times that I've headed to the couch for a post pasta snooze. Wheat pasta is a high glycemic food, which can cause a spike in your blood sugar. As your body works quickly to remove the excess sugar, insulin levels then take a nosedive giving you that feeling of a "crash" making you feel super drowsy. If you love pasta, but want to avoid the fatigue, eating it along with plenty of protein can help slow the release of glucose into your system preventing that total blood sugar spike and crash.
While this trick works for fatigue it doesn't necessarily work for that bloated heavy feeling pasta can cause. So what gets rid of both the drowsiness and the bloat? For me I've found substituting white wheat pasta for a plant-based pasta does the trick. In this recipe, I used the Living Now® Gluten-Free Organic Quinoa Penne. Made with quinoa, rice, and amaranth, the taste of and texture is just like traditional pasta, but made without wheat, corn, GMOs, artificial colors, flavors, sweeteners, hydrogenated oils or additives. To me, it tastes just as delicious as regular pasta, but it also cooks up perfectly al dente giving you that satisfying tender bite. It also leaves you feeling light and energetic after eating, which is exactly why I'm hooked for life.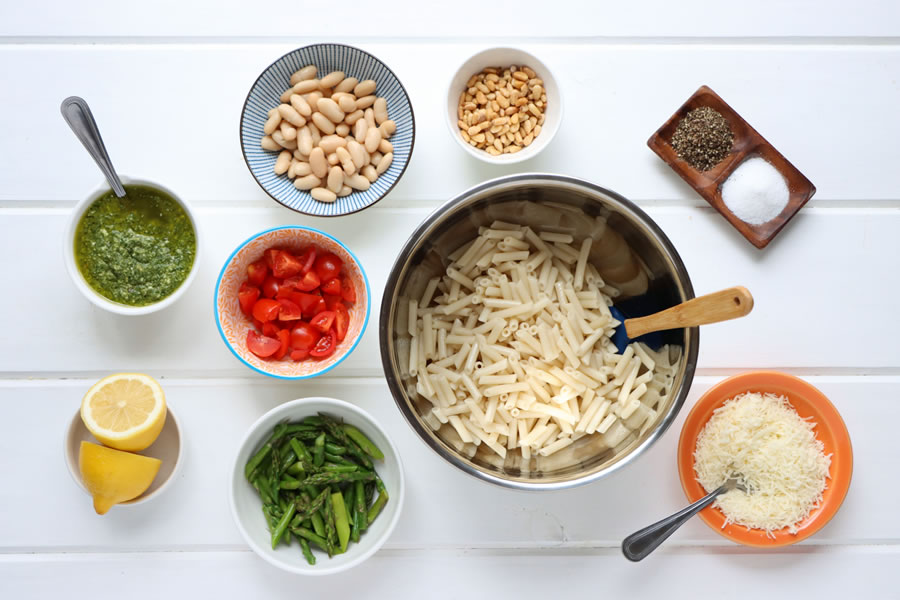 To cook, I boiled it in salted water for about 10 minutes for a perfectly al dente pasta. It also reheats beautifully making for some delicious next-day leftovers. You can find it at Daily Vita linked below.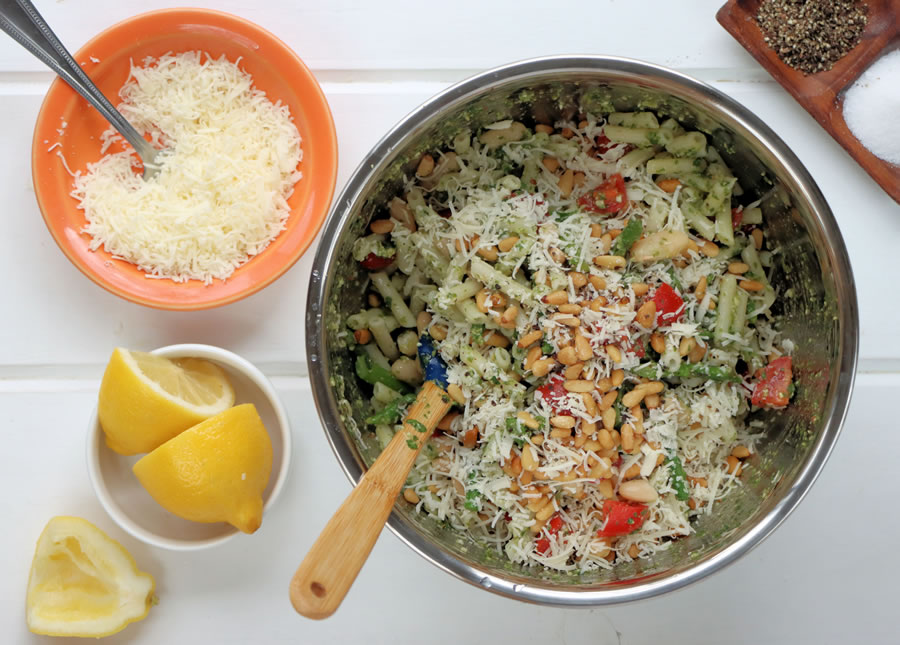 Recommended Pasta: Living Now® Gluten-Free Organic Quinoa Penne
After draining and cooling the pasta (it should be warm but not hot) simply toss it with sliced cherry tomatoes, cut asparagus, the pesto, grated cheese, toasted pine nuts, the juice of one lemon and season with salt and pepper to taste. Serve with sliced store-bought rotisserie chicken or roasted with additional pesto spooned over the top. It's healthy, light, and absolutely delicious!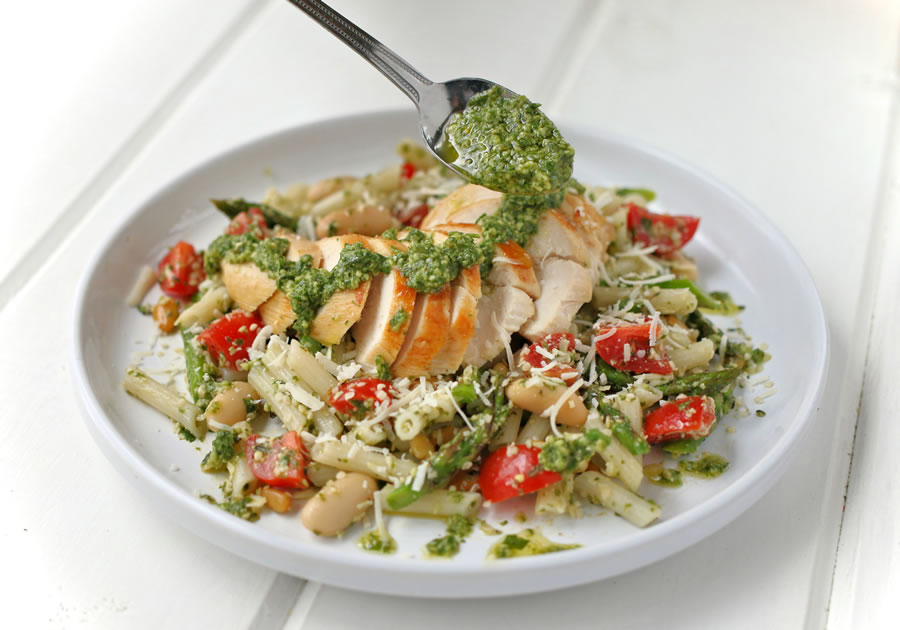 Recommended Pasta: Living Now® Gluten-Free Organic Quinoa Penne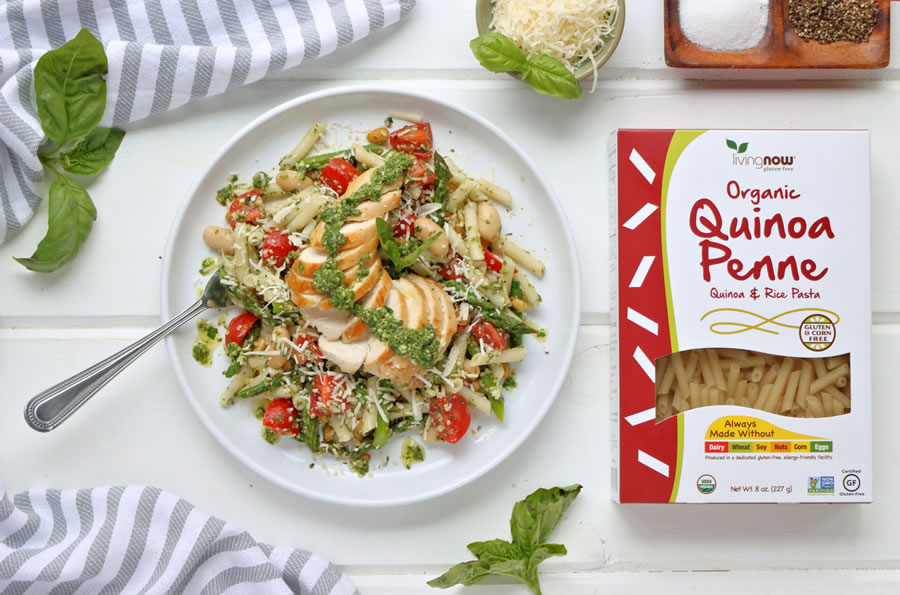 GET THE RECIPE!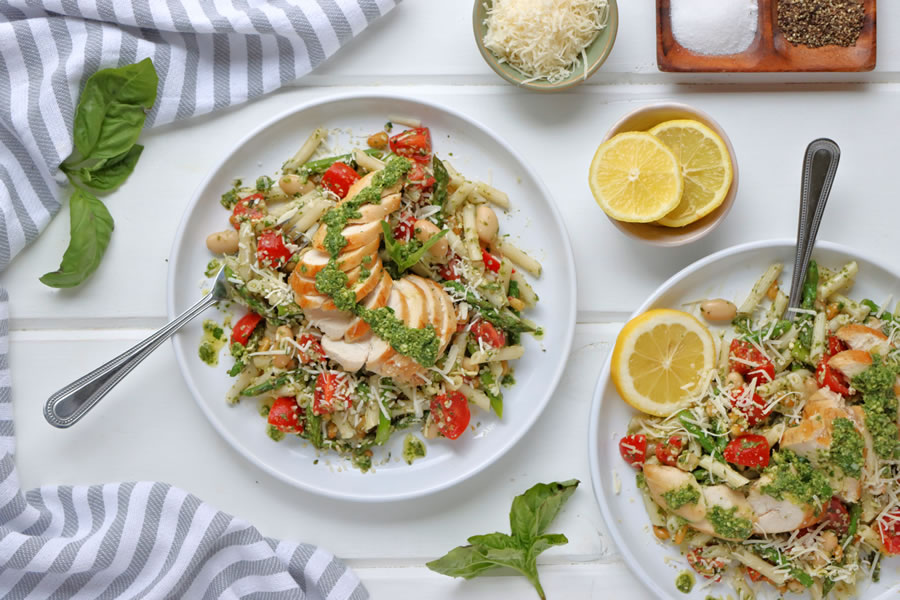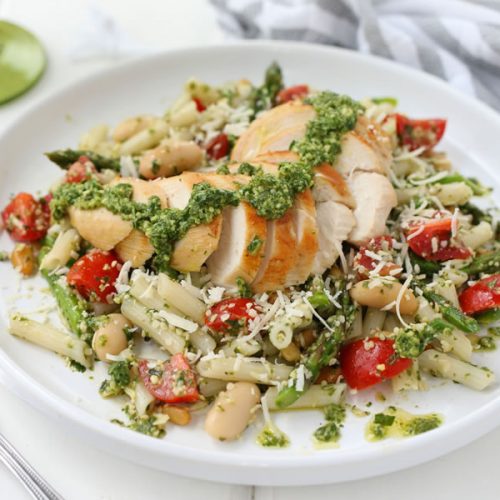 Easy Gluten-Free Chicken Pesto Pasta
Fresh basil pesto, asparagus, cannellini beans, tomatoes, and parmesan cheese are tossed with quinoa penne for a delicious and satisfying, gluten-free meal.
Ingredients
MAKING THE PASTA
1

box

Living Now Quinoa Penne Pasta, prepared according to package directions

1/2

pound

cooked asparagus, cut into 2 inch pieces

1/2

cup

cherry tomatoes, quartered

1/2

cup

canellini beans, cooked

1/2

cup

pine nuts, lightly toasted

1/2

cup

Parmesan cheese, grated

2/3

cup

pesto (see recipe below)

1

lemon, juice of

salt and pepper, to taste

1

rotisserie or roasted chicken, meat sliced
MAKING THE PESTO
2

cups

fresh basil, packed

1/2

cup

Parmesan cheese, grated (Romano works great too)

1/2

cup

pine nuts. lightly toasted

1/2

cup

olive oil

2

cloves

garlic

lemon, to taste

salt, to taste
DIRECTIONS
MAKING THE PESTO
Place all ingredients in a food processor and blend until smooth and just combined. If making the pesto ahead of time place in an airtight container and cover the top with a thin layer of olive oil to help preserve the color and freshness. Makes about 1 1/4 cups.
MAKING THE PASTA
In a large bowl, gently toss the pasta, asparagus, cherry tomatoes, pesto, toasted pine nuts, lemon juice and the grated cheese togther until combined. Season with salt and pepper to taste. Serve with rotisserie chicken sliced on top. Enjoy!
Notes
To toast the pine nuts, p

lace them on a small baking sheet spread out and bake in a  350° degrees F oven for 3 to 5 minutes or until lightly browned. They can easily burn so be sure to watch them! 

The asparagus can be lightly steamed or gently baked.
Try serving this dish with grilled shrimp instead of chicken!
Need Healthy Pantry Staples Delivered Right To Your Door?
DailyVita.com is a health and wellness company selling the highest quality healthy organic, vegan, vegetarian, non-gmo, and all-natural foods, vitamins, and supplements. 
Visit DailyVita.com/Better-Living to start building up your healthy pantry and look for our code to get 10% off your order!
About DailyVita.com
Since its establishment, DailyVita has grown to carry more than 2000 products and ships to more than 150 countries.
At DailyVita, our passion is health and wellness and our goal is to provide our customers with the types of products they need to live happy, healthy and well. This is why we carry brands whose products are GMP Certified, Gluten-Free, Allergen Friendly, Non-GMO, Vegan/Vegetarian, Paraben-Free, Certified USDA Organic, All Natural and more. Our product line includes Vitamins & Minerals, Herbal Supplements, Sports & Fitness Supplements, Natural & Organic Foods, Beauty and Personal Care, Aromatherapy, Pet Vitamins & Supplements, and even products for Traditional Chinese Medicine.
We want to be more than just a retailer. We want to educate and inform our customers, not just on products, but on how to choose the best products for their health needs. Our goal is to make the world a healthier, happier, and more wholesome place for everyone.
DailyVita has partnered with BetterLiving to give readers a special offer. Shop this offer, BetterLiving approved products, products from this recipe, and more at https://www.dailyvita.com/better-living and look for our code to get 10% off your order!