Better Living uses affiliate links. If you make a purchase through them, we may receive a small commission (for which we are deeply grateful) at no cost to you.
Whether it's the weekend, the middle of the week or a stress-inducing Monday, I ask you — Is there ever a bad time for a cookie? I would say the answer to that question is no. Hopefully, you agree. Well, if you like chocolate chip cookies with crispy edges and soft chewy middles like we do, then this chocolate chip cookie recipe is the one for you. Plus, it's a small batch chocolate chip cookie recipe. Using a 1/8 cup scoop we got about 16 average sized cookies. Larger drops will yield about 12. Just enough to fulfill your craving.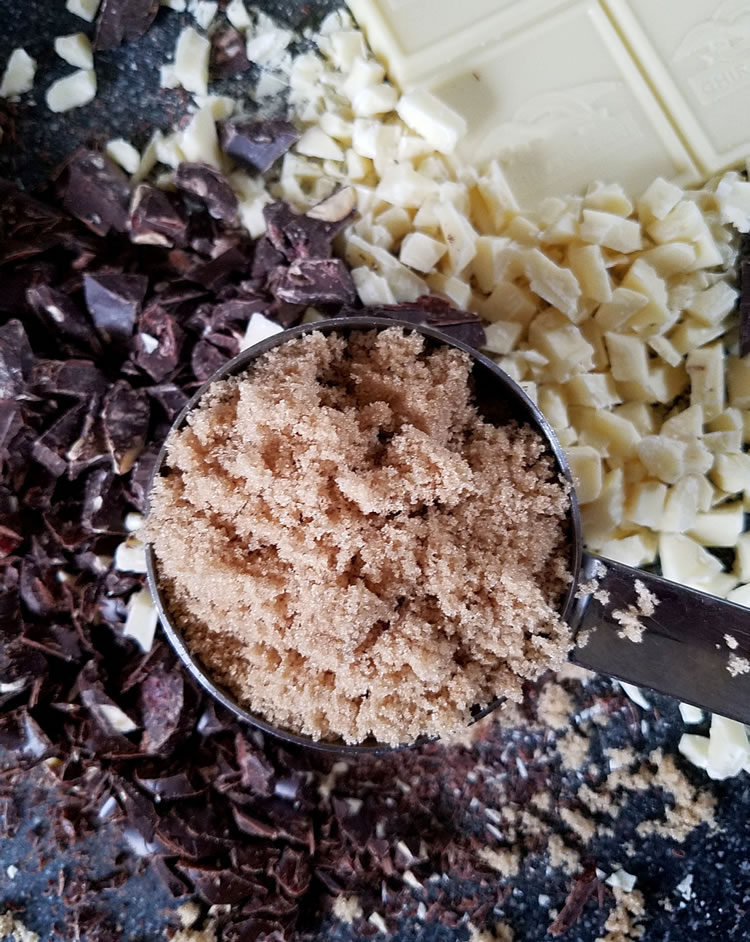 You're probably thinking, "Another chocolate chip cookie recipe?" Yes, but this one has a technique twist. Creaming (mixing it with the sugar softened) the butter in a chocolate chip cookie will lead to a lighter firmer cookie while melting leads to a denser and chewier cookie. Instead of creaming all or melting all the butter completely, we wanted to see what would happen if we did both.  The results were a dense chewy cookie with a slightly cakey middle with rich cookie dough flavor. If you prefer a slightly cakier cookie, you could easily another 1/8 cup of flour.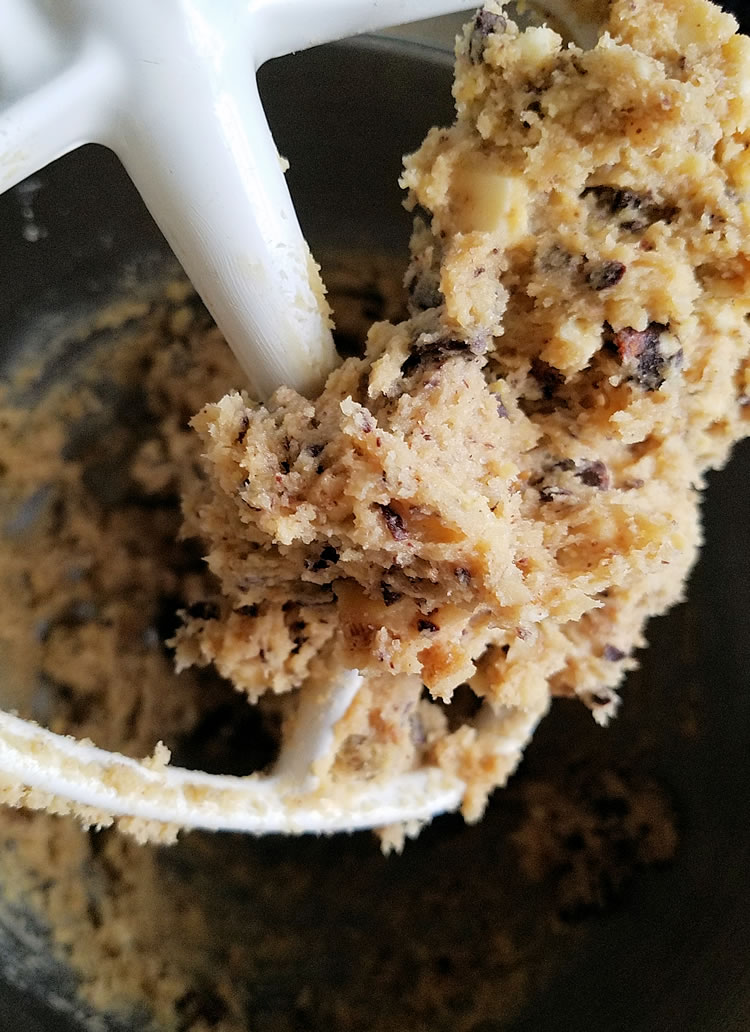 I think I left out an important detail. These cookies have two types of chocolate. Yes, that's right! We've added both white and dark chocolates to this recipe for a chocolate chip cookie that had us asking, "Why haven't we ever done this before?" We used chocolate from a white chocolate baking bar and dark chocolate bar and chopped them leaving us with chocolate chunks in varying sizes which we kind of loved. But using semi-sweet or dark chocolate chips with white chocolate baking chips will work just fine. No chopping required.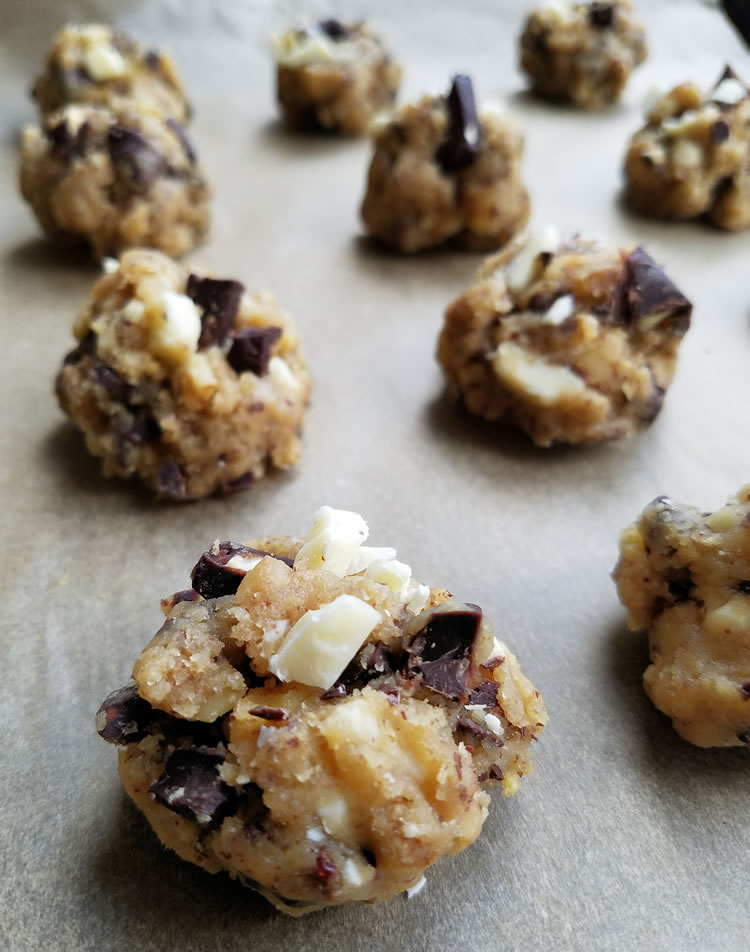 Famous chocolate master and pastry god chef Jacques Torres insists that chilling the dough for 24 hours deepens and intensifies the flavor of the cookie dough. We would have to agree and would highly recommend it. But if you can't wait that long we get it. Sometimes you need your cookies now and not later. But giving the dough even a few hours in the fridge will give you a richer flavor. That is if you can wait.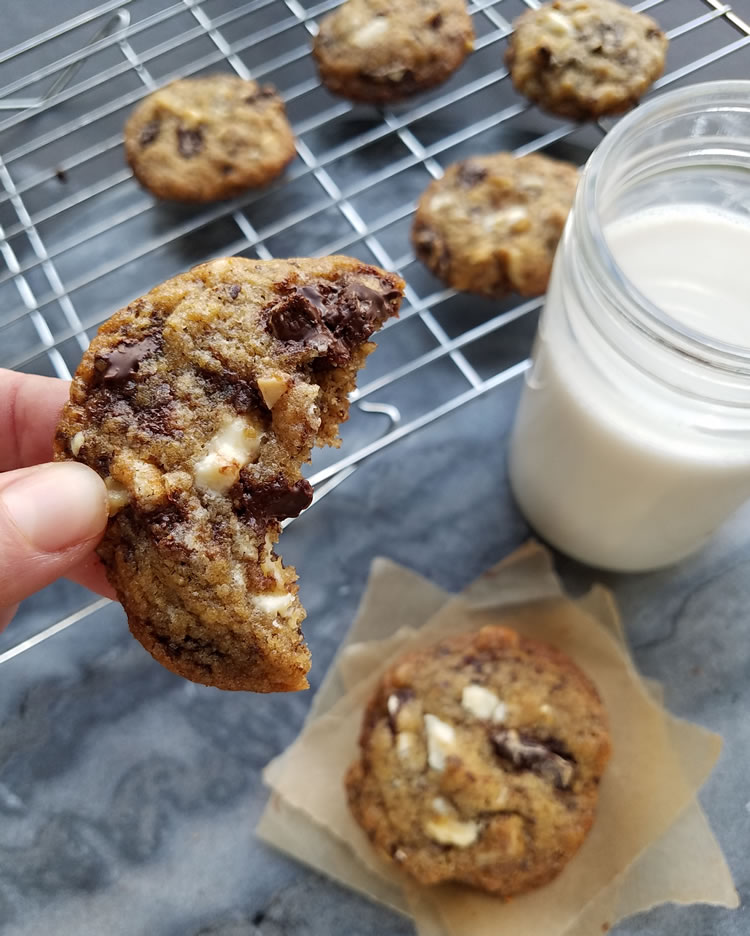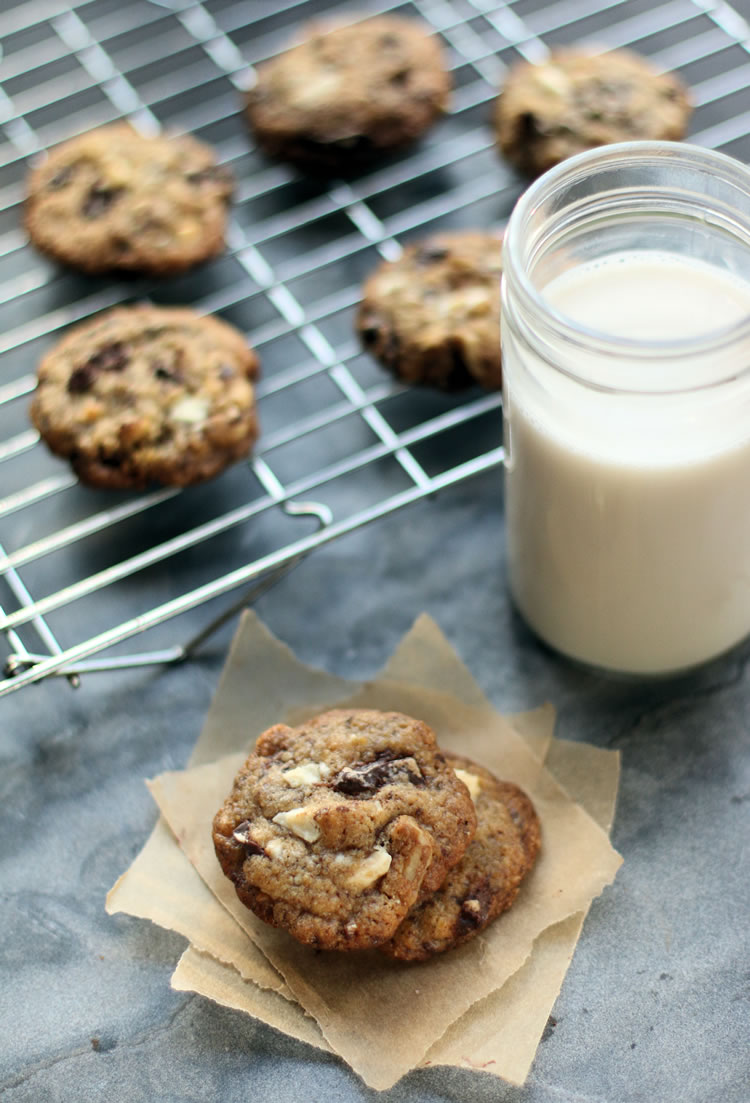 Some like nuts, some hate them and others are allergic. We included walnuts in our batch because a walnut in a chocolate chip cookie recipe is just yum. But feel free to substitute whatever you may have in your pantry.  Pecans, almonds, hazelnuts or even pistachios would all be fabulous. Or just leave them out altogether and let the chocolate shine on its own.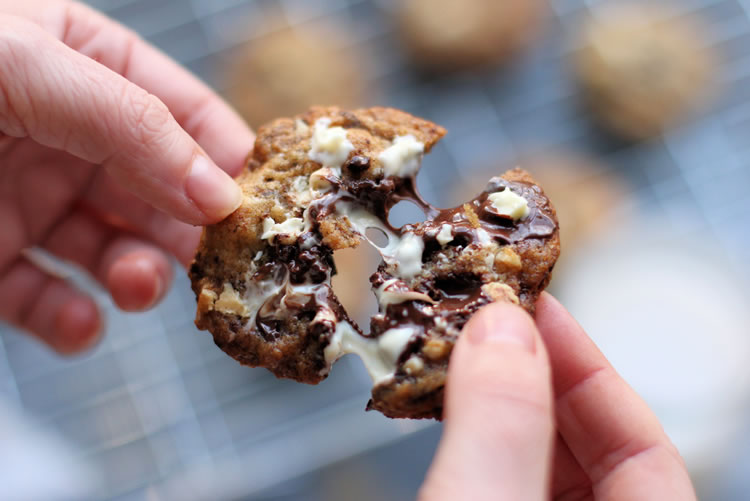 And if you love the sweet and salty thing, just before serving, sprinkle your White & Dark Chocolate Chip Cookies with a little sea salt for a cookie that's over the top amazing.
Now the recipe: White & Dark Chocolate Chip Cookies (Small Batch)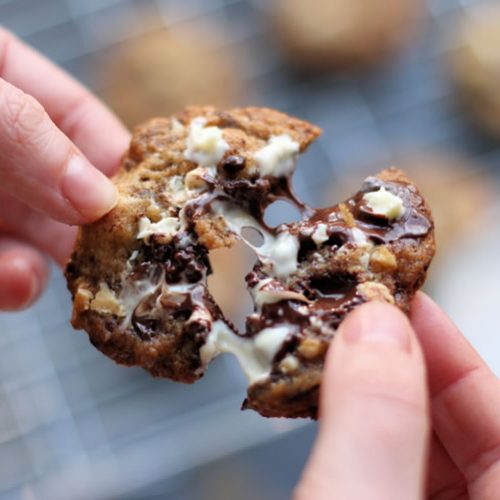 White & Dark Chocolate Chip Cookies (Small Batch)
Nothing can compare to a delicious chocolate chip cookie. But these cookies have a special treat inside -- white chocolate! Crispy on the edges and soft in the middle these chocolate chip cookies have both chopped dark chocolate, white chocolate and walnuts for an irresistible treat.
Ingredients
1

cup

all-purpose flour

1/2

teaspoon

baking soda

1/2

teaspoon

salt

1/2

cup

butter, divided, 1/2 softened to room temp. and 1/2 melted

1/2

cup

light brown sugar

1/4

cup

white cane sugar

1

egg

2

teaspoons

vanilla

2/3

cup

semi-sweet or dark chocolate chips (or 3 ounces of a dark chocolate bar chopped)

2/3

cup

white chocolate baking chips (or 3 ounces of white chocolate bar chopped)

2/3

cup

chopped walnuts (optional)
DIRECTIONS
Preheat to 350°F. Place rack in the middle of the oven.

Grease or place parchment on a baking sheet (These steps can wait if chilling dough overnight).

Combine and mix dry ingredients in a mixing bowl: flour, baking soda, salt. Set aside.

In a mixer fitted with a paddle attachment cream the softened butter, white and light brown sugars, and vanilla together. Then add the melted butter and egg. Mix until nicely combined - 2 minutes.

With the mixer on slowly add the dry ingredients to the bowl with the wet and mix together until flour is incorporated. Then increase to medium speed for 1 minute.

Finally, add the white and dark chocolate chips, nuts (optional) and mix until evenly combined. Chill overnight (24 hours). Chilling is not required but will intensify the flavor. Remove from the fridge and place on a baking sheet either greased or fitted with parchment or a Silpat mat.

Using a 1/8 cup measuring cup, mini ice-cream scoop or spoon drop cookies onto baking pan about 3 inches apart. Bake for 8 minutes or when cookies are lightly browned on the edges and risen in the middle.