Better Living uses affiliate links. If you make a purchase through them, we may receive a small commission (for which we are deeply grateful) at no cost to you.
If you love "Bubble Tea" or "Boba Tea" you know they go by many names including bubble milk tea, pearl milk tea, and tapioca tea. But you probably also know that those unique yet addictively chewy tapioca balls in the bottom of your cup are super high in carbs and sugar. Also made with strong tea (usually black, green or oolong) and milk, even more calories and carbs are packed into your cup with all the different flavored syrups or sugar added to the milk. Although super popular, unfortunately this super delicious Taiwanese invention is an indulgent treat that isn't for everyday. 
Or is it?
Healthy Caramel Collagen Bubble Tea With Gelatin Boba Pearls (Sugar-Free, Low-Carb, Dairy-Free, Keto-Friendly)
Our recipe for this low-carb, sugar-free Caramel Collagen Bubble Tea turns something you'd drink on a cheat day, into something with nourishing good-for-you ingredients that you can and should drink everyday. 
Besides some strong black tea, almond milk, we're adding Great Lakes Wellness Caramel Collagen to infuse this healthy bubble/boba tea recipe with delicious caramel flavor and everyone's favorite protein rich body and beauty supplement: collagen peptides.
Collagen, the most abundant protein found in the body, is the "glue" that keeps our tissues together. And it's also what keeps our skin youthful and radiant looking. Once we hit our late 20's collagen production begins to decline (yikes!). But several studies have shown that daily collagen supplementation may help slow the effects of aging by stimulating your body's own collagen making cells to rev up production. [1]
Although this formula is designed for smooth and healthy joints, it's great for your skin, hair, and nails too!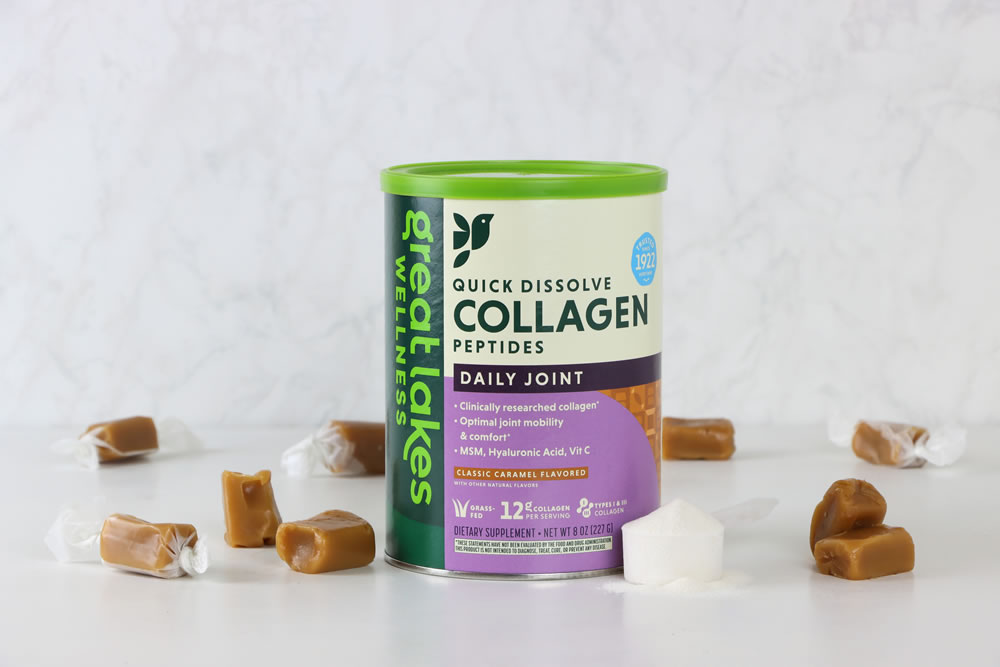 All natural and perfectly sweetened with stevia, Great Lakes Wellness Caramel Collagen:
Supplies 12 grams of Verisol® Bioactive Collagen Peptides type 1 & 3 peptides per serving.

Is clinically researched to support skin elasticity and minimize the appearance of fine lines and wrinkles.

Has hyaluronic acid, which also boosts skin hydration, buoyancy & suppleness while cushion & lubricate joints

Has added Vitamin C, an anti-aging vitamin and antioxidant, that helps support collagen production and fights damage caused by free radicals in the body. 

Provides MSM (methylsulfonylmethane), a potent anti-inflammatory compound which can contain sulfur which the body uses to produce protein and collagen. Found in our nails, skin, and hair, MSM can also help support healthy and pain-free joint mobility. Some studies have shown that it may also help with exercise recovery. [

2

,

3

]

Is super delicious!
Great Lakes Wellness Caramel Collagen is also:
Quick dissolving and made with botanically sourced flavors & colors

Grass-fed 

KETO-Certified

Gluten-Free

Kosher + Halal

iGen Non-GMO Tested

Glyphosate Free
 ➡ Buy Great Lakes Wellness Caramel Collagen
Low Carb Gelatin Boba Pearls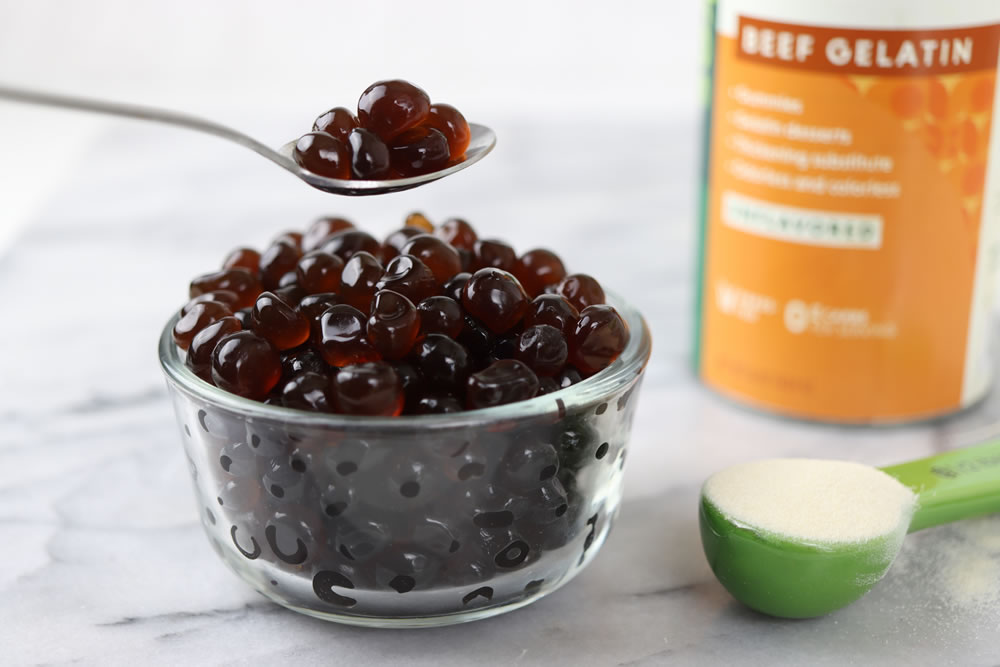 But what about the boba, a.k.a the tapioca pearls? You know, the whole reason why we love this stuff?
To make this healthy Keto Caramel Bubble Tea actually healthy we serve up with our own sugar-free and low-carb HEALTHY DIY GELATIN BUBBLE/BOBA TEA PEARLS to replace the traditional carb and sugar-laden tapioca pearls served in bubble tea shops. 
If you like, top it off with sugar-free whipped cream and caramel drizzle.  Our new favorite drink, it's so delicious that you won't believe it's healthy enough to drink every day. And your body will thank you. See the recipe at the bottom! 
GET THE RECIPE!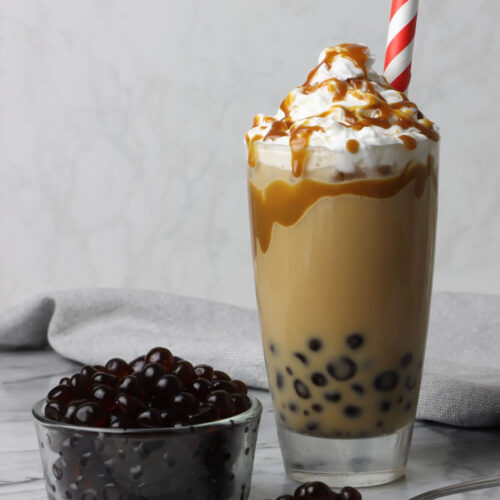 Keto Bubble Tea (Sugar-Free, Low-Carb, Keto-Friendly)
This keto bubble tea recipe tastes indulgent, but it's actually super healthy! And it's so incredibly delicious. Made with monk fruit sweetened Great Lakes Wellness Caramel Collagen enriched with MSM, hyaluronic acid and vitamin C, you'll get 12 grams of collagen peptides in every serving. The boba pearls are made with keto-friendly gelatin too! This is one bubble tea you can feel good about drinking everyday.
Ingredients
3/4

cup

cold strong brewed coffee or black tea

1

cup

cold almond milk

or milk of choice

2

scoops Great Lakes Wellness Caramel Collagen

1/3

cup

gelatin bubble tea pearls

Ice

Whipped cream

optional

Sugar-free caramel

optional
DIRECTIONS
Drizzle caramel around the inside of a 16 ounce glass.

Then add 2-4 tablespoons of gelatin pearls to the glass.

Pour in tea and milk in a shaker with a few ice cubes and shake until frothy.

Pour into glass.

Top with more ice. Finish with whipped cream and caramel drizzle if you like. (You will definitely like.)

Enjoy your low-carb, protein and collagen-rich bubble tea!
Notes
Note: To serve, be sure to buy some reusable or biodegradable boba tea straws, which are extra wide for slurping up your bubble tea pearls.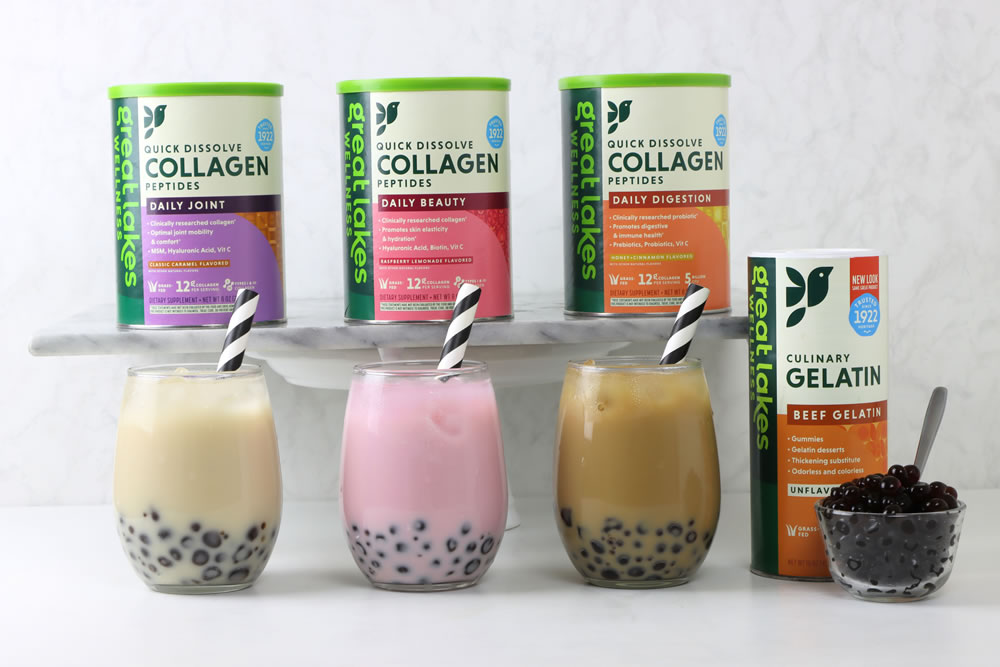 Get more healthy, sugar-free bubble tea recipes made with delicious, flavored collagen from Great Lakes Wellness!