Better Living uses affiliate links. If you make a purchase through them, we may receive a small commission (for which we are deeply grateful) at no cost to you.
For a deliciously soothing and healthy bubble tea recipe that's free of all the carbs and sugar of typical bubble (boba) teas you'd get at a bubble tea shop, try this low-carb, Honey Cinnamon Collagen Bubble Tea.
What's In This Honey Cinnamon Bubble Tea?
The base of this healthy bubble tea starts with strong brewed chamomile tea which is cooled, and then blended with almond milk and Great Lakes Wellness Honey Cinnamon Collagen. This is what makes it sugar free, low carb, and keto friendly! 
Collagen is the most abundant protein in the body and is widely known for it's skin and beauty benefits. But collagen is also great for joints and your digestive system too. If you love cinnamon and have been looking for a way to get more collagen in your routine, Great Lakes Wellness Honey Cinnamon Collagen is perfect for you.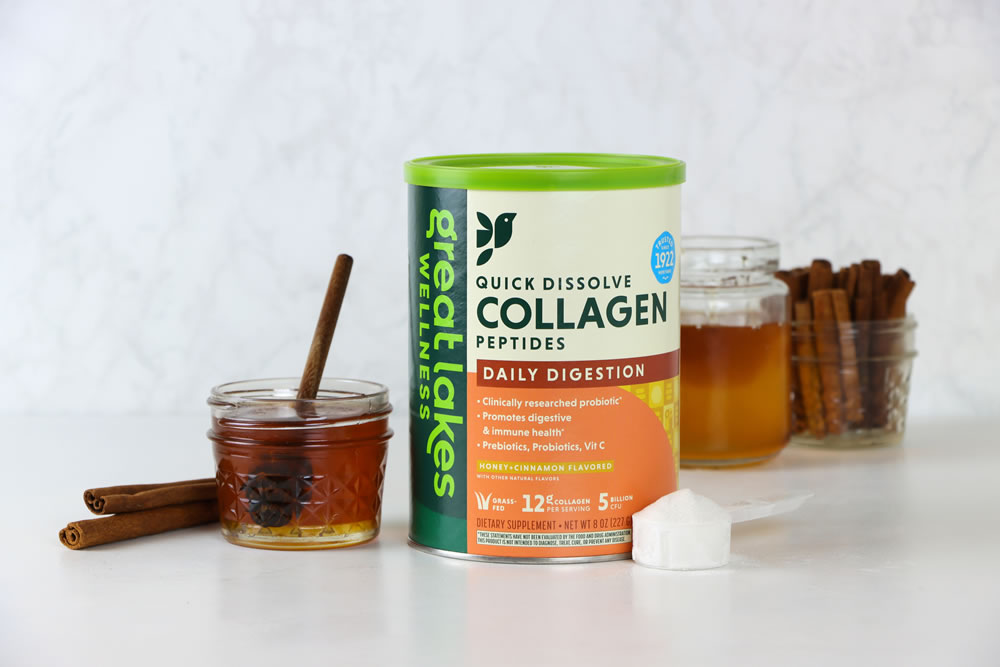 All natural and perfectly sweetened with stevia, Great Lakes Wellness Honey Cinnamon Collagen:
Supplies 12 grams of Verisol® Bioactive Collagen Peptides type 1 & 3 peptides per serving

Is clinically researched to support skin elasticity and minimize the appearance of fine lines and wrinkles.

Has added Vitamin C, an anti-aging vitamin and antioxidant, that helps support collagen production and fights damage caused by free radicals in the body. 

Supports gut and immune health with the addition of prebiotics (inulin) and probiotics (5 billion CFUs of Bacillus Subtilis). Prebiotics feed and promote the growth of the "good bacteria" in our gut, which can help protect us from harmful pathogens while repairing and strengthening our gut lining barrier.
Great Lakes Wellness Honey Cinnamon Collagen is also:
Quick dissolving and made with botanically sourced flavors & colors

Grass-fed 

KETO-Certified

Gluten-Free

Kosher + Halal

iGen Non-GMO Tested

Glyphosate Free
 ➡ Buy Great Lakes Wellness Honey Cinnamon Collagen
Sugar Free Gelatin Boba Pearls
But what about our favorite part of the bubble teas – the tapioca pearls? Made of tapioca starch from the cassava root, aren't they super carb-rich? And aren't they normally soaked in sugar? Yes and yes.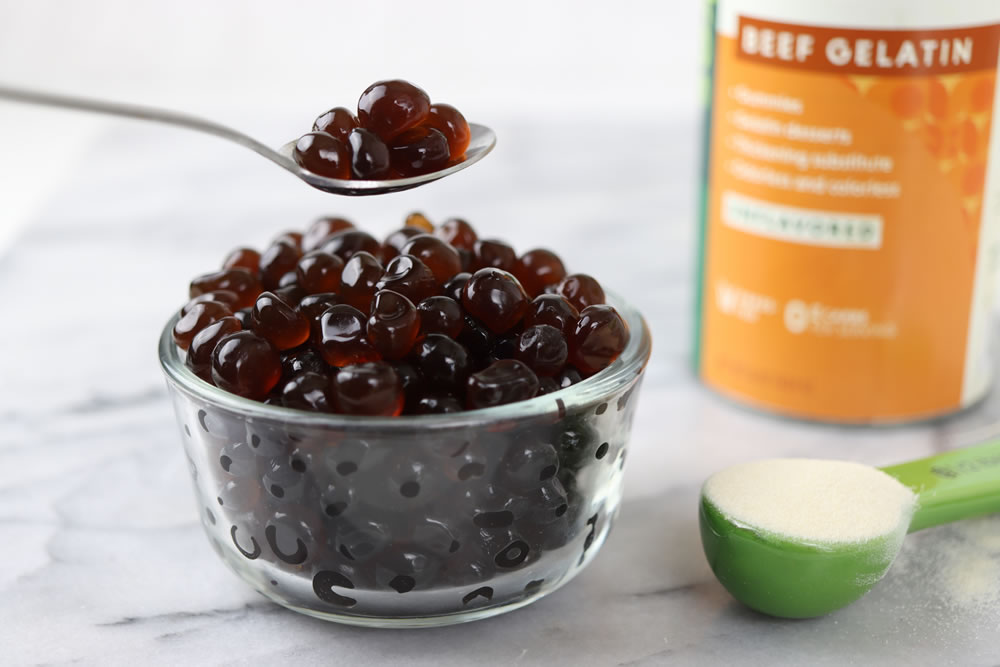 So to make this recipe healthy, we're adding our own sugar-free and low-carb HEALTHY DIY GELATIN BOBA PEARLS to replace the traditional carb and sugar-laden tapioca pearls served in bubble tea shops.  Get the recipe at the bottom!
Honey Cinnamon Collagen Bubble With Gelatin Boba Pearls (Sugar-Free, Low-Carb, Keto-Friendly)
Caffeine free, and full of healthy benefits for your skin and body, unlike traditional bubble tea, this one can be enjoyed guilt free every day.
If you are looking for a little caffeine boost, substitute the chamomile with strong brewed black, green, or chai tea instead.
GET THE RECIPE!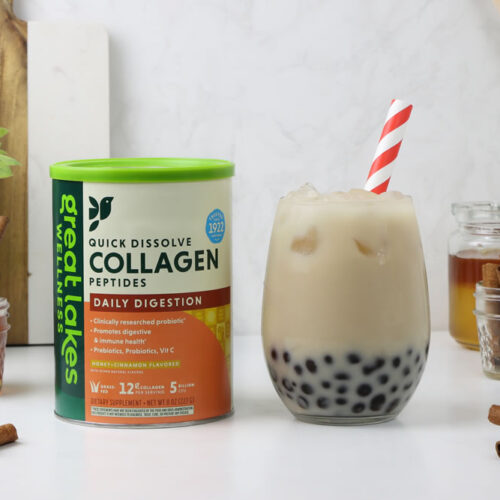 Low Carb Honey Cinnamon Collagen Bubble Tea With Gelatin Boba Pearls
If you love cinnamon, try this collagen rich and caffeine free bubble tea that can help support digestion. Sweetened with stevia, Great Lakes Wellness Honey Cinnamon Collagen provides 12 grams of type 1 & 3 collagen as well as probiotics and prebiotics. Soothing and caffeine free, this bubble tea is perfect any time of day and healthy enough to enjoy everyday. Be sure to use our DIY Gelatin Bubble Tea Pearls recipe in place of calorie and carb heavy tapioca pearls.
Ingredients
3

tea chamomile tea bags

2

scoops of Great Lakes Wellness Honey Cinnamon Collagen

3/4

cup

cold almond milk

or milk of choice

⅛-¼

cup

of sugar-free gelatin pearls

ice
DIRECTIONS
Add tea bags to a mug with 6 oz. (¾ cup ) of hot water. Steep until tea is almost cool.

Add collagen to tea and stir until completely dissolved.

In a shaker, add collagen-tea mixture with almond milk and shake until bubbly.

Add 2-3 tablespoons of gelatin pearls to a tall glass. And pour the shaken milk-tea mixture into the glass.

Add ice and serve with a "boba" straw.

Enjoy
Notes
To serve, be sure to pick up some reusable or biodegradable boba tea straws, which are extra wide for slurping up your bubble tea pearls.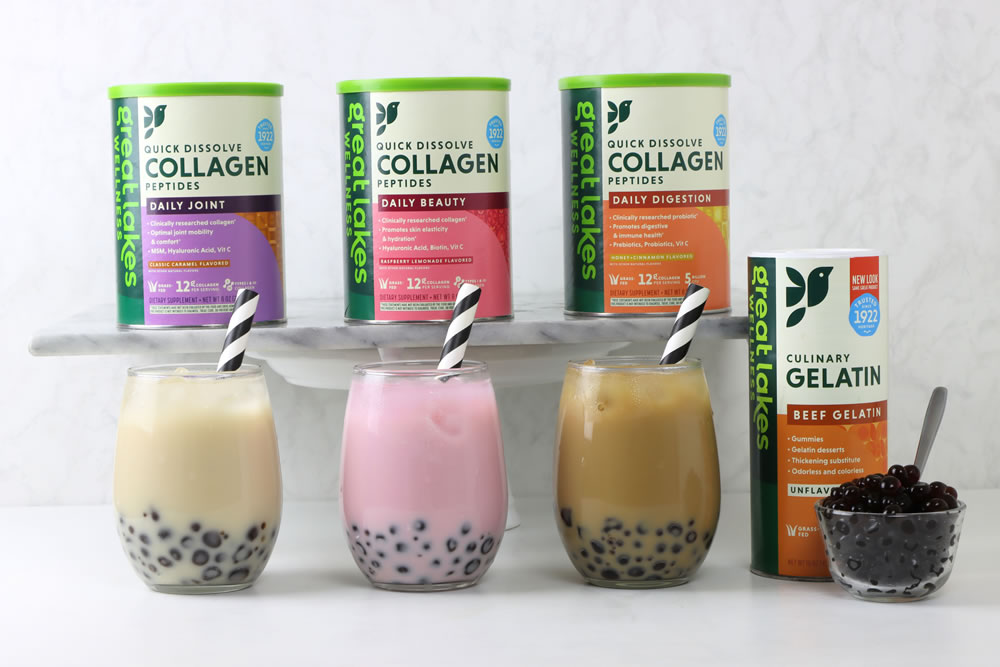 Get more healthy, sugar-free bubble tea recipes made with delicious, flavored collagen from Great Lakes Wellness!
Learn to make your own healthy protein-rich and sugar-free boba tea pearls with grass fed gelatin from Great Lakes Wellness!