Better Living uses affiliate links. If you make a purchase through them, we may receive a small commission (for which we are deeply grateful) at no cost to you.
If you're a wine lover and you haven't visited Virginia's beautiful wine country, you're missing out on the fastest growing wine destination in the United States. In recent years wine lovers with a passion for winemaking have been flocking to Virginia and have been successfully producing wines that can compete with the best from around the world.
Don't believe me? With almost 300 wineries, Virginia is the 5th largest wine producer in the country. And that number is quickly on the rise. From the waters of the Chesapeake Bay to the Appalachian and Shenandoah Mountains you'll find a passion for all things wine in Virginia that is truly infectious. And you don't need to be a certified wine expert to enjoy Virginia's many wineries, tours or experiences. Do you enjoy a good glass of wine, gorgeous views and the charm of Southern hospitality? Then you're good to go. With so much energy and excitement surrounding Virginia's wine scene, it was time for a little road trip. And with October being celebrated as Virginia's Wine Month it was the perfect time to go
We decided to start our journey in the Northern part of the state in what is considered the heart of Virginia's wine and horse country – Middleburg VA. About an hour's drive west of Washington DC, Middleburg is close to more than 20 wineries within a 30-minute drive making it the perfect spot to introduce ourselves to Virginia's wineries. A charming and quaint historic town with over 160 buildings listed on the National Register of Historic Places, Middleburg has attracted a number of notable visitors throughout the years including President John F. Kennedy, Jacqueline Kennedy Onassis and Elizabeth Taylor.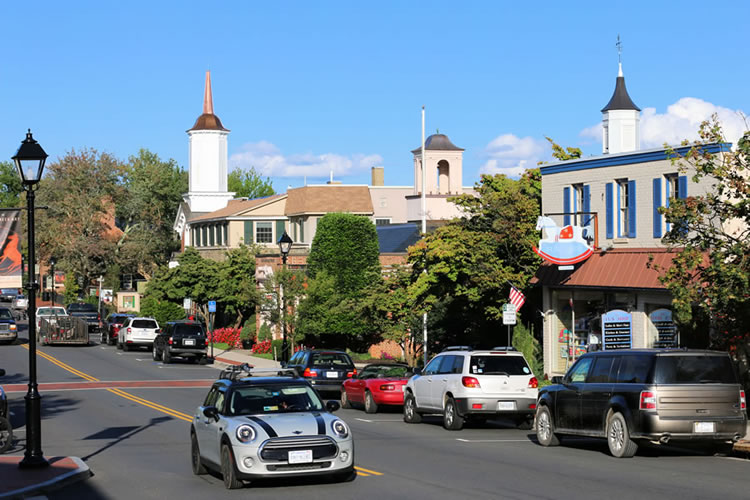 Lovers of horses and the equestrian lifestyle will find themselves right at home. Although its climate is ideal for growing grapes, Middleburg is known as the nation's "Horse and Hunt Capital" and is legendary for its wealth of equestrian activities and passion for all things horse-related. A short walk into town and you won't help but notice all the horse-themed sculptures, tack shops, and equestrian-themed restaurants with names like the Side Saddle Cafe. Here you'll even find The National Sporting Library & Museum which is dedicated to preserving the traditions and history of what it means to live in the country. Their collection of rare books and art focuses on topics like horsemanship, shooting, steeple-chasing, foxhunting, polo, fishing, and wildlife. Wine and horse country. It doesn't get better than this.
After driving out of downtown Middleburg for a day at the wineries you can't help but notice the breathtaking 360-degree views of the surrounding countryside dotted with equestrian estates, grazing cattle, and vineyards with the Blue Ridge and Bull Run mountains hanging serenely in the backdrop. The only thing that could make this better is… wine. Here's where we stopped:
The Vineyards and Wineries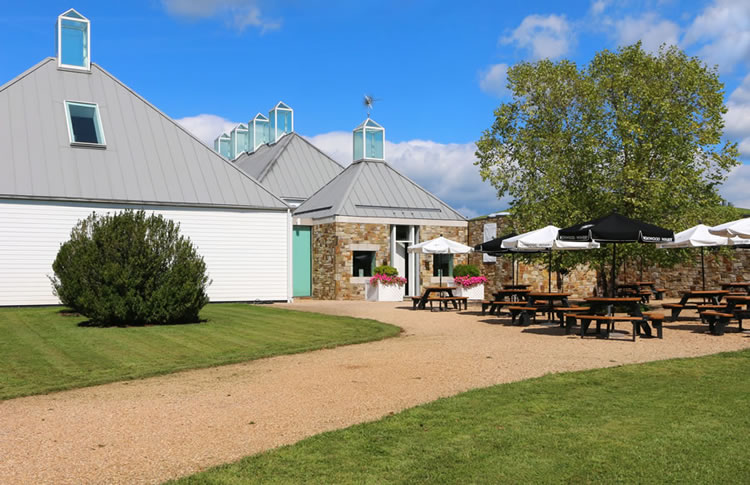 Boxwood Estate Winery
2042 Burrland Lane
Middleburg, VA 20117
boxwoodwinery.com
A modern winery with clean crisp lines and sleek materials, Boxwood is owned by John Kent Cooke, a former owner, and president of the NFL Washington Redskins. It's located on Boxwood Estate a National Historic Landmark and one of the earliest established farms in Middleburg. Boxwood Estate Winery produces five Bordeaux style blends with a focus on reds from grapes that are all grown on the estate. Their Topiary bottles with a Cabernet Franc and Merlot blend are a favorite. Winery tours are about 45 minutes and are limited to 12 people per tour. There is also a satellite tasting room in downtown Middleburg if you're in town but don't have time to get to the winery. Go on a day when the weather is great, grab a bottle of their Topiary blend and head outdoors to relax and enjoy the stunning scenery.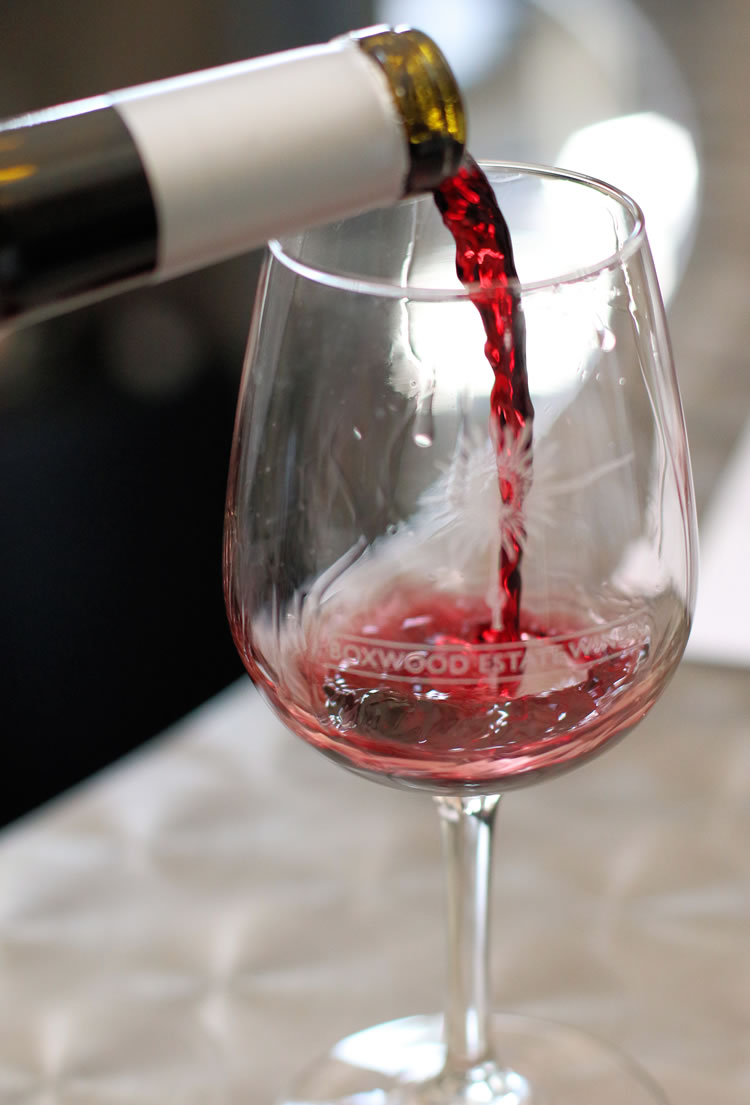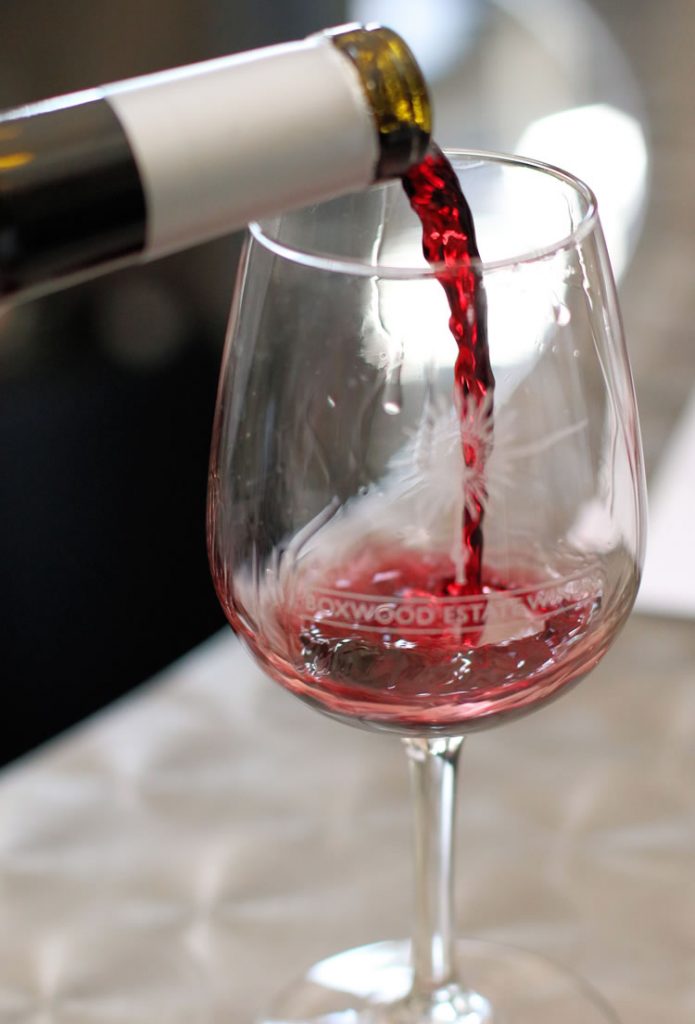 Winery tours are about 45 minutes and are limited to 12 people per tour. There is also a satellite tasting room in downtown Middleburg if you're in town but don't have time to get to the winery. Go on a day when the weather is great, grab a bottle of their Topiary blend and head outdoors to relax and enjoy the stunning scenery.
Recommended for: Perfect for couples, friends, bachelorette or birthday parties. Boxwood Winery is open Friday-Sunday 11am-6pm and tastings start at $10. Groups of 10 or more require a reservation.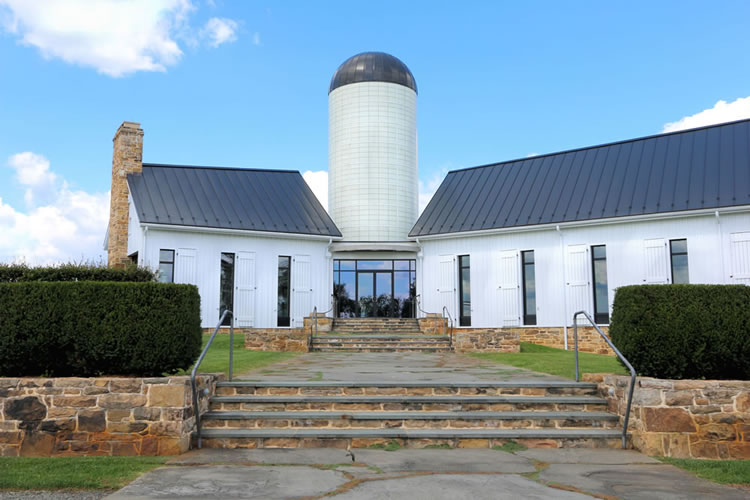 RdV Vineyards
2550 Delaplane Grade Road
Delaplane, Virginia 20144
(540) 364-0221
rdvvineyards.com
Next stop on our tour was RdV winery in neighboring Fauquier County. When Rutger De Vink, a former Marine with a passion for making wine wanted to prove that Virginia is capable of making world-class wines there was nothing that could stop him. With grapes grown on land that was once deemed unsuitable for agriculture, RdV proven has proven that Virginia wines can stand up with the best of them. RdV makes only two Bordeaux-style red wines: Lost Mountain and Rendezvous. Lost Mountain is their signature blend with a higher percentage of Cabernet Sauvignon while Rendezvous has a higher concentration of Merlot.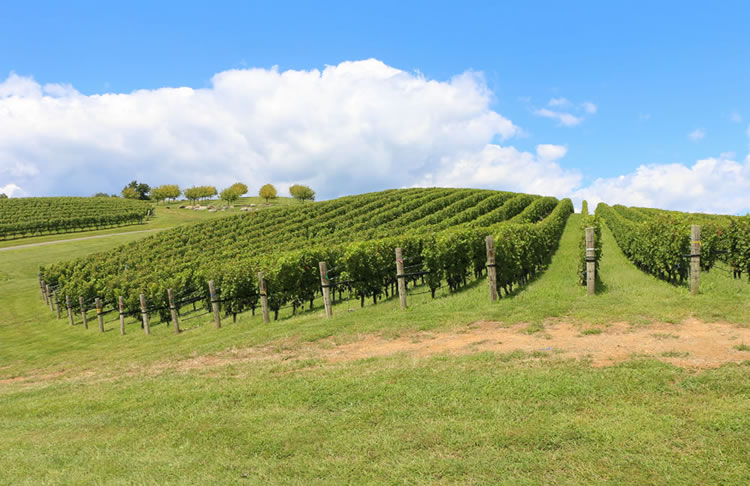 We enjoyed an in-depth tour of RdV's state of the art facilities, followed by a tasting of their award-winning wines that were paired deliciously with a locally-sourced cheese and charcuterie board. A tour and tasting is $50 per person and is available Thursday through Sunday by appointment only. On the tour, you'll get an inside view of RdV's labor-intensive winemaking process that is its own blend of science, artistry, and passion. The result is some of the finest and most expensive wines in the area. It's a real treat to go down into their granite wine caves that are carved beneath the vineyard hill. Nothing is done here without careful thought and deliberation.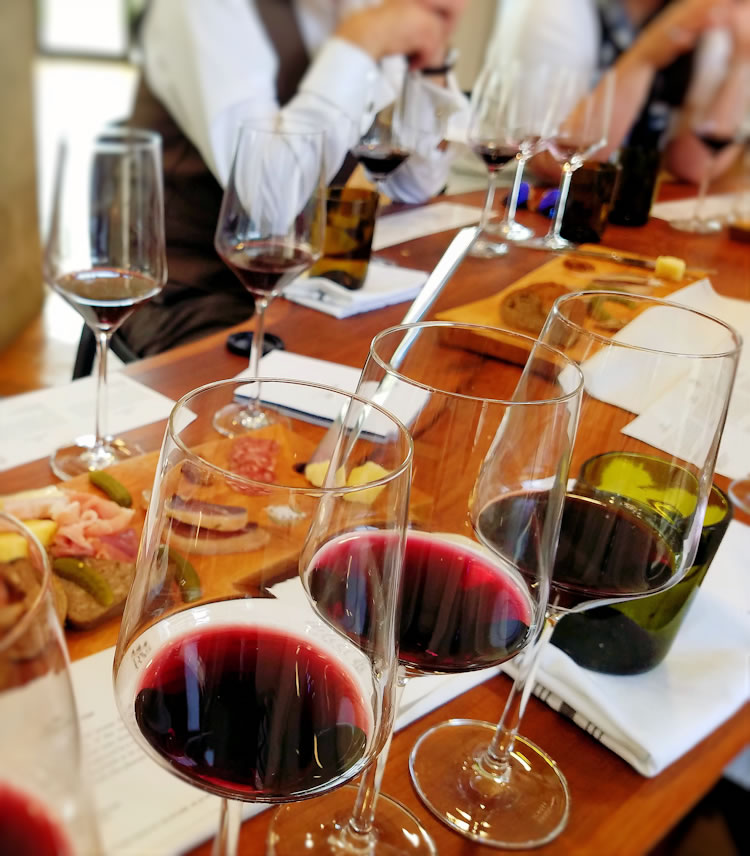 If you love learning about the art of winemaking and want to try some of the finest wine Virginia has to offer, this is the place for you. And don't forget to say hello to Sage, their resident canine.
Recommended For: Adults who want to enjoy learning about the process of how world-class wine is made. Lovers of fine architecture will also find themselves at home. Tours and tastings are available Thursday through Sunday by appointment only.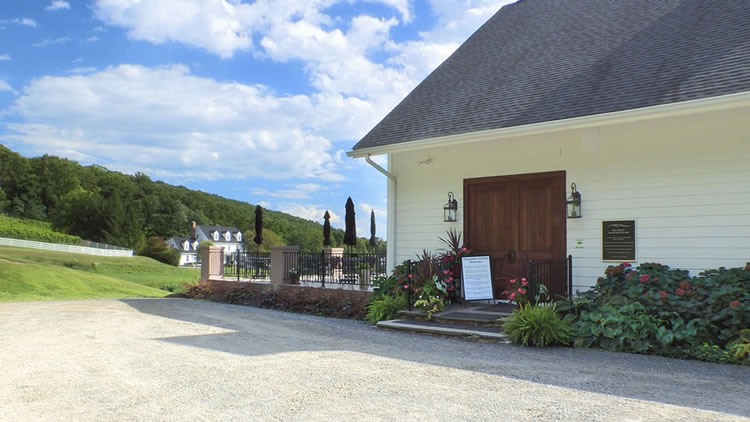 Delaplane Cellars
2187 Winchester Road
Delaplane, VA 20144
(540) 592-7210
delaplanecellars.com
We ended our day at Delaplane Cellars just 7 minutes down the road from RdV. Delaplane Cellars was built by owner Jim Dolphin who turned his passion for winemaking from a hobby into a business after a long career in real estate. After over a year of searching for the perfect property, Delaplane Cellars found its home on beautiful Lost Mountain, overlooking the scenic Crooked Run Valley.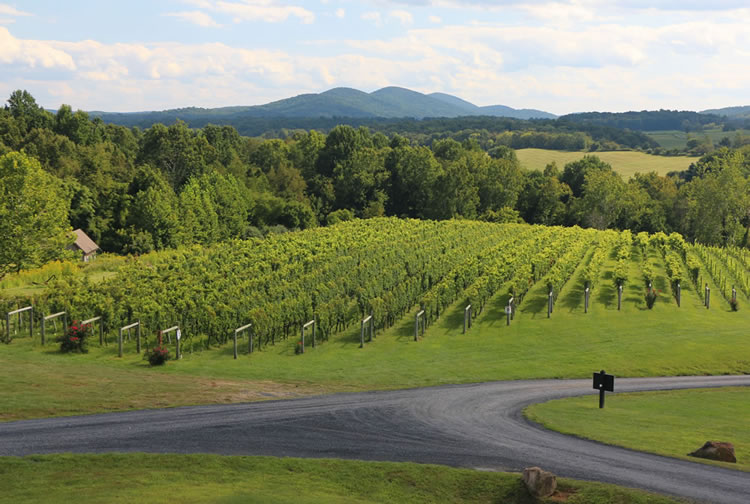 Upon entering their tasting room you'll immediately be taken aback by the back wall of glass windows framing jaw-dropping views. Begin by trying their wines at the tasting bar and then move out to their gorgeous terrace with your favorite glass or bottle. Surrounded by miles of beautiful valley and mountain range as far as the eye can see, sunsets here should not be missed. The vibe is mellow and mature while being friendly and down to earth. Coupled with delicious Bordeaux-style wines and delicious local fare prepared in their kitchen and it's a recipe for a heavenly afternoon. Live music is a treat on the weekends and you can visit their website to check out the upcoming schedule.
Recommended For: Adults 21 and over looking for a more refined and relaxed atmosphere without being stuffy. Buses, limos, parties of more than 6 people or children of any age are not permitted. Pets are welcome outside but must remain leashed and remain outside.
If You Love A Good Cider Or Spirit…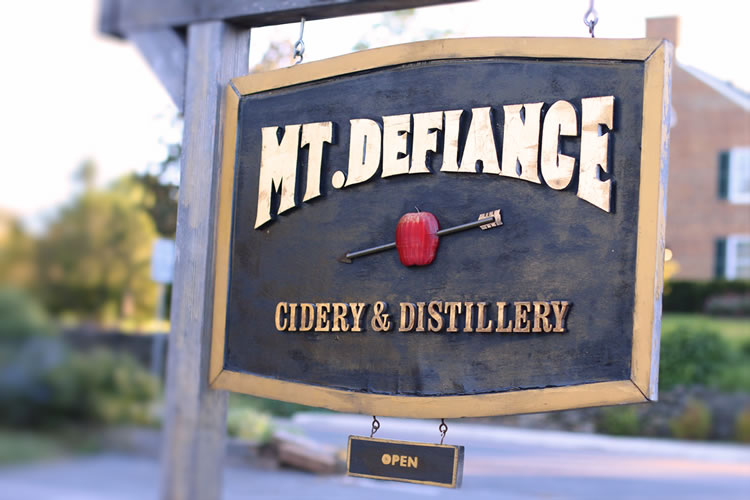 Mount Defiance Cidery & Distillery
207 West Washington Street & 495 East Washington Street (Route 50)
Middleburg, VA 20118
(540) 687-8100
mtdefiance.com
If you're walking through Middleburg exploring it's quaint shops and admiring its historic charm there's a really good chance you'll find yourself in front of Mt. Defiance Cidery and Distillery. Do yourself a favor and go in.
Mount defiance specializes in handcrafted, small-batch hard cider and spirits and was born out of a desire to revive the popularity of classic spirits with roots in both Colonial America and Europe. Early English settlers in America loved their hard cider after all. While Mt. Defiance's dry farmhouse style ciders are certainly amazing, don't leave without trying some of their spirits. Just don't.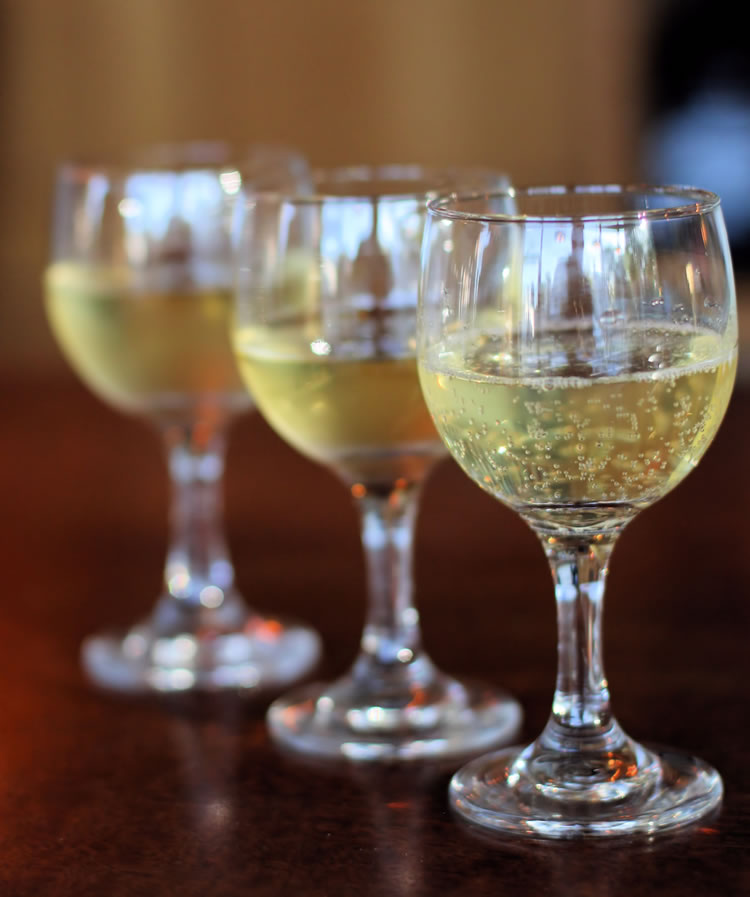 Mt. Defiance now produces an award-winning range of spirits including rum, vermouth, apple brandy, pommeau, amaretto, almond liqueur, and cassis. In 2015 Mount Defiance was named "Absinthe Distillery of the Year" at the New York International Spirits Competition and their Absinthe was a highlight of our tasting session. While also winning awards for their rum and cassis they have no intention of slowing down and have just released a straight bourbon whiskey. Cider tastings are $6 and are now available at their new Cider Barn just down the road at 495 E. Washington Street. Along with cider tastings, you can also get cider by the glass or bottle, and growler fills. Their original tasting room and distillery which is also considered the smallest ABC store in Virginia will remain open at 207 W. Washington St. for spirit tastings and bottles to go.
Where to Stay in Virginia Wine Country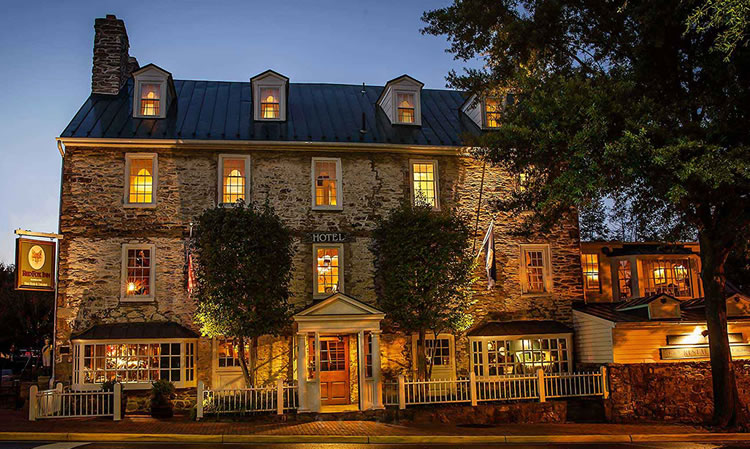 Red Fox Inn And Tavern
2 East Washington St
Middleburg, VA 20117
(540) 687-6301
redfox.com
For our first night, we checked into the quaint and romantic Red Fox Inn and Tavern right in the heart of historic Middleburg. Centrally located, The Red Fox is the perfect place to stay while touring local wineries, attending horse shows, polo matches or any other events in the region.
Established in 1728 and placed on the National Register of Historic Places this 4-story fieldstone inn has 18 unique and luxurious guest rooms and suites spread out across historic cottages and buildings furnished with traditional hunt country and period details. Walking through the front tavern door you feel as if you've stepped back in time.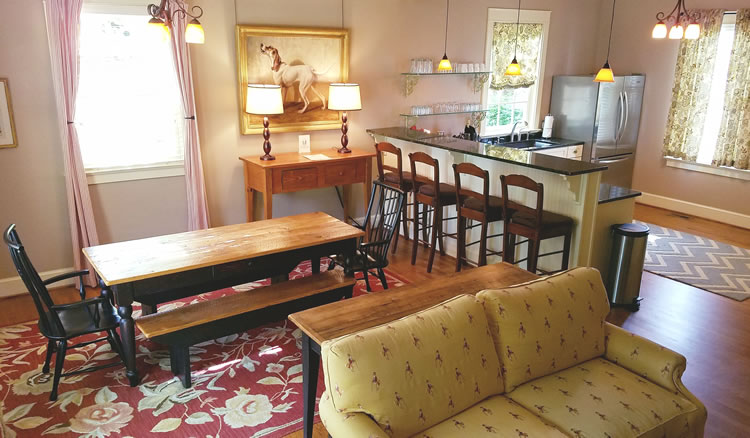 We were given our key and headed around back to the "Middleburg House" a gorgeous 2 bedroom 2 level cottage with a private courtyard, full kitchen, laundry, living room and dining room sitting areas and stunning dark wood staircase. It would be perfect for an extended stay and I was disappointed to only be staying one night.
All guests staying at the inn are offered a complimentary "Hunt Country" breakfast in the Tavern daily. Other sweet details and amenities at the Red Fox include house-baked cookies, morning coffee service, and an art gallery. A delicious and romantic dinner by candlelight in the tavern is not to be missed. For a nightcap and/or snack head upstairs to the Night Fox Pub on the second floor which offers a full bar and pub fare menu.
After a lovely stay, I can't wait to return.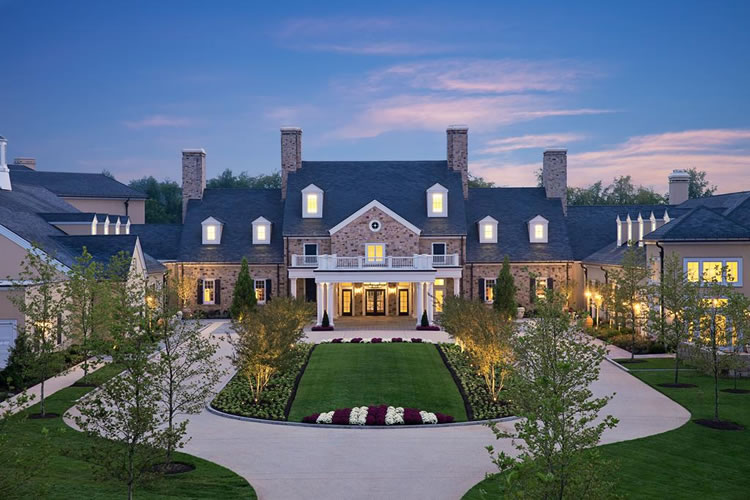 The Salamander Resort & Spa
500 North Pendleton Street
Middleburg, VA 20117
Phone:(540) 687-3600
salamanderresort.com
For our second night in Virginia's horse and wine country, we checked into The Salamander Resort and Spa. A destination in and of itself, The Salamander Resort & Spa is the perfect place for a luxurious romantic getaway or a place to relax after a day at the wineries. Only a couple of minutes from downtown Middleburg The Salamander is nestled on 340 acres and surrounded by lots of trails perfect for hiking, biking or horseback riding. With 168 posh and spacious guest rooms, a full-service 23,000-square-foot spa and wellness center, 2 onsite restaurants, an indoor and outdoor pool and a state of the art equestrian center, tennis courts, a complimentary putting green and lawn games, The Salamander is in a class of its own. There's even a hands-on cooking class experience every Saturday afternoon with culinary themes that change. For a sweet ending at the end of a long day, order one of their "S'mores Kits" and head down to the firepits. It's on the to-do list for next time.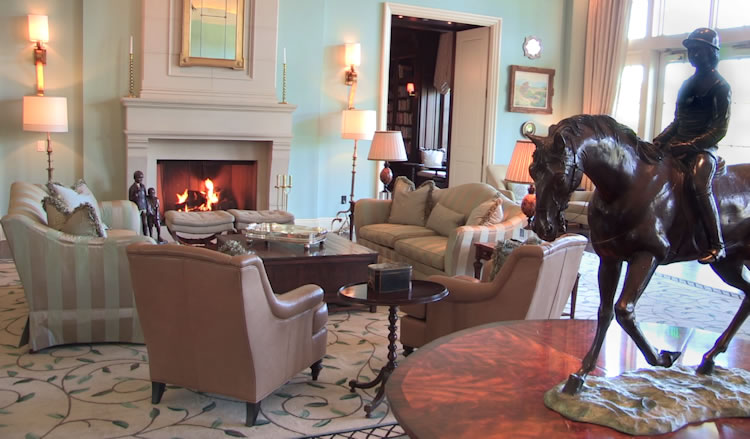 Evidence that the Salamander is centered around a love for horses and the equestrian lifestyle is everywhere. From the names of the suites (Dressage, Blue Ribbon, Grand Prix, etc.) and one of their restaurants (Gold Cup Wine & Bar), to the art on the wall, details on the balcony and even the linens on the bed. We were even greeted by a darling pony in the lobby upon arrival. Now I feel like every hotel should have a pony in the lobby. Yes, this is my kind of place.
Even if you're not staying at the resort and you're in the Middleburg area, stop by for a glass of wine in their stunning library or have dinner in one of their amazing restaurants. Head there on Sundays from 2pm-4pm for special complimentary tastings from their featured "Winery of the Month."
Where To Eat in Virginia Wine Country
What's lovely about Middleburg is that you can discover a wine, beer or cider in a restaurant or bar that you love and then get in the car the next day and got straight to the source of where it was made. We experienced some amazing food while in Middleburg. Here's where we ate:
The Tavern At Red Fox Inn
2 East Washington St
Middleburg, VA 20117
(540) 687-6301
redfox.com
For our first night in Middleburg, we decided on eating at the Tavern at Red Fox Inn. An easy decision since we were staying at the inn and had heard amazing things about the food. And the rumors are true. The food at The Tavern At The Red Fox Inn focuses on traditional Virginia style seasonal dishes centered around as many locally sourced ingredients as possible. And everything was delicious.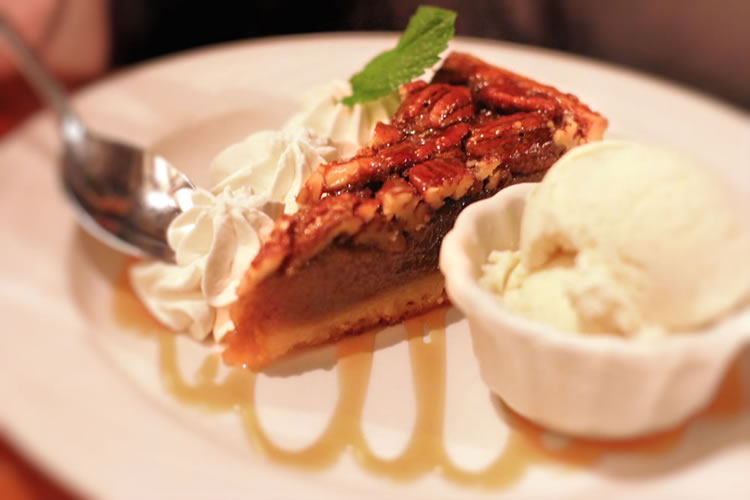 We ordered the shrimp and grits, fried green tomatoes, goat cheese crusted date salad and sea scallops that were seared to perfection and served alongside bacon lardons and drizzled with a lemon herb butter. A slice of their southern bourbon pecan pie for dessert was the perfect sweet ending to our meal. Their Virginia peanut soup and signature crab cakes are traditional house specialties.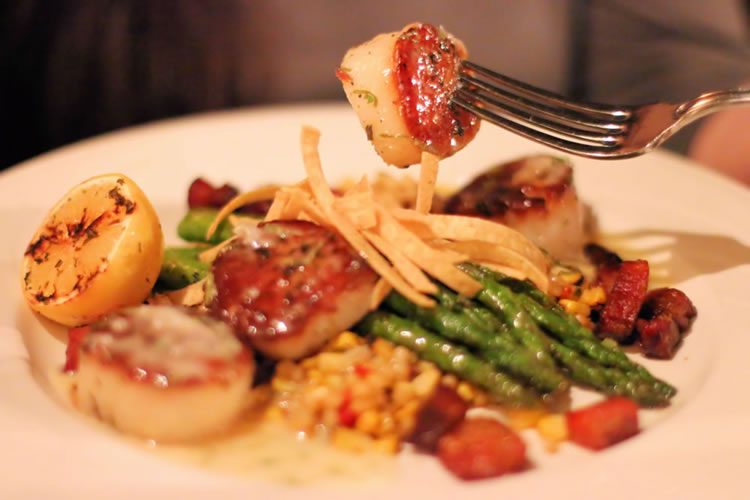 Dining in the tavern at night you'll feel like you've stepped back in time to old Virginia. A cozy and romantic atmosphere with dark woods, oak tables, stone fireplaces, and candlelight make eating amazing food only more enjoyable. The service was exceptional too. Our server was friendly, knowledgeable and helpful.
The tavern has a full-service bar with a wide selection of premium selections from around the world, but I was intrigued by their extensive selection of regional Virginia wines, beers, and ciders. We're in Virginia after all. And we shall drink what the Virginians drink. A highlight was trying the Blue Mountain Brewery Dark Hollow Barrel-Aged Imperial Stout (10%) a rich bodied slightly sweet Virginia brew that is aged in charred American oak bourbon barrels for 100 days before bottling.
Gold Cup Wine Bar at The Salamander Resort
500 North Pendleton Street
Middleburg, VA 20117
Phone:(540) 687-3600
salamanderresort.com/dine
After checking into the Salamander and a long day of visiting wineries a relaxing meal at the Gold Cup Wine Bar was just what we needed. Although casual, the ambiance is pure sophistication decorated with rich dark woods, leather, and equestrian art.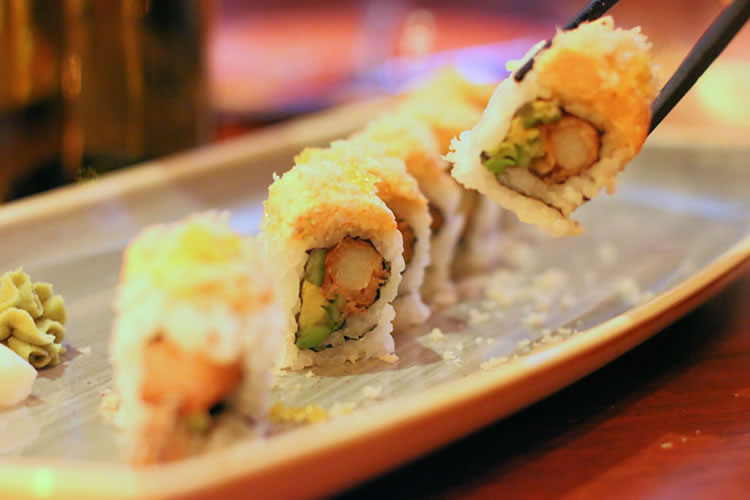 Serving lunch and dinner Gold Cup serves delicious Virginian and international dishes alongside Virginia's wines, signature cocktails and much more. Their new sushi menu available Thursday through Sunday offers some of the fresh and tastiest sushi I've ever had. A unique and standout dish was their crispy sesame cauliflower with jasmine rice, sweet soy-ginger glaze, and coconut. The juicy and flavorful Salamander burger with Ayrshire farms beef, cheddar, Nueske's bacon, house-made pickles, and dijonnaise was perfectly cooked and would satisfy any burger craving.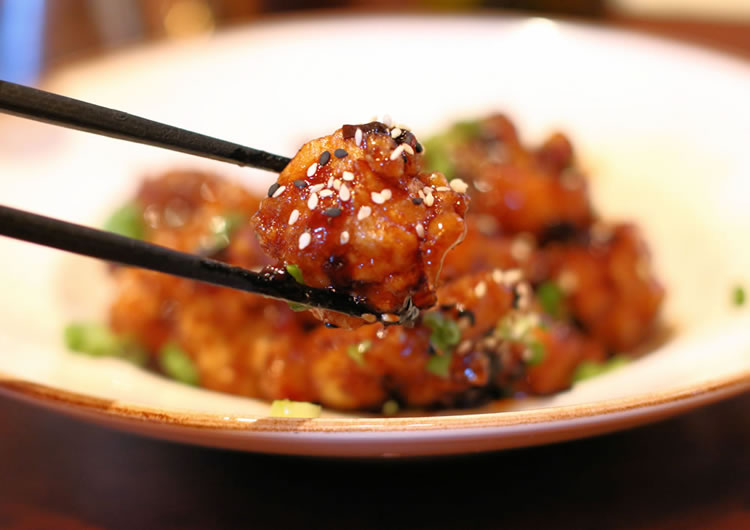 Their wine menu changes weekly, but they have an extensive list of bottles and glasses both red and white. It's a great place to try a variety of Virginia wines without having to travel very far. A treat is their selection of local wine and spirit flights featuring Virginia wines and whiskeys. For the beer lover, the selection of beers on tap are all local Virginia brews.
Market Salamander
200 West Washington Street
Middleburg, VA 20117
marketsalamander.com
Also from the Salamander Resort group is Market Salamander located in downtown Middleburg. A great stop for a quick breakfast or lunch before you head out to the wineries, Market Salamander, is part gourmet food and wine shop and part café. Eat in or pack yourself a picnic to go. Market Salamander offers everything from hearty soups, sandwiches, burgers and casual meals to local artisan cheeses, snacks, jams and delicious pastries. Of course, there's coffee and tea as well. Upstairs, their Wine Loft sells small-batch vintages from around the world. Service is friendly and you won't be sorry you stopped in.
Here are more ideas on how to celebrate Virginia's Wine Month this October: