Better Living uses affiliate links. If you make a purchase through them, we may receive a small commission (for which we are deeply grateful) at no cost to you.
If I told you there's a small island with golden sunsets you can visit, where wild ponies roam, bald eagles fly and dolphins swim in its calm waters, you're probably thinking I'm talking about something I read in a romance novel. I promise you, it's real. 
Located not too far off route 13 on the northern end of Virginia's Eastern Shore and about 1 hour south of Ocean City, Maryland, Chincoteague is a small and quiet island with a Native American name meaning "beautiful land across the water." You won't find boardwalks or Ferris wheels here like you do other places on the coast. But Chincoteague is famous for two things: their fresh oysters and their band of 150 wild ponies who roam on the nearby Virginia half of Assateague Island believed to be descended from survivors of a Spanish Galleon that once shipwrecked just offshore. The island's most notable event called the pony swim brings thousands of visitors each July who come to witness the horses herded for a 4-minute swim across the narrowest part of Assateague Channel at low tide back to Chincoteague Island.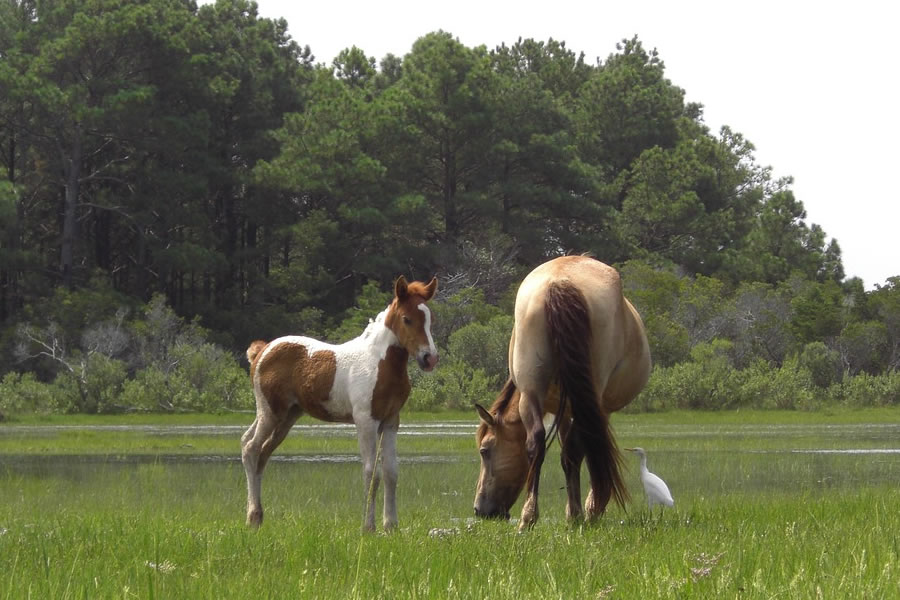 For a usually quiet island that's only 3 miles wide by 7 miles long, Chincoteague has plenty to do all year round and not just when the ponies are swimming. There's horseback riding, bird-watching, boating, kayaking, canoeing, paddle-boarding, swimming, fishing, clamming and crabbing, and swimming. You can bike or hike through over 15 miles of trails to explore in the Chincoteague Island National Refuge located in the adjacent Assateague Island, which is home to more than 320 species of birds and where the wild ponies roam. Here you'll also find recreational beach access with some of the mid-Atlantic's most beautiful coastline only a few minutes from downtown Chincoteague.
Even driving to the island is a fun excursion in itself. Once you turn off route 13 to get to Chincoteague you have to pass by NASA's Wallops Island Flight and Visitor's Center where, even if you're not into "space" you'll find their huge satellites and rockets on display and easily visible from the road impressive. If you are fascinated by rocket science and aerospace technology, plan your visit around one of their rocket launches which can be seen from the visitor center or from many viewing spots around the island.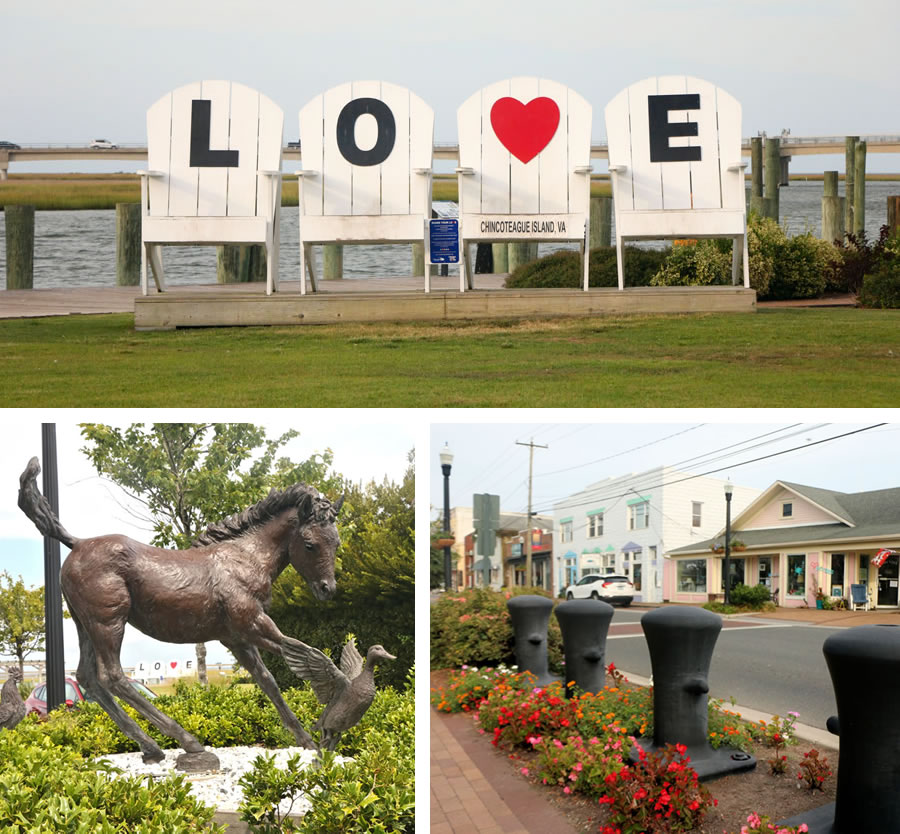 After passing NASA's visitor center, a scenic 7-minute drive over Chincotegue's main bridge will land you in the center of Chincoteague and at the intersection of Maddox Boulevard and Main Street, the island's only business district roads and where you'll find most of the island's restaurants, shops, and hotels. Quaint and historic with bay views, Main Street also has an old movie theater, a library dating to the 1890s, eclectic boutiques and antique stores for shopping. If you love to eat, Chincoteague's thriving gourmet food scene of restaurants, to-go stops, and food trucks, serve up everything from the freshest seafood, including clams and oysters grown in its own waters, to sandwiches, BBQ, pizza, authentic Mexican, Vietnamese, legendary ice-cream, world-class croissants and more.
Here are some of the things we did, ate and where we stayed during our short, but memorable visit to the island:
Where To Stay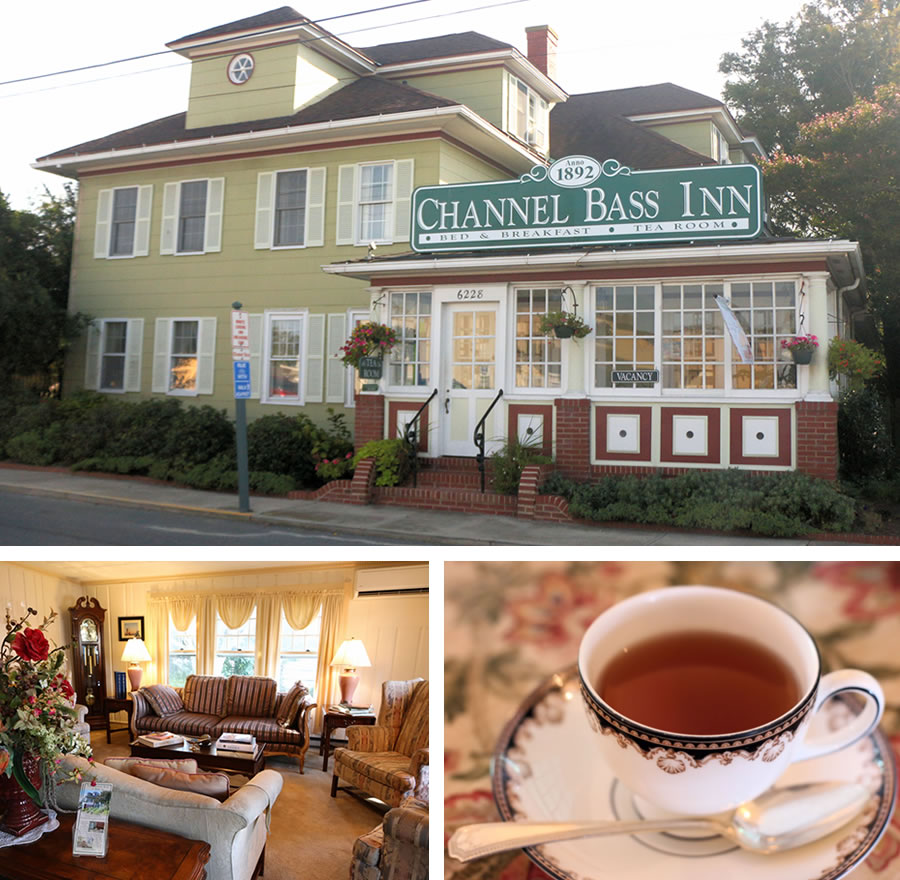 The Channel Bass Inn and Tea Room
6228 Church Street Chincoteague, Virginia 23336
ChannelBassInn.com
757-336-6148
You won't find any high-rise resorts on Chincoteague, but it still has its fair share of accommodations, from small hotels to vacation rentals. But for a more memorable and intimate experience, book the Channel Bass Inn. A bed and breakfast located just off Chincoteague's Main St, the Channel Bass, built in 1889, is a historic bed & breakfast within walking distance to some of the island's best shops and restaurants. If you're into ultra-sleek interiors with iPod docking stations around every corner then this may not be the place for you. But if you find historic homes, vintage art and furnishings, and dreamy wild English gardens charming then the Channel Bass is your own slice of heaven waiting for you on Chincoteague. It was for us.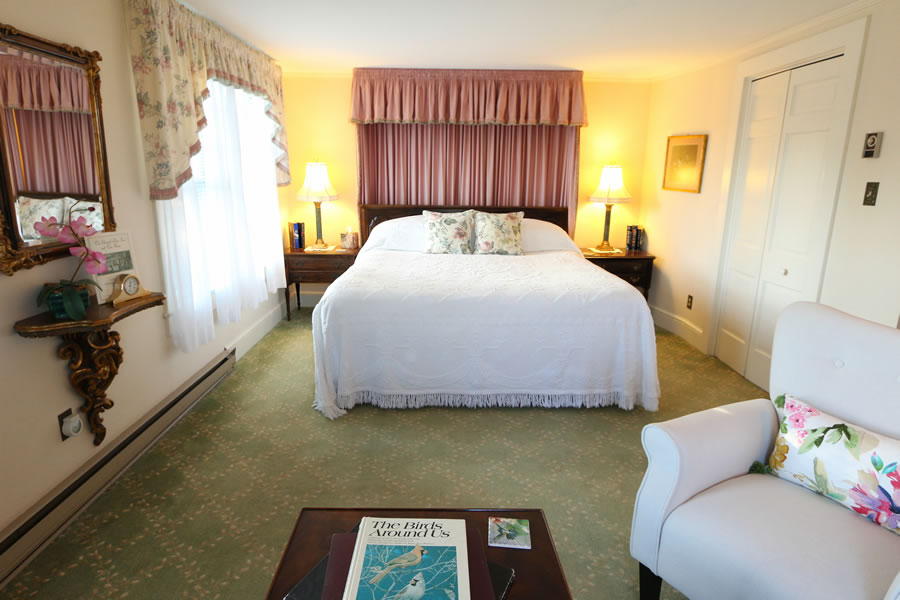 Owned and lovingly run by innkeepers Barbara and David Wiedenheft since 1995, the moment you set foot inside the Channel Bass you feel totally at peace, comforted and cared for like you've just returned to an old family home. Like most B&B's each of the beautifully decorated guest rooms, complete with their own private bathrooms have their own distinct personality ranging from cozy to supremely spacious.  Our room called the Wensleydale was on the spacious side of things with a lush sitting area that I enjoyed relaxing in while winding down at night. We found the large king bed incredibly comfortable and the suite unbelievably quiet and peaceful as it looks out over the inn's gardens. The suite's private bathroom was lovely too.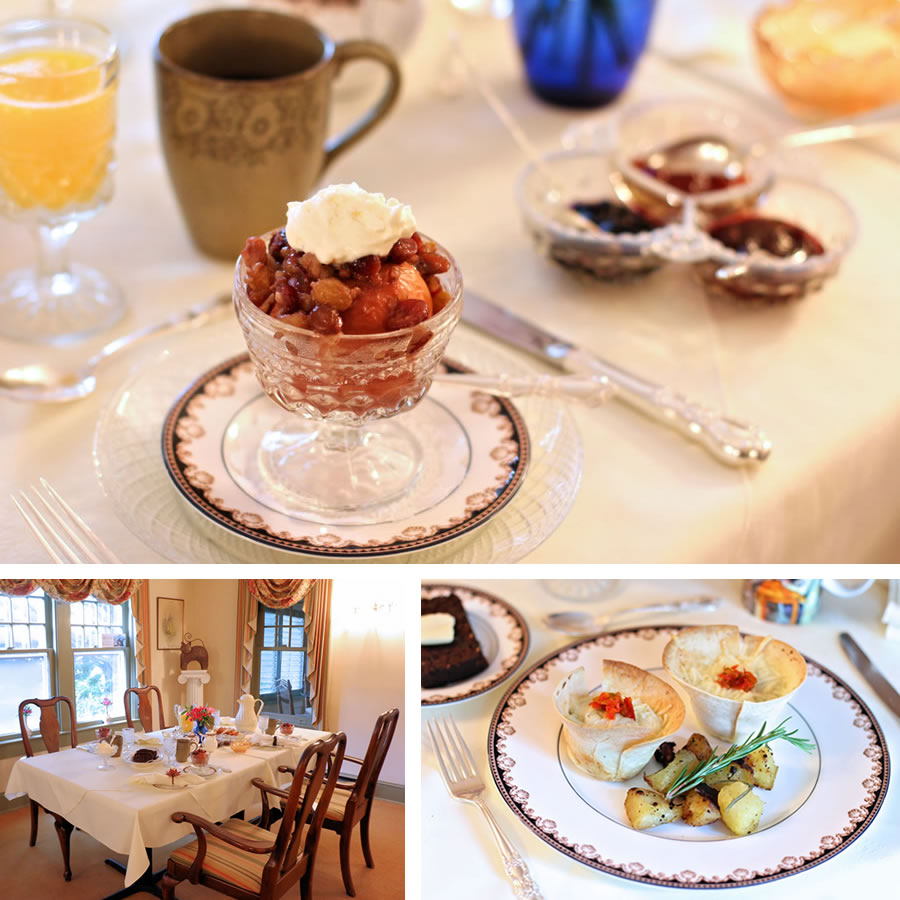 Usually, I love to sleep in, but I was looking forward to the mornings at the Channel Bass and starting my day with their life-changing freshly brewed French Press coffee and one of Barbara's lavish perfectly made to order breakfasts. Try her world-famous (or they should be) Mexican eggs, freshly baked morning breads, muffins or sweet baked apples and you'll soon realize you've been breakfasting all wrong. Barbara only uses locally pastured farm fresh eggs specially delivered from Seaside Farm in Atlantic, VA and is happy to customize your breakfast if you have any dietary restrictions. When the weather is on your side, opt to enjoy your breakfast in the lush garden listening to the peaceful sounds of the fountain.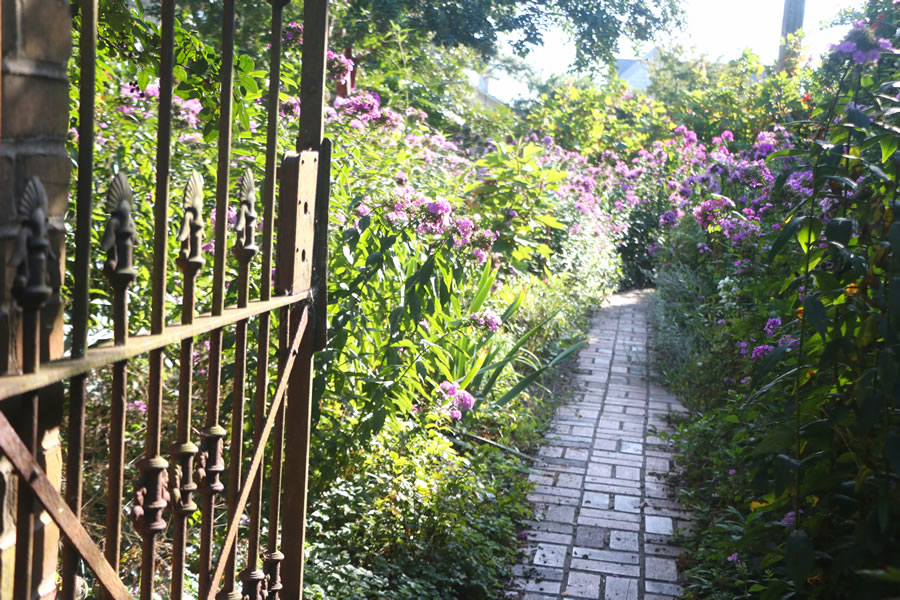 While the inn is the perfect place to stay and relax, if you want to head out to the beach for a day of sun and sand on Assateague Island (only 2 miles away), the Channel Bass has plenty of gear for you to borrow, including beach chairs, beach towels, umbrellas and bikes if you care to go for a ride. If you don't feel like driving to grab something to eat at night, simply take a short stroll to one of the great restaurants nearby like Bill's Prime & Seafood, Don's Seafood, Ropewalk, Chincotiki, Saigon Village or Backyard Firepit. At the Channel Bass you really want for nothing, except to be able to return time and time again.
Where To Eat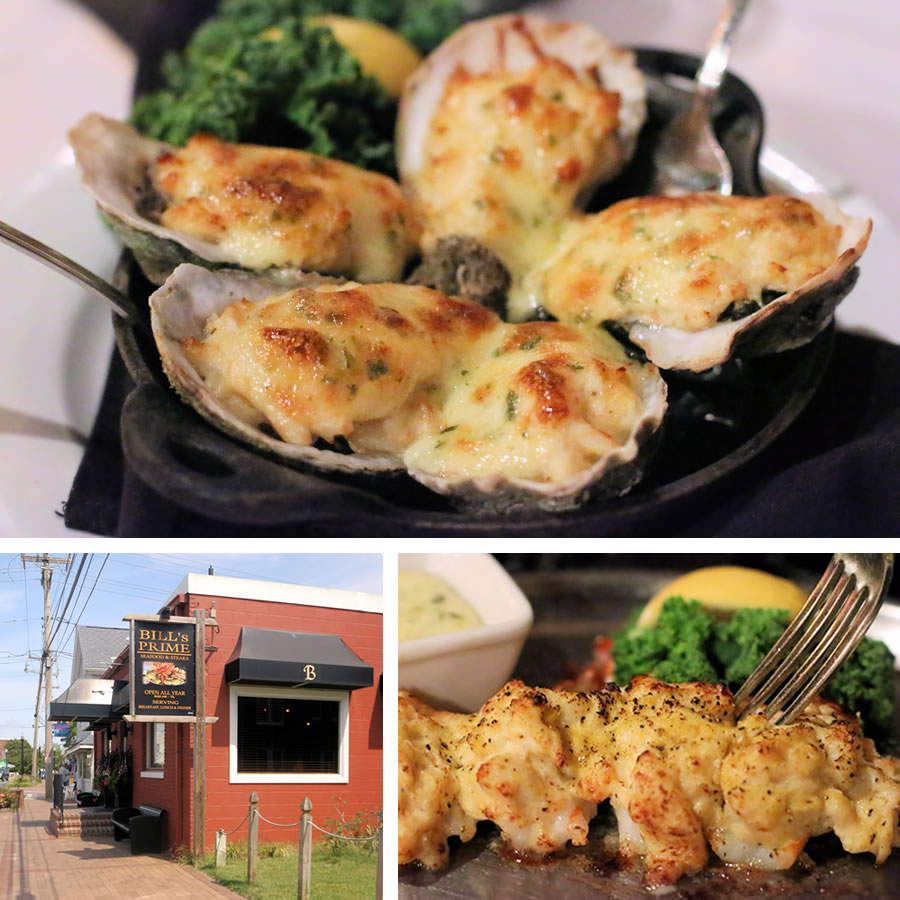 Bill's Prime & Seafood
4040 Main Street Chincoteague, Virginia 23336
https://www.billsseafoodrestaurant.com/
757-336-5831
When you're on vacation, sometimes you want to dress up a little and eat a little fancy at a place with some real atmosphere. When you feel like this and you're on Chincoteague, you head to Bills Prime And Seafood right on historic Main Street. In a painted red brick building fitted with smart black monogrammed awnings, Bill's exterior matches it's interior with mood lighting, white table cloths, and professional fine-dining style service along with an international wine list and creative cocktail menu. Not to fear if you're more of a beer guy or gal because they have a nice selection of those too. Bills has been serving fine prime cut steaks, super fresh seafood, and pasta dishes on Chincoteague since 1960 and it's definitely no secret. Walking up to Bill's on a post Labor Day Tuesday, things seemed a bit quiet. Boy was I wrong. The inside was a totally different story with a packed dining room of guests. A sure sign there's awesome food to be had here. And there was. With a great menu blending delicious selections of meat and seafood, for dinner we settled on their oyster imperial appetizer (oysters baked in the shell and topped with crab imperial and hollandaise), the broiled jumbo shrimp stuffed with crab imperial and the pork shank Osso Bucco slow roasted with a barbecue demi-glaze served over redskin mashed potatoes with smoked cheddar and ham hocks. The crab-stuffed shrimp was fresh and tasty and the meat from the Osso Bucco was falling off the bone tender which paired perfectly with the cheesy mashed with the salty bits of ham hock cutting right through the sweet and smoky glaze. Delicious. The oysters were briny and creamy with a lightly crisp topping and the perfect start to our meal. Before rolling out of there we decided a dessert was most definitely in order. We chose a rich white chocolate coconut cream pie that didn't disappoint. If you're in town and want to experience Bill's Prime but you're not able to make it there at night, they also serve a fantastic breakfast and lunch daily as well as a Sunday brunch with a Bloody Mary and Bellini cocktail menu you shouldn't miss. Bill's Prime fills up quickly for dinner even in low season so be sure to make reservations in advance.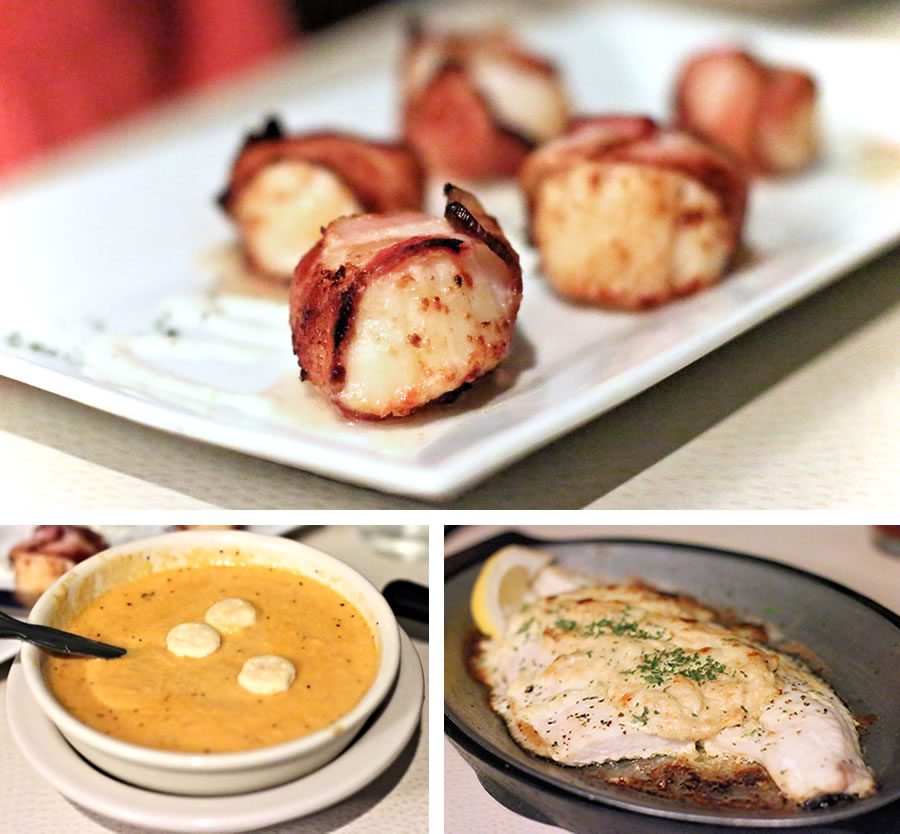 The Village
6576 Maddox Blvd Chincoteague, Virginia
thevillage/menu.html
757-336-5120
For a girl like me that grew up living on the water, when you're on an island and dinner is calling, there's nothing that fits the bill better than fresh seafood. For that, Barbara at the Channel Bass suggested we go to The Village Restaurant & Lounge. Since it was clear to me Barbara knows exactly what she's doing in the kitchen I put my full trust in her.
The Village is just what you'd want in a seafood restaurant experience. It sits right on  Chincoteague's picturesque Eel Creek where you can eat oysters overlooking the tranquil marsh in captain's chairs, surrounded by simple nautical decor. We ordered their lobster bisque special, bacon-wrapped scallops, and fresh broiled flounder dinners, one stuffed with crab imperial. The portions here are truly generous and not one thing came to the table that we didn't devour. Even the salad dressings here are delicious. And the service? Refreshingly on point. While the Village specializes in super-fresh seafood, they do have some steak and pasta selections too. For food that's deliciously prepared, fresh with a capital F and served by some of the friendliest people you'll ever meet the Village is your place.
Where To Go In Chincoteague For A Special Experience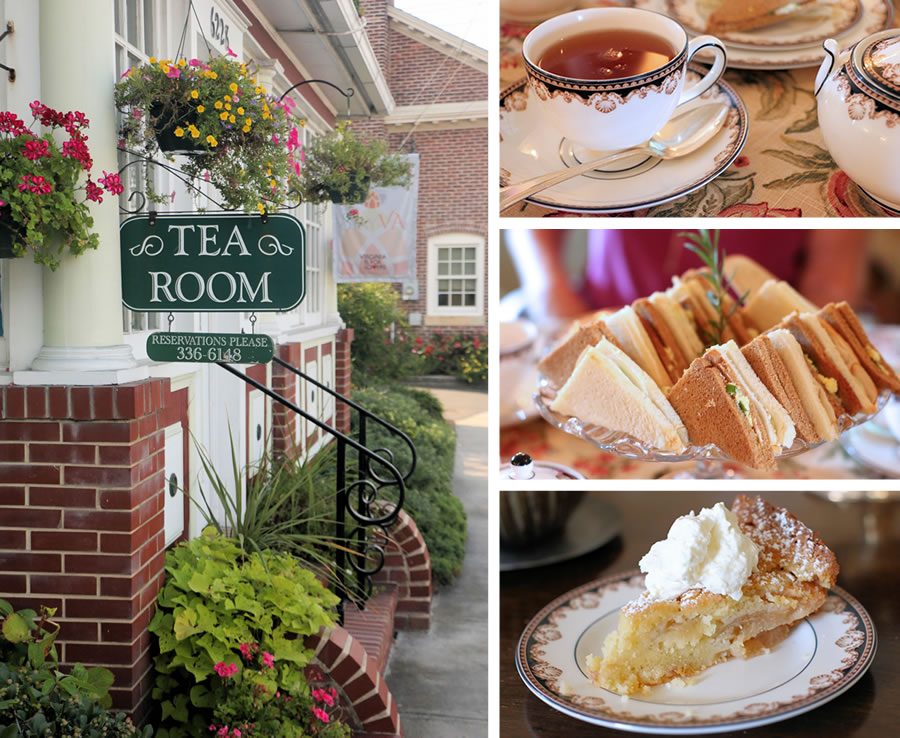 Afternoon Tea at the Channel Bass Inn Dining Room
6228 Church Street Chincoteague, Virginia 23336
ChannelBassInn.com
757-336-6148
Whether you're on a romantic getaway or a family vacation, for a special experience when visiting Chincoteague, 'Afternoon Tea' at the Channel Bass Inn's Victorian-style Tea Room is perfection. Served Tuesdays, Thursdays, and Saturdays at 3:00 pm, afternoon tea here is a four-course edible journey where Barbara, originally from England, and her staff lovingly serve true English delights including an assortment of tea sandwiches, perfectly baked English scones (the ginger was divine and is a guest favorite), raspberry, strawberry and blueberry jams, heavenly fresh whipped cream, Victoria Sponge, butterscotch pecan tarts, apple cake and other freshly baked treats which can change by the day.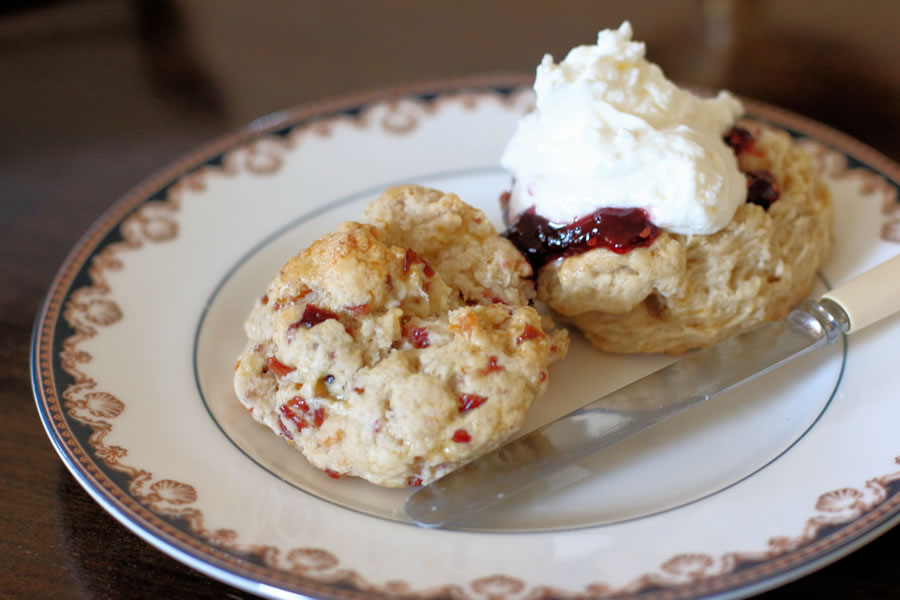 All this is served with steaming hot and fragrant Earl Gray tea which is attentively refilled so you never have an empty teacup. A little piece of advice – don't come here having just eaten. I can guarantee you'll regret it. Everything here is made from scratch and makes for a lovely and exceptionally satisfying way to spend an afternoon. For only $25 per person or $15 per person, if you're staying at the inn, this is sure to be a highlight while visiting the island. Reservations are required and spots fill quickly so be sure to call for availability.
Where To Take In The View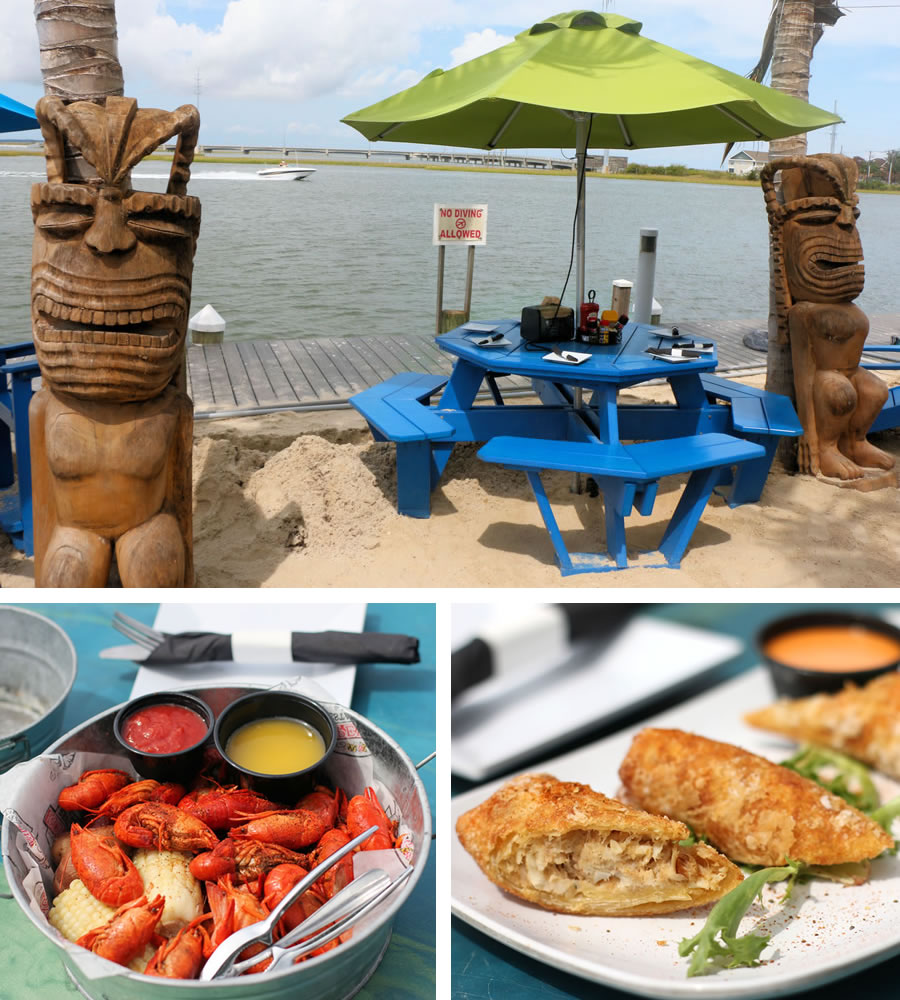 Ropewalk
6262 Marlin Street Chincoteague, VA 23336
chincoteague.ropewalk.com
(757) 336-0512
Open for lunch and dinner, Ropewalk is THE place to go when you want great drinks and local flavors with an unbeatable view of Chincoteague's surroundings waters. For rainy days you can sit inside in their full-service restaurant and bar, but the best spot here is outside when the sun is shining in their beach style patio with colorful picnic tables, Adirondack chairs, and dockside booths. Here you can order everything from, oyster shooters, crabcakes and mixed seafood boiled pots to wings, burgers, steaks, sandwiches, salads, and tacos where a combination of Southern and island flavors shine. We loved their crab cake egg rolls (crispy house-made egg rolls stuffed with crab meat and served with a sweet Thai chili aioli) and their Rockfish tacos. For an adult beverage be sure to check out their crush cocktail list, a cocktail that originated in Baltimore but has become a signature down the Maryland and Virginia Eastern Shores.
Where To Get Something Sweet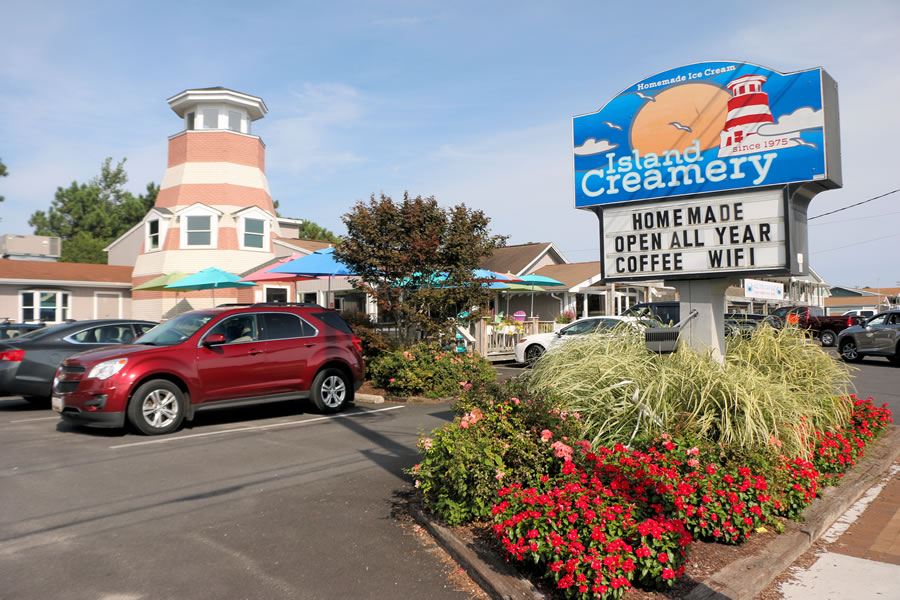 Island Creamery
6243 Maddox Blvd Chincoteague, VA 23336
(757) 336-6236
islandcreamery.net
If you're driving down Chincoteague's Maddox Blvd during high season there's a good chance you'll see a long line meandering from a shop with colorful umbrellas and a small rugby striped lighthouse attached. That's because there's some of the best ice-cream in the country being made and scooped inside. What started as a small family business about 40 years ago, Island Creamery has become a Chincoteague institution with national recognition. Voted Tripadvisors #1 ice-cream shop in the U.S and one of "The 30 places to eat in Virginia before you die" by the Virginian-Pilot, Island Creamery churns out small batches of their heavenly ice-cream daily, onsite made with local milk, cream, and ingredients whenever possible. The result is an ice-cream that is super rich, creamy, and decadent. One bite and you understand why the line is that long. Not to worry though, it moves swiftly.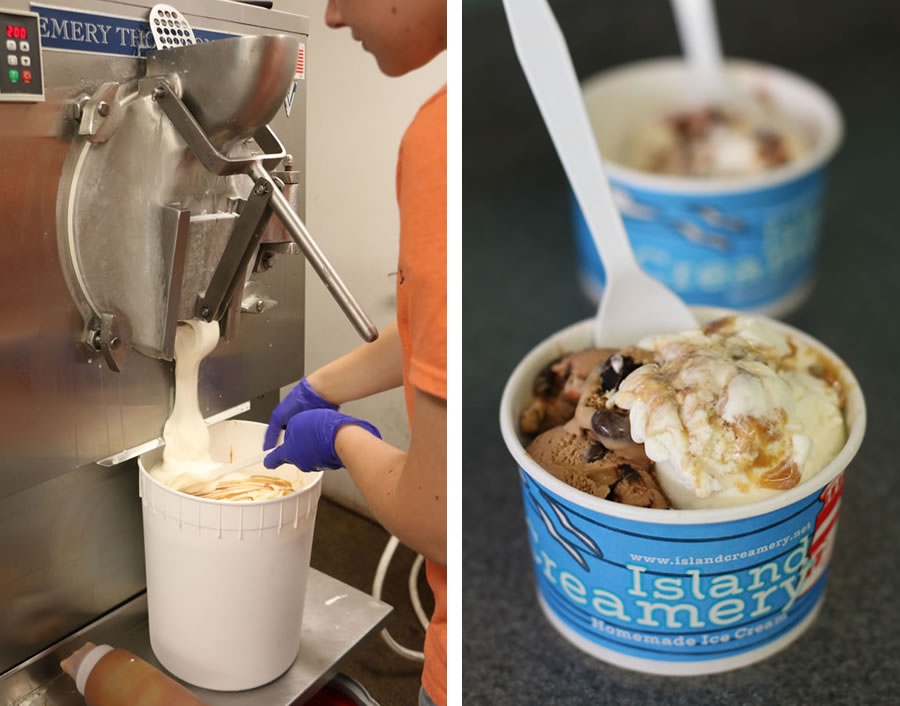 Part of the fun at Island Creamery is sampling from their menu of 36 flavors which combines year-round favorites like Birthday Cake and Bourbon Caramel Crunch with creative seasonal flavors like Strawberry Cheesecake, Cinnamon Bun and Candied Sweet Potato. Chincoteague themed flavors include Pony Tracks (vanilla ice cream with homemade fudge, peanut butter cups, and peanut butter swirl) and Marsh Mud (double strength chocolate ice cream). They also offer vegan non-dairy flavors, sorbet, and no fat, no sugar added frozen yogurt. There are too many amazing flavors to name but you can check out their menu here. My personal Island Creamery favorite is Java Jolt, a coffee ice cream swirled with homemade brownie chunks and chocolate-covered espresso beans. I went for a cup but got serious ice-cream envy when I saw some of their gorgeous ice-cream cones and creations. If you're sharing or have a major sweet tooth order one of their banana splits, brownie sundaes or floats. If you're celebrating a special occasion on the island, consider ordering one of their famous ice-cream cakes with your favorite flavors. Island Creamery also serves lattes and cappuccino and has WIFI available in their dining room and on their deck.
The Best Way To Explore Around Chincoteague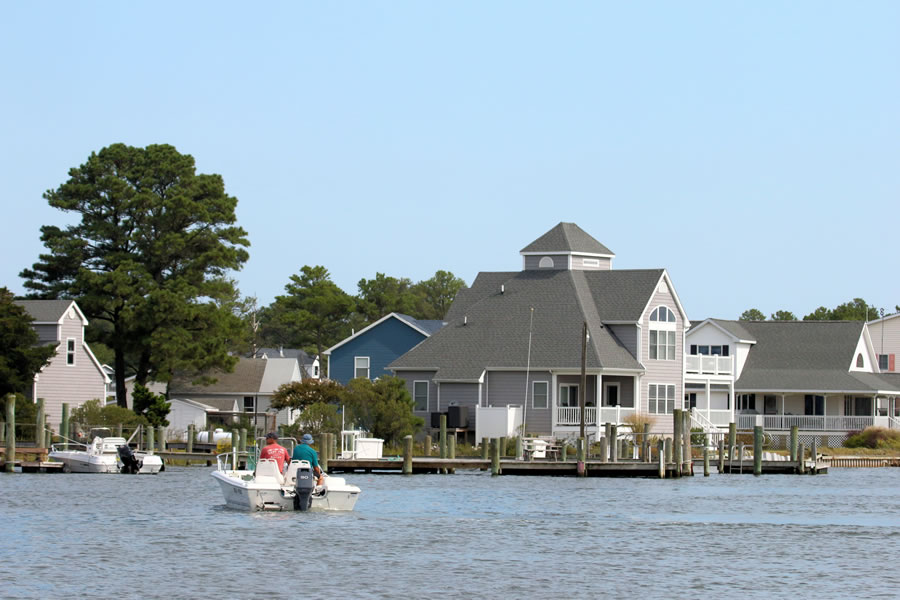 Barnacle Bill's Wild Pony Boat Tours
Curtis Merritt Harbor, SLIP #37 & #38 
Chincoteague Island, VA 23336
barnaclebillswildponyboattours.com
One of the best ways to explore around Chincoteague's waters, see some wildlife and get a peek at the wild ponies is with a boat tour. For that we sailed off with Barnacle Bill's Wild Pony Boat Tours. A Chincoteaguer born and raised, there's no question why Captain Bill Melvin has been voted Chincoteague's best boat tour on the island. I'm not saying there aren't other great tours on the island, there are. But from the moment you hop aboard Bill's pontoon and start cruising around the inlets and channels, you feel less like you're on a tour and more like you're just spending a couple of hours with an old friend who happens to know tons of interesting stuff, tells great stories and bonus – he's got a boat.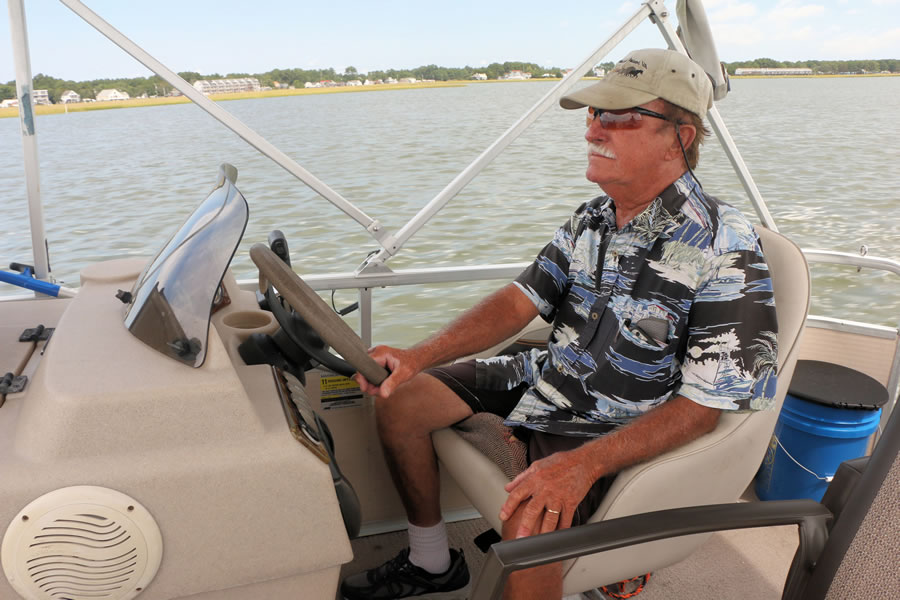 The waters around Chincoteague are pretty calm, so even those not too seaworthy should be fine. While there's no guarantee of seeing wildlife on any tour (it is wild after all), on our trip we were fortunate to see sea birds like blue herons, egrets, sanderlings, pelicans and cormorants (those water birds that swim with their bodies underwater and their heads peeking out).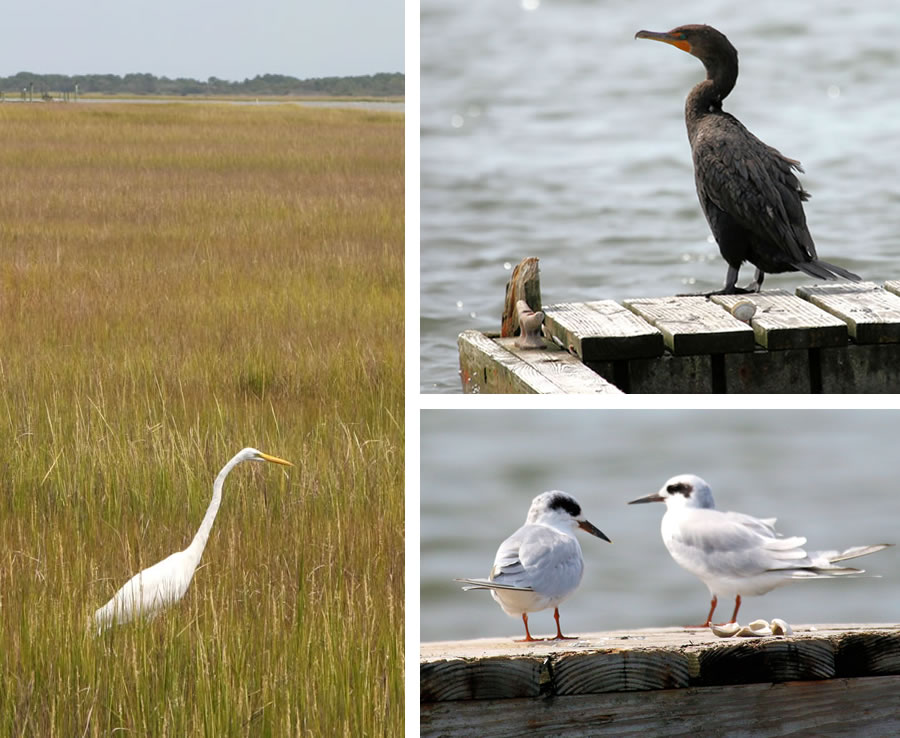 An unexpected treat was when we spot a bald eagle gliding not too far off the distance. Bill knew just where we could find its nest high up in a tall loblolly pine, the predominant tree growing in the Chincoteague's Wildlife Refuge on Assateague Island. Did you know the largest eagle's nest ever recorded weighed almost 3 tons in St. Petersburg, Florida? We hadn't, but it's interesting stories and facts like these you'll learn on Bill's tour. And you might even spot a dolphin or two. But what about the wild ponies? Just as our luck would have it the ponies weren't grazing close to shore the day we went out, but we were able to get some nice shots of them off in the distance. So now that I've confirmed with my own eyes they do exist, I'm even more intrigued to return to this warm and friendly island on Virginia's Eastern Shore to get an even closer look.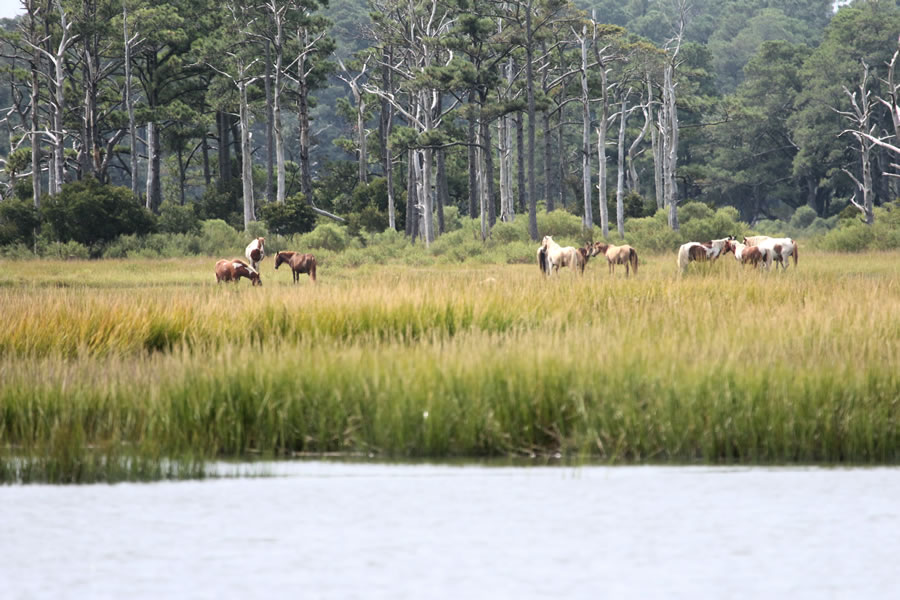 Tip: If you're doing a boat tour on Chincoteague, bring your binoculars so you can get great views of wildlife that may be off in the distance. Don't forget the sunblock, a light sweatshirt and some snacks for the ride.
Thanks to the Eastern Shore of Virginia Tourism Commission for helping us plan the perfect weekend getaway in Chincoteague! Plan yours now at https://VisitESVA.com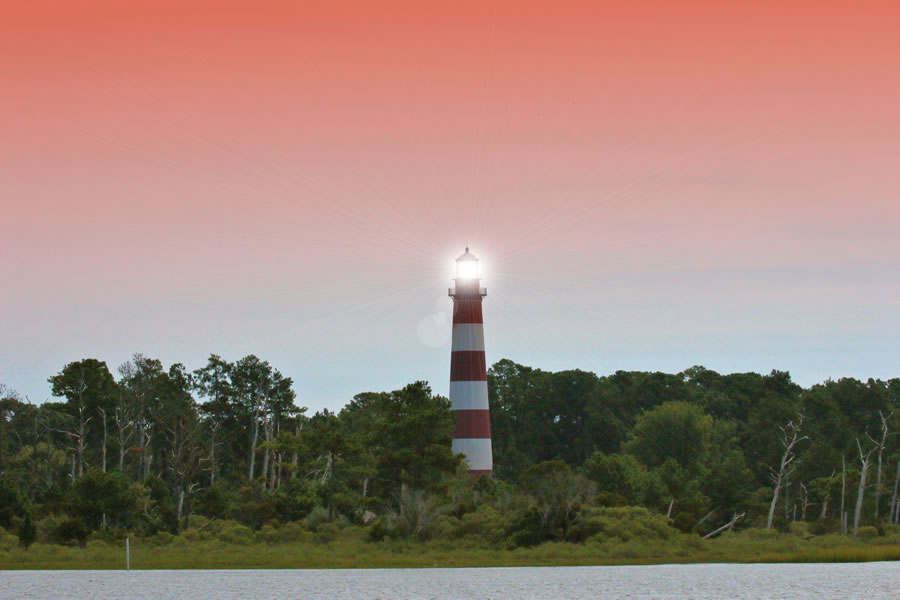 Created by OnBetterliving.com