*Thank you Brawny® Tear-A-Square® for sponsoring this post. Think of all the ways you can Put a Square There!
Boy, do I love a good burrito. What's not to love about a soft and portable package of deliciousness? While I have my favorite spots around town to grab them, sometimes I prefer to make them right at home. Not only can I make them just the way I like them, but I can also stuff them chock full of my favorite ingredients to my burrito-loving heart's content.
This recipe for 7 Layer Burritos is absolutely delish. And if you haven't guessed already, they're filled with 7 different ingredients. Chunks of zesty chicken, cilantro lime rice, seasoned black beans, pico de gallo, guacamole, sour cream, and of course, plenty of cheese – stuffed into large soft tortillas and then grilled to seal and lightly toasted. Feel like they're missing an ingredient you love? Go ahead and throw that in there, too. Turn them into 8, 9, or 10 layers. Sauteed peppers and onions, shredded lettuce, black olives, and pickled jalapenos would also make great additions.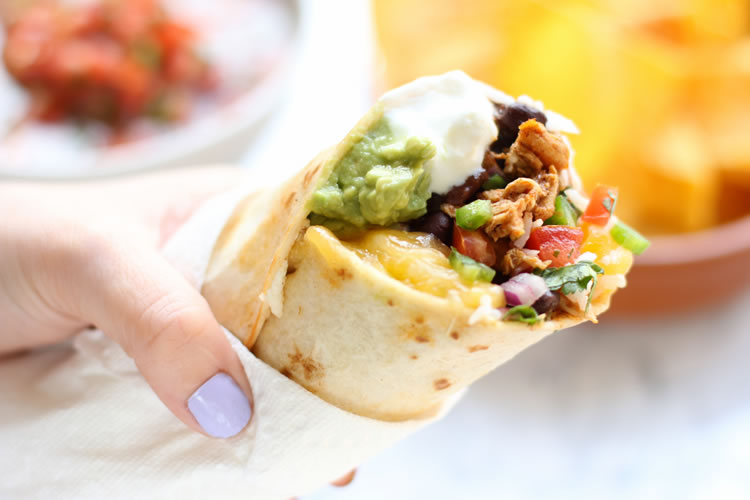 Prepping the ingredients for these 7 Layer Burritos is easy. To keep things simple, we use the white meat of a rotisserie chicken and season the meat with some spices, like chili powder and cumin, to give it some tex-mex pizazz. I like little chunks of chicken in my burrito, but you could shred the meat instead and follow the recipe as is. Save the rotisserie chicken legs for a snack and and freeze the remaining dark meat to stir into soups, or bake into enchiladas later.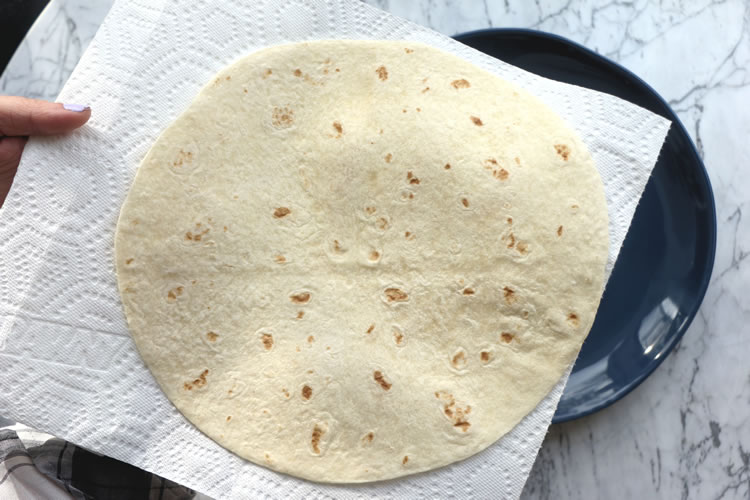 Just before stuffing your burritos, it's best to soften the tortillas in the microwave for 20 to 30 seconds with a dampened paper towel layered between each one. This moistens them, making them easier to roll, and also prevents them from tearing.
I just started using these new Brawny® Tear-A-Square® paper towels and absolutely love using them in the kitchen and around the house. You know how sometimes you just need a small piece of paper towel, or a slightly larger size than a normal sheet? The Brawny® Tear-A-Square® paper towels come with perforated quarter sheet sizes that give you the flexibility to use only what you need.
With full, half, and quarter sheet sizes, there's much less waste and they'll last you longer in the end. They're the same awesome strength Brawny® paper towels are, and can tackle any burrito making or eating mess you make without the waste. A little hot sauce spill I cleaned up with no effort at all.
I included in the recipe directions a way to kick your average can of black beans up a notch with a little jarred salsa and spices. If you don't have the time, you can heat them up as is, but I highly recommend making them as written. To save time, you can use leftover rice and just add some lime juice and cilantro. Leave the cilantro out if you don't like it, of course.
And what about the cheese? Use what you like. I recommend Monterrey Jack, Pepper Jack, Cheddar, or your favorite Mexican style blend. Using a fresh homemade pico de gallo really makes a difference, but you can also opt for a store bought version for the sake of time, or your favorite salsa.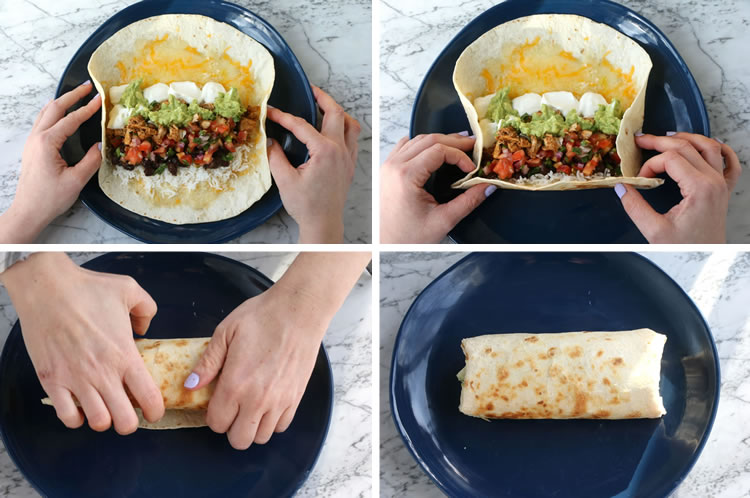 Not only can you customize these burritos as you like, leftovers can be used to make even more burritos or burrito bowls. Leftover burritos freeze great for a quick dinner when you don't have time to cook. Ready?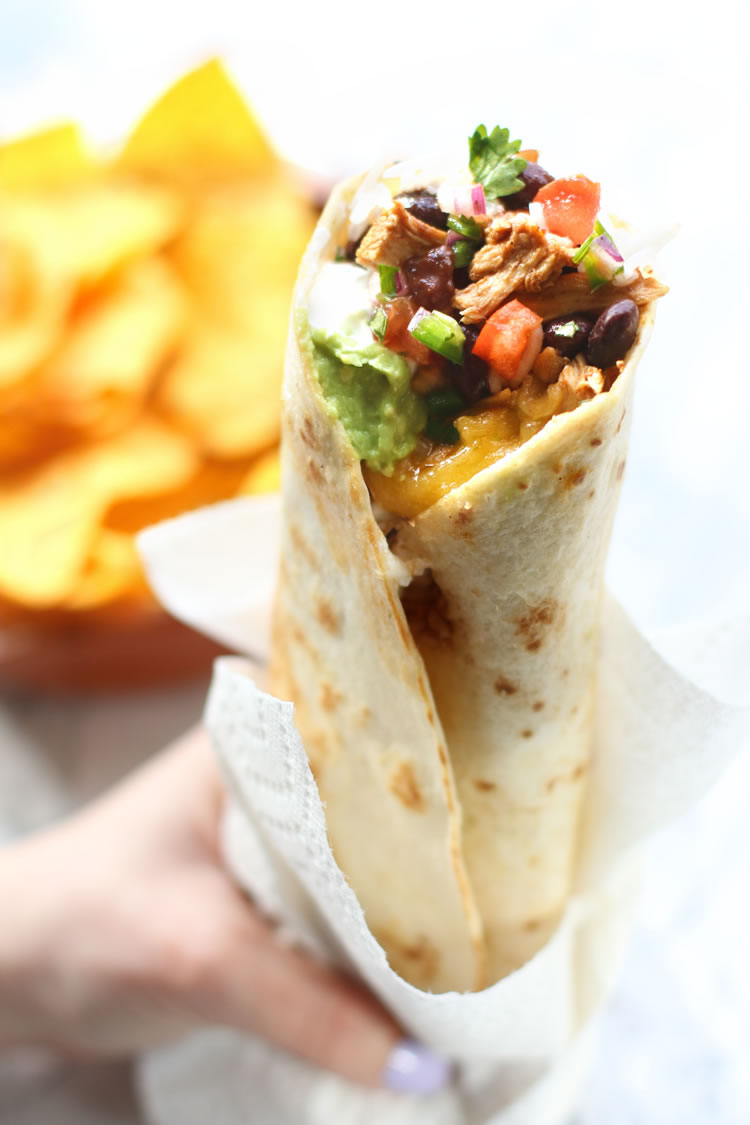 Get the recipe!
Best Ever 7 Layer Chicken Burritos
Making burritos at home with a rotisserie chicken can be just as tasty as the ones from your favorite burrito shop. These don't take much effort at all, plus the leftovers freeze great for a quick weeknight dinner. These are 7 layer burritos but, feel free to add more if you like.
Keyword:
burrito, Mexican,
Ingredients
1

rotisserie chicken, breast meat removed and chopped or shredded

1

tablespoon

olive oil

1/4

cup

salsa (not chunky)

2

teaspoons

chili powder

1/ 2

teaspoon

paprika

1/2

teaspoon

cumin

1/2

teaspoon

garlic powder

salt, to taste
Seasoned Black Beans
1

15 ounce

can black beans

1/3

cup

jarred salsa

1/2

teaspoon

chili powder

1/2

teaspoon

cumin
Cilantro Lime Rice
2

cups

hot cooked rice ( try basmati or jasmine!)

1

tablespoon

melted butter

2

tablespoons

fresh lime juice

3

tablepoons

cilantro, chopped

salt, to taste
Burrito Fillings And Other Ingredients
burrito sized tortillas

Monterey Jack, Cheddar or Pepper Jack cheese, shredded

pico de gallo or salsa

guacamole

sour cream

hot sauce
Instructions
Making The Chicken
Place a pan over medium-heat with the olive oil. Add chicken, salsa and spices. Saute for 3-4 minutes or until the chicken is evenly coated and hot. Add salt to taste. If the chicken looks too dry add a little more salsa or a splash of water to moisten. Set aside.
Making The Beans
Set a small pot over medium heat. Saute onion in a little olive oil for 2-3 minutes or until translucent. Add the black beans, salsa, chili powder, cumin and garlic. Simmer for 10-15 minutes. Add salt to taste. Set aside
Making The Rice
Toss hot cooked rice with melted butter, lime juice and cilantro. Add salt to taste. Set aside.
Assembling The Burritos
Heat and grease a large flat heavy bottomed pan, skillet or griddle over medium heat. Meanwhile, place the tortillas on a plate layered with a damp paper towel on top between every two. Microwave for 20 seconds or until the tortillas are hot and softened.

To make the burritos, begin by spreading the middle of the tortilla with shredded cheese about 1 1/2 inches in from the edge. Then layer the rest of the ingredients (chicken, rice, cheese, beans, guacamole, pico de gallo and sour cream) horizontally on top of the cheese staying within the bottom 2/3 of the cheese area as a guide.

To wrap up the burrito pinch in the sides first and then fold the bottom edge of each tortilla over the fillings, keeping the ingredients tucked in as you go. Place the burrito on the heated pan, seam side down and grill for 3-4 minutes or until lightly toasted and heated through. Flip over, repeat and then plate.

To serve cut the burrito in half and then serve with your favorite hot sauces, salsas, guacamole and chips.