Better Living uses affiliate links. If you make a purchase through them, we may receive a small commission (for which we are deeply grateful) at no cost to you.
* This post is sponsored by our partners at Noodles & Company
If you're the carbophobic type and haven't found yourself chowing down at a Noodles & Company, the fast-casual restaurant that serves up classic noodle and pasta dishes inspired by flavors from around the globe, it may be time to stop in. We were invited to taste two of their brand new dishes of the moment- Zucchini Truffle Mac and Zucchini Spicy Peanut Sauté With Grilled Chicken to see what the rage is all about.
And what's with all the zucchini? Much to the delight of anyone who tries to follow a plant-based diet (including me) both Noodles & Company dishes are made with Zoodles – zucchini noodles that are freshly spiraled in-house daily. Low-calorie, and low-carb, zucchini is not only high in nutrients like vitamins A and C, potassium, manganese, and antioxidants but their high fiber and water content provide a satisfying way to fulfill those cravings for pasta without any of the guilt or gluten. Trying them for the first time I was surprised how their texture was surprisingly noodle-like and how their neutral flavor fuses seamlessly with just about any flavor profile you throw at it. They even twirl around your fork just like the real deal.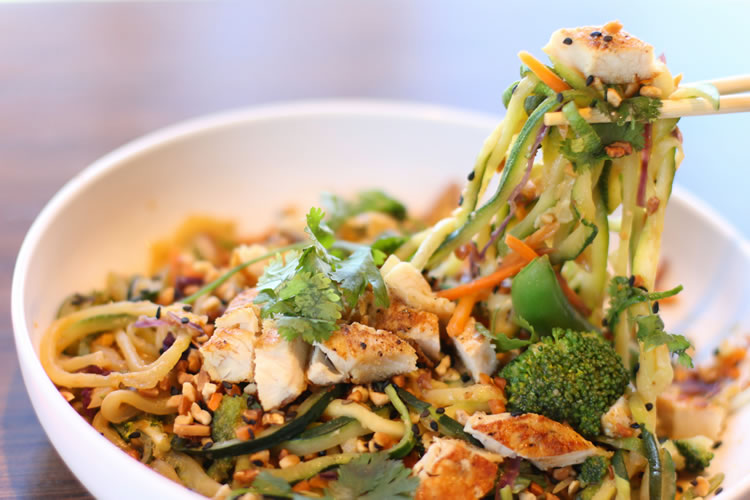 Low-carbers and gluten-free enthusiasts that are fans of Asian food would definitely enjoy the Zucchini Spicy Peanut Sauté With Grilled Chicken. The lighter of the two dishes, this one's chock full of fresh veggies like broccoli, carrots, snap peas and cabbage delightfully tangled among the fun to eat zucchini noodles. It's like a little garden harvest in a bowl. Tossed in a spicy, peanut-flavored sauce and topped with grilled chicken, crushed peanuts, black sesame, and fresh cilantro. The sauce is light and complements the veggies beautifully.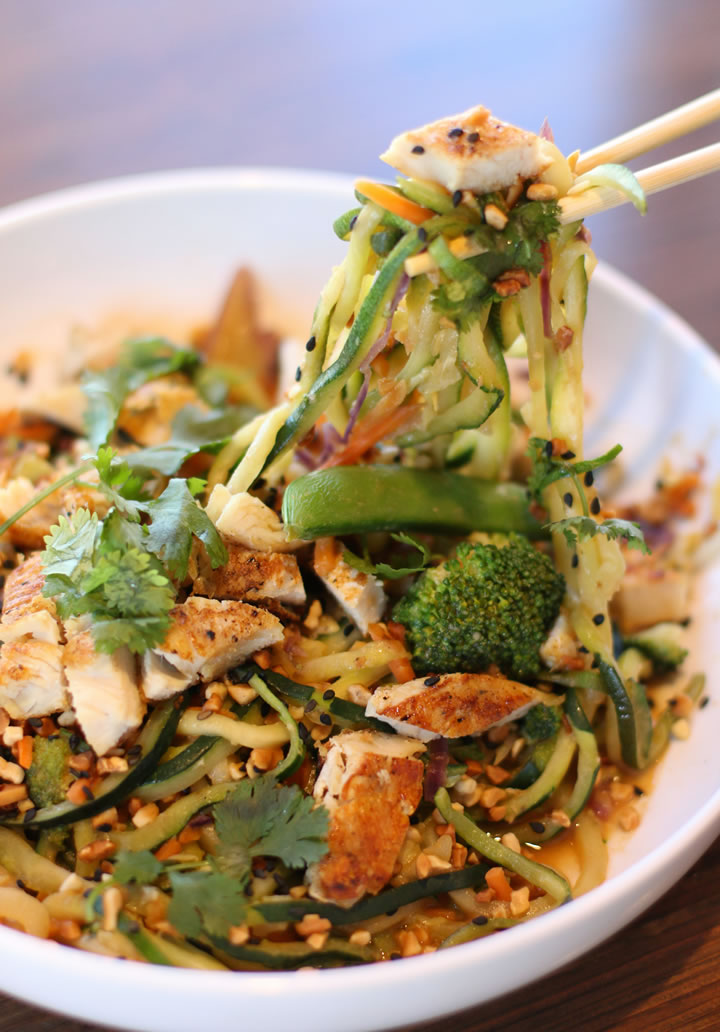 A vegetarian dish by design, the Zucchini Truffle Mac (doesn't that just sound incredible?) was definitely my favorite and I found myself going back for more and more…and more. What's it all about? Fresh Zoodles are delightfully drenched in Noodles & Company's famous creamy cheese sauce along with black truffle and earthy roasted mushrooms. Before serving, the dish is blanketed in shredded Parmesan cheese and toasted buttery breadcrumbs. Is your mouth watering yet? The Zucchini Truffle Mac was so comfortably satisfying I found myself forgetting I was eating a giant bowl of veggies. That's how good it was. A virtual bowl of low carb heaven, a small serving of this dish has a measly 7 grams of sugar and only 270 calories. Do yourself a favor and try it.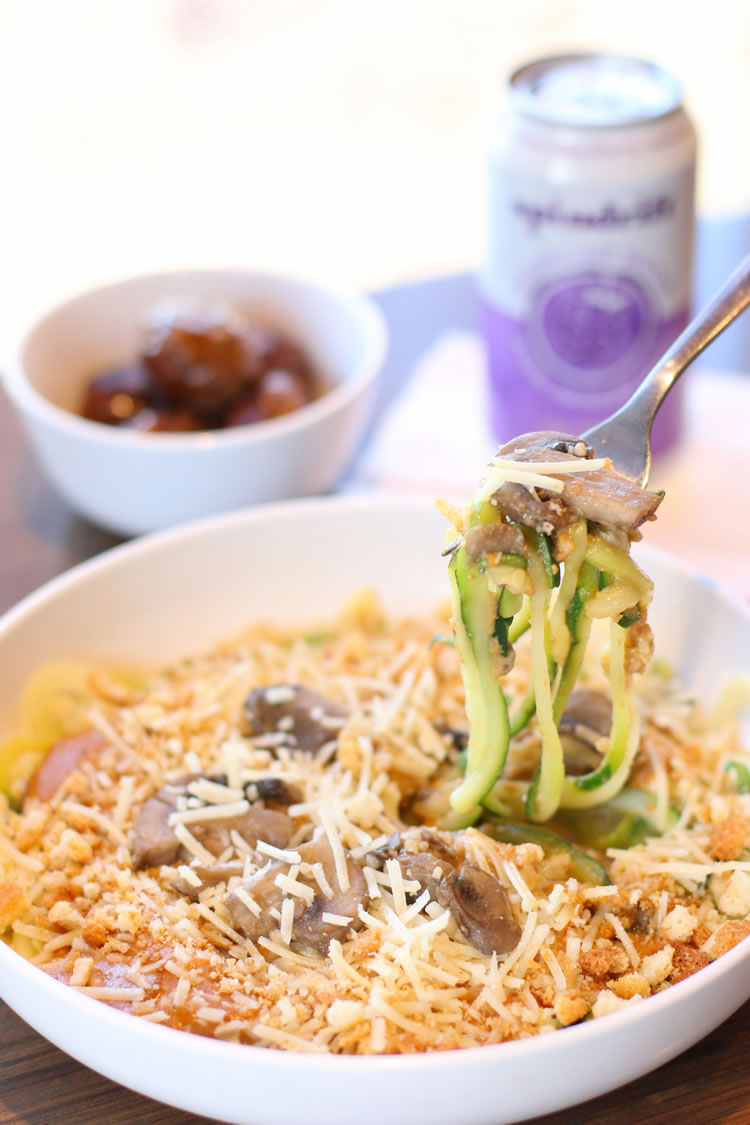 What's great about Noodles & Company is that they make all of their dishes fresh to order and you can customize them all the way you like. While ordering my eyes couldn't help but stray all over the menu to some of the other super yummy looking dishes. I have a weakness for carbs, but in my defense, I was picturing which other dishes might pair best with zucchini noodles. The good news? Zoodles can be swapped for traditional noodles in any of their dishes for $.75 extra. Their Pad Thai with zucchini noodles subbed in for traditional noodles are now on my list of "things I absolutely need to try."
Along with the yummy eats at Noodles & Company, I found that the service was stellar and its uplifting comfortable atmosphere makes it a great spot to sit and relax or grab a quick bite. Once you place your order at a register you get a number and then grab a table. A server will then deliver your food once your order is ready. Our dishes were served in just about 5 minutes. Don't forget to hit their specialty condiments bar for some sauces, including soy sauce, Sriracha and their fiery house seasoning Smolder From Boulder to amp up your dish.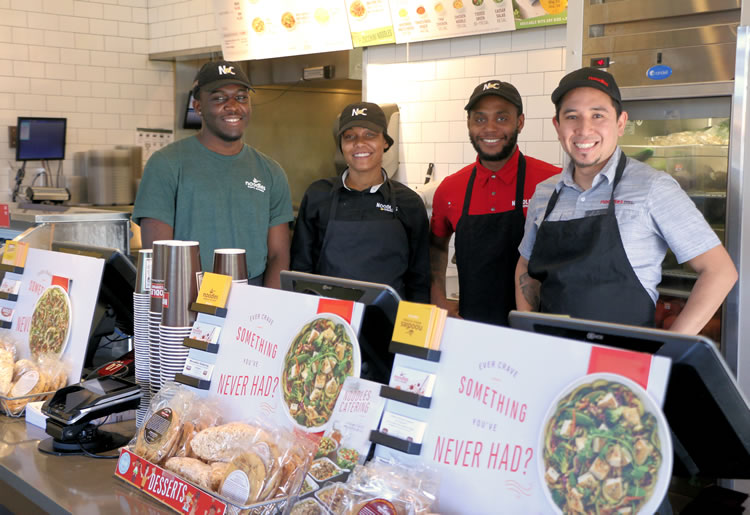 We recommend you give the new Noodles & Company Zucchini Truffle Mac or Spicy Zucchini Peanut Sauté with Grilled Chicken dishes a whirl, but they're only available for a limited time. Get going and head to one of over 400 Noodles & Company restaurant locations nationwide to get your eat on. And if you don't have time to dine in, Noodles has an online ordering system where you can pay for your order and have it ready to grab as soon as you arrive.
To find a Noodles & Company location near you and to tour their fresh globally inspired menu visit www.noodles.com.