Better Living uses affiliate links. If you make a purchase through them, we may receive a small commission (for which we are deeply grateful) at no cost to you.
* We partnered with iherb.com to bring you this post. All the information and opinions presented here are our own. With amazing prices and fast shipping across the globe visit iherb.com for all your health, wellness, and grocery needs!
When I need a unique and well-received gift for the holidays, I always turn to a gift basket. In this post, we have an easy to assemble Mediterranean themed gift basket idea that every foodie will love. For the ultimate in holiday gift basket making convenience, iHerb makes shopping super easy and has a large selection of international grocery items to choose from including gourmet oils, spices, grains, olives, chocolates, teas, coffees, honey, and snacks. Simply order everything from iHerb and get it delivered in a flash while you relax at home watching Netflix. And be sure to grab a coupon code for your next purchase at the end of this post.
Find A Stylish and Reusable Container
I love giving a gift basket in a container that the recipient can repurpose for storage or decoration. Places like Home Goods, Marshalls, Target, and Michael's carry lots of great options. Additional decorative touches like bows and ribbons can give your basket serious holiday appeal. Some ideas for gift basket containers include wooden or wire crates and many come with a chalkboard plaque where you can write a sweet little message. Before officially choosing your container make sure it will fit all the ingredients and treats you may want to include.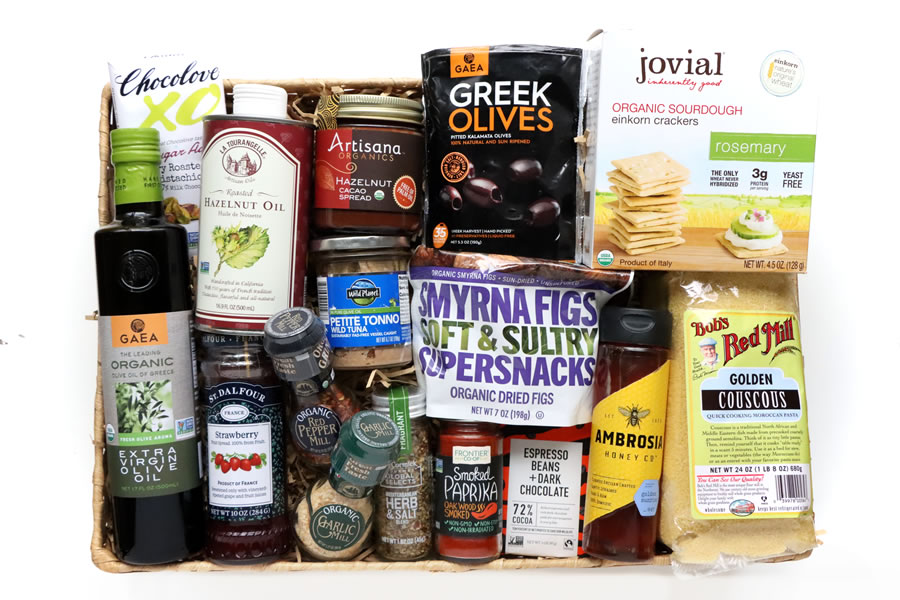 What to Include in a Mediterranean Gift Basket:
Gourmet Oils
For thousands of years, olives and olive oil have been a major part of the diet and culture in the Mediterranean. Not only is olive oil a lovely addition to any gourmet food basket and wonderful for dipping bread in or drizzling over foods, it's also high in heart-healthy monounsaturated fats. Like fine wines, the flavor of olive oils can vary amongst regions and olive types. Flavor profiles can also range from peppery, smooth, buttery, mild, grassy, and even fruity. 
When choosing an olive oil look for dark-colored bottles to prevent early oxidation from light as its shelf life is about 18 months and they do not improve with age. Also, look for certifications on the label that will let you know it's real olive oil as there has been a flood of fake olive oils being sold on the market. If you're looking for a really lovely olive oil brand, try GAEA, a producer of delicious sustainable olive oils from Greece. One of my favorite olive oils is their USDA Organic Extra Virgin Olive Oil made from hand-picked organic Koroneiki olives that are cold-pressed within hours of harvesting. This beautiful olive oil is organically certified and is smooth with herbal and fruity notes.
And if you've never tried tuna marinated in olive oil, be sure to give Wild Planet Petite Tonno Wild Tuna in Pure Olive Oil a try. A Mediterranean staple, try this tuna and you'll never want the canned stuff ever again.
For a few unique culinary oils, iHerb has a wonderful selection by La Tourangelle who handcrafts their oils in California using the same 50-year-old traditional methods as their  sister oil mill in France. Perfect in any Mediterranean basket, their oil varieties include hazelnut, pistachio, walnut, and almond. They're lovely in salads, soups, for dipping with herbs or adding rich flavors to pasta, meats, and veggie dishes.
Top Recommended Picks:
Salts & Spices
Anyone who loves to cook also loves to have an arsenal of different spices and salts in their pantry. We included popular spices you would see throughout the Mediterranean, like an Organic Garlic Mill from Drogheria & Alimentari, Mediterranean Sea Salt & Red Pepper. Smoked paprika, a commonly used spice in Spain, lends a delicious smoky flavor to things like chorizo, paella, and patatas bravas (a Spanish potato dish), but it's also a delicious addition to things like dips, marinades, and seafood. And for an all in one Mediterranean seasoning, this McCormick Gourmet Global Selects Mediterranean Herb & Salt Blend is a great pick. A fragrant blend of salt, oregano, fennel, red bell pepper, lemon peel, crushed red pepper, and garlic, it's perfect for adding a dash of Mediterranean flavor to meats, seafood, veggies, and salads.
Top Recommended Picks:
Olives, Snacks & Mediterranean Grains
Greek olives make perfect sense in a Mediterranean gift basket. These small packs of Greek olives from GAEA are the perfect size for a basket and come in a variety of flavors like plain pitted Kalamata olives, marinated Kalamata olives with extra virgin olive oil, thyme, oregano, orange peel & red peppers, and Pitted Green Olives with Chili & Black Pepper. They make a tasty snack on their own or served with a little wine alongside, cheese and crackers – like these yeast-free Jovial Organic Sourdough Einkorn Crackers with rosemary. Einkorn, the oldest variety of wheat that hasn't changed in 12,000 years, is coveted for its high concentration of nutrients, a lower amount of gluten, non-GMO status, and nutty warm flavor. 
Top Recommended Picks: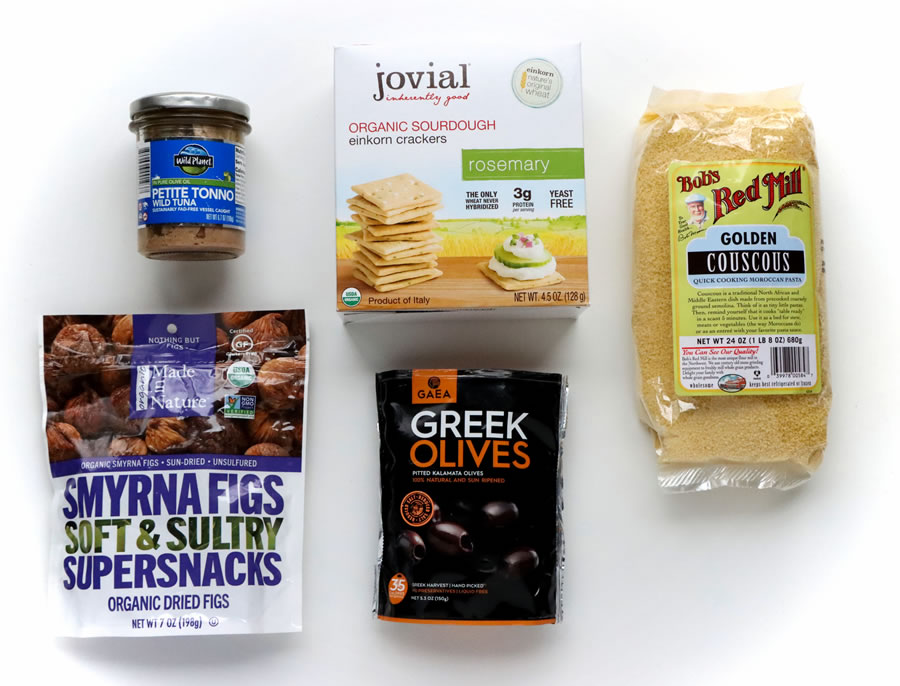 Fruits
Strawberries are a popular fruit in the Mediterranean diet. We included a delicious jar of St. Dalfour Deluxe Strawberry Spread, perfect for spreading on morning toast or even with goat cheese and crackers. Figs are also another beloved fruit throughout the Mediterranean since the times of ancient Rome and Greece. These whole Smyrna figs taste of honey, jam, and butterscotch and pair deliciously with salads, Greek yogurt, or wrapped with prosciutto. They're healthy too! High in fiber and probiotics, figs are great for digestion and are also a great source of vitamin A and C, calcium, iron, potassium, and magnesium.
Top Recommended Picks: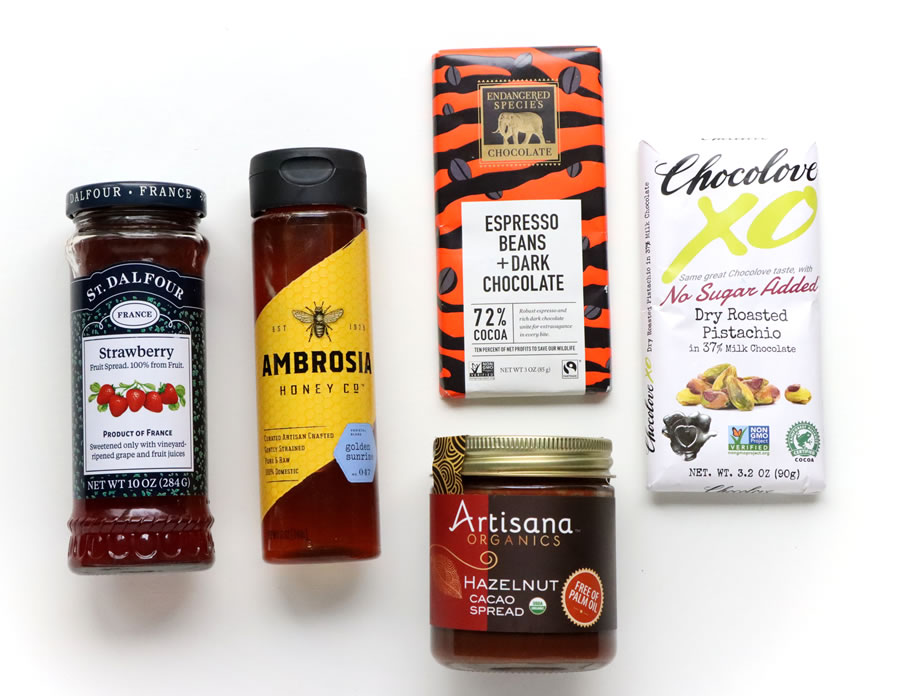 Chocolates & Nuts
A little something sweet or crunchy is always a welcome treat in any holiday gift basket. Nuts like pistachios, walnuts, hazelnuts, and almonds are popular in the Mediterranean and whether they're roasted, raw, or covered in chocolate, they make a nice gift. Just try your best to make sure the person you're building your basket for isn't allergic or on a nut-free diet. In keeping with our Mediterranean theme, we included some pistachio milk chocolate, dark espresso chocolate, and a healthy, palm free and gourmet style  Hazelnut Cacao Spread from Artisana Organics Honey that is absolutely delicious. It also tastes wonderful drizzled over feta cheese or Greek yogurt and makes a lovely addition to any gift basket. 
Top Recommended Picks: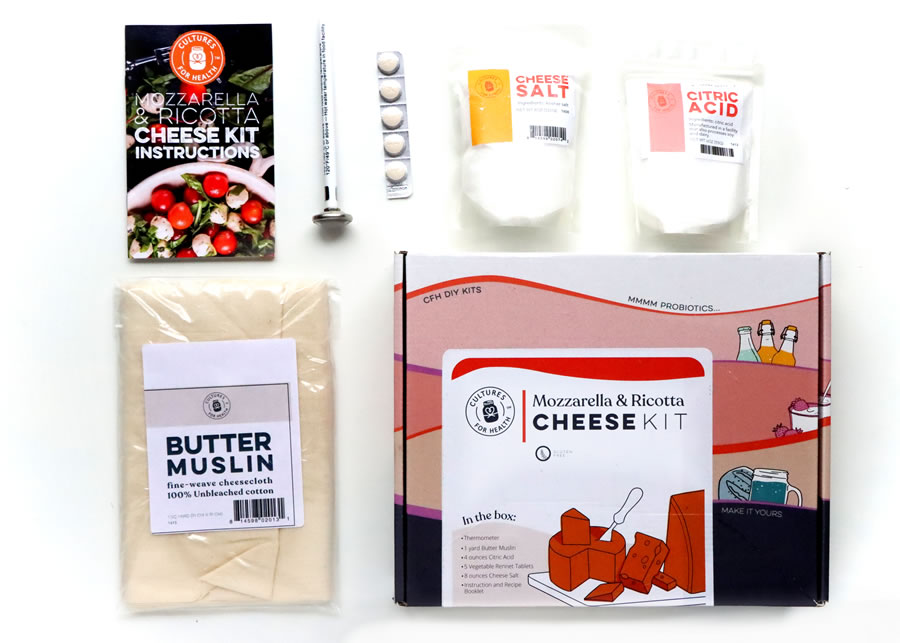 More Fun Gifts for the Foodie
If you really want to take your gift basket over the top, add something to it where your foodie can also have fun in the kitchen. We added this Mozzarella & Ricotta Cheesemaking kit from Cultures for Health to fit in with the Mediterranean theme of our basket, but iHerb also sells another kit available that supplies the tools needed to make queso blanco and paneer as well. 
Include these starter packs in your basket so they can make their own probiotic-rich and creamy Greek yogurt.  This cheese kit would even make a great gift on its own!
Top Recommended Pick:
Did you know iHerb carries over 30,000 natural products?
iHerb ships to over 180 countries!
iHerb quickly ships

orders from climate-controlled distribution centers to maintain the quality of their products

iHerb is a

Google Trusted Store

and their customer service team provides support 24/7 in 10 different languages!
Get a discount OFF your iHerb order (no minimum purchase) by –> clicking here.
We love shopping at iHerb! Their prices are amazing, they ship quickly. and you can even earn rewards!