Better Living uses affiliate links. If you make a purchase through them, we may receive a small commission (for which we are deeply grateful) at no cost to you.
* This post is sponsored by Holland House Cooking Wines. Holland House Cooking Wines are a great way to take your dishes to the next level. The information and content presented here is all ours.
Nothing makes an Easter table presentation like a beautiful and delicious ham. And while hams taste pretty yummy all on their own, a fruity glaze with cooking wine and spices can make it even better.
For a fun twist on the traditional pineapple ham combination, we thought the sweetness of peaches would work wonderfully with the salty flavor of ham. For this ham glaze recipe we combined Holland House White Cooking Wine, peach jam (preserves work too), honey, Dijon mustard, ground cloves, and cinnamon. A little fresh or dry thyme will add a warm and herbal note to the glaze.  With a crisp white-wine aroma, a few splashes of Holland House White Cooking Wine helps to balance the sweetness of the peaches and honey while adding flavorful juices for basting.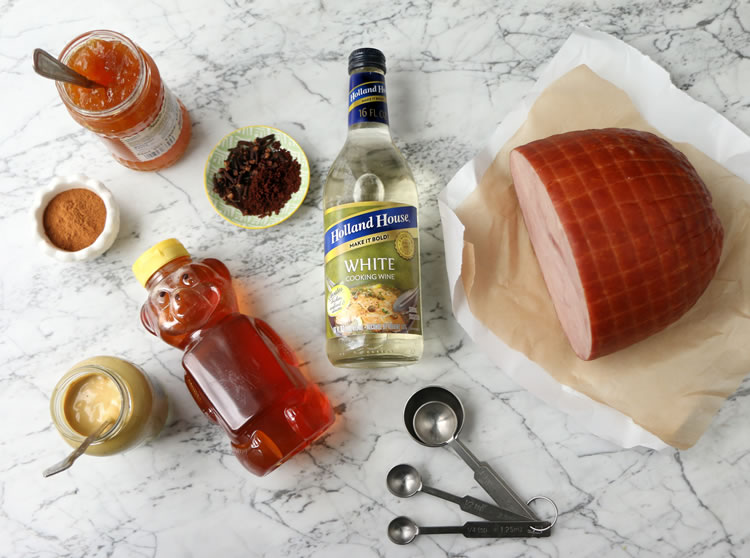 A great pantry staple, Holland House White Cooking Wine has a slightly dry but distinct flavor that can easily enhance the flavor of some of your favorite holiday or everyday recipes into something extra special.
Here's some ways you can use Holland House White Cooking Wine in your kitchen this Easter season and Spring:
Add a splash to soups or to lighten cream sauces

Great for simmering poultry or seafood dishes

Use to balance spicy recipes

Replace with 1/3  of the water when cooking rice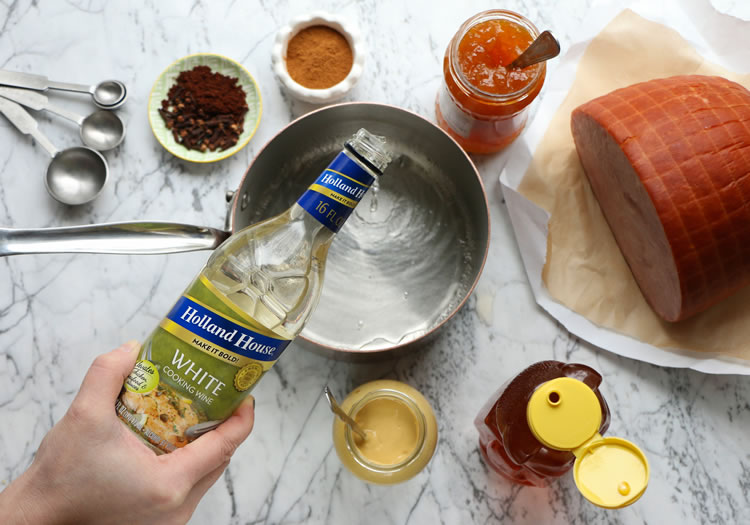 Which Type Of Ham And How Much Should You Buy For This Recipe?
This Peaches, Honey & White Cooking Wine Ham Glaze recipe works for just about any ham you decide to buy. Most hams you'll encounter at the grocery store are already fully cooked. Your job is simply to slowly reheat it without drying it out. And a glaze not only adds flavor, but will also keep it super moist. If your ham came with a glaze, now's the time to walk over to the garbage can and throw it away. Making your own takes little effort.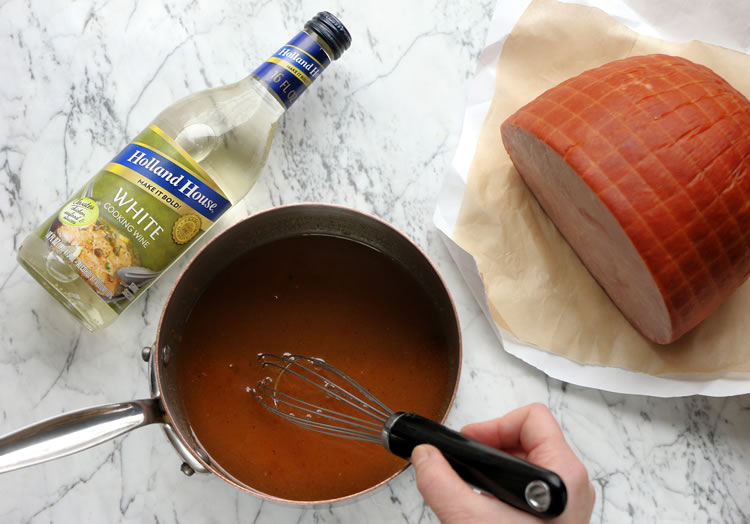 Should you buy a ham with a bone or no bone? That is the hammy question. While hams with the bone left can be super flavorful and the leftovers can make great additions to soups and stews, boneless hams create perfect slices for a beautiful presentation. Spiral-cut hams, are precooked hams that have been sliced in a continuous spiral all the way around the bone and, have consistently thin slices that you can easily pull away to make serving a breeze.
To figure out how much ham to buy, go for 1/4 pounds of boneless ham per person or 3/4 pounds per person if your ham has a bone. Too much ham is never a problem since it makes great leftovers when making sandwiches, or additions to soups, stews and more.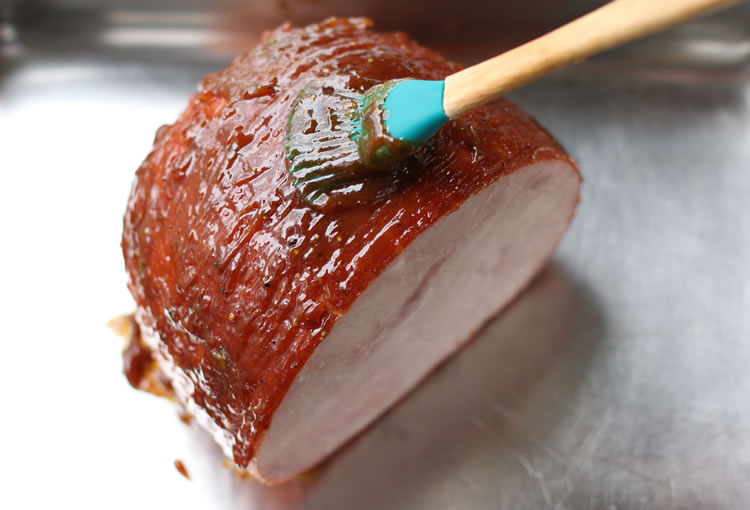 To make the glaze put all the ingredients in a small saucepan, bring to a boil and simmer for a few minutes to thicken. Before putting your ham in the oven, just lightly brush the glaze over the surface of the ham. Basting every half hour, brushing with a little more glaze will continue to infuse it with the flavors of peaches, honey, white cooking wine and spices. Not only will it lock in moisture, but it will create a delicious and hard to resist exterior.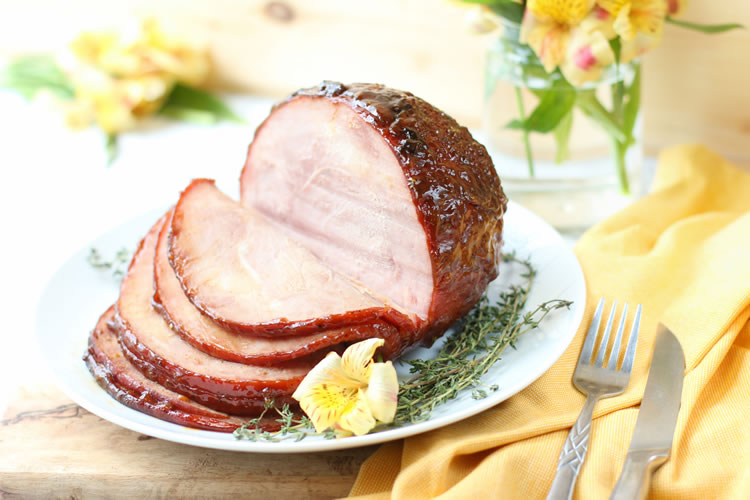 Get the recipe!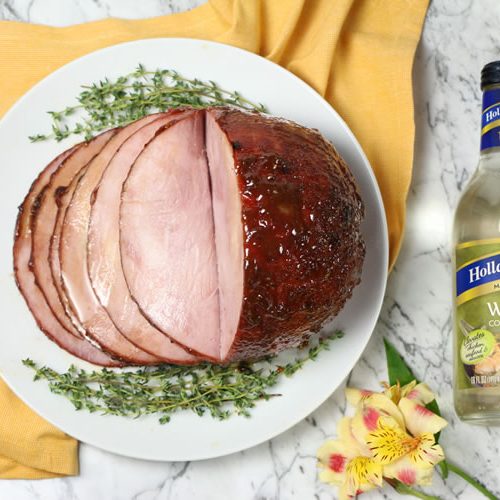 Peaches, Honey & Wine Glazed Ham
This easier than ever fruity ham glaze with a touch of white cooking wine, will give your ham that extra special kick to amaze your guests. This glaze will work for any style ham.
Ingredients
1

8-10 pound

fully-cooked whole ham

1/2

cup

peach preserves or jam

3/4

cup

Holland House White Cooking Wine, divided

1/4

cup

honey

1/4

cup

Dijon mustard

1

teaspoon

ground cloves

1/2

teaspoon

cinnamon

3-4

sprigs

fresh thyme (optional)
DIRECTIONS
Remove ham from the refrigerator, place on a rack in a roasting pan and let stand until brought to room temperature. Preheat oven to 325 degrees.




In a small saucepan whisk together the peach jam or preserves, 1/4 cup white cooking wine, Dijon mustard, ground cloves and cinnamon in a small saucepan. Add the f

resh thyme

and bring to boil

and over medium-high heat

. Once boiling, lower heat and simmer for 3 to for minutes or until glaze has thickened slightly. Remove from heat.

Brush the glaze over the exterior of the ham. Add the remaining 1/2 cup of wine to the bottom of the pan and place in the oven to bake.

Tent with foil and baste about every 30 minutes, adding more glaze if needed until the ham is finished baking. You may also add more cooking wine to the bottom of the pan if you need more juices to baste with. The ham is done baking when it reaches 140° F (60 degrees C) when tested with a meat thermometer inserted into the thickest part of the meat. Approximately 1 ½ to 2 hours.

To serve, stir the ham drippings into any remaining glaze, removing visible fat and serve at the table with the sliced ham.
Holland House Cooking Wines are a great way to boost the flavor of your favorite cold-weather dishes like chilis, soups, sauces, and even desserts! They're available in White, White with Lemon, Marsala, Red, and Sherry, to add a splash of flavor to all your favorite recipes.
Want More Recipes? Visit the Holland House website for more delicious recipes, inspiration in the kitchen and cooking tips!
Follow: Be sure to follow Holland House on Facebook and Pinterest for more delicious recipes and tips!