Better Living uses affiliate links. If you make a purchase through them, we may receive a small commission (for which we are deeply grateful) at no cost to you.
Updated 12/2023 with current information
Each year for the holidays, I venture somewhere a little extra special and take in the wonder of the season. Last Christmas we visited Berlin, Maryland – a sweet little historic town on Maryland's eastern shore and a short drive from Ocean City. This year we wanted something a little closer to home. So we headed to Peddler's Village, a 42-acre, Colonial-style village in Bucks County, Pennsylvania. Considered one of the Philadelphia region's most photogenic spots during the holidays, this sweet little country village has everything you'd want in a holiday winter wonderland.
Things To Do In Peddler's Village
With over 65 boutiques, specialty shops, galleries, and restaurants, nestled around winding brick pathways, Peddler's Village is a charming place to visit any time of year. But around the second week of November, Peddler's Village begins to come alive with the spirit of the holiday season with a stunning and grand display of lights and decorations.
The third most popular tourist destination in the Philadelphia region, this storybook-style village takes on a whole new life this time of year. Around every corner, high and low there's a twinkling backdrop of more than a million gorgeous lights. That alone makes it worth a visit!
Here's some of our favorite things to do in Peddler's Village during the holidays!
Get That Holiday Shopping Done!
Peddler's Village is a wonderful place to shop for unique gifts for yourself, your home, or others. Most of the shops here are locally owned and carry everything from home goods and clothing to art, collectibles, holiday ornaments, jewelry, and specialty foods. There's also a wonderful book store, kitchen shop, a shop carrying exotic spices and blends, and so much more. You can truly find something for everyone! 
Enjoy The Holiday Light Display
One of the most enchanting things to do in Peddler's Village is to walk around and admire the holiday lights that illuminate the village. As the sun sets, the village transforms into a winter wonderland, with over one million lights sparkling in every corner.
As you wander through the village, you'll feel transported into a fairy tale, marveling at the festive decorations and creative window displays adorning the shops and restaurants.
No matter where you go, you will feel the magic of the season in Peddler's Village!
Take a Ride on a Vintage Carousel
Giggleberry Fair & The Painted Pony Cafe
Peddler's Village is a charming destination for couples and families alike. One of the most magical attractions in this quaint village is Giggleberry Fair, where you can ride a vintage 1922 carousel from the Philadelphia Toboggan Company (P.T.C.) that has been beautifully restored. This carousel is a rare gem that will delight both kids and adults.
You can also enjoy other fun activities, such as arcade games, an obstacle course, and snacks at the Painted Pony Cafe. Try the Funnel Cake Fries!
📍Find Giggleberry Fair at 167 Carousel Ln, Lahaska, PA 18938
---
See The Gingerbread Competition
Village General Store & Visitors Center | Shop #25 
Every year starting in November, Peddler's Village hosts its annual Gingerbread Competition, where visitors to the village can see all the entries on display until January. It's on display at the Peddler's Village General Store & Visitors Center. 
You'll be amazed at the craftsmanship and level of detail and creativity. There's also a variety of competition categories including Traditional Gingerbread, Authentic Reproductions From Around the World (think notable landmarks, wonders and inspiration from around the globe like the Eiffel tower) and Reproductions of a TV or Movie Set. Winners of the competition were announced back in November, but their incredible works will remain on display through January. 
📍Find Peddler's Village Visitor Center at Shop 25 Street Road, Lahaska, PA 18931
---
Enjoy a Tasting and Spiked Apple Cider at Hewn Spirits
Hewn Spirits Tasting Room | Shop #42 
Take a break from shopping and warm your bones at Hewn Spirits Tasting Room for a delightful tasting experience with plenty of holiday cheer.
At Hewn, we enjoyed a tasting flight showcasing three of their standout spirits – the Shipmate Heritage Rum, Dark Hollow Bourbon, and Reclamation Single Malt Whiskey.
With lovely notes of molasses, the Shipmate Rum immediately caught our attention for its unique ties to naval history, being aged with wood from the U.S.S Constitution. Meanwhile, the Dark Hollow Bourbon puts a Pennsylvania twist on the classic Southern spirit, with a smooth yet complex profile from its blend of corn and rye. Finally, the Reclamation Single Malt is aged with 300-year-old reclaimed wood, yielding an incredibly rich and mellow whiskey.
The tasting room itself exudes rustic coziness with its warm lighting, reclaimed wood, and friendly staff who enthusiastically shared background on Hewn's history and distilling methods. We also couldn't pass up a cup of their Spiked Hot Apple Cider to go – the ideal winter warmer as we walked around enjoying the festive lights at Peddler's Village.
Beyond the excellent spirits, Hewn also provides locally produced bourbon barrel aged maple syrup and honey that's absolutely delicious.
Make sure to drop by Hewn Spirits when you're at Peddler's Village. It's a fantastic opportunity to support this local distillery. I highly suggest exploring their products and inviting tasting room— whether for a relaxing break or to discover unique gift ideas.
📍Find Hewn Spirits at 40 Peddlers Village, Lahaska, PA 18938
---
Pop Into Clusters For a Snack Break
Clusters Popcorn | Shop #53 
While exploring Peddler's Village, indulge in a snack break at Clusters Handcrafted Popcorn. This locally-owned shop makes delicious popcorn fresh daily, with sweet, savory, and spicy flavors you can sample before choosing.
I LOVE their Cookie Explosion – caramel corn with dark chocolate cookie pieces. Can't decide? Grab one of their gift packs to take home an assortment – they make great gifts for popcorn lovers too!
With seasonal options like Pumpkin Crisp and Peppermint Bark, Clusters has become a tasty Peddler's Village tradition. Stop by for a snack or gift pack to fuel the rest of your shopping adventure!
📍Find Clusters Handcrafted Popcorn at 53 Peddlers Village, Lahaska, PA 18931
---
Grab a Hot Chocolate at Mama Hawk's
Mama Hawk's Kitchen | Shop #58 
While browsing the shops along York Road, be sure to stop into Mama Hawk's Kitchen for signature hot chocolate, fresh gingerbread, and their famous cinnamon buns. Mama Hawk is all about the finest details, and they don't miss a beat in the taste or the presentation of their hot chocolate. It's truly holiday magic in a to-go cup!
If you decide to stay for lunch, Mama Hawk's also serves wood-fired pizzas, paninis, soups, and salads. But, don't leave without getting a cinnamon bun! Seriously, these are some of the most delicious, freshly-baked cinnamon buns EVER, in a variety of yummy flavors too. In fact, take a box of cinnamon buns to go home with, because I can guarantee you'll be sorry if you don't.
📍 Find Mama Hawk's Kitchen & Coffee at 58 Peddlers Village, Lahaska, PA 18931
---
Where to Shop for Gifts In Peddler's Village
Pine Wreath & Candle | Shop #70 – Peddler's Village
Located across from the gazebo in an early colonial style saltbox and flanked by a working water wheel, Pine Wreath & Candle is one of most iconic shops at Peddler's Village. With their massive collection of Christmas ornaments and home décor, you're guaranteed to get into the holiday spirit as soon as you enter this festive shop. 
📍Find Pine Wreath & Candle at Peddlers Village Shop 70, Lahaska, PA 18931
---
jaZams | Store #160 
If you're shopping for children or have children with you while visiting the village, don't miss jaZams. This happy, bright toy shop offers a great selection of hard to find books, toys, puzzles, art kits, games and adorable stuffed animals for kids of all ages. Many are even educational and eco-friendly.
The sweet whimsical details hanging in every corner of this shop always have me remembering just what it's like to be a kid again. If you have a child to shop for, there's no way you won't be able to find something special here. 
📍Find jaZams at Store 160, York Rd., Lahaska, PA 18931
---
Lahaska Book Shop | Shop #162A
Digital books are convenient and all, but they can't ever replicate the feeling of holding and reading a real physical book. Bright and cheery, Lahaska Book Shop is an adorable independent book shop right in the village with a wonderful selection of books, magazines, and fun gifts for both children and adults. 
📍Find The Lahaska Bookshop at 162 Carousel Ln & Rte 263 A, Lahaska, PA 18931
---
BGIE (Best Gift Idea Ever) | Shop #33
Looking for a thoughtful, one-of-a-kind gift this holiday season? Check out the BGIE (Best Gift Idea Ever) store at Peddlers Village. They specialize in letter art – framing customized selections of their photography collection to spell out names, words, and phrases.
You pick the theme – like sports, music, or animals, then mix and match mats and frame styles to your taste. The staff helps you design your masterpiece, which they'll assemble and frame in about 15 minutes right in the shop. My gift came out looking professional, personal, and beautiful. I had so much fun making it too! If you want to surprise someone with a unique, DIY-style gift, I highly recommend making a stop at BGIE!
📍Find BGIE (Best Gift Idea Ever) at 100 Peddlers Village – Store #33 Lahaska, PA 18931
---
Pepper Palace | Shop #161
Finding gifts for the spice and hot sauce fanatics in your life can be tricky. For those who crave heat and a flavorful burn, Pepper Palace in Peddler's Village is a haven filled with options to set tastebuds on fire. With dozens of small-batch hot sauces and salsas available to sample, it's easy to discover new favorites for even the most daring palates.
Consider picking up a few of Pepper Palace's signature hot sauces like the intense Scorpion Death Stalker or flavorful Serrano Lime. Their Ghost Pepper sauce packs some serious heat while the Horseradish Oyster hot sauce offers a kick of zing. For those who dare, gift The End: Flatline sauce made with a blistering blend of super hot peppers – this one is not for the faint of heart!
In addition to hot sauces, Pepper Palace carries rubs, seasonings, pepper jellies and more, so you can find just the right gifts tailored to any spice lover's tastes. Want to try before you buy? Take advantage of their combo deal allowing you to mix and match any 3 items and get the 4th free.
When shopping for gifts that bring the heat and flavor, Pepper Palace has everything needed to make spice enthusiasts' wish lists sizzle!
📍Find Pepper Palace at Shop #161, Peddlers Village – Lahaska, PA 18931
---
Bucks County House of Jerky | Shop #69
Who knew jerky could make the perfect holiday gift? At Peddlers Village, Bucks County House of Jerky is a haven for jerky enthusiasts and a fantastic stop for unique and thoughtful presents. They've got a huge variety of jerkies—sweet, spicy, savory—you name it!
Gift-giving made easy: Bucks County House of Jerky offers some of the biggest assortments of jerky we've ever seen. From classic beef and bison to turkey, elk, and even plant-based options, they've got something for everyone. Seriously, their mushroom jerky blew our minds—it's so unexpectedly meaty and delicious! And if you're feeling adventurous, they've got exotic picks like alligator and python.
But it's not just jerky! This place is a gift-giver's paradise. They've got snacks, nuts, and all sorts of yummy treats, perfect for building your own gift basket. And guess what? They even have pre-made gift baskets ready to go. It's a convenient shop to snag something unique and flavorful for that special someone this holiday season.
📍Find Bucks County House of Jerky at 69 Peddlers Village, Lahaska, PA 18931
---
More of Our Favorite Shops to Find Great Gifts
Greenology Organic Living – Discover a world of eco-friendly holiday gifts in this beautiful shop. Explore a curated selection of house plants and create a terrarium for gifting at their DIY terra-bar. No appointment needed! 
Savory Spice Shop –

Savory Spice Shop offers a variety of freshly ground herbs, spices, and blends, along with over 40 gift sets, books, and recipe kits, making it a perfect destination for your holiday gifting needs.

The Cloak and Wand

–

The Cloak and Wand is your one-stop shop for magical gifting, offering a wide range of items from cloaks, wands, books, and toys.

The Total Animal –

This unique boutique offers a wide range of animal collectibles, making it the perfect place to find a special gift for any animal lover.

What's In A Name–

For a unique gifting experience, discover your family's history, coat of arms, and acquire antique maps – all related to your name.

Body Language Company –

This shop has everything for fitness and health enthusiasts, offering a wide range of fitness accessories, equipment, activewear and more. 

Pieces –

Pieces is the perfect destination for gifting, with a selection of puzzles, board games, trivia, and more to entertain and challenge the mind.

Fehrenbach Black Forest Clocks & Gifts–

A unique gifting experience with an extensive collection of authentic German handcrafted products, including cuckoo clocks, nutcrackers, beer steins, and Christmas ornaments, brought directly from Germany.
---
Where to Stay in Peddler's Village
Golden Plough Inn
📍 5883 Lower York Rd, New Hope, PA 18938
☎️ For Reservations: (215) 794-4004

You can easily visit Peddler's Village for just the day, but I can guarantee after a full day shopping and walking around you'll want to give yourself more time to enjoy yourself and relax.
Conveniently, Peddler's Village has its very own accommodations at the Golden Plough Inn. With 62 elegantly decorated country home-style suites and a variety of different room layouts, Golden Plough offers super comfortable accommodations whether you're traveling as a couple or a large family.
You can choose to reserve a room in their recently renovated Main House, or in one of the guest rooms conveniently placed above the shops throughout the village.
💡 See all the room layouts and accommodation options at the Golden Plough Inn here.
Our suite was incredibly spacious and came complete with a large tub, comfortable king-sized bed, a comfy sitting area with bottled water and a coffee-maker that we used daily. Our favorite unique room feature was a gas fireplace that was perfect for warming up after touring the village on some chilly nights.
All rooms at the Golden Plough have nearby free assigned parking spots throughout the village so you never have to worry about finding a spot. Breakfast is served daily at the connected Buttonwood Grill or FresCafe across the street. You'll also find complimentary coffee and tea available for self-service in the main lobby of the Golden Plough Inn all day long. There's also a salon & spa for relaxing treatments in the village at David J. Witchell Salon.
 💡 Booking Tip: If you're traveling with someone who has trouble with mobility, have a chat with the reservation desk before booking to discuss which rooms might be best suited.
---
Where to Eat & Drink in Peddler's Village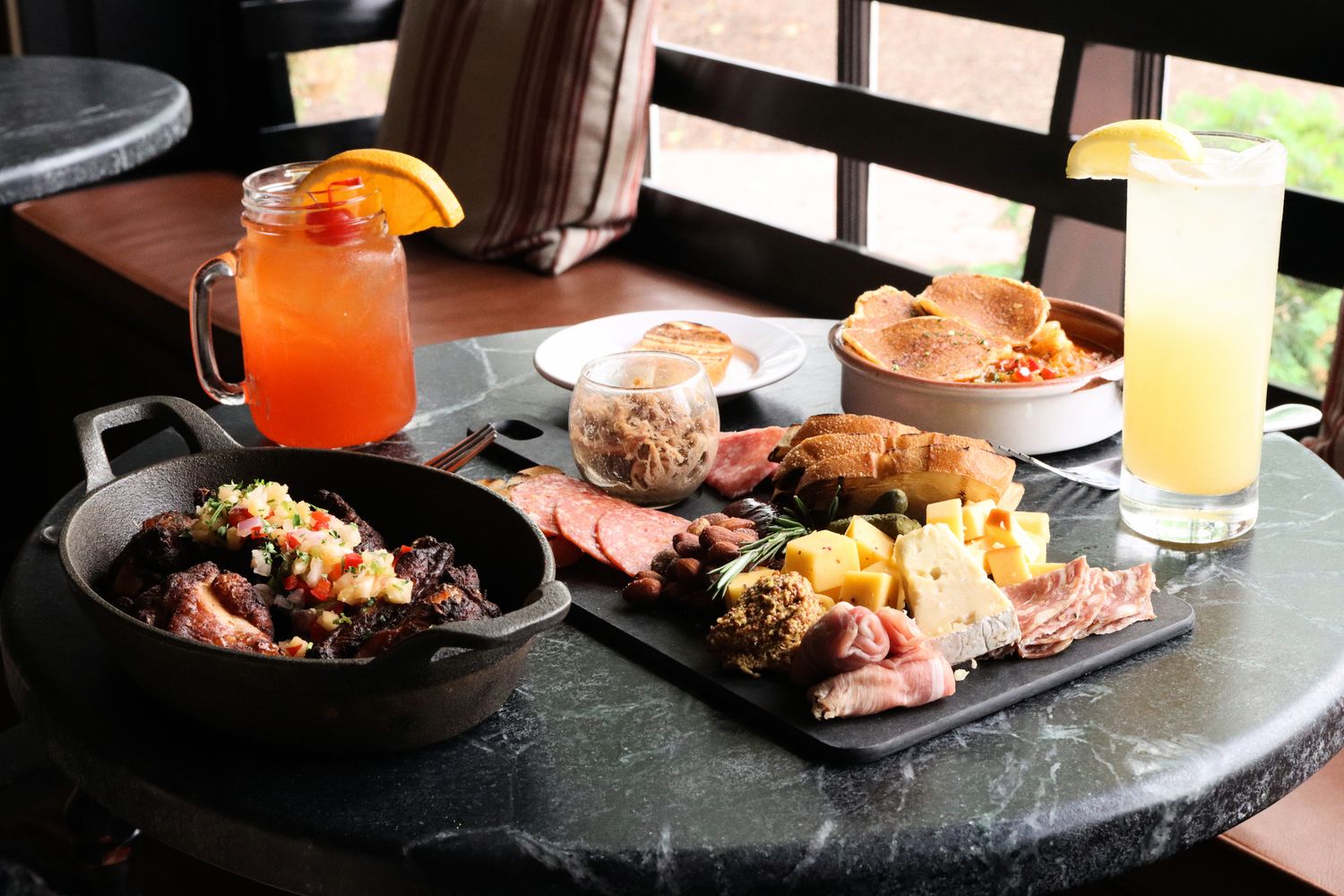 After strolling and shopping through Peddler's Village you're absolutely going to get hungry, and thirsty. But that doesn't mean you have to get in your car. Peddler's Village has plenty of dining options, whether you're looking for a sweet treat, a casual bite or a full dinner with apps, cocktails and dessert.
If you're not hungry but want to relax with a cocktail, head over to the Nissley Vineyards tasting room, Hewn Spirits to sip some locally crafted spirits, Free Will Brewing for some craft beer or one of the 7 full service restaurants on-site for a drink and a bite to eat. There's plenty of options here to quench your thirst and get you fed. 
Here's Where We Dined In Peddler's Village.
Earl's New American
📍 2400 Street Road, New Hope, PA 18938
☎️ For Reservations: (215) 794-4020
When you're in Peddler's Village and want food that is elevated, yet unpretentious in a comfortable atmosphere, Earl's New American located across the street from the Golden Plough Inn is the place to go without question. I love this restaurant's modern farmhouse vibes, reclaimed hardwood tables, and barn door backdrops. The culinary highlight of our visit to Peddler's Village, Earl's New American is the kind of place that you can head to for just a casual lunch or dinner or when you want somewhere to celebrate a special occasion and is perfectly described by Opentable as a "polished casual dining experience." They serve a seasonally inspired menu of contemporary farm to table dishes inspired by American cuisine with specialties including a raw bar menu, seafood, and steaks. For me though,  their appetizer menu is the star of the show. 
The nights we visited Peddler's Village were below freezing, so soup of some kind was definitely in order. Earl's creamy crabmeat laden She-Crab Soup was a perfect choice. A house specialty, it was served with a house-made cracker that looked simple enough but couldn't have paired more perfectly with the soup.
The appetizers we sampled were equally as delicious. The Burrata appetizer at Earl's is the definition of a perfect dish. Creamy Burrata is creatively served over crunchy fried red tomato slices with baby greens, toasted pine nuts and then drizzled with a balsamic glaze. This fusion of Italian and southern-inspired comfort foods hits your palette in every way possible. It's sweet and salty, creamy, crunchy, nutty, decadent and yet fresh. If you eat nothing else here, get the Burrata. It's that good. 
The Lobster Dumplings with chunks of lobster bundled up in a light dumpling wrapper, lightly pan-fried and served with a molasses infused soy-ginger glaze were absolutely scrumptious and are a not-to-be-missed dish for anyone who loves lobster. 
And the salads at Earl's are equally exquisite. Whether you go for their Beet Salad or the Chopped Salad with Marcona almonds, bacon, sweet corn, red onion, golden beets, blue cheese, chopped veggies, and a sherry vinaigrette, you'll be happy either way. 
Standouts for us in their entree selections were their Pan-Seared Scallops over a quinoa & mushroom ragout, with corn porridge and candied bacon, and the Steak Frites.  
For dessert, the creamy and satisfying Crème brûlée served with fresh berries had the perfect crust for cracking.
Earl's New American serves lunch and dinner, and features a stunning bar area offering a Happy Hour menu with food and drink specials every Monday through Friday from 4 to 6 pm. Dining reservations are recommended. 
---
Buttonwood Grill
📍2400 Street Road, New Hope, PA 18938
☎️ For Reservations: (215) 794-4040
Located right next to the main entrance of the Golden Plough Inn, the Buttonwood Grill looks unassuming but it's a stellar spot to eat when visiting Peddler's Village. For great food in a fun, casual atmosphere, Buttonwood serves up a menu of some of the most beloved casual dishes with an infusion of international flavors including their homemade stone-fired thin-crust pizzas. Voted the "Best Burger in Bucks County," made from their own blend made of chuck, brisket, and short rib ground freshly daily they're not to be missed. Naturally we wanted in.
We ordered their Guinness Onion 'N Bacon burger topped with sharp cheddar and a creamy horseradish sauce. Delicious. But the burger that totally stole the show for me was the SouthWest Border Burger. Topped with sliced tomatoes "salsa style," melty Queso fresco cheese, sauteed poblano peppers, guacamole and finished with a chipotle lime ranch.
Both burgers were perfectly cooked and juicy with a nice char on the outside. If beef isn't your thing, Buttonwood has alternative options including turkey, bison, salmon, and a black bean- feta- quinoa burger for veggie lovers.
Some other highlights for us were the Salt 'N Pepper Calamari fried with spicy cherry peppers and served with a smoked tomato aïoli and their "Thai Cobb" salad with grilled marinated chicken, pea tendrils, shredded cabbage, edamame, grilled shiitake mushrooms, five-spice peanuts, and a Thai-ginger vinaigrette. The Buttonwood Grill is open for breakfast, lunch, and dinner and reservations are accepted. 
---
Cock 'n Bull Restaurant

📍 Route 263 and, Street Rd, Lahaska, PA 18931
☎️ For Reservations: (215) 794-4010
The Cock 'n Bull Restaurant is the first eatery in the village, and it has been a tradition for the locals here for generations. It has been in business for over 60 years, which is simply amazing.
Recently, they have revamped the menu with fresh, new and seasonal dishes inspired by southern and international cuisine, while preserving favorite long-time Cock 'n Bull classics like their Chicken Pot Pie and French Onion Soup.
We ordered and loved the Buttermilk Fried Chicken appetizer, which was served over cornbread and drizzled with bourbon honey syrup. It was incredible. We also opted for the Charcuterie Board, which was a tasty combination of cured meats, cheeses, crostini, pork rillette, glazed walnuts, and whole grain mustard.
But the real star of the show was the Johnny Cakes & Shrimp Creole. The dish featured a generous portion of etouffee-style shrimp accompanied by griddled corn cakes, also known as Johnny Cakes. The combination of sweet, savory, and spicy flavors left us craving more.
Their classic Short Rib Burgundy, which was marinated and served in a sourdough bread bowl, was also hearty and satisfying. Who doesn't love a bread bowl?!
For dessert, I highly recommend the Carrot Cake. Topped with pineapple coconut chutney, white chocolate raisin bark, and drizzled with caramelized pineapple sauce, this carrot cake was truly exceptional. In fact, it's some of the best carrot cake we've ever had. We're really hoping it remains a permanent fixture on their menu! It was the perfect sweet ending to a delicious dinner.
Before heading into Cock N Bull for your meal, definitely stop into the connected Red Fox Lounge for a cocktail and appetizer around the fireplace. The ambiance in there is fantastic.
 💡 Tip: Ask for a table by the windows and you can dine while watching the holiday lights. 
---
Hart's Tavern
📍Rt. 263 and, Street Rd, Lahaska, PA 18931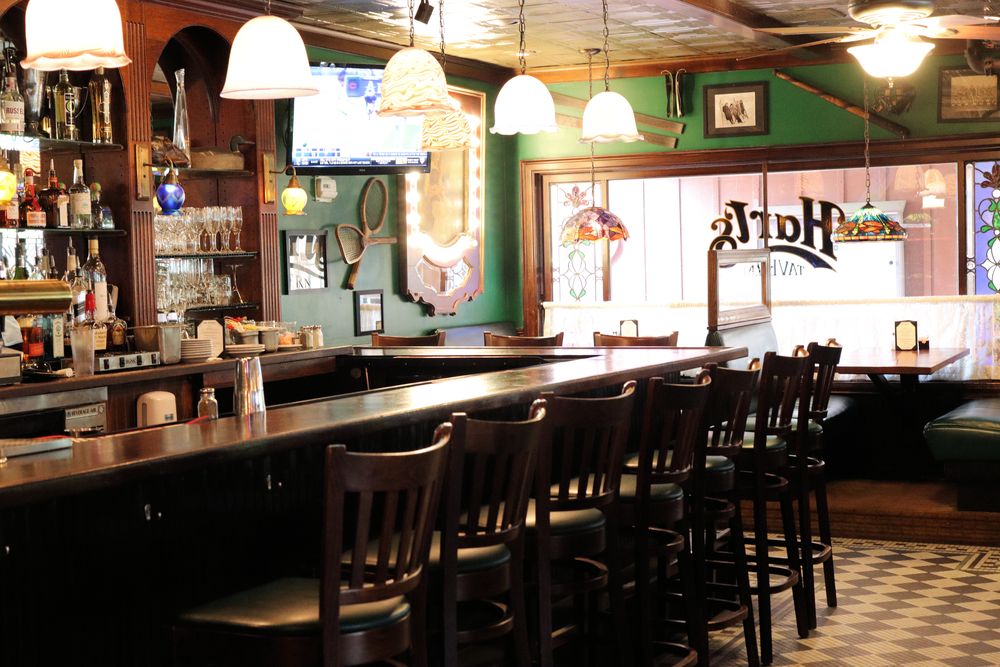 For lunch we stopped into Hart's Tavern. The vibe here is super casual, like an old school pub that never goes out of style. Plus, the menu has been completely revamped by their new chef and we couldn't wait to try some new dishes.
The Quinoa Arugula Salad with pistachio-goat cheese medallions, chickpeas, pickled grapes, red onion, and a zesty lemon and honey herb dressing was the perfect way to start off our meal.
For our main courses, the Italian Roast Pork Sandwich is simply amazing. It's filled with tender pulled pork, sweet pickled peppers, long hots spread, aged provolone, and garlic aioli. On the side, we opted for Buffalo Fries, which turned up the heat and added an extra kick of flavor. We actually considered taking another one to go!
Now I've eaten plenty of fish & chips, and Hart's has some of the best I've had in a very long time. The crispy, buttery cod was perfectly fried and the "chips" were a unique fusion of something between a French fry and a potato wedge. They're great for dipping! 
Do not skip the dessert at Hart's. Every one is delectable and made in-house. The true stand-outs are the bread pudding, which changes seasonally and the unbelievable, Kitchen Sink Chocolate Cake. It's four layers of cake, filled with cream cheese frosting, raspberry mousse and peanut butter cream, finished with a pretzel and potato chip brittle, caramel sauce, whipped cream, and a cherry on top. Whew!
Every dish we tried was really tasty, and the service at Hart's is always spectacular. Hart's Tavern also offers a variety of craft beers, both bottled and on draft, as well as a selection of wines by the glass and bottle. If you're in the mood for some signature cocktails, they have you covered too.
How to Get to Peddler's Village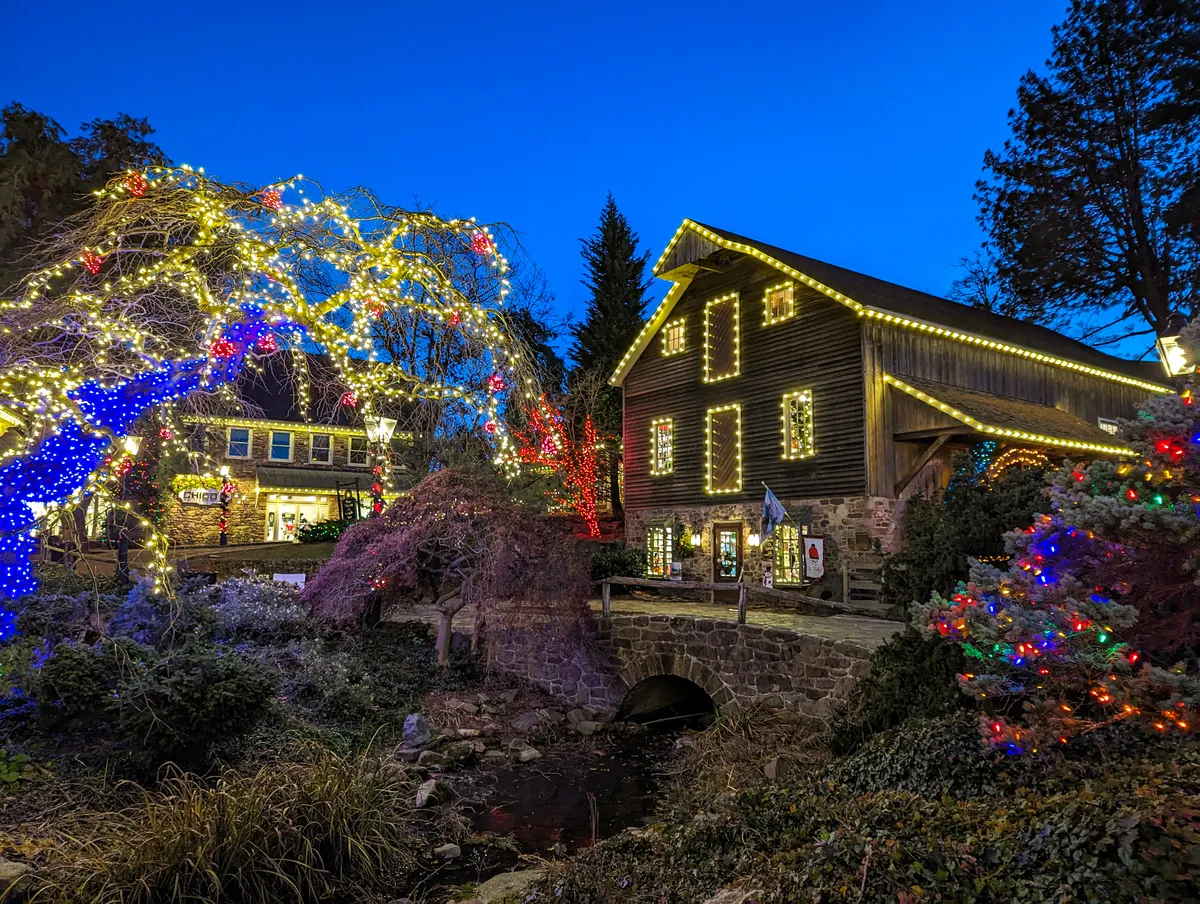 Peddler's Village is located in Lahaska, Pennsylvania. Less than an hour from Philadelphia and 90 minutes from NYC, and makes the perfect quick getaway or day trip destination if you live in the region.
Peddler's Village is centrally located between New Hope, 10 minutes to the east, and Doylestown 15 minutes to the west, along Route 202 (Lower York Road).
 💡 Peddler's Village Driving Tip: It's not a mistake if you pop Peddler's Village into your GPS and it displays New Hope as its address. Although it's located in Lahaska, PA some mapping programs consider it to be New Hope.
Travel Distances and Times to Peddler's Village from Major Cities
Peddler's Village is easily accessible from several major cities. The chart below provides approximate travel distances and times by car from the Mid-Atlantic region.
| Major City | Distance (miles) | Distance (km) | Approx. Travel Time (by car) |
| --- | --- | --- | --- |
| Philadelphia, PA | 45 miles | 72 km | Approx. 1 hour |
| New York City, NY | 72.5 miles | 116.7 km | Approx. 1.5 – 2 hours |
| Baltimore, MD | 133.7 miles | 215.1 km | Approx. 2 – 2.5 hours |
| Washington, D.C. | 182.4 miles | 293.5 km | Approx. 2.5 – 3 hours |
| Wilmington, DE | 59.9 miles | 96.4 km | Approx. 1 – 1.5 hours |
| Newark, NJ | 62.8 miles | 101.1 km | Approx. 1.5 – 2 hours |
Spend some extra days if you can and explore the nearby attractions in Bucks County, including historic New Hope right on the Delaware River. 
Parking and Admission at Peddler's Village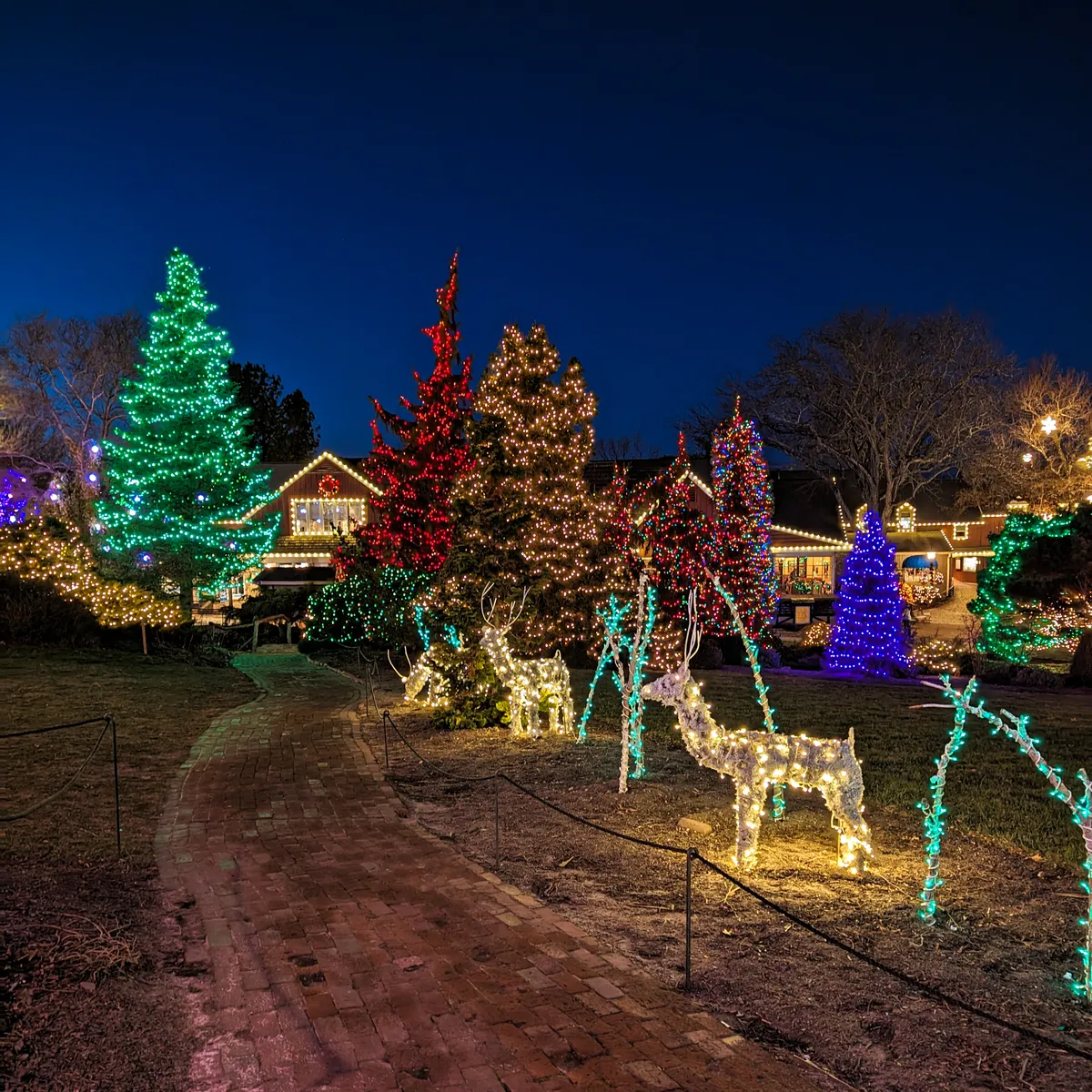 There are no parking fees or admission fees to shop and explore Peddler's Village. There's plenty of parking throughout the village and if you're a guest at the Golden Plough Inn you're automatically assigned a numbered space with your room.
A ride on the carousel will run you $2.50 and you can check Giggleberry Fair's pricing menu here for the cost of other activities at the kid-centric indoor family fun center Giggleberry Fair where the carousel is located.
When to Visit Peddler's Village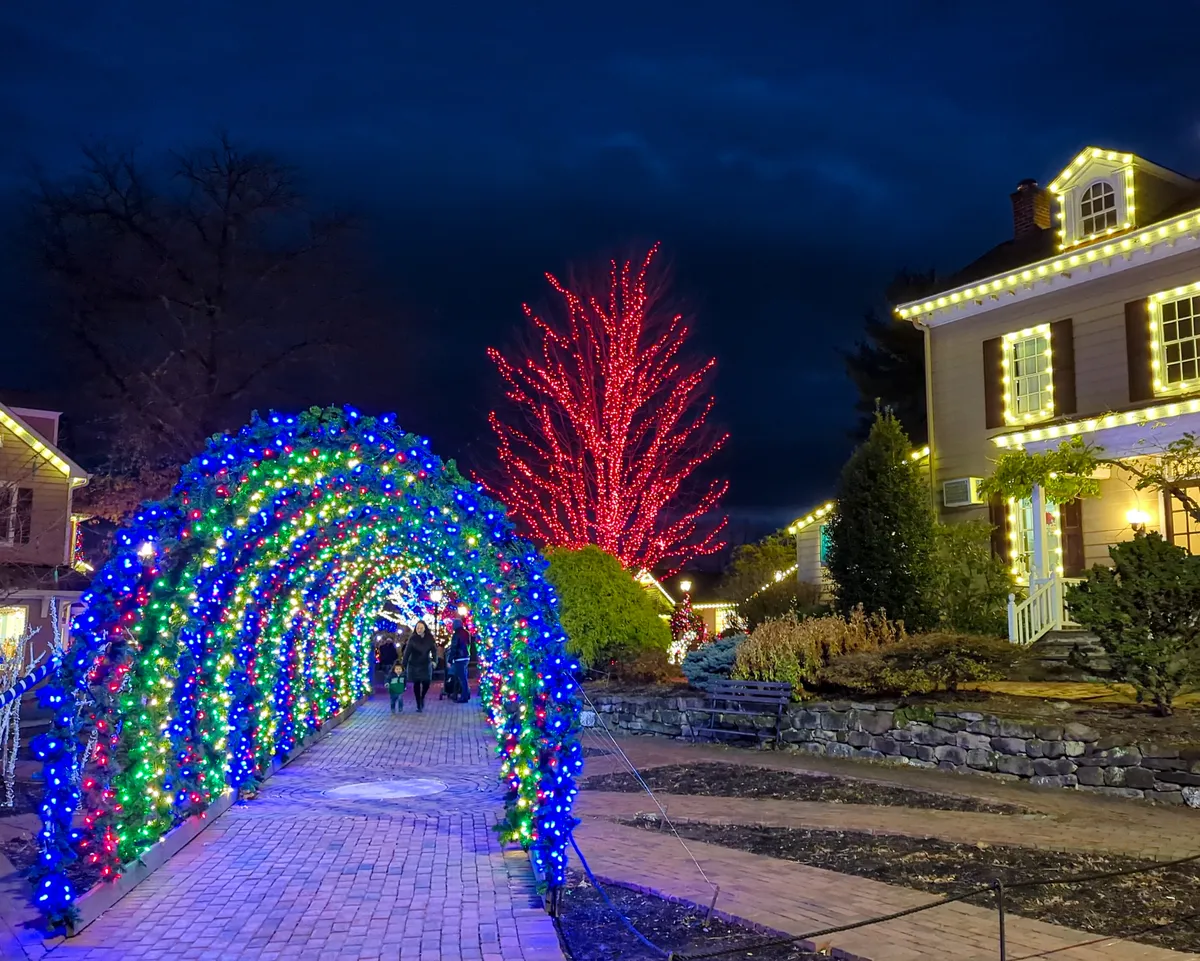 📍Routes 202 & 263 Lahaska, PA 18931 – Bucks County
☎️ (215) 794-4000
Peddler's Village Grand Illumination Celebration lights up on Friday, November 17, 2023 and the holiday lights will be on display every evening through January 14, 2024. 
Peddler's Village is truly a wonderful holiday destination for the entire family. In addition to all the shops and dining options, they offer fun events and activities all season long.
Including
Photos with Santa at Giggleberry Fair

Nighttime Stories with the Grinch

Holiday Food Trucks

Santa Family Brunch

S'mores by the Sleigh at Earl's

Holiday Fun and Food Giveaway
At the end of the season, the Fire & Frost Fun event is also spectacular.
Between 4:00 p.m. and 8:00 p.m. on Friday and Saturday, January 5th & 6th, and 12th & 13th, guests are invited to enjoy live fire artistry and captivating ice carving demonstrations. Engage in the warmth of fire pits, savor outdoor food and drinks, and witness a dazzling showcase of more than 30 intricate ice sculptures spread throughout the Village, featuring a standout Ice Throne – an awesome spot for memorable selfies!
See the Peddler's Village Event Calendar to plan your trip around these events.
If you can't make it this year for the lights, start planning now for a visit next year when the festivities begin again with their Kickoff to the Holidays event scheduled for November, 15th 2024 running through January 19th, 2025.
While the holidays are a special time at Peddler's Village, there's monthly events and festivities planned all year long. 
 ➡ Check the entire Peddler's Village Event Schedule to plan your visit!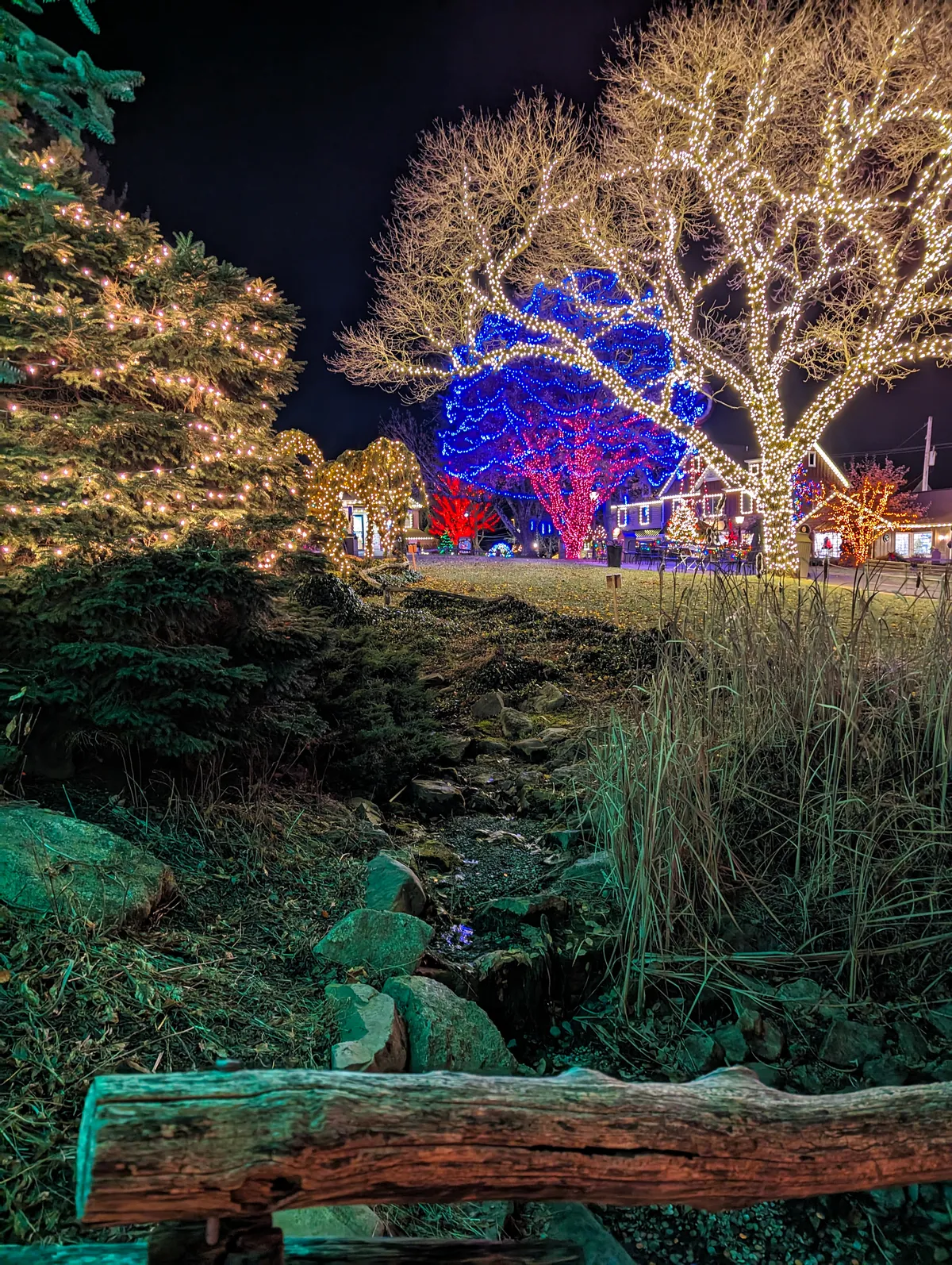 Further Reading
Peddler's Village is open year round and equally wonderful during every season.  See more below!
➡ Scarecrows, Ghosts, and Fall Fun at Peddler's Village
➡ Springtime And The Strawberry Festival At Peddler's Village
➡ Summer Fun, Food, and Shopping at Peddler's Village
More Photos of Christmas at Peddler's Village