Better Living uses affiliate links. If you make a purchase through them, we may receive a small commission (for which we are deeply grateful) at no cost to you.
For a delicious, easy and super healthy berry filled smoothie this recipe will set you right! It's no secret that berries are healthy little powerhouses of nutrition that we should be eating on a regular basis. Not only are they filled with nourishing vitamins like vitamin C, folate and fiber, but they're also loaded with anti-aging and disease fighting antioxidants that help to fight inflammation. And a sweet surprise – they can also do wonders for our skin.
This smoothie makes a great on the go breakfast or a healthy nourishing snack later in the afternoon. To make things easy use bags frozen mixed berries with blueberries, blackberries, raspberries, strawberries, etc for a smoothie that's nice and cold, but not watered down from too much ice.
Tip: When berries are out of season head to the freezer section of your grocer. Here you'll find bags of frozen mixed berries that are often less expensive and better quality than whats currently fresh. Stock up and you'll always have them on hand. You can even use them in place of fresh berries in your favorite baking recipes. Plus, with frozen mixed berries you never have to worry about them going bad.
And if you're looking to increase your protein intake, try adding your favorite protein powder to this smoothie for a little boost.
Get the recipe!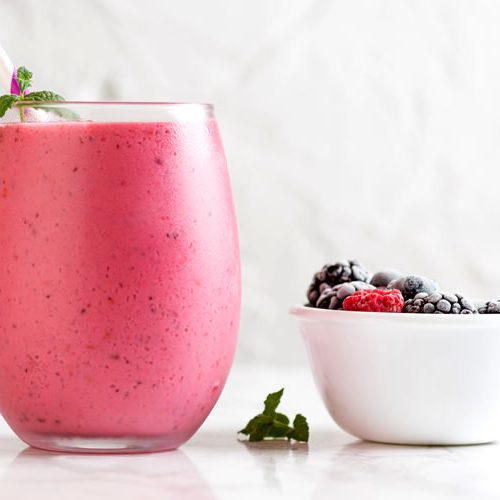 Triple Vanilla Berry Smoothie
With a nourishing blend of fresh or frozen mixed berries this smoothie makes a great breakfast on the go or afternoon snack.
Ingredients
1 1/2

cups

frozen mixed berries

1

cup

unsweetened almond milk (try vanilla flavored)

1/2

cup

vanilla yogurt

honey, to taste (optional)
DIRECTIONS
Place all ingredients in a blender. Blend until completely smooth and pour into two glasses. Enjoy!
Notes
If using fresh berries instead of frozen pop them in the freezer if you have time so you don't water down your smoothie with ice.
If your protein powder is sweetened, opt for an unsweetened milk. You can also substitute coconut, cashew or dairy milk if that's what you prefer. 
If you only have plain yogurt on hand, add 1 teaspoon of vanilla extract and sweeten with honey to taste.