Better Living uses affiliate links. If you make a purchase through them, we may receive a small commission (for which we are deeply grateful) at no cost to you.
Thank you Amazon for sponsoring this post. Be sure to pick up your own Fire HD 8 tablet for your next adventure!
While a road trip can be an incredible experience, let's be real- it's not always a picnic. At some point, you're bound to hit traffic or bad weather, and there can be long periods of time in between destinations, that can only be described as mind-numbingly boring. Like, I'm about to jump out of this moving car, boring. So to eliminate injuries and long periods of downtime on the road that could drive one insane, I always travel with my Amazon Fire HD 8 tablet. In fact, I just took mine with me to a food and wine festival in Pennsylvania. And thank goodness! With up to 10 hours of battery life and amazing features that can entertain you for days and weeks on end, here are 8 reasons why the Amazon Fire HD 8 tablet is a total road trip must have that I never leave home without:
1. You Can Read All the Books and Magazines You Could Ever Want
Are you the type that can never get your hands on enough books? Me too! And I love to have a great selection of books on hand while I'm traveling. That's why I love my Amazon Fire HD 8 tablet! With the Kindle App on the tablet, I have all my favorite books right at my fingertips, whether I purchase them from Amazon or borrow them digitally from my library. And if you're an Amazon Prime member like me, it gets even better! Members get unlimited access to more than 1,000 books and magazines with Prime Reading. This is an awesome new benefit for Amazon Prime members where you can borrow thousands of eBooks for free and read them right on the Amazon Fire HD 8 tablet. Pretty sweet! Since I'm also a bit of a travel guide book nerd, I also love that I can download as many guide books as I want for my trip, have them all in one spot, and not have a stack of them taking up precious room in my bag. Win and win and win.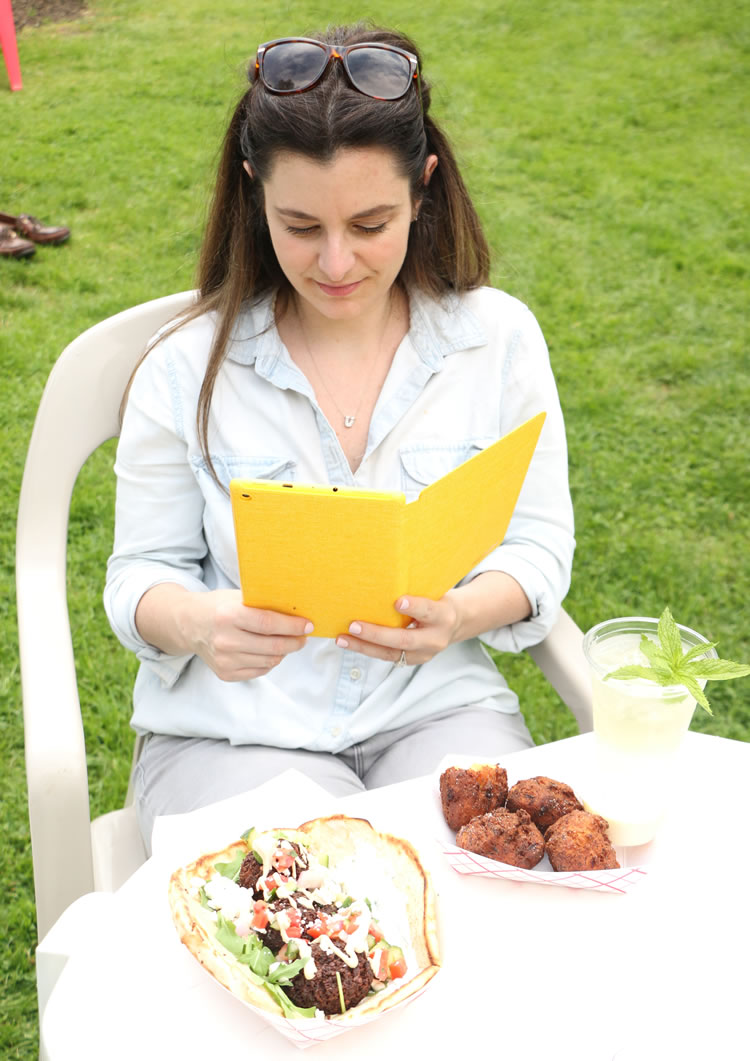 2. In The Driver's Seat and Can't Read At The Moment? Listen to Audiobooks Instead
When you're the one doing the driving, audiobooks are the way to go. There are a few ways to get audiobooks onto your Fire HD 8 tablet. You can transfer audiobooks you already own via a micro-USB cable or download and listen to audiobooks from Audible.com. If you're not sure if audiobooks are your thing, you can download the OverDrive app in the Amazon Appstore, which will allow you to borrow and enjoy audiobooks straight from your local library for free while you're on the road. Many downloaded Kindle books even have an Immersion Reading feature where you can switch between reading and listening. Just look for the little headphones icon when downloading a book to make sure this option is available.
3. You Can Listen To An Incredible Selection Of Music
What's a road trip without some great tunes? With the Amazon Fire HD 8 tablet there are lots of options for music so you'll never get bored of the same old songs. First, if you already own a great library of music, you can easily transfer it right over to the Fire HD 8 tablet and start listening away. Have a favorite music app? Just head over to the Amazon Appstore and download the latest and greatest internet music and radio station apps. And even better: if you're an Amazon Prime member you automatically have access to Prime music, where you can listen to over 2 million songs and over one thousand hand-curated playlists. You could drive and drive and never hear the same song twice!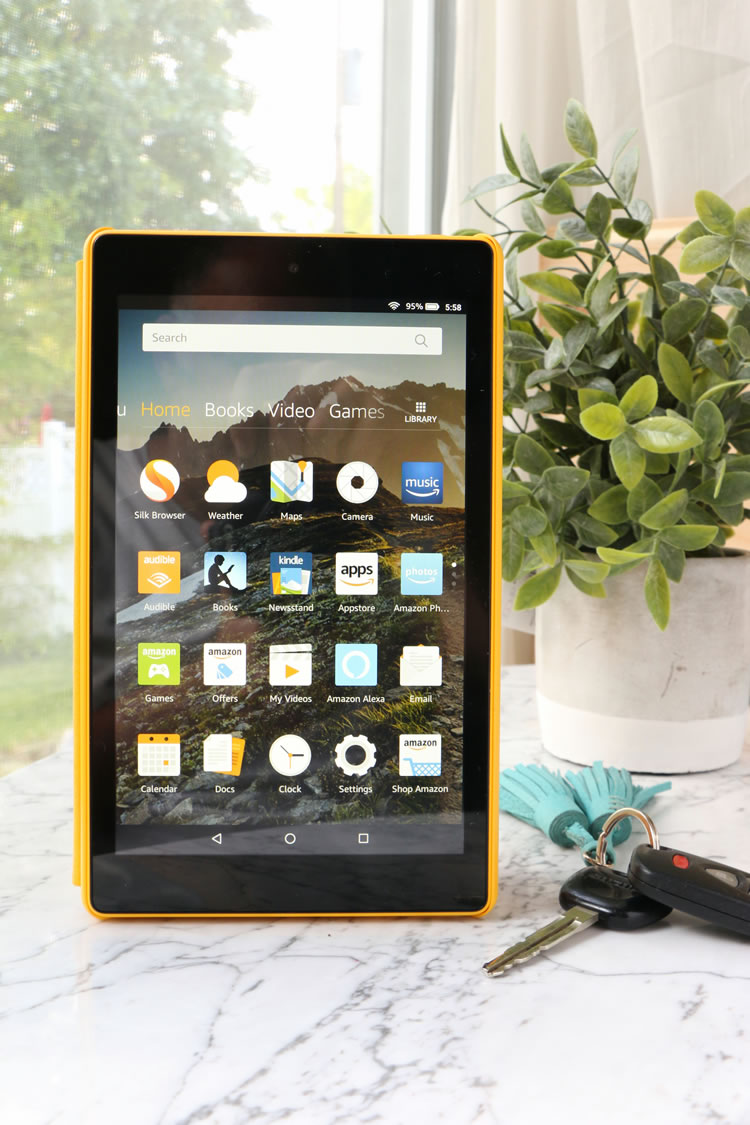 4. Watch Your Favorite Award-Winning Movies and TV Shows
When it's your turn to sit in the passenger seat and take a break from driving, the Amazon Fire HD 8 tablet is perfect for sitting back and watching the latest movies and TV shows with its 8" HD display with over one million pixels. It also comes with 16 GB of internal storage with support for up to 400 GB more with a microSD card. This means plenty of storage to download your favorite movies and TV shows from Prime Video, Netflix, SHOWTIME, and STARZ, in addition to your books, games, and music. Just download all your favorite shows or movies you've been dying to see before you hit the road, so you'll always have something to watch even when you don't have a Wi-Fi signal. But if you do forget, Amazon's On Deck feature has your back with a selection of pre-downloaded shows ready to watch offline. Pretty cool, right?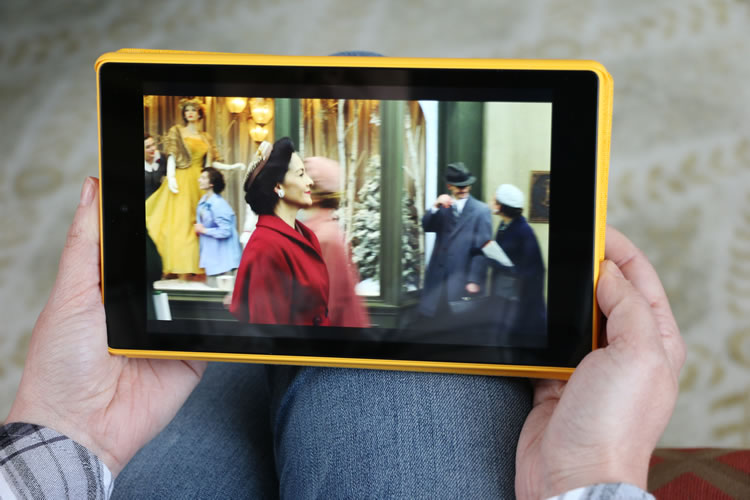 5. You Can Take Photos and Video – And Edit Them While on the Road
Who can't use an extra camera while on the road? Not only can you take pictures with the Fire HD 8 tablet, but you can also shoot video! The Amazon Fire HD 8 comes with 2MP rear-facing camera for taking great photos or videos of your favorite road trip moments. And with its HD 720p front-facing camera, you can use it to stay in touch and video chat with friends and family while traveling. And maybe a selfie or two? These digital memories can all be saved for later using the free, unlimited cloud storage available on Amazon Photos. Ready to edit? Head over to the Amazon Appstore to download free photo and video editing software to your tablet, so you can save time and edit them while on the road.
6. Download and Play All Your Favorite Games
When you're looking to kill some time, video games can be a great way to beat the boredom. With the Fire HD 8 tablet, you can download all your favorites in Fire App Store for free. There are tons more to choose from including casino games, puzzle games, fantasy games and much more to make the time fly by. And If you're traveling with little ones, this can be a total life saver.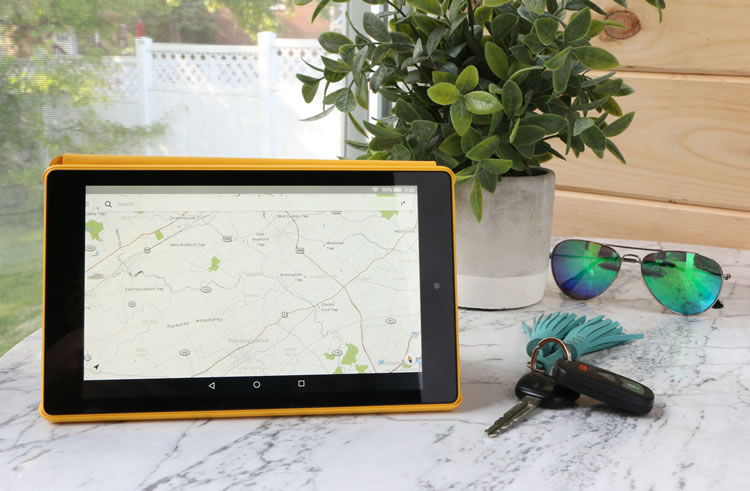 7. Browse the Web And Stay Connected on the Road
Finally, arrived somewhere with Wi-Fi access? With the Amazon Fire HD 8 tablet you can browse and search the web, just like you would with your laptop or smartphone. While on the road, you can make hotel reservations, search for the best place to eat nearby, check and download maps and weather, access your mobile banking, shop for things online or check in with social media. Don't forget to download your favorite apps right from the Amazon Appstore to stay connected while on your adventure.
8. Never Get Lost On The Road: Download Maps Before You Go
If there's one thing that can put a damper on a road trip, it's getting lost. Ever drive for miles and miles in one direction only to realize you're heading in the wrong direction? I have and it's a total bummer. What about when your GPS loses signal and you're not sure where you are? Not fun either. Think of all that wasted time and wasted gas. Better yet, don't. With the Amazon Fire HD 8 tablet I love that I can prepare ahead of time, download my maps and driving directions before I head out on the road. This way they're always available to me when I need them and I can stay on the right path to my destination, even when that GPS signal goes bye-bye for a little while. To download maps for your next road trip, head over to the Amazon Fire App Store and download any of their map apps to get started.