Better Living uses affiliate links. If you make a purchase through them, we may receive a small commission (for which we are deeply grateful) at no cost to you.
*This post is sponsored by SPLENDA. The opinions and information presented here are all ours.
One of my favorite things to do around the holidays is bake and decorate Christmas cookies. It's one thing that really gets me into the holiday spirit. And no matter who you are it's safe to say a pretty decorated plate of fun Christmas cookie shapes is pretty darn irresistible. A freshly baked Christmas cookie in hand with a freshly brewed cup of coffee or hot tea for me is the very definition of perfection. 
One of the absolute best cookies to bake and decorate around the holidays is, of course, the classic sugar cookie. Not only do they taste amazing, but they make the perfect dough to roll and cut-out into all those delightful little holiday shapes. And then there's the fun of decorating. 
But with all the calorie-laden and rich foods around the holidays, I like to cut down on sugar whenever and wherever I can. As for treats made with sugar-free substitutes, I'll only eat them if they actually taste good. So when I say that we have an unbelievably delicious sugar-free "sugar" cookie cutout recipe that is so good you would never know there isn't sugar, you can believe I'm telling you the truth. I'm serious about my sweets and these cookies pass all my cookie taste tests. And whether you decorate them a little or go above and beyond there's no way these sugarless cut-out cookies won't be a hit this holiday season.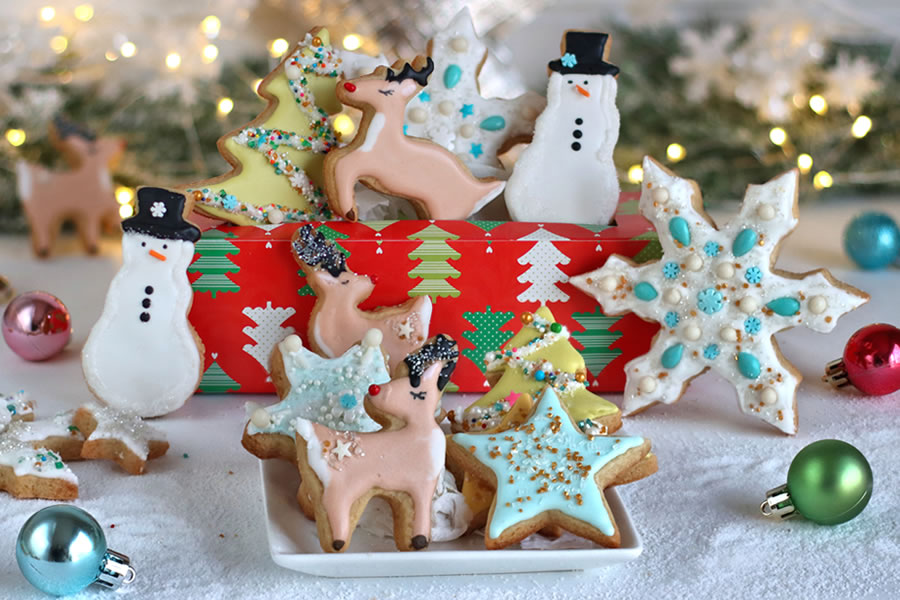 If you're wondering what makes these holiday cut-out cookies "no sugar included" but still perfectly sweet, it's my all-time favorite sugar-free, zero calories, zero net carb sweetener – SPLENDA® Stevia. Made from the leaves of the stevia plant, on-GMO and 100% natural with absolutely nothing artificial Splenda Stevia is hands down the BEST tasting Stevia I've ever had. And I've tried quite a few.
It's no wonder it wins blind taste tests by a landslide. The reason it tastes so good is that Splenda Stevia is made with  Rebaudioside (Reb D) stevia leaf extract. It's this type of extract is what gives the stevia leaf its sweet and tasty sugary flavor. Another stevia extract commonly used in other products on the market is Rebaudioside (Reb-A). Reb-A is the culprit behind that strange bitter and unpleasant aftertaste you might have tasted in some other stevia products. Splenda has clearly done their homework and the taste has me hooked. I love it in iced-tea or lemonade, for sweetening up protein shakes and it's especially amazing in our Sugar-Free Cranberry Sauce. But in this cookie recipe, I was blown away by how sugar-like it tastes. There's no way someone would know they were eating a cookie without white sugar if you didn't tell them.  
Sweet Tip: Splenda Stevia comes in different sizes perfect for having on your table-top, baking, or packets for on the go. Scroll down below for info on where to find it near you or how to order it online.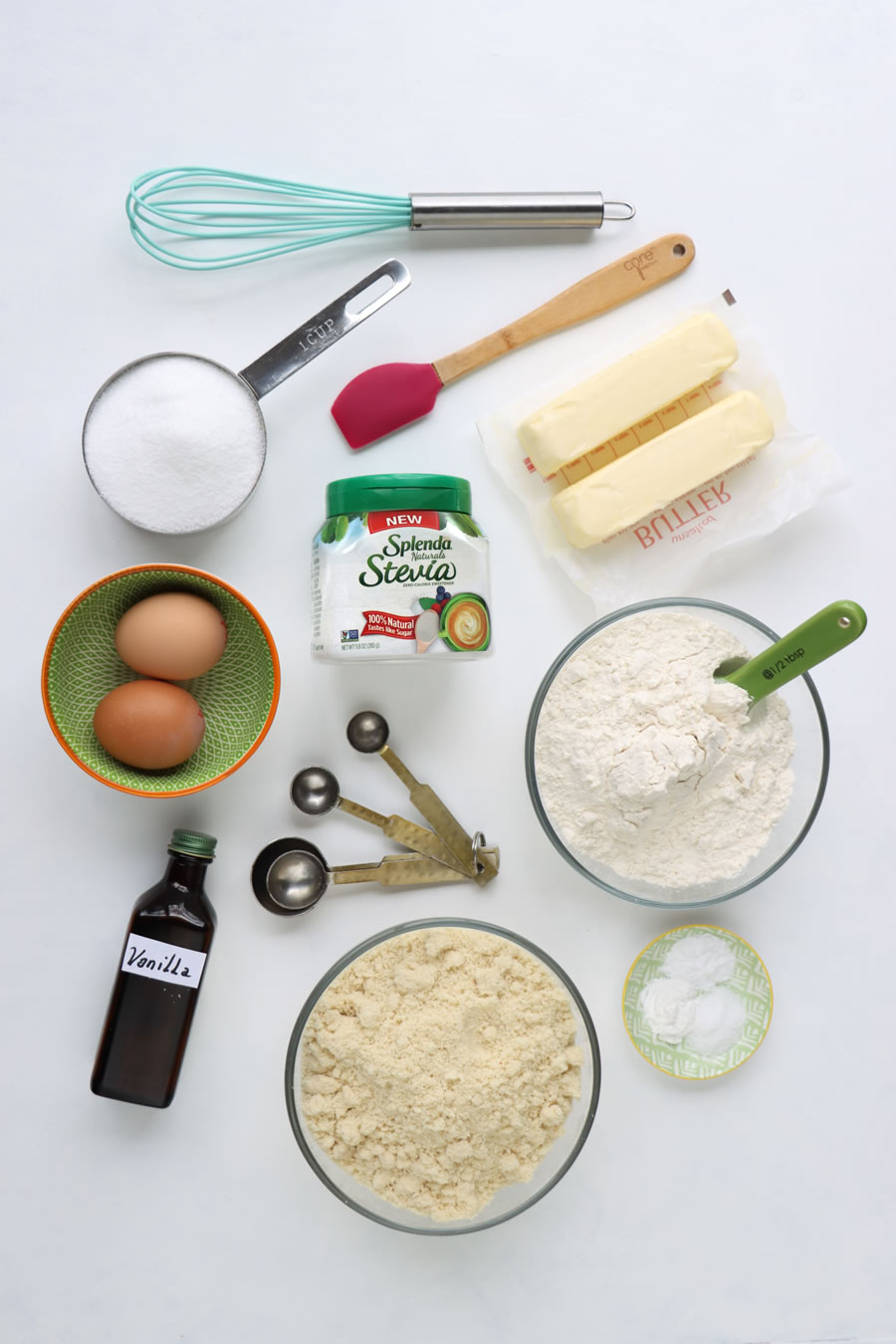 MAKING THE CUT-OUT COOKIES
This holiday cookie recipe includes some typical cut-out cookie ingredients like butter, eggs, all-purpose flour, and vanilla, baking soda, baking powder, and salt. In place of sugar, we substitute 1 cup of SPLENDA® Stevia from their tabletop jar version. For a warm and nutty twist, the unique addition of almond flour gives these cookies another layer of flavor that is just perfect for the holidays.
Be sure to let your eggs and butter come room temperature before mixing.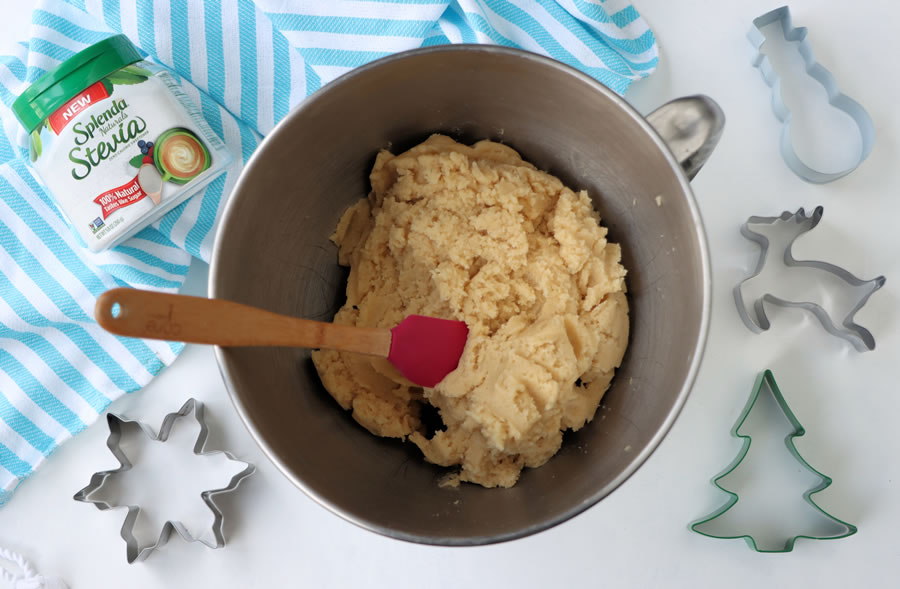 Once you have your dough mixed, divide it into two balls and let it chill for at least 30. Cut out your shapes and then place them on a lightly greased or parchment paper-lined baking sheet.  To make sure the cookies hold their shape I like to pop them back in the refrigerator for about 20 minutes or until the dough is hard to the touch. You can always bake them right after cutting, but if your dough is a bit warm the cookies may spread a little and lose their shape.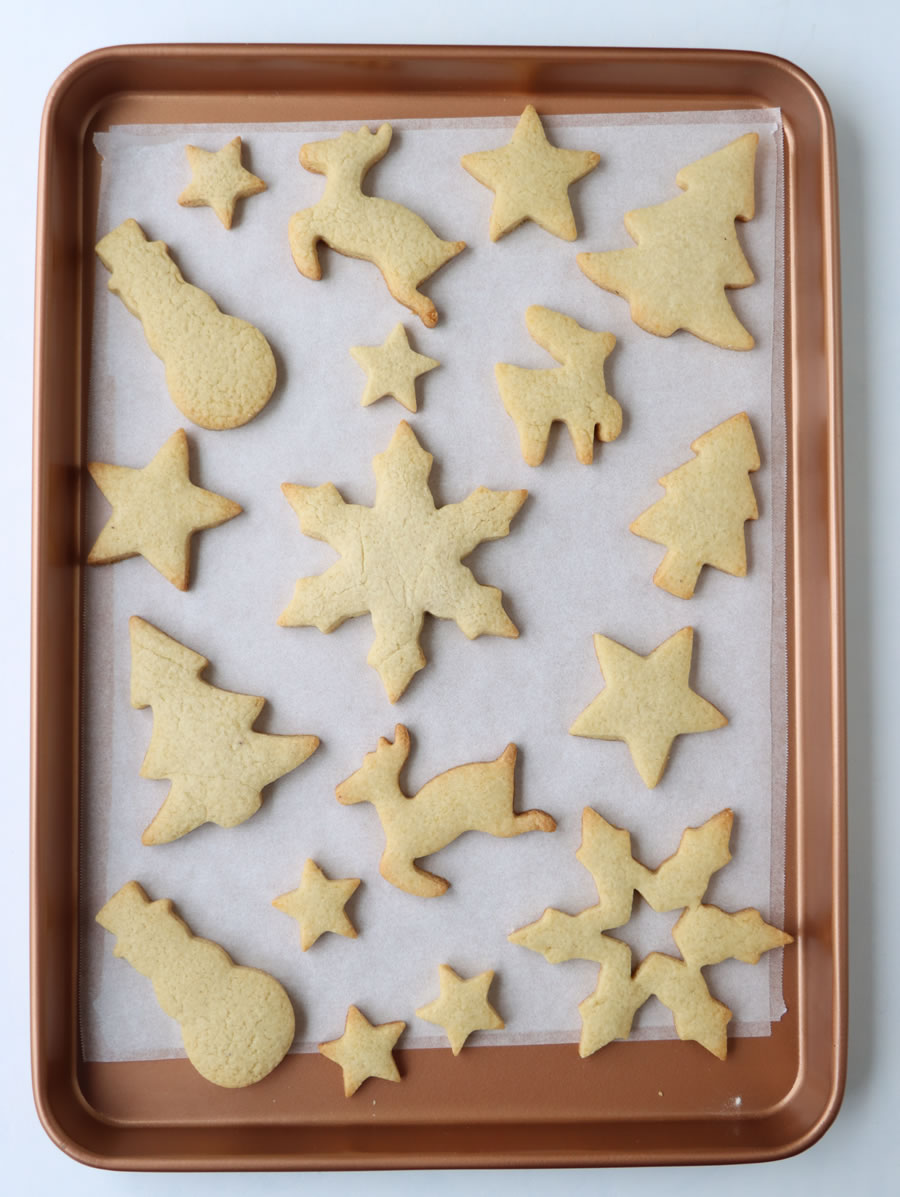 Cookie Cutting Tip: Cut out cookies tend to keep their shape best when the dough is cold.  If it gets too warm pop it back in the fridge for about 10 minutes or so to cool down. If you're short on time the freezer will do the trick too in half the time.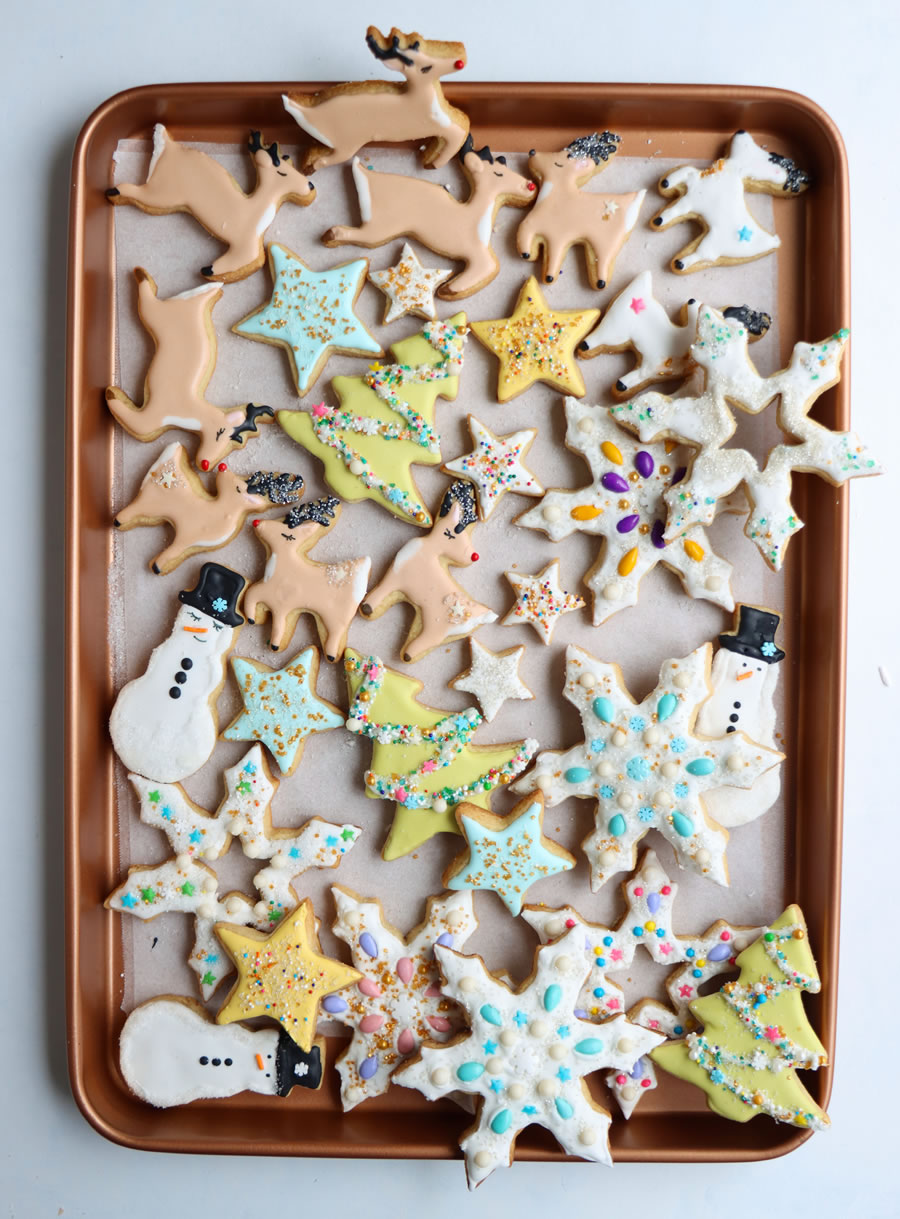 These cookies bake up in about 10-12 minutes or until they're just very lightly browned on the edge. Don't be worried if they feel soft to the touch. As soon as they cool they harden with a perfect surface for decorating any way you like.
One batch of this dough made us about 32 cookies using all different shaped cookie cutters. The number of cookies you end up with will depend on the size of the cookie cutters you decide to use.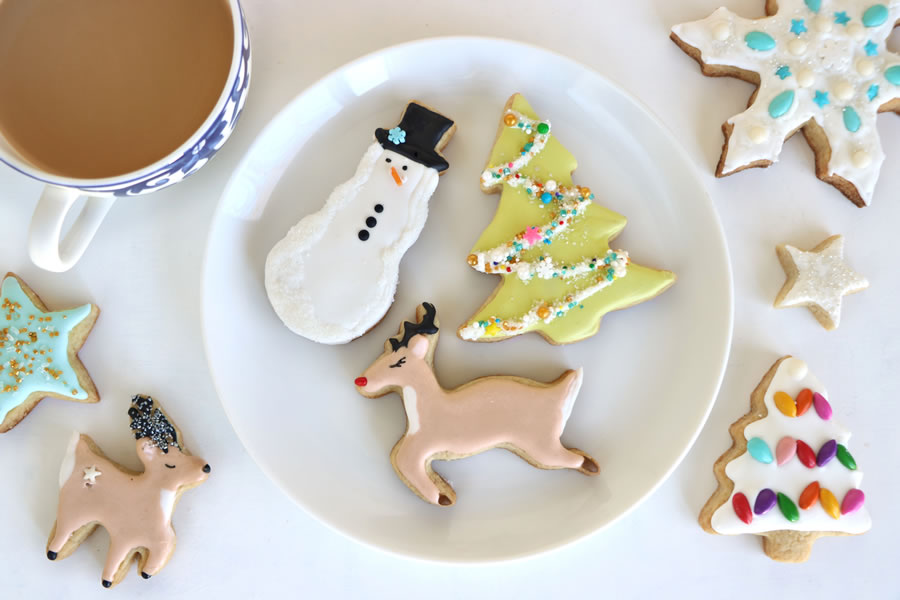 Decorating Tip: Visit Splenda.com for some sugar-free recipes to decorate your cookies with.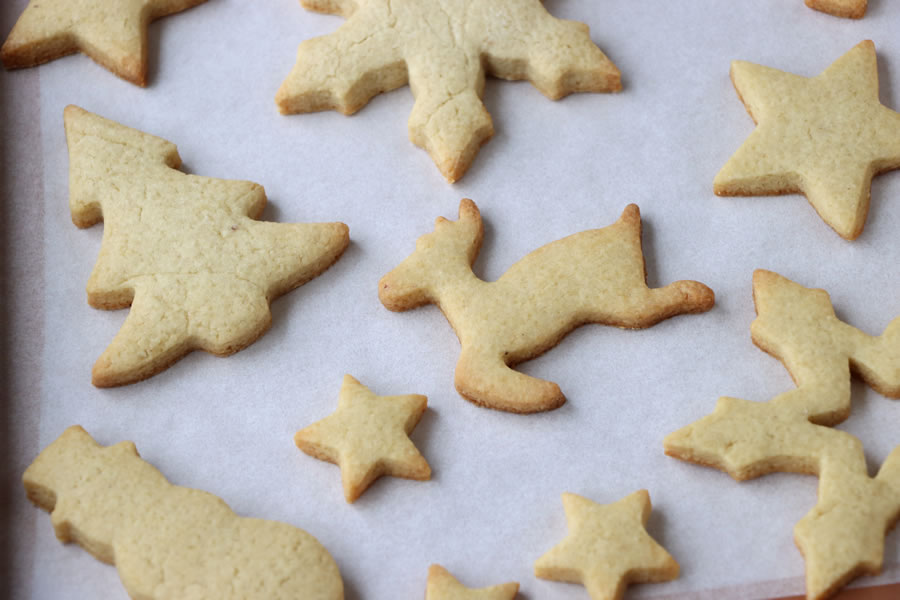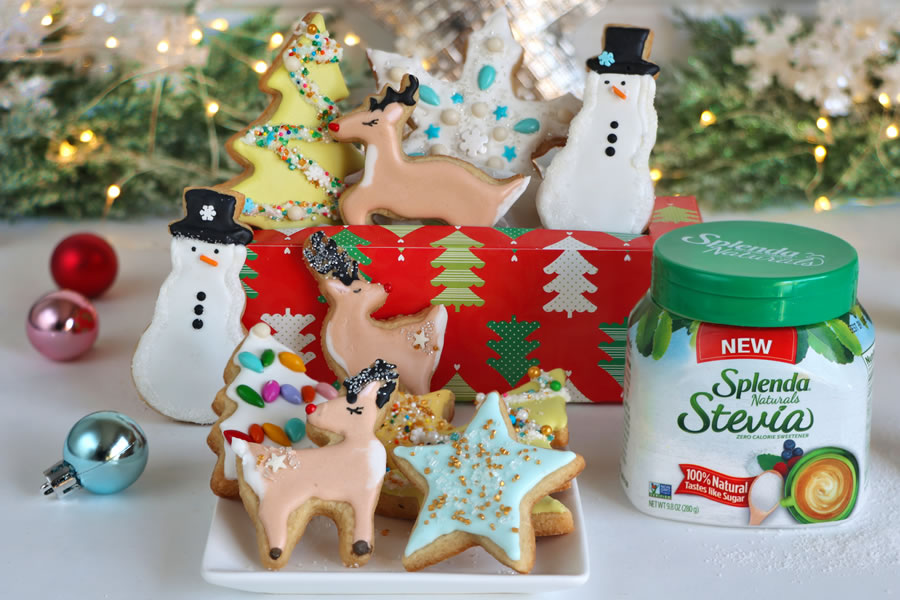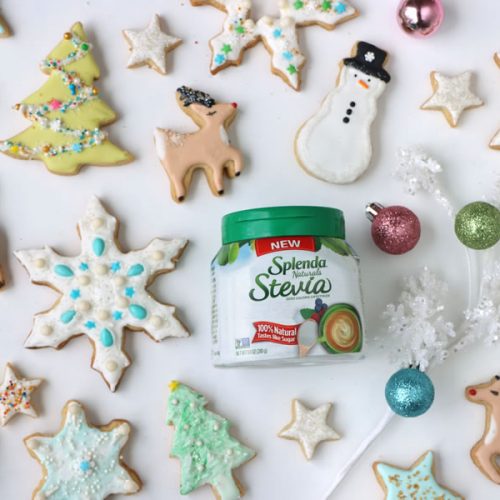 Sugar-Free Holiday Cut-Out Cookies
SERVES: 32 COOKIES TIME: PREP:15 MIN, TOTAL:45 CALORIES PER SERVING: 130 CALORIES
Ingredients
1

cup

SPLENDA® Stevia Table Top Jar

1

cup

unsalted butter (2 sticks)

2

eggs

2

tsp

vanilla extract

1 1⁄2

cups

all-purpose flour

2 1⁄2

cups

almond flour (superfine is best)

1⁄2

tsp

baking soda

1⁄2

tsp

baking powder

1⁄2

tsp

salt
DIRECTIONS
With your stand mixer or with a hand blender, cream together the butter and Splenda Stevia until fluffy and combined. Beat in eggs and vanilla.

Combine flours, baking soda, baking powder and salt in a separate bowl. Gradually add the dry ingredients to the creamed mixture, beating well after each addition. Separate dough into two

Separate dough into two separate balls. Cover and refrigerate for 30 min.

Preheat oven to 350° F. Roll chilled dough to 1⁄4 to 1⁄8 inch thickness on a lightly floured surface.

Cut with a cookie cutter and place cookies 1 inch apart on cookie sheets lined with parchment or on a baking mat.

Bake for 10 to 12 minutes or until edges of the cookies are very lightly browned. They may feel soft to the touch but will harden as they cool.

Allow the cookies to cool completely on a baking rack. Once cook decorate any way you like. Enjoy!
Nutrition
Want Sugar-Like Sweetness For Your Holiday Treats Without The Calories or Carbs?
Learn More About Splenda Stevia Naturals Here 
Buy Splenda Stevia Naturals Here: shop.splenda.com
Get $Coupons Here:  splenda.com/coupons