Better Living uses affiliate links. If you make a purchase through them, we may receive a small commission (for which we are deeply grateful) at no cost to you.
Coined the "gem of the Eastern Shore" by Captain John Smith back in the 1600's, Onancock has a rich history rooted in the calm, winding and deep waters that surround it. Once a bustling port town, today's travelers will find an incredibly friendly, charming, and walkable town offering unique shops, great restaurants, a love for nature, the arts, and a coastal way of life that's just waiting to be rediscovered.
I've come to learn that some of the most interesting and memorable travel experiences come from small towns. The types of towns that if you didn't seek them out or wind up there because you took a wrong turn – you'd have never known they were there. Virginia's Eastern shore is filled with these special little places. As if plucked right out of a Nicholas Sparks novel, Onancock on Virginia's Eastern shore is one of these places.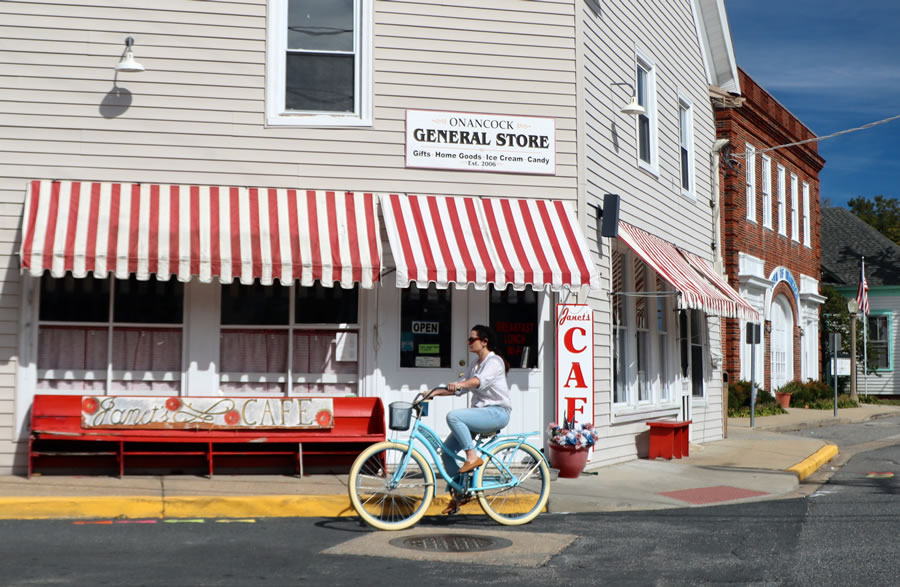 Voted one of the "Coolest Small Towns in The South" by Budget Travel and recently designated a Virginia Main Street, a program to help strengthen and preserve the economics of historically relevant places, Onancock has been on my "need to go" list for years and this past fall we finally made it there and fell in love. A dreamy, walkable, and historic waterfront town with streets lined with storybook Victorian homes, great restaurants, charming boutiques, stunning galleries, and people so friendly you feel like you've known them for years – Onancock deserves to be on your travel list. There's also a renovated historic live theater, a community arts center, museums, and lovely wildlife and nature to enjoy.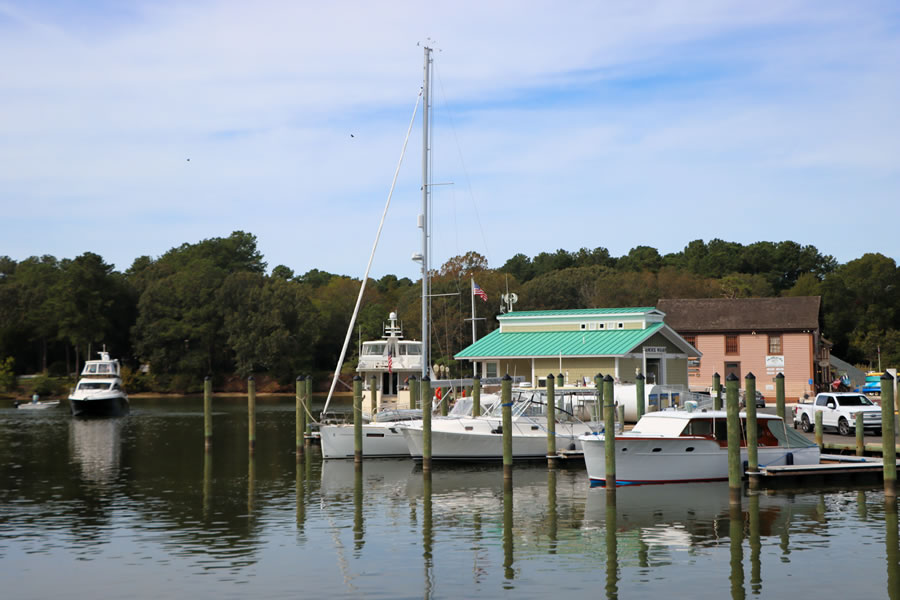 If Onancock's downtown business district is the heart of this town, the historic wharf is its soul. Established in 1680 as one of the original 12 royal Colonial ports due to its deep calm waters and access to the Chesapeake Bay, Onancock continued to be a thriving center of commerce and trade in the region for the next 250 years. While watermen continue to make their living here and some trade does still exist, today it's a lovely spot to watch boats sailing in and out, catch a bite while watching one of their breathtaking vibrant sunsets or paddle away on a kayak. But the wharf is also the only place where you can catch a ferry ride to Tangier Island – a small historic Chesapeake Bay fishing village accessible only by boat. It's here where you can also depart with Onancock Sailing Adventures and Captain Tom Bunino  sail excursions aboard his appropriately named boat "Gratitude."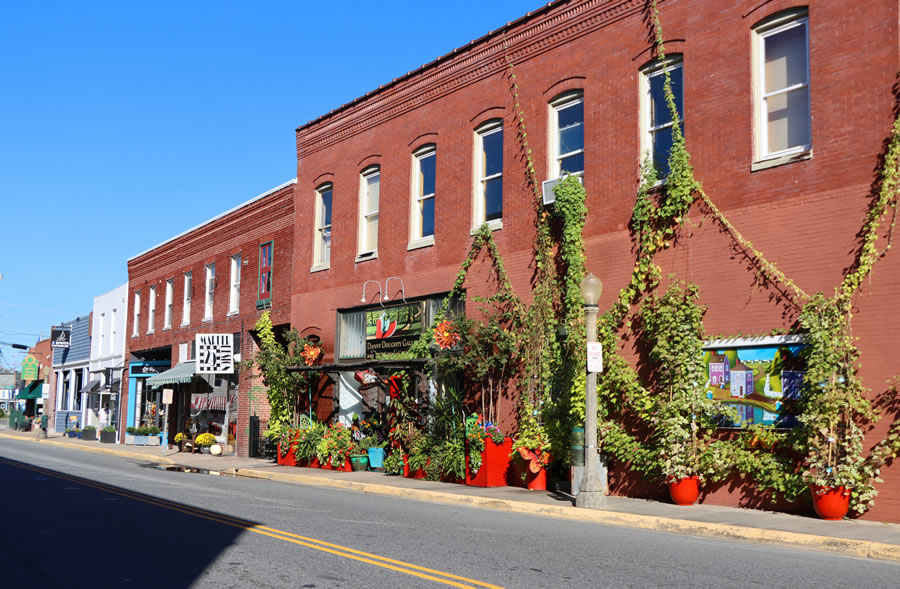 Unlike other spots on the Eastern shore that cater more to a beach-going crowd and wind down after Labor Day, Onancock located right in the heart remains active all year long. So if you're looking for something to do there's no need to wait until next summer to visit. And while the occurrence of COVID-19 cases has been incredibly low here, every spot we visited adhered to proper health requirements and mask-wearing mandates. Safety is key here and even their weekly community farmers market which offers the best of local farms, bakers, seafood, artists, artisans and is currently being held online until further notice.
So, whether you're looking for a romantic getaway or a relaxing day trip with friends, here are some of the best things to do, spots to eat, shop and stay in historic Onancock, the "gem of the Eastern Shore." Whether you explore by foot, bike, or car there's so much to love about this town.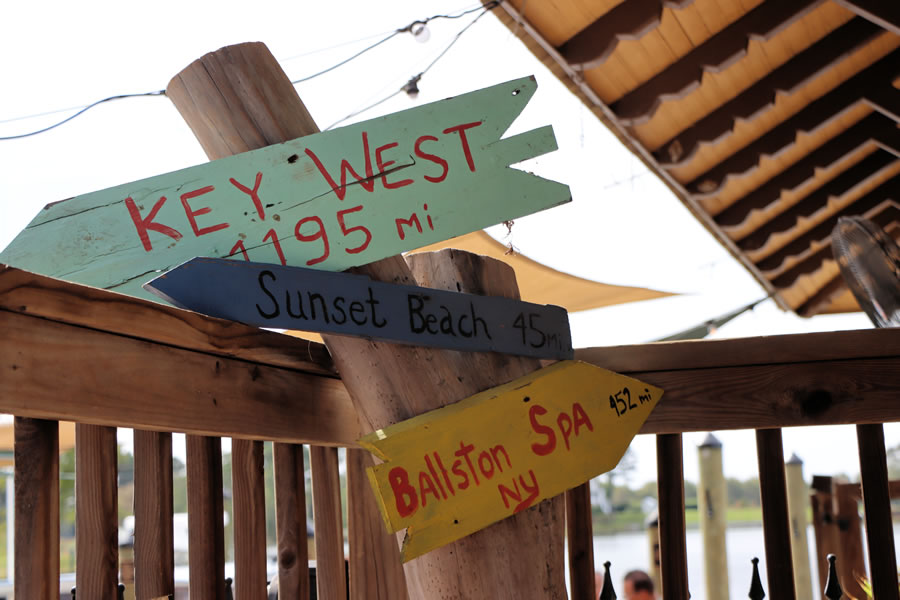 Where to Stay in Onancock, Virginia
You won't find any big corporate style hotel properties in Onancock.  But what you will find are boutique style accommodations and B&B's with historic charms, true hospitality, and all the modern amenities you might need. Here's where we stayed: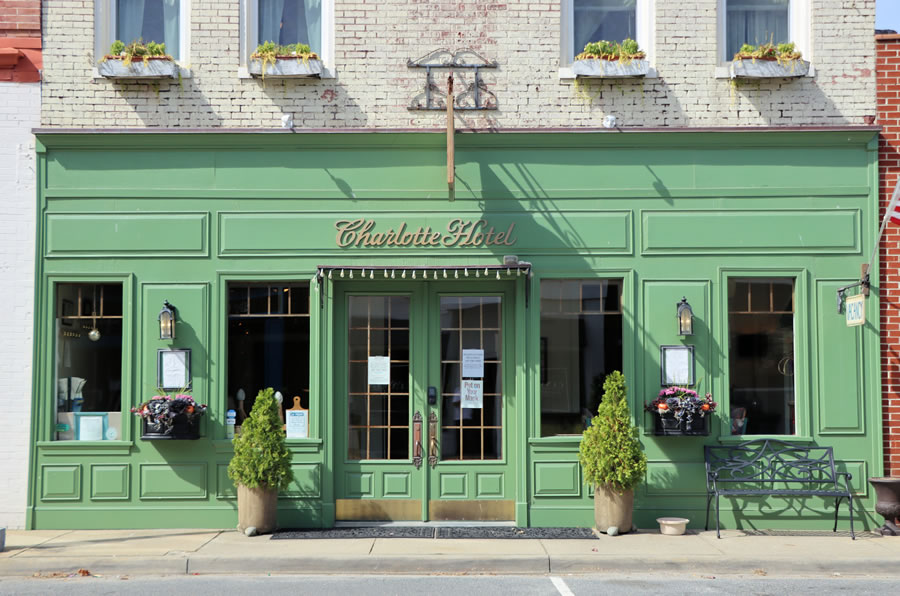 The Charlotte Hotel & Restaurant
7 North St, Onancock, VA 23417
thecharlotte.com
With a facade that's painted in a sophisticated shade of green and French doors flanked by chic little topiaries, The Charlotte Hotel brings an air of European elegance to Onancock's downtown. A historic boutique style hotel, with 8 light and airy guest rooms, an award-winning restaurant and a full-service bar, the Charlotte Hotel is a peaceful retreat to relax in after a day exploring. Proprietors Charlotte and Gary, own and operate the hotel after renovating the 1910 building over a decade ago. With much of its old world charm intact, you'll also find whimsical details around every corner – the handiwork of Charlotte, an artist whose original works are also displayed throughout the hotel.
Guest rooms here are comfortable, clean, and quiet. If you're staying at the hotel, a full sit-down breakfast is free and available starting at 8 a.m.. Even if you're not a breakfast person, a mug of their delicious fresh brewed coffee is worth dragging yourself out of bed.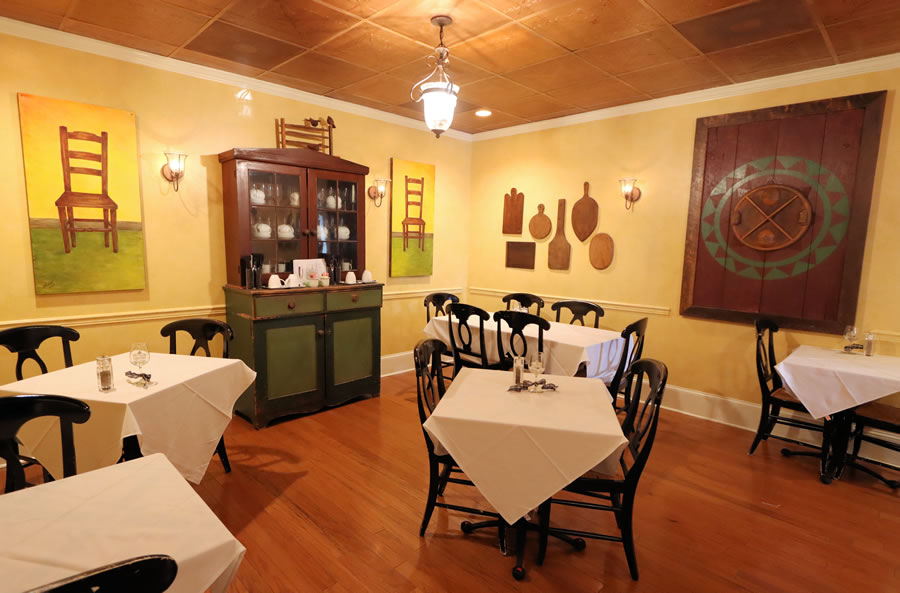 At night their highly acclaimed restaurant with extensive wine list which is perfect for a special evening out or intimate dinner is headed by Chef Sam Yokum, A frequently changing menu specializing in Eastern Shore inspired dishes with a focus on what's local and fresh, favorite dishes include their seafood risotto, hand-cut steaks and seasonal homemade desserts like coconut cake, sticky toffee pudding and house-made ice-cream. Open 5 to 8 Wednesday through Sunday reservations are required for dining in. Ample parking space for guests and dining patrons can be found along the street and in a free public lot just across the street.
The Spinning Wheel B&B
31 North St, Onancock, VA 
1890spinningwheel.com
Sometimes you want the homey comfort of a Bed & Breakfast. And if you love the charm and ornate detail of old victorian homes, The Spinning Wheel B&B is a wonderful option. Built in 1890 and just a few blocks walking distance into town, The Spinning Wheel was the first official B&B in Onancock.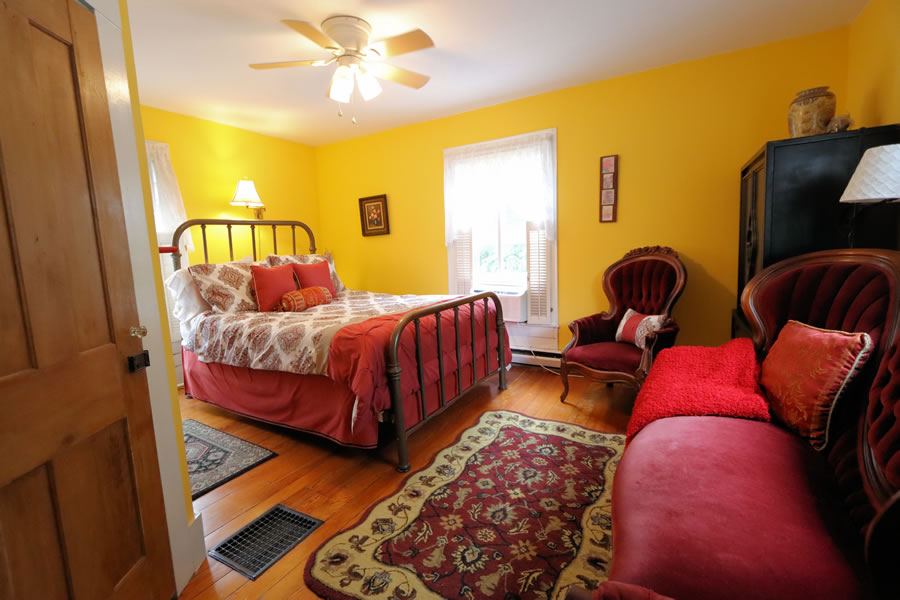 Owned and run by super friendly innkeepers Thom and Linda Nolan, The Spinning Wheel offers 5 cozy rooms complete with private baths, period decor, and a warm friendly atmosphere that will make you feel like you're part of their family. Mornings are a treat here as you're served a delicious full breakfast and baked goods in their beautiful dining room, beside an antique spinning wheel. You'll also enjoy plenty of great conversation woven in between bites.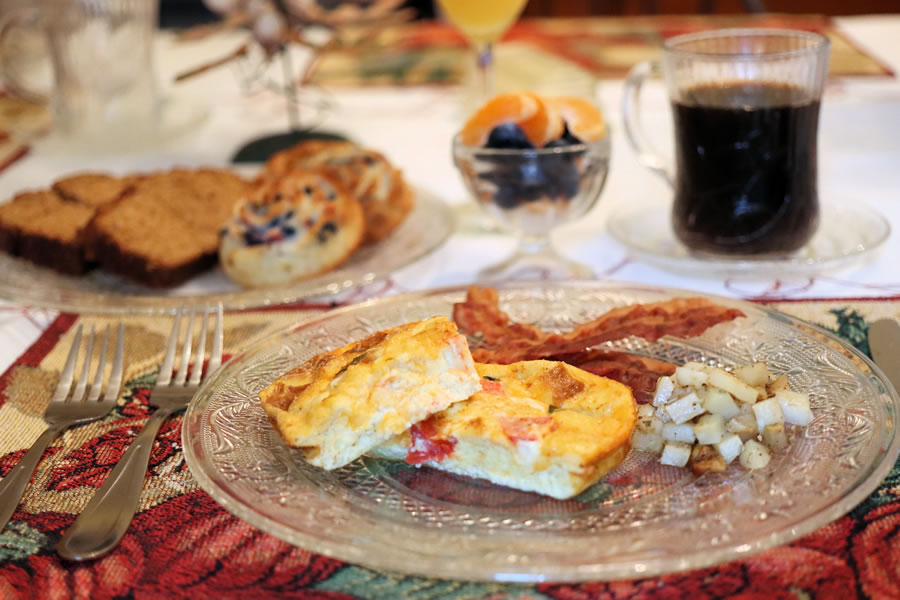 At 5 pm enjoy complimentary drinks and snacks before heading out to dinner. Wander over to one of the porch rocking chairs, and you'll experience total zen watching the world go by.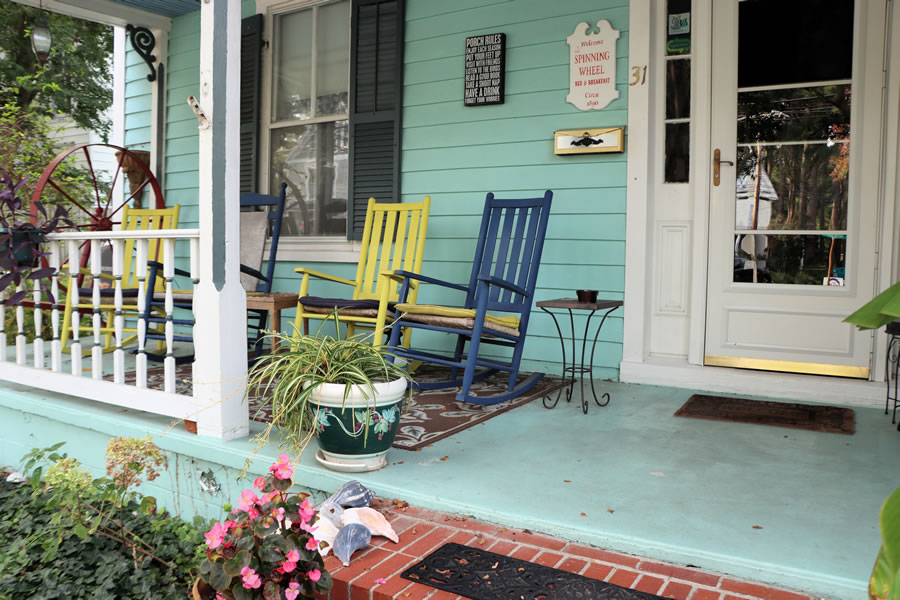 A few other amenities at the Spinning Wheel B&B include Wi-Fi, books, cable TV, games, bikes and a guest fridge with a variety of complimentary beverages. 
Where to Eat in Onancock, Virginia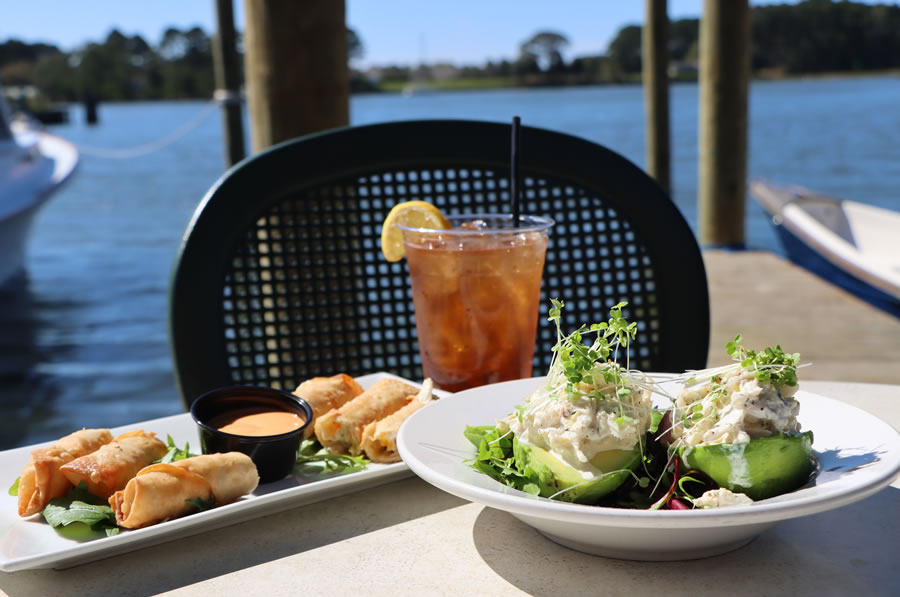 Mallard's at the Wharf 
2 Market St Onancock VA 23417
eatatmallards.com
Mallard's at the Wharf is the only spot in town to catch a bite dockside while overlooking the calm waters of the Onancock creek. Located at the historic Onancock Wharf and inside the preserved Hopkins Brother's Store, an old sea trading post from 1880 that lasted four family generations, Mallards offers fresh coastal food with an international flair. You'll also enjoy the talents of Johnny Mo', the executive "singing chef", who is famous for serenading his guests. The specials at Mallard's on the Wharf are a treat and anything with crab shines here, including their crab cakes which are 99.9% crab, perfectly crisped on the outside and 100% delicious.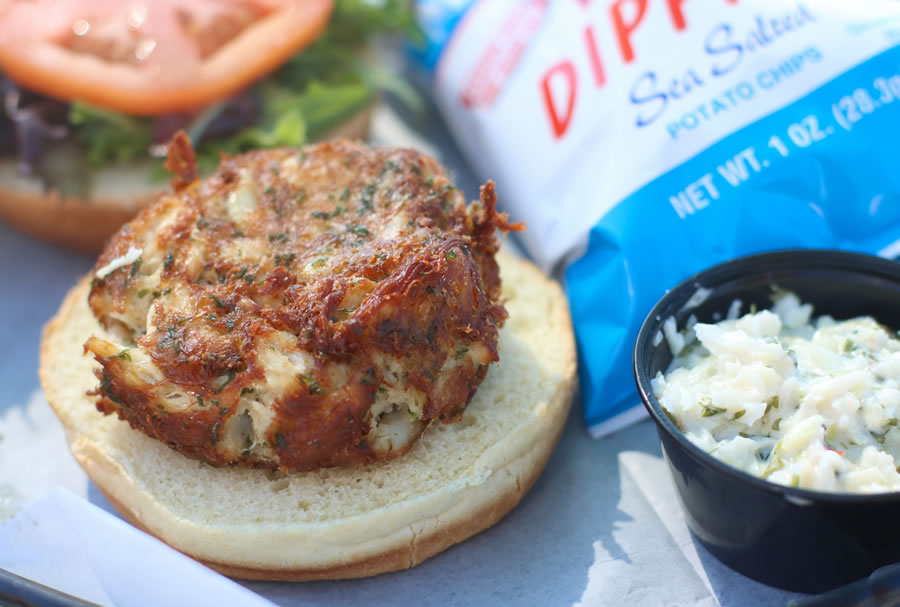 If you're in the mood for something a little different, the Crab Stuffed Avocados are the way to go. Johnny Mo tosses lump crab meat in a creamy lemon essenced dressing then stuffs it into fresh avocado halves garnished with microgreens. Easily a lunch on its own, these are a perfect bite while enjoying the incredible water views.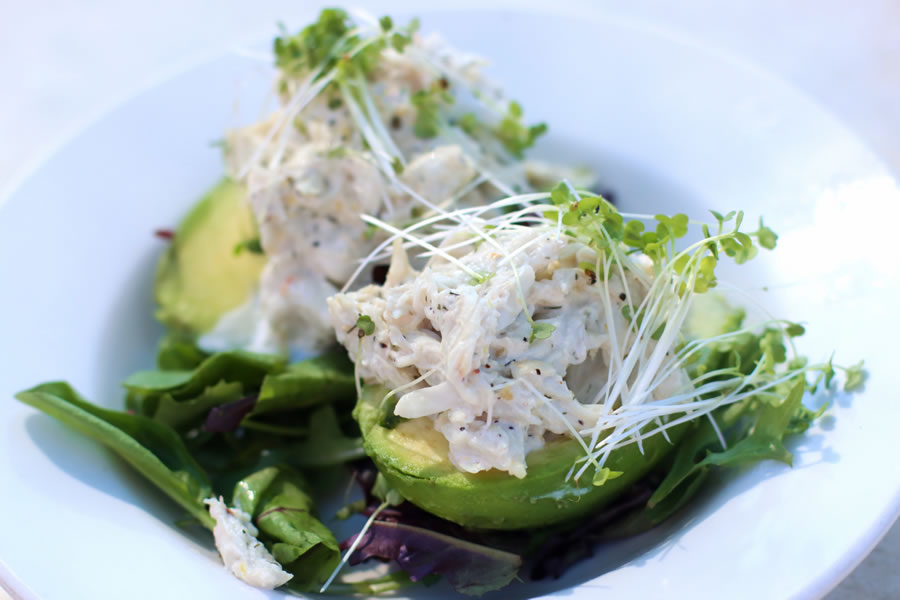 Mallards Clams were also superb, made with a spicy jalapeno-garlic broth, and served with warmed flatbread. A satisfying end to a lovely lunch was their sweet potato flan, which was creamy with a hint of southern style quite honestly one of the best flan's I've ever had – ever.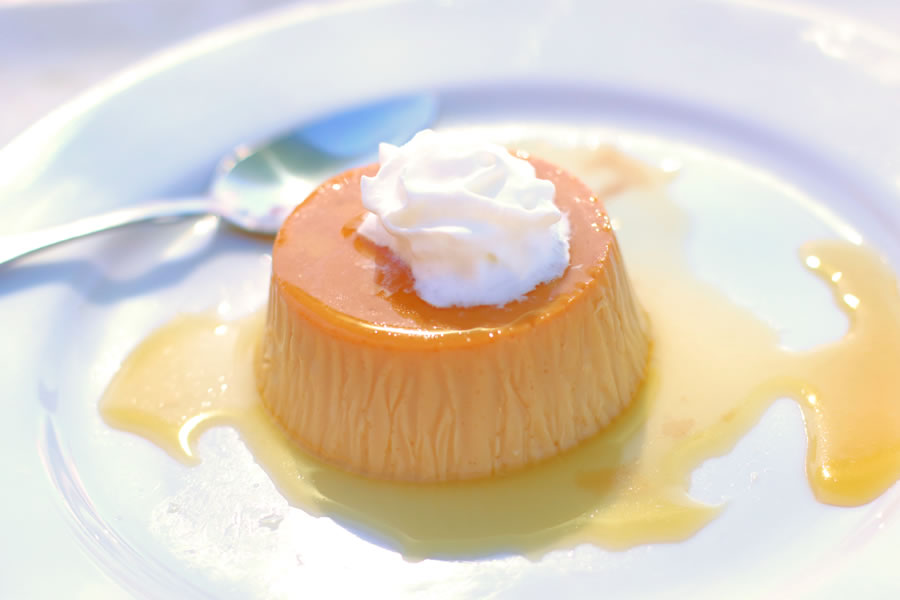 Mallard's is everything I love in a casual coastal seafood restaurant: great views, delicious food and friendly service. With both indoor and outdoor dining, if the weather permits, the deck is where it's at to enjoy a cocktail from one of their two bars and a yummy bite with a Chesapeake Bay sunset as your backdrop. Closed Mondays, Mallards' at the Wharf is open for lunch and dinner.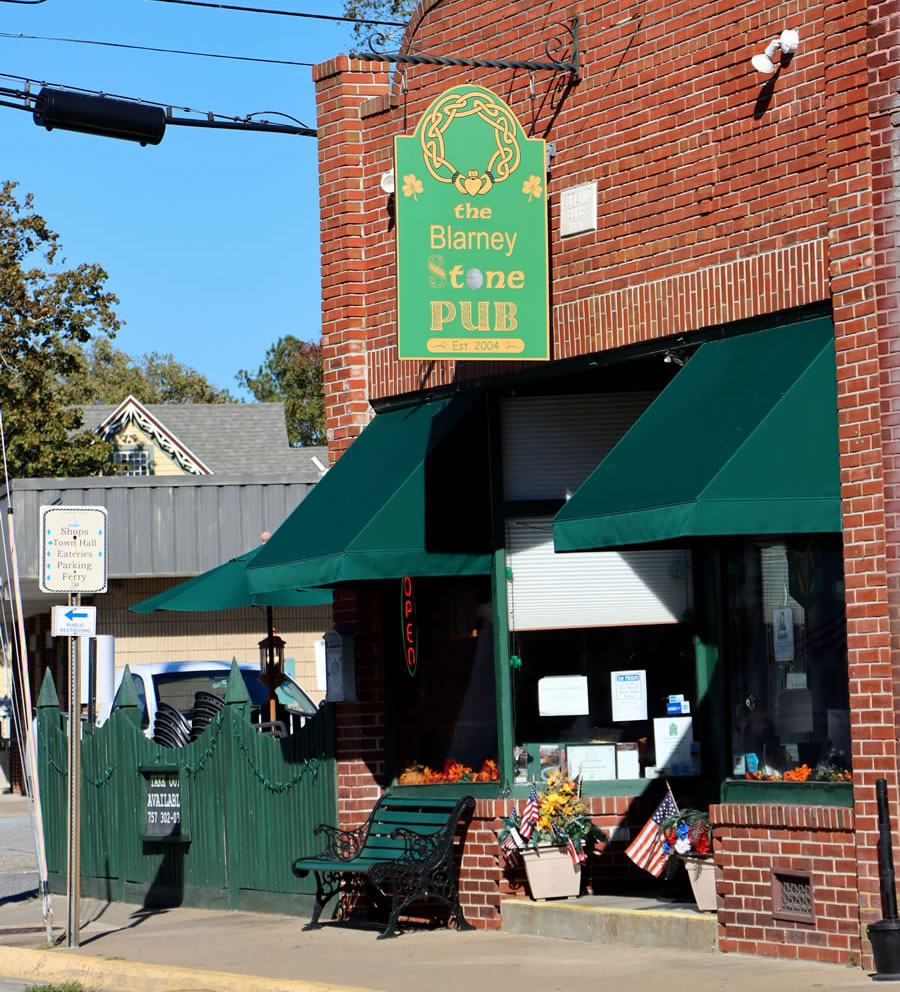 The Blarney Stone
10 North St, Onancock, VA
blarneystonepubonancock.com
Every fine town needs a good pub. And at the edge of the shops on the east side of North Street lies The Blarney Stone. This beloved local spot offers classic and creative pub favorites like fish & chips, shepherd's pie, and fresh Eastern Shore seafood woven throughout the menu. The focus here is on local craft brews, but you can of course get a pint of Guinness or a freshly made special cocktail from their full bar.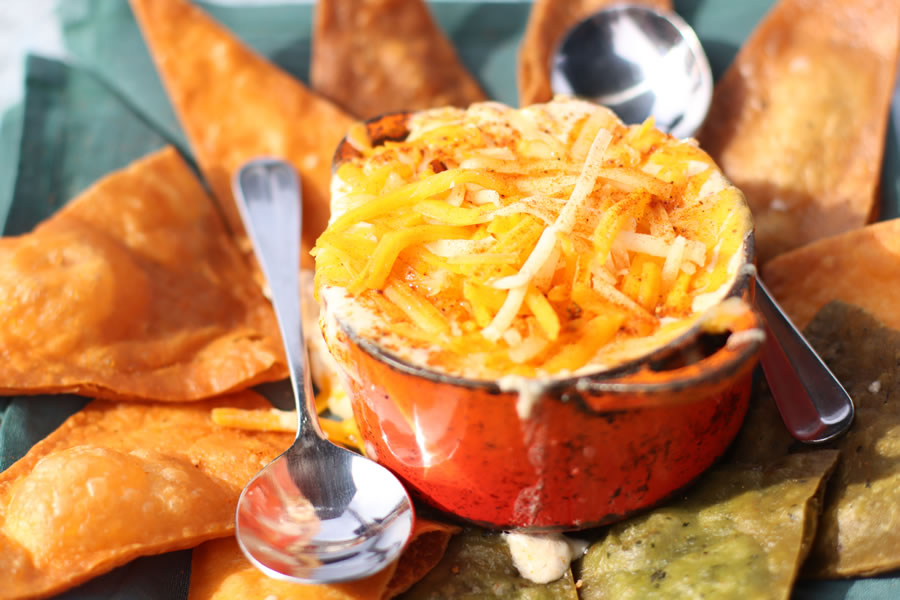 Not to be missed is Chef Gary Sokaitis's creamy crab dip made with tons of real Eastern Shore Crab topped with plenty of ooey-gooey melted cheese and crispy homemade tortilla chips.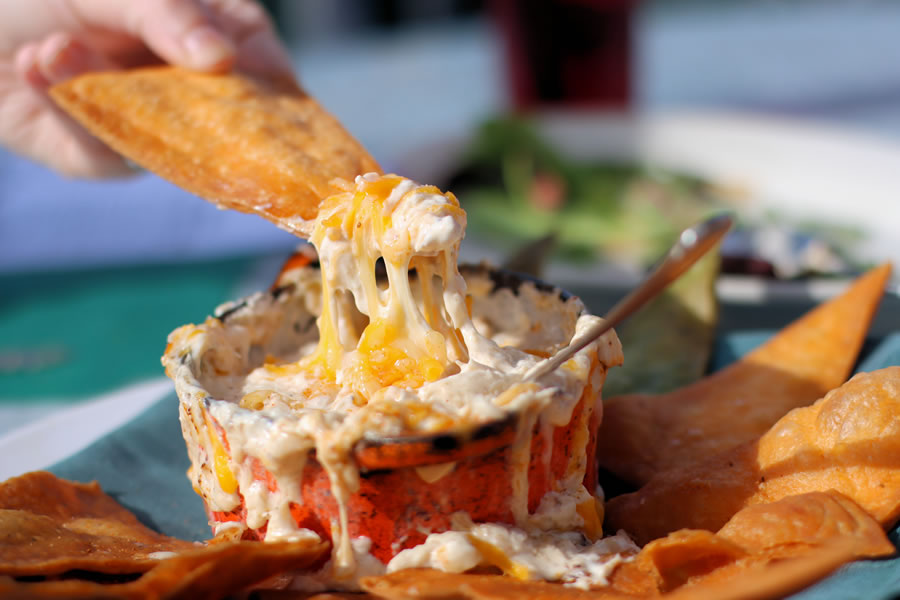 Also try their Corned Beef and Cabbage Egg Roll appetizer served with a creamy mustard dipping sauce. Other highlights on the menu include Eastern Shore Clam Chowder, fresh and crispy fried calamari and nightly dinner specials that focus on what Chef Gary feels inspired to make with locally available ingredients.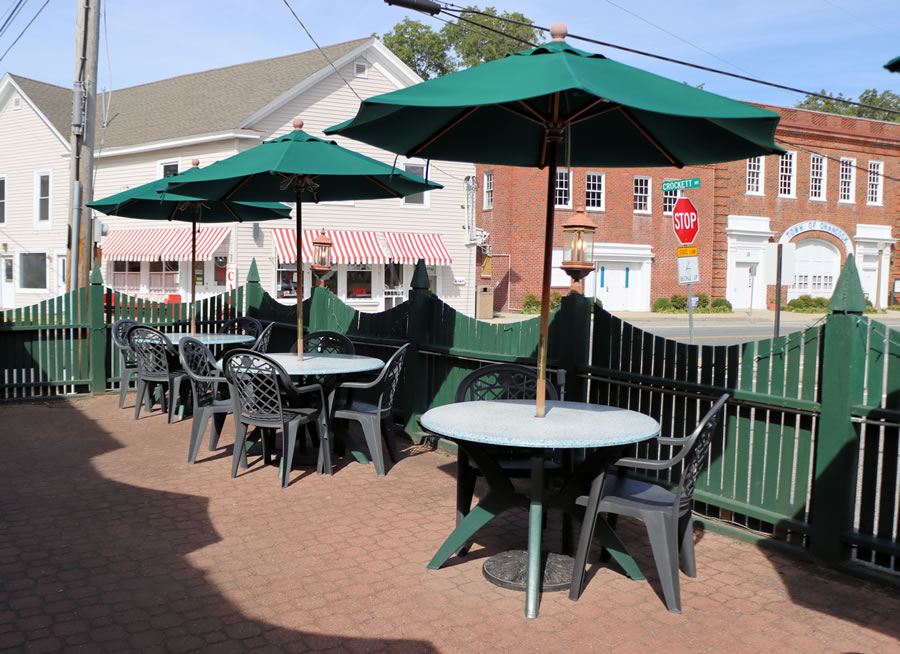 The Blarney Stone's outdoor patio enclosed by a green picket fence and antique style lanterns is the ideal place to relax with a delicious bite, and a pint or two while enjoying some live regularly scheduled musical entertainment.
The Blarney Stone Pub is open for indoor and patio dining 7 days a week starting at 11am. Online ordering and curbside pick-up are available as well.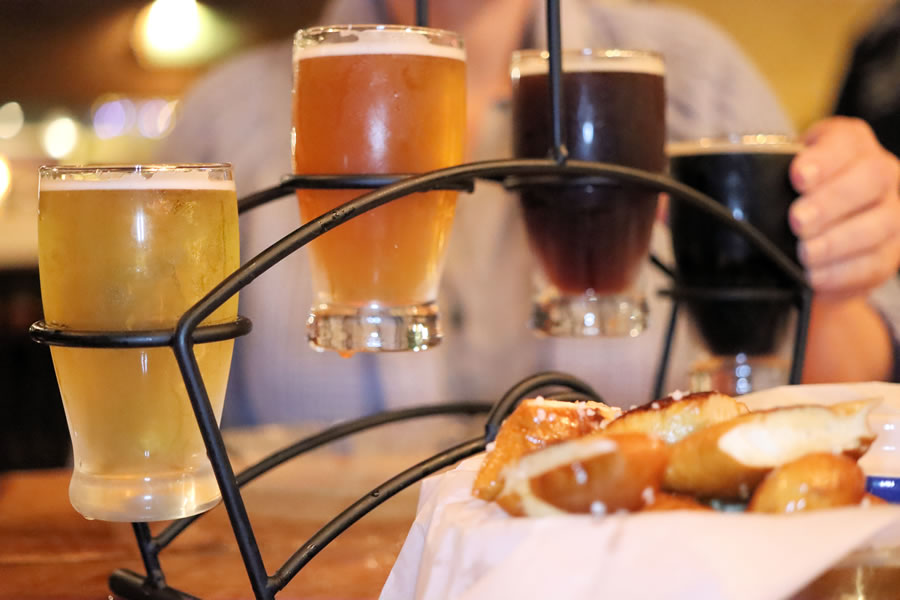 3 Knot's Taphouse
8 North St, Onancock, VA
3knotstaphouse.com
One of the newest restaurants in town, 3 Knot's Taphouse offers casual but tasty tavern food with a large selection of local beers on tap in a modern rustic space. It was just what we wanted after our sunset cruise. The service here is upbeat, friendly, and knows their beer too. Whether you need help deciding on a local beer, a beer flight, or figuring out which combinations of beers make the best flavors ( anything with Peanut Butter wins by far) our server was more than happy to help.  We dove into an order of pretzel bites with cheese, Mt. Nebo Nachos with pulled pork, melted cheese and salsa and some house wings which can be ordered with a variety of sauces other than buffalo including garlic parmesan, BBQ and lemon pepper and specials like Thai Curry flavor (don't pass this one up).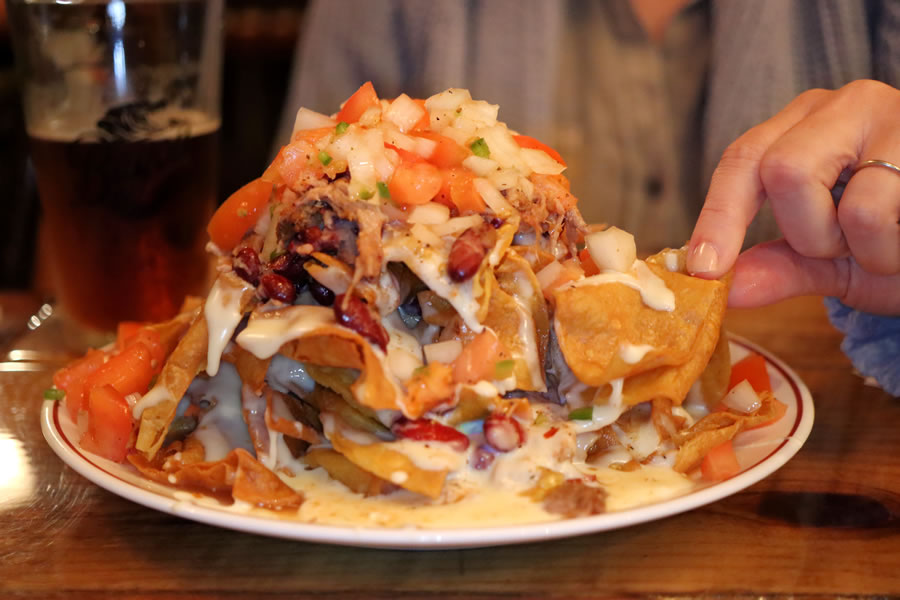 For dessert don't miss Becca's Bites – little cake balls of Smith Island Cake that are just heavenly and the perfect amount of dessert when you need a little something sweet.
Maurice
145 Market St, Onancock, VA
(757) 387-4889
Everywhere we ate in Onancock was an enjoyable experience. But when asking locals for restaurant recommendations, Maurice's was named over and over again. Perfectly described in a Yelp review as a big city restaurant in a small town, Maurice's serves creative globally inspired fusion dishes with Eastern Shore flair.
Sean the owner here, who's first given name is Maurice, grew up on the shore, and recently returned after living and spending his career teaching theater and performing on Broadway in major cities like New York and Chicago.
While the food here is prepared with a sophisticated hand, the atmosphere is fun, comfortable, carefree and every dish a work of art. The Seafood Paella is a standout dish as are the sushi rolls, that are unbelievably fresh and rivaling those served in some of the best urban restaurants, almost too pretty to eat. Maurice's also has a full bar that offers bottles of wine by the glass or bottle, craft beer, and tasty craft cocktails. Located in a white renovated Victorian with a glass enclosed garden patio Maurice's, is open for lunch and dinner.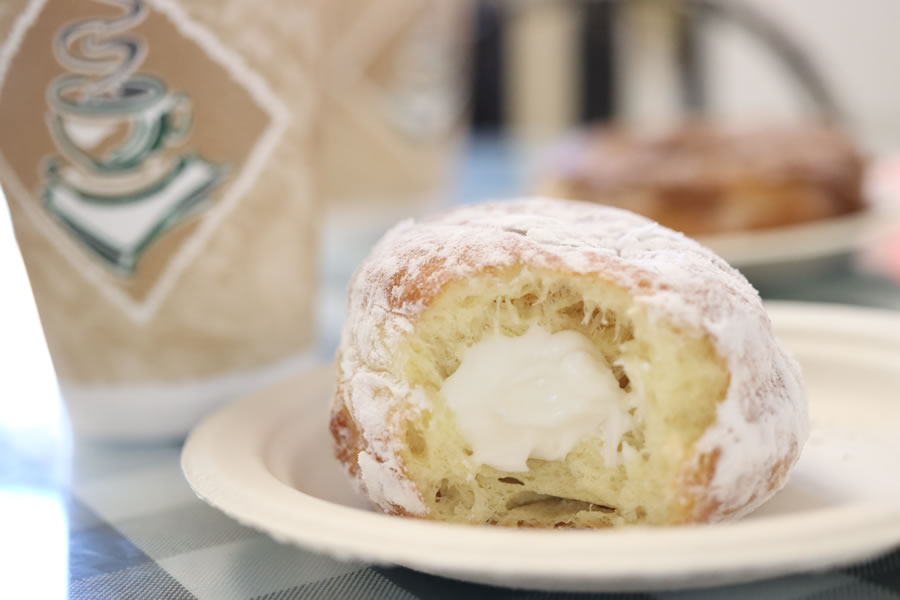 The Corner Bakery
36 Market St, Onancock, VA
757-787-4520
For a morning or afternoon sweet while you're browsing, do not miss The Corner Bakery. Not only is this country style gem of a bakery run by some of the nicest folks you'll ever meet, but it's famous on the shore for their fresh and heavenly soft donuts, pastries, and pies. One bite into one of their most popular baked goods – the cream puff  – and you'll know why travelers veer right off route 13 to grab a box. And their secret? The delicious recipes and quality of ingredients have remained consistent for decades, and for the locals, every bite is a bit of sweet nostalgia.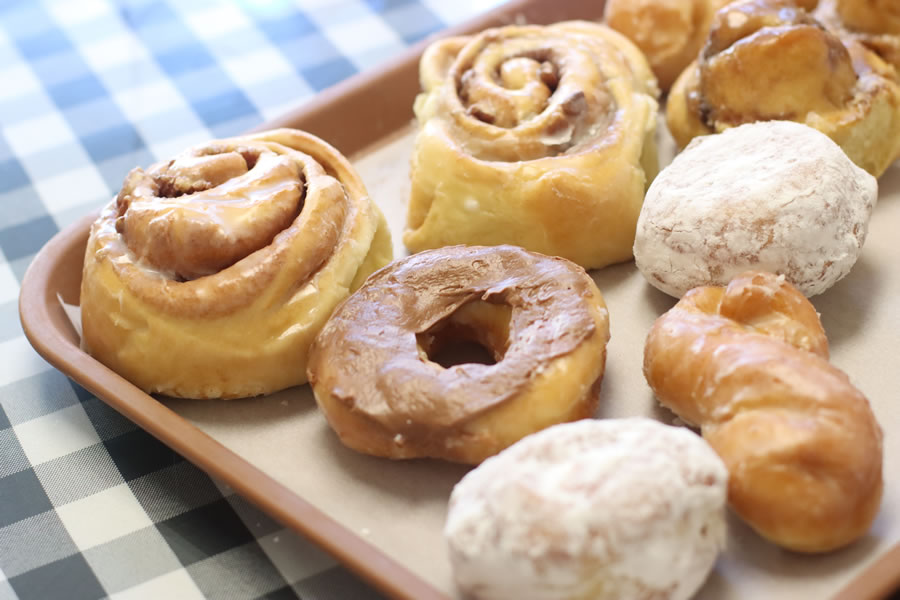 There's a few tables to sit down and enjoy a pastry or two or simply grab a cup of coffee and take a few to go. Once you take a bite there's no way you're leaving town without a box to take home.
Where to Shop in Onancock, Virginia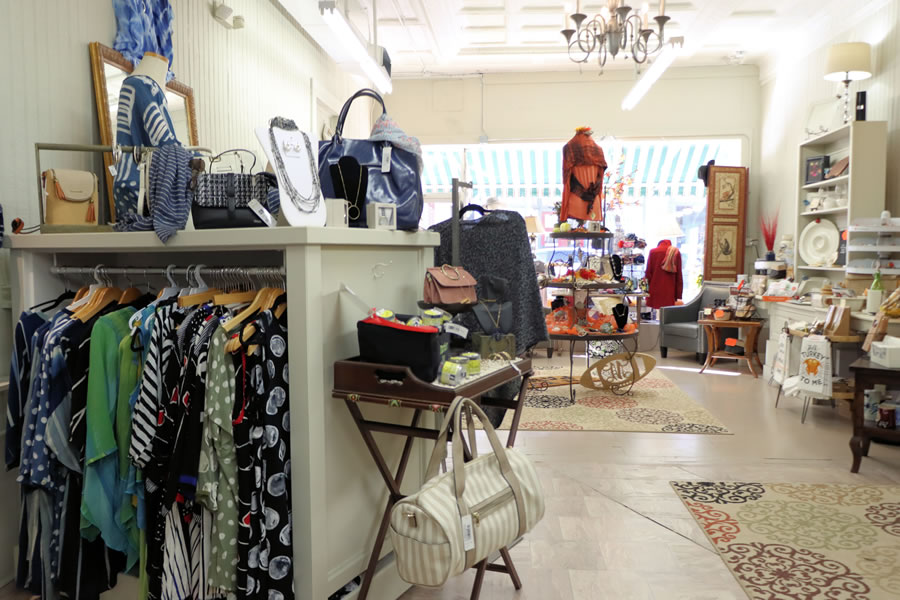 Marker 39 Design
4 North St Onancock, VA 23417
With a little bit of everything, this warm friendly shop offers service with a smile along with a lovely selection of stylish women's clothing, handbags, and accessories, as well as jewelry, gifts, and home and kitchen goods. Be sure to pop in this woman-owned business before leaving Onancock to bring home a fun gift, tasteful souvenir, or Onancock sweatshirt to remember your trip by.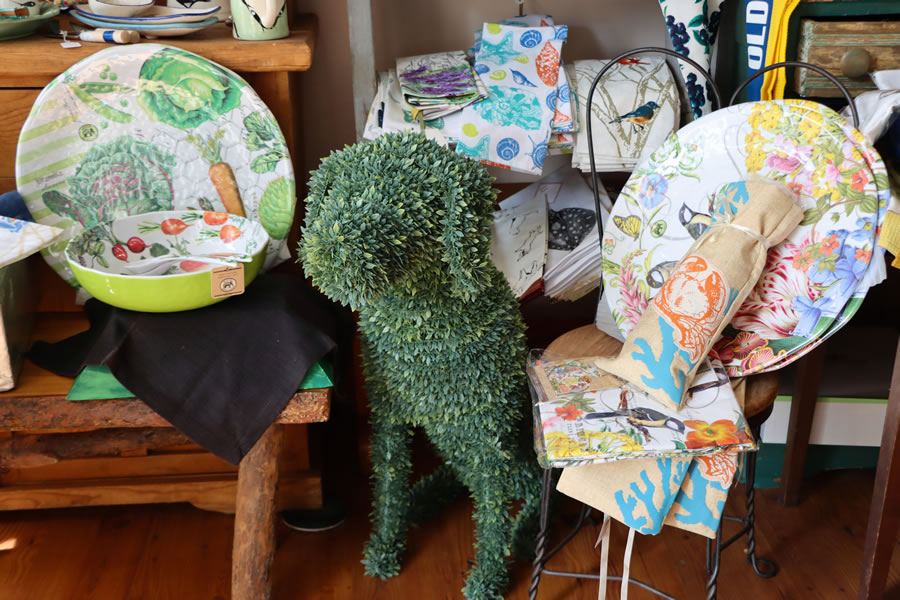 Dawn – A Unique Shop
63 Market St Onancock, VA 23417
With a finely curated collection of stylish clothing, shoes, accessories, and super unique home goods, this boutique has called Onancock its home for almost 20 years. With a drive to support women, owner Dawn White sources unique and quality items from women owned businesses you just won't find anywhere else. Expect to spend some good time browsing here and leaving with some great additions to your wardrobe and home.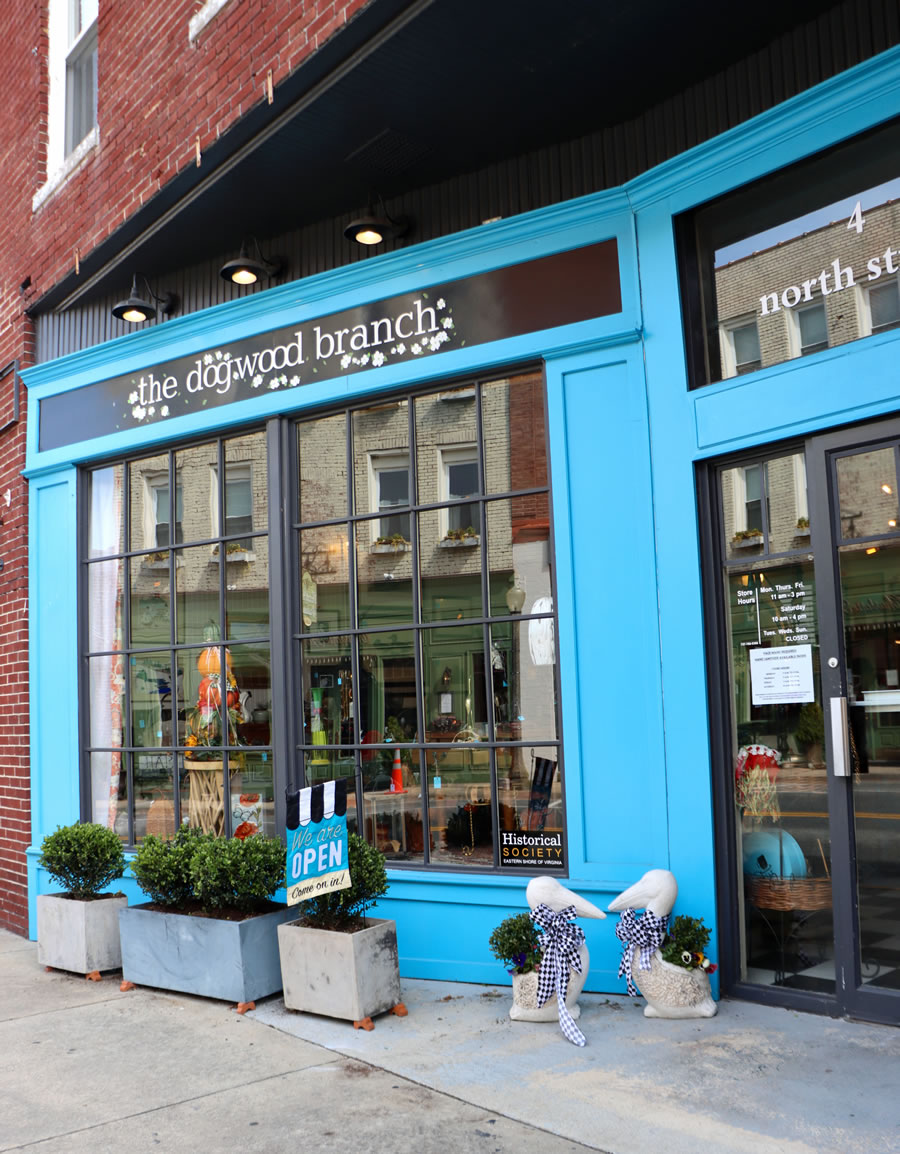 The Dogwood Branch Consignment Shop
4 North St. Onancock, VA 23417
An upscale consignment shop with home furnishings, decor, jewelry, wall art, and knick knacks is super fun to explore. All the sale proceeds here help the Eastern Shore Virginia Historical Society with the upkeep of local historic properties including Ker Place and the Hopkins & Bro. Store located at the wharf. With a constantly rotating inventory, you never know just what you may find.
Things to Do in Onancock, Virginia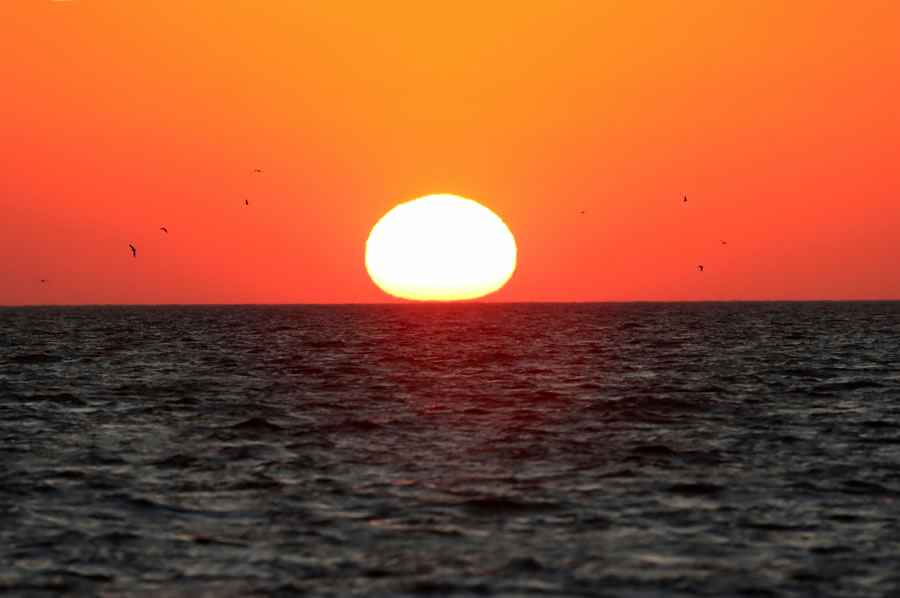 Take a Sunset Cruise With Holly Cove Charters
HollyCoveCharters.com
Sunsets over the Chesapeake Bay and the eastern shore are among some of the most spectacular in the United States. And one of the best ways to watch the sky light up with vibrant colors as the sun tucks itself in for the night is with a sunset cruise. For that, we headed down to the Onancock Wharf to meet Captain Chris Guvernator with Holly Cove Charters.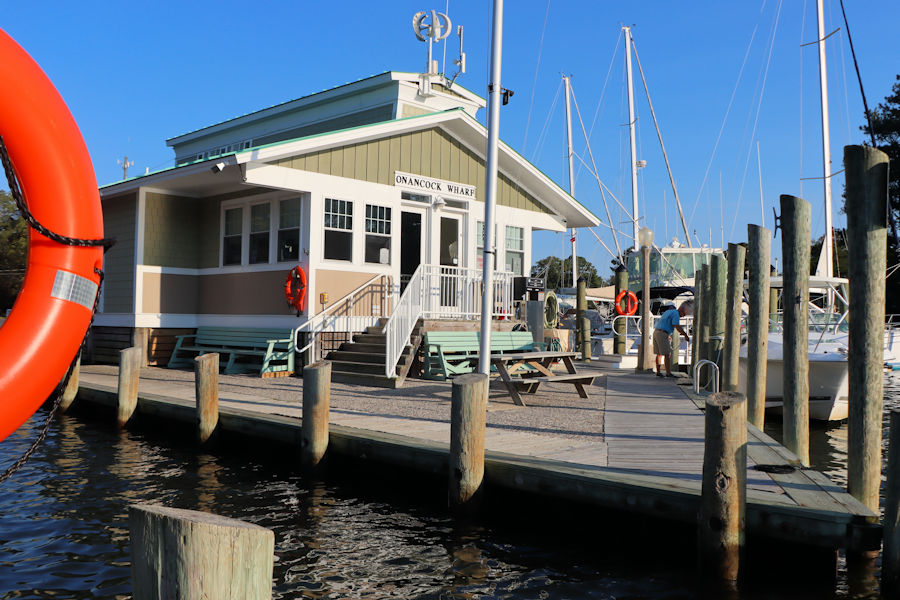 After a quick and safe COVID protocol, we hopped aboard his boat "On Assignment" and sailed toward the sunset through the winding and peaceful Onancock Creek and on into the Chesapeake Bay.
With sea birds flying by, Captain Chris who's a certified Virginia Ecotour Guide, told us some interesting facts and history of the area and stately historic homes along the waterfront. The sunset that night was stunning as expected and riding with Chris was like hanging out with an old friend who, bonus, has a pretty great boat. A fantastic experience, the sunset cruise is about an hour and makes a wonderful outdoor activity before heading to dinner.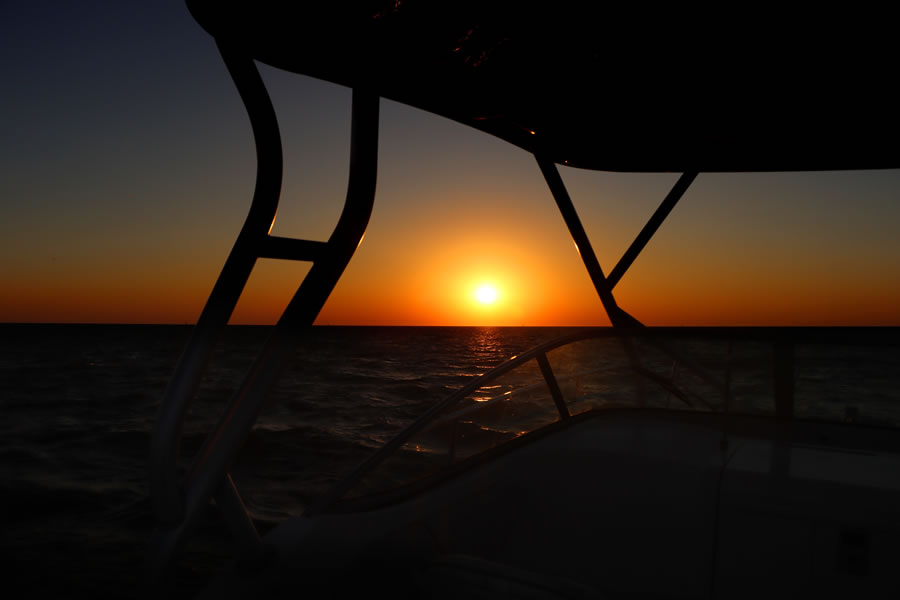 While sunset tours are his most popular, Captain Chris also offers ecotours and custom tours of any creek or cove you want to explore. Rates are super reasonable too starting at $40 per hour for up to 4 people. Definitely put a sunset cruise with Holly Cove Charters at the top of your to-do list!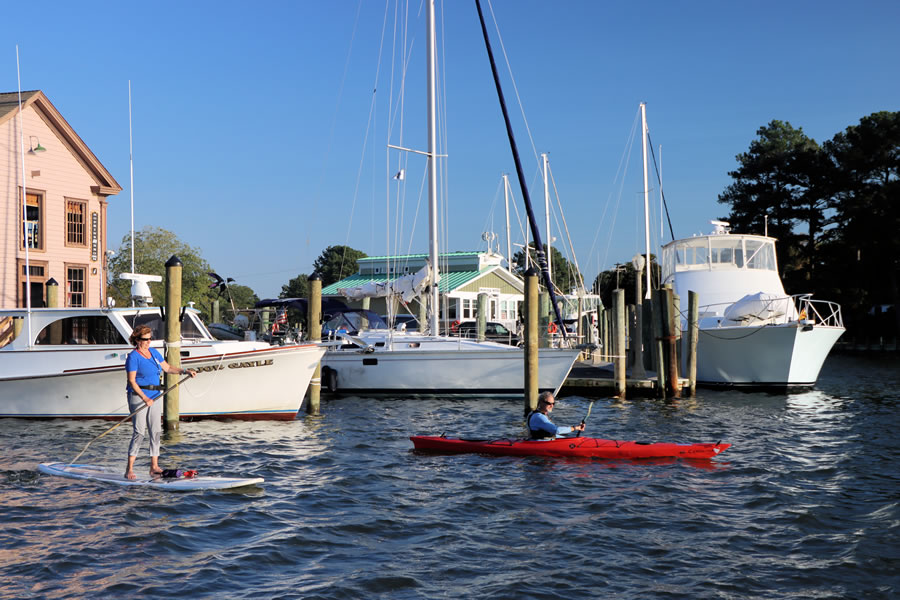 Hop in a Kayak, on a Paddle Board or Even a Bike
2 King St, Onancock, VA
www.burnhamguides.com
If you love adventure, kayaking or paddle boarding are some of the best ways to explore the meandering Onancock creek and its marshes while viewing some local wildlife. And there's no better people to paddle off with than local experts and guidebook authors Mary and Bill Burnham of Burnham Guides. Offering a variety of curated paddling adventures for every skill level, Burnham Guides are located in the historic Onancock ticket booth at the edge of the Onancock Wharf.  TIP: Just look for the kayaks directly next to Mallard's on the Wharf.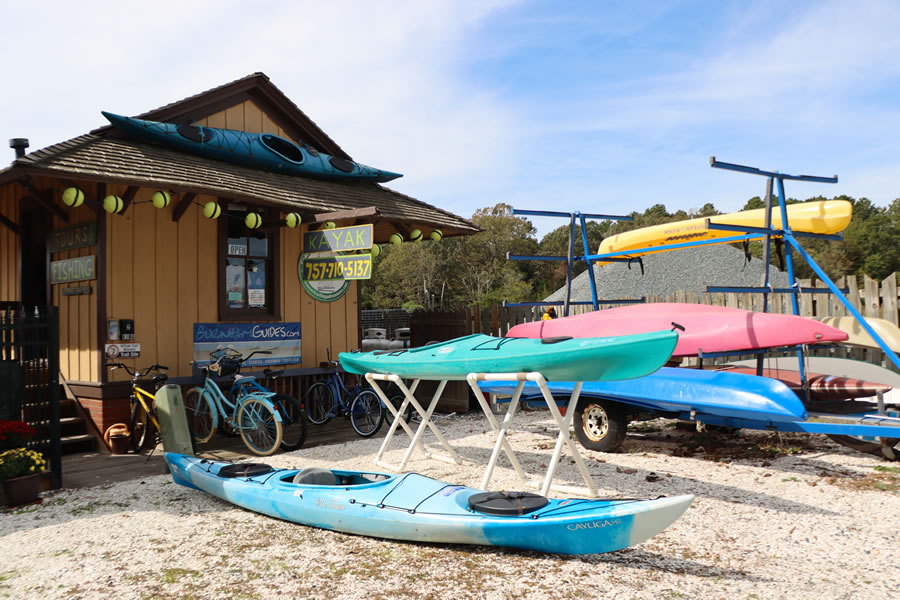 Try a 2-hour guided Onancock Creek tour or a more immersive experience that takes advantage of Bill and Mary's full wealth of knowledge and experience. They also offer a full-day tour, exploring Virginia's seaside Barrier Islands, designated an International Biosphere Reserve. If you're just looking to get your feet wet, kayaks and stand up paddleboards may be rented by the hour.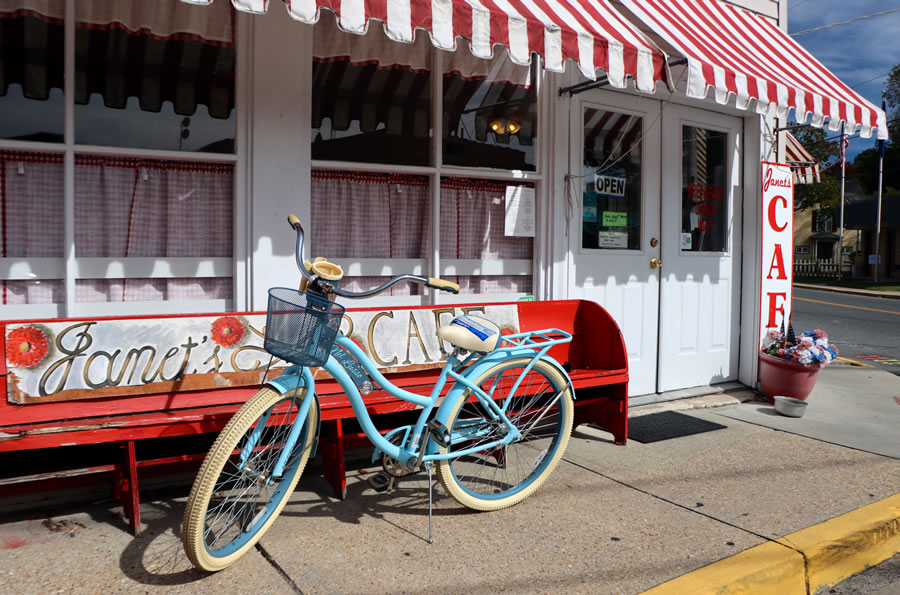 If you're more of a landlubber, rent one of their bikes to explore the local area by the hour, day, or week.  
Paddling tours are available April through November. Click their link to learn more about all the tours and services they offer.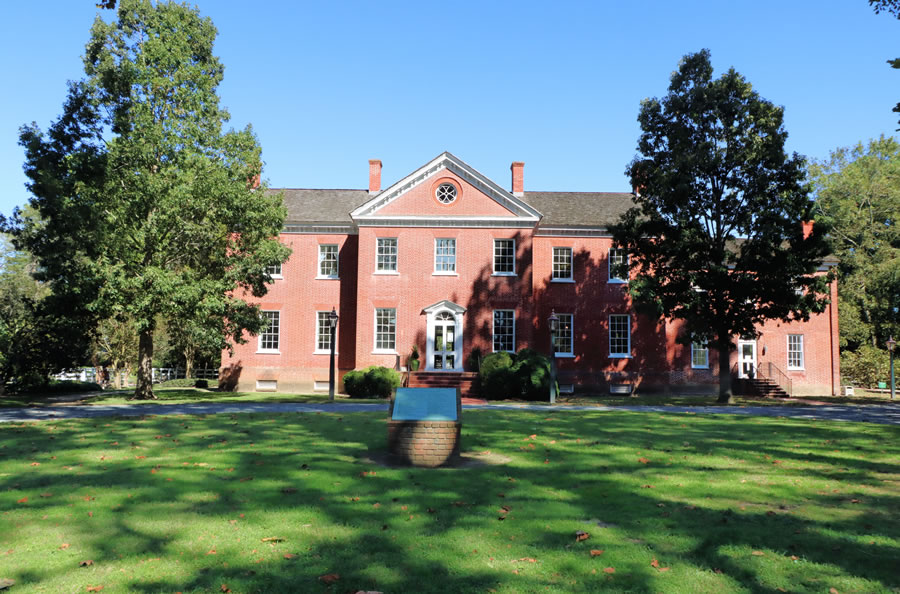 Step Back in Time at Ker Place
69 Market St, Onancock, VA
shorehistory.org
Set back off Market Street at the end of a long driveway and a few blocks from downtown, you'll likely notice Ker Place (pronounced 'car') driving in. A gorgeous Federal-period, Georgian-style house that was built from 1799 to 1803 for local wealthy merchant farmer, John Shepherd Ker and his family.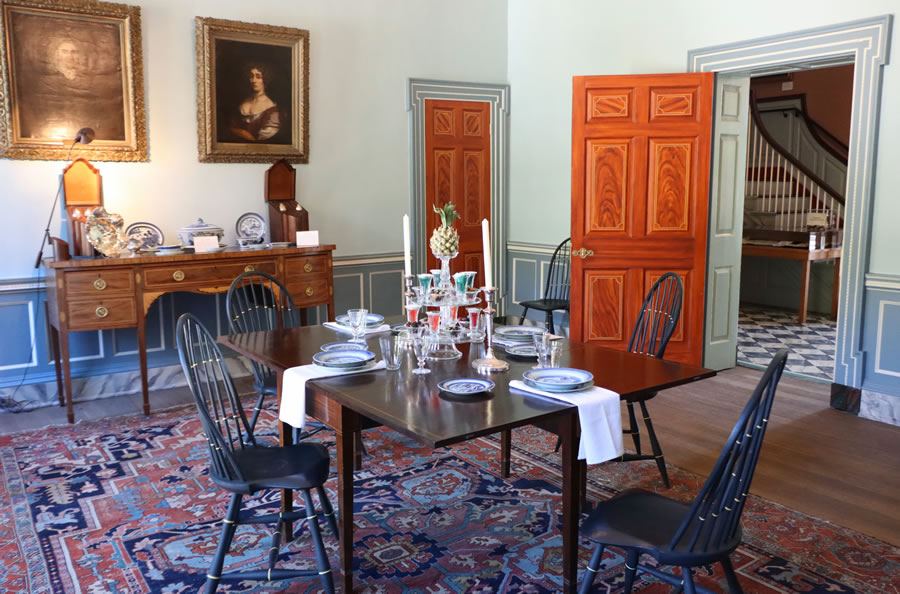 Regarded by the Virginia Historic Landmarks Commission as "the finest and most elaborate Federal mansion on Virginia's Eastern Shore" and "one of the Shore's major architectural landmarks," Ker Place has been recently restored using inventory records discovered in the house dating back to 1806 as a guide. Today walking through its doors is truly like stepping back in time. Complete with historically accurate colors, original architectural details and period antique furnishings, Kerr Place is an accurate example of what 19th century plantation life was like in the Eastern Shore.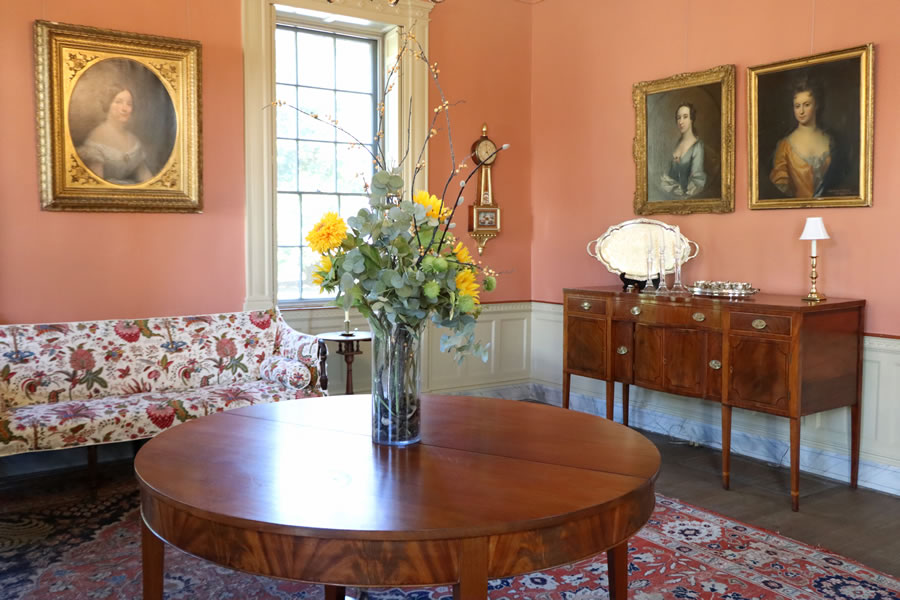 It is well worth the time to spend an hour or two with the lovely and knowledgeable ladies here who care for and study this home. Guided tours are currently available by reservation only.
Sail Away With The Only Sailboat Tour on the Eastern Shore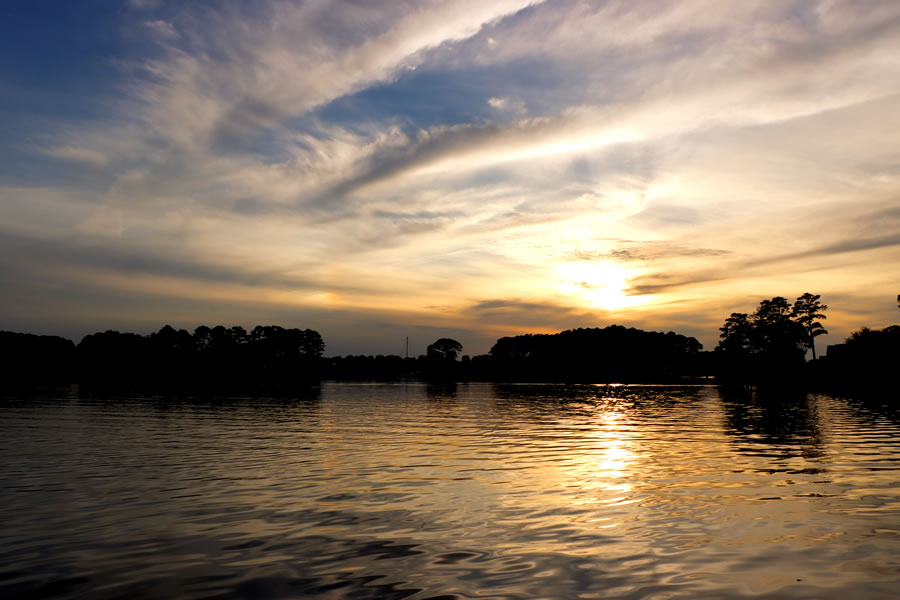 Onancock Sailing Adventures offers a relaxing two hour sail aboard the Cat Boat "GRATITUDE".  A laid back, leisurely way to experience the beauty, wildlife, and history of Onancock Creek from May thru October.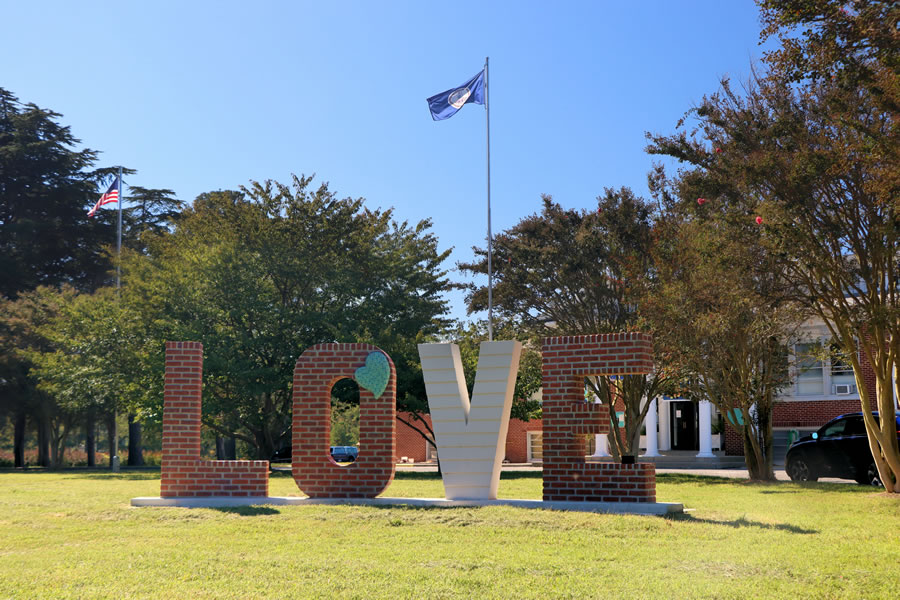 Plan to Check Out Historic Onancock School on a Future Date
6 College Ave, Onancock, VA
historiconancockschool.org
A 99 year old building nestled on 13 beautiful acres in Onancock that once functioned as the local schoolhouse, The Historic Onancock School has now been transformed into a thriving arts, meeting and event space, and community center. It's also home to 15 working artist studios, and a variety of local businesses.
Tucked in the lower level of the schools lies the Waterman's Heritage Museum & Research Center. Open from 10-2ish on Saturdays, the museum is dedicated to preserving and sharing the history of the way people have made their living and built their lives around the surrounding waterways. Currently the main part of the school is temporarily closed to the public due to the pandemic, but if you're in the area, I encourage you to check their website for upcoming events, like their recent outdoor movie under the stars event. During the day be sure to visit their newly installed Virginia Love sign, and take a stroll along the picturesque grounds.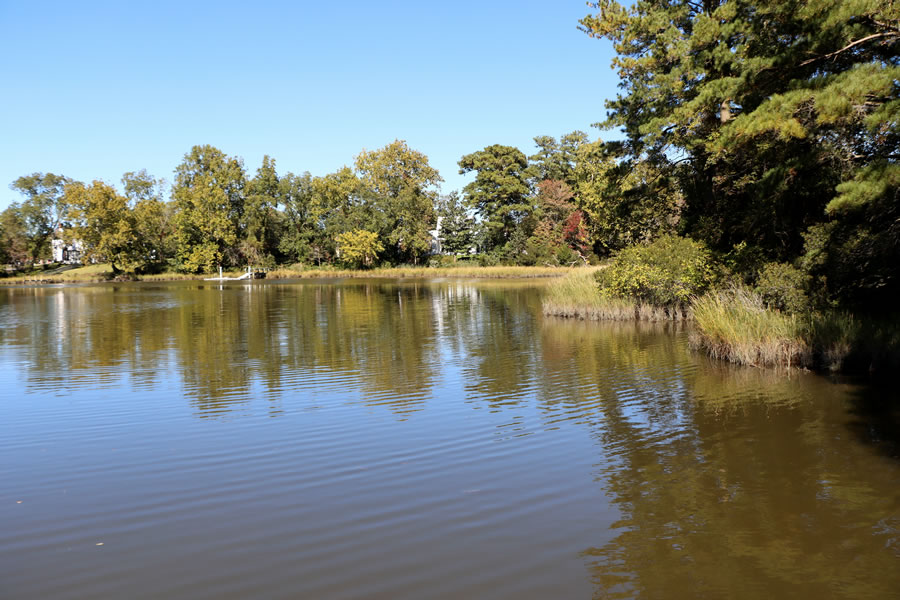 The Historic Onancock School is an absolutely beautiful place to explore with public nature trails, picnic benches, and even a peaceful creekside observation deck where you can relax by the water and wait to see what sea-faring, feathered friends may fly in. 
Visit Onancock's Galleries & Antique Shops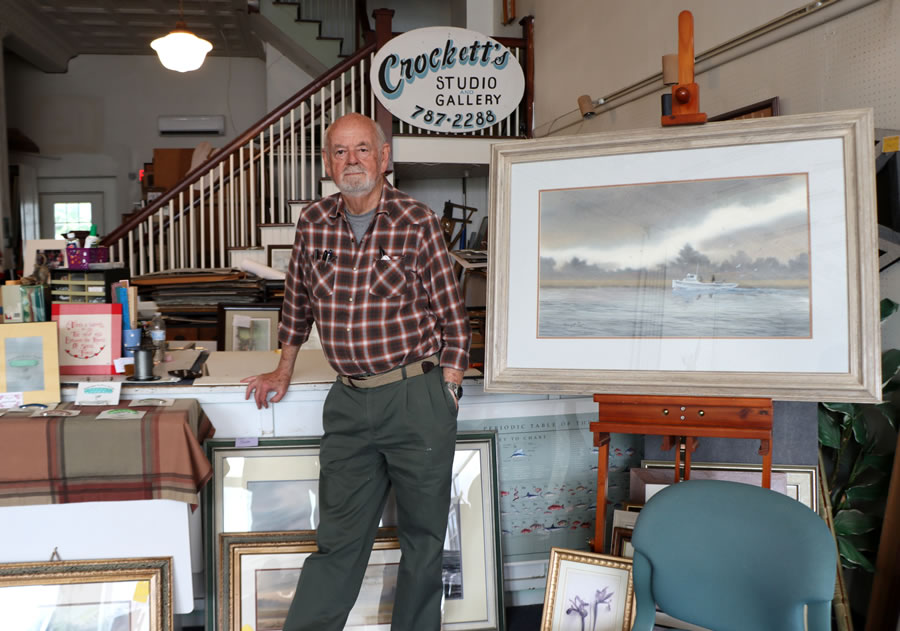 Crockett Gallery
39 Market St, Onancock, VA
Williecrockett.com
Born on the local island of Tangier, and a lifelong resident of the Eastern Shore, Willie Crockett is a world-renowned local artist who's dramatic and lifelike portrayals of the Eastern Shore wildlife and marshes he's known his whole life will capture your heart instantly.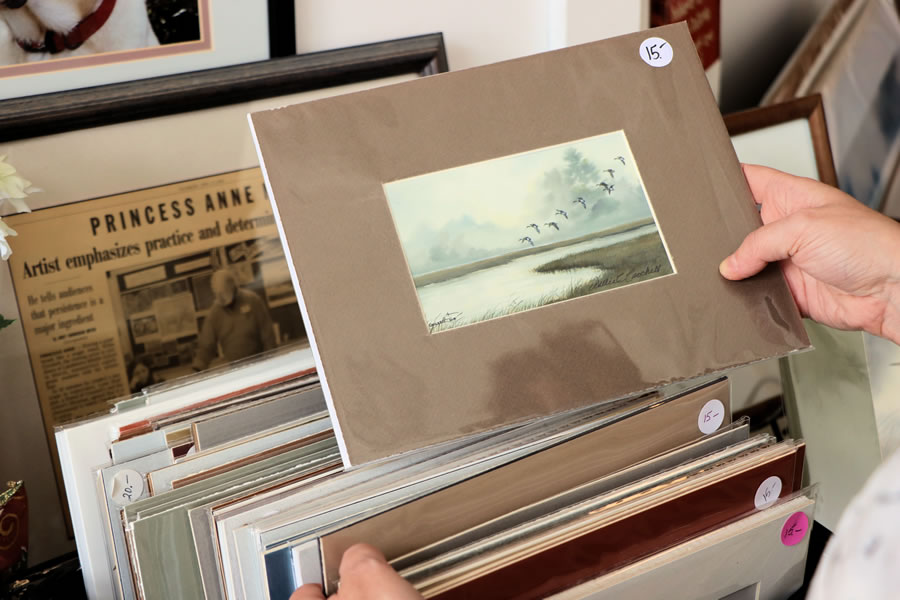 While best known for his glowing watercolors, Willie also has a series of works in oils and acrylics. When in town don't hesitate to stop in, have a friendly chat with Willie, and browse through the many stunning prints he has available.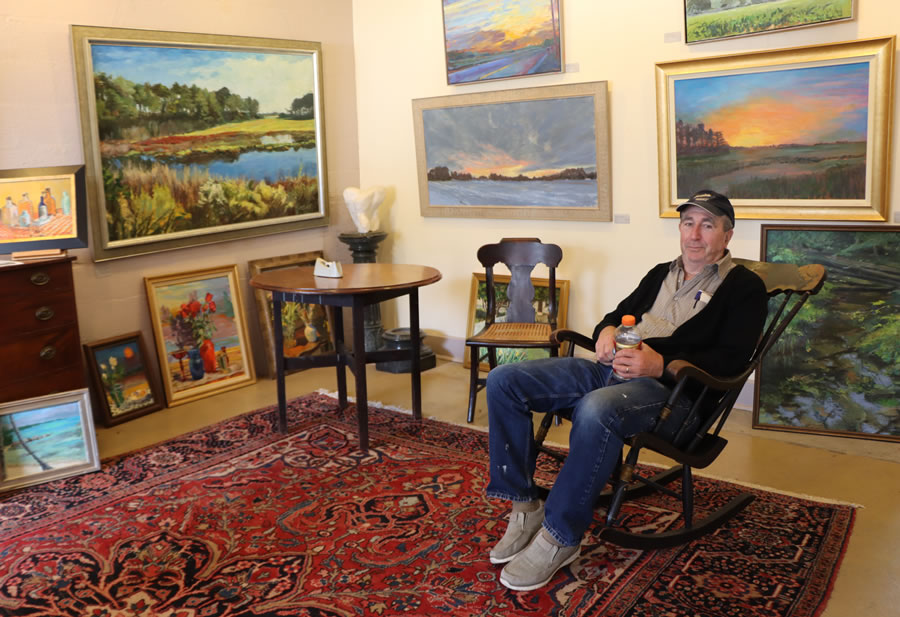 Richardson Gallery
24 King St, Onancock, VA 23417
Jackrichardsongallery.com
Classically trained at the Corcoran School of Art in Washington DC and the Pennsylvania Academy of the Fine Arts in Philadelphia, Jack Richardson opened his charming Onancock gallery in 2002, after years of teaching art at the Philadelphia Museum of Art. An incredibly talented landscape artist who loves to paint outdoors, Jack's works are inspired by the pristine beauty, scenery, and nature surrounding the Eastern Shores of Maryland and Virginia.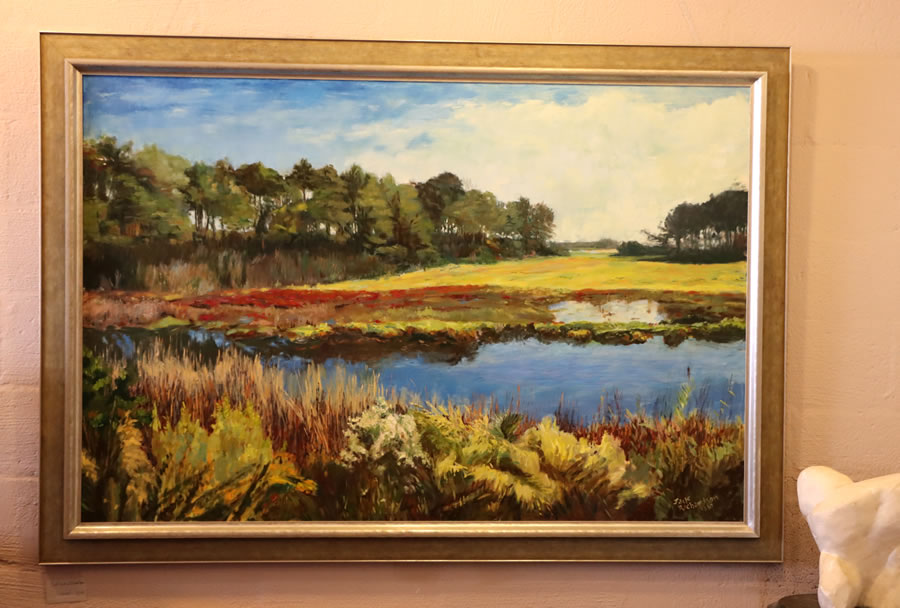 Painted with dreamy strokes and calming colors, Jack's works would be a wonderful addition to any collection. In addition to original paintings, Jack sells a collection of beautiful prints on his website that can be shipped even if you can't visit his physical gallery.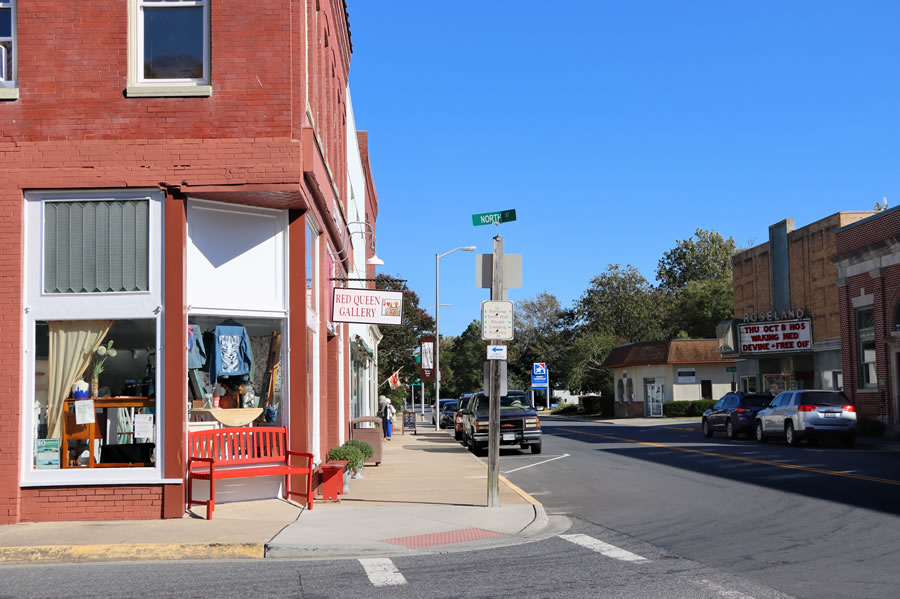 The Red Queen Gallery
57 Market St, Onancock, VA
redqueengallery.pro
Located on the corner of Market and North Street in the heart of Onancock, this woman-run gallery with a commitment to nurturing and supporting local artists has a little something for anyone looking for a unique and artsy find.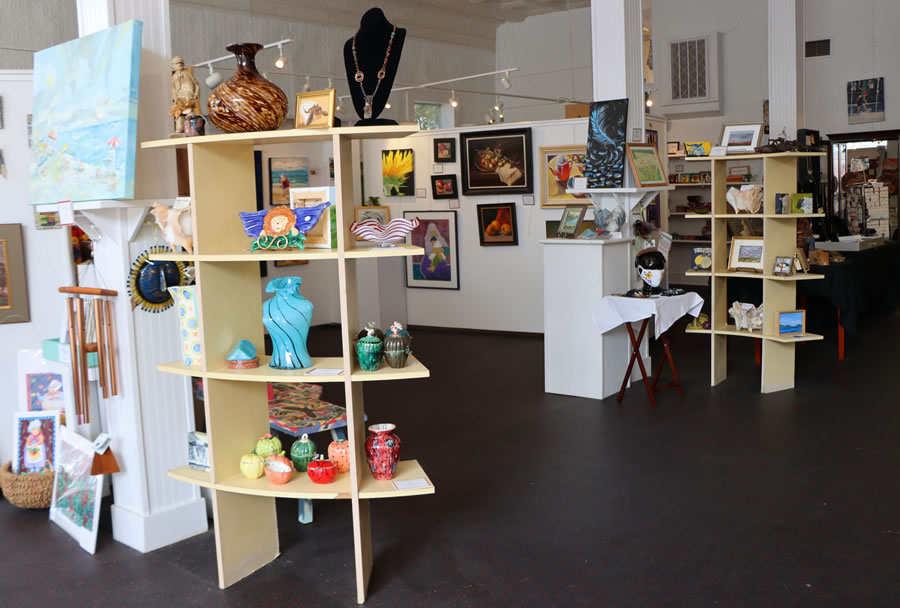 A fun place to browse, this virtual wonderland of art and all things artsy hosts an eclectic collection of local art pieces as well as limited edition prints, hand-painted furniture pieces, pottery, wooden and glass sculpture, handmade jewelry, knitted accessories, and plenty of unique souvenirs. After stopping at the Red Queen, head upstairs to say hello to their resident artist, Danny Doughty.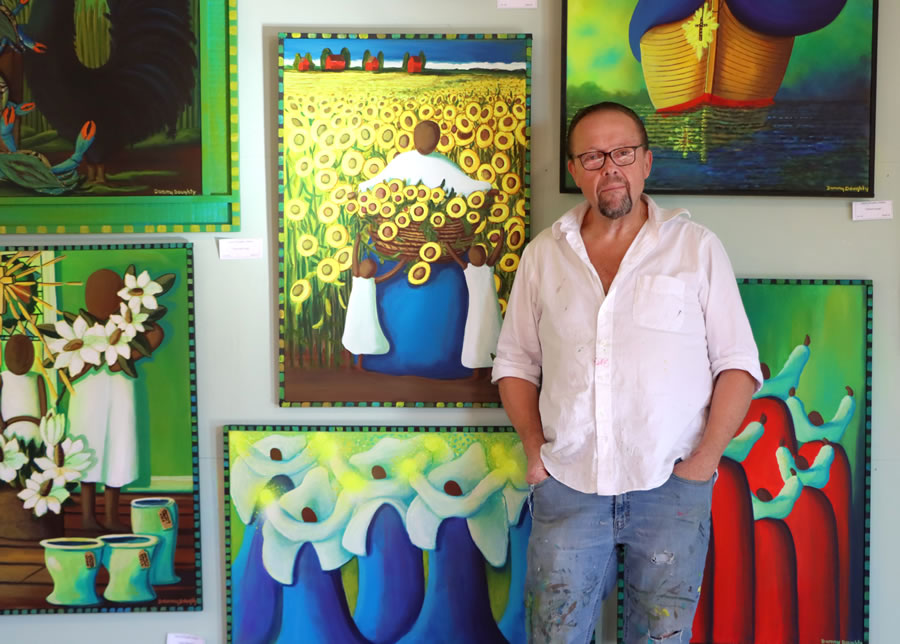 Danny Doughty Gallery
57 Market St, Onancock, VA
dannydoughty.com
Danny Doughty is a self-taught, internationally acclaimed visionary folk artist working mostly in acrylics. Danny's pieces have been shaped by his life growing up in the small Eastern Shore fishing village, Willis Wharf, and the kind local African-American women who raised and inspired him.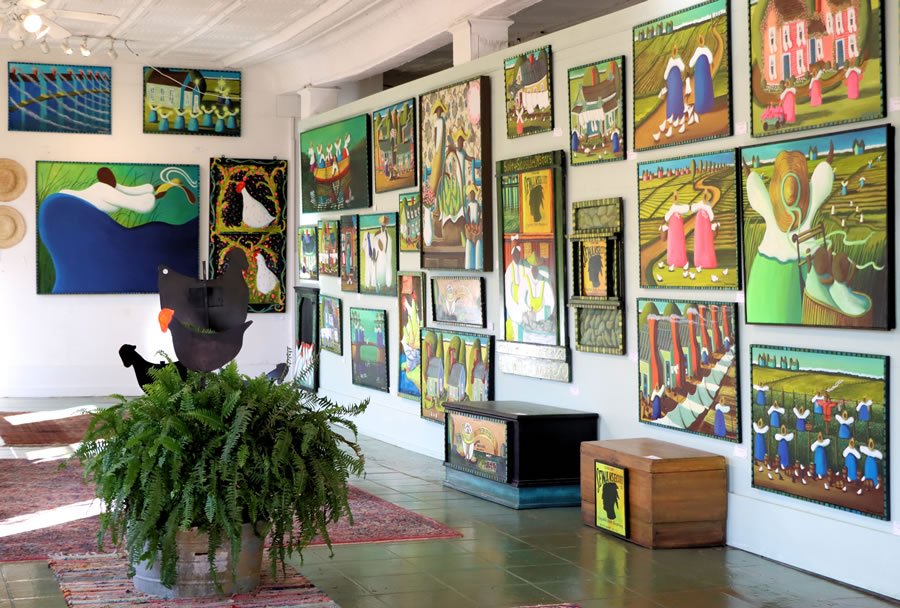 With a completely original style developed over time, every piece he creates uses vivid colors and bold textures that draw you in with subjects that evoke joy and a cheery reminder of simpler times.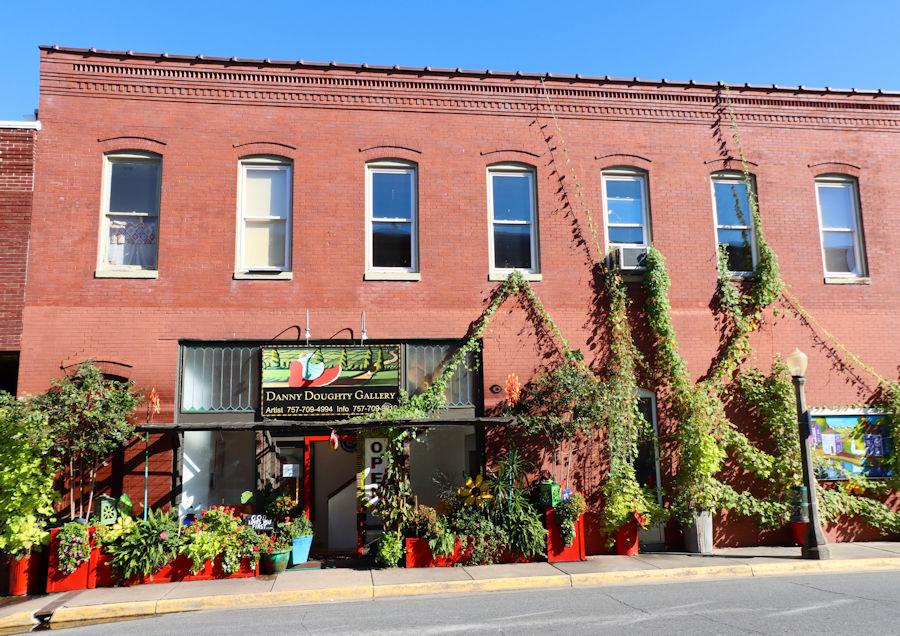 Set in a light-filled historic space with a boho vibe, you'll leave this gallery completely inspired by Danny's talent and his incredible story. For a unique gift or treat for yourself, be sure pre-order one of his limited edition tote-bags here.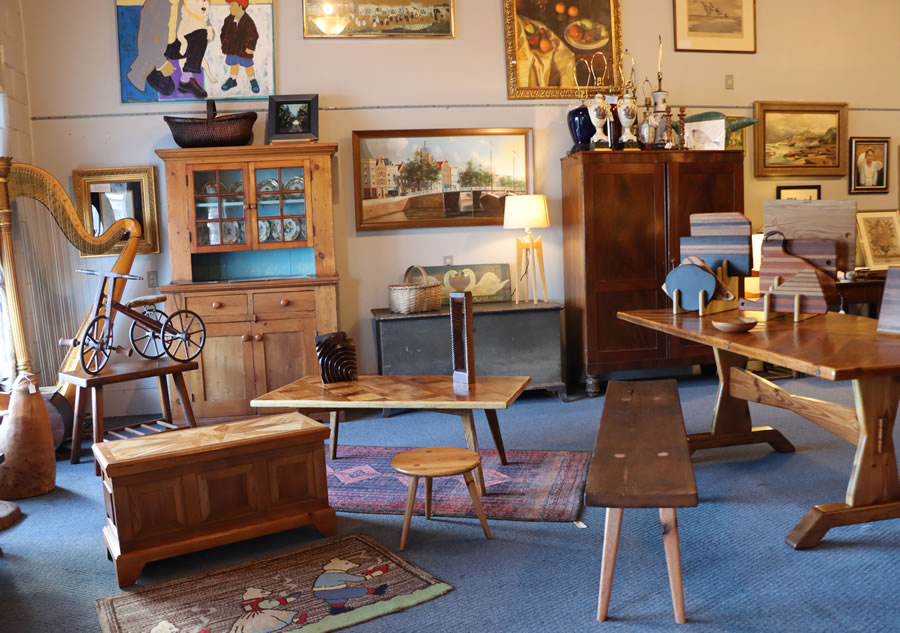 Timothy Smith & Sons LLC
37 Market St, Onancock, VA
Timothysmithandsons.com
It's only natural to get the antiquing bug after spending even a short time in such a historic place like Onancock. Voted one of the best Local's Choice Antique Store in 2020, Timothy Smith & Sons is where you'll find a space layered with antiques, furniture, and fine art, many traditional to what you would find in the finest homes in the region. But there's more to this antique shop than meets the eye. While Tim, whose family has been in the building and restoration business for 4 generations, is an expert in estate liquidations and identifying antique objects, his son builds beautiful custom furniture and sculptural pieces like bowls from gorgeous pieces of reclaimed wood. And they're happy to ship. Simply present them with a design idea for a piece you'd like built and they can totally make it happen here.
PLANNING YOUR TRIP TO ONANCOCK, VA
If you're ready to visit Onancock, VA and would like more information to start booking your travel, here are great resources to help you plan the perfect trip:
Looking for more adventure along Virginia's Eastern Shore?
See our travel itineraries from Cape Charles and Chincoteague.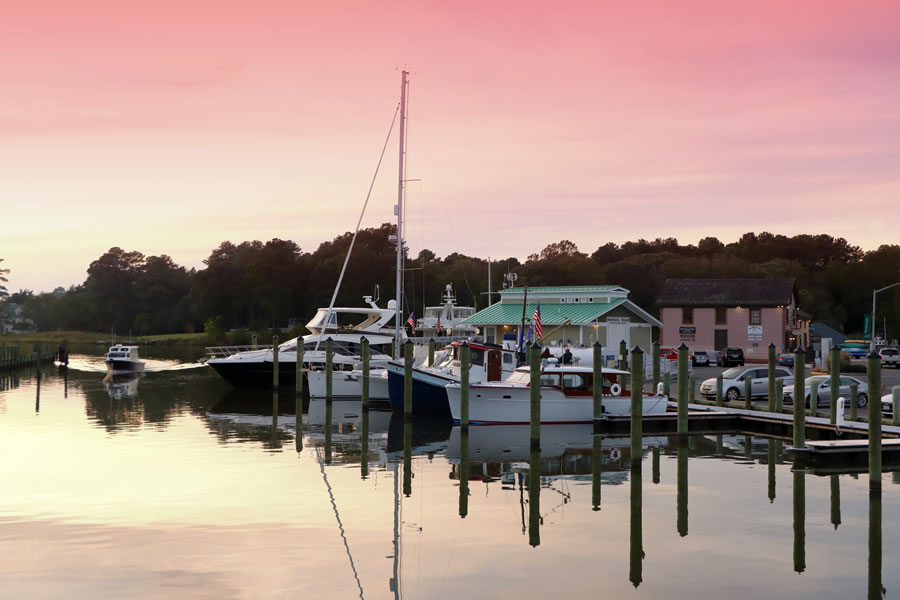 Produced by OnBetterLiving.com