Better Living uses affiliate links. If you make a purchase through them, we may receive a small commission (for which we are deeply grateful) at no cost to you.
When you're putting together the menu for your Big Game party this year, it's safe to say that beer and cheese are game-day flavors that you don't want to go without. This recipe for Gluten-Free Beer Cheese Dip combines the best of both worlds, especially if you're serving guests that need to eat gluten-free. The best part about this dip (besides the cheese of course!), is that it only has five simple ingredients and is super easy to customize.
While beer adds a delicious "pub" style flavor to this recipe, it's also the only ingredient that could potentially add gluten.  But luckily there are lots of gluten-free beers to choose from. In the ingredient section, check out our notes down for how to choose the right gluten-free beer.
Cheese by nature doesn't have gluten, so there's no need to worry there. For this recipe, we went with a blend of cheddar and Monterey Jack. But you could easily use all cheddar or all Jack if you like. If you like some heat, Pepper Jack would add a nice kick.
For gluten-free dipping, we suggest veggies and Gluten Free Sourdough Deli Style Bread from Schar, lightly toasted and cut into wedges.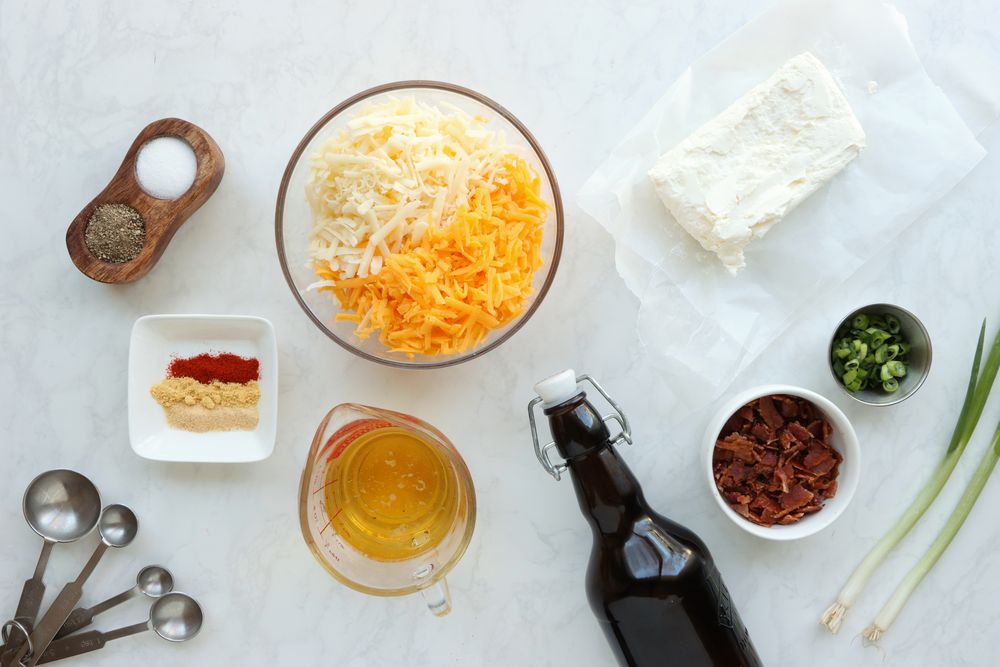 Here Are The Ingredients You'll Need For This Gluten-Free Beer Cheese Dip.
Cream Cheese – This is the base for our dip. We used regular cream cheese, but reduced-fat can be used as well if you're looking to cut calories.
Shredded Cheese – For that true cheesy flavor we opted for a combo of cheddar and Monterrey Jack. You could also make your own blend. Other cheeses like American, Swiss, Havarti would be delicious too. Or go all cheddar and you won't be sorry.
Gluten-free Beer – You'll need to choose a gluten-free beer to keep this dip gluten-free. Pale ale or lager-style beers would work best for this recipe. Stay away from anything fruity. 
But if you've never shopped for a gluten-free beer before, just note that it's brewed in two different ways. And one way might night be safe for everyone.
Here are the types of gluten-free beer:
Type 1: Truly Gluten-Free – True gluten-free beers are made from grains like sorghum, buckwheat, millet, and brown rice. They're naturally gluten-free and safe for celiacs or those with severe gluten allergies or sensitivities.
Type 2: Gluten-Reduced Beers – These beers can be labeled gluten-free but are traditionally brewed with gluten-containing grains like wheat and barley. To get rid of the gluten, enzymes are added before bottling to break down the gluten molecules. These "gluten-reduced"  beers are then tested before bottling to make sure that the gluten is fully digested before bottling and must-read less than 20 parts per million to be considered safe. This type of "gluten-free" beer may have traces of gluten and might not be appropriate for those with allergies or severe sensitivities. Celiacs should stay away from these types.
When in doubt, check the label and go with the true-gluten free beers instead of the "gluten-reduced" if you don't know how you or a guest will react.
Spices: Dry mustard, garlic powder, and cayenne pepper are all the spices you'll need. If you don't have dry mustard, substitute with Dijon mustard instead.
Garnish: Before serving we like to top our dip with plenty of crumbled bacon and scallions. You could also mix some crumbled bacon into the dip before serving. Um, yes please!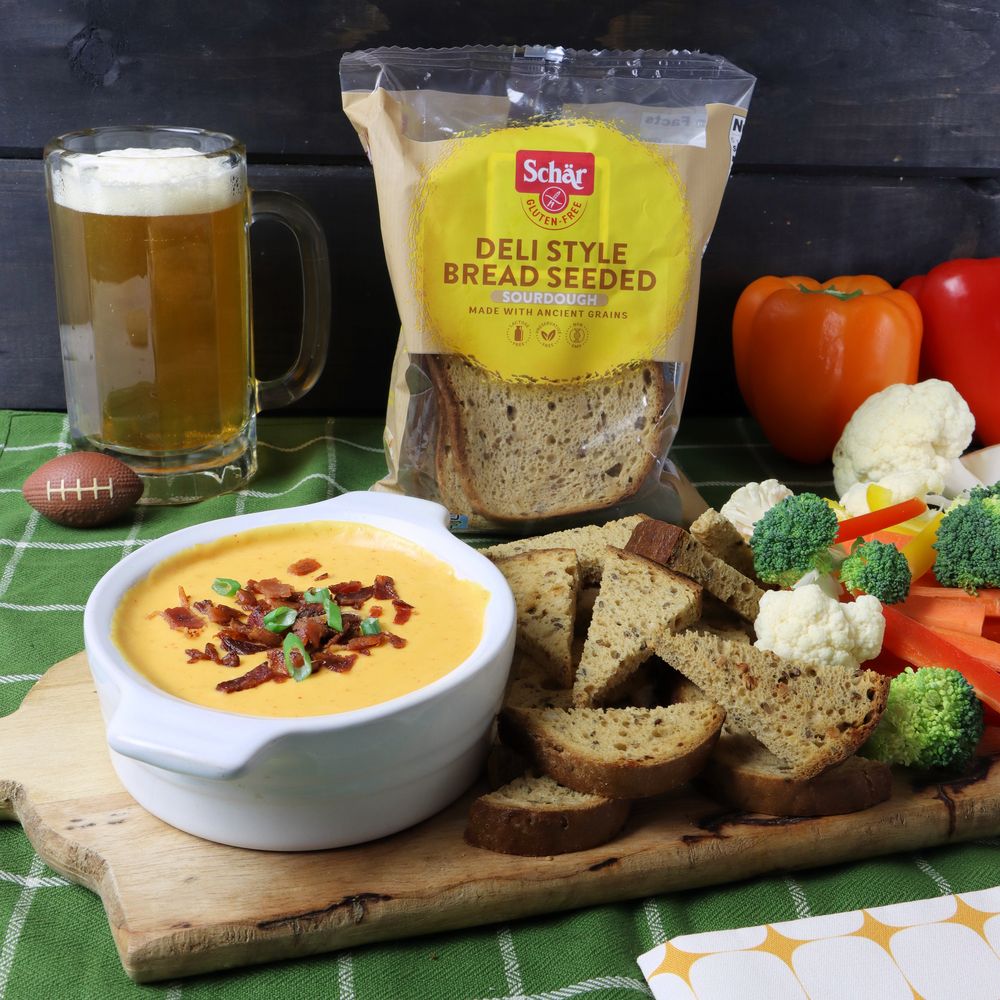 How To Make Gluten-Free Cheese Dip
This dip can either be made on the stovetop or your slow cooker. A stovetop is a great option if you want to prepare it the night before which helps the flavors come together.
Stovetop Method:  Add the beer to a small pot on medium heat. Bring to a low simmer and then whisk in the cream cheese and the spices. Turn the heat down to low and add in the shredded cheese. Stir until completely smooth. Keep warm until ready to serve.
Slow Cooker Method: Place all the ingredients in the slow cooker and set them on low for 2 hours or until the cheese is melted. Stir occasionally.  If you have one, a mini slow cooker is a great tool to keep your dip warm through your party. 
Before serving, garnish with crumbled bacon and scallion. This step is optional but highly recommended.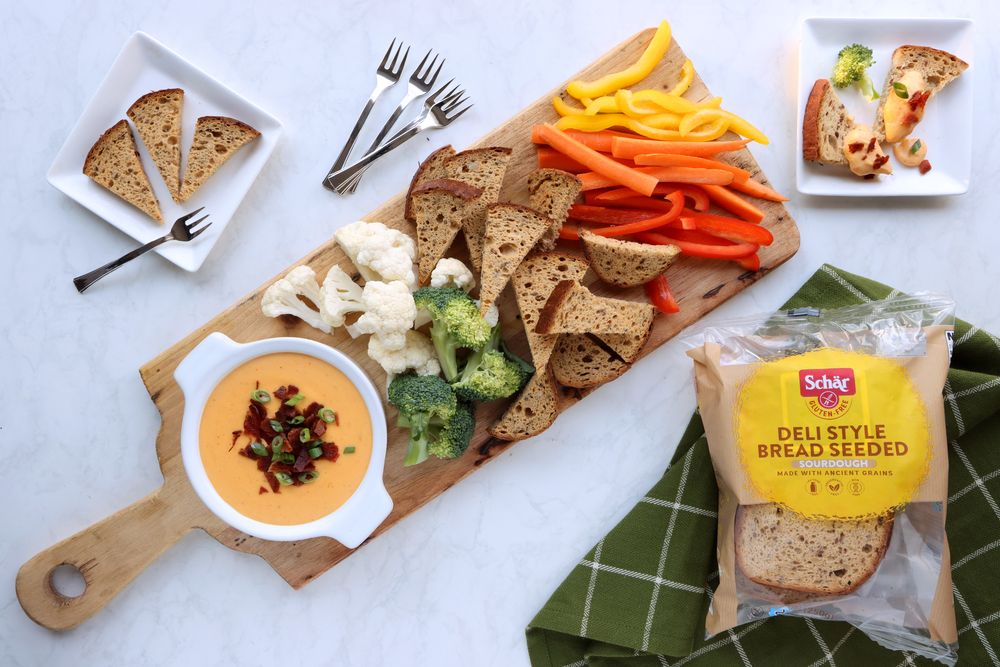 What To Serve With Gluten Free Cheese Dip
Considering this dip is basically liquid cheese, there's not much it won't taste amazing with. Gluten-free pretzels would be great as would veggie slices like cauliflower, broccoli, carrots, and peppers. 
For a gluten-free bread option, our favorite pairing for this dip is Schar's Deli Bread. It's a New York-style sourdough with a dense chewy texture that tastes just like the real deal. It's so good!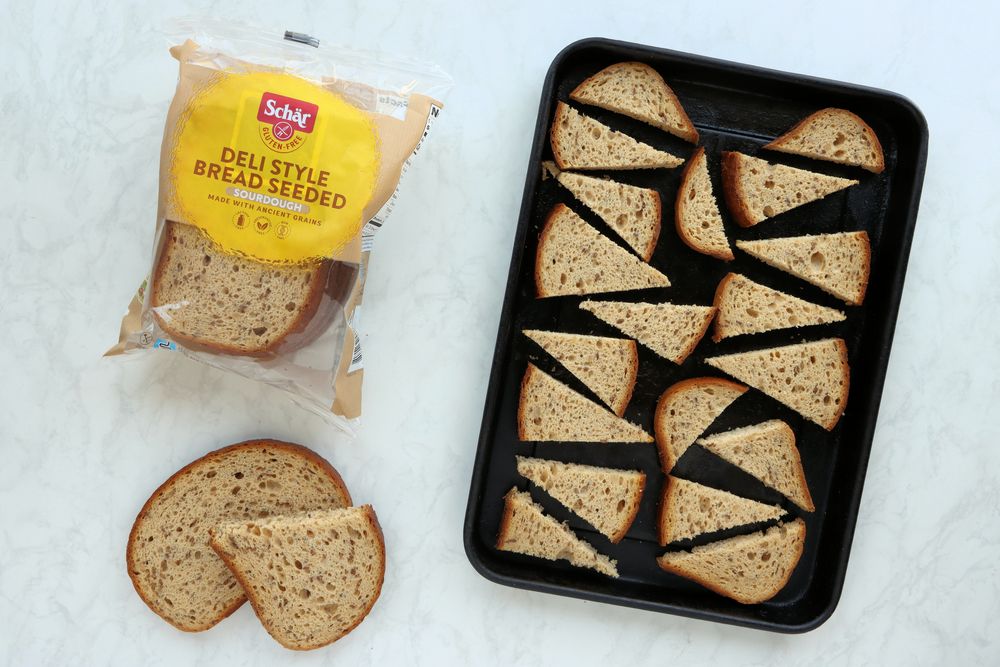 In addition to being gluten wheat-free, Schar's Sourdough Deli Bread is also:
Lactose-Free

Preservative-free

Non-GMO

High in fiber (5 grams per serving)
Even if you don't have to eat gluten-free, we think you'll love it anyway. 
Dip Tip: Want to do a gluten-free bread bowl instead? Schar's Sourdough Rustic loaf is the perfect thing. Just warm, carve out the middle and then tear the leftover bread slices into bite sized pieces for dipping.  
Schar's Sourdough Deli Bread comes in two styles. There's an original seedless variety, which is delicious, but their seeded version is even yummier with this dip. Made with flax, sunflower, and chia it adds another layer of texture and nutty flavor that contrasts perfectly with the flavor and the creaminess of the cheese. Just cut into triangles, lightly toast in the oven and serve with the dip.
Check here to find Schar's Sourdough Deli Bread and other products!  You can also find Schar at a store near you using the store locator on their website.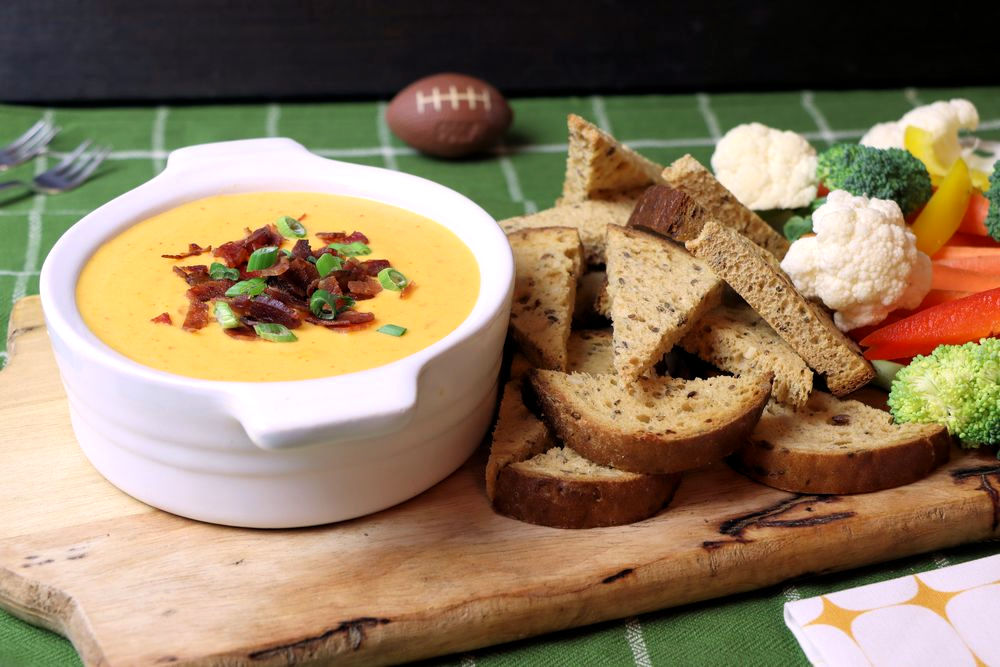 GET THE RECIPE!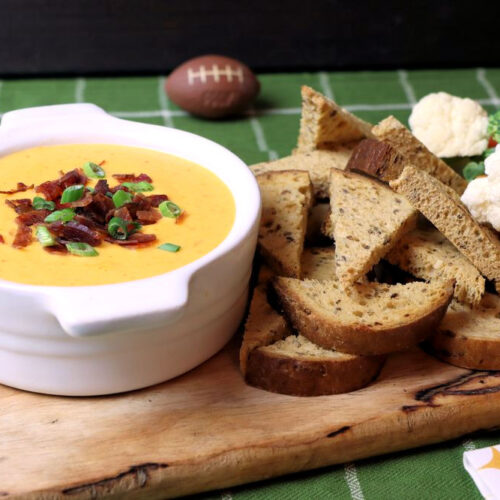 Gluten-Free Beer Cheese Dip
Looking for the perfect dip to serve during the Big Game? Give this yummy Gluten-Free Beer Cheese Dip a try! Just as delicious as what you'd find at your favorite tavern, and with only 3 main ingredients, this dip is sure to become your new favorite. For gluten-free dipping, we suggest serving it with veggies and gluten free bread, lightly toasted and cut into wedges.
Ingredients
6

ounces

gluten-free lager or amber-style beer

1

package

8 ounces cream cheese, softened and cut into small cubes

½

teaspoon

cayenne pepper

½

teaspoon

dry mustard

¼

tsp

garlic powder

12

ounces

cheese

3 cups, shredded (We did 2 cups of cheddar and 1 cup of Monterrey Jack)

Optional Garnishes

Crumbled bacon

Jalapeno slices

Sliced scallion

Dippers

Schar Sourdough Deli Bread

lightly toasted (we like the seeded version!)

Veggies

broccoli, carrots, cauliflower, pepper slices
DIRECTIONS
Stovetop Directions:

1 - Add beer to a small saucepan on medium heat. Bring to a low simmer.

2 - Add cream cheese and spices. Whisk until smooth.

3 - Put heat on low. Then add shredded cheese. Stir until completely blended and cook on low for 5 minutes

4- Serve with Schar Gluten-Free Sourdough Deli Bread and veggies on the side.

Crockpot Method:

Place all ingredients in a crockpot. Cook on low for 2 hours. Stir occasionally.
Check here to find Schar's Sourdough Deli Bread and other products!  You can also find Schar at a store near you using the store locator on their website.