Better Living uses affiliate links. If you make a purchase through them, we may receive a small commission (for which we are deeply grateful) at no cost to you.
Iconic for its lush wisps of beautiful vibrant purple flowers and a calming and intoxicating earthy floral scent, lavender, a member of the mint family, and nicknamed the "herb of love" isn't only just bee-friendly eye candy in the garden.
Lavender is also a culinary herb that can be used in everything from teas, syrups, and extracts to liqueurs, chocolates, baked goods, and more. It's even a wonderful addition cold drinks like cocktails, lemonade, and ice-tea.
And we really love it in a cookie. For this easy yet delicious buttery shortbread cookie recipe, lavender is the star of the show. Perfect with tea or weekend brunch these mildly sweet, delicious, and delicate cookies can be whipped up in less than 15 minutes. They're then chilled in the refrigerator, rolled and then cut using the cookie cutter shape of your choice. Bake in 10 to 12 minutes or until just very lightly browned on top.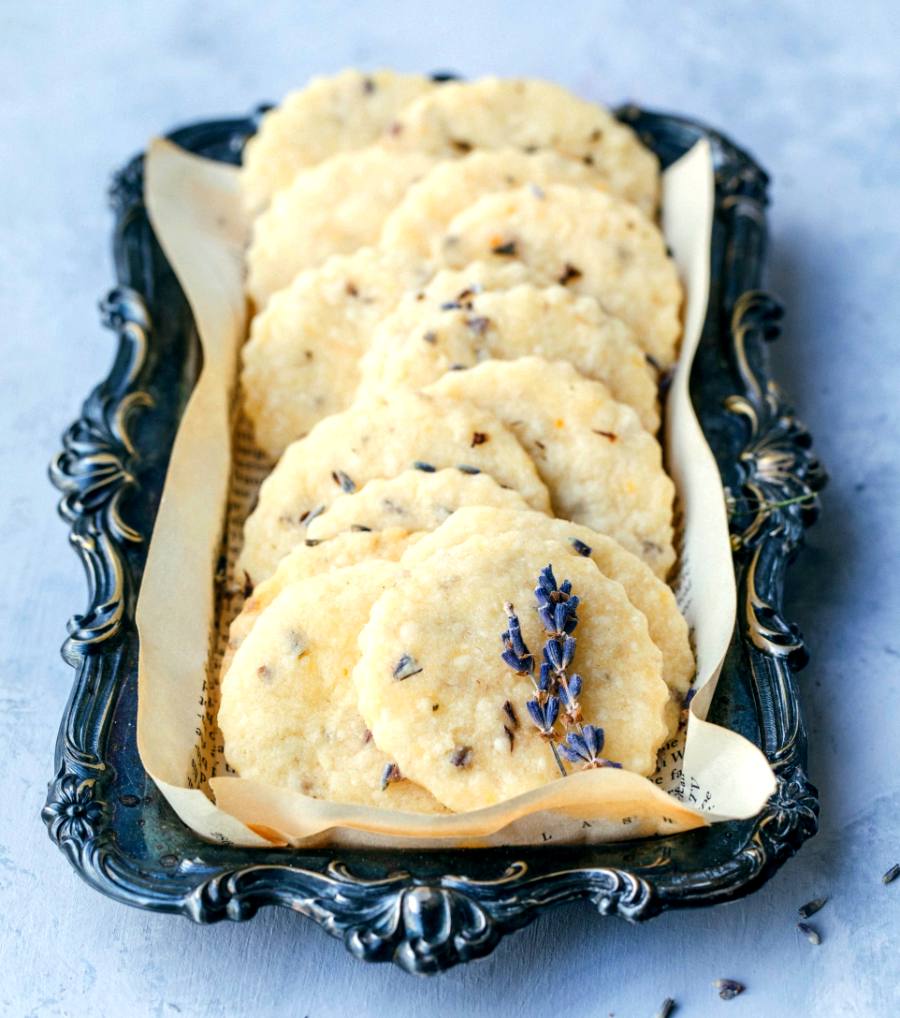 What Kind of Lavender Should I Use?
Whenever you're cooking with lavender be sure to use "culinary grade" lavender that is specifically produced for consumption and not the stuff you might pick up at the craft store. The label on the package should say the word "culinary" or denote in some way that it can be used in cooking or baking. We recommend using organic culinary lavender if possible. 
Need a DIY Gift Idea?
These cookies last for weeks if stored properly and hold up really well in shipping making them a lovely DIY gift idea.  Wrap them up in a cute little package or bakery box and then tie it all up with a lavender colored ribbon for a beautiful presentation.  For a gourmet lavender themed gift for the lavender lover in your life, pair these cookies with some lavender tea, lavender flower honey, and a lavender candle and pack in a small basket or reusable container.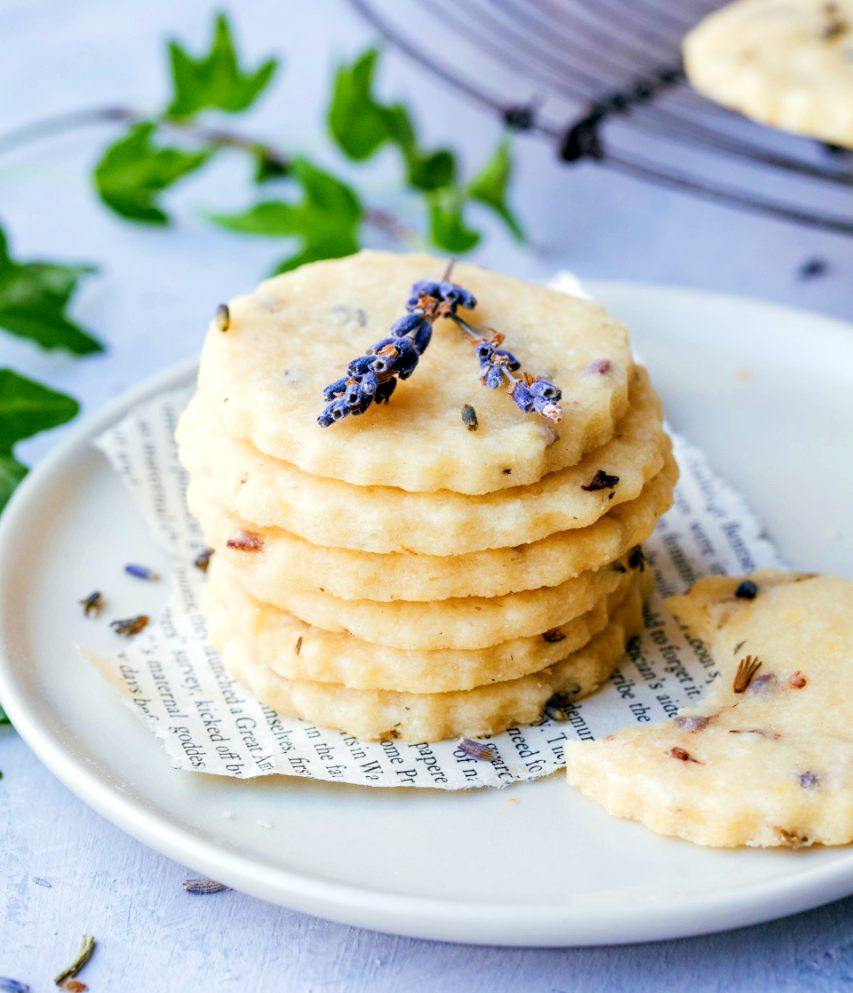 Get The Recipe!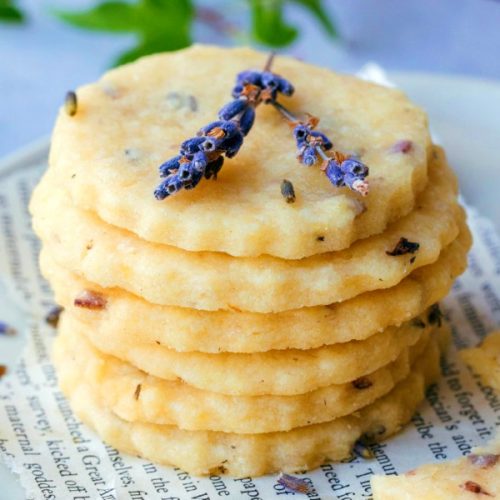 Light & Buttery Lavender Shortbread Cookies
Perfect for a relaxing afternoon tea time or served with weekend brunch, these cookies are buttery and elegant with just a hint of lavender.
Ingredients
1

cup

butter

softened

3/4

cup

confectionary sugar

2

teaspoons

vanilla extract

½

teaspoon

almond extract

2

cups

all-purpose flour

1

tablespoon

dried lavender flowers (preferably organic)

1/2

teaspoon salt
DIRECTIONS
In the bowl of an electric mixer with the paddle attachment, cream together the butter, sugar, and extracts. Whip until light and fluffy.

Next, add the flour, salt and dried lavender buds and mix until completely combined. The dough should be soft and easy to handle. If the dough is still sticky, add a little more flour 1/8 cup at a time until you can form a dough ball without it sticking.

Divide the dough into two balls. Flatten into a disc, wrap with plastic or wax paper and chill in the refrigerator for about one hour. You can speed up chilling time by placing the dough into the freezer for 20 to 30 minutes.

Preheat oven to 325° F degrees. On a lightly floured surface, roll out dough to about to 1/4-1/2 inch thickness depending on preference and then cut cookies out using the cookie cutter of your choice. Place on an ungreased cookie sheet (parchment paper is okay).

Bake 10-13 minutes or until cookies are gently browned around the edges. Allow to cool on a rack. Enjoy!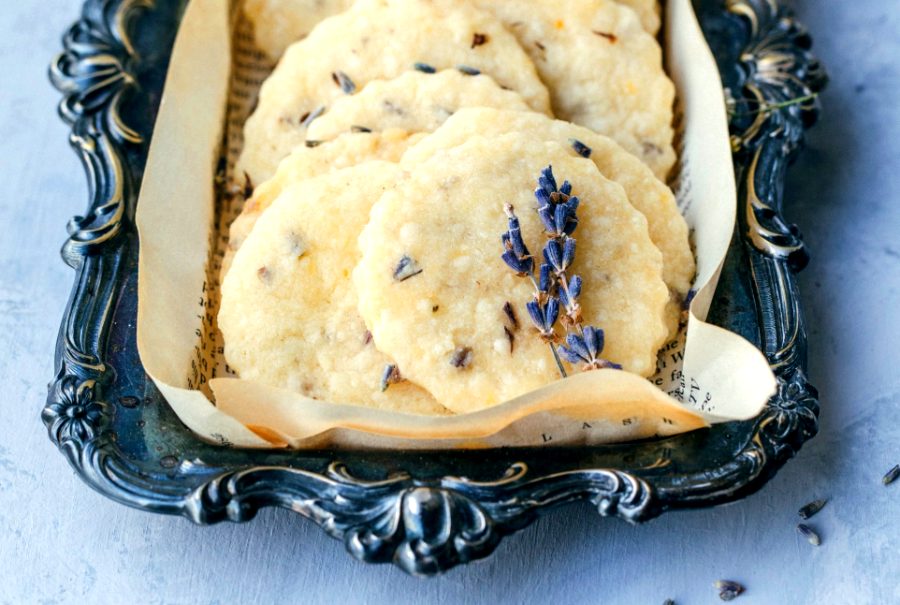 Get our recipe for Manuka Honey Lavender Lemonade!