Better Living uses affiliate links. If you make a purchase through them, we may receive a small commission (for which we are deeply grateful) at no cost to you.
If there's one thing most people know about Maryland, it's that they take their crab very seriously. And after moving to the region over a decade ago, I've enjoyed crab here in about every way imaginable.  But my favorite way to enjoy Maryland blue crab, caught fresh from the Chesapeake Bay, is in one of their famous crab cakes.
A true Maryland-style crab cake is all about letting the sweet flavor and tender texture of the crab meat be the star of the show. Why mess with perfection? That means a crab cake that's 98% crab meat, seasoned ever so lightly, and with just enough of a filler like bread crumb to hold it together. But we prefer cracker crumbs instead. Not only do they make the crab cakes light, but our favorite table crackers from Schär also happen to be gluten-free.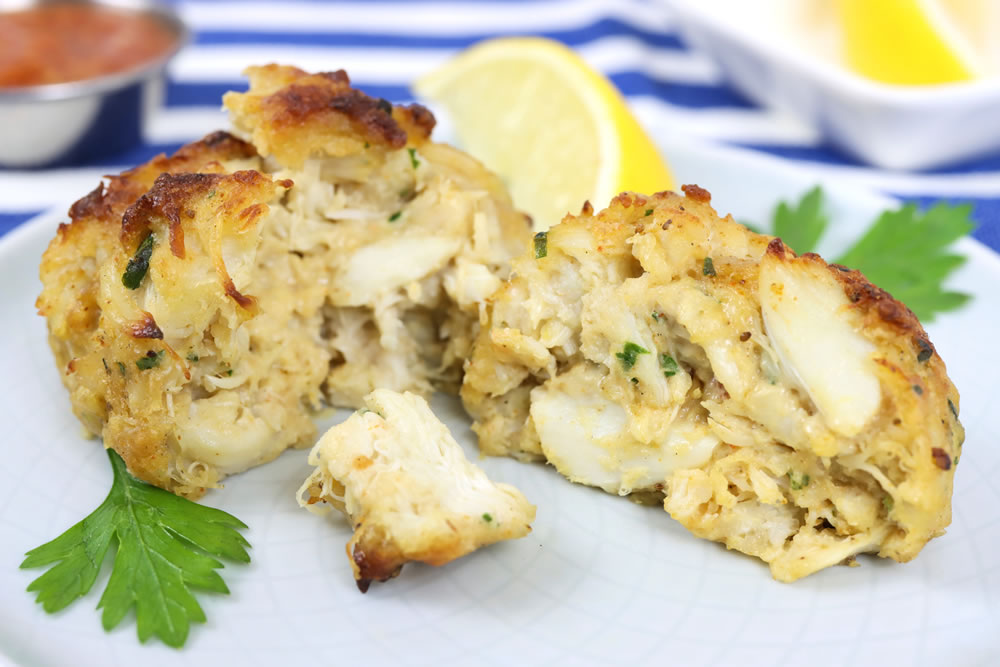 One thing's for sure: whether you're gluten-free or not gluten-free, you're going to love these Maryland Style Broiled Crab Cakes. Not only are they delicious and really easy to make, but the ingredients are pretty simple. To play it safe, make sure to check the labels of the condiments you're using when preparing food for anyone with a gluten sensitivity. 
The Ingredients
Fresh Lump Crab Meat:  For these crab cakes, lump crab meat from Maryland blue crabs is what you want for an authentic Maryland-style crab cake. Lump crab will give you those nice big tender meaty bites of crab that make for a heavenly crab cake. And forget the canned stuff for this recipe. It just won't do. If you can't find lump crab meat in your area, other common crab meat varieties you may come across are "Jumbo Lump," "Backfin" and "Special." 
Here are the differences:
Jumbo – No one at your dinner table is going to hate you for using jumbo lump crab meat. But, since it's the largest and most coveted variety of crab meat, it's also the most expensive.
Special – Probably the most versatile and sweetest tasting is "Special" crab meat. This grade is made of the smallest pieces of meat from the inner body of the crab. If you don't care about having large lumps this is a good choice.
Backfin – Backfin is crab meat that comes from the back end of the crab and contains a mixture of sweet-tasting smaller shredded pieces with some lumps mixed in. Texturally it's midway between the lump and special. Another good choice when the lump isn't available.
Use whatever is in your budget and available to you.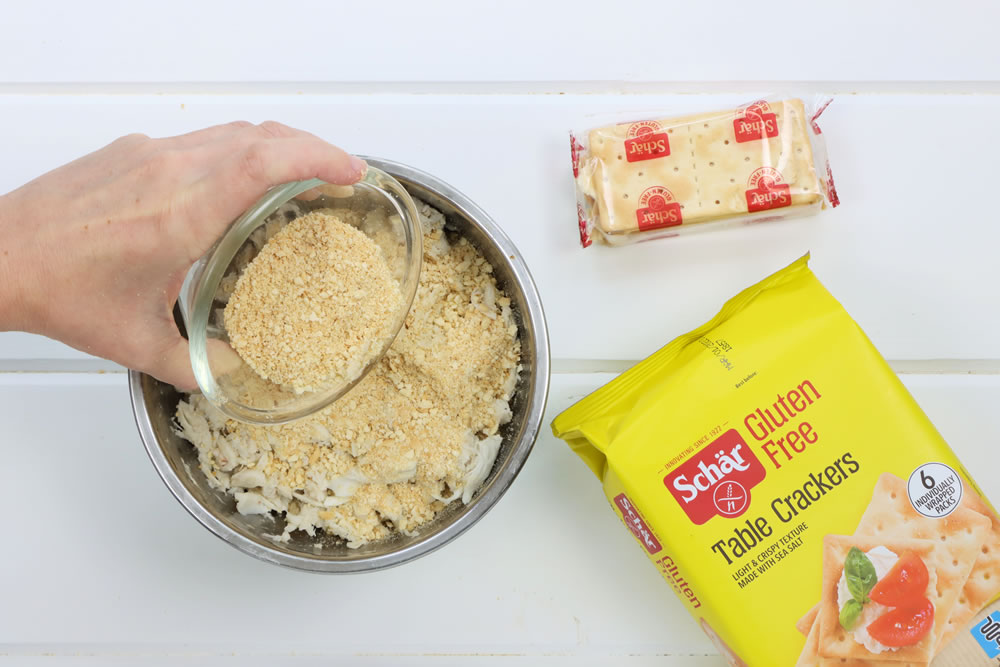 Cracker Crumbs Made From Schär Gluten-Free Table Crackers: The best crab cakes have very little filler. But even the crabbiest of crab cakes need a little bit of binder. For this recipe, we're using Schär Gluten-Free Table Crackers. Similar to saltines, but more delicate and buttery in flavor, these table crackers, when finely crushed make the perfect substitute for boring old bread crumbs in this recipe. Gluten and non-gluten eaters will love these crackers. After trying them, we were hooked!
Schär Table Crackers are also:
Gluten-free

Wheat-free 

Lactose-free 

Preservative-free

Non-GMO
They'd be awesome with chowder too!
For this recipe, you'll need about 10 full crackers, finely crushed, which should yield a total of about ½ cup of cracker crumbs. Using a food processor or blender will make the job a cinch.
Mayonnaise: Use your favorite brand or homemade mayonnaise. The mayo adds a richness to these crab cakes while keeping them moist.
Egg:  One large egg is all you need. The egg adds a little bit of moisture but mostly acts as a binder while adding structure to these crab cakes.
TIP: When cooking for someone who is gluten-free, be sure to check the labels of condiments and seasonings for hidden sources of gluten.
Worcestershire Sauce: Made with ingredients like vinegar, molasses, onion, anchovies, garlic, cloves, tamarind extract, and chili pepper adds a touch more flavor to these crab cakes and a little umami punch.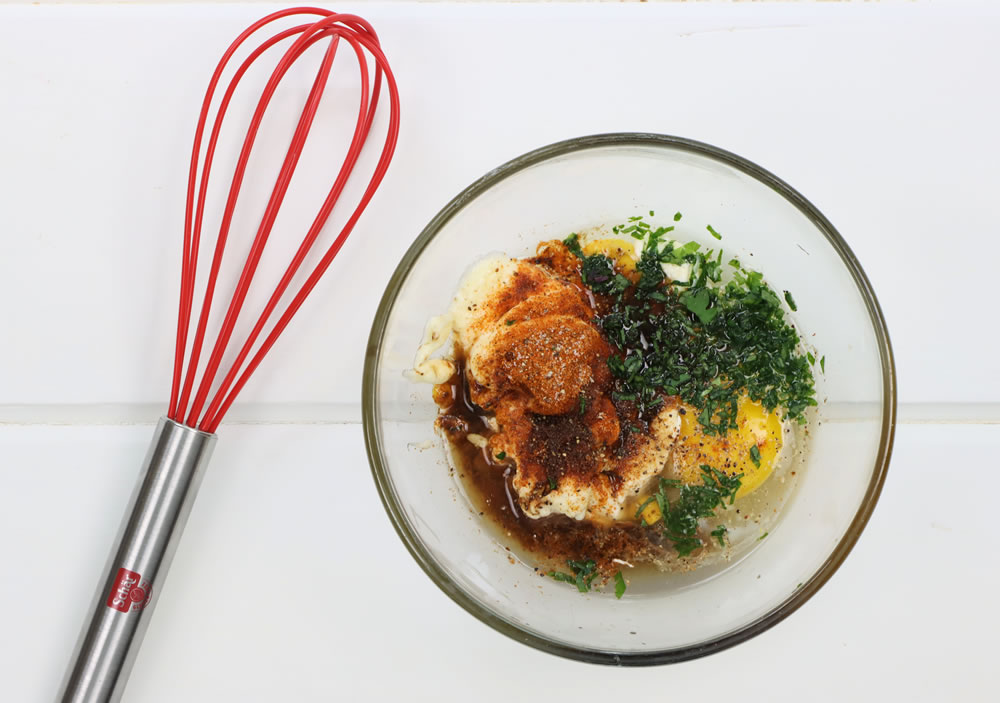 Mustard: You'll often see Dijon mustard as the mustard of choice for many authentic Maryland Crab Cake recipes. But here's a little secret: many Marylanders who've been making crab cakes at home for generations, swear that yellow mustard is the only one to use. After two batches, we found the yellow mustard gave the filling a bit more of a pleasant savory tang, but if you only have Dijon mustard you won't be disappointed.  
Spices:  Old Bay seasoning is a must for a true Maryland crab cake. Before broiling, we also like to sprinkle a little bit of Old Bay over the crab cakes for a little color and pinch and a touch of extra flavor. 
Lemon + Parsley: Tangy lemon juice brightens up the crab meat, while fresh parsley adds a bit of herbal freshness that all seafood, including crab meat love. While lemon juice is a must, fresh parsley is an optional ingredient here. Dried may also be substituted. Besides adding a hint of nice flavor, the parsley also gives the crab cakes a prettier look when they're cut into. Make sure to remove the stems and finely chop the leaves.
Butter: Yes butter! To make these crab cakes even better, add a small pad of butter to the top before broiling. This helps keep the tops of the crab cakes from drying out under the broiler but also adds that lovely rich flavor only butter can do. An anti-inflammatory substitute like ghee will work, or if you're avoiding dairy altogether use a plant-based butter instead.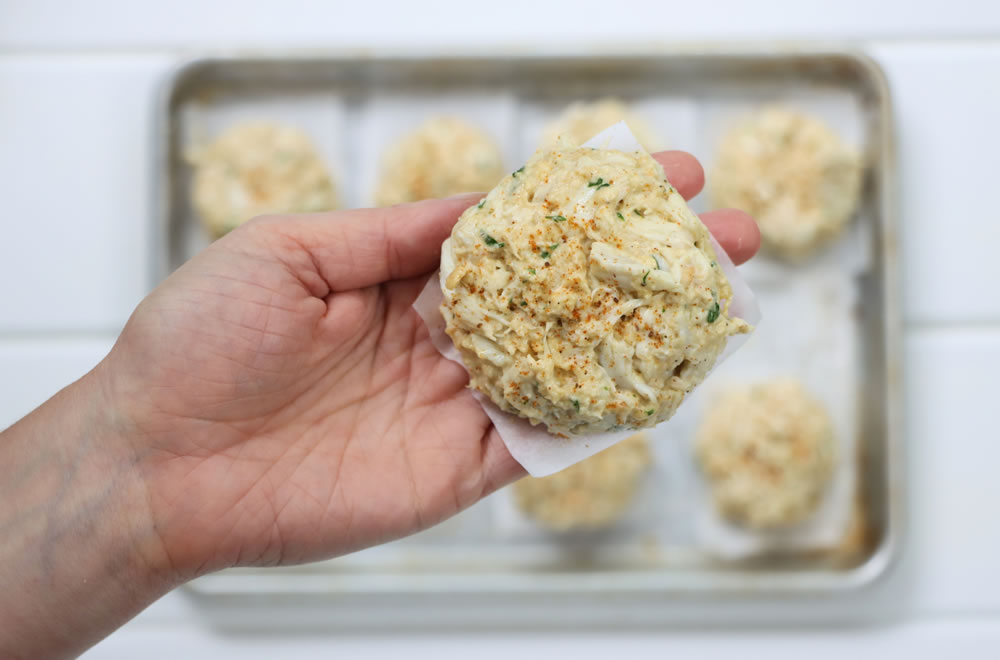 Tips: How to Keep The Crab Cakes From Falling Apart
One of the most common issues with making lump crab cakes is that they can often fall apart. This is especially true for recipes that use very little binding and filler. 
Here's are some tips for making sure your crab cakes come out perfect every time:
FORM CAKES WELL:

When forming the cakes make sure to gently but firmly press the crab cake filling together. 

CHILL:

This is the most important step to keep crab cakes from falling apart! Chill your crab cakes on a baking sheet in the fridge for about an hour before cooking. This allows for the crab cakes to firm up and it also helps the flavors mingle. If you're short on time, 15 minutes in the freezer works too!

BROIL:

Pan-fried crab cakes are no doubt delicious, but we found broiling to be just as tasty with way less effort and mess. If you're making crab cakes for a crowd, broiling instead of pan-frying is definitely the best way to go.

USE PARCHMENT:

We found that placing the crab cakes on small squares of parchment paper keeps them from sticking to the baking sheet and allows us to slide them right onto the plate with ease. Be aware that excess parchment can burn if placed too close to the broiler. This step is totally optional and you can use foil instead. 
Freezing and Making Ahead of Time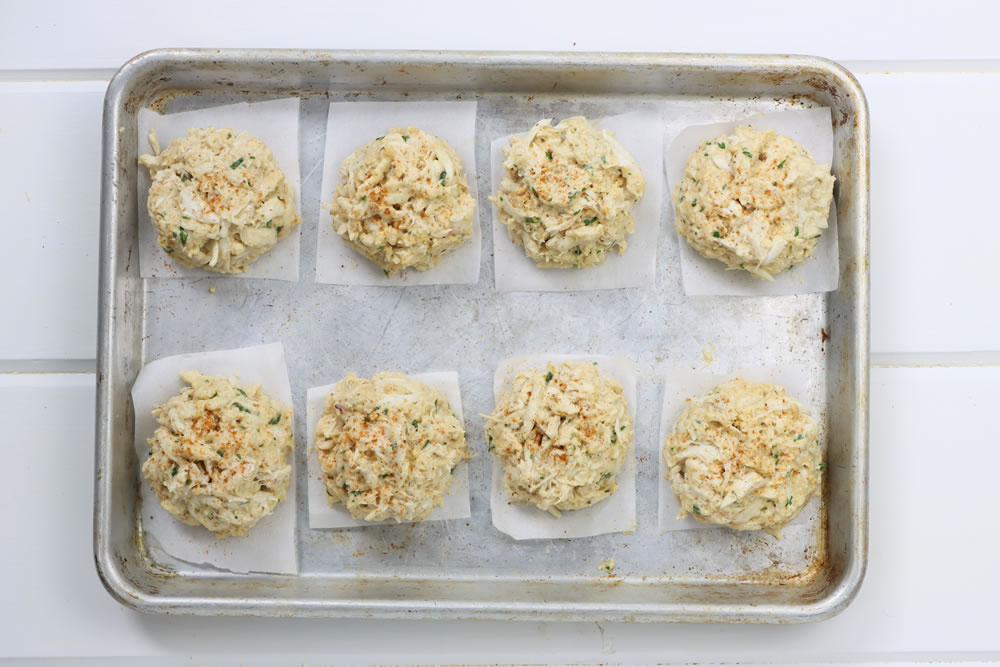 For best results, uncooked crab cakes can be made up to 2 days (max) in advance. And stored in the fridge for up to 4 days if cooked. If you need more time, frozen cooked or uncooked crab cakes can be reheated with great results. 
To freeze uncooked crab cakes, place them on a baking sheet and freeze until firm (about 2 hours). You can then wrap each cake individually in plastic wrap or freezer paper and then place it in a freezer bag. For the freshest taste, eat the crab cakes within 2 1/2 months. To cook, simply defrost the crab cakes in the refrigerator overnight and broil until lightly browned. They can also be baked frozen but will take longer.
Serving Suggestions
We love to serve our crab cakes with some slices of fresh lemon and a few splashes of tabasco with some table crackers served on the side. Other favorite crab cake-loving condiments include cocktail sauce and/or tartar sauce.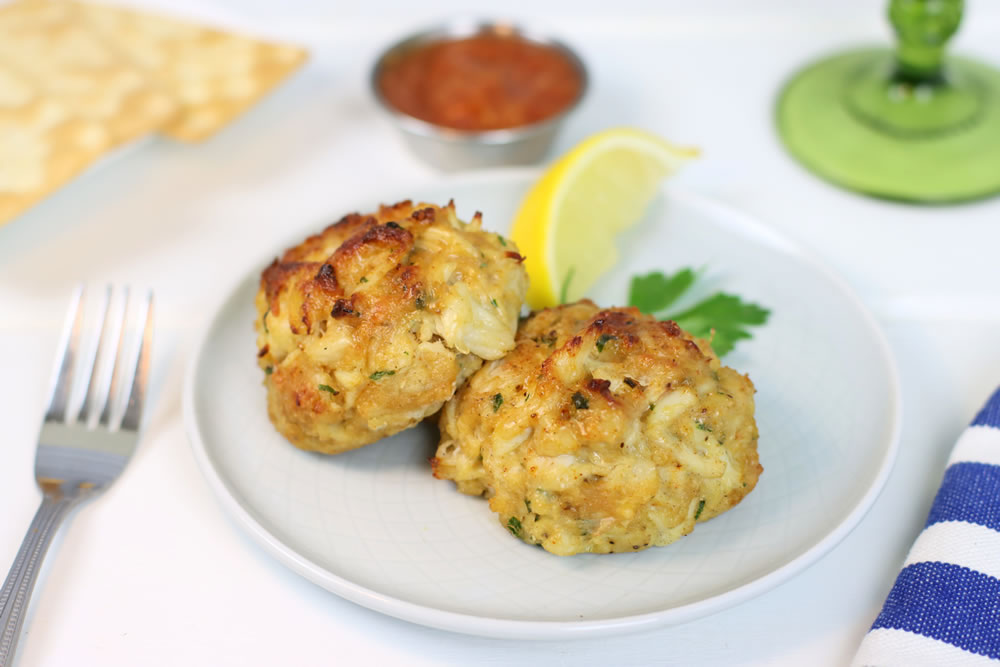 Get The Recipe!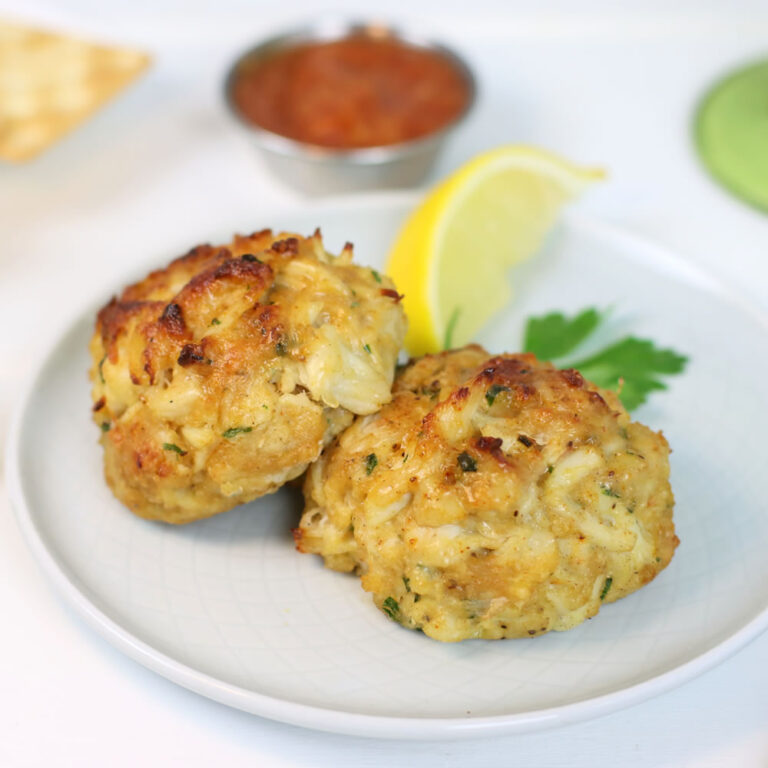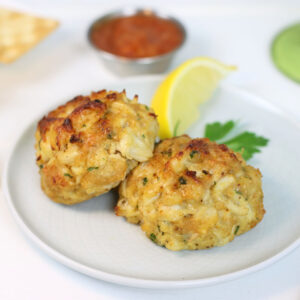 Gluten-Free Maryland Style Lump Crab Cakes
If you love crab cakes, but haven't tried a real Maryland-style crab cake, then my friend you're missing out. A Maryland style crab cake is all about making the delicious Chesapeake Bay crab meat the star of the show. But even the crabbiest of crab cakes need just enough filler to hold them together. For this recipe, we're using finely crushed Schär Gluten Free Table Crackers instead of plain old bread crumbs.
Ingredients
1

lb.

lump crab meat

picked over for shells and cartilage

10

Schar's Table Crackers

about 1/2 cup finely crushed

5

tablespoons

mayonnaise

1

egg

2

tsp

yellow or Dijon mustard

1

tablespoon

Worcestershire sauce

1 1/4

tsp

old bay seasoning

2

tsp

lemon juice

1

TBS

parsley

finely chopped (optional)

¼

teaspoon

salt

4

tablespoons

of butter
DIRECTIONS
Cut out 8-3x3 squares of parchment paper and place it on a baking sheet. If you don't have parchment paper, cover the baking sheet with foil or instead grease it well with butter. Set aside.

Add the crab meat to a large bowl. Sprinkle the cracker crumbs on top. Set aside.

In a separate bowl, whisk together the egg, mayo, mustard, Worcestershire sauce, Old Bay seasoning, lemon juice, and parsley, until smooth and well combined.

Pour the egg mixture over the crab and with a small spatula or your hands gently mix together.

Eyeballing it or using an ice-cream scoop, form the crab mixture into 8 cakes. Each crab cake should be about 3 inches wide. Set each cake on the baking sheet with parchment paper underneath if using.

Chill in the refrigerator for 1 hour or in the freezer for 15 minutes to set.

Broil for 12-14 minutes or until gently browned on top. Serve with slices of lemon, cocktail sauce, or tartar sauce.

Enjoy!