Better Living uses affiliate links. If you make a purchase through them, we may receive a small commission (for which we are deeply grateful) at no cost to you.

I recently got a craving for some Healthy Chinese Chicken Lettuce Wraps. Made with store-bought rotisserie chicken they're easy, healthy and super delicious.  Since my local Food Lion has some of the best in town, I made a little shopping trip there for all the ingredients. The best part was I earned some cash while I was there.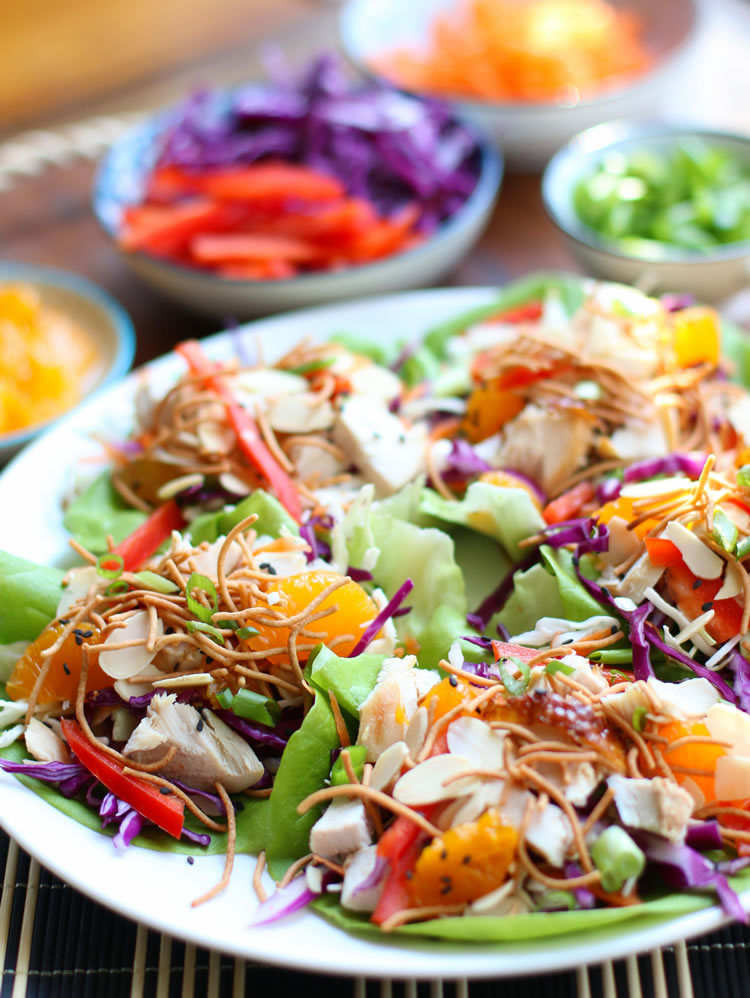 Let's face it grocery shopping is no picnic. And keeping track of all those sales, coupons and weekly specials can be a headache. That's why I love Food Lion's new Shop & Earn program.
It's a digital customer loyalty program that allows you to save money while you shop in the store. You have to get groceries anyway, why not save some cash along the way?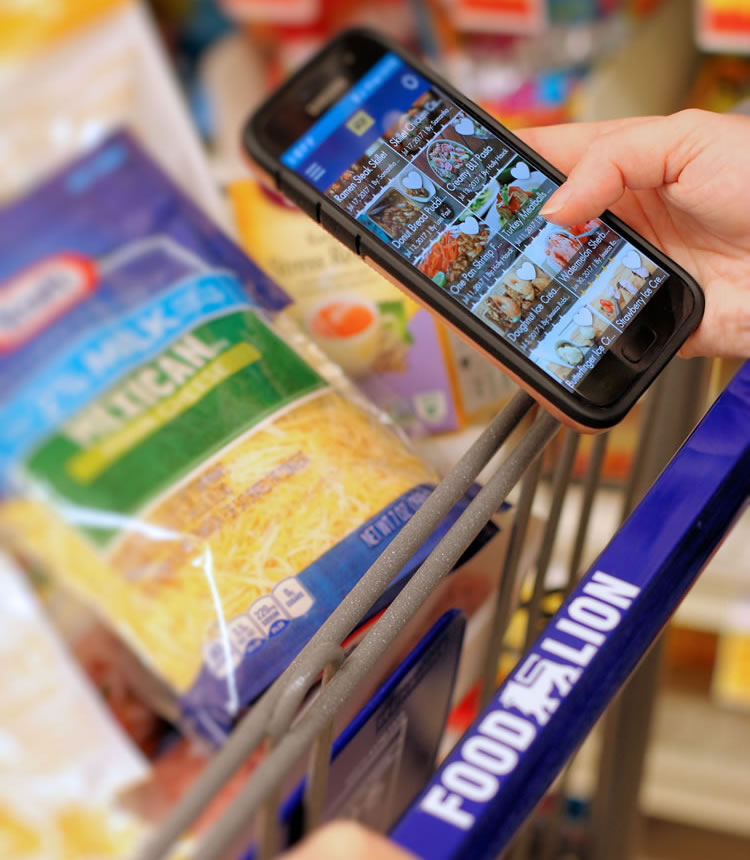 Here's how it works:
STEP 1: ACTIVATE YOUR ACCOUNT
If you haven't already, download Food Lion's store app or sign up at foodlion.com. You can then activate your personalized monthly offers by visiting your Shop & Earn offer page through the Food Lion Mobile App or on foodlion.com. Offers begin tracking as soon as you visit!
STEP 2: SHOP & EARN
Do your shopping and then be sure to scan your MVP Card when you check out. Your rewards will be saved to your MVP card account and you can track them by visiting the Shop & Earn offer page in the app or online. You have until the end of each current calendar month to earn your rewards. The earned rewards are then put into your MVP Wallet.
STEP 3: REDEEM & SAVE
This is the best part! All of your earned rewards will be automatically applied to your next shopping trip. Simply scan your MVP Card when you check out. You'll have until the end of the following month to redeem your earned rewards.
To make your life easier be sure to download Food Lion's app. Anything that makes clipping coupons a cinch is fantastic in my book. I find it impossible to keep track of all those little pieces of paper, their expiration dates and then actually remembering to bring them along when I shop. With the Food Lion app, I can clip my coupons digitally on the go and see all my Shop and Earn reward opportunities right on my phone. It's so amazingly convenient!
You'll also have access to:
Weekly Store Specials
Shop & Earn
Load-to-card coupons
Your MVP Wallet with all your stored rewards
Digital MVP Card
Recipe Ideas
It's super-duper easy to sign up! Why not save some money and rack up some rewards while you're at it? To sign up visit here —> Shop & Earn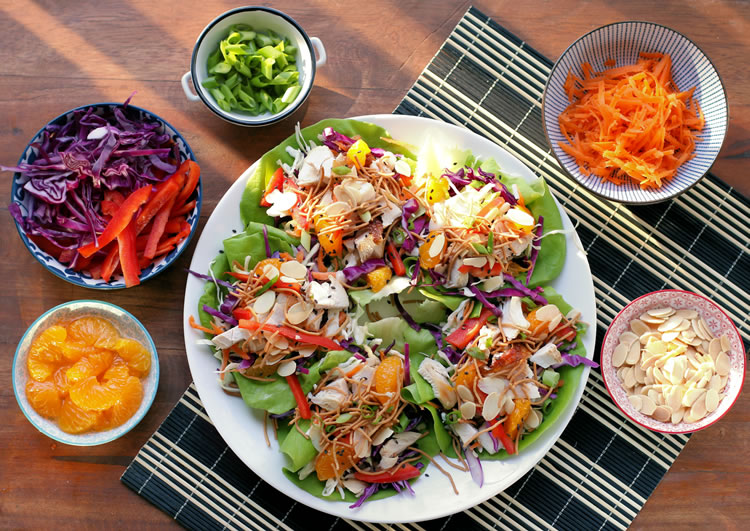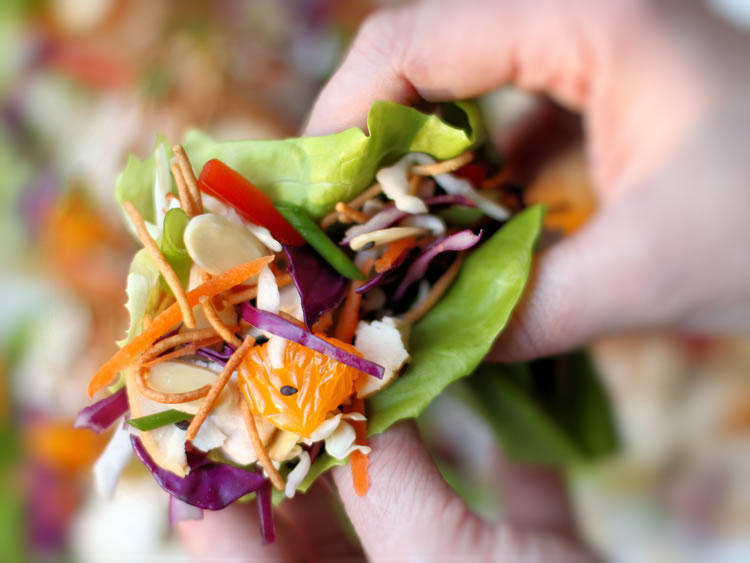 Try our recipe for Healthy Chinese Chicken Salad Lettuce Wraps: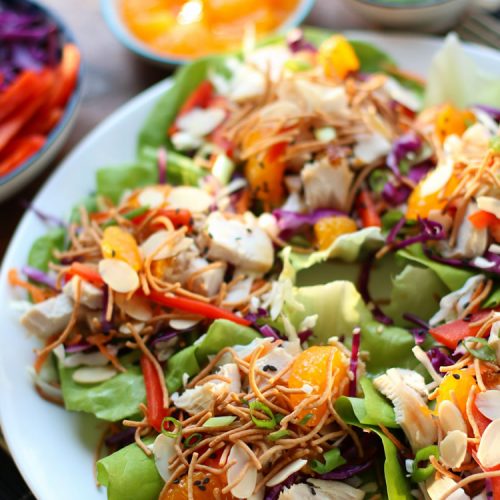 Healthy Chinese Chicken Salad Lettuce Wraps
Diced rotisserie chicken is layered inside lettuce cups, with shredded red cabbage, shredded carrot, red peppers, scallions, toasted slivered almonds and crispy chow mein noodles and then dressed with a sesame-ginger vinaigrette.
Ingredients
For The Lettuce Cups
1

rotisserie chicken, store bought

1

head

butter lettuce, washed with leaves separated

2

cups

red cabbage, shredded

1/2

cup

red bell pepper, sliced thinly

1/2

cup

carrot, shredded

1/2

cup

mandarin oranges, sliced (canned or fresh)

1/4

cup

crispy chow mein noodles, (I used La Choy)

2

tbsp

scallions, thinly sliced

2

tbsp

almonds, toasted
For The Sesame-Ginger Dressing
1/4

cup

rice wine vinegar

1/4

cup

soy sauce

1/4

cup

grapeseed oil

2

tbsp

sesame oil

1

tbsp

honey

2

tsp

ginger, minced

1

clove of garlic, minced

1

tbsp

toasted sesame seeds
DIRECTIONS
Shred or dice (your preference) one breast from the rotisserie chicken. Then prepare the dressing by mixing all the ingredients in a bowl.

Arrange butter lettuce cups on a plate. 3 per person is a nice serving. Then layer with the shredded red cabbage, carrot, red peppers, chicken, mandarin oranges, scallions, toasted slivered almonds and crispy chow mein noodles.

Just before serving drizzle each of the cups with the sesame-ginger vinaigrette. Enjoy Immediately!