Better Living uses affiliate links. If you make a purchase through them, we may receive a small commission (for which we are deeply grateful) at no cost to you.
* This post is sponsored by Holland House. The information and content presented here is all ours.
Call me crazy, but I love eating soup in the summer. It doesn't matter what kind, whether it's a bisque, a chowder, or a chunky vegetable soup. Whatever you have, I love it. But one of my favorite soups of all time – cauliflower. To keep it light and summery for the warmer weather this version is dairy-free.  We then top it with sweet and meaty seared scallops for a light, healthy and satisfying summer meal. And it really couldn't be easier. 
To get this this yummy bowl started, we toss chopped farm fresh cauliflower in a pot and simmer it with diced shallots, chicken broth, lemon juice and a small potato to help thicken the soup slightly. If you're paleo, keto or avoiding starchy veggies, that's cool; just leave it out. To give this soup a major flavor boost, we added a few splashes of Holland House White Cooking Wine. It adds a subtle complexity and layer of flavor to this soup that I recommend you don't miss out on. 
So, what's the benefit of using cooking wine? Cooking wine is great for those times you don't want to open a whole bottle when all you need is a tablespoon or two in your recipe. It's also great to keep on hand if you like to make your recipes as written and don't necessarily drink wine often or keep it in the house. Plus, it's a great pantry staple that lasts even after you open it, for when you want to add a splash of flavor to your favorite dishes and recipes. 
We're using Holland House White Cooking Wine in this recipe, but they also offer Red, Marsala, Sherry, and White Cooking Wine With Lemon varieties. You can keep them on hand to use in all your favorite recipes, featuring everything from beef, chicken, pork, pasta dishes and veggies to international flavors like Asian and Italian. For extra flavor swirl it into gravies, add it to water or broth when cooking rice or quinoa, or add it to soups like we did here. You can even use it in your meat marinades and favorite sauces to add a little something special. They're super versatile and so convenient!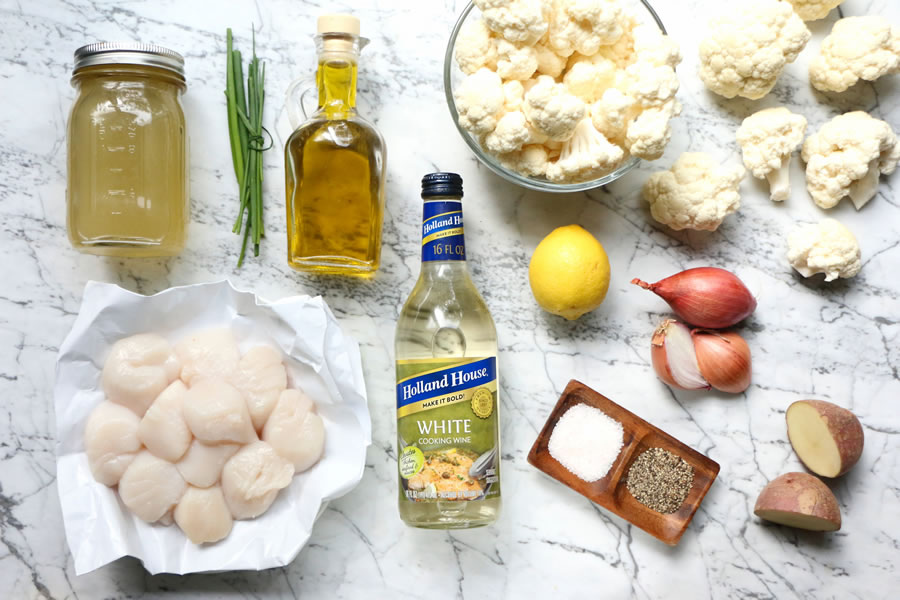 This summer cauliflower soup with seared scallops is so easy to make it's unreal. It's less than 10 ingredients, and healthy. We already mentioned it's dairy-free, but it's also gluten-free and can easily be adapted to be keto or paleo friendly. Just leave out the potato – done.
I started this recipe by simmering the Holland House White Cooking Wine with the cauliflower, shallots, potato and chicken broth to marry the flavors.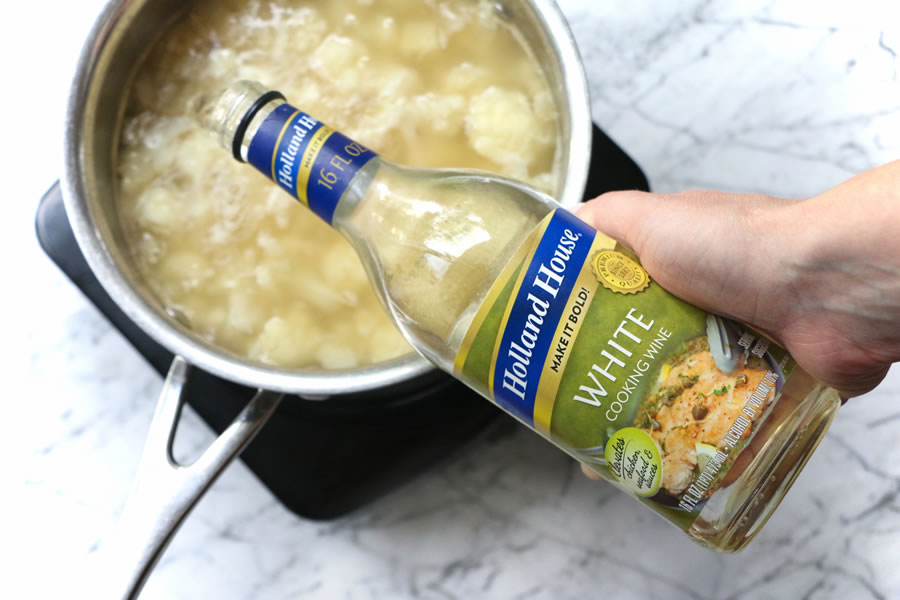 Once the veggies are tender, you can puree the soup either with an immersion blender, standing blender or food processor. Be sure to allow the soup to cool before blending with the later to avoid an explosion in your kitchen. Just a little tip, so you don't have to clean cauliflower off your ceiling and out of kitchen crevices you didn't know existed like I've done in the past. Since cooking wine does contain a little salt, salt and pepper can be added to taste just before serving for a perfectly seasoned bowl.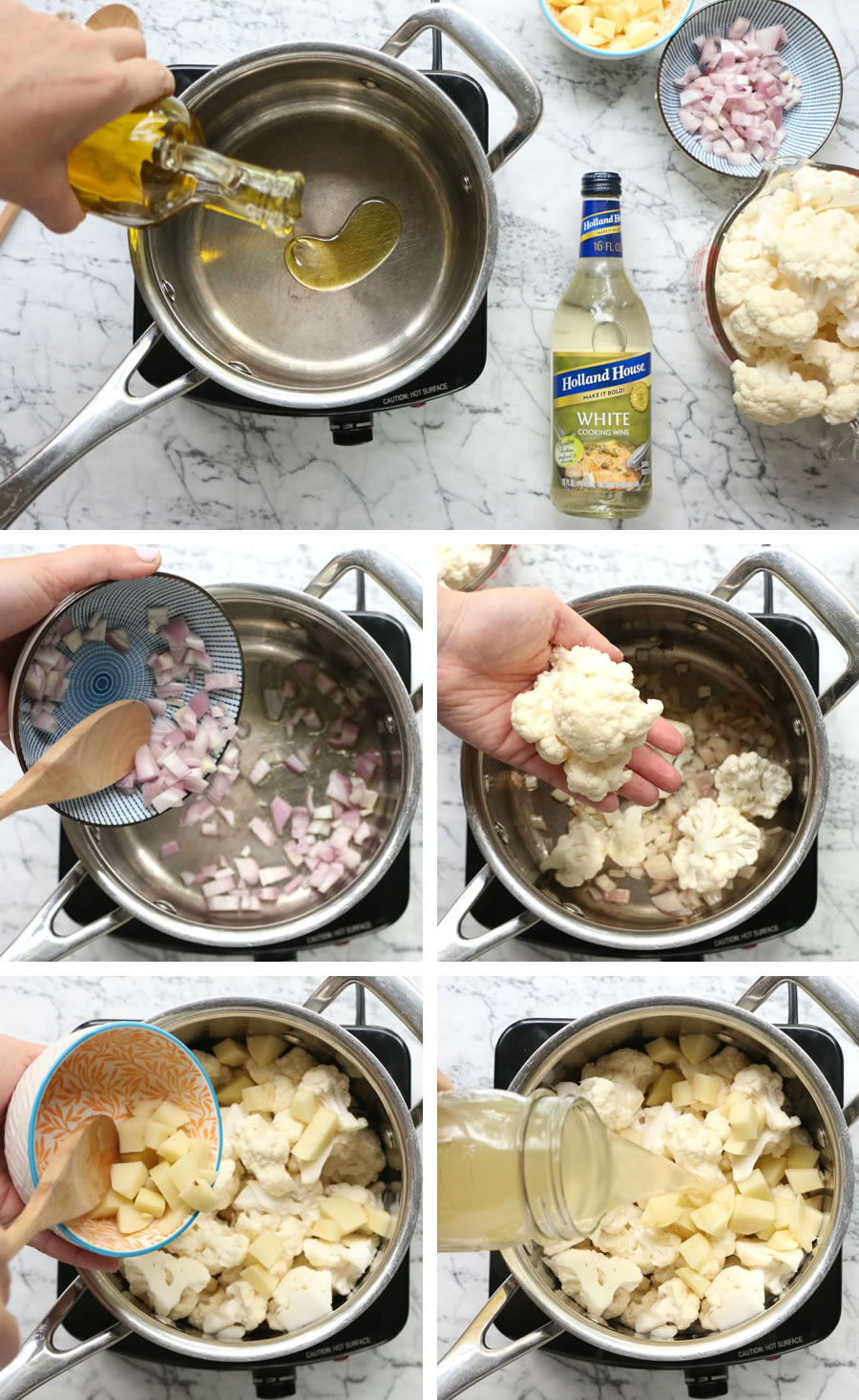 For this recipe we chose to use the large sea scallops and sear them off before adding them to the soup. They're sweet and succulent and their dense texture makes them surprisingly filling. Plus, if you're having guests they make an incredible presentation.
To get a nice sear on your sea scallops, here's a few tips:
Try to buy fresh dry scallops instead of wet. If the scallops you're buying are sitting in a white milky liquid they are most likely wet. Wet scallops have chemical additives and are less flavorful than dry. They also don't sear as well.

Layer the scallops between paper towels to remove excess moisture. This will ensure a good sear. Too much moisture will cause the scallops to steam instead.

Heat your pan to medium-high and add a light layer of oil. The pan is ready when the fat is lightly smoking. 

Don't mess with the scallops once they're in the pan! Let the scallops sear and flip when you see they're forming a caramelization on the edge.

Large sea scallops shouldn't take more than 4-5 minutes to cook. About 2 minutes per side should do the trick. 
If you can't find large sea scallops in your area, you can substitute the smaller bay scallops instead. To cook, just simmer the bay scallops in the  cauliflower soup base after you puree it and then return it to the pot. Then serve the soup as written in the recipe.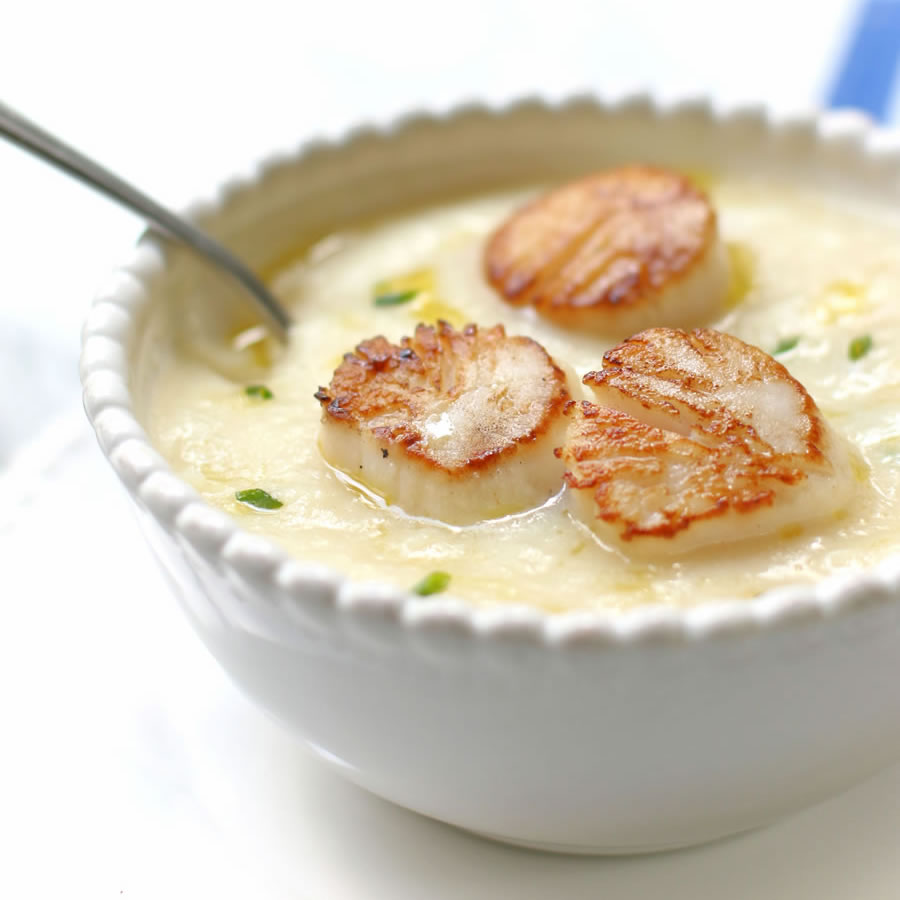 This soup is simply delicious on its own, but that doesn't mean it doesn't call for some tasty garnishes. For something green we went with chives since they pair well with scallops, but you can do a blend of herbs. Parsley and/or basil would complement this soup nicely. If you have an herb garden, create your own blend to add your own personal touch of summer to this soup. Try adding a sprinkle of Parmesan cheese or even some prosciutto crisps for a salty bite and crunchy texture. Just before serving add a drizzle of good quality olive oil.
GET THE RECIPE!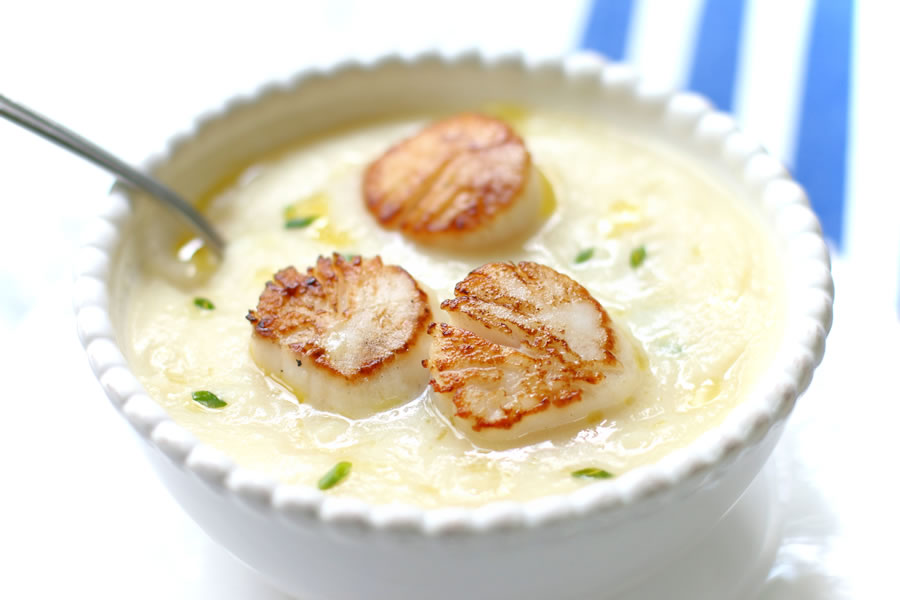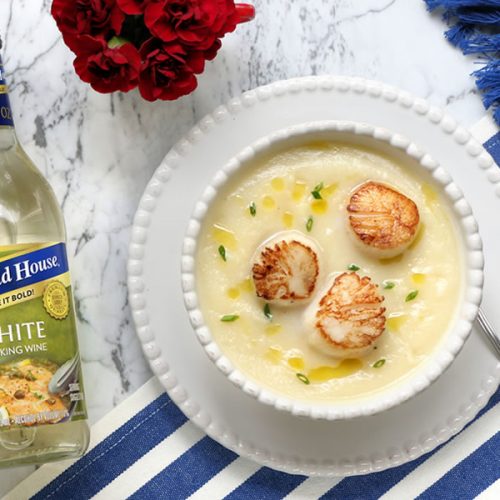 Summer Cauliflower Soup With Seared Scallops
For a light and healthy summer dish, make this summer cauliflower soup, which is topped with sweet and succulent scallops for a satisfying bowl.
Ingredients
4-6

tablespoons

olive oil, divided

2

large shallots, chopped

1

head of cauliflower, chopped

1

small potato, peeled and chopped

(omit if Paleo or Keto)

4-5

cups

chicken broth

1/3

cup

Holland House White Cooking Wine

2

tablespoons

lemon juice

salt + pepper

12

large sea scallops, patted dry
DIRECTIONS
MAKING THE CAULIFLOWER SOUP
Heat a large soup pot over medium heat. Add 2 tablespoons of the olive and saute shallots for 2-3 minutes. Add the cauliflower, potato (if using), 4 cups of chicken broth and the cooking wine. Simmer for 10 minutes or until the vegetables are fork tender (soft). Add the lemon juice and season with salt and pepper to taste.

To purée the soup use an immersion blender or allow to cool and process until smooth in a blender or food processor. Pour back in the soup pot and reheat just before serving. Add more chicken broth to thin if needed. Keep warm while searing the scallops.
SEARING THE SCALLOPS
Season scallops with salt and pepper. Then heat a large skillet or saute pan to medium-high heat. Add 2 tablespoons of oil. Once the oil begins to smoke, gently add the scallops to the pan making sure they have at least one to two inches of space between them. Cook the scallops, turning once, until just cooked through and a nice brown crust has formed. About 4 minutes total. Cook in batches if necessary, adding more olive oil to the pan in necessary. Transfer the cooked scallops to a plate until ready to serve.

Tip: Avoid moving the scallops in the pan or they won't have a chance to caramelize.


SERVING THE SOUP
To serve, ladle soup into a bowl. Top with 2 to 3 seared scallops and then garnish with chives and a few drops of olive oil. Enjoy your summer cauliflower soup!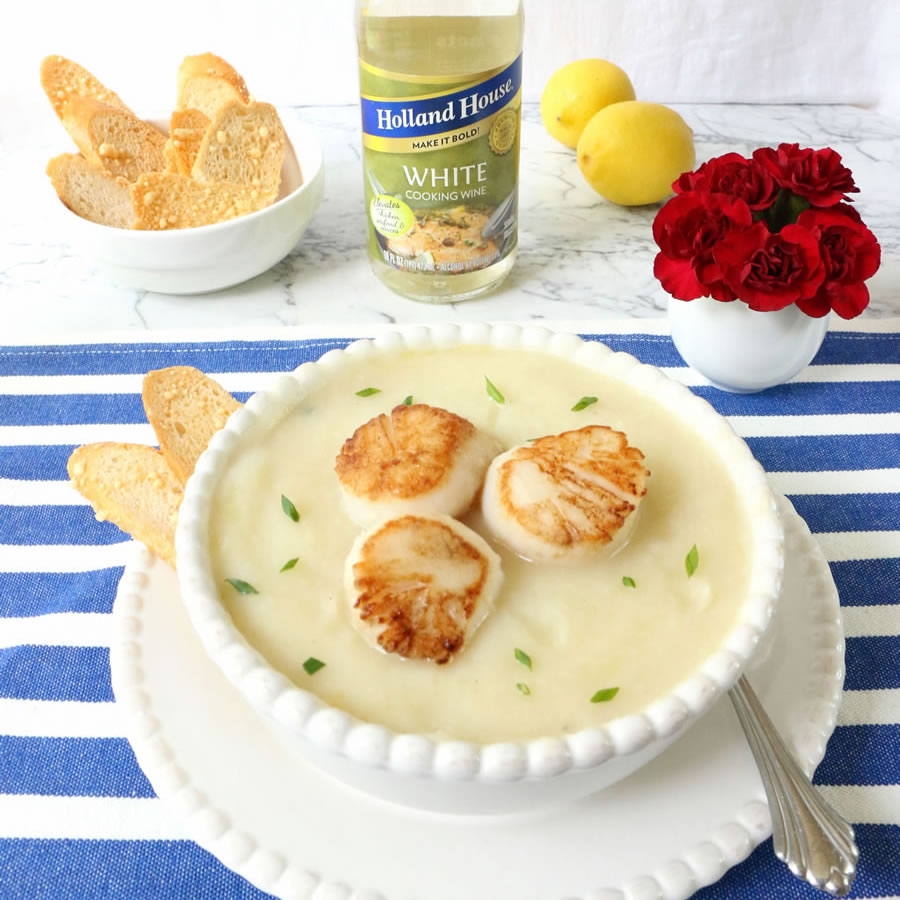 Fill life with flavor!
Holland House Cooking Wines are a great way to boost the flavor of your favorite dishes like chilis, soups, sauces, and even desserts! They're available in Marsala, Red, Sherry, White, and White with Lemon to add a splash of flavor to all your favorite recipes.
FOLLOW: Holland House on Facebook and Pinterest for more delicious recipes and tips!
VISIT: Holland House's website for more recipe ideas, tips and kitchen inspiration @ hollandhouseflavors.com
* Thank you to Holland House Cooking Wines for sponsoring this post. All content has been written by Better Living. Let's make cooking bold again!