Better Living uses affiliate links. If you make a purchase through them, we may receive a small commission (for which we are deeply grateful) at no cost to you.
* This post is sponsored by SPLENDA. The opinions and information presented here are all ours.
There's no denying that the new year is the perfect time to do a reset on those unhealthy eating habits. So for 2020, I've decided to start making some healthy changes. I'm making a point to drink a lot more water and getting my booty into high gear at least five times per week, whether that's yoga, or pilates or just taking a walk. I may or may not count long shopping days. My major goal though is to cut as much sugar out of my diet as possible and ramp up my veggie intake while finding ways I can sustain it for the long term. Before I set out on my very unlikely journey of becoming a plant-based eating guru anytime soon, I'm slowly easing into things. And it's all starting with less sugar and eating at least one salad each day.
But let's be real. Just because you're eating salad, you're not necessarily eating healthy. In fact, there's a lot of "salads" that can have even more calories, fat, and sugar than if you'd just eaten a burger. You can blame it on the toppings, but most salad dressings, even if they're not obviously sweet usually have sugar added to balance the flavor of acidic ingredients like vinegar.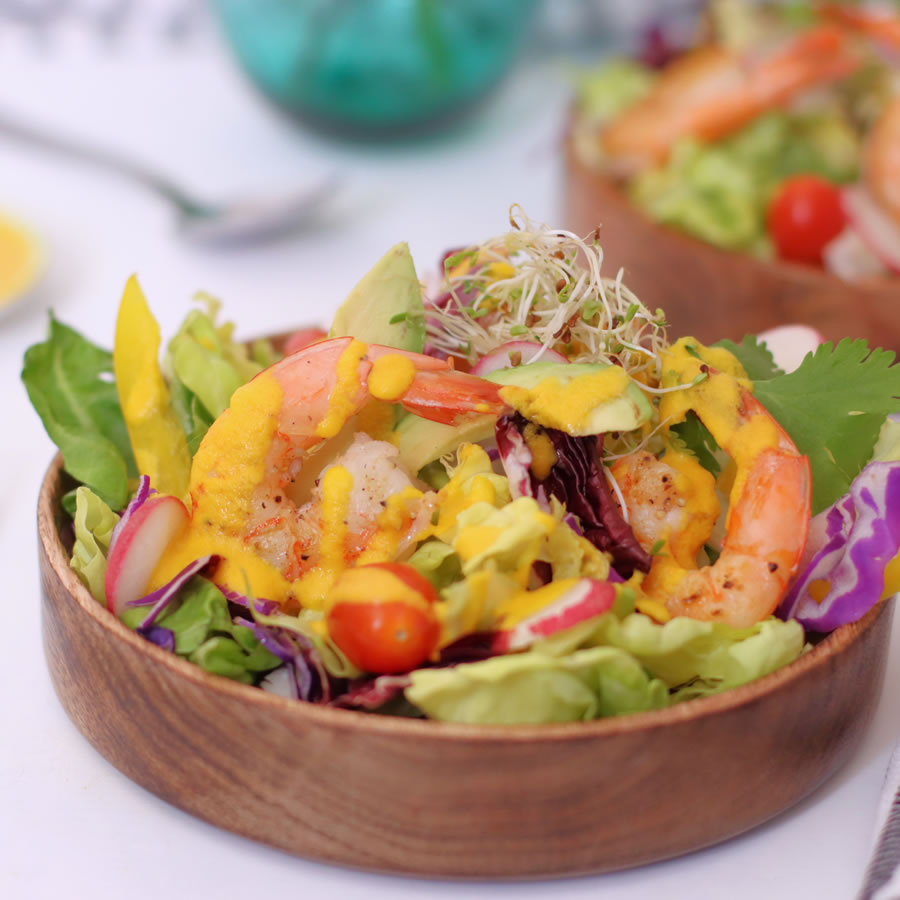 To fuel my new healthy obsession with salads I wanted to come up with some crave-worthy and easy salad dressing recipes that I can just pop in the blender 1-2-3 while cutting out the sugar. I started with my all-time favorite Asian inspired Carrot-Ginger dressing. Reminiscent of a Japanese Restaurant salad dressing it's a blend of ingredients like carrot, ginger, yellow bell pepper, rice wine vinegar, miso paste, and sesame oil. This dressing does need a little bit of sweet to keep it balanced. So to make it as low-carb as possible, I ditched the sugar and used my absolute favorite sugar substitute by far –SPLENDA Stevia Naturals. Completely natural and plant-derived, it's zero calories, zero carbs and has a super clean sugary taste with no aftertaste. I also use it to cut out sugar in other ways throughout the day.  Some of my favorite ways to use SPLENDA Stevia Naturals besides in salad dressings are in:
Coffee Drinks, Iced or Hot Teas
Lemonade and Limeade

(try it fizzy with mineral water and mint)

Cole Slaw

(still a salad dressing but really good)

Tomato Sauce
Muffins, Quick Breads and Cookies
Apple Cider Vinegar Tonic – great for digestion add 1 tablespoon of ACV to 16 ounces of water and 1/2 tsp of SPLENDA Stevia Naturals which adds sweetness while cutting the harsh bite of the vinegar. It's great for digestion, has antioxidants and minerals, may boost metabolism and even supports healthy gut bacteria.
Sweet Tip: SPLENDA Stevia Naturals comes in a tabletop jar, but it also comes in packets. I stash some in all my bags so I always have it on the go when I need a dash of sweet.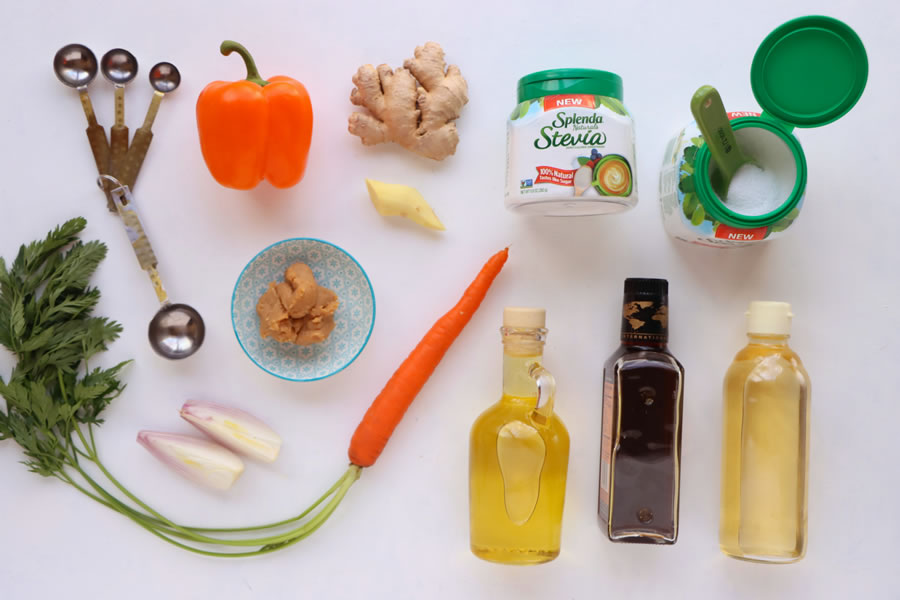 THE INGREDIENTS YOU'LL NEED 
Vibrant, fresh-tasting and incredibly smooth, the Asian inspired flavors in this dressing are so good you'll find yourself daydreaming about what else you can drizzle it on. And it's so low sugar and low carb there's zero guilt involved. Make up a batch or two and eat it throughout the week and you'll find it easy to get all your veggies!
Carrot – One peeled medium to large carrot will work. One medium carrot has about 2.9 grams of sugar and is rich in beta-carotene and lutein.
Orange Bell Pepper – I find that adding half of an orange bell pepper adds a nice smooth flavor and gives this dressing body. And that gorgeous orange color blends perfectly with the carrot. They're high in vitamins C and A and only add about 3 grams of sugar to this dressing
Shallot – This adds a subtle onion flavor without overpowering and it works so well in this dressing. If all you've got is garlic on hand then a clove or two will do.
Miso Paste – Miso gives this dressing that savory umami flavor I can't get enough of. And it's healthy too! Miso is a good source of B vitamins, vitamins E, K, and folic acid,  and since it's a fermented food (from soybeans) it also adds a boost of probiotics to this dressing that's good for your gut. White miso paste will help keep the color of this dressing vibrant, but any miso will do. If you can't find miso, substitute tamari or soy sauce.
Rice Wine Vinegar – If you're watching your carbs or sugars be sure to use rice wine vinegar which has zero carbs or sugar and not seasoned rice vinegar which has sugar and salt added. 
Avocado or Neutral Salad Oil – Packed with healthy fats and high in Vitamin E and lutein avocado oil is my go-to for salad dressings when I don't want the taste of extra virgin olive oil. Grapeseed oil will also work.
Sesame Oil – A few tablespoons of sesame oil add a nice toasty flavor to this dressing. Be sure to store this in the fridge after opening to preserve freshness.
Stevia Taste Tip: Many stevia products on the market commonly contain an extract called Rebaudioside or Reb A which can have a bitter or strange aftertaste. Just remember Reb D is what you want for the most sugar-like taste.
If you do happen to look on the side of the Splenda Naturals Stevia jar and read the nutrition label you'll see 3 grams of carbs from erythritol per teaspoon. Erythritol is a type of sugar alcohol that the body does not digest and has no effect on blood sugar. The net carbs of Stevia Naturals are zero and it is zero calories.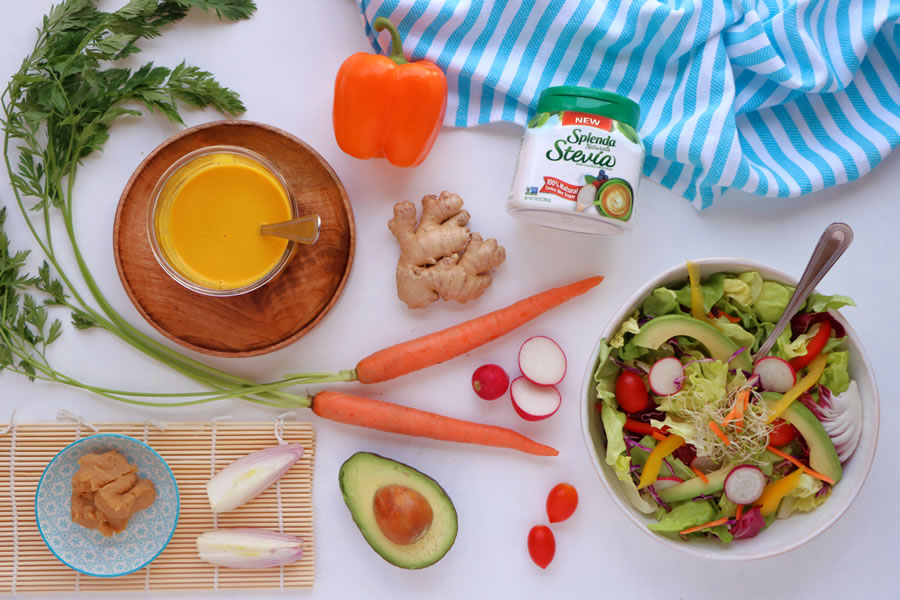 HOW TO MAKE THE CARROT-GINGER DRESSING
There's only one step for this dressing…
STEP 1: Throw everything in the blender and … blend! That's it! Process until completely smooth and then transfer to a glass jar or your fancy salad cruet. This can be served right away or stored in the fridge and chill until you're ready to eat. It should last about 7 days if properly stored. 
Healthy Eating Tip: While I love salads, making them can sometimes feel like a chore. But if you have a delicious salad dressing already made you've won half the battle. Keep mixed greens and cut veggies washed and ready to go in in your fridge to make salad making a cinch.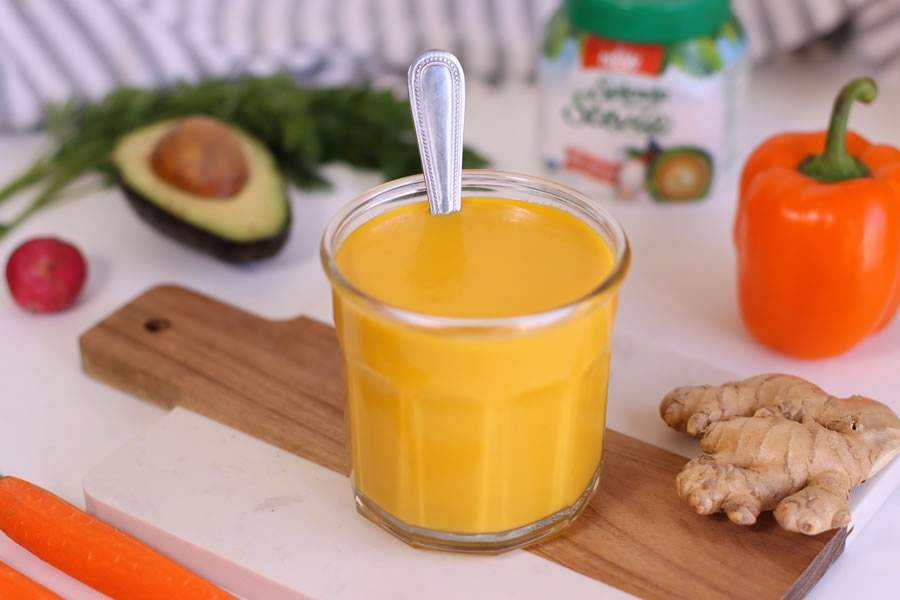 SERVING THE CARROT GINGER DRESSING
This dressing is delicious over mixed greens and veggies like tomato, radish, avocado, sprouts, cucumber, bell pepper, and celery. In the mood for a little sweet? Add a bit of mango or grapefruit. For a healthy dose of protein on your salad try grilled shrimp, chicken or tofu!
GET THE RECIPE!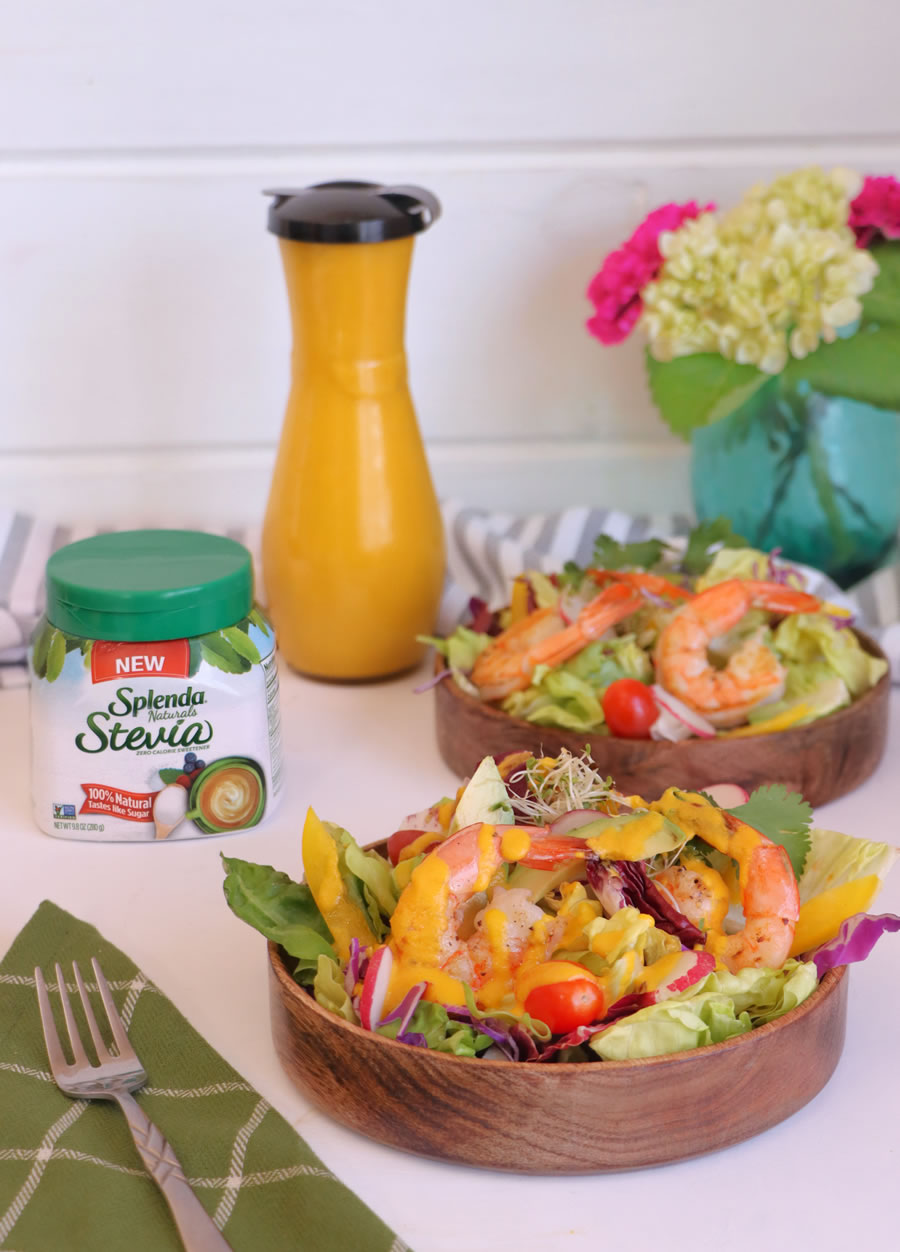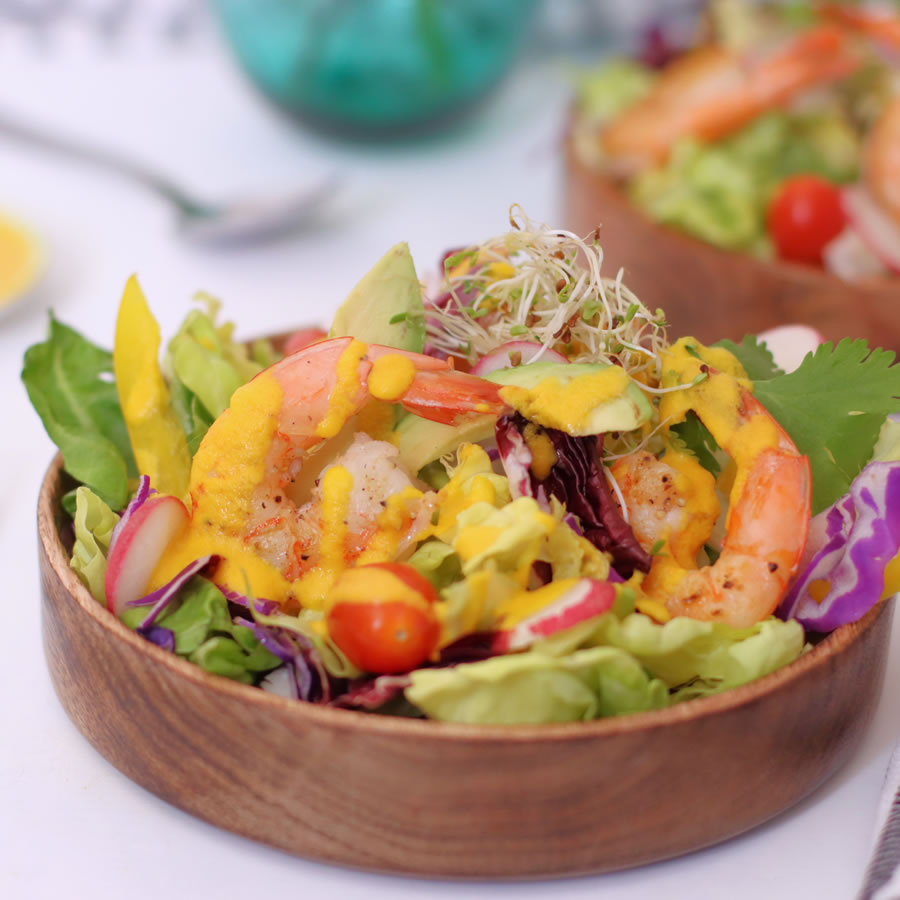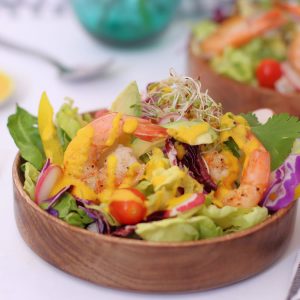 Carrot-Ginger Dressing
A super healthy, tasty and low carb Asian inspired salad dressing! With the flavors of carrots, ginger, orange bell pepper, miso, and sesame oil you'll never think your salad is boring again. If you're watching your sugar intake be sure to use rice wine vinegar instead of seasoned rice wine vinegar which has salt and sugar added.
Equipment
Knife

Cutting Board

Blender
Ingredients
1

medium carrot, roughly chopped

1/2

yellow bell pepper, roughly chopped

1

knob

fresh ginger, about 2 inches

1

tbsp

shallot, minced

1/3

cup

rice wine vinegar

1/3

cup

avocado oil or neutral salad oil

1/4

cup

water

3

tbsp

sesame oil

3

tbsp

miso paste, preferably white

1

tsp

SPLENDA Naturals Stevia Sweetener (zero calories)
DIRECTIONS
Add all the ingredients to a blender or food processor and puree until completely smooth. Transfer to a jar or salad cruet. Drizzle over mixed salad or greens.

Note: If you don't have miso, substitute tamari or soy sauce. Start with one tablespoon and add more to taste. The color of the dressing may darken.
Want the best tasting, Sugar-Free, Zero-Calorie, Zero-Carb STEVIA that wins blind taste tests by a landslide?
Click to Find A Store With SPLENDA Stevia Naturals Near You:  splenda.com/where-to-buy
Order SPLENDA Stevia Online here: shop.splenda.com
$ Get A Coupon here: splenda.com/coupons