Better Living uses affiliate links. If you make a purchase through them, we may receive a small commission (for which we are deeply grateful) at no cost to you.
* This post is sponsored by Flora Health. The opinions and information presented are all ours.
Although it seems like apple cider vinegar has just recently become a superstar in the health and wellness world, there is scientific evidence that it has actually been around for thousands of years. It's really no wonder since apple cider vinegar has so many uses and benefits. It's antibacterial, antiviral, antifungal, and has a long list of health-boosting benefits for the body inside and out. It can even be used in your beauty routine as well as around the house. It just seems to make people's lives better.
Even with all the possible benefits apple cider vinegar can offer us, let's face it – it's potent stuff that can be tough to drink. It's really sour and I've never been a fan of the way it burns on the way down. It's also extremely acidic which can cause damage to your tooth enamel if not properly diluted. No, thank you!
Flora Health, an internationally-recognized health and wellness company recognized these downsides to an otherwise wonderful age-old remedy and decided something needed to be done. Or created, rather. The result is their newly released and absolutely delicious USDA certified organic Apple Cider Vinegar Wellness Tonics.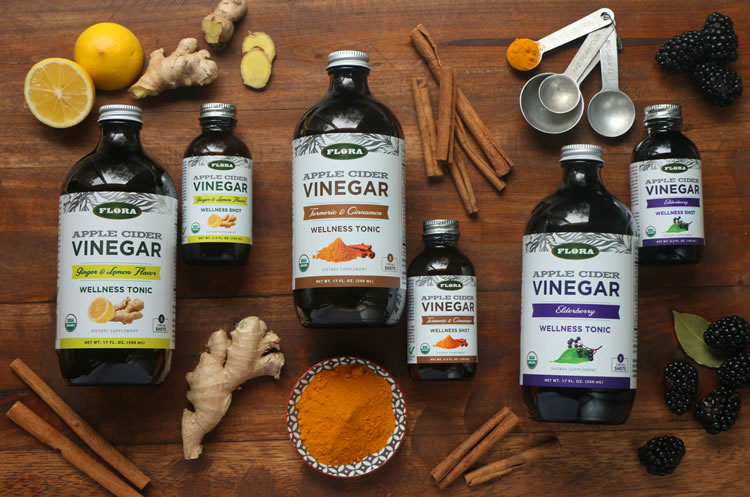 How are they different from a plain old bottle of ACV? Using the highest quality ingredients they can find, Flora took organic apple cider vinegar and blended it with tangy organic apple juice concentrate for a bit of sweetness. They continued enhancing their recipe by adding seven organic herbs found in their world-renowned herbal detox formula Flor•Essence®.  Each of these herbs has antioxidant and anti-inflammatory properties, helping to detoxify the body and strengthen the immune system. They include burdock, slippery elm bark, blessed thistle, red clover blossom, rhubarb root, and kelp. For even more superfood power and an extra boost of yummy, they created three delicious flavor combinations:
Elderberry = A deep, rich and fruity berry flavor to support immunity, general health, and well-being.
Turmeric + Cinnamon = Warm and comforting with a flavor like mulled apple cider to support healthy digestion.
Ginger + Lemon = A little tangy, a little sweet and a kick of spicy ginger to refresh and support healthy digestion.
Since the apple cider vinegar in these tonics is diluted, there's none of that unpleasant burning sensation from regular apple cider vinegar and your teeth are totally safe. They're so drinkable you might not be able to stop yourself. But even a little goes a long way.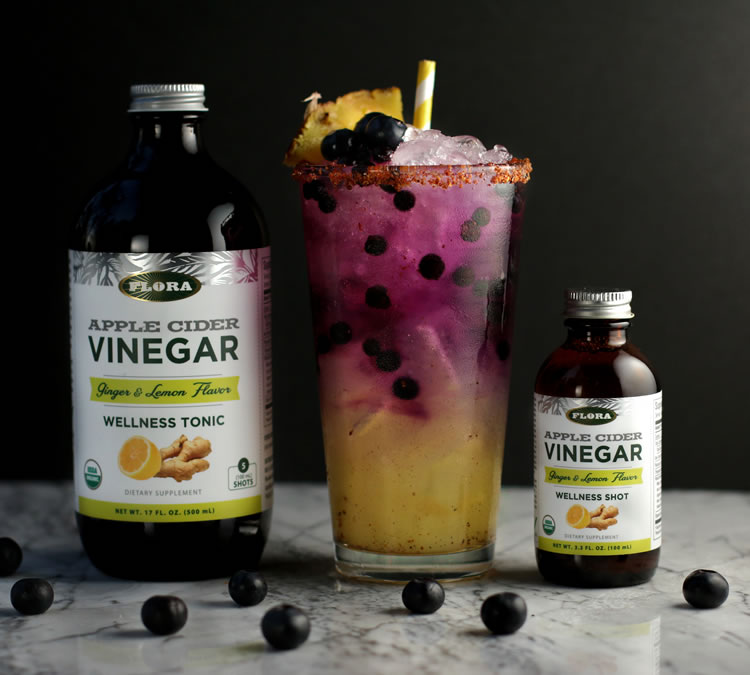 Honestly, this stuff is so good I find myself swigging it right from the bottle throughout the day. Yes, they're that good!  But I also found these tonics are a flavorful and healthy way to enhance your water, tea (hot or cold), shakes and smoothies.
Flora's Apple Cider Vinegar Wellness Tonics are microbrewed in small batches from premium-quality apple cider vinegar made right in the USA. They're also
Organic
Vegan
Non-GMO
Gluten-Free
Caffeine-Free
Each tonic flavor comes in two convenient sizes including a 17-ounce bottle and 3.3-ounce bottle that is perfect for popping in your bag and taking with you on the go.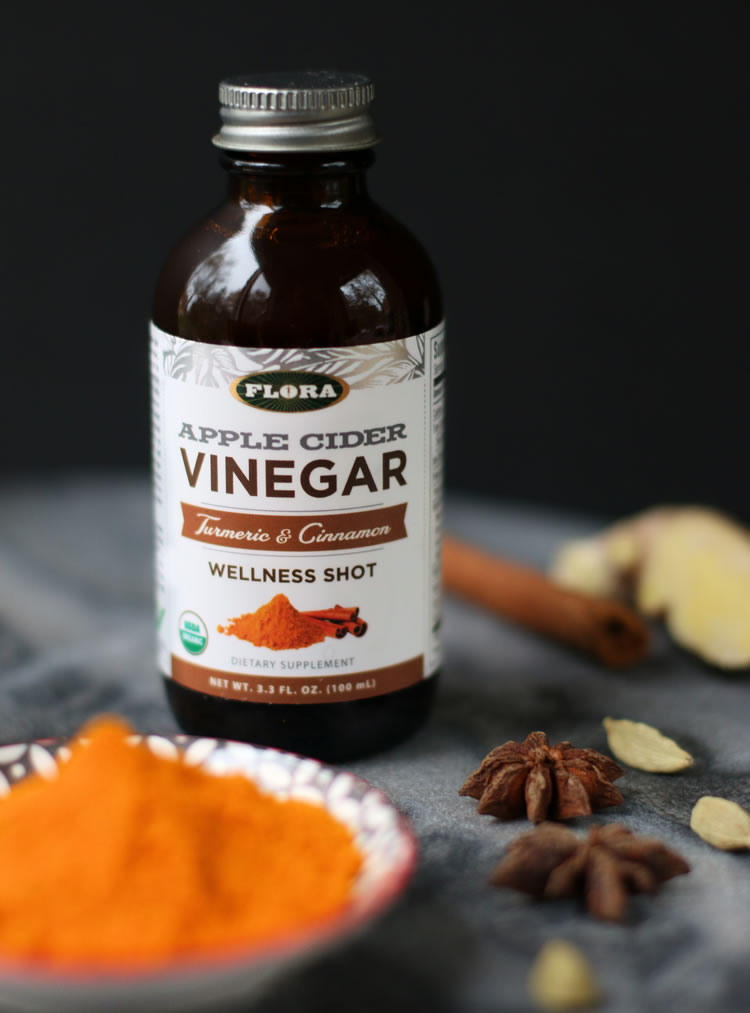 We absolutely love each of these Flora Apple Cider Vinegar Wellness Tonics so much we thought we'd share some of our favorite drink recipes we've been adding it to.
Continue reading to get the wellness tonic recipes at the end of this article!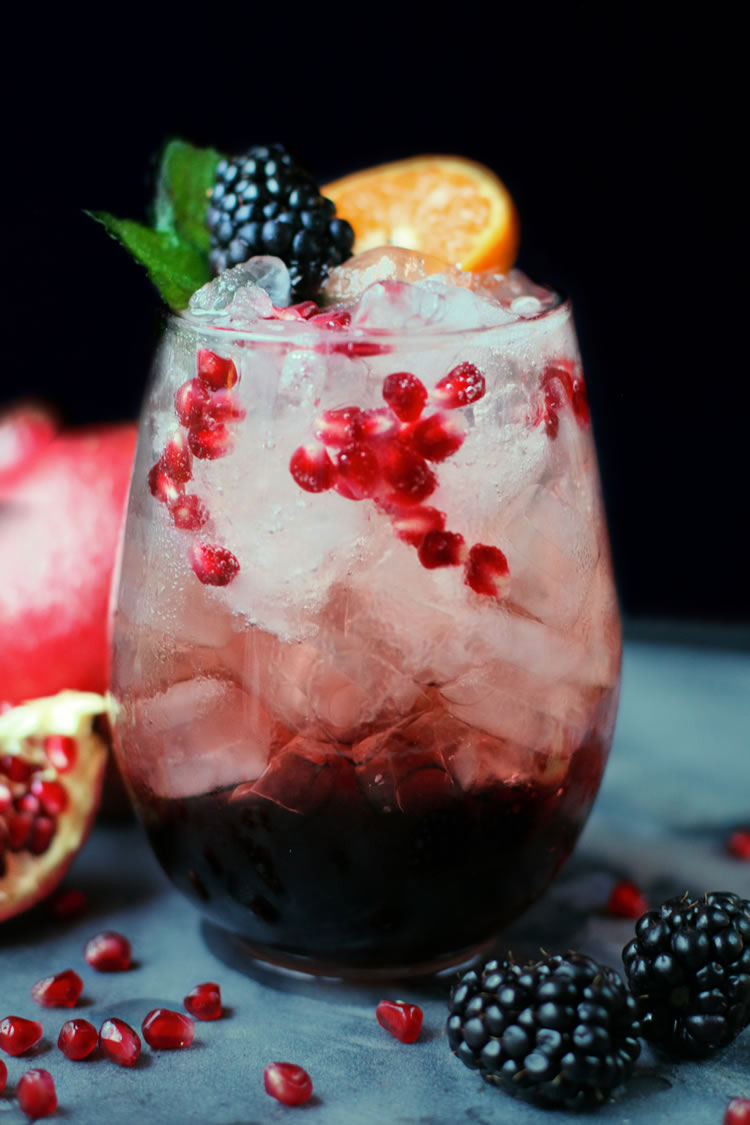 Here are some of the health benefits that Apple Cider Vinegar (ACV) has been associated with:
1 – It Can Boost Your Gut Health
Adding organic, raw, unfiltered apple cider vinegar to your diet can act as a prebiotic, feeding the beneficial bacteria in your gut and encouraging them to flourish. Just make sure it contains the "mother." These cloudy, stringy looking strands in the vinegar are the result of the vinegar's fermentation process and it's where all the nutrients in the vinegar lives. When the good bacteria in your gut are fed and happy your immunity will improve, as will your digestion and your body's ability to absorb more nutrients.
2 – It Can Keep Yeast In Balance
Candida albicans is a type of yeast that is naturally found in our gut and helps us to digest sugar. But it's all about balance. Things like processed foods, too much sugar, and antibiotic use can cause candida to go wild causing them to overgrow. The result is a variety of nasty symptoms like fatigue, bloating, bad breath, joint pain, digestive and skin issues. A potent antifungal, apple cider vinegar may keep candida in check and your digestive system in balance.
3 – Apple Cider Vinegar May Promote Weight Loss
One of the most exciting benefits that apple cider vinegar has been linked with is its ability to promote weight loss. It has been theorized that the acetic acid in apple cider vinegar acts within the body to reduce appetite, boost the metabolism, and act as a diuretic helping your body to flush out excess water weight. Researchers believe that apple cider vinegar may also block the body's ability to break down calorie-dense, weight-promoting starchy molecules (also known as carbs), letting them pass through the system untouched.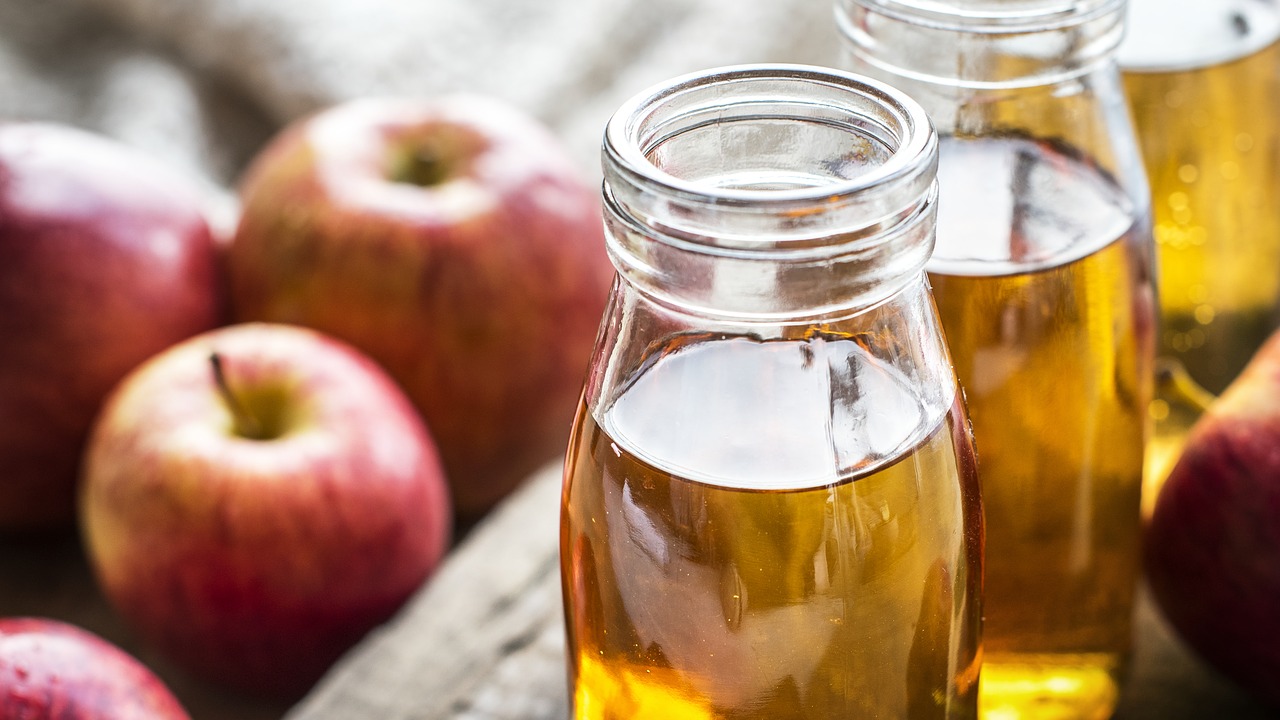 4 – Apple Cider Vinegar May Reduce Heartburn & Acid Reflux

If you've ever had heartburn, you know it's no picnic! While it's associated with dreadful symptoms like burning, belching and stomach upset, it's usually caused by low levels of stomach acid—not high like one would think.  Apple cider vinegar has been used by many as a quick and effective remedy to relieve symptoms as it balances the pH of the stomach. Try taking a couple tablespoons before eating meals to stop symptoms before they start.
5 – Apple Cider Vinegar May Balance Your pH & Promote Detoxification
Apple cider vinegar is rich in acetic acid. Acetic acid is what's responsible for apple cider vinegar's characteristic sour taste and strong smell. But it also believed to have an alkalizing effect. It's also credited with assisting the body's ability to detoxify itself while binding to toxins and carrying them out of the body. Taking a few tablespoons of apple cider vinegar each day may help optimize your body's pH levels, encourage your body's natural detoxification pathways to operate more smoothly, helping you eliminate toxins faster which can improve your overall health.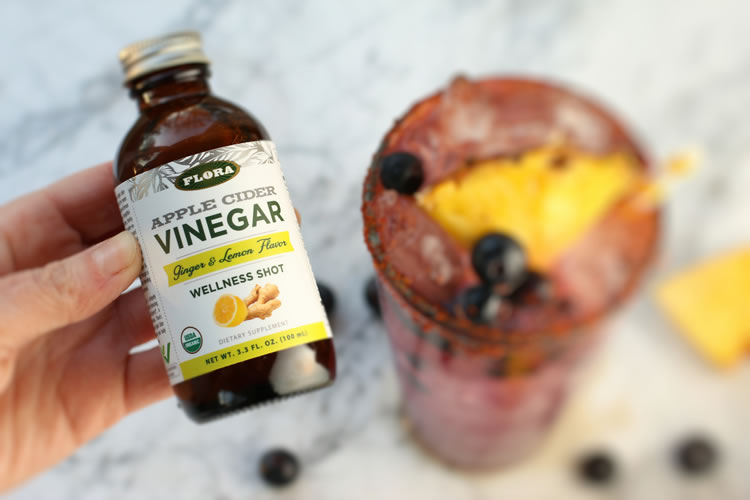 6 – Apple Cider Vinegar May Get Rid Of Your Annoying Hiccups
Have a case of the hiccups that just won't quit? The strong acidic and sour taste of ACV might just be your cure. While it's not fully understood why this works, try a couple of sips next time you get an attack. It beats having someone scare the daylights out of you.
7 – Apple Cider Vinegar Can Soothe A Sore Throat
Taking Apple cider vinegar is a popular home remedy for a painful and inflamed sore throat. The acids in apple cider vinegar are antimicrobial and may even coat the throat easing the pain. Try adding a couple tablespoons of Flora's Apple Cider Vinegar Wellness Tonic (Ginger + Lemon is nice!) to hot tea as a remedy for your sore throat.
Note: The information presented this article is for educational purposes only. These statements have not been evaluated by the Food and Drug Administration and are not intended to diagnose, treat, cure or prevent any disease. Please consult with your physician before starting any new supplement especially if you are taking medication, are pregnant or have a condition.
Get the recipes!
Here are some of our favorite drink recipes featuring Flora's Apple Cider Vinegar Wellness Tonics. From refreshing to downright comforting there's a recipe we know you'll love.  
Tonic Flavor #1: Flora Turmeric + Cinnamon Apple Cider Vinegar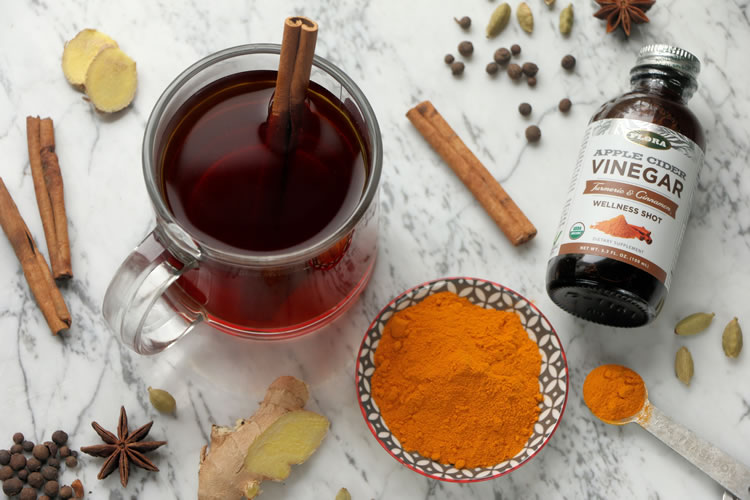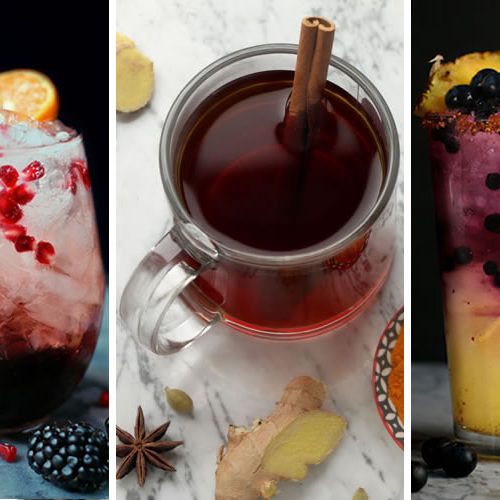 Hot Detox Chai Tea With Flora's Turmeric + Cinnamon Apple Cider Vinegar
For a soothing hot cup of chai tea that filled with warm spices
Ingredients
1

bag

chai tea or chaie loose leaf tea blend

1/4

cup

Flora Turmeric + Cinnamon Apple Cider Vinegar Wellness Shot

organic raw honey

cinnamon stick (optional)
DIRECTIONS
MAKING THE TEA
Boil hot water in a kettle. Pour hot water over the chai tea and steep for 3-4 minutes. Add the Flora Turmeric + Cinnamon Apple Cider Vinegar. Sweeten to taste and serve with a cinnamon stick if you like. Sip and enjoy your detox tea!
Tonic Flavor #2: Flora Ginger + Lemon Apple Cider Vinegar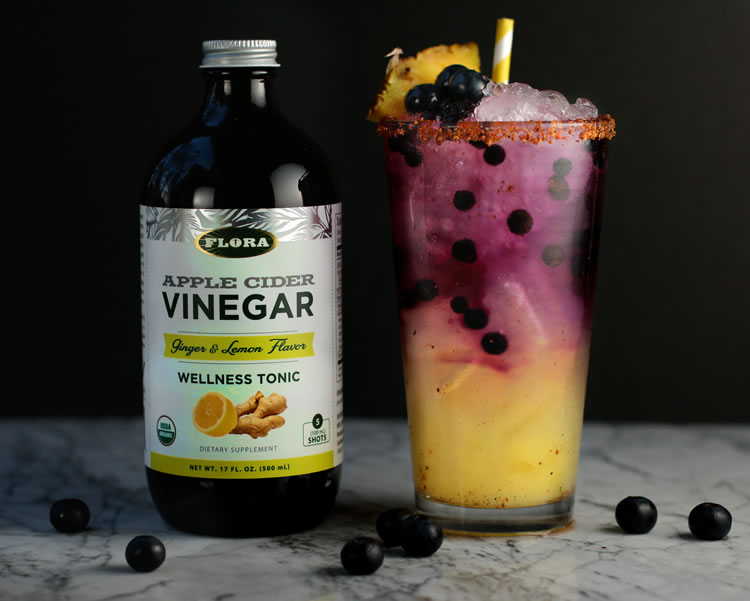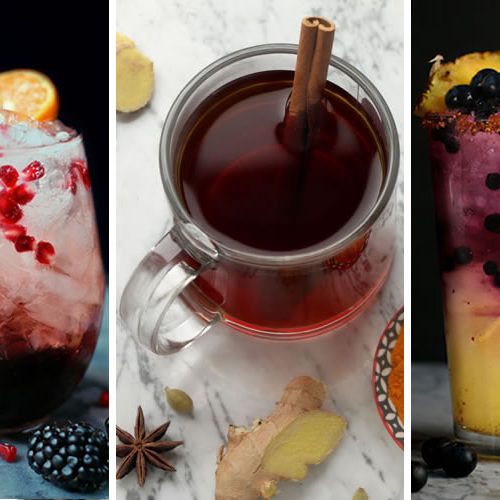 Blueberry + Pineapple + Lemon + Ginger Apple Cider Vinegar Mocktail
Ingredients
1/4

cup

pineapple juice

1/4

cup

fresh blueberries, set a few aside for garnish

ginger beer or mineral water

ice
DIRECTIONS
Put blueberries in a tall drinking glass and muddle (lightly mash) with the back of a spoon. Add ice, the Flora Lemon + Ginger Apple Cider Vinegar, pineapple juice, and ginger beer or mineral water. Sit back, sip and enjoy!
Tonic Flavor #3: Flora Elderberry Apple Cider Vinegar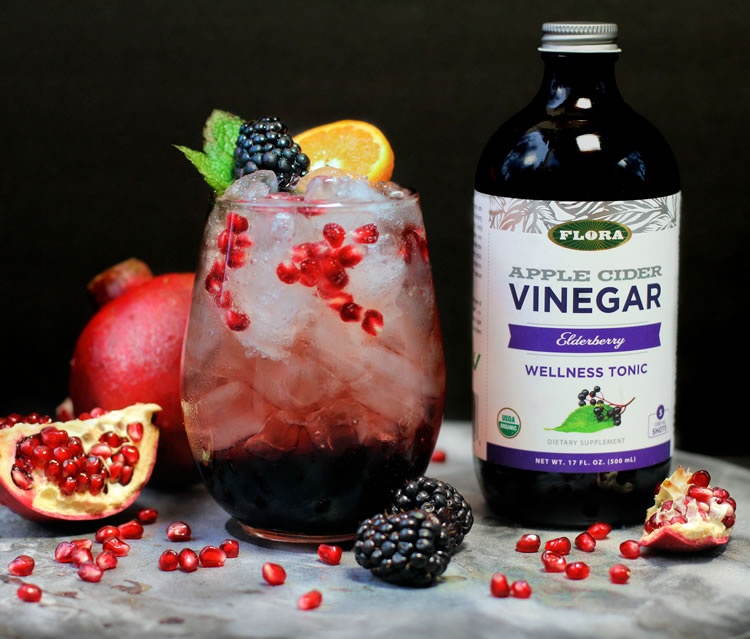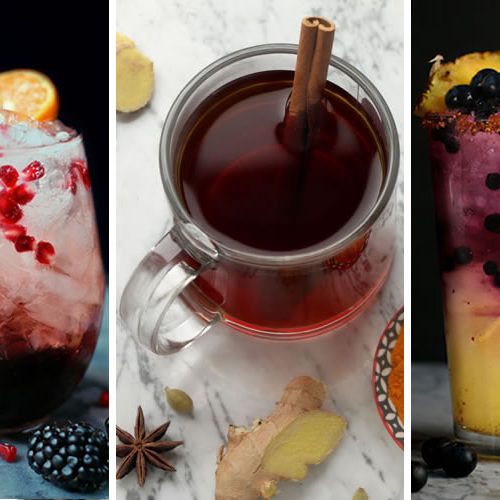 Immune Boosting Elderberry + Pomegranate Shrub
For a refreshing mocktail with the immune boosting power duo of elderberry and pomegranates, try this delicious drink.
Ingredients
1/3

cup

Flora Elderberry Apple Cider Vinegar Wellness Shot

1/4

cup

pomegranate juice

mineral water or seltzer

ice
Garnishes
1

tablespoon

pomegranate seeds

orange slices (optional)

blackberries (optional)
DIRECTIONS
Fill a drinking glass with ice. Add pomegranate juice, the Flora Elderberry Apple Cider Vinegar and top with mineral water. Garnish with pomegranate seeds, an orange slice, and berries.

Sip and enjoy your immune boosting mocktail!
Notes
NOTE:  If using seltzer instead of mineral water, consider flavors like lemon, lime or black cherry!  
Which blend do you think you'd like best? Elderberry, Turmeric & Cinnamon or Lemon & Ginger?
Try all three delicious blends of Flora's ACV Wellness Tonics and experiment with them on your own to see which combinations you love best!
For more information or to order Flora's Apple Cider Vinegar Wellness Tonics, please visit FloraHealth.com