Better Living uses affiliate links. If you make a purchase through them, we may receive a small commission (for which we are deeply grateful) at no cost to you.

*This is a sponsored post written by me on behalf of StarKist Selects E.V.O.O.
While the summer can be a wonderful season full of sun and fun it can also be something else – hot as the dickens. On hot and sticky summer nights the last thing I ever feel like doing is turning on the oven and heating up the whole house just to cook dinner. So, on nights like these, I tend to look to light and fresh no-cook meals. Quick, easy and delicious. And tuna makes a perfect light and healthy star ingredient. We'd like to thank our friends at StarKist for sponsoring this recipe post and helping us make summer cooking a cinch.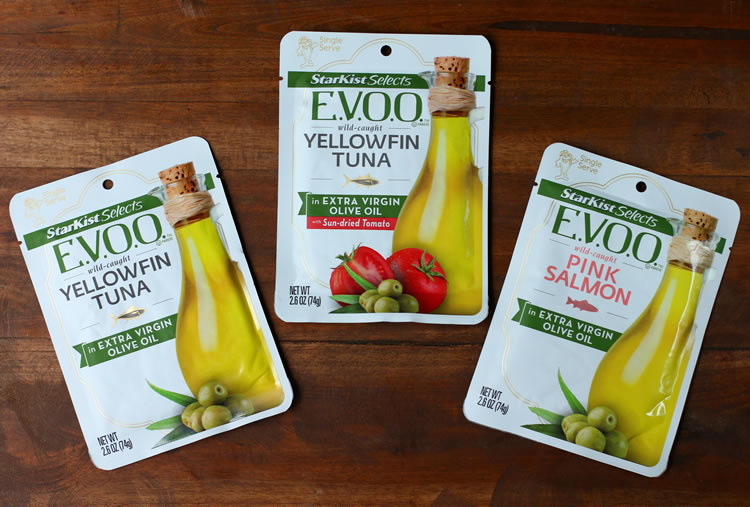 It's pretty safe to say most of us in the U.S. grew up eating tuna canned and packed in water. In fact, many of you may not even realize there's another, much tastier option. In many countries around the world, seafood, including tuna, is packed in delicious and incredibly healthy olive oil instead of water. The result? Tuna with a much richer, milder flavor than its water-packed counterparts. Even its texture is smoother, moister and in my opinion more decadent. Luckily the word is out and it's catching on here in the U.S. High in protein and omega-3s, tuna also makes a great choice if you're sticking to a clean diet. Give it a try and I think you'll be pleasantly surprised.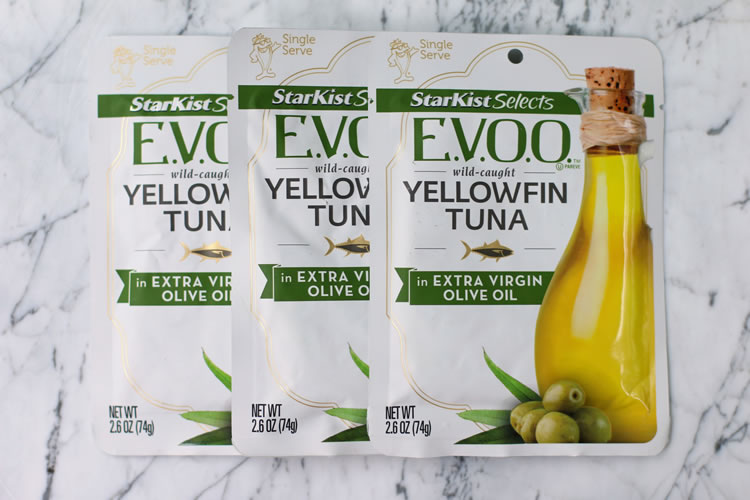 On a hot night, one of my favorite things to throw together is a tostada with some ingredients or leftovers I have on hand. A tostada meaning "toasted" in Spanish, is a popular food found all over Latin and Mesoamerica with many variations. The one thing they have in common is a crispy "toasted" base, usually a fried or baked tortilla that is topped with a variety of ingredients like beans, cheese, chicken, shrimp, chorizo, lettuce, tomatoes and sour cream. So, for a quick weeknight hot summer meal, I thought these pouches of wild-caught StarKist Selects E.V.O.O.™ Yellowfin Tuna would work perfectly in a tostada topping. And the best part? There's no heat involved. Not even a little.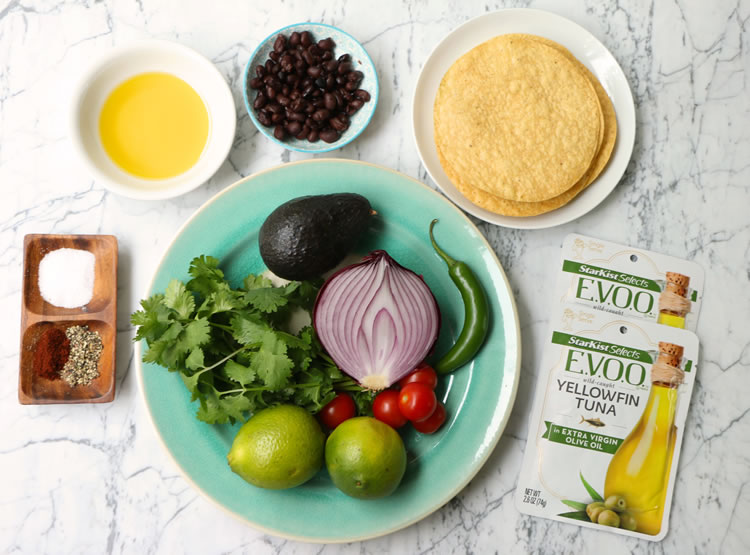 Did you know tuna doesn't just come in a can anymore? StarKist has recently released StarKist Selects E.V.O.O.™ Yellowfin Tuna in a pouch. And if you haven't guessed yet it's tuna packed in E.V.O.O or extra virgin olive oil. The benefits are seriously rich flavor, mellow taste and tender texture that will have you wondering where this has been all your life. And you can easily substitute it in your favorite tuna recipes. With 18 grams of protein per pouch, they're even great to have on hand as a quick and healthy protein-rich snack. You'll also get a healthy dose of nutrients like vitamins D, B12, B6, Niacin, and potassium.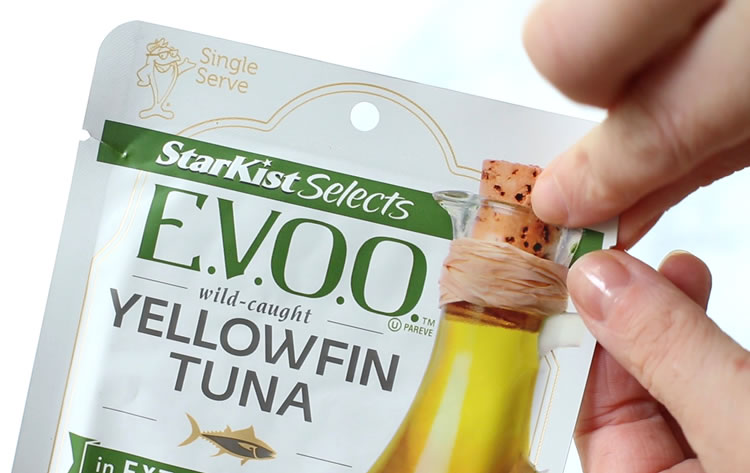 For this Mexican Style Tuna Tostada recipe, we combined StarKist Selects E.V.O.O.™ Yellowfin Tuna with black beans, serrano chile, tomatoes, diced avocado and cilantro and then tossed it with lime juice. We season it with chili powder, salt, and pepper and then pile it all on a crispy crunchy tostada shell. Summer dinner in 10. How sweet is that?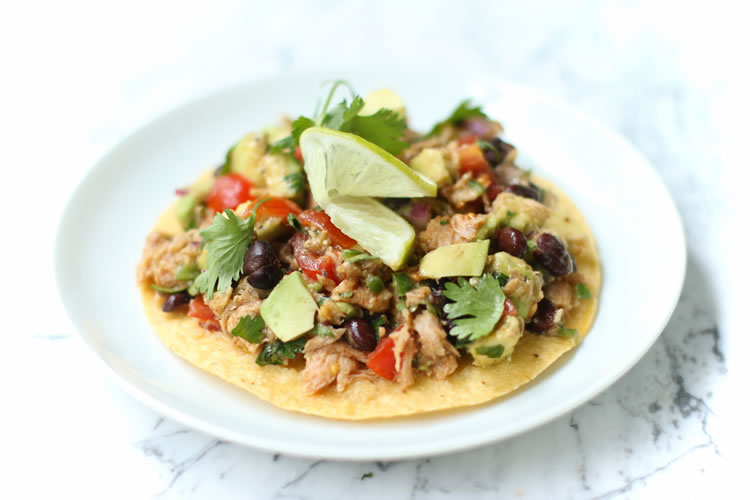 And the fun part? Eating it of course. That's right, don't be shy, and pick up that tostada with your hands. No knife or fork required. Drizzle with your favorite Mexican style hot sauce, an extra squeeze of lime and devour.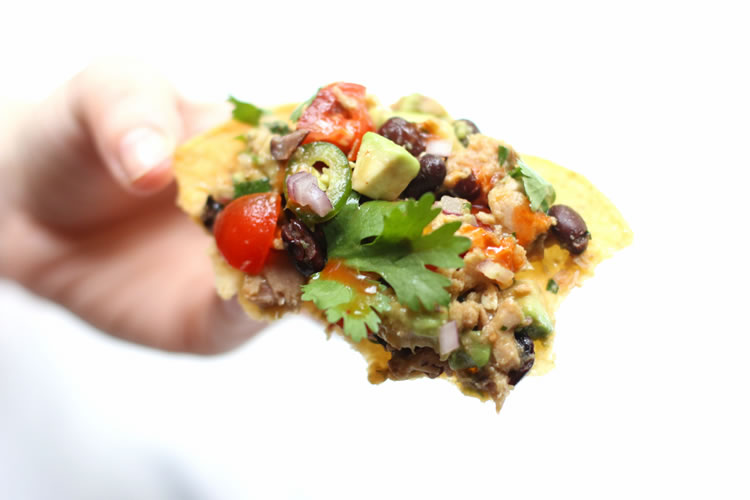 You can find prepared tostadas at your local grocery store. Round tortilla chips would also work if you like the idea of mini tostadas. This recipe makes 3 generously topped six-inch tostadas.
Get the recipe!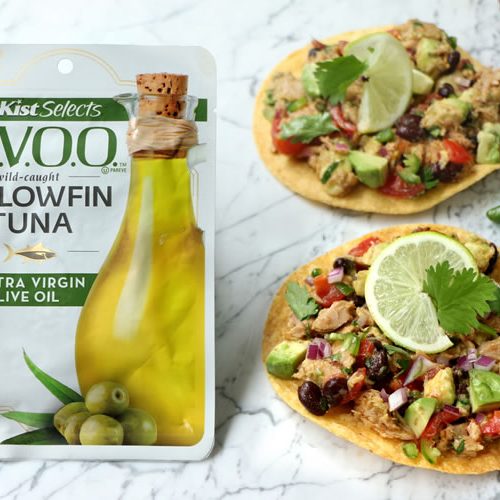 Quick Mexican Style Tuna Tostadas
Try these Mexican Style Tuna Tostadas for dinner when you're looking for a light and healthy recipe to beat the heat and eat clean.
Ingredients
INGREDIENTS
2

packs

StarKist Selects E.V.O.O.™ Yellowfin Tuna

1

small avocado, diced

1

Serrano pepper, finely chopped or thinly sliced

1/4

cup

black beans, rinsed

1/4

cup

red onion, finely chopped

1/4

cup

tomato, diced

1/4

cup

cilantro, chopped

1/2

tsp

chili powder

fresh lime juice, from 2-3 limes

pepper and salt to taste

3-4

6 inch tostadas, prepared
DIRECTIONS
DIRECTIONS
In a bowl combine all the ingredients and mix well. Season with salt and pepper to taste. Place tostadas on a plate a top with the tuna mixture. Garnish with more cilantro, a squeeze of fresh lime. Serve with your favorite hot sauce if you like. Enjoy!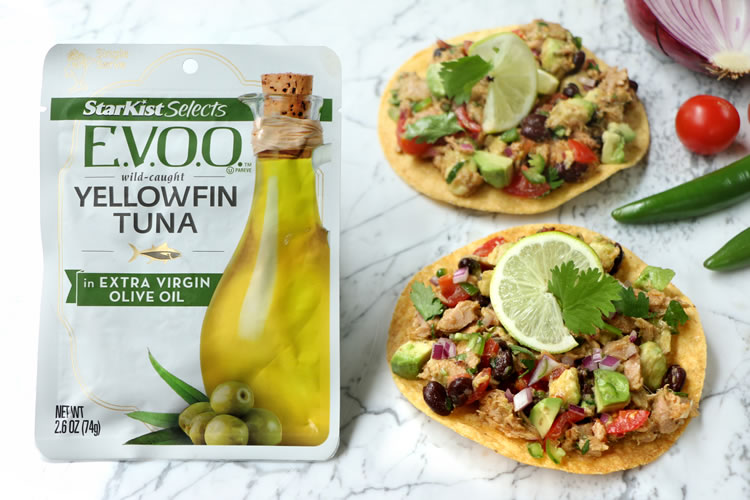 *This is a sponsored post written by me on behalf of StarKist Selects E.V.O.O.