Better Living uses affiliate links. If you make a purchase through them, we may receive a small commission (for which we are deeply grateful) at no cost to you.
The first time I had an authentic tortilla soup it was the definition of love at first bite.
For me Tortilla Soup has everything going for it. It's the soup other soups wish they could be. Spicy chili laden broth, melty cheese tangled with crispy tortilla strips, cool creamy avocado and tangy sour cream. Crisp Cilantro adds a note of herbal freshness.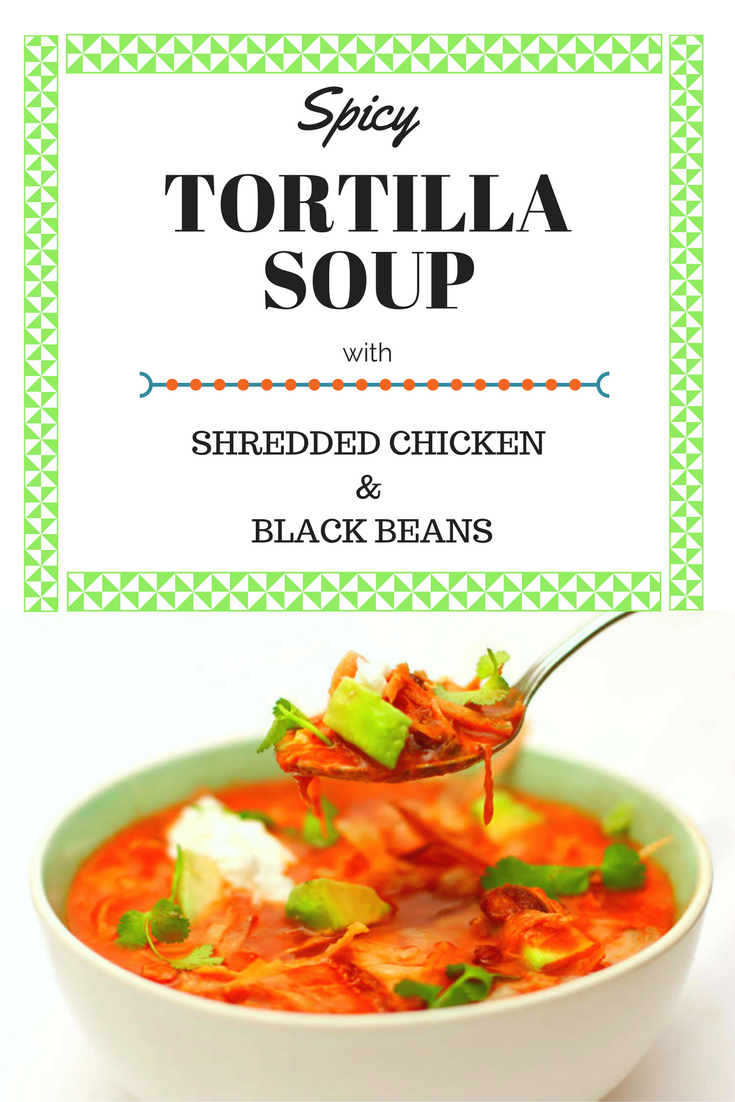 I can't even handle the deliciousness.
So, this week when I was challenged to come up with a recipe using at least 3 canned goods for February's National Canned Food Month, I instantly knew what was going to happen. Yup you guessed it. Tortilla Soup!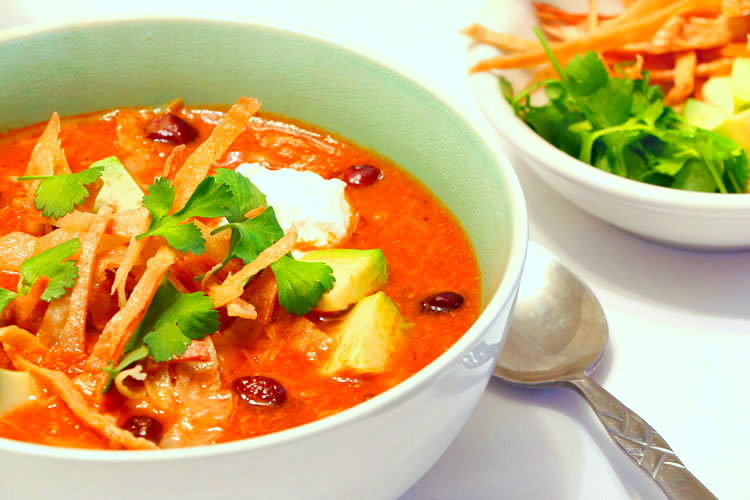 To start planning for this recipe I decided to do a little research. It turns out certain foods like tomatoes actually benefit big time from the canning process. Let's discuss.
Tomatoes and tomato products are one of the best sources of Lycopene. Lycopene not only gives fruits and veggies their gorgeous red color, it's also a super powerful antioxidant. Antioxidants destroy nasty disease and cancer causing molecules called free radicals in our bodies. Lycopene = Healthy Superhero. Yay lycopene!
Lycopene is more easily absorbed by the body after its been heated. So tomatoes that have been heated and then immediately preserved by canning are bursting with wonderful lycopene-y goodness.
Fun Fact: Did you know about 80 percent of American diet lycopene comes from tomatoes?!?
So canned foods can not only be healthy, but help us meet our dietary requirements of certain nutrients. Plus, they're super convenient.
Now, I know there are many versions of Tortilla Soup from here to south of the border where it was invented. Some stay true to the authentic Mexican tradition and are made with ingredients like dried pasilla chiles, Mexican Crema (Mexican Sour Cream), and panela cheese. Others are more tex-mex influenced with the addition of ingredients like black beans and corn. Some recipes add shredded chicken where in others the broth is simply the star.
With all this to consider I wanted to come up with a version that would be 3 things. It would:
1. Use ingredients you most likely already have in your pantry or could easily stock up on.
2. Be easy & quick enough to make for a weeknight dinner
3. Have tons of flavor
Next I headed over to my local Safeway in Wilmington, Delaware to see what canned goods they had on their shelves. I was happy to find there was a great selection so I loaded up my basket and went on my merry way.

For this recipe I decided to add shredded chicken and black beans in order to make it hearty enough for a weeknight dinner. It could easily be made vegetarian though. Omit the shredded chicken and use vegetable broth instead of chicken broth. You could also amp up the veggies. Diced bell pepper and canned corn would both be stellar.
Tortilla Soup's garnishes are pretty important. They are what make a tortilla soup, well tortilla soup. For the tortilla strips I cut corn tortillas into thin strips and fried them in a little oil until lightly browned. If you have the time do this the night before and leave them on a baking pan to dry out. This allows them fry crispier. But, putting them in a warm oven for 10-15 minutes the day of will yield the same result. To save time, substitute your favorite prepackaged tortilla chips. I totally die for Xochitl brand tortilla chips but, I urge you to make your own if possible. It's so easy. And the deep toasted corn flavor of the freshly fried tortillas is unbelievable.
Avocado plays a cooling part here, as well does sour cream. Feel free to use Greek yogurt as a healthy and satisfying substitute. If you happen to have Crema, the tangy Mexican versions of American style sour cream, than you're a culinary rock star.
Now I know some of you are thinking cilantro is the worst. Basically little green leaves of soap. It's not your fault, it's your DNA. We won't judge. A twist of fresh lime will do.
As for the shredded chicken, a rotisserie is your best bet for great taste and convenience. I picked one of those up at the Safeway as well. It is after all, the cheat sheet for chicken.
Enjoy!
Spicy Tortilla Soup with Shredded Chicken and Black Beans
Serves: 6 Cook Time: 50 minutes
For The Tortilla Soup Broth
1 tablespoon Olive Oil
1 small onion, chopped
3-4 cloves of garlic, chopped
1/3 cup chopped cilantro, plus more for garnish
1 (28 oz) can diced tomatoes
1 (10 oz) can of diced tomatoes with chilies (we used Rotel Mild recipe)
1 (11.5 oz) can of V8 vegetable juice (we used low sodium)
2 (14.5 oz) cans of chicken broth (we used Swanson 33% less sodium)
2 teaspoons cumin
2 teaspoons oregano
2 teaspoons chili Powder
2 teaspoons Worcestershire Sauce
3 bay leaves
Salt, to taste
½-1 tablespoon of adobo sauce, from 1 can chipotle peppers in adobo, (adjust for more or less heat)
1 (15oz) can Black Beans, rinsed and drained
2 Cups Chicken, shredded (I used a rotisserie chicken for quick prep, about 2 breasts)
For Garnish
Tortilla Strips (Quick swap: Use your fav tortilla chips, crushed)
Shredded Mexican Style Cheese (Monterrey Jack, Queso Fresco, etc)
Diced Avocado
Sour Cream/Greek Yogurt/Crema
Cilantro
Directions
1- In a medium saucepan sauté onion in oil until translucent over medium heat about 5 minutes. Add chopped garlic and cook an additional 1 minute.
2- With a slotted spoon transfer the onion-garlic mixture to a blender and add the can of diced tomatoes and the can of diced tomatoes with chilies. Blend until smooth and then return to sauce pan.
3- Add 2 cans of the Chicken broth, V8 juice, cumin, oregano, chili powder, bay leaves, Worcestershire Sauce and 1 TBS of the chipotles in adobo sauce. If you are concerned about too much heat, add the adobo in teaspoon increments.
4- Bring to a boil and then reduce to simmer for 40 minutes stirring occasionally. After 40 minutes add the black beans and shredded chicken. Stir and simmer 5 more minutes.
5- Time to do a taste test. Check to see if the flavor of the broth is to your liking. Be careful not to burn your mouth! Does it have enough salt? Does it needs a little more heat? Add a little more adobo sauce.
6- Preparing the Tortilla Strips: Cut 6 corn tortillas in to ¼ inch strips. Fry in oil (vegetable, corn or grapeseed) until lightly crisped and lightly browned and transfer to a dish lined with paper towels to soak up excess oil. Set aside.
7- To Serve: Ladle the tortilla soup in a bowl. Add the shredded cheese, diced avocado, tortilla strips, a dollop of sour cream and finish with fresh cilantro.
8- Devour! 🙂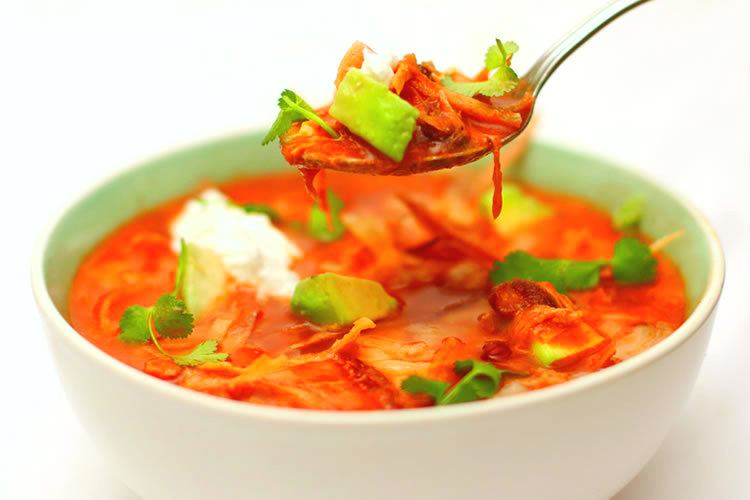 This is a sponsored conversation written by me on behalf of Albertsons. The opinions and text are all mine. Comments submitted may be displayed on other websites owned by the sponsoring brand.