Better Living uses affiliate links. If you make a purchase through them, we may receive a small commission (for which we are deeply grateful) at no cost to you.
When was the last time you checked the ingredient label on your skin care products? Do you really know what you're putting on your skin? If you do happen to check the label and the ingredient list is a bunch unpronounceable words that look like someone just sat down on a keyboard it may be time to rethink your skin care routine.
Why use natural skin care?
It's simple. What you put on your skin gets absorbed by your body and eventually your cells. While we battle so many toxins in our food, water, and environment every day we certainly don't need to slather our skin in more of them. Some of these poisonous ingredients can not only cause redness, irritation and allergic reactions, but also endocrine disruption (hormone imbalance), organ failure, nervous system damage, and even cancer. If we care about what we put into our body it's also important to care about what we put on our body. If you want to live your healthiest life, it's so important to reduce or if possible completely eliminate exposure to these synthetic ingredients. Start using 100% natural skincare products today. Your health depends on it.
But just because it says natural or organic on the label don't take the company's word for it. Always check the list of ingredients. Skin care products are very loosely regulated by the FDA. It's not uncommon to see a skin care product that is market as 'natural,' but is still full of questionable and sometimes harmful ingredients. If you're unsure about an ingredient you can check cosmeticsinfo.org for an ingredient's safety and use.
This summer if you're looking for smooth skin that glows, something to fix those wrinkles or better protection from the sun then read on. Here we have some natural ways to rock your summer skin routine with products that are truly good for your skin and your health.
Exfoliate!
Exfoliating is so important for your skin. Even in the summer! Not only does it give your skin a smooth and radiant glow, but it removes dead skin cells and toxins that have accumulated making your skin appear dull while being flaky and dry.
There are many great safe exfoliating products on the market, made with natural ingredients like sugar, salt, seed kernels and fruit acids. During the summer months, it's best to exfoliate your body about once per week. If you've been exposed to the elements or have sunburn, hold off on exfoliating, let your skin heal and then begin again.
A gentle way to start exfoliating is by using a Konjac Facial Sponge. These cool little sponges have become really popular recently. Konjac sponges are made from the root of a Japanese plant called the Konnyaku. These little root-sponges act by ever so gently buffing away dry and dead skin, while you cleanse. Konjac is rich in minerals and naturally alkaline. The result is a softer, more radiant complexion. What is wonderful about Konjac sponges is that they very inexpensive, last up to 3 months and are gentle enough for sensitive skin types. If you've seen these guys popping up around the internet lately you may have noticed they come in different colors. Konjac sponges may be infused with a variety skin nourishing ingredients that are beneficial to the skin.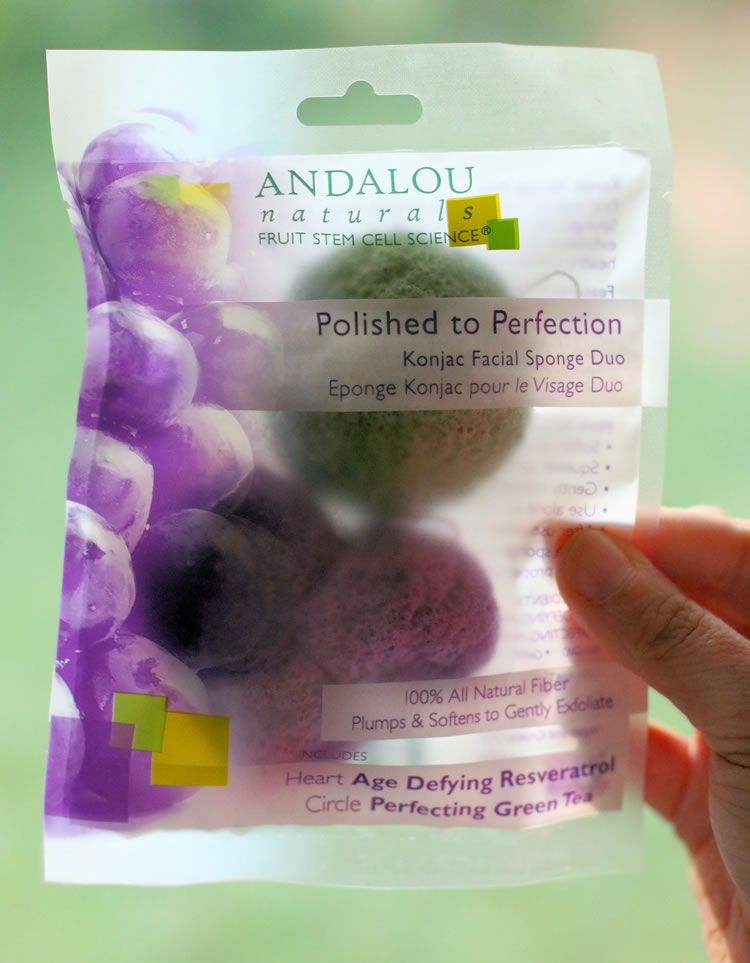 If you've seen these guys popping up around the internet lately you may have noticed they come in different colors. Konjac sponges may be infused with a variety skin nourishing ingredients like clays, charcoal and plant extracts that are beneficial to the skin. The color relates to the benefits within.
We are currently loving these Andalou Naturals, Polished to Perfection, Konjac Facial Sponges. You get two in a package which will last you anywhere from 2-6 months. Infused with resveratrol extract and green tea extract, the sponges have a boost of antioxidants to keep your skin looking young.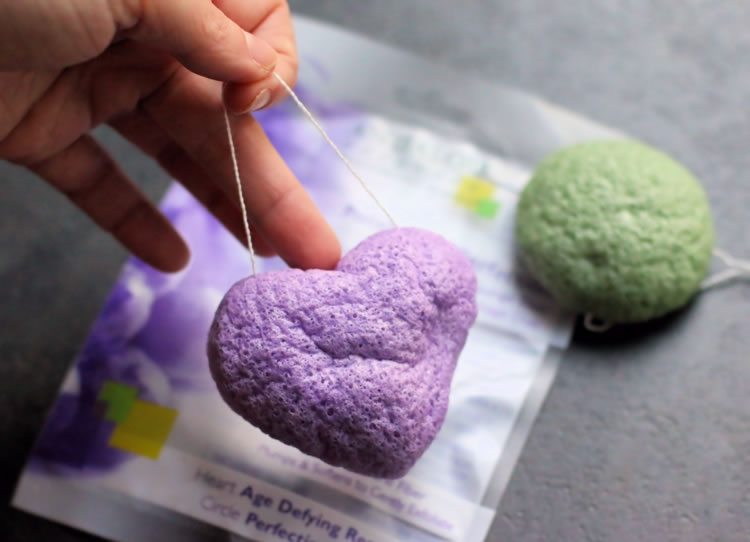 It's also fun to experiment and enjoy the benefits they all provide. Extra soft and perfect for all skin types, Konjac sponges are:
Packed with minerals & antioxidants

Cleansing and pore refining

100% natural biodegradable vegetable fibers

Non-toxic and earth-friendly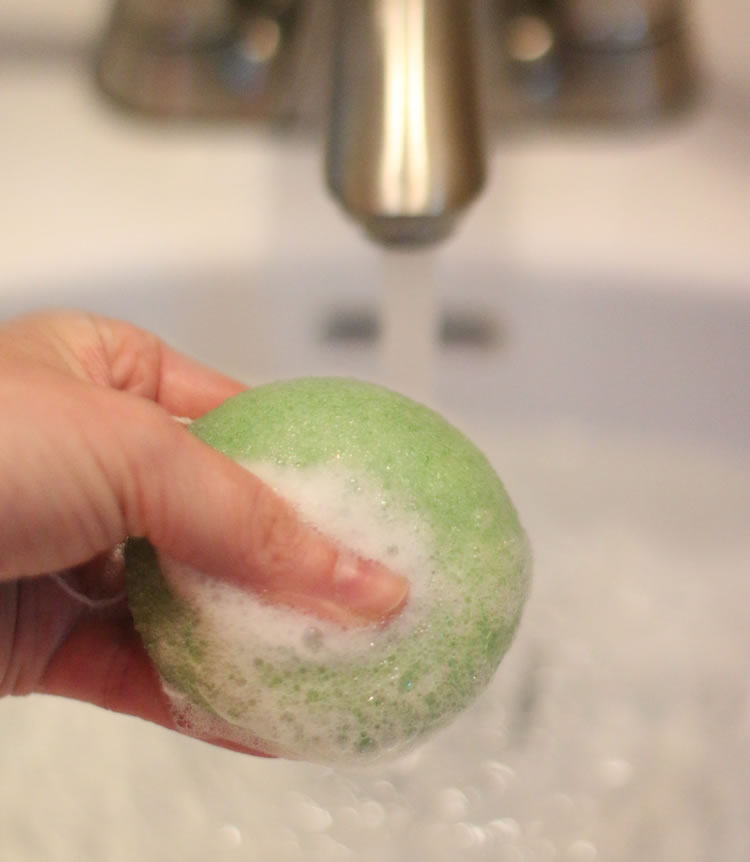 How to use the konjac sponge: Want skin that feels soft, smooth, and has a healthy natural glow? Simply moisten the sponge with warm water to soften and then gently massage the skin in a circular motion. You can even Add a dab of your favorite cleanser. When you're all done rinse the sponge, squeeze out all the excess water and leave it somewhere clean to dry. Throw away and replace when the sponge deteriorates. The Konjac sponge is gentle enough for everyday use!
Make Rosehip Seed Oil Part of Your Daily Skin Care Routine
We all know that the sun's UV rays are damaging to the skin. This can cause age spots, discoloration, and wrinkles. What a nightmare! But wait! The amazing antioxidants found in rosehip seed oil combat free radicals that cause sun damage. That's right. Rosehip seed oil is an amazingly rich, amber colored oil extracted from the seeds of rose fruits. After the rose has dropped its flowers these rose fruits or hips are what's left behind. Sourced from of a variety of rose bushes now grown mostly in Chile (Rosa rubiginosa or Rosa moschata), rosehip seed oil is rich in skin rejuvenating vitamins A & C, antioxidants, and essential fatty acids linoleic acid (or omega-6), as well as linolenic acid (or omega-3). These potent anti-aging nutrients combined with the oil's ability to penetrate into deep layers of the skin have been shown to help in the healing of many skin conditions such as acne, dermatitis, eczema, scars, sunburn, sun damage, stretch marks and brittle nails. It also can hydrate dry, itchy skin, while also minimizing the appearance of scars, fine lines, and hyperpigmentation (age spots).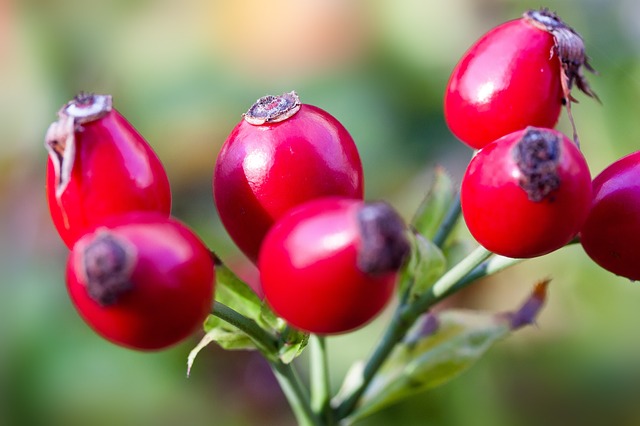 Incredibly hydrating, rosehip seed oil has even been touted as a better and safer solution to Botox to repair the skin's surface and restore elasticity. Plus no needles involved!
Rosehip Seed Oil can:
Stimulate collagen production.

Help improve and even skin tone and texture.

Deeply hydrate and moisturize the skin

Give skin a beautiful and natural glow when used regularly

Smooth fine lines and wrinkles
This pure certified organic Rosehip Seed Oil from Life Flo Health is super inexpensive but can make a world of difference to your skin. Whenever purchasing rosehip seed oil be sure to choose one that is cold pressed and organic.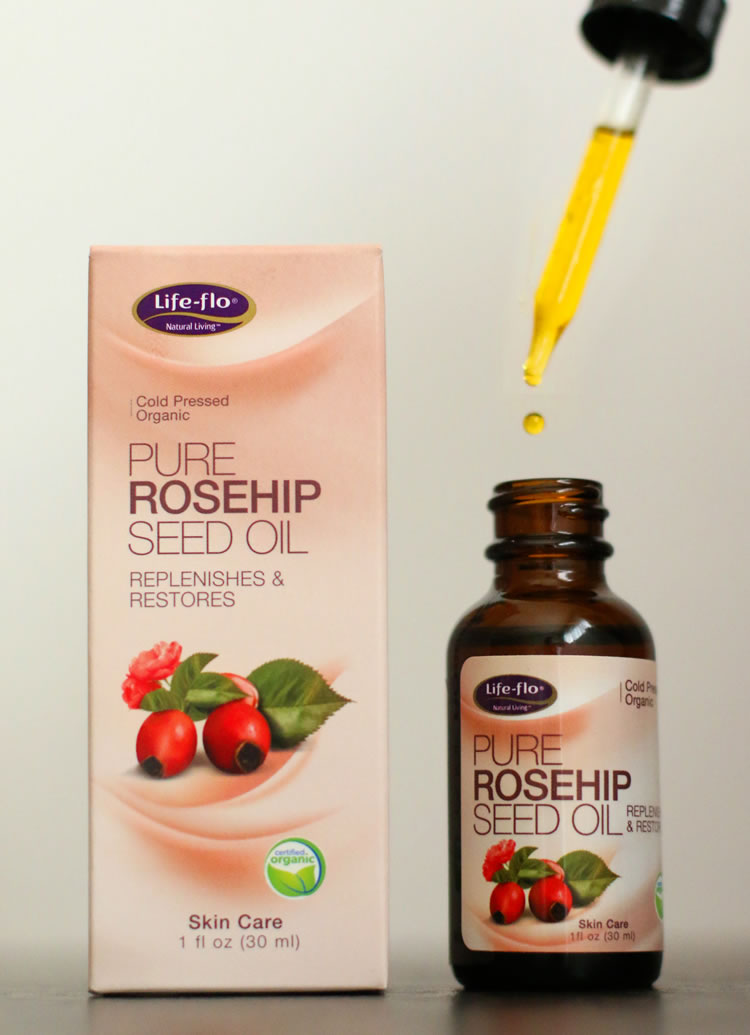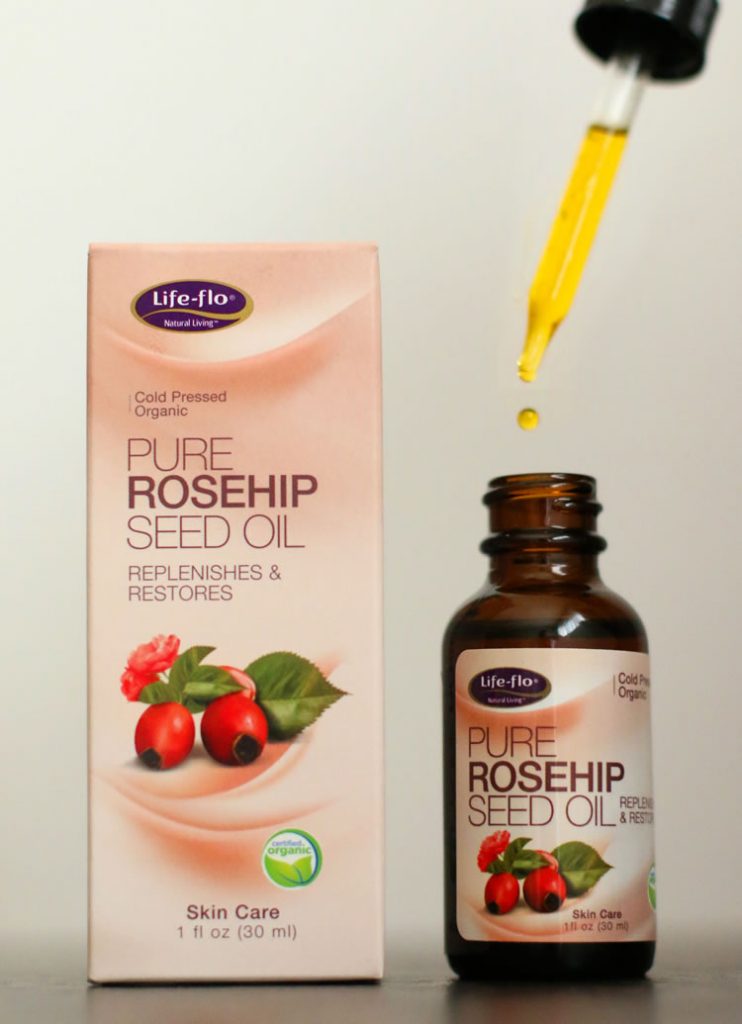 For Daily Use: Cleanse the skin and pat dry. Massage the rosehip seed oil into the skin twice daily until fully absorbed.  It can be applied to the face and/or body to treat wrinkles, scars, sun damage, dermatitis, stretch marks, or as a daily moisturizer for very dry skin. Use for at least three months in the treatment of scars, photo-aging, wrinkles, dermatitis or other skin conditions. You can also add a few drops to your favorite moisturizer morning and night.
For Sunburn: Rosehip seed oil is great for sunburns. The oil will soothe immediately, aid in healing and reduce inflammation from the burn.
For Dry Skin: Rosehip oil has a high content of essential fatty acids and is a perfect skin hydration tool. Spray a little Rosehip oil mixed with water on your skin to rehydrate and lock in the moisture. This beauty trick is especially good for summertime!
Renew Your Skin From Within With Astaxanthin
Usually, when we think of skin care, we immediately think of what we can put on our skin. But true beauty comes from within, right? If you're eating a proper diet and drinking lots of a water you're doing the right thing for your skin. But what if I told you there was a supplement to help protect your skin from UV damage and sunburn?
Over time exposure to the sun's ultraviolet rays causes premature aging of the skin. That's when we start to get wrinkles, age spots, and freckles. That's where astaxanthin comes to the rescue. Astaxanthin (pronounced "asta-ZAN-thin") is an antioxidant found in marine algae. This red carotenoid is what gives lobsters, shrimp, red fish roe and flamingos their vibrant color.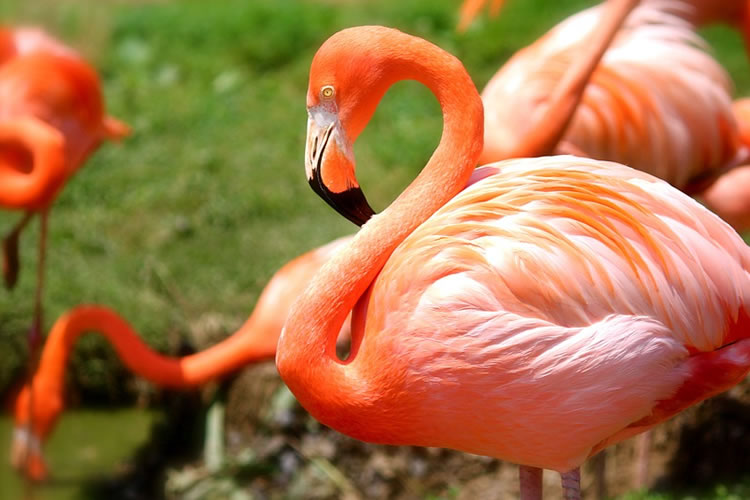 Studies have shown that Astaxanthin, a super powerful antioxidant works by preventing UV damage from the sun to both the skin and eyes. Astaxanthin believed to be the most powerful antioxidant in nature is 550 times stronger than vitamin E, 6,000 times stronger than vitamin C and more effective than green tea or lycopene.
Famous celebrity doctor and health guru Dr. Perricone considers astaxanthin a "superstar supplement." In his book, "The Perricone Weight-Loss Diet," he explains that supplementing with astaxanthin can reduce wrinkles and hyperpigmentation (age spots) while giving you a beautiful, healthy glow.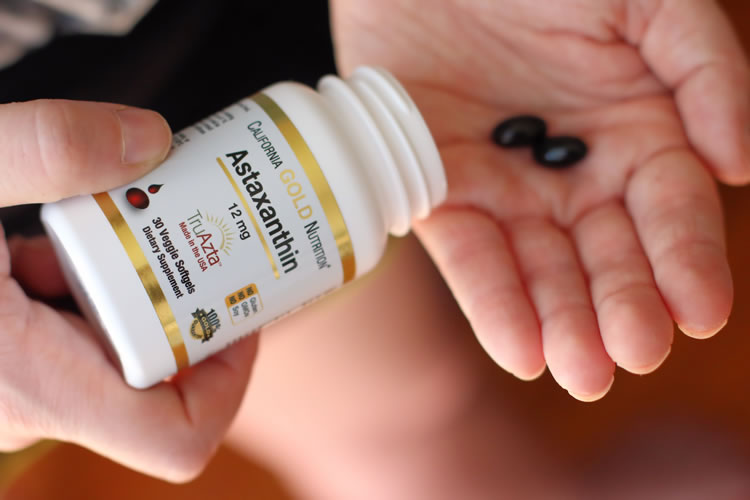 After an 8-week Japanese skin study, 3 mg supplements of astaxanthin taken twice daily, was shown to improve to wrinkles, texture, elasticity, and age spots.
Fighting wrinkles

Improves skin elasticity

Reduces visible signs of UV-aging within four

Give a youthful appearance

Reverse premature signs of aging

Reduce the risk of skin cancer
There are a few food sources of astaxanthin like wild Pacific salmon and sockeye salmon. But you'd have to eat at least 6 ounces of salmon each day to get about 3.6 milligrams.  Spirulina is another reliable source of astaxanthin. A few tablespoons of spirulina powder a day will do the trick. But the most effective and easiest way to get your astaxanthin is by supplement form. We love these Astaxanthin veggie soft gels by California Gold Nutrition. You can find them linked here at —> iHerb.com.
Try A Natural Sunscreen
Did you know moderate sun exposure is actually the best way to get healthy amounts of vitamin D in your system? A recent study done by researchers from the Solar Radiation Research Group at Polytechnic University of Valencia in Spain found that 10 to 20 minutes of sun exposure (in spring and summer) is just enough to get the recommended daily dose of vitamin D.  That's right! Unprotected sun exposure is the best way to optimize your vitamin D levels. It's difficult to achieve these levels through food alone. But as good as the sun is for you too much exposure can be dangerous. If you're going to be out in the sun longer than that 2o minutes it's best to apply a sunscreen.  Your local pharmacy probably has a few shelves worth of different sunblocks, but have you checked the ingredients in those things?  While they will protect you from the sun, they're usually filled with a variety of toxic ingredients. These ingredients have been linked to everything from hormone imbalance to cancer. Plus they've been proven to be harmful to the environment, reefs, and oceans.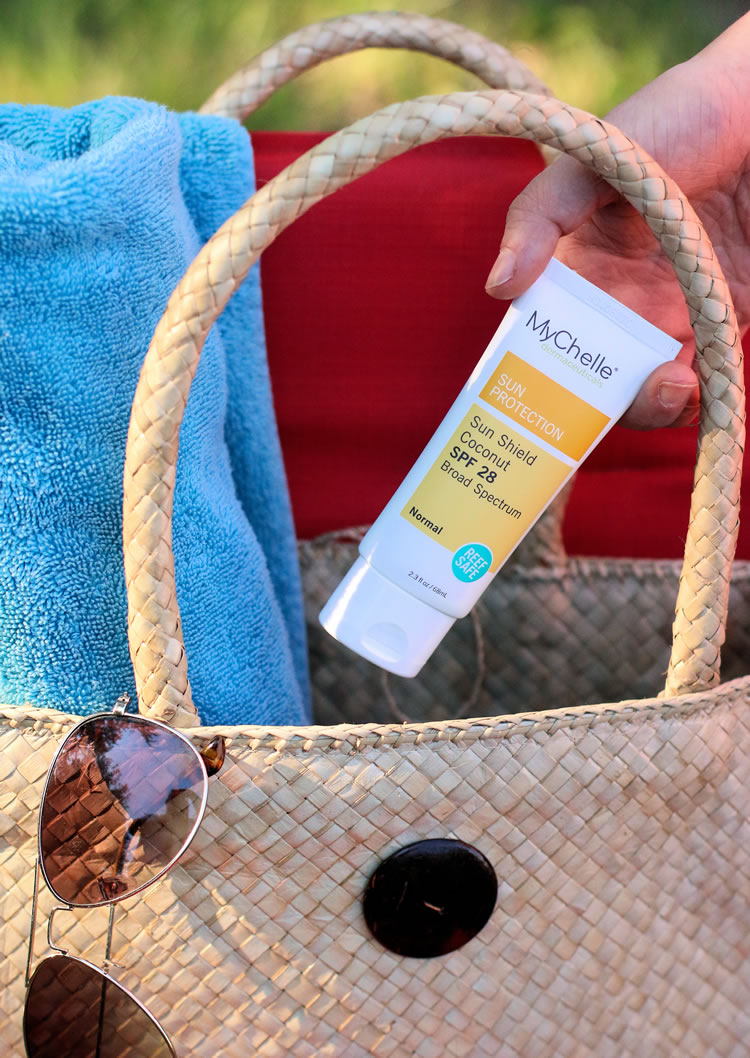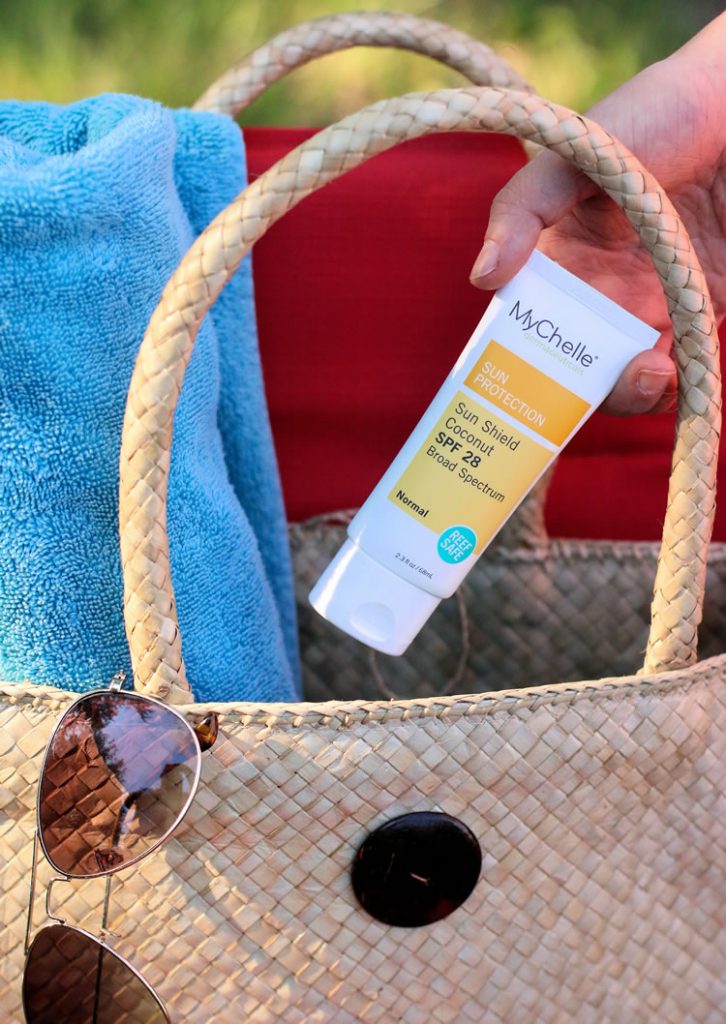 If you're going to be out in the sun longer than that 20 minutes it's best to apply a sunscreen.  Your local pharmacy probably has a few shelves worth of different sunblock, but have you checked the ingredients in those things?  While they will protect you from the sun, they're usually filled with a variety of toxic ingredients. These ingredients have been linked to everything from hormone imbalance to cancer. Plus they've been proven to be harmful to the environment, reefs, and oceans.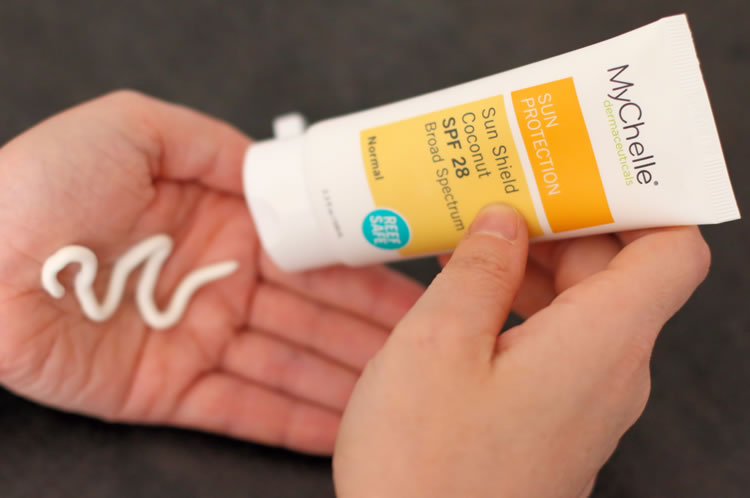 If you're looking for a toxin-free sunscreen that is natural and works like a charm we love this Mychelle Dermaceuticals Sun Shield with an SPF of 28. It has:
Chemical-Free Protection with ZinClear and Titanium Dioxide

Full spectrum UVA/UVB sun defense

A non-toxic formula!

Vegan, gluten-free and reef safe ingredients
We love that it's not only skin safe but environmentally-safe as well. Not only will your body love you, but the environment will too!
Don't Forget Your Lips!
We've all done it. Gone through the whole sunscreen routine— face, shoulders backs of the legs and ears and you forgot one thing. Your lips! Yes, your lips can burn from being in the sun just like the rest of your body. So why do we forget about them when we're spending time in the sun?  It's hard to say, but our lips do indeed burn and need to be protected. Lip balms with a minimum of SPF Sun protective factor) 15 are a super easy and inexpensive way to protect your lips from the effects of the sun while keeping them soft, smooth and nourished. Just stick with natural ingredients. I like to have several on hand to keep in different bags this way I always have one with me. Plus it's lots of fun to try new flavors and if you're looking for a wash of color some are even tinted. As with any sunscreen apply approximately 30 minutes before going in the sun.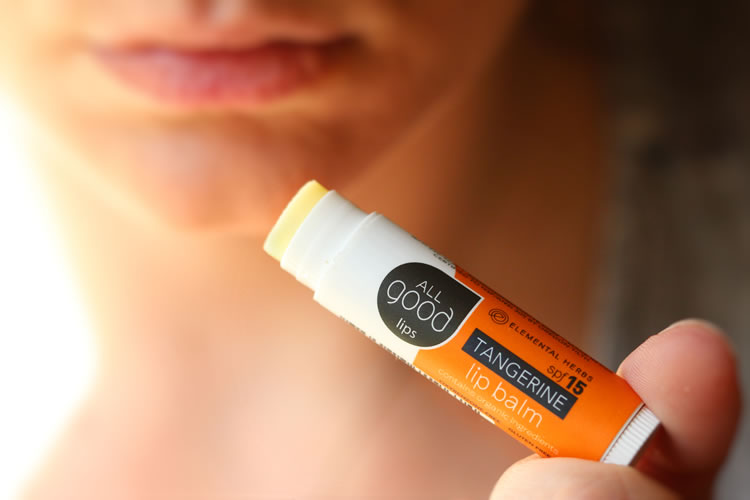 Looking for a good natural lip balm with SPF (Sun Protection Factor)? We love the tangerine All Good Lips, Lip Balm with SPF 15. With all natural and safe ingredients like organic beeswax, organic extra virgin olive oil, and organic calendula, their lip balm will keep your lips soft, smooth and sun protected.
Tamanu Oil Is A Summer Skin Pharmacy In A Bottle
Let's face it. The summer can be rough on our skin.  Bug bites, poison ivy, sunburn, air conditioning, the list goes on. And that's on top of our regular issues. Well, whatever your skin issue, Tamanu oil is your cure. Extracted from a nut grown in the South Pacific, Tamanu Oil has been treasured for hundreds of years as a skin miracle from nature.
Tamanu Oil's unique healing ability comes from its antiviral, antibacterial, anti-inflammatory, antiseptic, and anti-fungal qualities. It's also hypoallergic. So if you've tried some of those so-called "miracle" products in the past and ended up with a dry, itchy or broken out face the next day, tamanu oil will no do that. Tamanu oil can also provide protection against harsh UVB and UAB rays. Samples studied in the lab setting have been shown to have its own biological UV filter with an SPF ranging from 18-22.
This rich greenish-yellow oil of the tamanu nut has even been confirmed in studies to be effective in wound healing. Ethnobotanist Chris Kilham regards tamanu oil as one of the most effective promoters of wound healing and the growth of healthy skin. Tamanu oil is a powerful skin regenerator!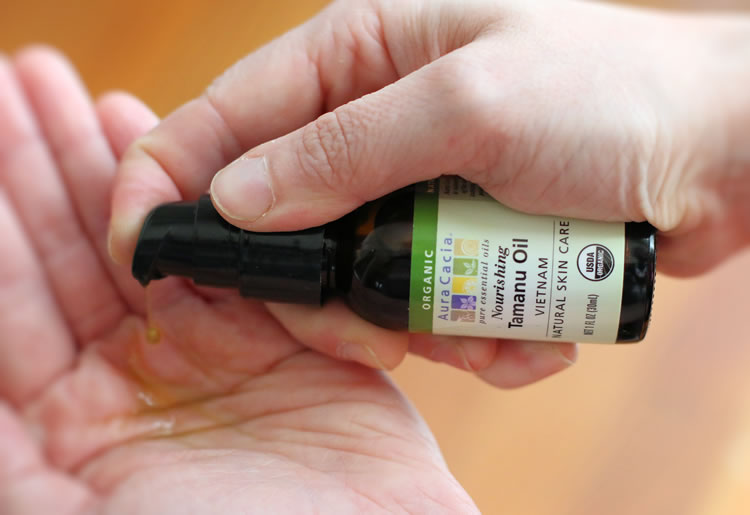 Tamanu oil has been successfully used to treat:
Dry and oily skin

Acne and skin blemishes

Wrinkles and age spots

Scars

Cuts, blisters, and rashes

Sunburns and chemical burns

Eczema and psoriasis

Insect bites and stings

Body and foot odor

Sores and warts
Whatever your summer skin woe, give the miracle of tamanu oil a try.  We recommend Aura Cacia's Organic Tamanu Oil. You can find it here —-> at iHerb.com.
Do you have a natural skin care tip you use in the summer? Let us know in the comments!
 iHerb Fun Facts!
iHerb sells over 35,000 products and ships to over 160 countries
iHerb is a Google Trusted Store and their customer service team provides support in 10 different languages!
We love shopping at iHerb! iHerb's prices are amazing and they ship quickly. Shopping with iHerb is such a breeze!
Want a $5 off iHerb Coupon Code?
New iHerb Customers will get $5 off their first order! Just click here to apply the code!